Best Halloween Snacks
Best Halloween Snacks & Food Recipes
July 21, 2022 | Laura
Celebrate the spooky season with these fun and delicious Halloween snacks and food recipes. Whether you are looking for an easy and spooky Halloween snack, appetizers for a Halloween party, or a fun Halloween dinner recipe, you'll find it in this list! These recipes are sure to put anybody in the Halloween spirit!
__________________________________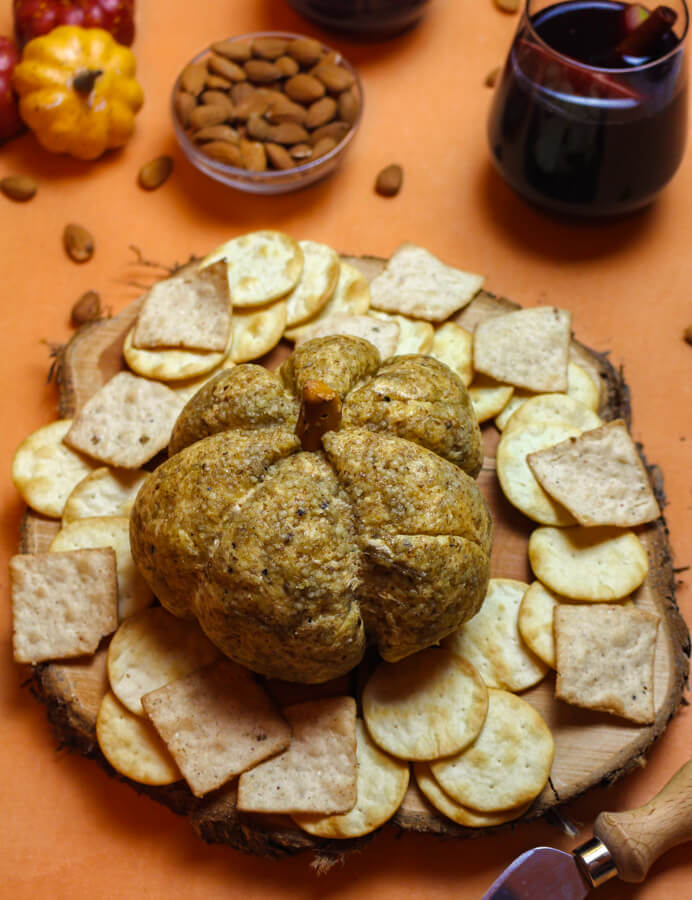 This pumpkin cheese ball doesn't just look like a pumpkin, it also is made with real pumpkin. If you haven't tried the combination of cheese and pumpkin yet, don't delay! It's so good.
Once you start eating pumpkin cheese balls, you won't be able to stop. The goat cheese, cream cheese, white cheddar, and Dijon mustard pair perfectly with the pumpkin, honey, sage, and thyme. Oh, and don't even get me started on those caramelized onions. YUM.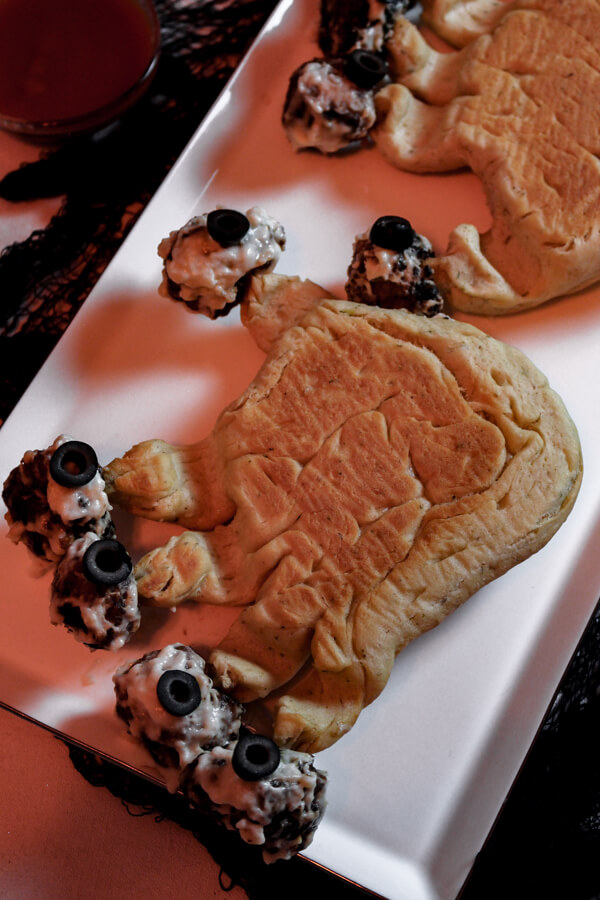 This recipe was inspired by the movie, Beetlejuice. If you've seen it, you may remember the scene where Adam is putting on his 'scary face.' He puts his eyeballs on the end of each of his fingers. Such a silly scene, but, as a child, I thought it was a little freaky!
The hand is made from a simple breadstick recipe. The meatballs are made from a ground pork and beef combination, breadcrumbs, and seasonings and then pan-fried. The meatballs are covered in a homemade white sauce and black olives are added to them to resemble pupils.
This recipe is so delicious, fun, and freaky. These hands are the perfect Halloween appetizers!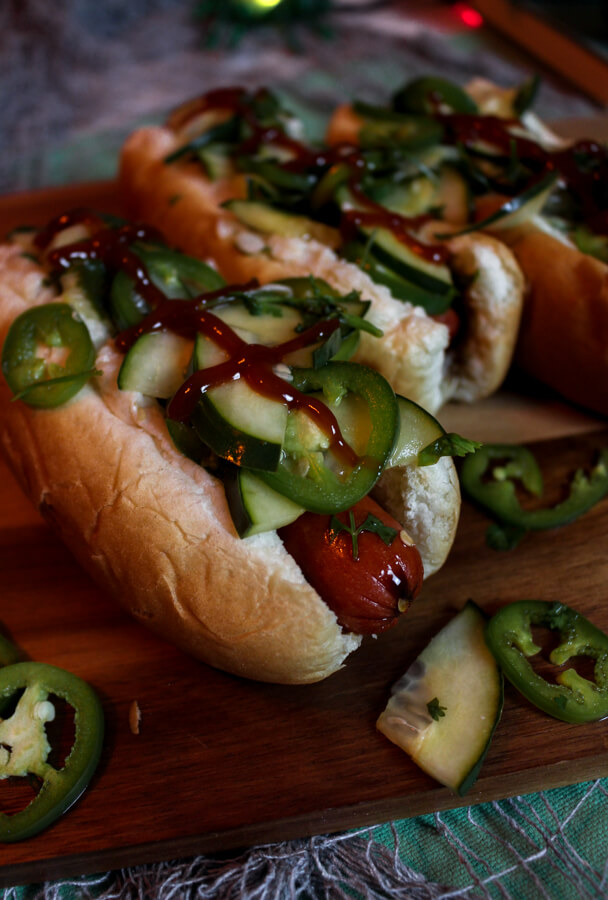 This green relish hot dog was inspired by Frankenstein! The quick and simple relish is made from jalapeno, cilantro, and cucumbers to give all the green vibes to the hot dog.
The top of the relish is then topped with a balsamic ketchup that is drawn on as stitches.
If you like spice, pickled jalapenos, and pure deliciousness, then this spooky hot dog is for you!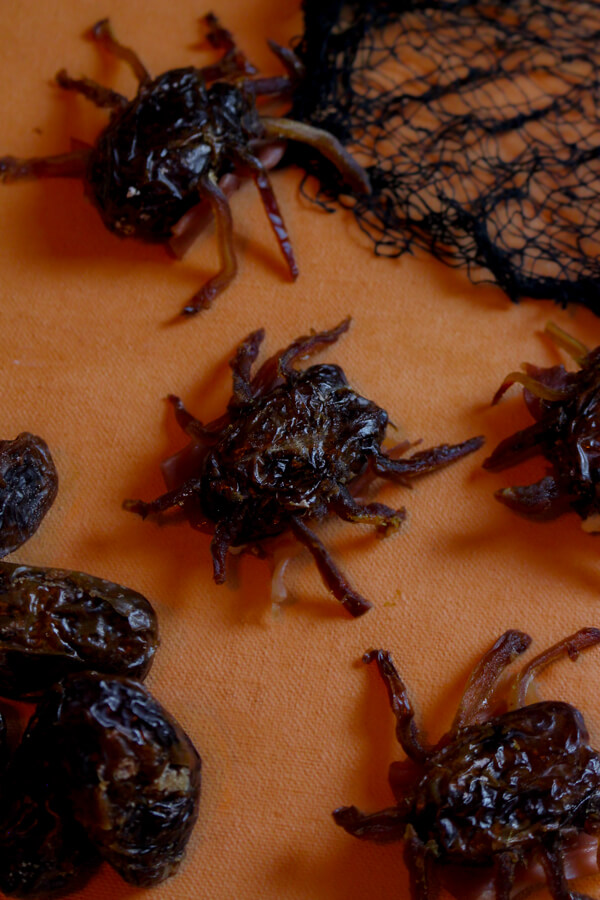 These roaches are absolutely delicious, but, boy, are they realistic looking. They are a great way to give your guests a fright and a treat.
The roach bodies are made from dried dates which are stuffed full of tasty goat cheese. When you squish the roach, 'guts' will come out. Yikes!
Lastly, the dates are wrapped with a strip of prosciutto and baked for a few minutes to make these critters extra tasty!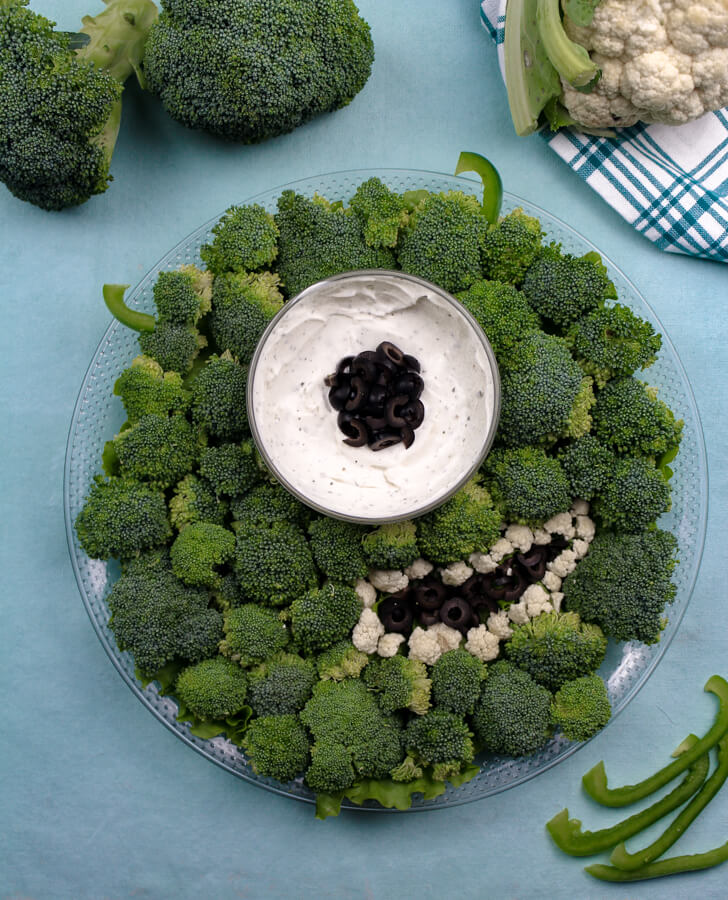 This monster vegetable tray is so adorable! Plus, you don't have to feel guilty about eating this one. It's full of delicious vegetables and healthy treats. This tray is also so easy to put together so it's the go-to when you're looking for easy Halloween snacks.
Mike Wazowski was the inspiration for this vegetable tray. The body is made with lettuce leaves and broccoli florets. His teeth are made from cauliflower, and his eye is made with homemade ranch dressing and black olives.
This is a great appetizer to set out during a party, a spooky snack for the kids after school, or a healthy snack for Halloween movie night.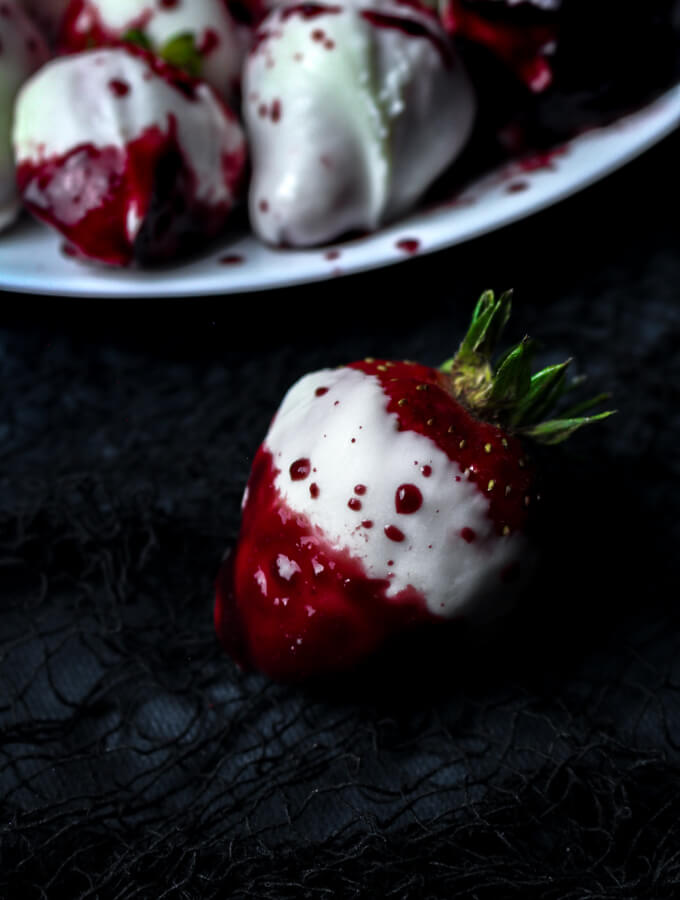 'Blood-splattered' strawberries are the best scary Halloween treat. These vanilla or almond bark dipped strawberries are also dipped and/or splattered with an easy homemade black cherry sauce.
The vanilla, cherry, and strawberry flavors are so tasty together, and the dark red cherry sauce splattered on the white strawberries are sure to satisfy all your Halloween cravings. They are great to serve at Halloween parties!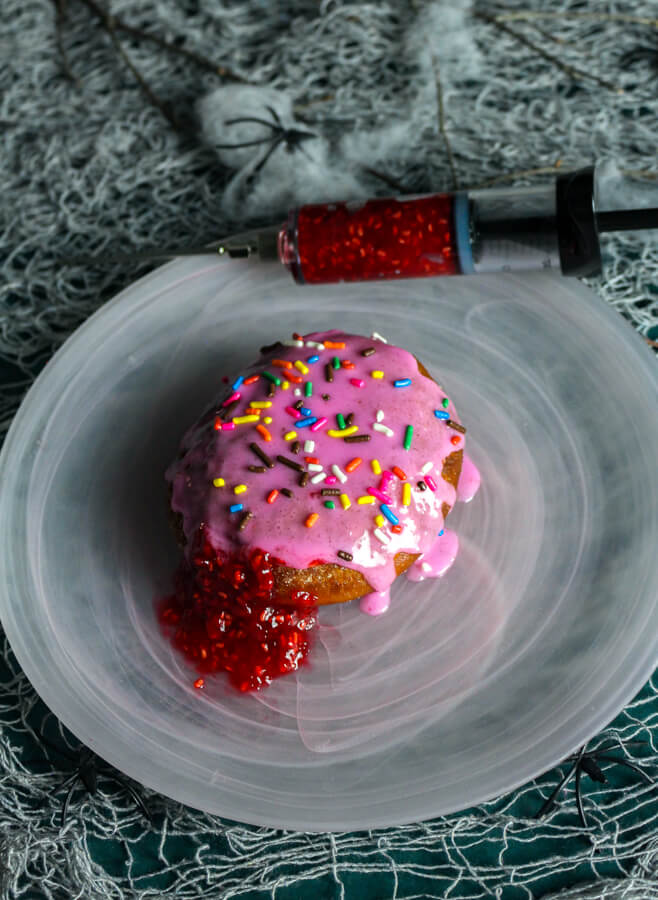 These donuts are so addicting- especially when eaten immediately after frying. The tartness of the raspberries help to cut out the sweetness of the donut creating the perfect donut.
The bright red raspberry filling resembling 'blood' is what makes these donuts the best Halloween treat. A great option for breakfast on Halloween morning!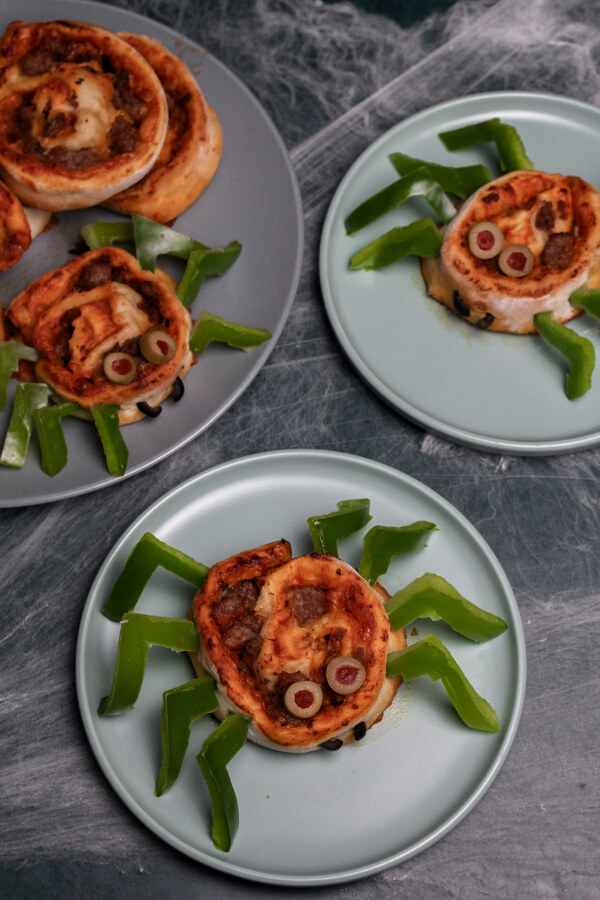 Spooky spider pizza rolls has been a favorite Halloween recipe for awhile now. They are such fun treats and pretty easy to make! Plus, you can customize the fillings to whatever you like!
Use my simple homemade pizza dough or store-bought pizza dough and fill them up with your favorite toppings. The spiders' legs are made from green bell pepper, the eyes are green olives, and the chelicerae is made from black olives.
These pizza rolls are kid-approved and such fun spooky Halloween treats.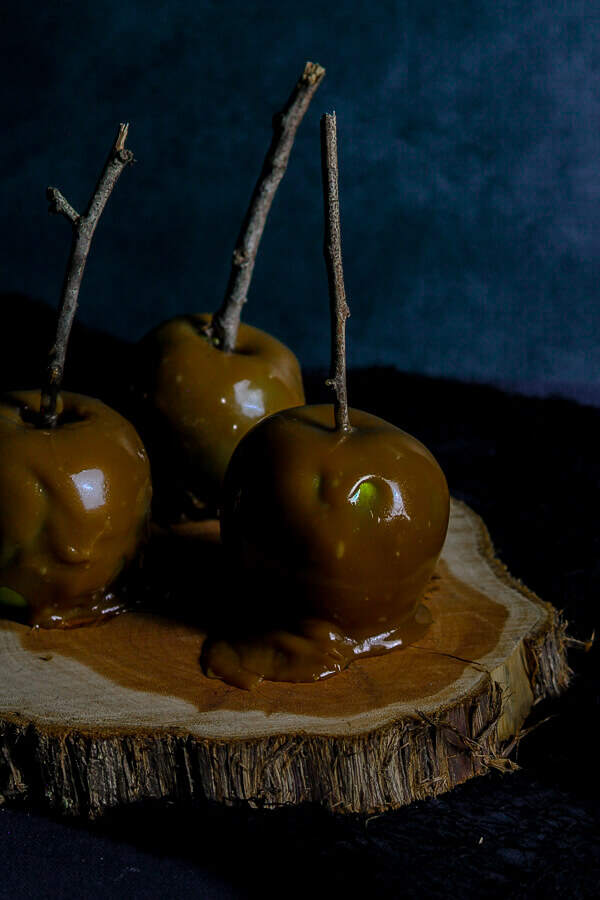 Nothing says Halloween season like a batch of homemade caramel apples! The combination of sweet and tart is one of my favorites, and I can't get enough of these tasty snacks.
Some may be intimated by homemade caramel, but, once you get it down, it's so worth it. I promise. These green apples are covered in a homemade caramel sauce that will make your Halloween perfect.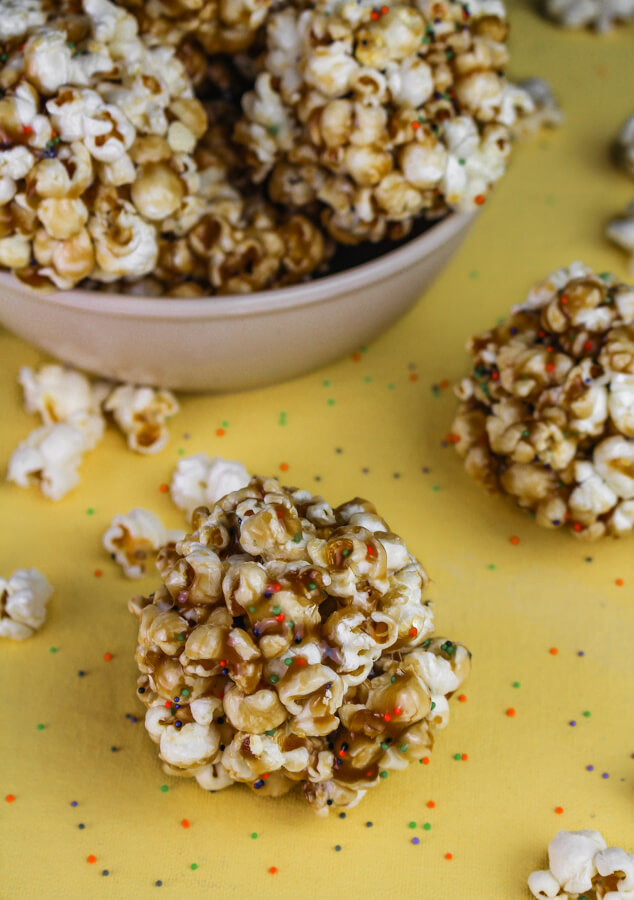 And while we are talking about classic Halloween treats, we can't forget to mention popcorn balls! These homemade popcorn balls have the perfect crunch to them (but not too much that you crack your tooth!) and the exact amount of sea salt for the delicious sweet and salty combination.
Wrap the popcorn balls up and give them to all your friends or keep them all to youself. I won't judge!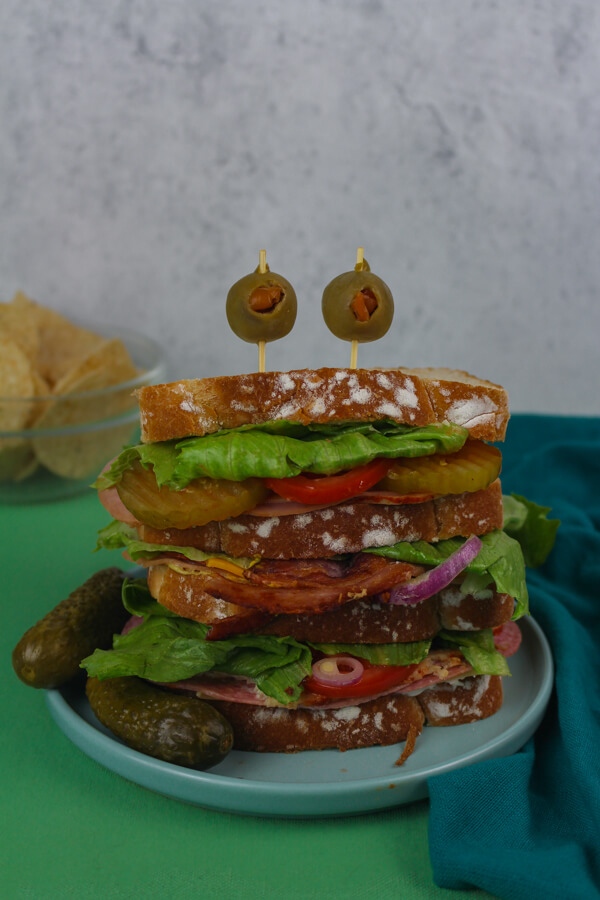 This is such an easy recipe for a spooky treat! This sandwich was inspired by Shaggy from Scooby-Doo. He loved big sandwich with everything on them, and that's exactly what I made here.
The best part of this sandwich is the green olives on toothpicks. They are stuck into the top of the sandwich for a spooky monster sandwich treat!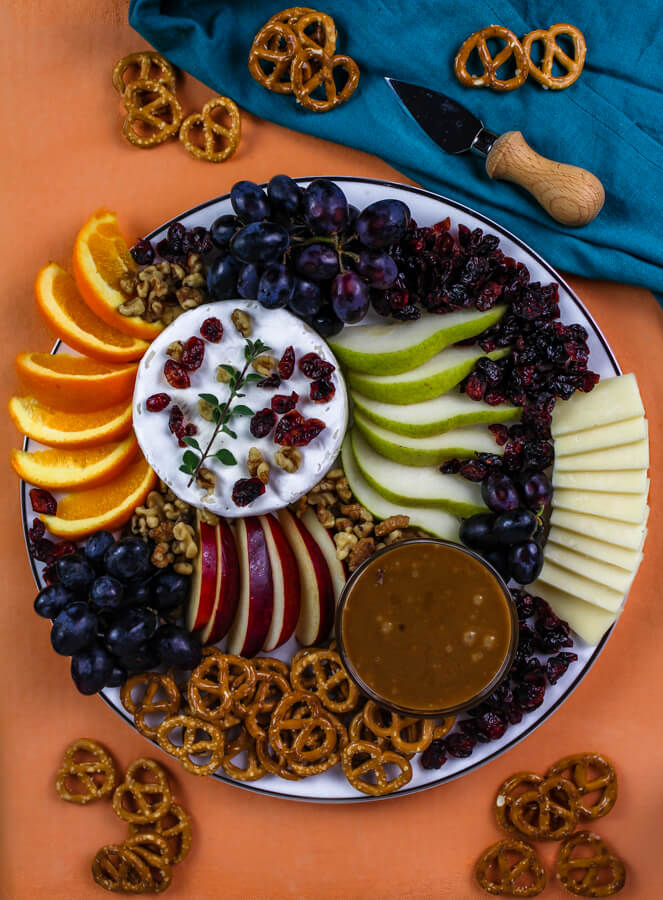 If you are looking for a more sophisticated Halloween snack, look no further! This board is filled with all the delicious fresh fall fruits and cheese. Fill the spaces with walnut pieces, dried cranberries, and, of course, caramel sauce.
While this board may not be spooky, it sure is tasty and still has all those chilly fall day vibes. Whip up a batch of fall sangria to pair with this beautiful cheese and fruit board!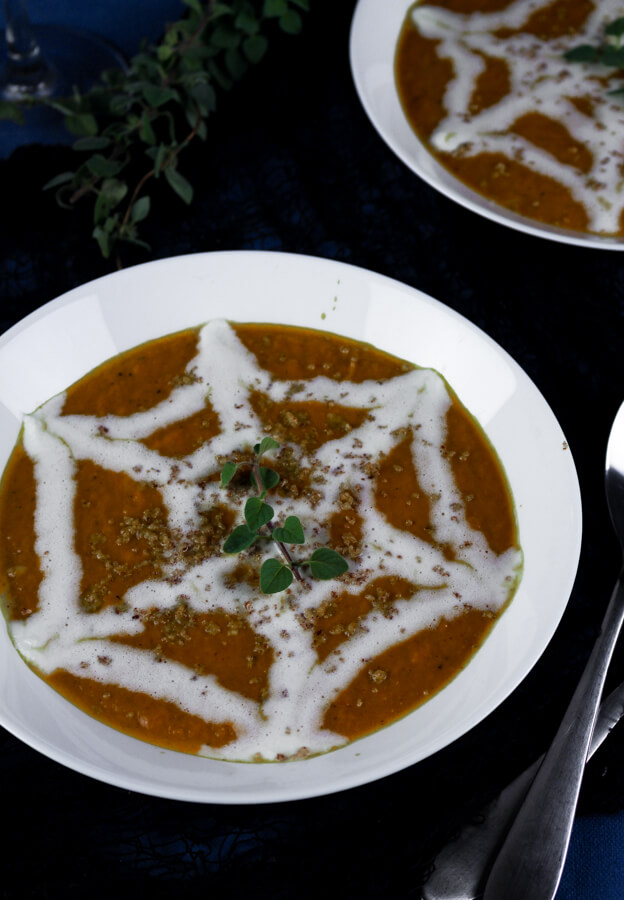 I'm bringing up the cheese and pumpkin combination again because it's that good. This homemade pumpkin soup is filled with real pumpkin, caramelized onions, garlic, fall spices, and a whole bunch of white cheddar cheese.
On top of the bowl of pumpkin soup, I like to draw on a heavy cream spider web. This really makes it have all the spooky Halloween vibes and is a great dinner option for Halloween night.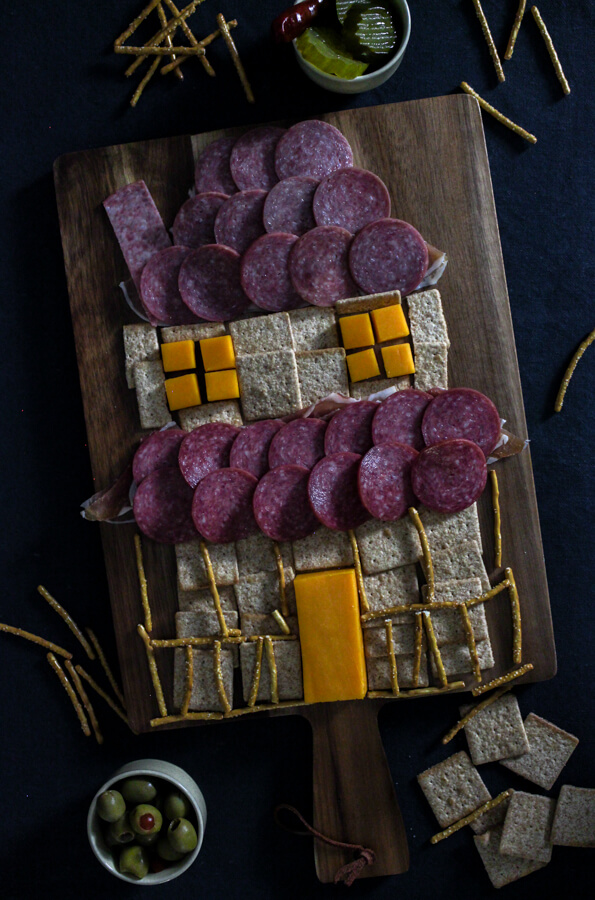 If you've ever seen the movie, Monster House, then this charcuterie board probably looks familar! The house from Monster House was my inspiration.
The windows and door are made from cheddar cheese, the roof is salami, the house itself is made from crackers, and pretzels make up the porch. For extra substance, I like to also put prosciutto slices underneath the roof and serve the board alongside pickles and olives.
This charcuterie board is a great snack for movie night or an after-school treat.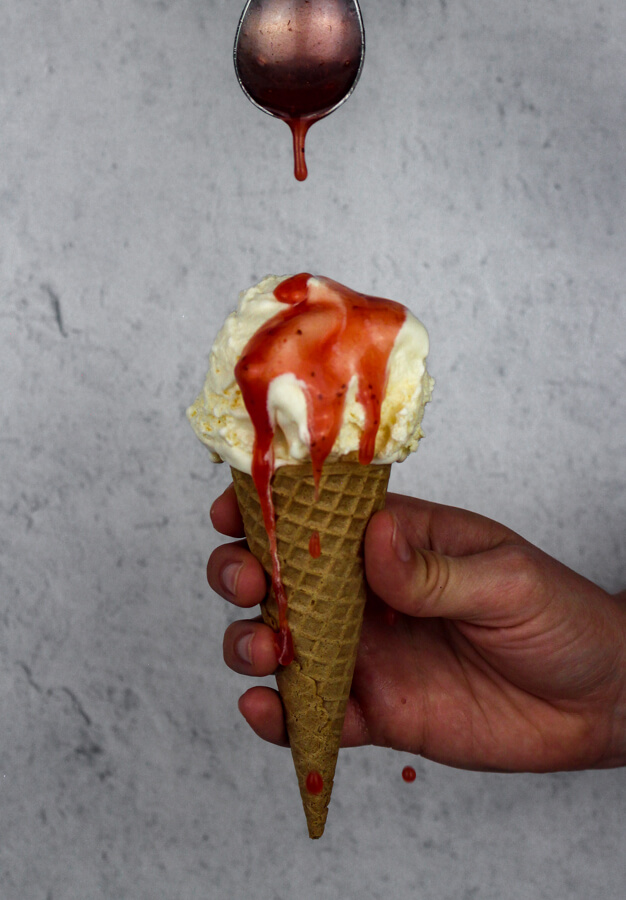 This easy recipe for homemade strawberry sauce is the perfect treat for Halloween because it looks like 'blood'. The options for this red sauce are endless. Stir it into a cocktail, pour it over your pancakes or waffles, or enjoy it on top of some ice cream.
With only 5 ingredients, you can have this fresh strawberry syrup made in no time!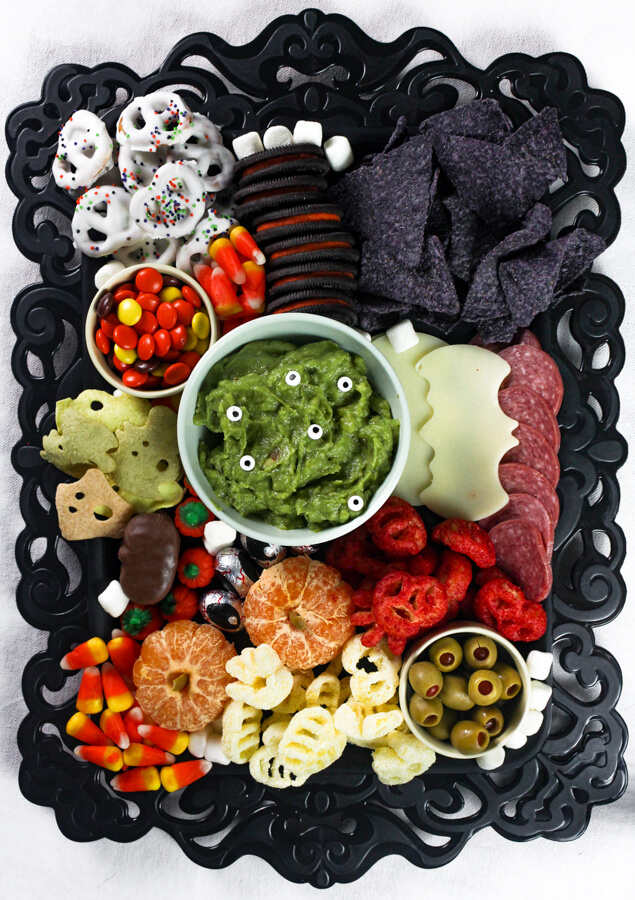 The options for this fun Halloween snack board are endless! There's so many Halloween-themed treats out there that will make your spooky snack board perfect such as ghost Garden Veggie Chips, Butterfinger zombie eyeballs, and candy eyes on top of a dip.
I like to fill in the spaces with candy corn, mini marshmallows, pumpkin seeds, and covered pretzels. This perfect snack has something for the whole family. It is a great snack for the entire month of October and also makes for great snacking while watching Halloween movies!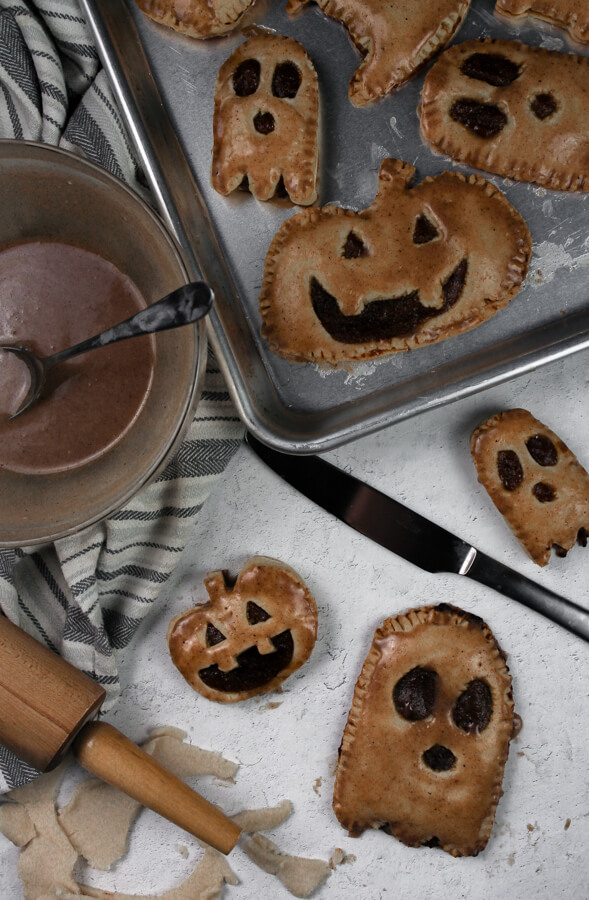 These homemade pumpkin hand pies are so adorable and so tasty! They are a great choice for those of you that prefer sweet treats. Use your favorite Halloween cutters such as ghosts and pumpkins for a super fun spooky dessert.
A delicious spiced pumpkin filling is stuffed inside a pie crust or puff pastry and a cinnamon sugar glaze is poured on top of the hand pies. These are sure to be a hit at any Halloween gathering!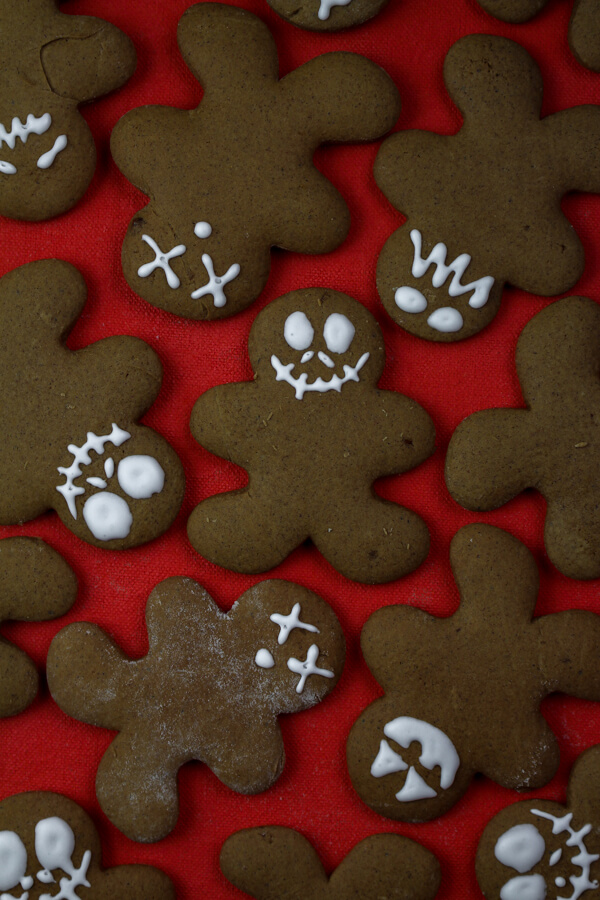 Evil gingerbread men cookies are an easy way to make a Halloween treat. While I enjoy gingerbread men the most, you could use any type of cookie dough- either homemade or store bought! Simply cut out the cookie dough into little men and women then draw on spooky faces!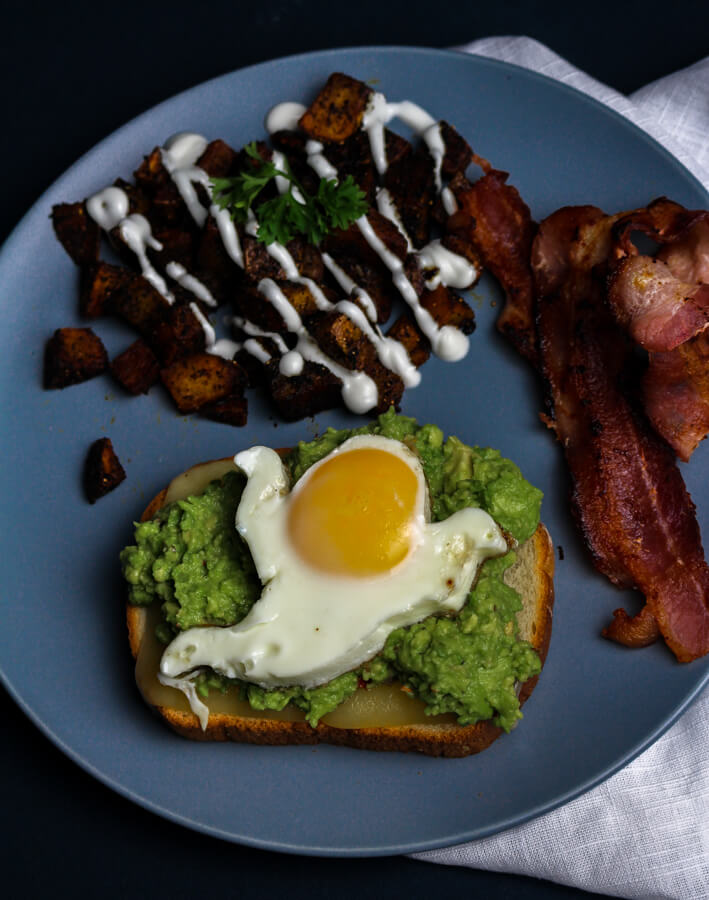 Looking for a great idea for a Halloween breakfast? Try making ghost eggs! An egg is just simply cracked into a ghost cookie cutter and fried. I like to put by ghost egg on top of a piece of avocado toast.
This is a fun way to spook up your breakfast!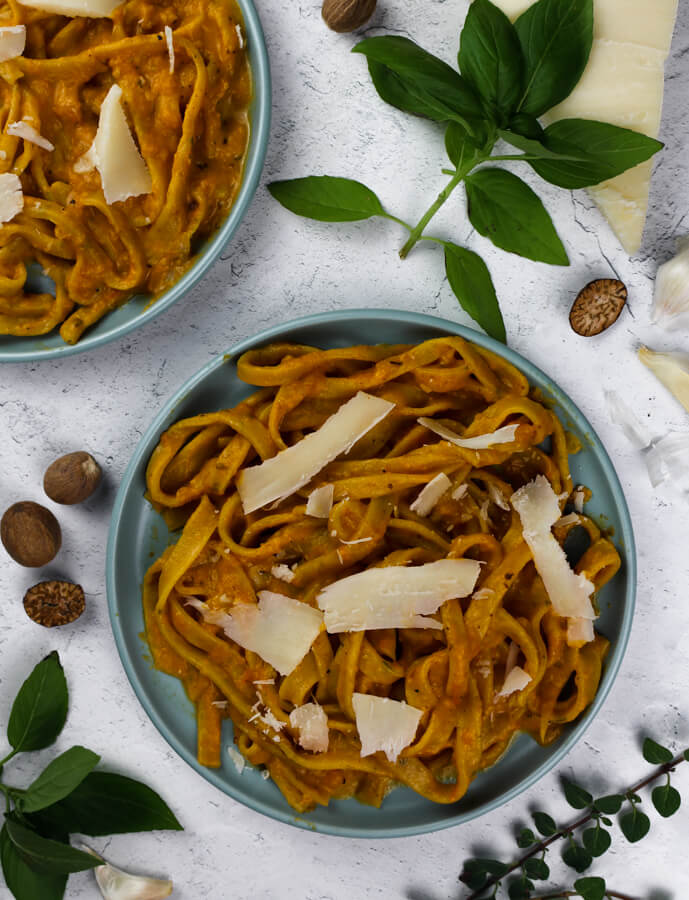 This pasta recipe may not be scary, but it is filled with so much pumpkin flavor and is so good that I just had to add it to the list! The homemade noodles are made with pumpkin puree and are covered with a cheesy creamy pumpkin pasta sauce.
I could eat this pasta every day during the fall season. It's one of my favorite recipes- especially when topped with fresh basil and parmesan cheese. Serve it up at your next Halloween dinner party to be everybody's favorite person.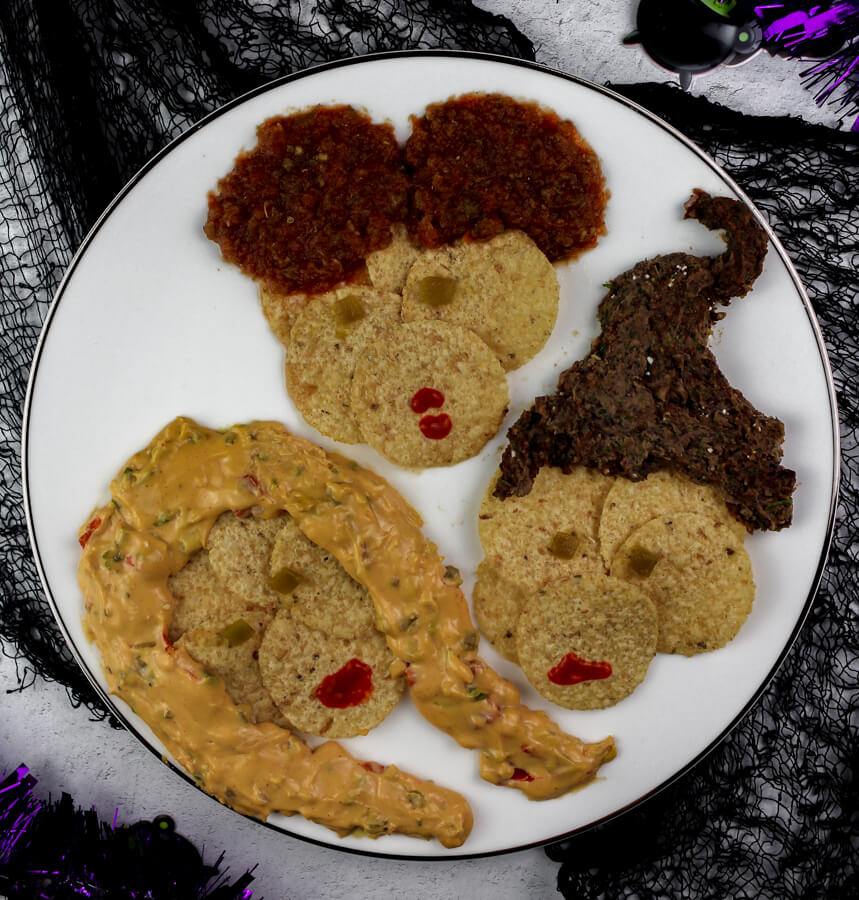 If you are a Hocus Pocus fan (and I mean who isn't?), then this dip trio is a must! The dips make up the Sanderson sisters' hair and their faces are made with tortilla chips.
Winifred is made with salsa, Mary is made with black bean dip, and Sarah is made with homemade queso dip. This dip trio is sure to make your Hocus Pocus movie night extra fun and delicious!
Looking for delicious Halloween cocktails too?
→ Check out all of my favorite spooktacular recipes!
__________________________________
✽ Did you make any of these recipes?
Let me know by leaving a comment below and sharing on Instagram. Tag @laurathegastronaut and hashtag it #laurathegastronaut.

Category: Holiday Cooking, Halloween
Keywords: easy Halloween treats, easy recipes, candy apples, fun Halloween snacks, easy Halloween food ideas, savory appetizers, Halloween desserts
Bon appétit and Happy Halloween!
July 21, 2022 by Laura Bullock
*This Best Halloween Snacks blog post and recipe may contain some Amazon affiliate links. These link to products that I personally use and recommend. If you purchase anything using my links, it will not cost you anything. It will though give laurathegastronaut.com some financial support which helps me keep this blog running. Thank you for reading my blogs and your continued support.