Laura The Gastronaut > Julia Child > Entrées and Luncheon Dishes >

Spinach Quiche
Spinach Quiche
August 11, 2020 | Updated April 13, 2022 | Laura
*This post may contain affiliate sales links. Please see full disclosure policy for details. *The views expressed on this blog are my own.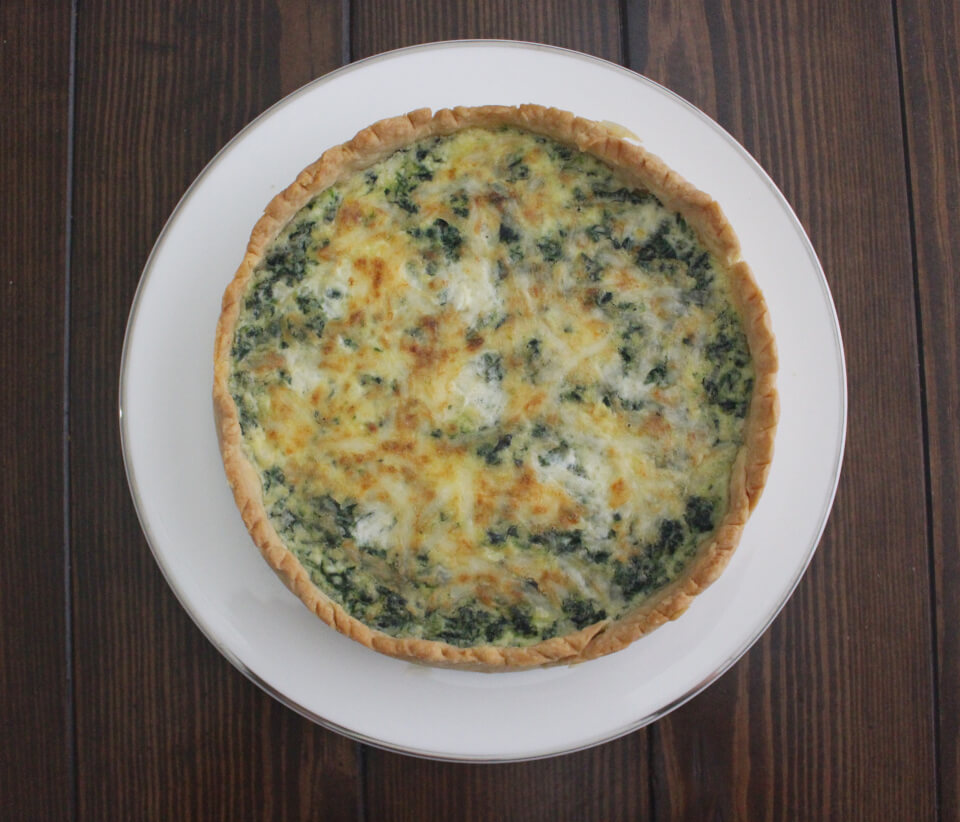 ✽ Recipe from Mastering the Art of French Cooking, Vol. I | Julia Child ✽
Julia Child Recipe 135 | 393 recipes to go!
- Spinach Quiche [Quiche aux Épinards], p. 153
__________________________________
✽ Mastering the Art of French Cooking, Vol. I was written by Julia Child who co-authored with Simone Beck & Louisette Bertholle and was published by Alfred A. Knopf in 1961.
✽ You can buy Julia Child's Mastering the Art of French Cooking, Volume I which contains these recipes here. (affiliate link)
The purpose of this Julia Child section of my blog is to document my journey of learning how to cook. To show my successes, my failures, and what I learned along the way.
Since I didn't create these recipes (if only!), I do not post exact amounts of ingredients or word-for-word instructions. If any of these recipes spark your interest, I highly recommend you buy Julia Child's Mastering the Art of French Cooking (affiliate link). It's a great investment and learning tool and contains hundreds of classic recipes.
I hope that you enjoy reading my thoughts, learn something new, and leave inspired to try a new recipe. Bon appétit!
__________________________________
Butter Count & Cost: Spinach Quiche
✽ Butter Count: +15 TB
✽ Cost: $11.31 [~$2.26 per serving]
Check out the total Julia Child butter count & cost here!
→ Looking for a different Julia Child recipe? Here's a list of all of the completed and pending Mastering the Art of French Cooking recipes!
The last quiche!
You can finally stop hearing me complain about quiches. Here's my last quiche to cook, eat, and post!
I'm on my way to gratins, but before that happens let's talk about this spinach quiche.
By this point in my cooking journey, I was able to whip up this quiche pretty quickly. The one thing that slowed me down? Chopping off the every single spinach stem. Julia says it must be done so it was done!
I am so excited and proud to say that I made the pastry crust for this quiche completely on my own. I didn't reference the book at all which makes me oh so happy. The whole point of this project was to learn how to cook independently, and here we are folks.
Though there is so much left to learn!
Julia Child Spinach Quiche Recipe: Rating
✽ Laura's Rating: 6
Was it good? Definitely. Was it the best quiche in the book? No, not in my opinion.
The mushroom quiche completely won me over. I don't think I'll ever change my mind.
Now that I'm thinking about it, I bet combining the mushroom and spinach quiche would be amazing. Maybe even add the onion quiche in there as well. Hmm.. I might be on to something!
Spinach Quiche Recipe: Questions
✽ What is a quiche?
A quiche is an open-faced tart. It consists of eggs, cream or milk, and all sorts of fillings such as vegetables, cheese, and meat. Quiches are poured into a pie crust and baked until it puffs and browns on the top.
✽ Why do you use an enameled saucepan to cook spinach?
If you cook spinach in iron or aluminum, it can taste metallic-y and discolor. For all spinach dishes, Julia suggests cooking in enamel, pyrex, earthenware, or stainless steel and serving the spinach in enamel or porcelain.
✽ What's the deal with the bitter taste of spinach?
Well spinach is high in oxalic acid (or oxalate). This acid can bind to minerals such as calcium which can be found in your saliva.
This bonding produces crystals which can stick to your teeth. This is why some people find that spinach tastes bitter.
Looking for more Julia Child quiche recipes to read about?
→ Check out all of the entree and luncheon dish recipes that I've completed so far!
Fun Facts about Spinach
✽ Where is spinach orginally from?
Spinach's scientific name is Spinacia oleracea and is native to central and western Asia.
✽ Who produces the most spinach?
The world produces about 26 million tons of spinach every year with China producing 90% of it!
✽ Spinach-loving Cartoon Character
In 1931, Popeye the Sailor Man, began to promote his favorite treat- spinach. "I'm strong to the finich, cause I eats me spinach, I'm Popeye the Sailor Man!"
How to Make Spinach Quiche
✽ Step 1: Make Crust
First things first- make your partially-baked pastry shell. A homemade pastry shell will take your quiche from good to great.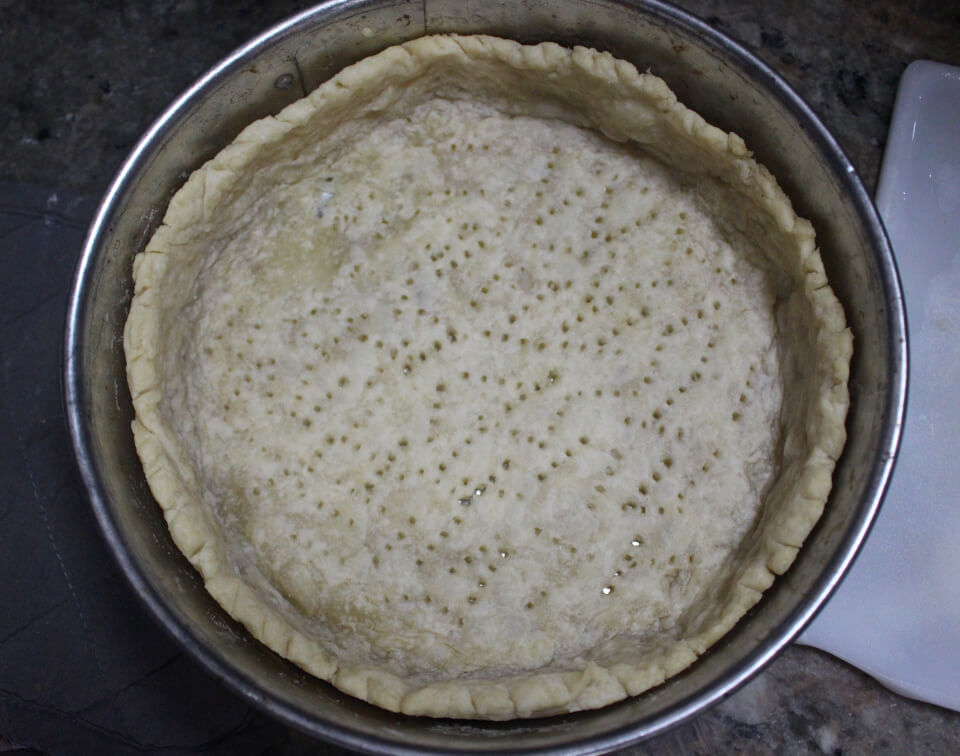 ✽ Step 2: Blanch and Chop Spinach
The spinach is blanched and chopped. Look how small it gets!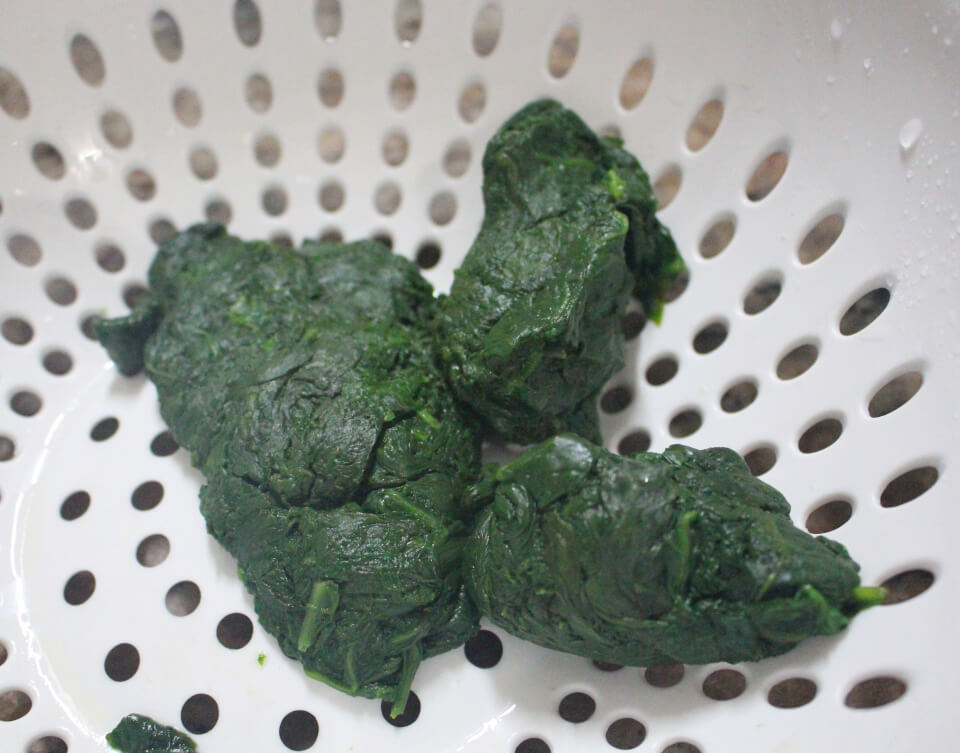 ✽ Step 3: Cook Shallot and Spinach in Butter
In a saucepan, add in some butter, let it melt, and cook the shallots. I can smell the greatness now. Mmmmhmm!
Add in the spinach to make sure all the water is evaporated. You wouldn't want a soggy quiche now would you?
The spinach is seasoned and a bit of one of Julia's favorite ingredients, nutmeg, is added.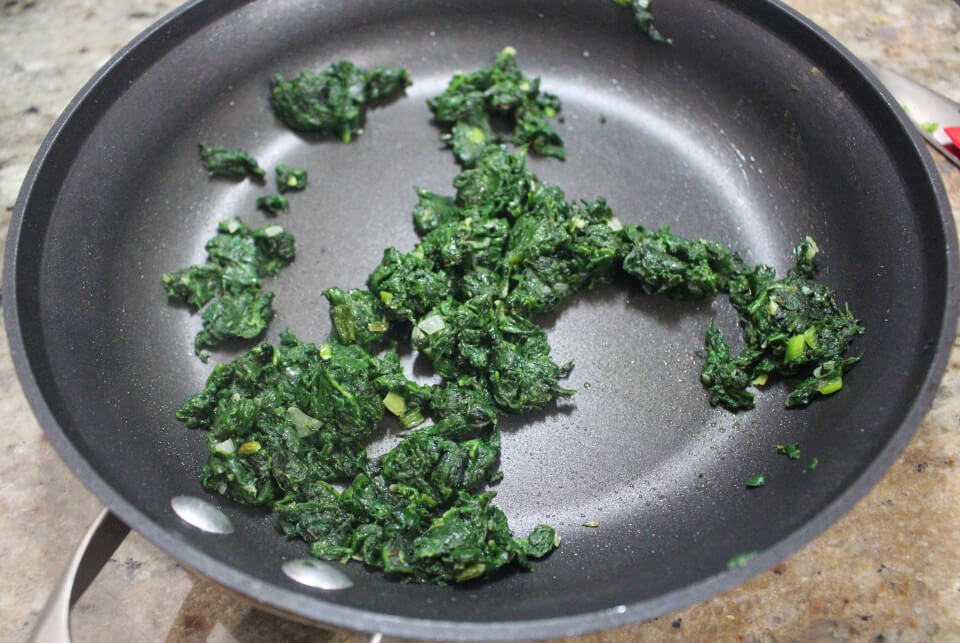 ✽ Step 4: Add Spinach to Eggs and Cream
The spinach is then carefully stirred into the mixture of eggs and cream.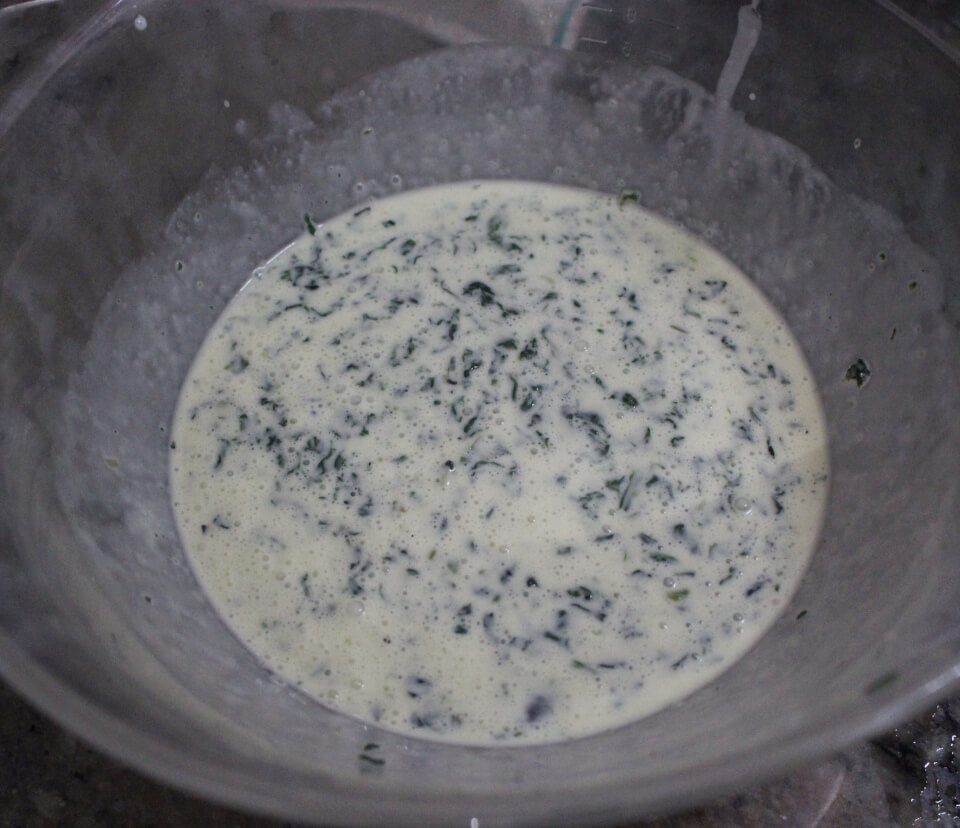 ✽ Step 5: Prepare Quiche and Bake Quiche
The mixture is added into the partially baked pastry shell and sprinkled with some cheese and butter.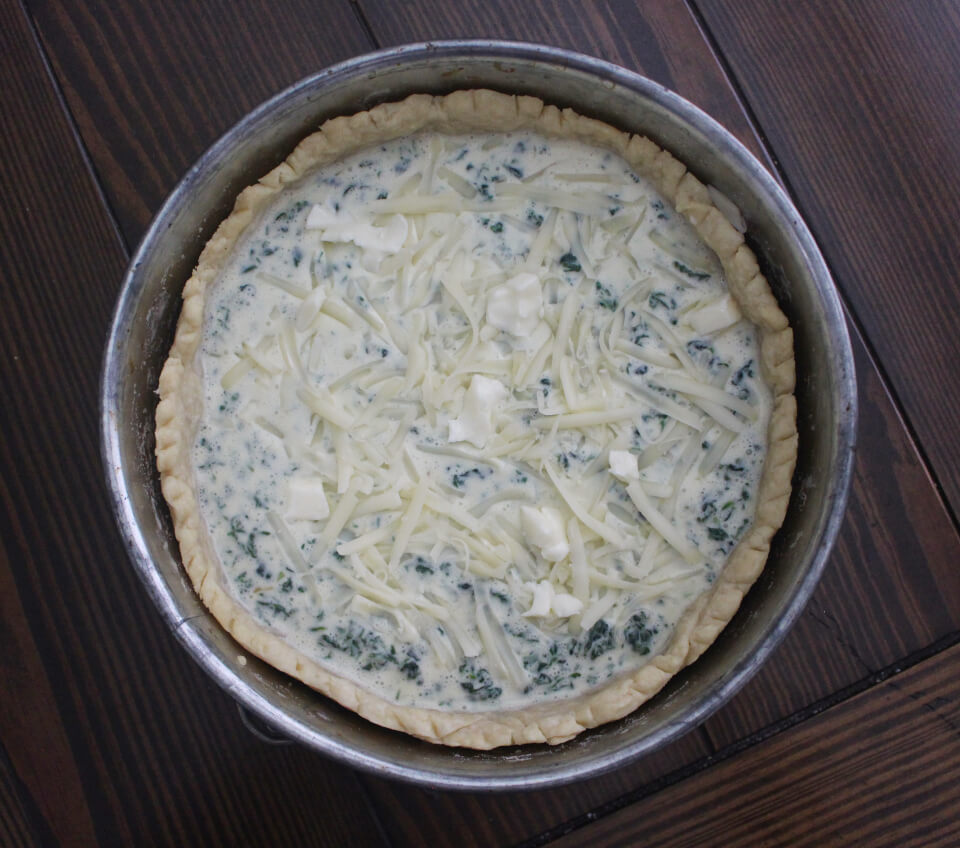 It's now ready to bake in the oven. Easy as pie!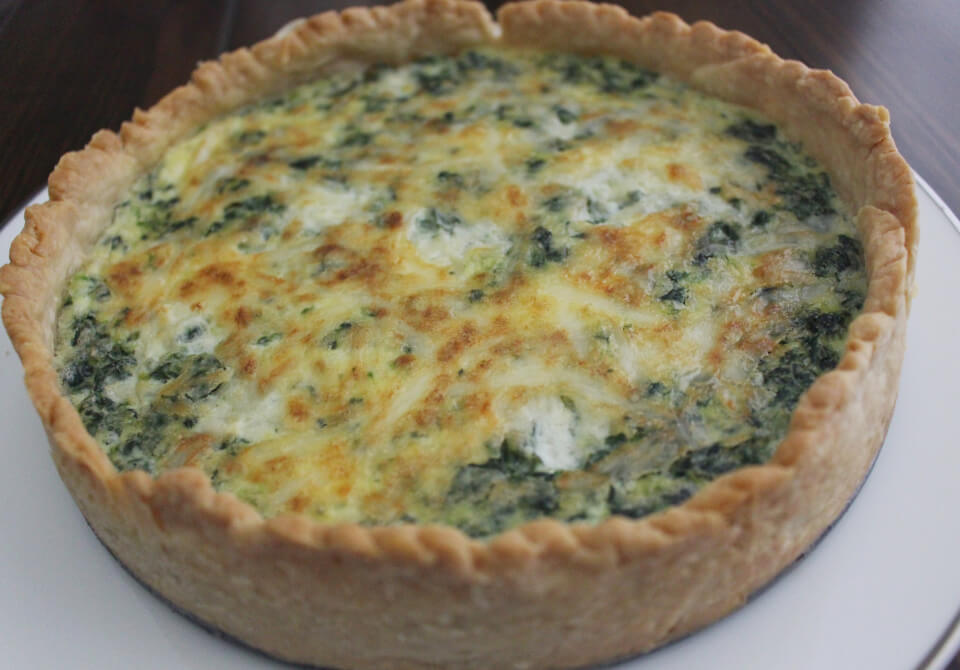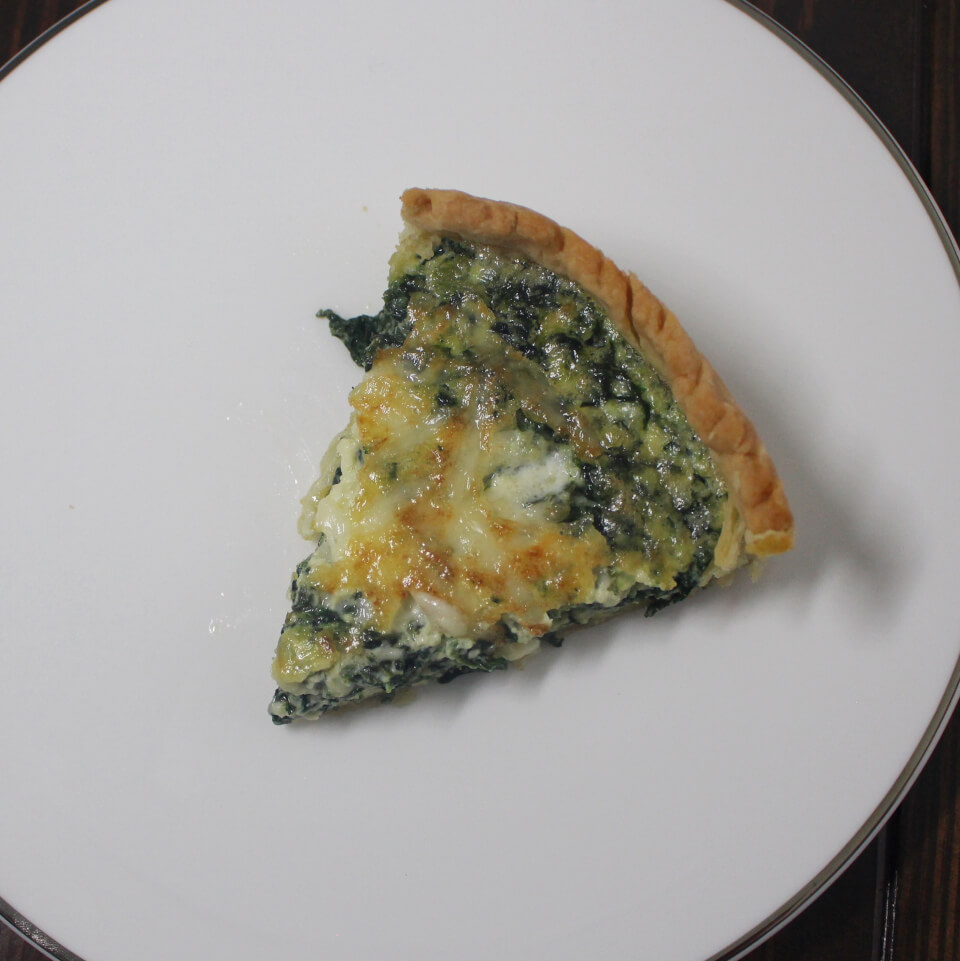 *This blog, Laura The Gastronaut, and this post were/are not endorsed or supported by Julia Child or The Julia Child Foundation.

Category: Julia Child, Entrées and Luncheon Dishes Cuisine: French
Keywords: spinach quiche, quiche aux epinards, julia child quiche, julia child spinach quiche recipe
✽ Did you make this recipe too?
→ Let me know by leaving a comment below and sharing on Instagram. Tag @laurathegastronaut and hashtag it #laurathegastronaut.
More Quiche Recipes:
✽ Mushroom Quiche (one of my favorite quiche recipes filled with lots of yummy mushrooms)
✽ Leek Quiche (a must recipe for anybody that is a fan of leeks)
✽ Roquefort Cheese Quiche (I can never have too much roquefort cheese)
→ Check out all of the completed Julia Child entree and luncheon dish recipes!
✽ You can find this recipe and all the other Julia Child recipes I make in Mastering the Art of French Cooking, Volume I (affiliate link).
Mastering the Art of French Cooking, Vol. I was written by Julia Child who co-authored with Simone Beck & Louisette Bertholle and was published by Alfred A. Knopf in 1961.
✽ Check out my Julia Child Recipe Checklist to see a list of all my completed and pending recipes from Mastering the Art of French Cooking!
Bon appétit!
August 11, 2020 by Laura Bullock
*This Spinach Quiche blog post may contain some Amazon affiliate links. These link to products that I personally use and recommend. If you purchase anything using my links, it will not cost you anything. It will though give laurathegastronaut.com some financial support which helps me keep this blog running. Thank you for reading my blogs and your continued support.