Laura The Gastronaut > Julia Child > Entrees and Luncheon Dishes >

Mushroom Quiche
Mushroom Quiche
July 17. 2020 | Updated April 18, 2022 | Laura
*This post may contain affiliate sales links. Please see full disclosure policy for details. *The views expressed on this blog are my own.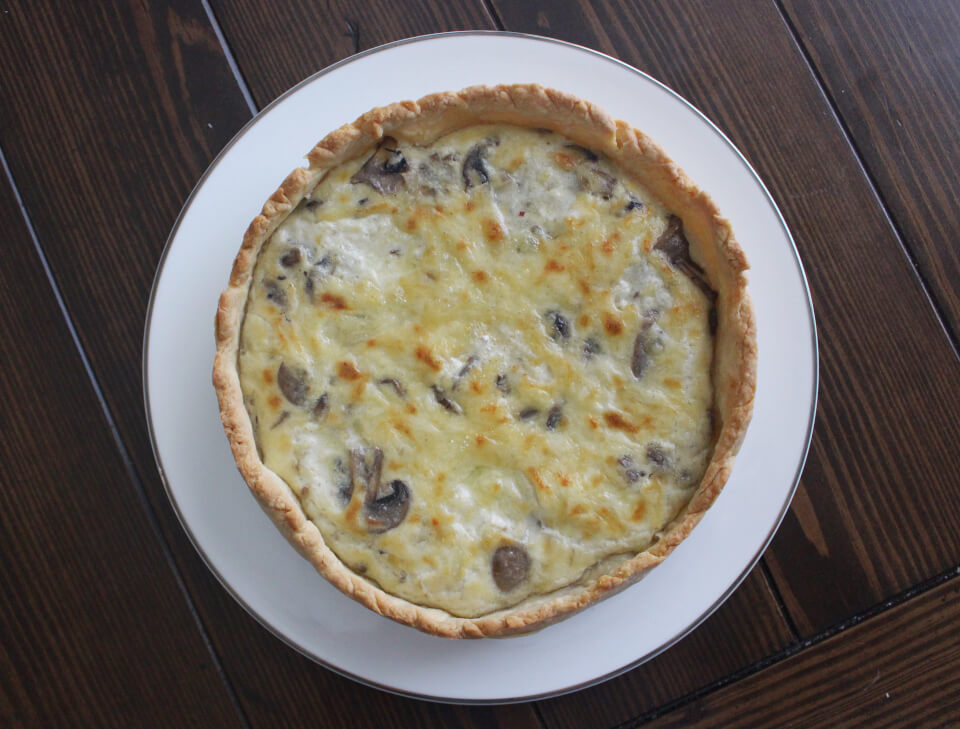 ✽ Recipe from Mastering the Art of French Cooking, Vol. I | Julia Child ✽
Julia Child Recipe 127 | 401 recipes to go!
✽ Mushroom Quiche [Quiche aux Champignons], p. 152
__________________________________
✽ Mastering the Art of French Cooking, Vol. I was written by Julia Child who co-authored with Simone Beck & Louisette Bertholle and was published by Alfred A. Knopf in 1961.
✽ You can buy Julia Child's Mastering the Art of French Cooking, Volume I which contains these recipes here. (affiliate link)
The purpose of this Julia Child section of my blog is to document my journey of learning how to cook. To show my successes, my failures, and what I learned along the way.
Since I didn't create these recipes (if only!), I do not post exact amounts of ingredients or word-for-word instructions. If any of these recipes spark your interest, I highly recommend you buy Julia Child's Mastering the Art of French Cooking (affiliate link). It's a great investment and learning tool and contains hundreds of classic recipes.
I hope that you enjoy reading my thoughts, learn something new, and leave inspired to try a new recipe. Bon appétit!
__________________________________
Butter Count & Cost: Mushroom Quiche
✽ Butter Count: +16 TB
✽ Cost: $9.78 [~$1.96 per serving]
Check out the total Julia Child butter count & cost here!
→ Looking for a different Julia Child recipe? Here's a list of all of the completed and pending Mastering the Art of French Cooking recipes!
I have one more quiche to go!
I'm so thrilled. I'm also excited to say that this was hands-down the best quiche so far. I can definitely see myself making this again. That says a lot since I am not a huge quiche fan.
It could be that the mushrooms are drowned in butter, placed into a buttery pastry dough, and topped with more butter. Yeah, that probably does have something to do with it.
I still have the spinach quiche to make, but it will have to be flawless to knock this quiche down.
Mushroom Quiche Recipe: Questions & Information
✽ What is Madeira wine?
An optional ingredient for this quiche recipe is Madeira or port wine. Before I started cooking Julia Child's recipes, I had never even heard of Madeira before.
Now, I always add a bit when I'm making mushrooms. They are so good together. Madeira mushrooms on top of a steak is to die for.
Madeira is a fortified wine that comes from the coast of Africa on the Portuguese Madeira Islands.
There are a variety of Madeira wines ranging from dry to sweet. The wine is made by oxidizing through heat and aging.
About 85% of Madeira is produced with Negra Mole, a red grape.
Most Madeira is used as an aperitif (before dinner) and digestif (after dinner). However, there are Madeira wines that are specifically used for cooking. Somtimes salt and pepper are even added to the wine.
✽ What do you serve with mushroom quiche?
A common side option for quiche is salad. An arugula salad is a great option or even a caprese salad would be delicious. Since quiches are normally served around brunch time, fruit or a fruit salad would pair nicely.
✽ What could you add to this mushroom quiche?
Now that I have made the spinach quiche recipe since writing this original post, I think spinach would be an absolutely delicious addition. A spinach mushroom quiche sounds so good! Also, a bacon mushroom quiche sounds quite nice as well. And as a big onion fan, I would also think sauteed onions would be really good in this mushroom quiche as well.
Looking for more Julia Child quiche recipes to read about?
→ Check out all of the entree and luncheon dish recipes that I've completed so far!
Fun Mushroom Facts
Find more of these facts on The Mushroom Council
✽ White Button Mushrooms
White buttons are the most common variety of mushroom. They are about 90% of mushrooms consumed in the United States.
They have mild flavor, but the flavor will intensify with cooking.
✽ Crimini Mushrooms
Crimini mushrooms are also known as Baby Bells or Browns. They look very similar to white buttons, but they have a light brown to dark brown cap. They are also firmer than white buttons.
Crimini also have stronger flavor and taste earthy. They are a great addition to beef, wild game, and vegetable recipes.
How to Make Mushroom Quiche Recipe
✽ Step 1: Make Crust
This will be short and sweet. With this being my eighth quiche, I think I could make them in my sleep now.
First, make the pastry dough and partially bake it the same way as always.
✽ Step 2: Cook Shallots and Mushrooms in Butter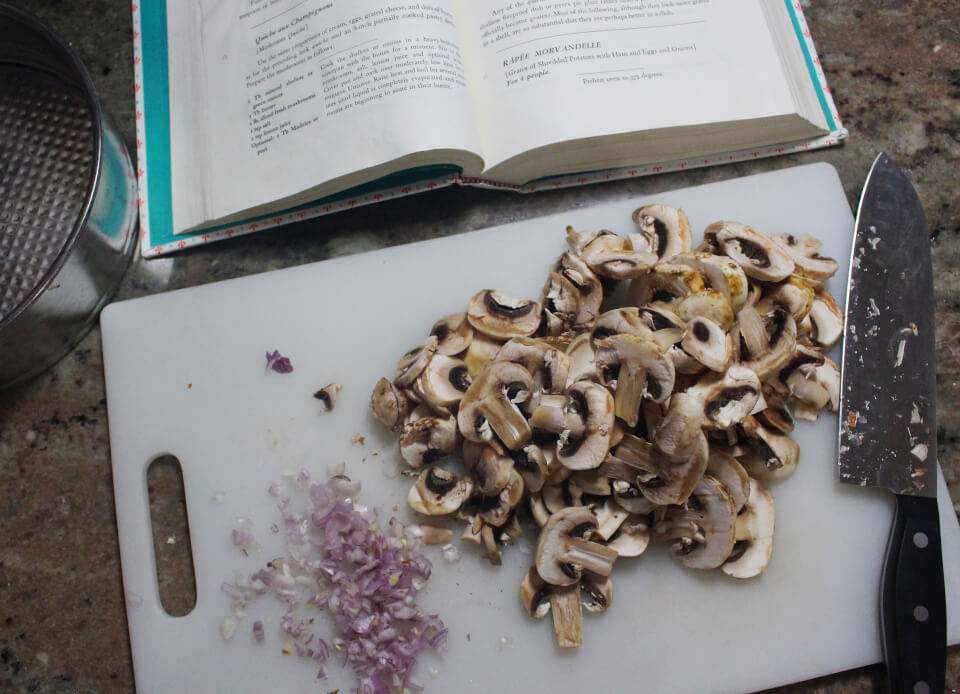 Now, let's talk about those mushrooms. As mentioned in the previous paragraph, a fair amount of butter is melted in a saucepan.
Shallots are cooked for a moment. Then the sliced mushrooms, seasonings, lemon juice, and Madeira wine are added.
The Madeira is optional, but cooking with wine is fun so I always say 'yes' to the optional wine suggestions.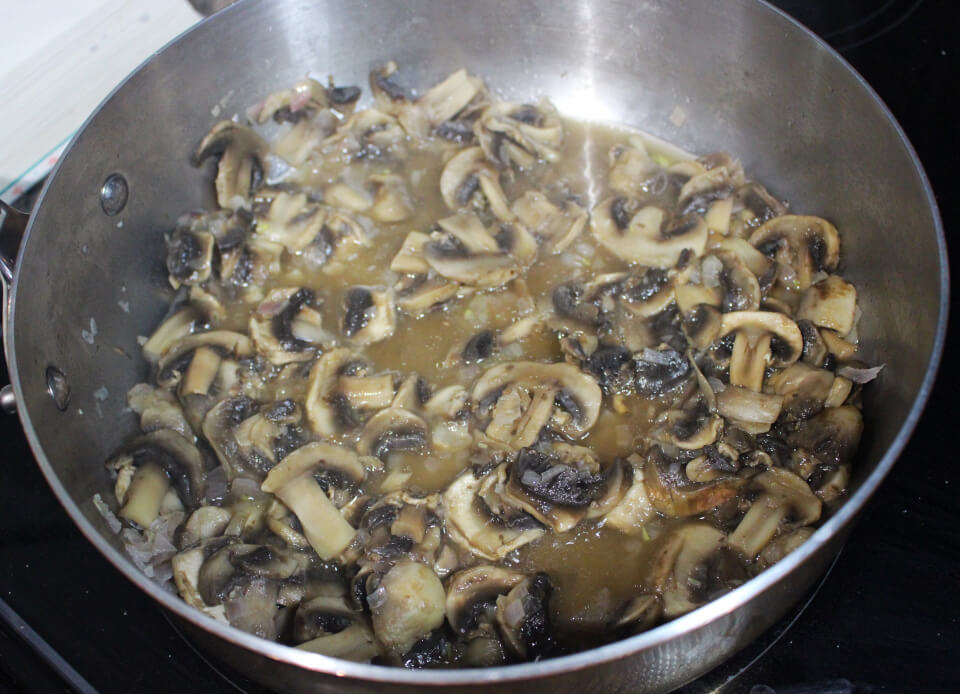 The saucepan is covered, and everything is cooked for for a few minutes.The pan is then uncovered and the liquid is boiled off.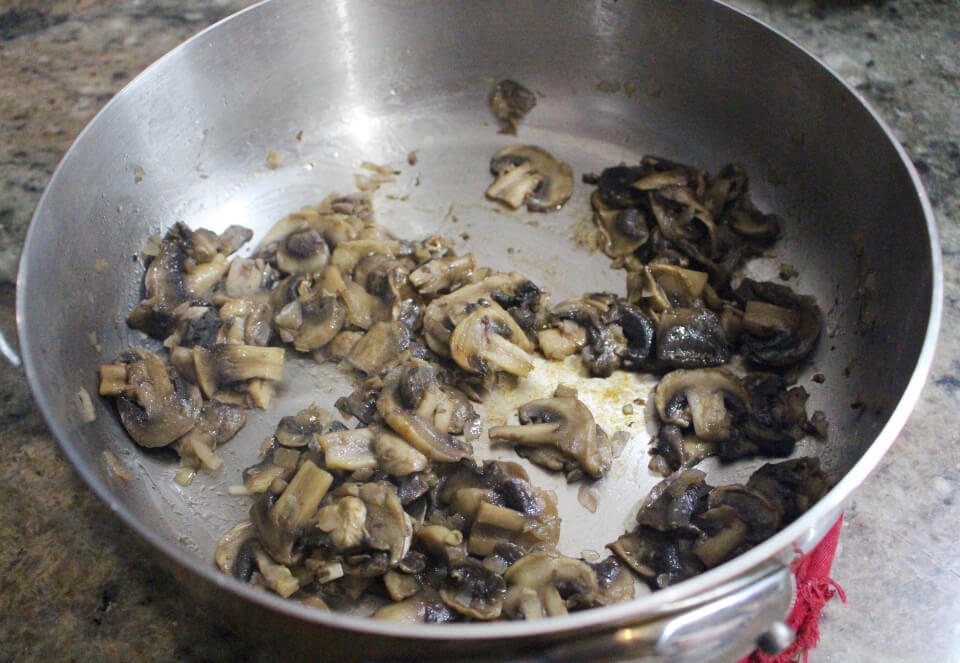 ✽ Step 3: Add Mushrooms to Cream and Eggs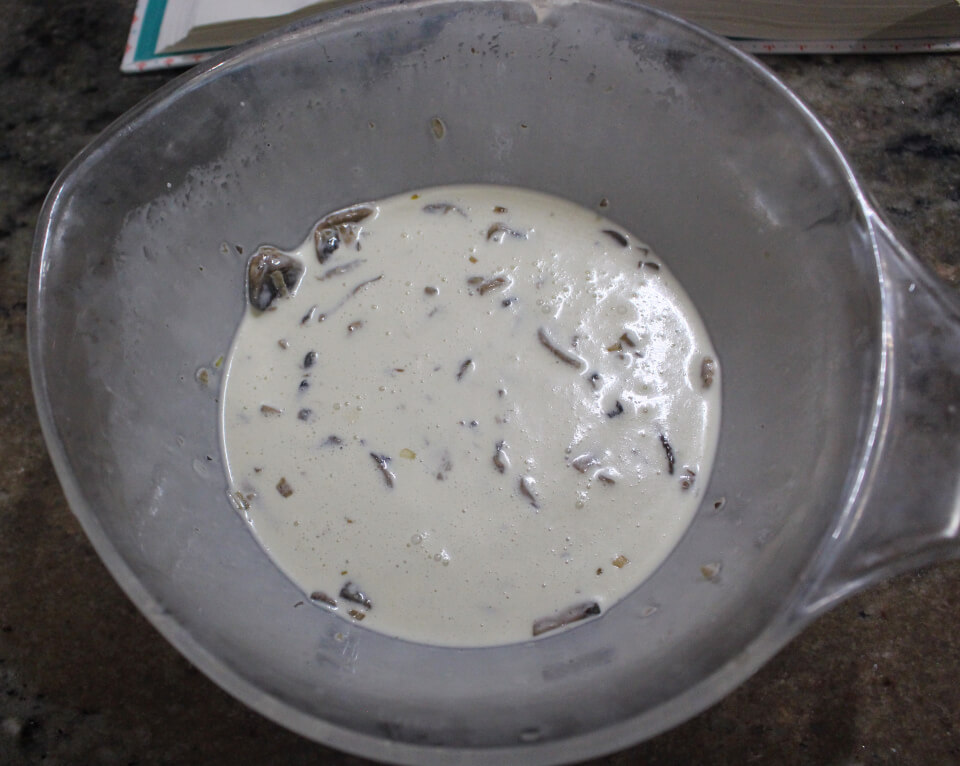 The mushrooms are now stirred into an egg and cream mixture, poured into the pastry shell, and sprinkled with grated Swiss cheese and dots of butter.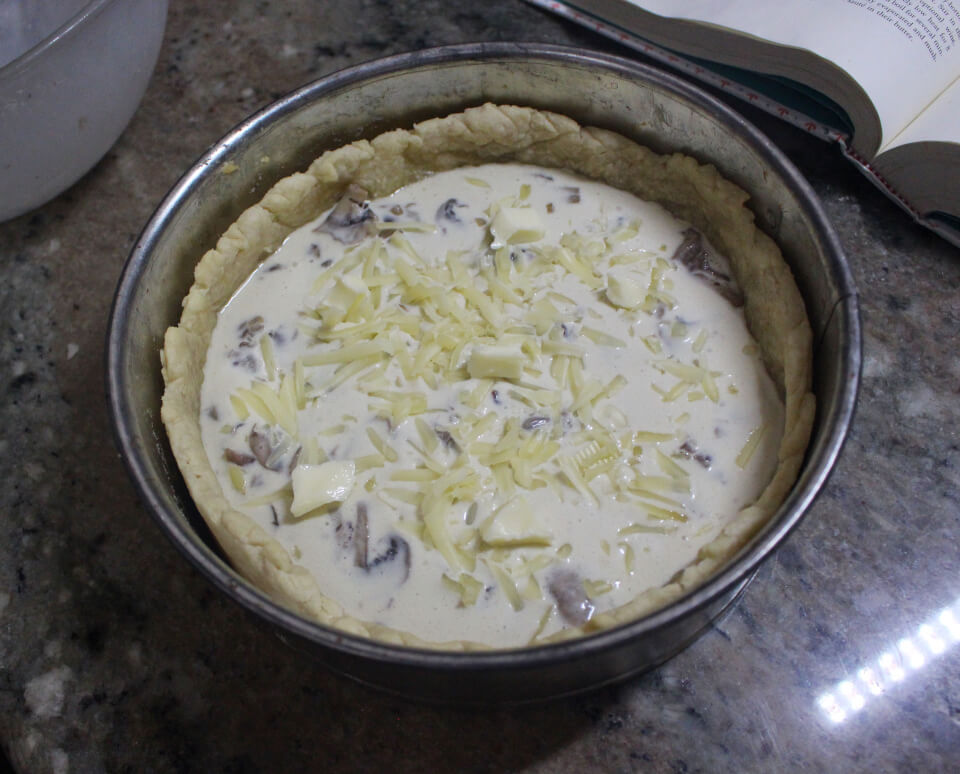 The quiche is baked in the oven for about half an hour.
I know I am in the minority when I say that quiches are not my favorite, but this quiche could easily change my mind.
I will never underestimate how much buttery mushrooms can improve a dish.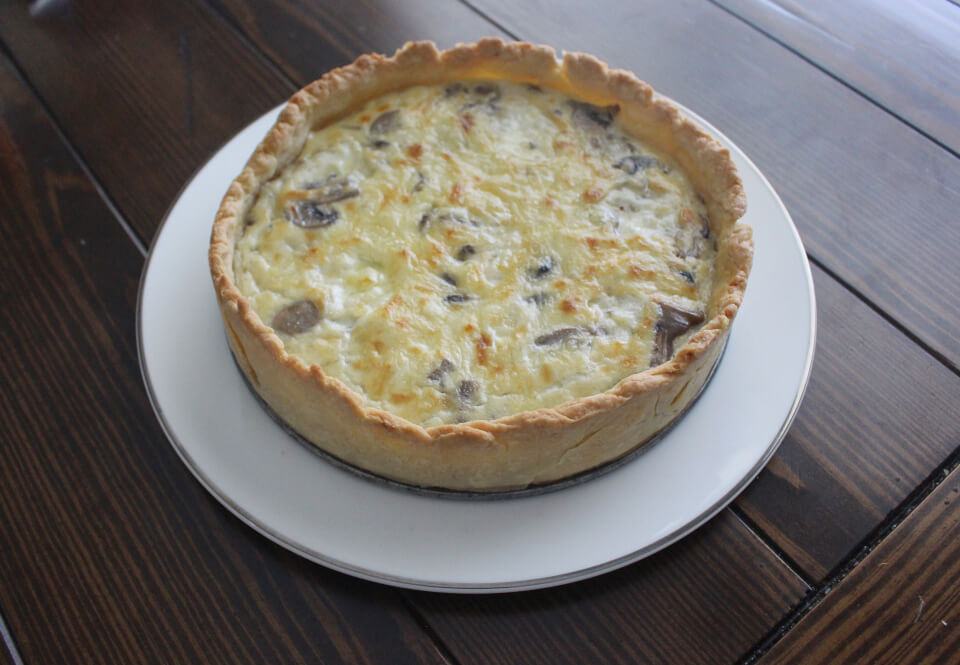 *This blog, Laura The Gastronaut, and this post were/are not endorsed or supported by Julia Child or The Julia Child Foundation.

Category: Julia Child, Enrees and Luncheon Dishes Cuisine: French
Keywords: mushroom quiche, julia child mushroom quiche recipe,mushroom quiche recipe
✽ Did you make this recipe too?
→ Let me know by leaving a comment below and sharing on Instagram. Tag @laurathegastronaut and hashtag it #laurathegastronaut.
More Quiche Recipes:
✽ Spinach Quiche (the same quiche but with spinach instead of mushrooms)
✽ Shrimp, Crab, or Lobster Quiche (quiche packed full of seafood)
✽ Quiche Lorraine (a classic quiche recipe made with cream and bacon)
→ Check out all of the completed Julia Child entree and luncheon dish recipes!
✽ You can find this recipe and all the other Julia Child recipes I make in Mastering the Art of French Cooking, Volume I (affiliate link).
→ Mastering the Art of French Cooking, Vol. I was written by Julia Child who co-authored with Simone Beck & Louisette Bertholle and was published by Alfred A. Knopf in 1961.
✽ Check out my Julia Child Recipe Checklist to see a list of all my completed and pending recipes from Mastering the Art of French Cooking!
Bon appétit!
July 17, 2020 by Laura Bullock
*This Mushroom Quiche blog post may contain some Amazon affiliate links. These link to products that I personally use and recommend. If you purchase anything using my links, it will not cost you anything. It will though give laurathegastronaut.com some financial support which helps me keep this blog running. Thank you for reading my blogs and your continued support.