Orange Mousse
Orange Mousse
March 26, 2020 | Updated December 6, 2022 | Laura
*This post may contain affiliate sales links. Please see full disclosure policy for details.
*The views expressed on this blog are my own.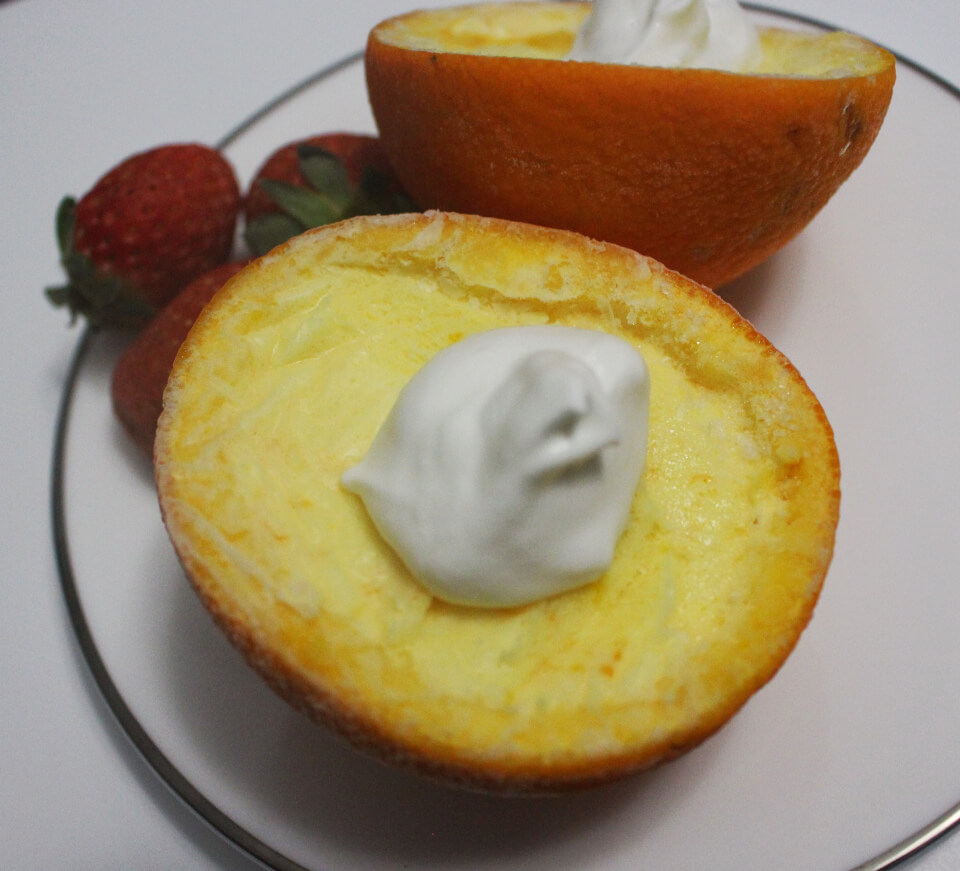 ✽ Recipe from Mastering the Art of French Cooking, Vol. I | Julia Child ✽
Julia Child Recipe 89 | 439 recipes to go!
✽ Orange Mousse [Mousse À l'Orange], p. 603
__________________________________
✽ Mastering the Art of French Cooking, Vol. I was written by Julia Child who co-authored with Simone Beck & Louisette Bertholle and was published by Alfred A. Knopf in 1961.
✽ You can buy Julia Child's Mastering the Art of French Cooking, Volume I which contains these recipes here. (affiliate link)
The purpose of this Julia Child section of my blog is to document my journey of learning how to cook. To show my successes, my failures, and what I learned along the way.
Since I didn't create these recipes (if only!), I do not post exact amounts of ingredients or word-for-word instructions. If any of these recipes spark your interest, I highly recommend you buy Julia Child's Mastering the Art of French Cooking (affiliate link). It's a great investment and learning tool and contains hundreds of classic recipes.
I hope that you enjoy reading my thoughts, learn something new, and leave inspired to try a new recipe. Bon appétit!
__________________________________
Butter Count & Cost: Oeufs Brouillés
✽ Butter Count: +0 TB
✽ Cost: $4.66 [~$0.78 per serving]
Check out the total Julia Child butter count & cost here!
→ Looking for a different Julia Child recipe? Here's a list of all of the completed and pending Mastering the Art of French Cooking recipes!
A Frozen Delight
This is a recipe for an absolutely delightful dessert. It is bright, citrusy, and would be a perfect way to end a sunny day.
The flavor reminds me quite a bit of orange sherbet. Although I am not a huge orange person and would rather be eating something chocolately, I would still never turn this dessert down if offered.
The only thing I would change about this recipe next time is the orange and lemon zest. It was a little much for me and reminded me of pulp in orange juice. I'm personally not a huge fan of pulpy juices. However, it did provide this recipe with some bright flavors!
Julia recommends this mousse to be served in scooped-out halves of oranges making this a very adorable dessert!
Orange Mousse Recipe: Questions
✽ What is a mousse?
Mousse a a soft dessert that is 'fluffy' due to air bubbles being incorporated into the mixture making it light and airy. You can find both savory and sweet mousse. Sweet mousse, such as this orange mousse, are usually made with whipped egg whites and/or whipped cream plus flavorings including chocolate, coffee, fruits, vanilla, and caramel. Sometimes egg yolks are added to make the dessert richer.
Mousse is served chilled, and sometimes, as in the case of this orange mousse, served frozen. It is sometimes served free-form or molded. And while mousse can be served on its own as a dessert, it can also be used as a filling.
✽ What are the differences and similarities between Bavarian creams and mousse?
Unlike mousse, Bavarian creams are always sweet and always molded. For similarities, both mousse and Bavarian creams have four characteristics: flavor, enrichment, lightener, and stablizer.
Flavor Base: Mousse can be practically any flavor- chocolate, fish, orange, etc. For Bavarian cream, the flavor base is always a crème anglaise, or light custard sauce.
Enrichment: In addition to the flavor base, both recipes may have added flavorings. Mousse can be flavored with egg yolks, vanilla, liquor, etc. Bavarian creams are often flavored with spices and vanilla.
Lightener: A lightener will capture air bubbles making the dessert light and airy. In this orange mousse, whipped egg whites with sugar are added. In savory mousse, an immersion blender will add in air. Bavarian creams have whipped cream beaten to soft peaks folded into it.
Stabilizer: The stabilizer will allow the desserts to keep their shape. In mousse, the whipped cream and whipped egg whites (meringue) will stabilize as well as chilling the mousse in the fridge. Bavarian cream is stabilized with gelatin. Source: Sugar Talk.
Looking for more Julia Child dessert recipes?
→ Check out all of the dessert recipes that I've completed so far!
Fun Facts about Mousse
What does mousse mean?
✽ In French, mousse means "froth" or "foam". Mousse is pronounced the same way as the animal, moose.
When was mousse first created?
✽ First, savory mousse was created in France during the 18th century. In the later half of the 19th century, sweet mousse began to pop up- mostly ones made with fruit.
What is the most famous mousse?
✽ Choclate mousse is by far the most talked about mousse. It even has its own 'National Chocolate Mousse Day' every year on April 3rd.
For this recipe:
*Some of these links may be affiliate links. As an Amazon Associate I earn from qualifying purchases.*
How to Make Julia Child's Recipe for Orange Mousse
Fortunately, for me, this recipe is A LOT easier than making Bavarian creams. After making all of these recipes that require lots of whisking, these techniques have pretty much become second nature for me now.
✽ Step 1: Grate and Juice
It begins by grating the skins of oranges and a lemon into orange liqueur. I used Triple Sec. The oranges are squeezed and the juice is strained into the mixture until you have a couple of cups. Make sure you strain the juice or you will end up with a lot of pulp in your final product.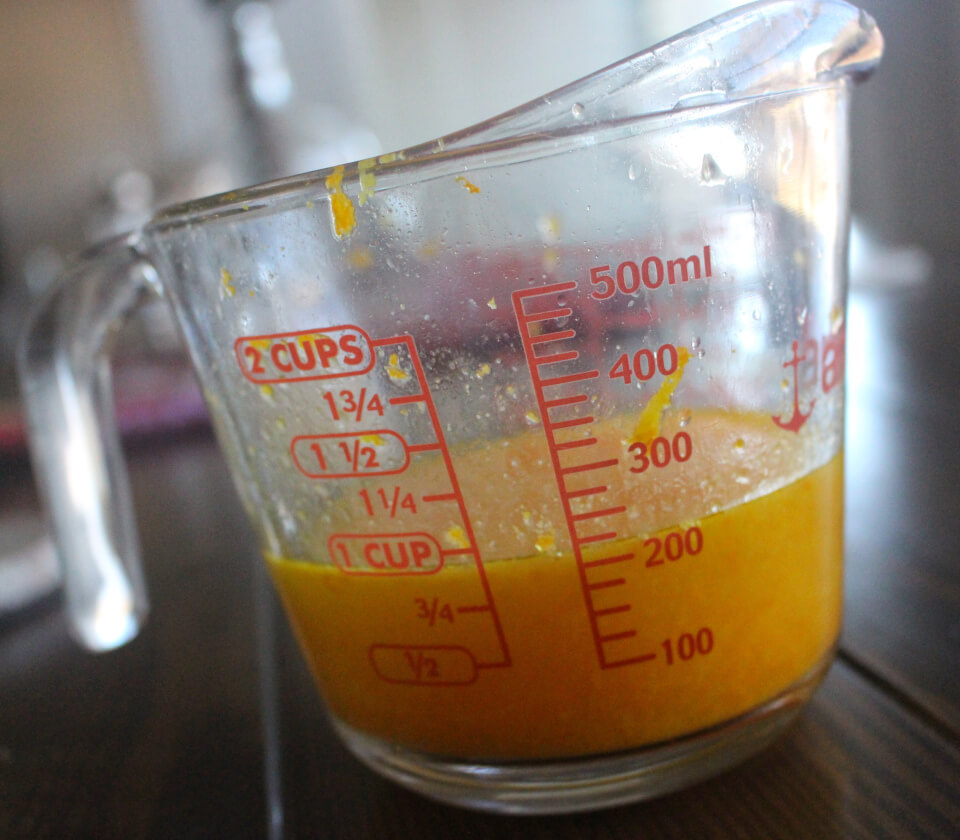 ✽ Step 2: Heat Egg yolks
Next up, a custard-like mixture is made by mixing egg yolks and sugar together until it turns pale yellow and forms a ribbon. Some cornstarch and the orange juice mixture is beaten in.
It is all heated over moderate heat until it thickens and reaches about 170 degrees. It is important to not go over that temperature or your eggs will curdle! A candy thermometer is helpful to ensure the mixture doesn't get too hot.
If you don't have a thermometer, continue to cook and continuously stir until the mixture is thick enought to lightly coat the back of a spoon.
✽ Step 3: Beat & Fold In Egg Whites
Egg whites and salt are beaten until soft peaks are formed. Sugar is added and the mixture is beaten until stiff peaks are formed. Just make sure not to over beat!
If you are unsure about what to look for when determining if you are at a soft or stiff peak stage, I highly recommend googling 'soft peaks vs stiff peaks'. You will find many images showing you exactly what to look for!
Egg whites are folded into the orange mixture over ice until it is chilled.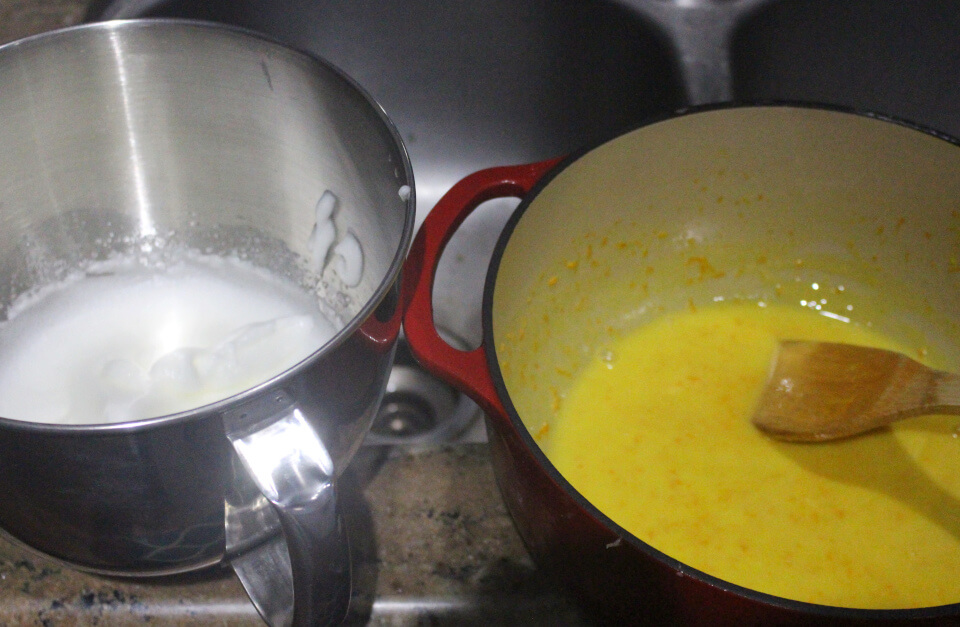 ✽ Step 4: Beat & Fold In Cream
The chilled whipping cream is beaten until stiff and is folded into the chilled mousse. Lastly, fill up your scooped-out halves of oranges/bowls/cups and freeze for several hours.
✽ Step 5: Decorate
Right before serving, I chose to top this orange mousse with homemade whipped cream which is always a good idea! Julia also suggests you can decorate with glazed orange peel, angelica, and mint leaves.
These came out so cute and are the perfect summer day treat!
*This blog, Laura the Gastronaut, and this post were/are not endorsed or supported by Julia Child or The Julia Child Foundation.

Category: Julia Child, Desserts & Cakes Cuisine: French
Keywords: Julia Child orange mousse, julia child mousse a l'orange, french orange dessert, frozen orange mousse recipe
✽ Did you make this recipe too?
→ Let me know by leaving a comment below and sharing on Instagram. Tag @laurathegastronaut and hashtag it #laurathegastronaut.
More Julia Child Dessert Recipes:
✽ Orange Bavarian Cream (another rich and delicious orange dessert)
✽ Chocolate Mousse (one of my all-time favorite Julia Child dessert recipe)
✽ Charlotte Malakoff aux Fraises (a beautiful strawberry dessert that tastes just as good as it looks)
→ Check out all of the completed Julia Child dessert recipes!
✽ You can find this recipe and all the other Julia Child recipes I make in Mastering the Art of French Cooking, Volume I (affiliate link). Mastering the Art of French Cooking, Vol. I was written by Julia Child who co-authored with Simone Beck & Louisette Bertholle and was published by Alfred A. Knopf in 1961.
✽ Check out my Julia Child Recipe Checklist to see a list of all my completed and pending recipes from Mastering the Art of French Cooking!
Bon appétit!
March 26, 2020 by Laura Ehlers
*This Orange Mousse blog post may contain Amazon affiliate links. These link to products that I personally use and recommend. If you purchase anything using my links, it will not cost you anything. It will though give laurathegastronaut.com some financial support which helps me keep this blog running. Thank you for reading my blogs and your continued support.