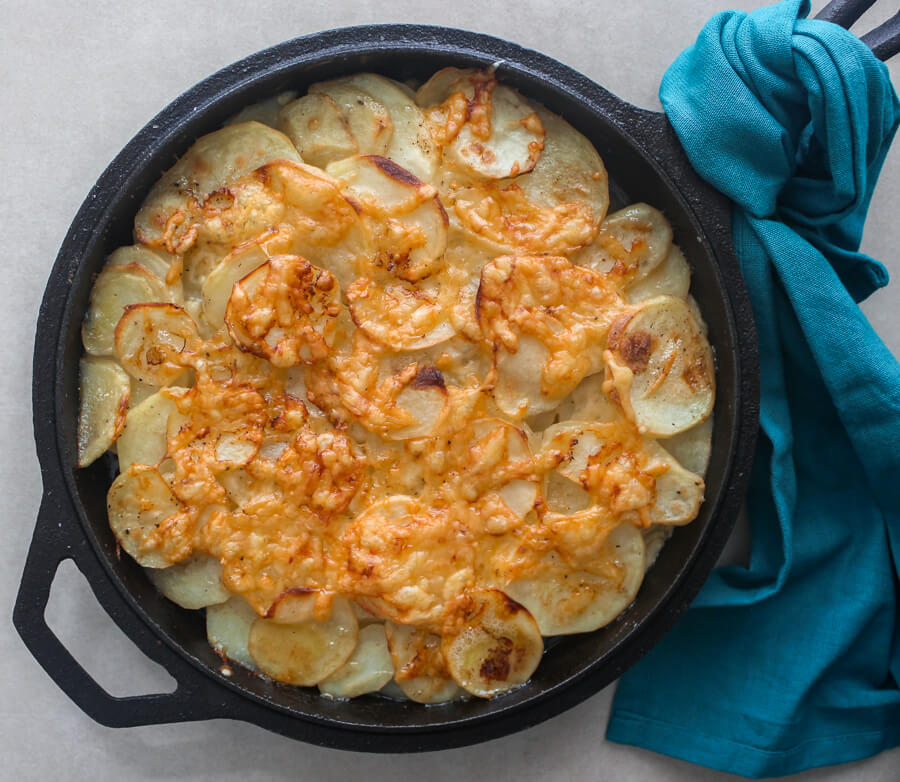 Mastering the Art of French Cooking | Julia Child
Recipe 169
- Gratin Savoyard [Scalloped Potatoes with Meat Stock and Cheese], p. 524
You can buy Julia Child's Mastering the Art of French Cooking which contains these recipes here.
You can watch me make this recipe for the first time on my YouTube channel here.
Butter Count: +6 TB
Cost: $5.76 [~$0.96 per serving]
Looking for another Julia Child recipe? Check out my Recipe Checklist here to see if I've made it!
This is a Julia Child scalloped potato recipe so we all know how this is going to turn out. AMAZING. Have you ever made anything with potatoes, garlic, butter, and cheese, and it not turn out good?? I didn't think so. This recipe is a variation of Gratin Dauphinois [Scalloped Potatoes with Milk, Cheese, and a Pinch of Garlic]. There's a small bit in the description before these recipes that really bothers me. Julia says that though some may violently disagree, you may omit the cheese. WHAT?! That's crazy talk. I, for one, definitely violently disagree. I couldn't imagine omitting the cheese out of a scalloped potato recipe. Well, actually, I couldn't imagine omitting the cheese out of any recipe.. Add more cheese if anything.
LAURA'S RATING: 10
BRIAN'S RATING: 10
There's not many recipes where my husband and I both give the recipe a 10. We are pretty tough judges so this is a true rarity. So don't walk- run to the kitchen to make this! Julia suggest you serve these potatoes with roast or broiled chicken, turkey, or veal. For us, these potatoes were our meal. A very unhealthy, but absolutely delicious meal.
COOKING PROCESS: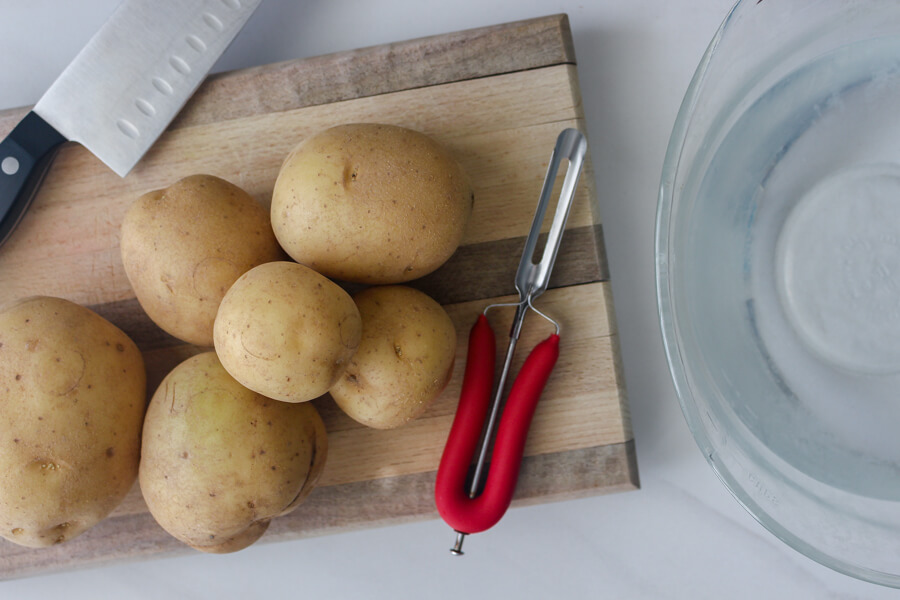 Step 1 involves peeling the potatoes, slicing them 1/8 inch thick, and placing them in a basin of cold water until ready to use.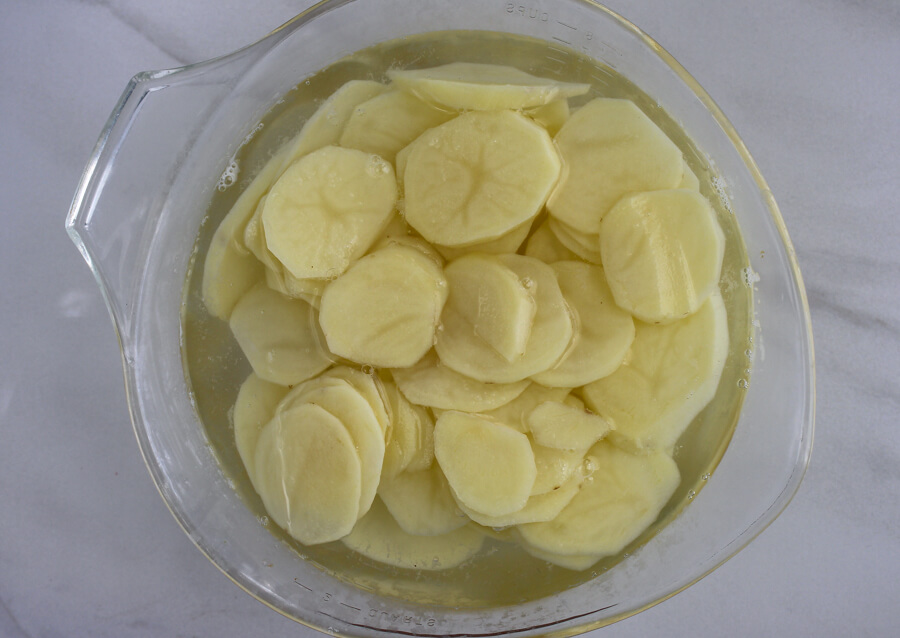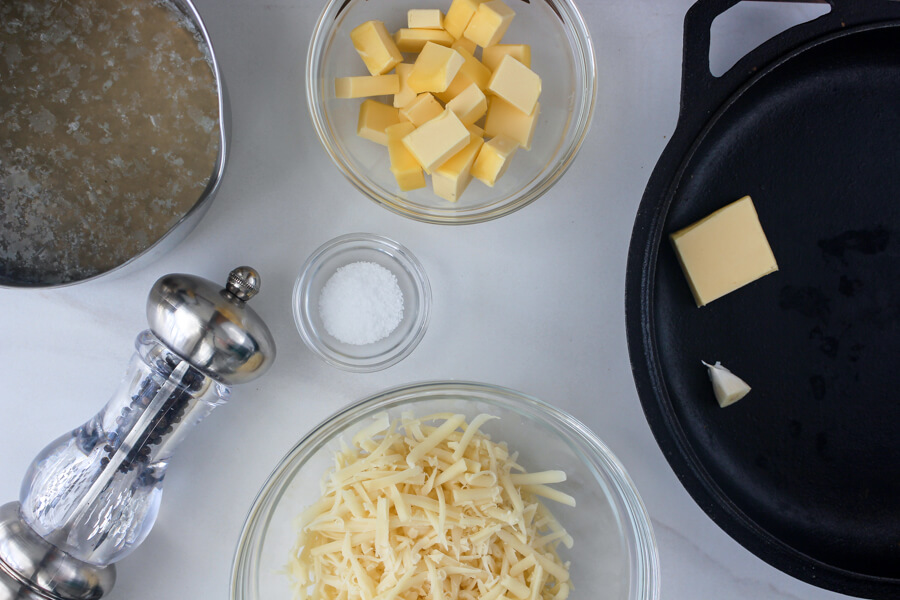 Now my favorite part- rubbing cut garlic in the baking dish. The first time I did this I really didn't think the garlic flavor would come through, but I was wrong (again). I've been on a cast iron kick here lately so that's what I used. I used the lid of the cast iron which is perfect since Julia says to use a dish about 2 inches deep.
Next, it's just a layering game. Half of the drained potatoes on the bottom then half of the salt, pepper, cheese, and butter. Repeat with the remaining ingredients. There's only two differences between this recipe and the gratin dauphinois recipe. First, this one then has boiling stock poured over it instead of milk. And because you are using a less creamy substances, two more tablespoons of butter are added.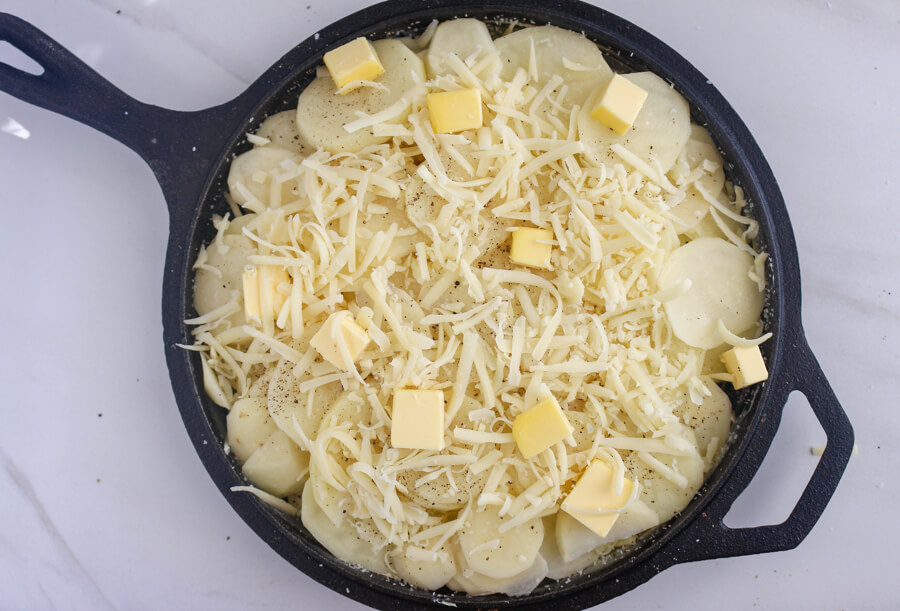 The dish is set over heat until simmering and placed into the oven until the liquid has absorbed and the top is nicely browned.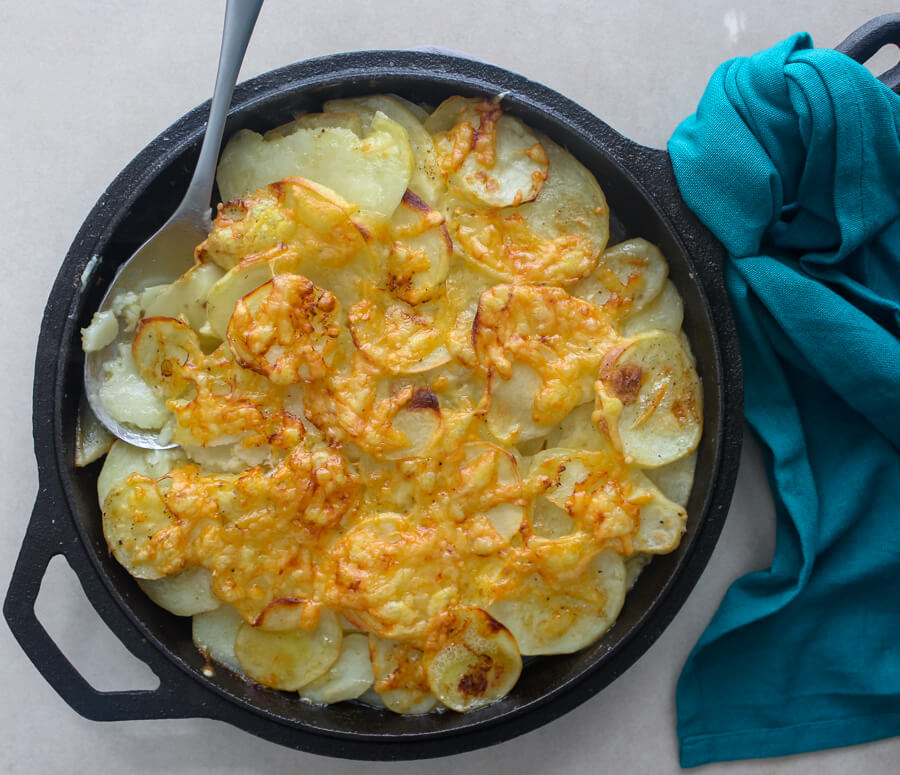 You can find these recipes and all the other Julia Child recipes I make in Mastering the Art of French Cooking
Check out my Recipe Checklist to see a list of all my completed and pending recipes from Mastering the Art of French Cooking!
Bon appétit!
March 22, 2021 by Laura Bullock