Butter Spongecake
Butter Spongecake with Chocolate Icing
May 11, 2019 | Updated April 13, 2022 | Laura
*This post may contain affiliate sales links. Please see full disclosure policy for details.
*The views expressed on this blog are my own.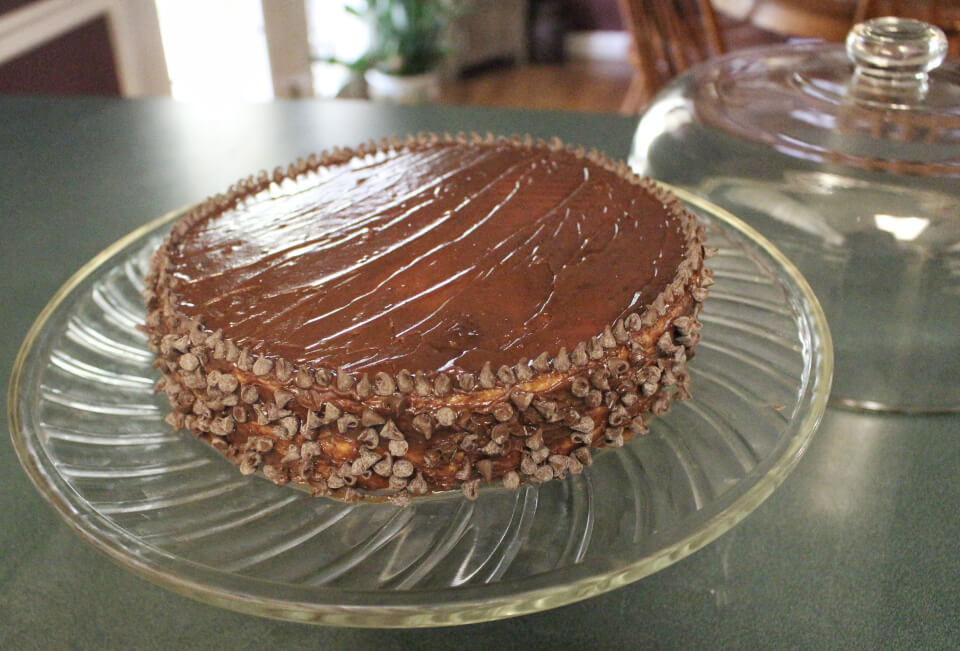 ✽ Recipe from Mastering the Art of French Cooking, Vol. I | Julia Child ✽
Julia Child Recipes 22-23 | 505 recipes to go!
✽ Butter Spongecake [Biscuit au Beurre], p. 669
✽ Chocolate-butter Icing [Glaçage au Chocolat], p. 684
✽ Mastering the Art of French Cooking, Vol. I was written by Julia Child who co-authored with Simone Beck & Louisette Bertholle and was published by Alfred A. Knopf in 1961.
✽ You can buy Julia Child's Mastering the Art of French Cooking, Volume I which contains these recipes here. (affiliate link)
The purpose of this Julia Child section of my blog is to document my journey of learning how to cook. To show my successes, my failures, and what I learned along the way.
Since I didn't create these recipes (if only!), I do not post exact amounts of ingredients or word-for-word instructions. If any of these recipes spark your interest, I highly recommend you buy Julia Child's Mastering the Art of French Cooking (affiliate link). It's a great investment and learning tool and contains hundreds of classic recipes.
I hope that you enjoy reading my thoughts, learn something new, and leave inspired to try a new recipe. Bon appétit!
__________________________________
Butter Count & Cost: Butter Spongecake with Chocolate-butter Icing
✽ Butter Count: +10 TB
✽ Cost: $4.62 [~$0.42 per serving]
- Butter Spongecake= $2.50 [10-12 servings]
- Chocolate-butter Icing= $2.12
Check out the total Julia Child butter count & cost here!
→ Looking for a different Julia Child recipe? Here's a list of all of the completed and pending Mastering the Art of French Cooking recipes!
When in doubt, eat cake.
Before I begin, I just have to say I went out of order on the dessert chapter. What happened- I was at my parent's house, and I REALLY wanted to cook but I REALLY didn't want to go to the grocery store.
I was on my last spring break ever so it seemed appropriate to break the rules.
I made the one thing in the book that my mom had all the ingredients already on hand, and that was the butter spongecake.
Fortunately, I have already made two Bavarian creams at this point so I have the whipping pretty much down!
I also have been really excited to make this cake ever since I received the cookbook so it was a good one to skip ahead to. Until this recipe, I had never made a spongecake before and didn't know where the "sponge" came from.
Now, that I know.. I'll be craving spongecake for the rest of my life. So delicious!
Julia Child Spongecake Recipe: Questions
✽ How do you serve butter spongecake?
As you can see, I went the chocolate route with my spongecake. Which was a delicious choice! I used Julia Child's recipe for Chocolate-butter Icing. I think that this cake can be turned into anything that you want it to be!
You could just sprinkle a bit of powdered sugar on top of the spongecake prior to serving. Julia also suggests serving with fruits and tea.
She also mentions that you can turn it into a strawberry shortcake. Yum!
✽ What is a biscuit spongecake?
Biscuit is pronounced as 'bees-kee' in French.
This spongecake contains both egg yolks and egg whites. Each of them are whisked separately and then folded together with cake flour.
When compared to other types of spongecakes, the biscuit spongecake is drier. However, it can hold its shape better.
This cake can be used in Swiss roll recipes as well as lady finger recipes. To help with the dryness, you can add fruit syrups on top. Source: Amari Bakery.
✽ What makes a sponge cake different than a regular cake?
Traditionally, sponge cakes do not contain butter. The fat comes from the eggs.
The egg whites are whipped and then folded into the batter. The cake does not contain any baking powder or baking soda. The egg whites make the sponge cake rise. So the cake is light and fluffy.
On the other hand, butter cakes (or what I usually think of when I think cake) are made with lots more fat such as butter, shortening, or oil. They use baking powder or baking soda for leavening. With these recipes, you end up with a dense and moist cake. Source: All Recipes.
Looking for more Julia Child dessert recipes to read about?
→ Check out all of the dessert recipes that I've completed so far!
Fun Spongecake Facts
Find more of these facts on What's Cooking America.
✽ Why are they called sponge cakes?
Simple because of the cake's sponginess! They resemble a sea sponge and were given the name sponge cake.
✽ What is the oldest sponge cake?
The oldest recorded sponge cake dates back to 1615. It was recorded by an Egnlish poet named Gervase Markham. These sponge cakes were probably more similar to what we call cookies- thin and crisp.
Prior to this sponge cake recording, in the late 1400s and early 1500s, Italian cooks started making a new dessert they called 'biscuits' which were similar to what we call sponge cake today.
During the 1700s, yeast started to be replaced with eggs in cakes as the leavening agent.
How to Make Butter Sponge Cake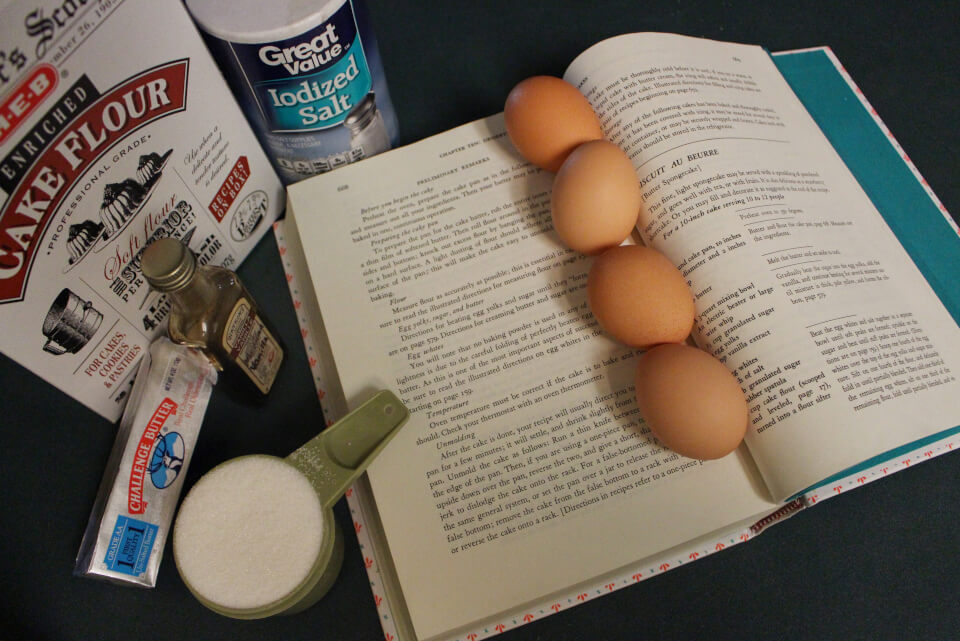 ✽ Step 1: Beat Sugar into Egg Yolks
Let me walk you through the spongecake process! First, the sugar is beaten into the egg yolks with vanilla.
If you remember from the previous Bavarian cream blogs, you will know that this creates a "ribbon."
✽ Step 2: Beat Egg Whites
Now for how you get the fluffy sponge- beating egg whites until soft peaks are formed which is always fun.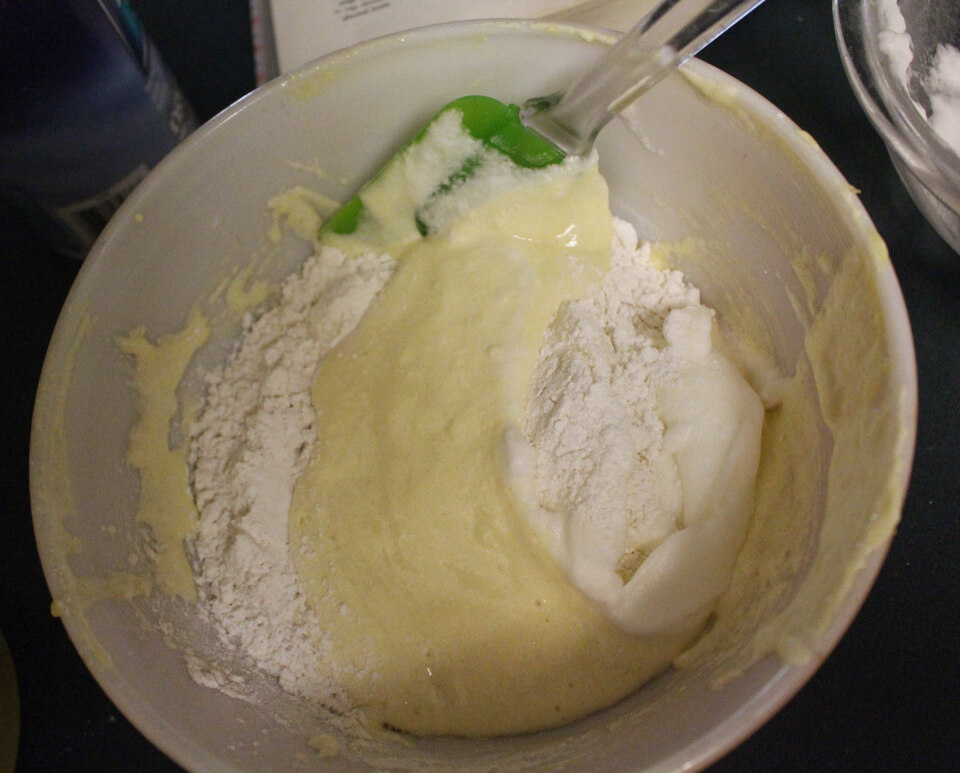 ✽ Step 3: Fold Eggs with Flour
Very delicately, the egg whites and tepid, melted butter are folded into the egg yolk mixture.
It's important not to overmix this step- you want the egg whites to retain as much volume as possible!
✽ Step 4: Turn Batter into Prepared Cake Pan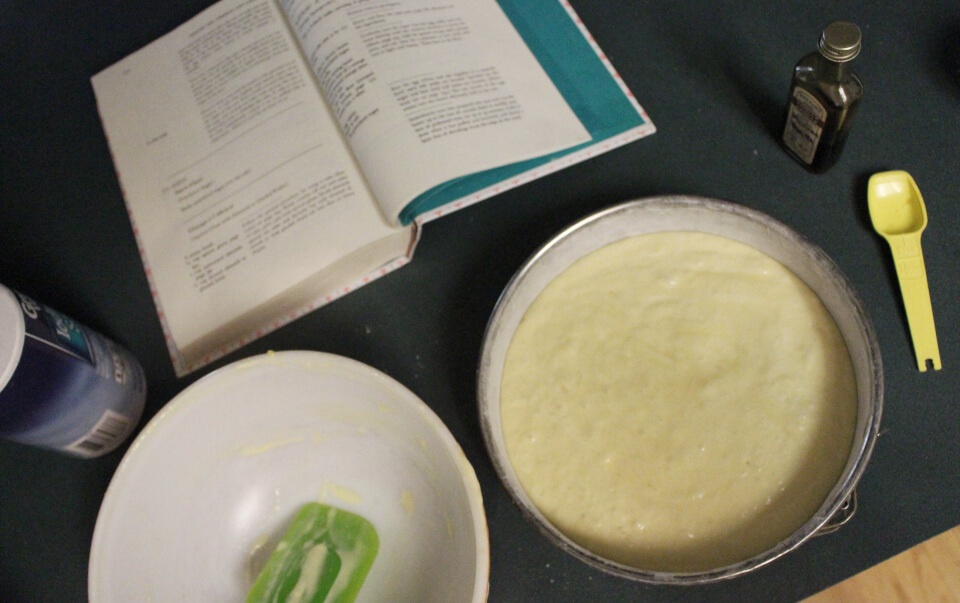 The batter is turned into the cake pan and baked for about 30 minutes. You know the cake is done when it has puffed up, browned slightly, and the edges have pulled away from the sides of the pan a bit.
Now, Julia says that you can serve this cake just sprinkled with powdered sugar and with tea. She also suggests that you can fill and decorate as well which is the route I chose.
I decided to go with a chocolate icing decorated with chocolate chips. The chocolate-butter icing is actually the absolute last recipe in the book. It is very simple to make: semi-sweet baking chocolate, rum, and butter!
Overall, this was a delicious cake. I honestly think that I may have cooked it a tad too long as I was afraid it was not getting done so it was a little dry.
I am not a baker by any means, but I am learning.
The next dessert will be the next Bavarian cream! No more skipping around.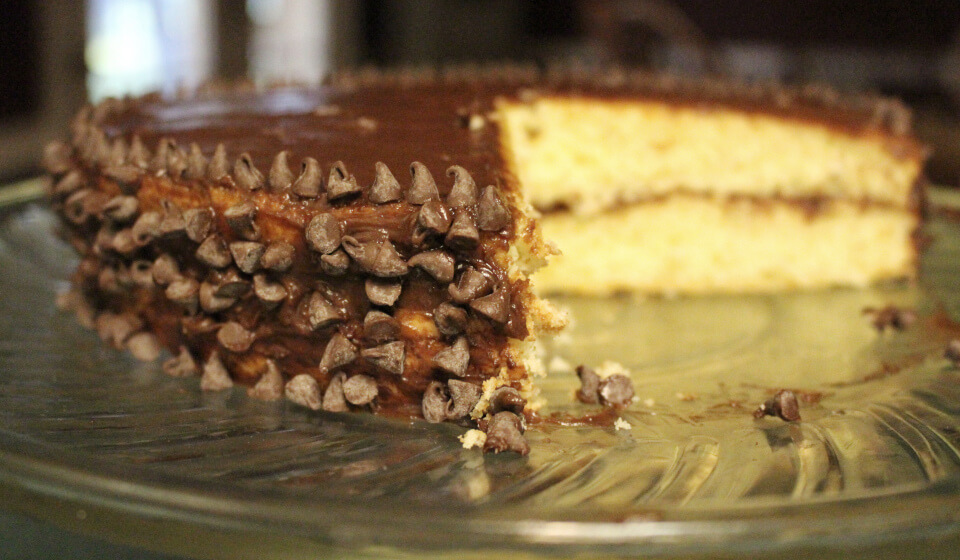 *This blog, Laura The Gastronaut, and this post were/are not endorsed or supported by Julia Child or The Julia Child Foundation.

Category: Julia Child, Desserts and Cakes Cuisine: French
Keywords: julia child cake recipes, julia child cake, spongecake recipe, sponge cake recipe
✽ Did you make this recipe too?
→ Let me know by leaving a comment below and sharing on Instagram. Tag @laurathegastronaut and hashtag it #laurathegastronaut.
More Dessert Recipes:
✽ Chocolate Mousse (this is my favorite chocolate recipe..ever!)
✽ Almond Cream with Chocolate (a fabulous chocolate and almond dessert)
✽ Chocolate Bavarian Cream (another great chocolate dessert recipe)
→ Check out all of the completed Julia Child dessert recipes!
✽ You can find this recipe and all the other Julia Child recipes I make in Mastering the Art of French Cooking, Volume I (affiliate link).
Mastering the Art of French Cooking, Vol. I was written by Julia Child who co-authored with Simone Beck & Louisette Bertholle and was published by Alfred A. Knopf in 1961.
✽ Check out my Julia Child Recipe Checklist to see a list of all my completed and pending recipes from Mastering the Art of French Cooking!
Bon appétit!
May 11, 2019 by Laura Bullock
*This Butter Spongecake blog post may contain some Amazon affiliate links. These link to products that I personally use and recommend. If you purchase anything using my links, it will not cost you anything. It will though give laurathegastronaut.com some financial support which helps me keep this blog running. Thank you for reading my blogs and your continued support.