Braised Carrots with Herbs
Braised Carrots with Herbs
January 27, 2022 | Updated March 24, 2022 | Laura Bullock
*This post may contain affiliate sales links. Please see full disclosure policy for details. *The views expressed on this blog are my own.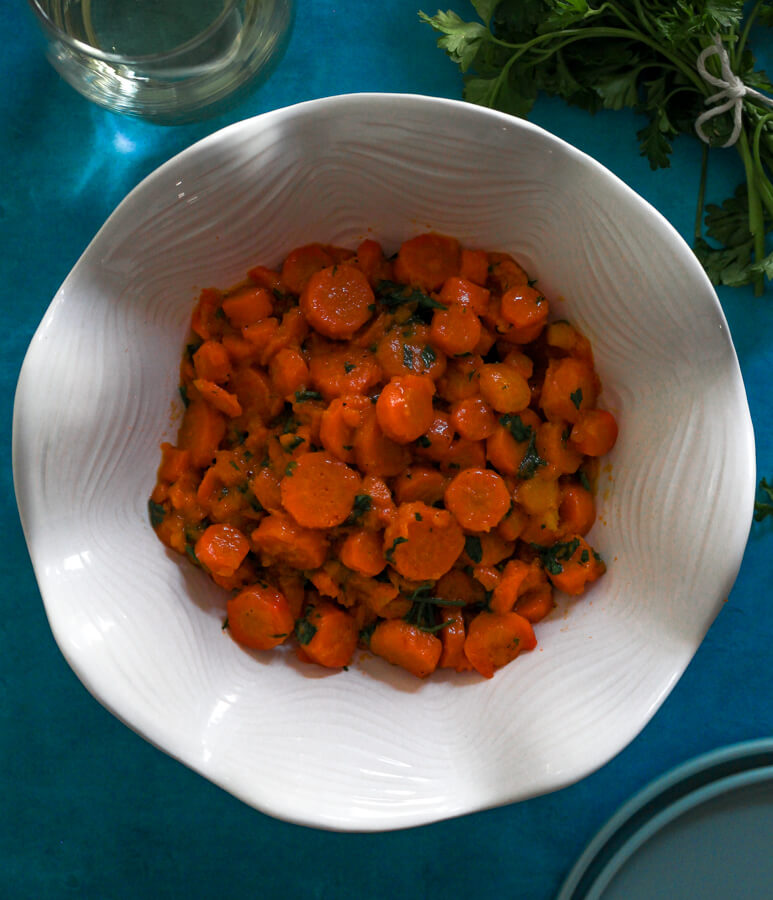 ✽Recipe from Mastering the Art of French Cooking, Vol. I | Julia Child✽
Julia Child Recipe 188 | 340 recipes to go!
✽ Braised Carrots with Herbs [Carottes aux Fines Herbes], p. 477
__________________________________
✽ Mastering the Art of French Cooking, Vol. I was written by Julia Child who co-authored with Simone Beck & Louisette Bertholle and was published by Alfred A. Knopf in 1961. You can buy Julia Child's Mastering the Art of French Cooking, Volume I which contains these recipes here. (affiliate link)
The purpose of this Julia Child section of my blog is to document my journey of learning how to cook. To show my successes, my failures, and what I learned along the way.
Since I didn't create these recipes (if only!), I do not post exact amounts of ingredients or word-for-word instructions. If any of these recipes spark your interest, I highly recommend you buy Julia Child's Mastering the Art of French Cooking (affiliate link). It's a great investment and learning tool and contains hundreds of classic recipes.
I hope that you enjoy reading my thoughts, learn something new, and leave inspired to try a new recipe. Bon appétit!
__________________________________
Butter Count & Cost- Braised Carrots with Herbs
✽ Butter Count: +3.5 tablespoons
✽ Cost: $2.00 [~$0.33 per serving]
Check out the total Julia Child butter count & cost here!
→ Looking for a different Julia Child recipe? Here's a list of all of the completed and pending Mastering the Art of French Cooking recipes!
I've said it before, and I'll probably say it again- Julia Child's braised carrots are SO GOOD.
Every time I'm eating one of Julia's carrot recipes, I think that they just have to be my favorite recipes from the vegetable chapter. But then my mind drifts off to those cheesy gratin potatoes or the perfectly sauteed mushrooms, and I begin to rethink that thought.
However, that doesn't put any less weight on how good these carrots are. I really do believe that carrots are an underrated vegetable.
Carottes aux Fines Herbes Rating
✽ Laura's Rating: 7
✽ Brian's Rating: 6
I would have rated these carrots higher, but then I remembered Julia Child's recipe for creamed carrots [Carottes a la Creme] that tasted like dessert. If those creamed carrots are a 10 then these carrots cannot be rated higher than a 7.
Also, I've mentioned before that I'm not really a big fan of parsley, and it's not growing on me much during the massive amounts I've eaten while cooking through this cookbook. So the addition of parsley to the regular Carrots Braised in Butter recipe didn't really do it for me.
Alas, this is still a really great recipe that I enjoyed eating and would definitely eat again!
Braised Carrot Recipe: Questions
✽ What are braised carrots?
Braising is a cooking method for cooking meats and vegetables. It involves cooking the carrots in a small amount of liquid (usually water or stock) over low heat in a covered saucepan until done.
Julia's recipe also includes butter so when all of the liquid evaporates the carrots begin to saute in the butter. This braising method gives the carrots so much flavor.
✽ Why do you add sugar to the carrots?
According to the cookbook, the sugar will help develop the carrots' flavor. As the water evaporates, the carrots will be coated with all that buttery and sugary goodness.
✽ What should you serve with buttered braised carrots?
I served these carrots with chicken thighs, mashed potatoes, and okra. It was such a comforting and tasty meal. Julia recommends serving buttered carrots with roasts and other vegetables.
✽ How long should you braise carrots?
This braised carrot recipe instructs to slowly boil the carrots for 30-40 minutes. However, I found that my carrots were tender quite a bit before that mark, at about 8 minutes. The recipe does call quite a bit of water, though, so it takes 30-40 minutes before the liquid is fully evaporated.
Looking for more Julia Child carrot recipes?
→ Check out all of the vegetable recipes that I've completed so far!
Fun Carrot Facts
✽ What are the colors of carrots?
Carrots are root vegetables. While you mostly find orange carrots today, they can also be red, white, yellow, black, and purple in color. In the beginning, almost all of the carrots were either yellow, purple, or white. It wasn't until the 17th century until orange carrots showed up.
Many in the Netherlands say that the Dutch cultivated orange carrots as a tribute to William of Orange and the House of Orange. Some simply say that the orange carrot arose from a cross between the purple, white, and red carrots.
According to the World Carrot Museum, orange carrots get their color from beta-carotene. This is the same pigment found in pumpkins and apricots.
✽ Where did carrots originate from?
Carrots are native to Europe and Southwest Asia, and were domesticated over 5000 years ago.
✽ Heaviest & Longest Carrots
The heaviest carrot in the world was 22 pounds and 7 ounces!
The longest carrot in the world was 20 feet and 5.9 inches long. That's taller than a giraffe!
How to Make Braised Carrots with Herbs
✽ Step 1: Make Carrots Braised in Butter
Since this is a variation of a master recipe, we must make the master recipe, Carrots Braised in Butter, in its entirety first.
The process is really simple. Peeled and sliced carrots are boiled with a bit of sugar, salt, butter, and water until all of the water has evaporated.
The cookbook does mention this will take about 30-40 minutes. My carrots were tender pretty early on in the cooking process. However, even at the 40 minute mark, all of the water wasn't evaporated so I had to cook them just a bit longer which led to some of my carrots getting mushy. Next time, I think I'll start with a tad higher heat.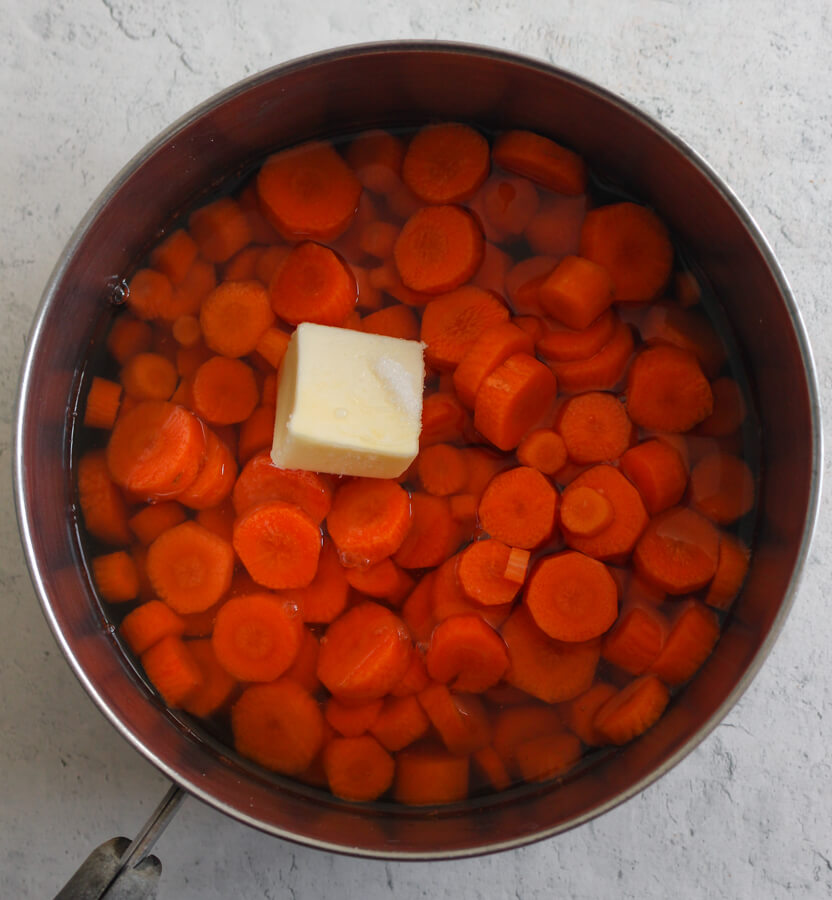 Once the water is evaporated, the seasonings are corrected, and the carrots are taken off the heat.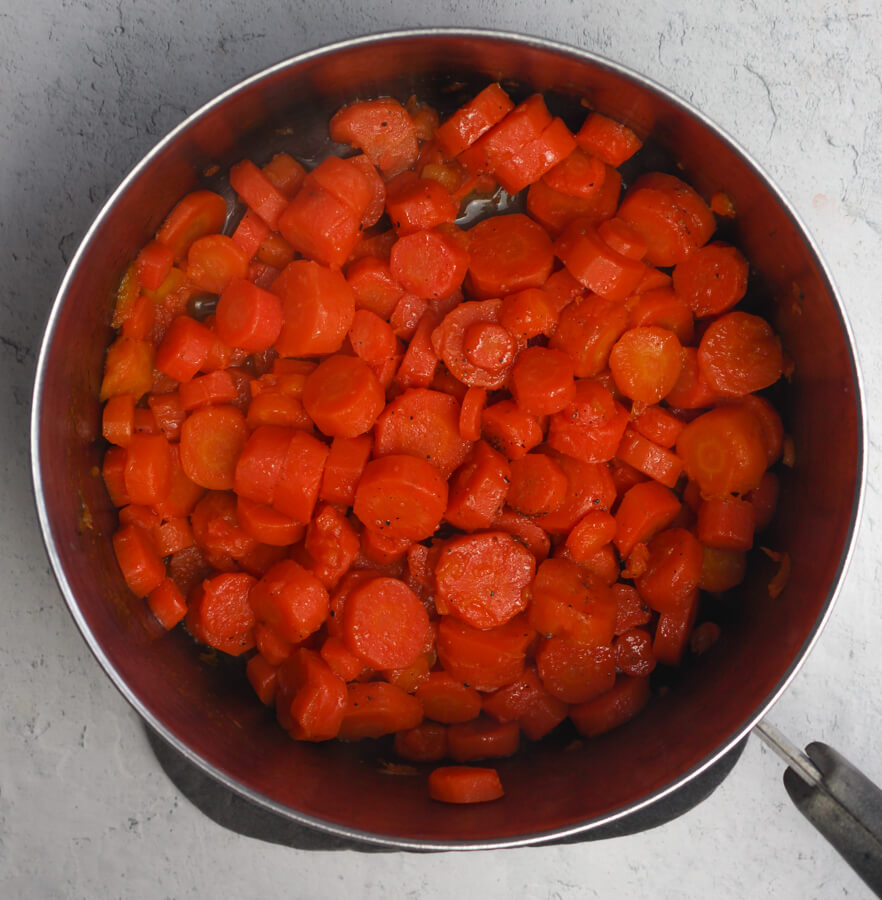 ✽ Step 2: Toss with Parsley
For this recipe, parsley and butter are tossed into the carrots right before serving, and that's it!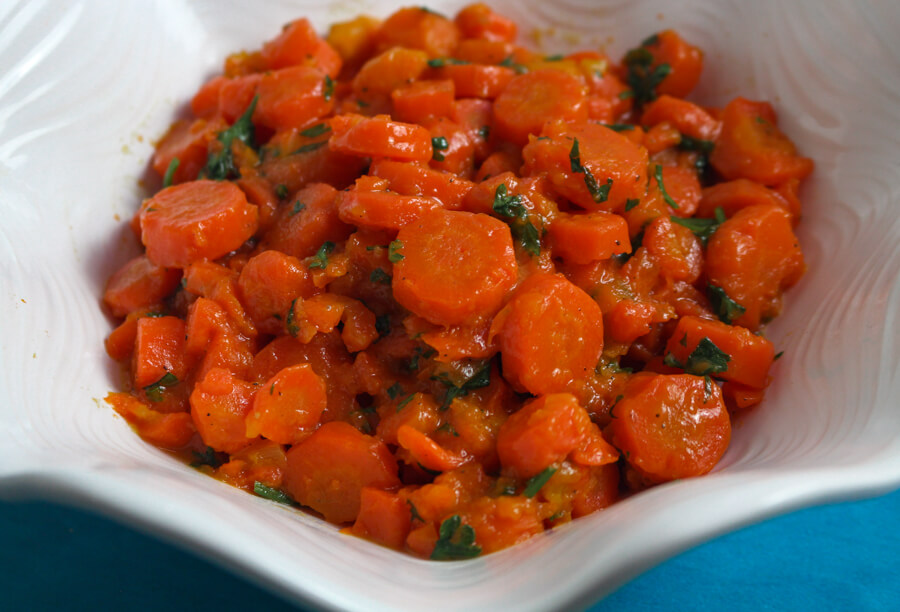 *This blog, Laura The Gastronaut, and this post were/are not endorsed or supported by Julia Child or The Julia Child Foundation.

Category: Julia Child, Vegetables Cuisine: French
Keywords: julia child carrots, braised carrot recipe, braised carrots, julia child braised carrots
✽ Did you make this recipe too?
→ Let me know by leaving a comment below and sharing on Instagram. Tag @laurathegastronaut and hashtag it #laurathegastronaut.
More Carrot Recipes:
✽ Carrots Braised in Butter (a classic buttered carrot recipe)
✽ Creamed Carrots (these carrots taste so good, they are like dessert)
✽ Casserole of Creamed Carrots with Onions and Garlic (creamy, garlicky carrots)
→ Check out all of the completed Julia Child vegetable recipes!
✽ You can find this recipe and all the other Julia Child recipes I make in Mastering the Art of French Cooking, Volume I (affiliate link). Mastering the Art of French Cooking, Vol. I was written by Julia Child who co-authored with Simone Beck & Louisette Bertholle and was published by Alfred A. Knopf in 1961.
✽ Check out my Julia Child Recipe Checklist to see a list of all my completed and pending recipes from Mastering the Art of French Cooking!
Bon appétit!
January 27, 2022 by Laura Bullock
*This Braised Carrots with Herbs blog post may contain Amazon affiliate links. These link to products that I personally use and recommend. If you purchase anything using my links, it will not cost you anything. It will though give laurathegastronaut.com some financial support which helps me keep this blog running. Thank you for reading my blogs and your continued support.