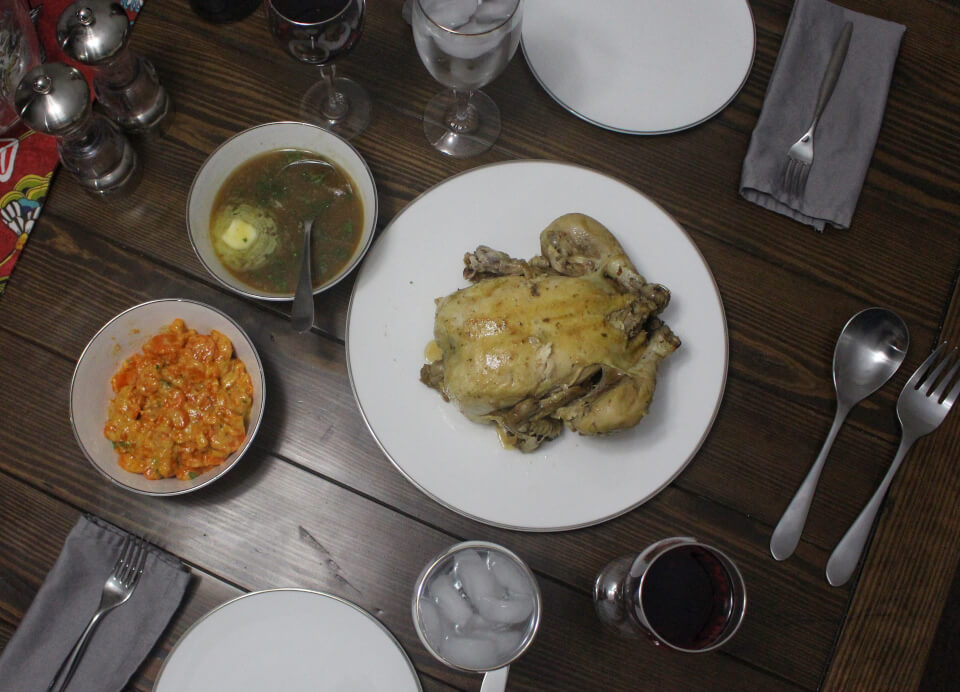 Mastering the Art of French Cooking | Julia Child
Recipes 79-80
- Poulet Poêlé à l'Estragon [Casserole-roasted Chicken with Tarragon], p. 249 - Carottes à la Créme [Creamed Carrots], p. 478
You can buy Julia Child's Mastering the Art of French Cooking which contains these recipes here.
____________________________
Butter Count: +11.5 TB
Cost: $10.58 [~$2.65 per serving]
- Casserole-roasted Chicken with Tarragon= $7.09 [4 servings] - Creamed Carrots= $3.48 [6 servings]
I have now graduated from roast chicken to casserole-roasted chicken. There are a few differences between the two (which I just learned!). A casserole-roasted chicken is browned in butter and oil first and then roasted in a covered casserole with herbs and seasonings. The buttery steam will make the chicken tender and flavorful. The recipe was great. I actually read somewhere that this is Martha Stewart's favorite Julia Child recipe. I can see why. It is a perfectly roasted chicken. I think if I enjoyed tarragon more, this recipe would've made it higher on my list. I just can't get past the licorice taste.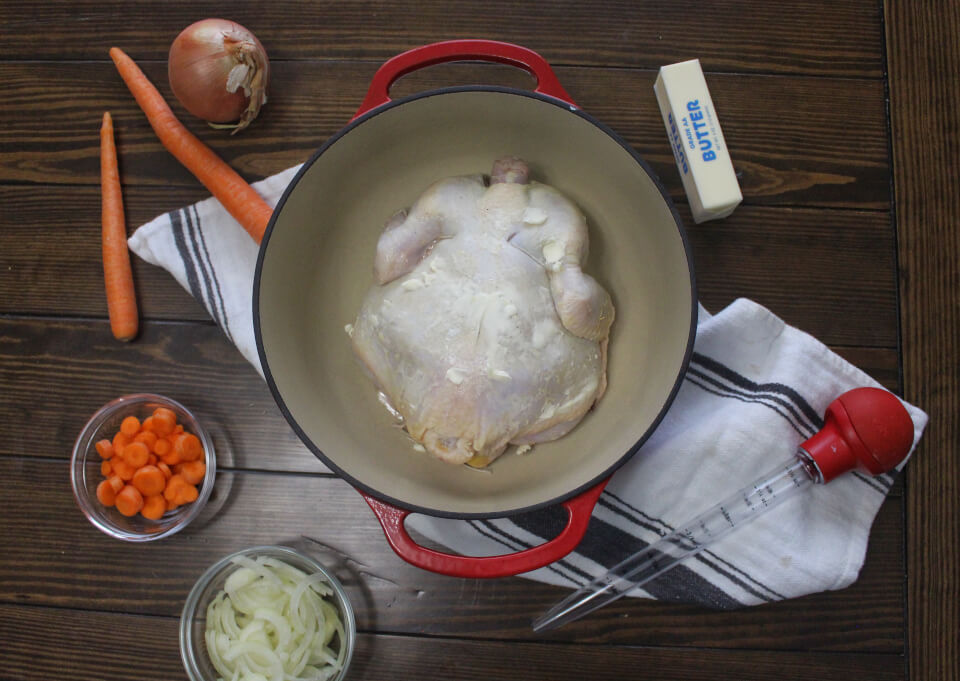 The chicken's cavity is seasoned with salt, pepper, butter, and tarragon and then trussed. The skin is dried and rubbed down with more butter. Now here's the fun part! Heat some oil and butter in your casserole and brown each side of the chicken until there is a nice golden color all over. This will take about 15 minutes. Remove the chicken from the casserole. By this point, your butter is probably browned. So, get rid of that and add in new, fresh butter. The carrots and onions are slowly cooked in the casserole and salt and tarragon are added. Once the vegetables are done, the chicken is salted, laid breast up on top of the vegetables, and basted with the butter. Cover the chicken with foil, place the lid on the casserole, reheat on top of the stove, and place in a 325 degree oven. Roast the chicken basting once or twice. This recipe is much less work than the other roasted chickens. For the others, you must baste every 8-10 minutes!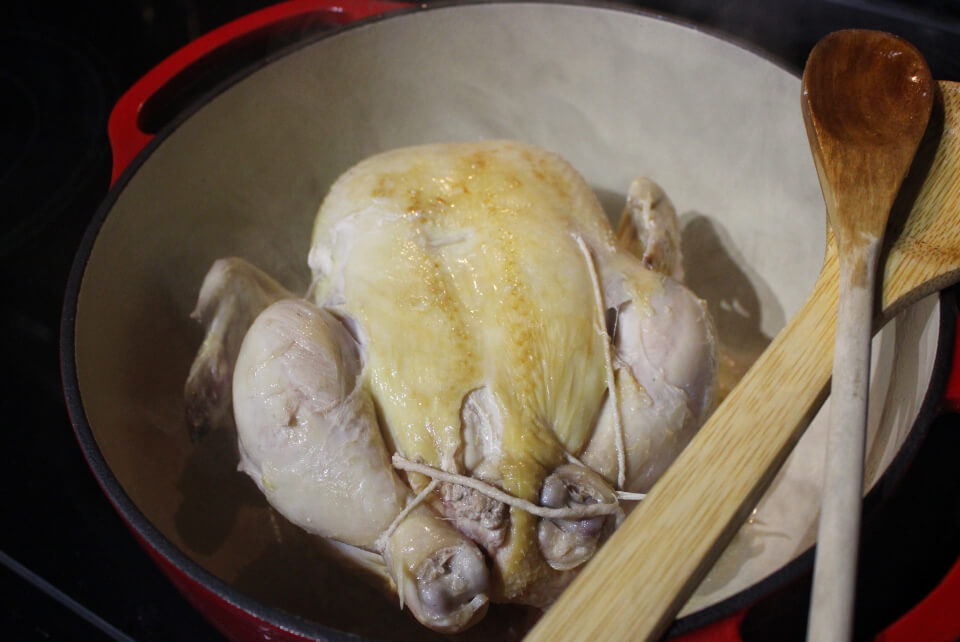 Now the really magical part- the sauce! Once you remove the chicken from the casserole, add in stock or bouillon and simmer for a couple of minutes. Skim off most of the fat, blend in cornstarch, simmer for a minute, and then boil until lightly thickened. Strain into sauceboat and stir in minced parsley and enrichment butter. I didn't have any fresh tarragon leaves, but Julia suggests decorating the chicken with blanched tarragon leaves.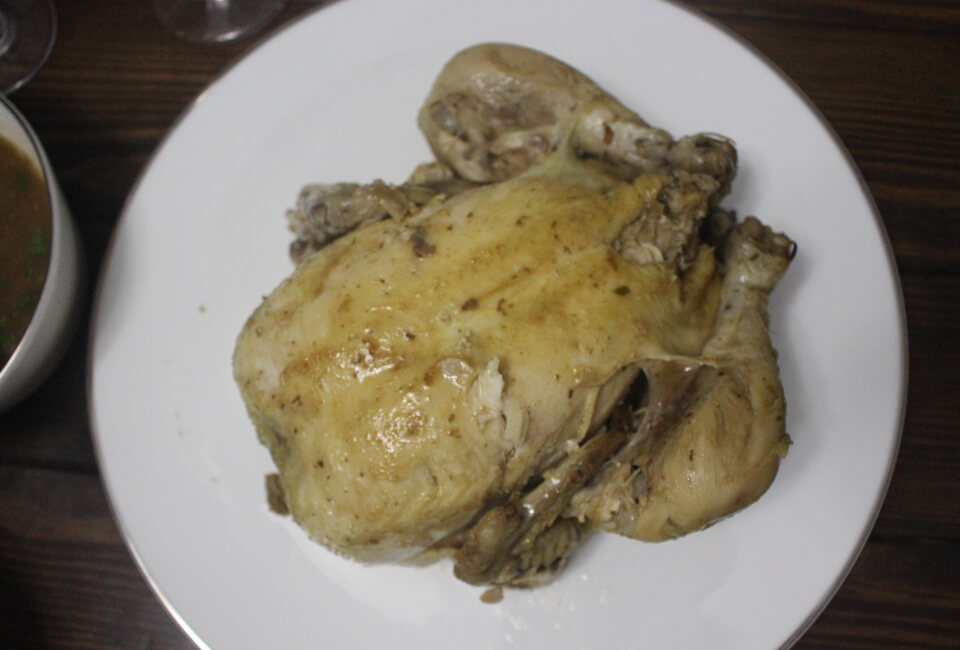 I also made creamed carrots. You will first braise the carrots in butter. Bring the cream to a boil and pour into the carrots until they are covered. Boil for about 15 minutes until the cream is absorbed by the carrots. YUM. Carrots absorbing cream is as delicious as it sounds. Right before serving, throw in some butter and minced parsley. These carrots taste more like dessert than a side. They are rich, and they are good. If you have no guilt for more than canceling out any good nutrition that vegetables give you, this recipe is for you!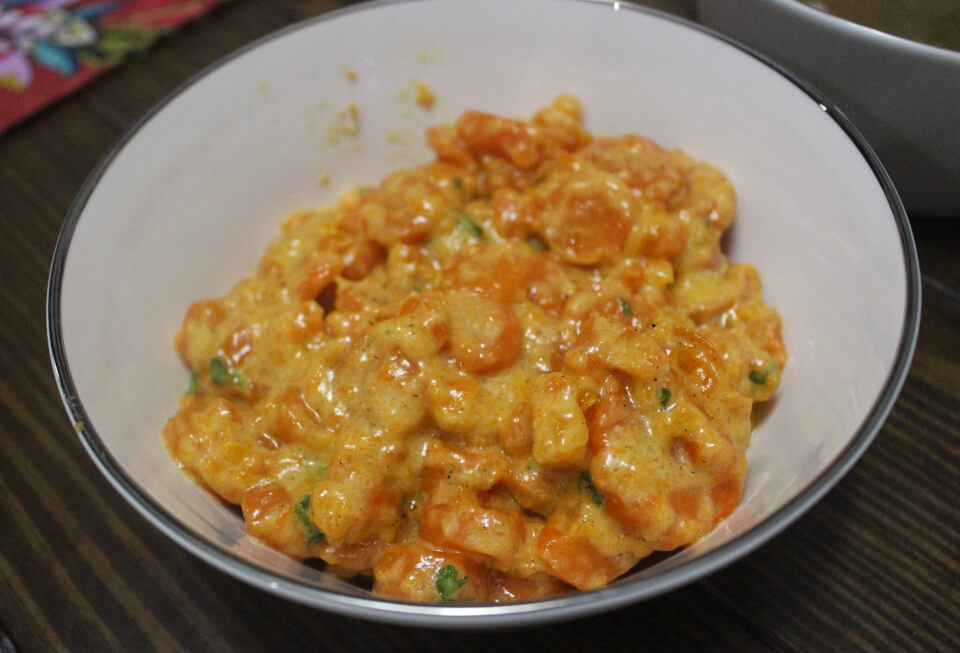 You can find these recipes and all the other Julia Child recipes I make in Mastering the Art of French Cooking
Bon appétit!
March 6, 2020 by Laura Bullock