Christmas Series | Mincemeat Pie
December 18, 2020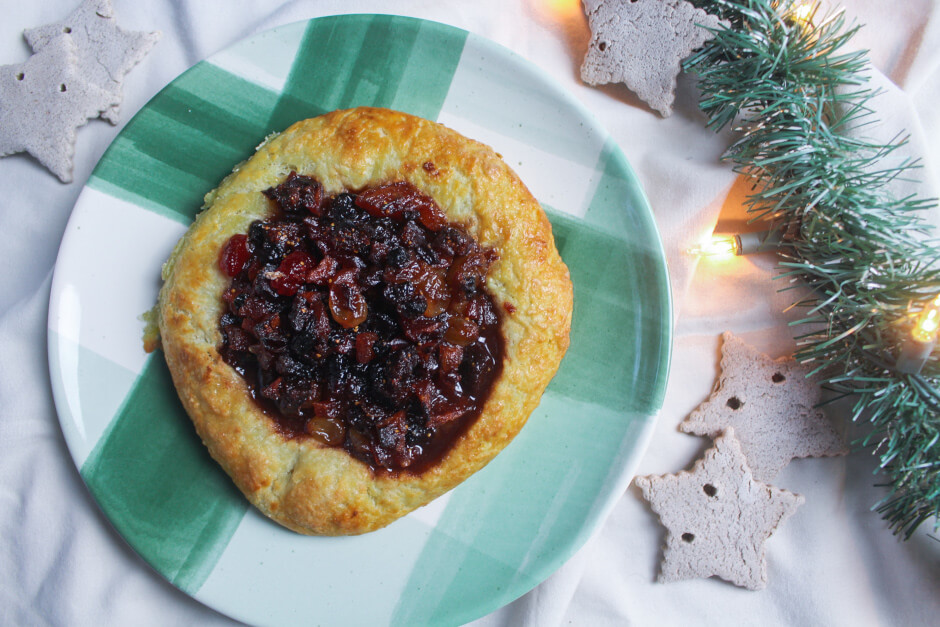 Welcome to my 12 days of Christmas Foods! Each day I make a different Christmas recipe. I'll share which recipe I used, a little history about the recipe, the steps involved in making it, and, of course, delicious pictures. On day 1, I made gingerbread and on day 2, I made aged eggnog. Day 3 was roasted chestnuts. Day 4 was Christmas fudge.
On the fifth day of Christmas foods I made the mincemeat pie filling from Bon Appetit and mincemeat pie crust from Alton Brown. Before this whole cooking adventure, I had no idea what mincemeat was. Was it meat? Was it dessert? Was it supper? I was clueless. If you have no knowledge about mincemeat like I did, keep reading!
History Lesson: Way way back in the day mincemeat actually did contain meat (mutton, beef, rabbit, pork, or game). Suet, beef or mutton fat taken from around the kidneys and loins, is also an ingredient in some recipes. It also contained fruit, spices, and a preserving liquid. The purpose of all of this was to easily preserve meat so they could keep this stuff around for months!
In the 11th century, mincemeat pie, also known as Christmas pie, was made as an oval shape to represent Jesus' cradle. There was even a pastry Jesus placed on top!
King Henry V was eating mincemeat pie in 1413, and Henry VII enjoyed a Christmas mincemeat pie as the main dish of dinner. By this point, almost everybody was eating mincemeat pie. The rich folks even started to make their mincemeat pies into shapes such as stars and flowers to show-off to their friends.
In the 1600s, a lot of ruckus was happening in England when Christmas was abolished by the Puritans. I won't get into the dirty details, but I'll just say that mincemeat pie was banned too. You could even be fined if you were caught celebrating! Luckily, mincemeat pie was allowed again in the 1800s and came back full force. In 1908, an American physician claimed that mincemeat was unhealthy and tried to get people to stop eating it. This was the New Orleans Daily States reply- "The republican dynasty at Washington may overthrow the federal constitution, the rights of the states and pluck the stars from the blue field of the national ensign, but the mince pie will continue to be the nation's comfort and pride."
Mincemeat pie has been around for a long time so naturally there's a lot of stories that go along with it. An English tradition claims that mincemeat must be stirred clockwise or else you'd have bad luck and poor fortune for the upcoming year. Well now I'm nervous. I should've done my research before cooking! Stirring the mincemeat was a family affair making sure that everybody made a wish while stirring. Many believe you will have good health and happiness for the next year if you eat it every day from Christmas Eve to January 5th. Some kids even leave mincemeat pies and brandy for Father Christmas.
Today, rarely does mincemeat actually have meat. It's filled with dried fruits, juice, spices, and sugar. It's usually dessert rather than dinner.
You can find my sources and read more about mincemeat on walkersshortbread.com, whychristmas.com, and whatscookingamerica.net.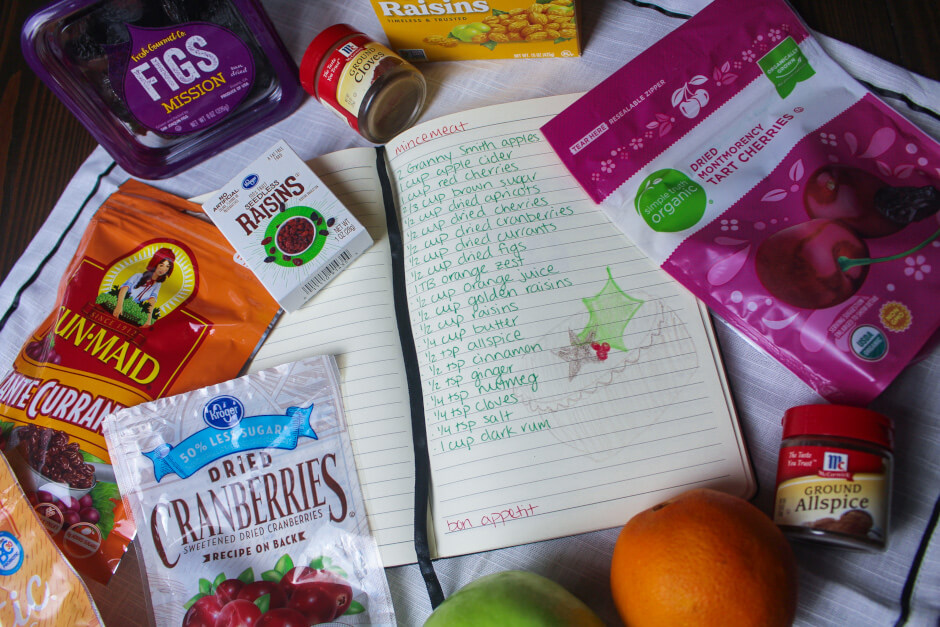 Let's talk about the recipe! The mincemeat filling recipe comes from Bon Appetit and the crust comes from Alton Brown.
Okay, you may be a little skeptical about mincemeat pie if you've never tried it, but I'm here to say OH MY GOODNESS THIS IS SO GOOD!! And I don't even really care for dried fruits. You must try it! Either make it yourself or convince the cook in your life to make it for you. It was somewhere a cross between an apple pie and a biscuit filled with delicious jelly. Now I want to try the meat version!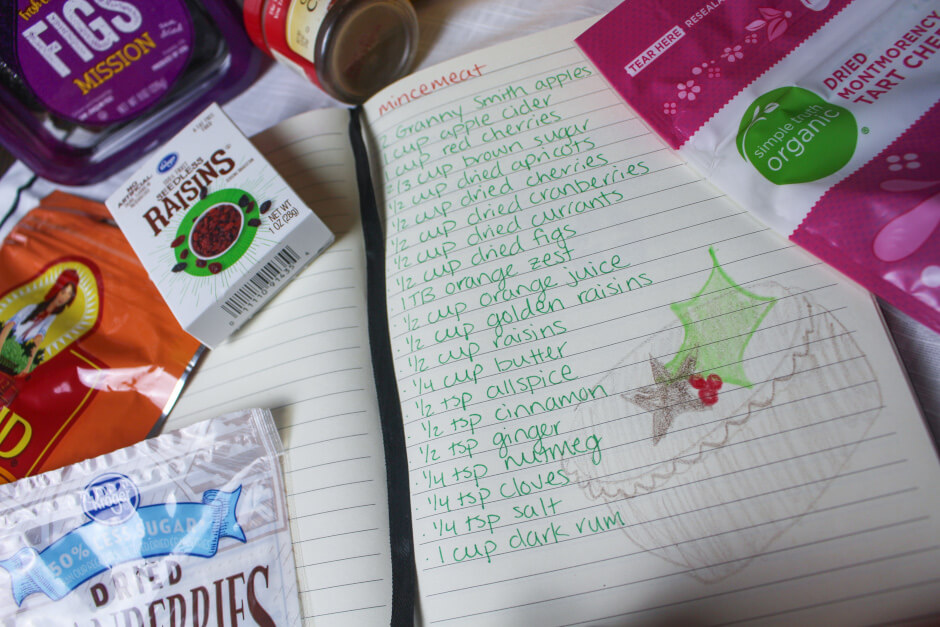 This mincemeat pie recipe is jam packed with all sorts of fruits- apples, cherries, apricots, cranberries, currants, figs, orange, golden raisins, and raisins. There's also plenty of spices and some brandy to really make this filling perfect. The crust I made is excellent. It's a little fluffy and slightly sweet. It makes for a great cradle for all that filling!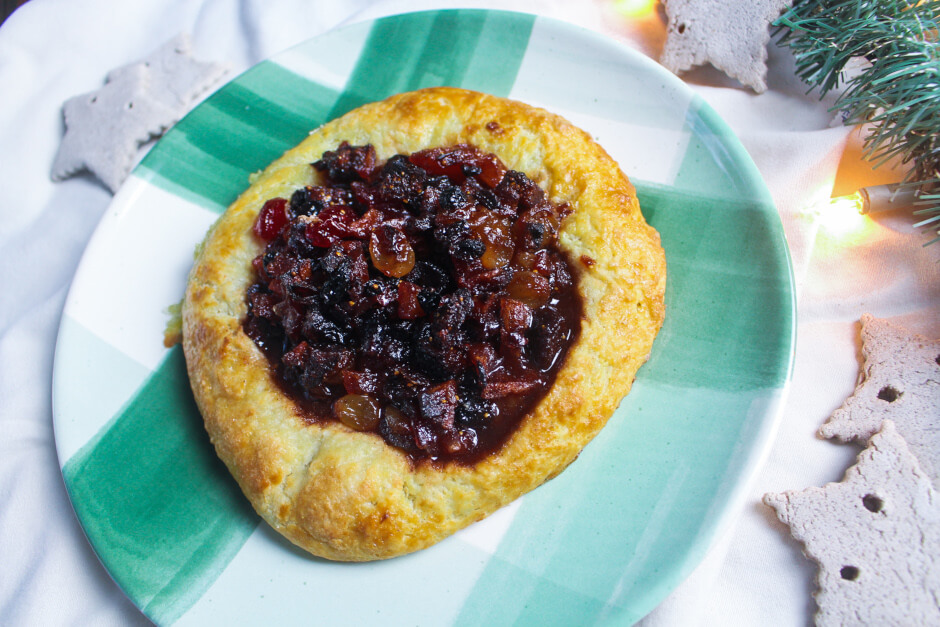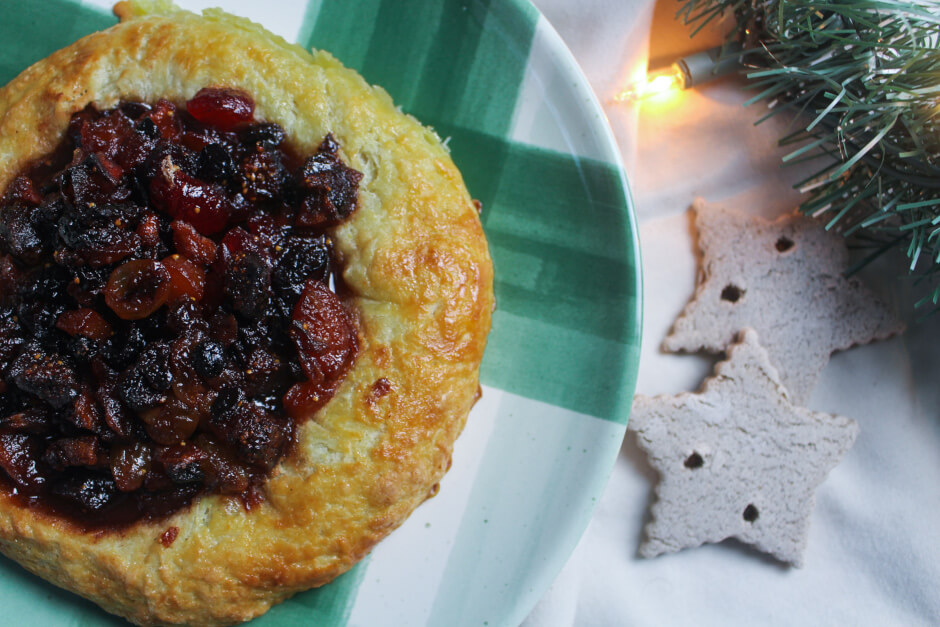 See you all again tomorrow for day 6. Happy Baking!
Bon appétit!
December 18, 2020 by Laura Bullock