Christmas Series | Fudge
December 17, 2020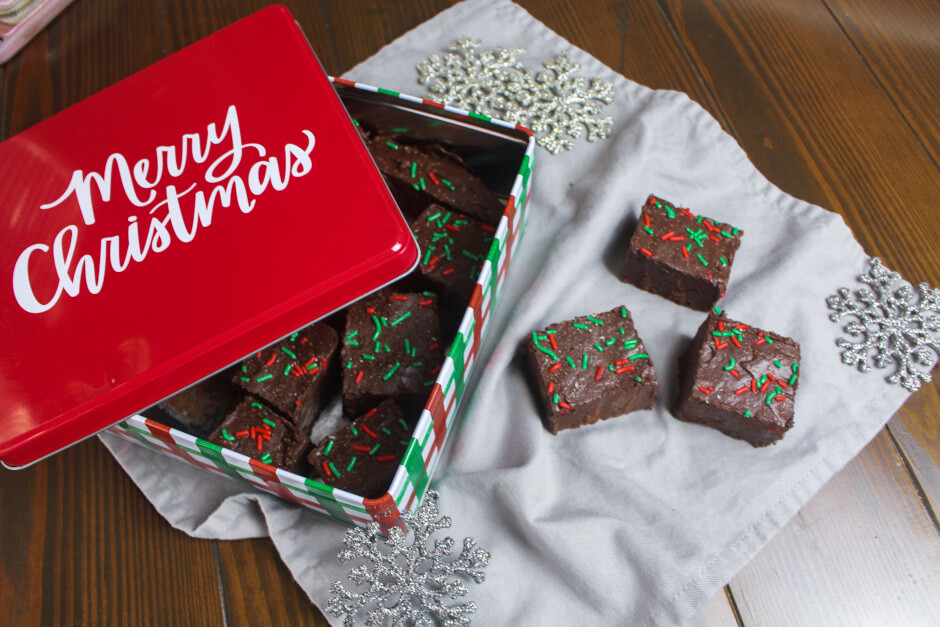 Welcome to my 12 days of Christmas Foods! Each day I make a different Christmas recipe. I'll share which recipe I used, a little history about the recipe, the steps involved in making it, and, of course, delicious pictures. On day 1, I made gingerbread and on day 2, I made aged eggnog. Day 3 was roasted chestnuts.
On this fourth day of Christmas foods, I have made the Christmas Fudge recipe from Southern Living. This fudge is everything it's supposed to be- rich and delicious. I'll be honest. I left the pieces of fudge huge so the pictures would look better, but I'm not sure I could eat that much in one sitting. This fudge is something to be eaten in small quantities. Though if you want to eat an entire batch in one day then you do you. It's Christmas after all! Would it even be the Christmas season if your pants weren't too tight, and you weren't miserable most of the time from all the calories you have eaten??
History Lesson: Once again here we are with no definite answer as to where this Christmas recipe came from. Some say that fudge came into existence on February 14, 1886 in America. Rumor has it that fudge was discovered because of a failed batch of caramels. They say that when the cook saw what had happened to their caramel, they exclaimed "oh fudge!" just like Ralphie in The Christmas Story.
The earliest written evidence of fudge was in a letter written by Emelyn Battersby Hartidge, a college student, in 1886. She was explaining how a classmate's cousin made fudge and was able to sell it for a whopping 40 cents per pound at a local grocery store in Baltimore. She got her hands on the recipe in 1888 and went to straight to work selling 30 pounds of it at a school auction. By the end of the 1880s, fudge shops began to open for business.
Just like with any recipe, eventually many versions of fudge began to pop up. Originally, fudge was difficult to make. Eventually the quick and easy recipes started to appear. Ones with corn syrup really made it simple to get smooth fudge. The milk was then swapped out for sweetened condensed milk and marshmallow cream to ensure a perfect batch every time.
Soon fudge became something that everybody could make in their own kitchen. Fudge made its way onto Christmas tables due to its richness, and the tradition just stuck. Now fudge is a staple at Christmas.
Fudge is a crystalline candy and the crystallization of the sugar is an important step in fudge making. The temperature of the batter is crucial in ensuring that the final texture is perfect. Tiny crystals of sugar form making the fudge creamy- the key is forming these microcrystals at exactly the right time. To play it safe- I went with a recipe that called for corn syrup and sweetened condensed milk!
You can find my sources and read more about fudge here and here.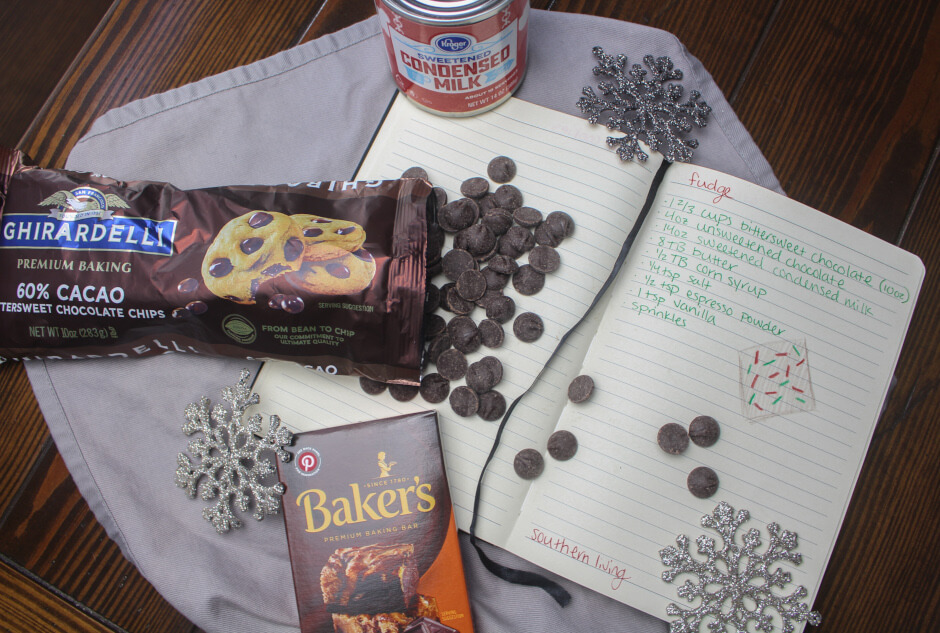 Let's talk about the recipe! This Christmas fudge recipe comes from Southern Living. You can find the recipe here.
Like I mentioned, this fudge uses foolproof methods to ensure you get creamy fudge. It's also pretty quick to throw together. Well, that is if you don't count the painful four hours you must wait for it to set. Bittersweet and unsweetened chocolate are melted over a double broiler. Sweetened condensed milk, butter, vanilla, instant expresso, corn syrup, and salt are added to the melted chocolate. It's all mixed together for a couple minutes until it becomes glossy and stretchy. Lastly, it's topped with red and green sprinkles to really make it special.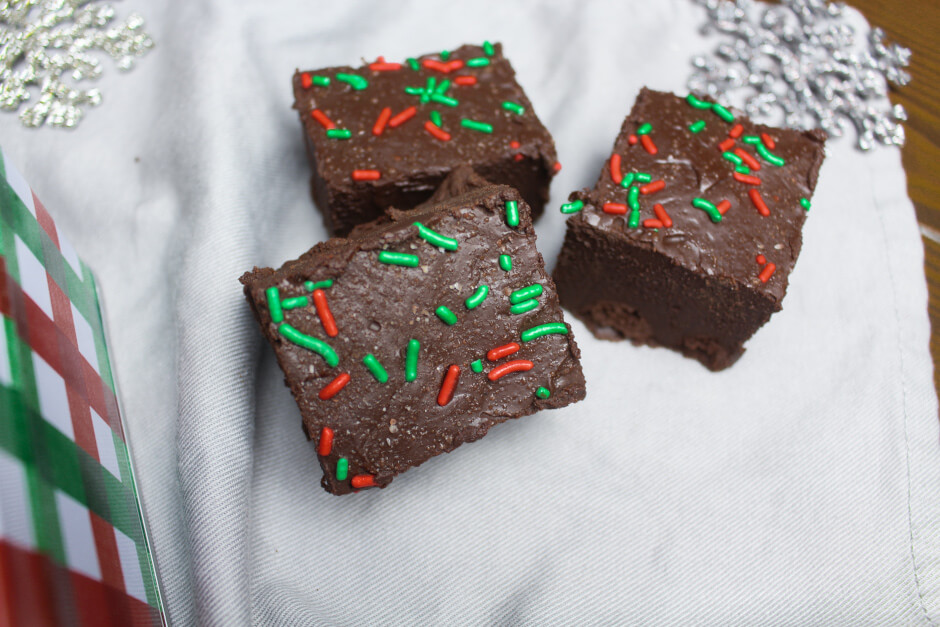 This fudge is so delicious! I topped with some sea salt at the end to make it extra wonderful. Safe bet that if you ask me what I'll be doing today at any point, I'll answer, "eating fudge."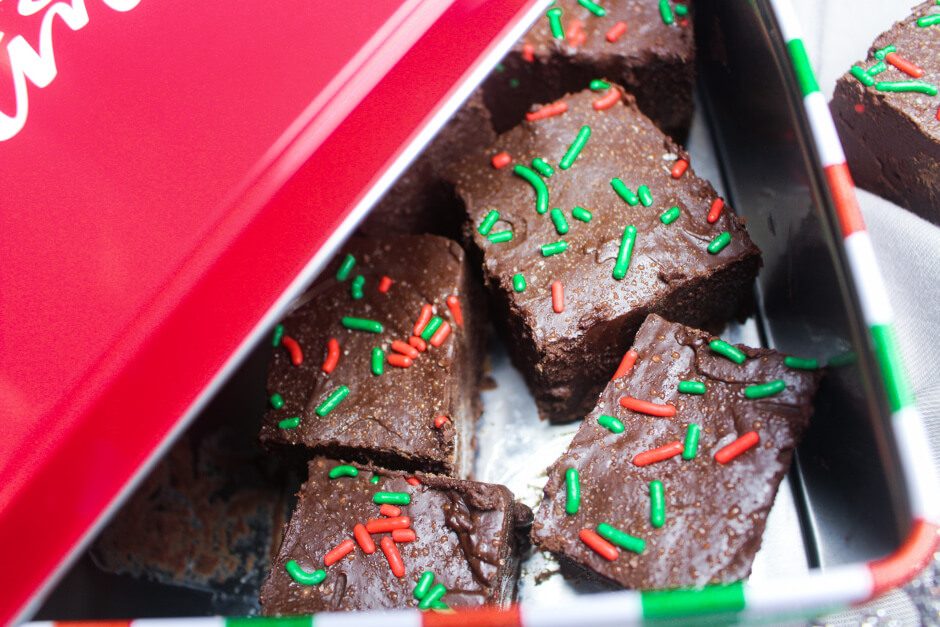 See you all again tomorrow for day 5. Happy Snacking!
Bon appétit!
December 17, 2020 by Laura Bullock