Christmas Series | Bûche De Noël
December 25, 2020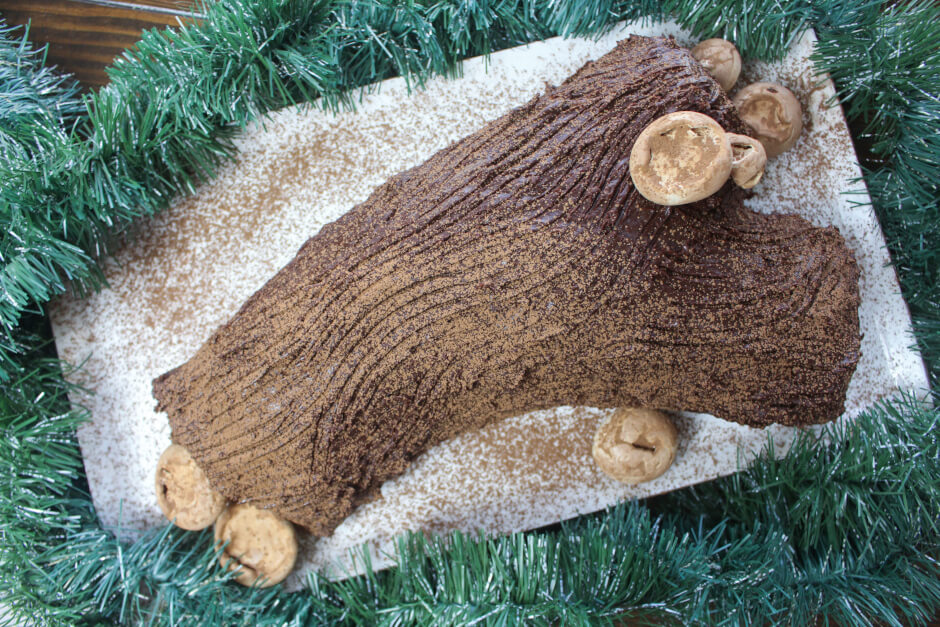 Welcome to my 12 days of Christmas Foods! Each day I make a different Christmas recipe. I'll share which recipe I used, a little history about the recipe, the steps involved in making it, and, of course, delicious pictures. On day 1, I made gingerbread, day 2 I made aged eggnog, day 3 was roasted chestnuts, day 4 was Christmas fudge, day 5 was Mincemeat Pie, day 6 was Chocolate-covered Pretzels, day 7 was Fruit Cake, day 8 was Figgy Pudding, day 9 was Gingerbread Cookies, day 10 was Mulled Wine, and day 11 was Christmas Sugar Cookies.
Merry Christmas!! We made it to Chritmas Day, and I thought the perfect way to celebrate would be to make a Bûche De Noël or Yule Log Cake. This was my first time making one of these magnificent cakes. I saw them make it on The Great Britian Bakeoff, and I've been intrigued since then. Well this is the year I made it happen, and I'm so happy with the end result! I used the recipe by Stella Parks on Serious Eats.
History Lesson: The Yule Log dates all the way back to Europe's Iron Age. Europeans and the British got together to celebrate winter solstice. It was a huge celebration where everybody was celebrating the end of short days. In order to rid the air of the prior year's events, they would burn logs decorated with pinecones, ivy, and holly and sprinkled with wine, salt, or holy water. Many believed the log must be burned for three days straight for good luck. The burnt logs were treasured believing they held medicinal benefits and would keep evil away.
As traditional hearths disappeared, the tradition of bringing large logs into your home did too. However, they would still bring in smaller logs as a decorative reminder. Eventually, most agreed that it would be more fun to make an edible log instead.
Christians continued the yule log tradition. They often would bake cakes on the floors of their fireplaces. It's thought that the first Yule Log cake was baked in the early 1600s. Yule log cakes were commonly found on medieval tables decorated with marzipan and meringue.
These cakes really hit it off in the 19th century, and the decorations just become more and more elaborate!
You can find my sources and read more about yule logs on history.com and frenchly.us.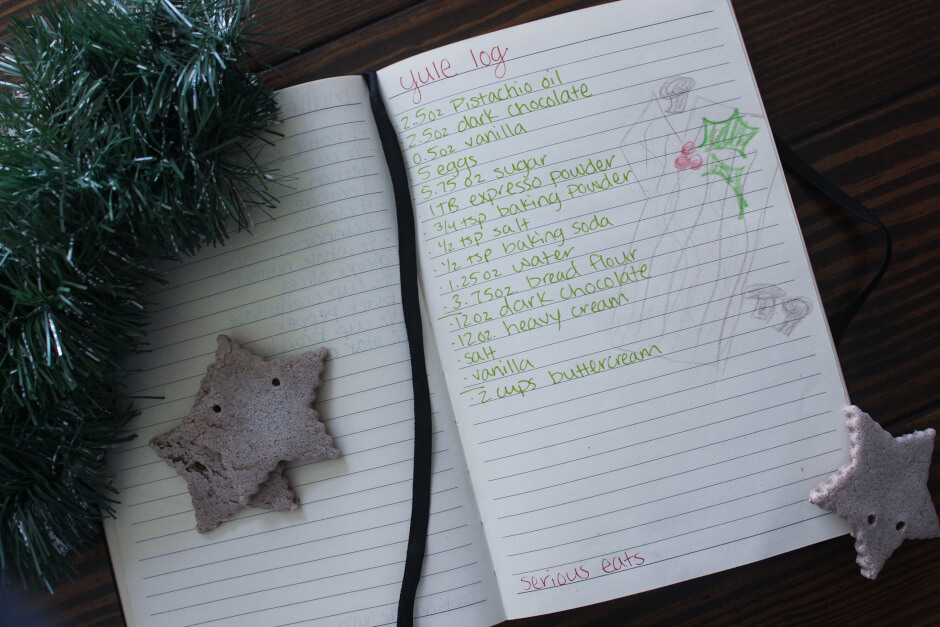 Let's talk about the recipe! I got this yule log recipe from Stella Parks on Serious Eats. This was a process. First, I made the toasted sugar and pistachio paste for the buttercream. After making the buttercream, I made the cake. After making the cake, I made the ganache for the icing. I can hardly believe that this actually turned out. The recipe is so detailed and walks you through each step which made it so much easier. Sure, I couldn't have gotten one or two more swirls in my cake, but it tasted excellent. And the meringue mushrooms are so cute! This may have to become a new holiday tradition. It's a show-stopper for sure!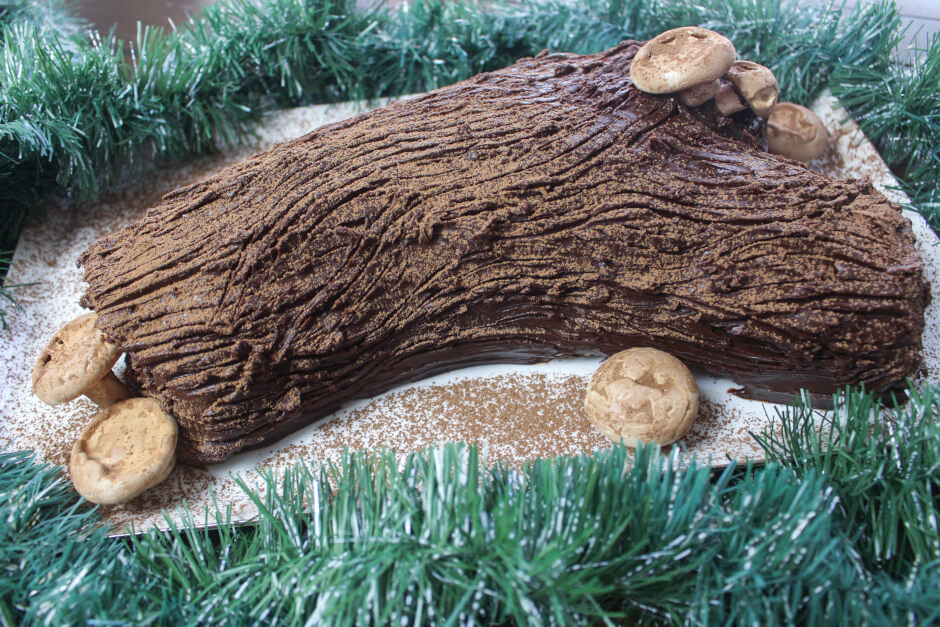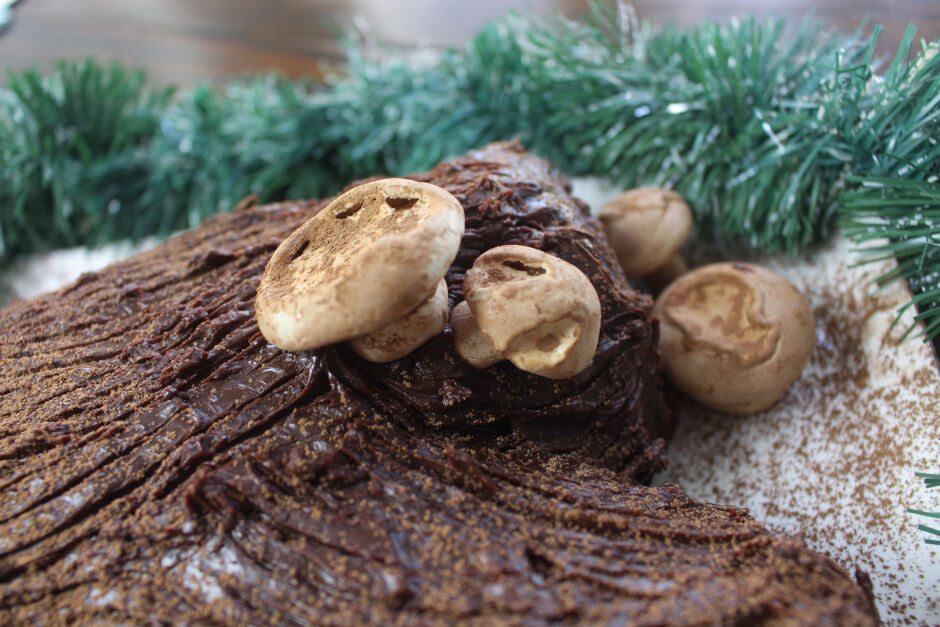 Hope you all have a wonderful day. Merry Christmas, and Happy New Year!
Bon appétit!
December 25, 2020 by Laura Bullock