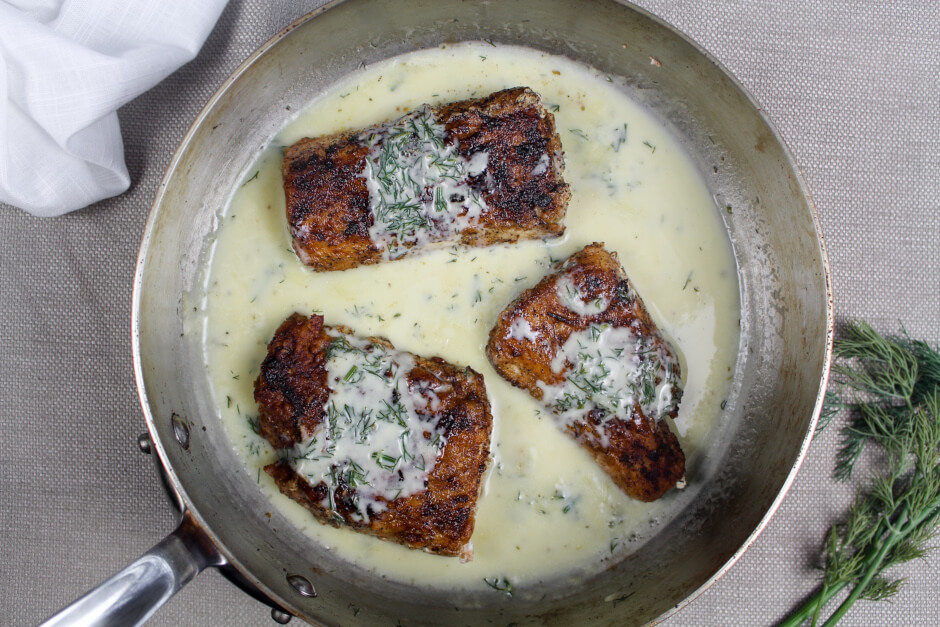 Mastering the Art of French Cooking | Julia Child
Recipe 166
- Vinaigrette à la Crème [Sour Cream Dressing- Dill Sauce], p. 95
You can buy Julia Child's Mastering the Art of French Cooking which contains these recipes here.
You can watch me make this recipe for the first time on my YouTube channel here.
Butter Count: +0 TB
Cost: $2.17 [~$0.54 per serving]
Woow! I'm so behind on the sauce chapter, and I had no clue! The sauce chapter is one of the two chapters that I do not follow in order. This is because a lot of the sauce recipes are used in other dishes throughout the book. I just went through the entire book looking at every single recipe (AGAIN) and marking the sauce recipes that are used elsewhere. This left me with a lot of sauces that are completely on their own. So in efforts not to end this whole thing on a long stretch of flavored butters and different sauces, I'm trying to throw in some random ones in here and there.
LAURA'S RATING: 9
BRIAN'S RATING: 9
Now let's talk about this sauce that nobody else is talking about (or at least nobody in my food world is..). This recipe is overwhelmingly simple. Make a french dressing and then add some cream, egg yolk, and dill. I was not expecting much to be honest, but I ended up being blown away! I served the sauce on top of some heavily seasoned pan-seared Mahi-Mahi filets. That was absolutely the way to go. Julia also says you can cover eggs, vegetables, and cold fish with this sauce, but I can't imagine those options tasting as good as the hot fish.
If you are curious how I cooked the fish- I combined some flour, cayenne pepper, paprika, garlic powder, onion powder, and chili powder in a bowl. After drying off the Mahi-Mahi, I covered them with the mixture. In a small amount of hot oil, I cooked the filets for 2-4 minutes each side, depending on the thickness of the filet. I removed the fish from the pan, poured out the oil, and poured in the sauce. I warmed it up VERY slowly. The sauce has egg yolk in it so you don't want the heat to be too high or warm it up for too long or you will risk scrambling it. Just as soon as the sauce was slightly warm, I put the fish filets back into the pan.
COOKING PROCESS: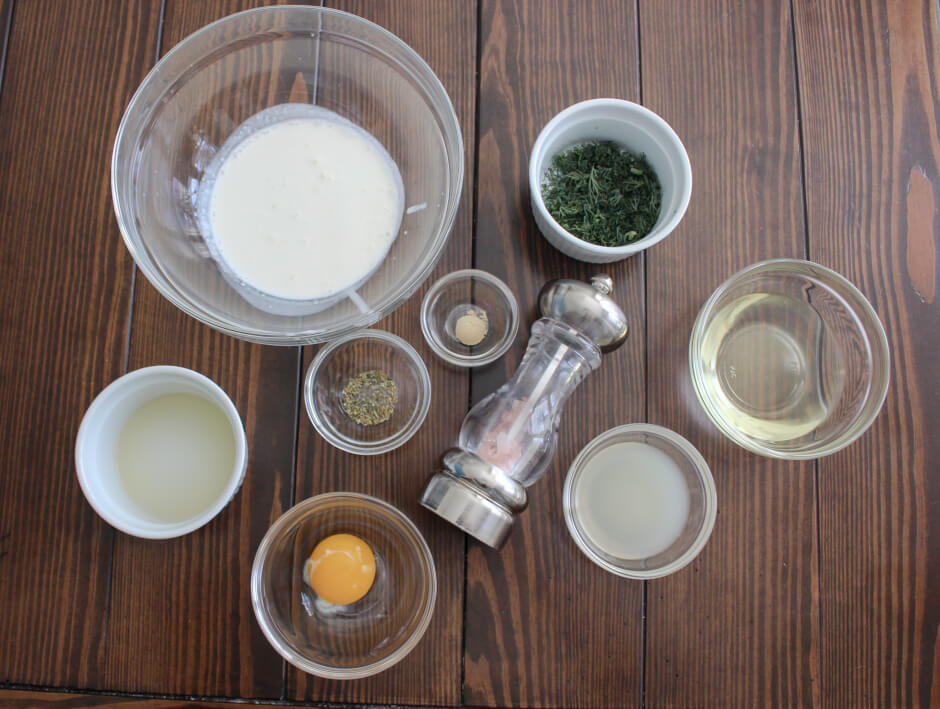 The first step in making this sauce, is to make the Sauce Vinaigrette [French Dressing] recipe. The past two times I've made this dressing, I whipped it up in a bowl. This time I used the jar method which is basically throwing all the ingredients in a jar and shaking vigorously. SO much easier!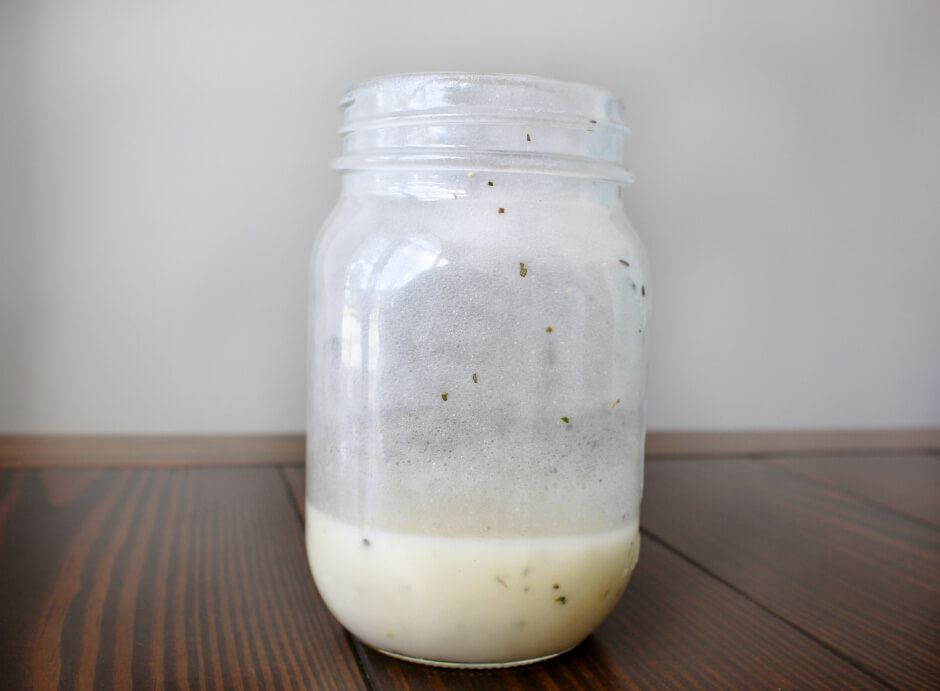 One egg yolk and some cream are then whipped together. I would have rather used sour cream, but all of the stores were completely out! Luckily, the recipe says you can use whipping cream in place of sour cream so that's exactly what I did. I LOVE sour cream though. I'm thinking I must make this again with sour cream which may make this recipe an even higher rating for me!
The vinaigrette is beaten into the whipping cream/egg mixture very slowly as if making a mayonnaise. Once it is all incorporated, lemon juice is added to taste and fresh dill is stirred in. You can use other herbs, but I hihgly suggest the dill especially if you are going to be serving it with fish.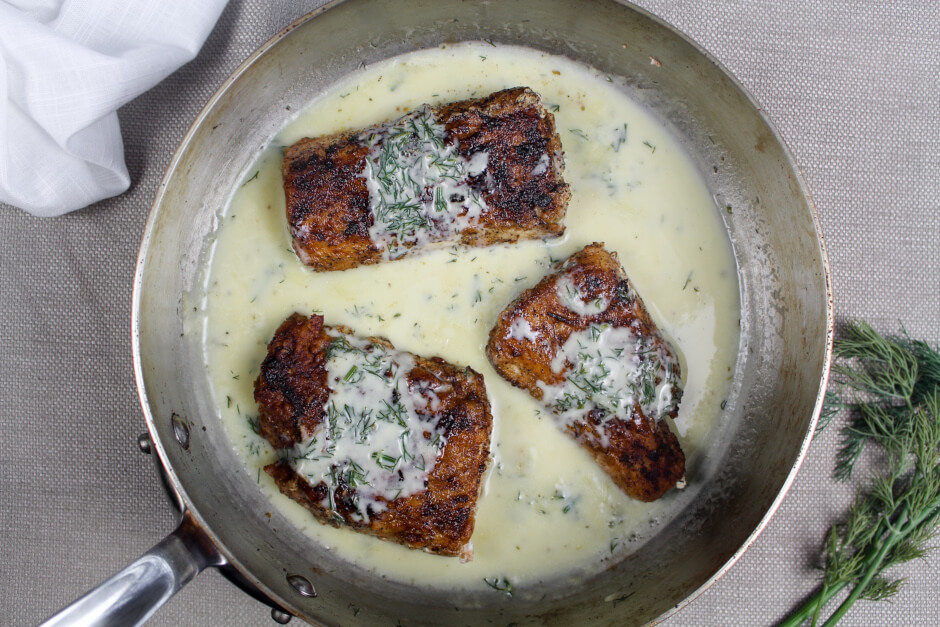 You can find these recipes and all the other Julia Child recipes I make in Mastering the Art of French Cooking
Bon appétit!
March 1, 2021 by Laura Bullock