Cooking Around the World | Italy
February 12, 2021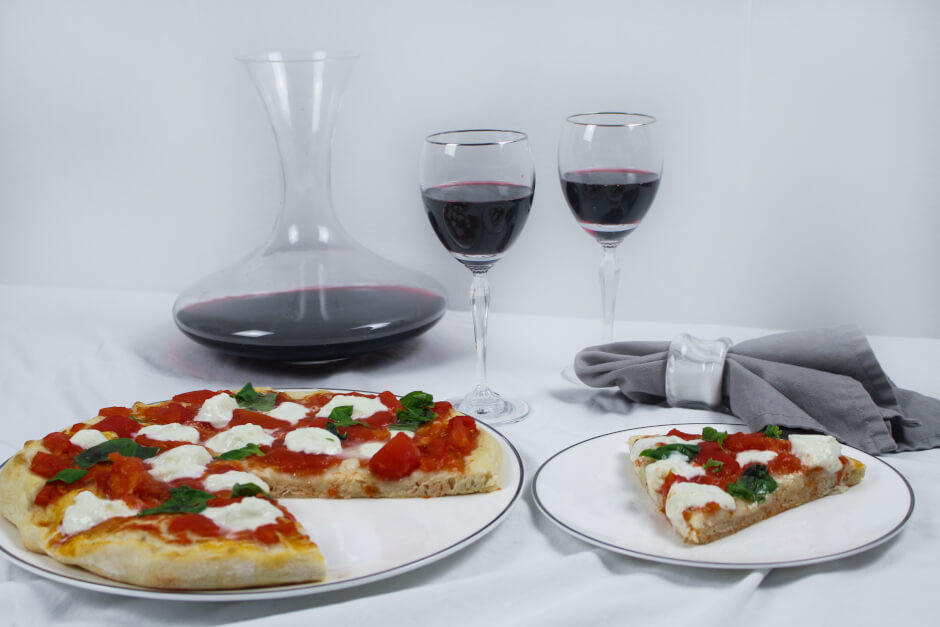 Welcome to my third Cooking Around the World post! If you're new here, this is my super fun cooking series where my husband and I randomly draw a country and cook dishes that country is known for. You can find the Reddit list that we use to pick the dishes here. Our first two places we visited were Lebanon and Iowa (USA). You can find the links to these blog posts here. I also include a playlist with that country's music and link to YouTube videos about the food culture in that country to watch while eating. This is such a great way to learn about other countries, eat AMAZING food, have some fun in the kitchen, spend valuable time with the ones you love, and just have a fun time.
The Country: We used a random number generator to select which country was chosen. It chose Italy! I feel like Italy was the perfect selection as a nice little pre-Valentine's Day date.
Tidbits about Italy:
- Location: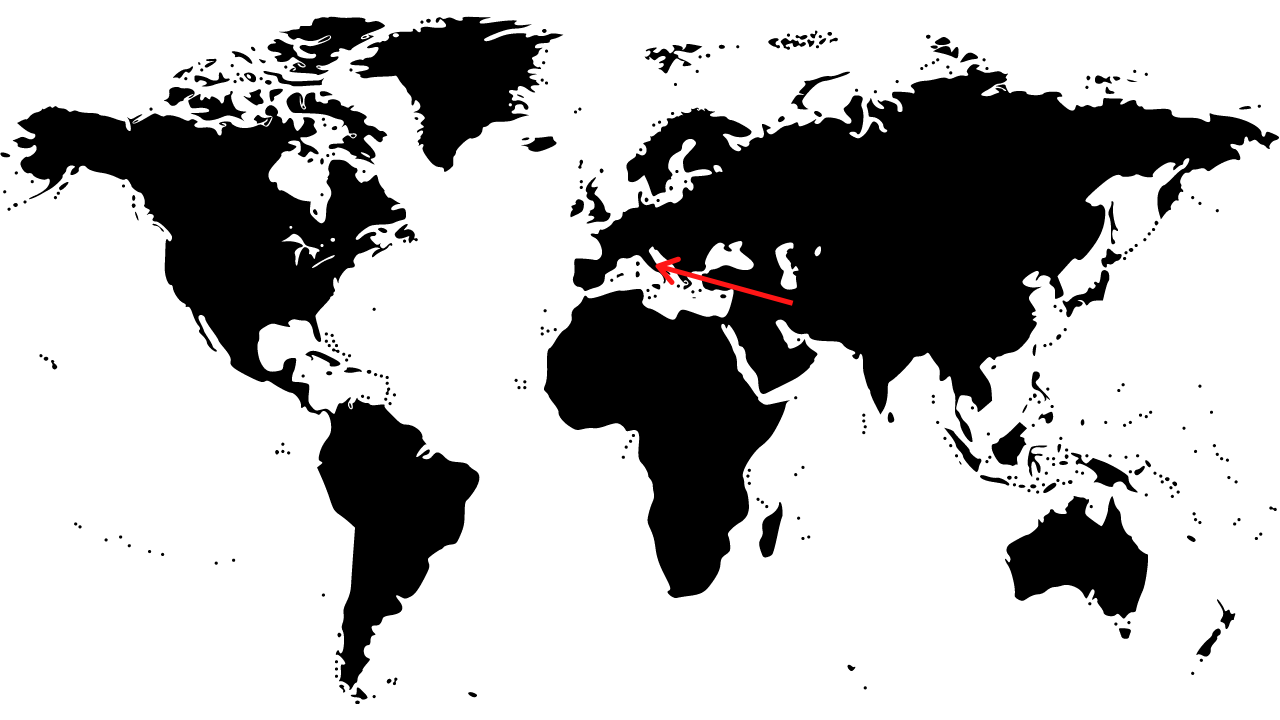 - Official Language: Italian
- How to Say 'Hello': Ciao
- How to Say 'Thank You': Grazie
- How to Say 'Goodbye': Arrivederci
- How to Say 'The food is delicious.': Questo cibo è delizioso.
- Capital: Rome
- Flag:

THE RECIPES: From the list, the top two dishes voted for most popular in Italy were Margherita Pizza and Pasta with Bolognese Sauce. Well, actually there was a four-way tie for second place- pasta with bolognese sauce, pasta al pomodoro, lasagna, and Neopolitan pizza. We chose bolognese sauce as this is a dish we have heard a lot about but never made or tried it before. As always, I try to find these recipes from blogs of people actually from the country or experienced with that type of food. Let's get into it!
Bolognese Recipe: Recipes from Italy
Margherita Pizza Recipe: La Cucina Italiana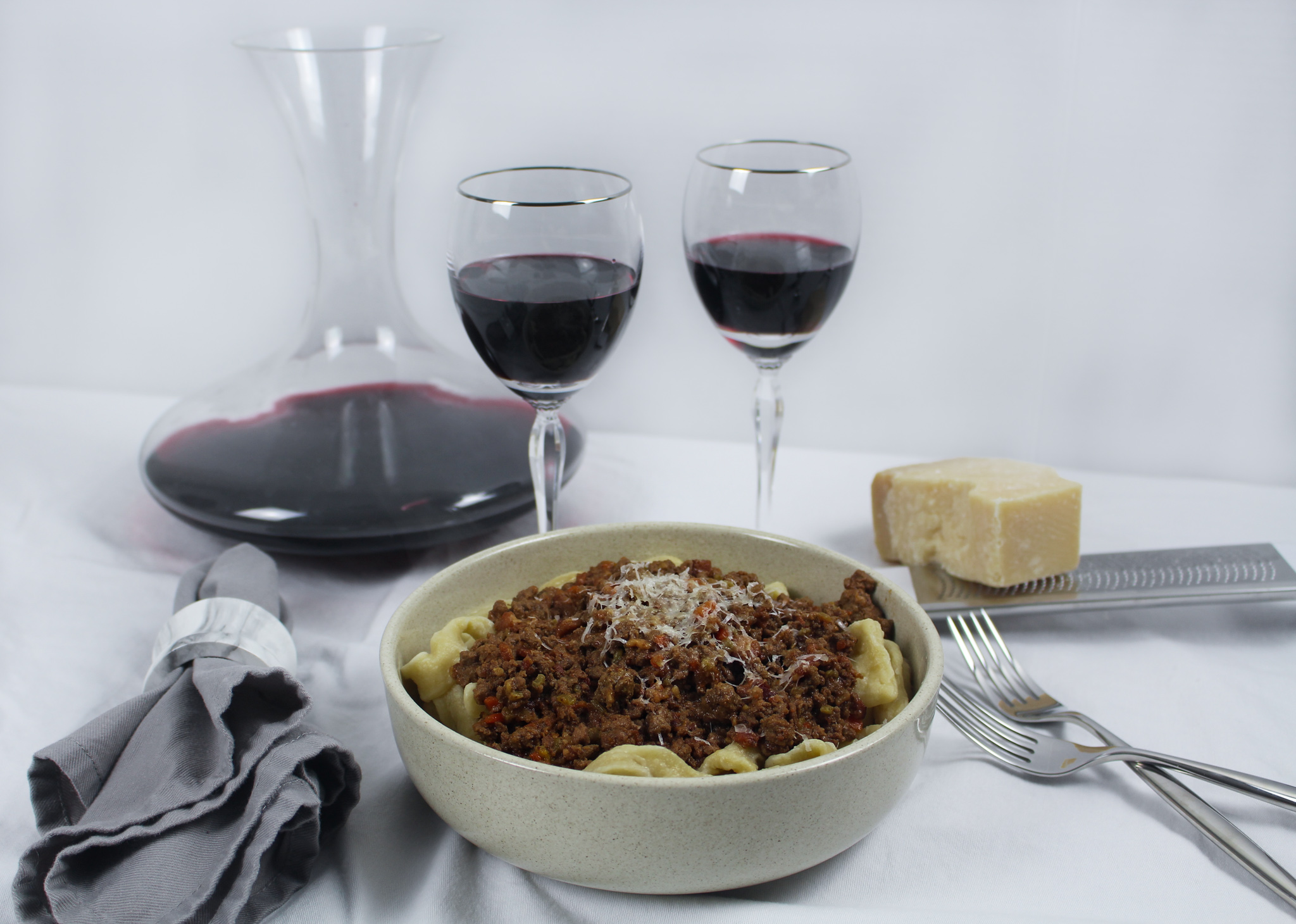 Bolognese: Bolognese is a meat pasta sauce, and is one of the most popular Italian recipes. After trying it, I can understand why! The word "Bolognese" is from Bologna which is a city in region of Emilia Romagna. What's fun about meat sauces in Italy is that each region has their own version. Within each region, you can find many different variants between family recipes. The one thing that all these recipes have in common? The long cooking time of about two hours. Originally, the cooking time was much longer. This was because they used old non-working cows to make the sauce, and it required a long cooking time to ensure tender meat.
Most recipes consist of vegetables (onions, carrots, and celery), ground beef or pork, tomatoes, wine, and milk. A traditional Bolognese does not have herbs or spices except for a little salt and pepper. It also does not contain more tomato than meat. Actually, the very first Bolognese recipes didn't have tomatoes at all because, well, tomatoes weren't in Italy at that time! The sauce is served over fresh pasta and sprinkled with freshly grated Parmigiano Reggiano.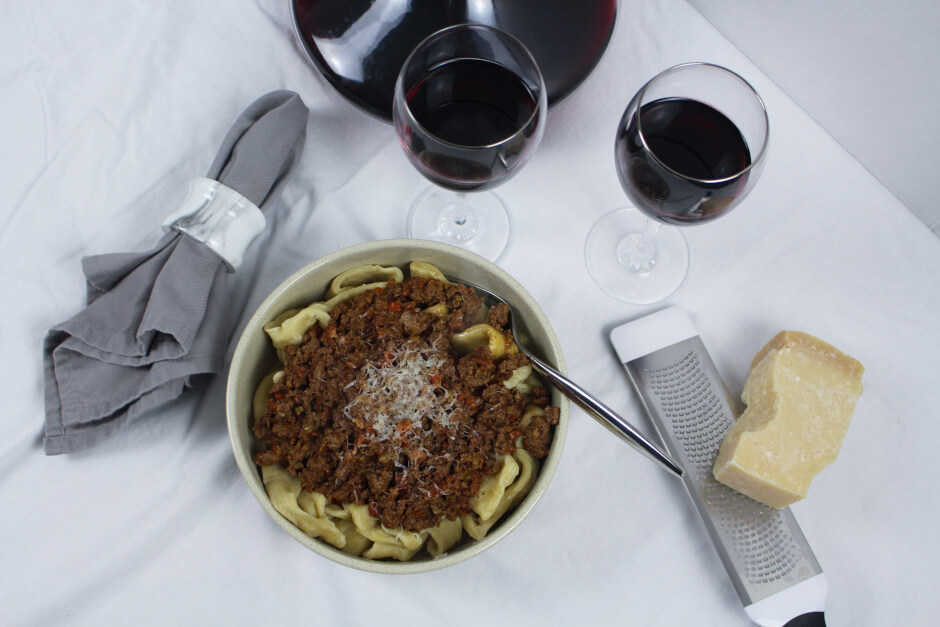 You can read more about Bolognese and the history of this sauce on Recipes from Italy. This is also the site that I got the recipe from. It seems like a very authentic recipe.
We decided make homemade pasta. This was the third time I attempted pasta, and my noodles ended up being very.. big. They tasted very similar to dumplings which actually wasn't a bad thing. Despite my big noodles, this recipe was absolutely delicious.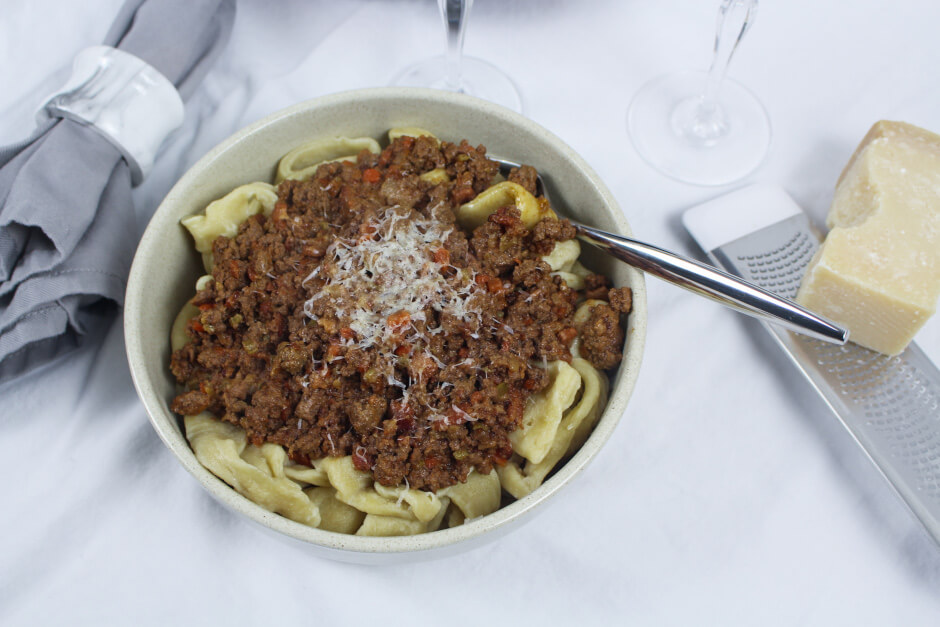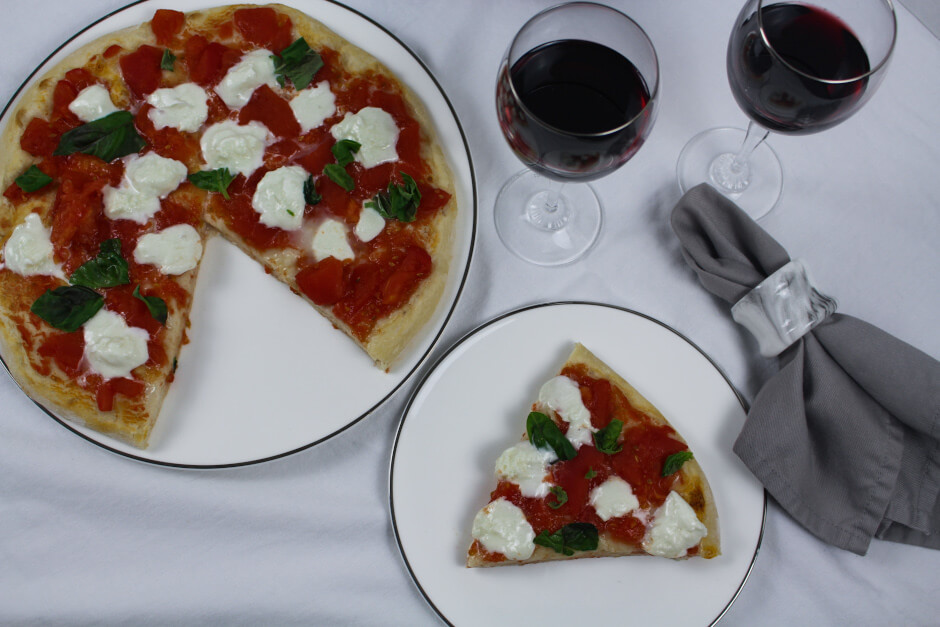 Margherita pizza is actually a type of Neopolitan pizza. It consists of tomatoes, mozzarella, basil, and olive oil. It's a beautiful pizza that displays the colors of Italy's flag- red, white, and green. Now I've had Margherita pizzas before, and I knew that I loved them. But I could definitely see how somebody who had never taken a bite of this beauty would be underwhelmed by the simplicity of it all. One thing I've learned from Julia Child is that just because a recipe has few ingredients does not mean it can't pack flavor. This pizza is no exception. In fact, my husband and I are still raving about this pizza and how something so simple can be SO delicious.
I chose to make the recipe from La Cucina Italiana. It calls for buffalo mozzarella which I hear is the best kind for Margherita pizza so, of course, that's what I used. This recipe does take some planning because the dough needs to rise for 24 hours. Besides that, it's pretty quick to throw together. The crust, in my opinion, was the best part of this pizza. I think I could have just made the crust and been happy. Salted crushed tomatoes are spread onto the raw dough, and it is baked at a high temperature moving from the bottom rack to the middle rack after five minutes. After removing from the oven, it is topped with the buffalo mozzarella, fresh basil, and olive oil. The best part is that this recipe made two pizzas, and I can't wait to pull that other pizza out of our freezer for round two.
Overall, we had another huge Cooking Around the World win. Two amazing dishes, fun music, and great company. Now to book those tickets to Italy to see it in person!
PLAYLIST: I have found some fun Italian and Italian-inspired songs on Spotify. We listened to this while we were cooking and eating and really put us right into the country! You can find the playlist to all these songs below and by clicking here!
YOUTUBE VIDEOS: My husband and I like to watch videos talking about the food and culture of the country to really embrace the moment. Here's a fun one from Luke Martin where they walk around Italy and try popular restaurants- click here! Another video by MojoTravels talks about the top 10 regional dishes to try in Italy. You can watch it here!
I hope you enjoyed reading about "our trip" to Italy! If you take a virtual trip to Italy too, let me know down in the comments!
Buon appetito! - translation of Bon appétit! in Italian
February 12, 2021 by Laura Bullock