Laura The Gastronaut > Julia Child Recipes > Entrèes & Luncheon Dishes > Spinach Soufflé
Spinach Soufflé
August 3, 2021 | Laura Bullock | This post may contain affiliate links.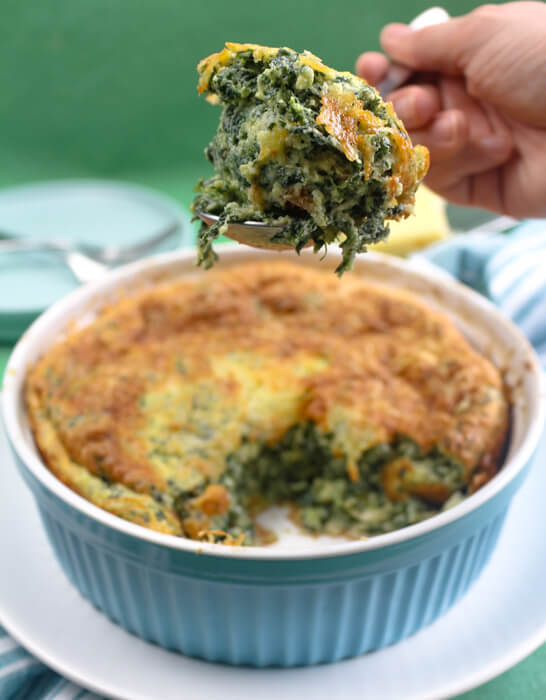 Recipe from Mastering the Art of French Cooking, I | Julia Child
Co-authored with Simone Beck & Louisette Bertholle | 1961 | Published by Alfred A. Knopf
This blog, Laura The Gastronaut, and this blog post were/are not endorsed or supported by Julia Child or Julia Child Foundation. The views expressed on this blog are my own.
Recipe 183
- Soufflé aux Épinards [Spinach Soufflé], p. 165
You can buy Julia Child's Mastering the Art of French Cooking, Volume I which contains this recipe here. This cookbook and recipe were written by Julia Child who co-authored with Simone Beck & Louisette Bertholle and were published by Alfred A. Knopf.
Looking for another Julia Child recipe? Check out my Recipe Checklist to see if I've made it! You can see all the Entrèes & Luncheon recipes from Chapter 5 here!
Watch me make this recipe on my YouTube channel here!
__________________________________
Butter Count: +3.8 TB
Cost: $5.51 [~$1.38 per serving]
THIS SPINACH SOUFFLÉ LEFT ME FEELING DEFLATED
We are moving right along into the second soufflé! Check out the first soufflé I made. It was a cheese soufflé and delicious. It came out of the oven looking like an absolute beauty. I was worried this might be beginner's luck to get such a beautiful soufflé on my first try.. I may have been right. The cheese one stayed puffy for so long that I was able to snap all the pics. The spinach one.. not so much. It rose, but it deflated almost immediately after taking it out of the oven. Perhaps, it's something that I did to the egg whites or the baking time, or maybe my spinach soufflé was just destined to fall fast. That's okay. It still tasted great.
LET'S RATE THE SPINACH SOUFFLÉ
LAURA'S RATING: 7
BRIAN'S RATING: 7
This soufflé tasted really good, but if I'm being honest, its taste didn't differ that much to me from the previous cheese soufflé. I do think the spinach added some substance that the cheese one was missing. However, after removing all the stems of the spinach, washing it, blanching it, chopping it, and sautèeing it, I think I'll reach for the cheese soufflé recipe next time if I'm in a hurry. My husband, on the other hand, is a huge spinach dip lover and this soufflé was right up his alley.
What is a soufflé?
A soufflé is a egg dish that can be either savory or sweet. Soufflé comes from the French word, souffler, which means "to blow" or "to puff." The base of a soufflé consists of making a roux (flour + fat cooked together to thicken sauces) and egg yolks to form a cream sauce. Egg whites are then beaten to stiff peaks and folded into the base. During the cooking process, a soufflé will puff up and will fall about ten minutes after being taken out of the heat. There are many different types of soufflés including cheese, vegetable, fish, and bacon/ham. Sweet soufflés can be made with chocolate or fruits.
Why do soufflés get puffy in the oven?
It all has to do with the egg whites. When you beat egg whites, you introduce air into them and break the chemical bonds. The egg white proteins uncoil, aggregate together, and form a network that allows the air bubbles to stay in place. This is process is called coagulation, and this causes the foam to form. When these air bubbles are heated in the oven, the gas inside them expands causing the soufflé to get puffy. The heat also stiffens the proteins allowing the soufflè to stay risen even when taken out of the oven.
Why do soufflés fall?
When the egg whites are overbeaten, the proteins become overstretched and unstable causing a premature collapse. Ah, perhaps I may have beaten my egg whites a tad too long! Also it's very important to gently fold in the egg whites into your base.
The baking time of a soufflé can also play a role, and it's kind of tricky. An underbaked soufflé will collapse because it's too wet inside. An overbaked soufflé will collapse while still in the oven. Though, keep in mind, that even properly baked soufflés will deflated some.
FUN FACTS ABOUT SOUFFLÉS
• Soufflés orginated in France in the early eighteenth century. Vincent La Chapelle was the first to write about soufflés in Le Cuisine Modern in 1742. By the mid-1800s, soufflés were common.
• The most expensive soufflé sold for $2500 in 2016. It was prepared by Richard Farnabe and Alexandre Petrossian in New York, NY. The inside contained quail eggs and caviar. It was topped with gold leaf and flambé Hennessey Richard.
• The biggest soufflé weighed 3891 pounds and was 243 feet long!
For this recipe:
HOW TO MAKE SPINACH SOUFFLÉ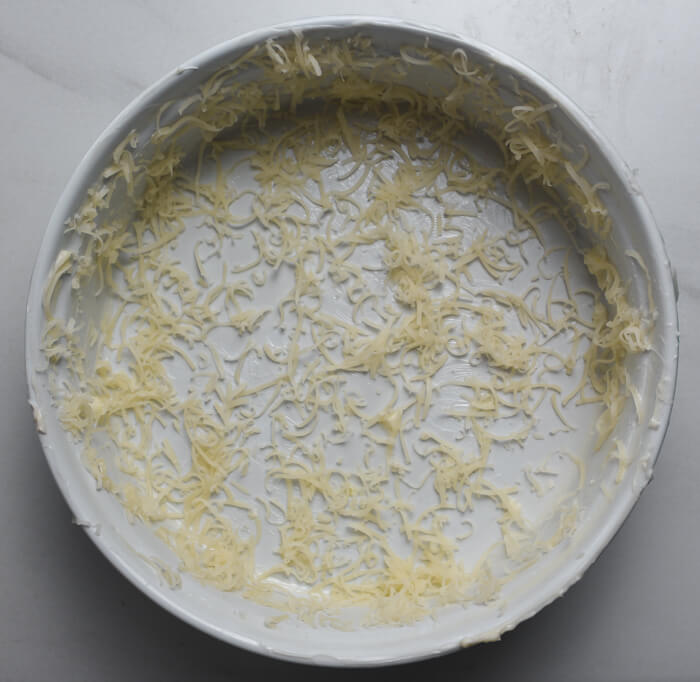 The first step involves preparing the mold. Butter and cheese cover the mold in order to get the perfect crust.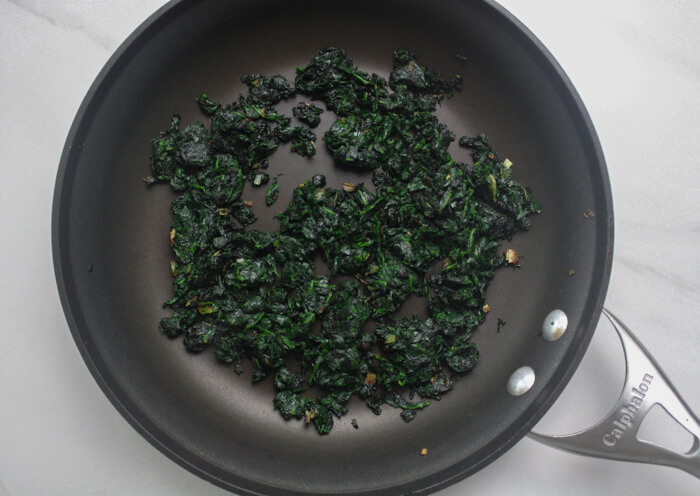 To get the amount of cooked spinach we need, you gotta have A LOT of fresh spinach. And then each of those spinach leaves needs their stem torn off. It's a process. Not a hard process, but it does take time. The leaves get washed, blanched, and chopped. Along with some butter and shallot, the spinach cooks over high heat so that all of the moisture is evaporated. You don't want a soggy soufflé!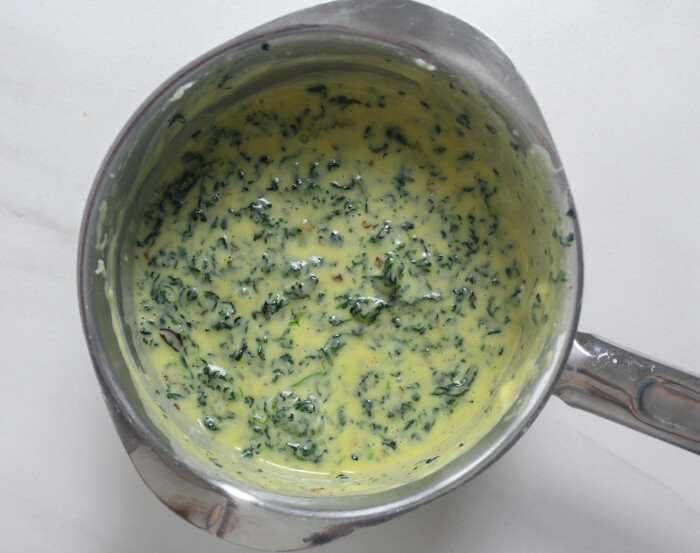 The first step in making the base, is preparing a roux with butter and flour which will help thicken it all up. Milk, seasonings, and egg yolks are whisked in to get you this gorgeous sauce. Seasoning corrected and spinach added in, we are moving on!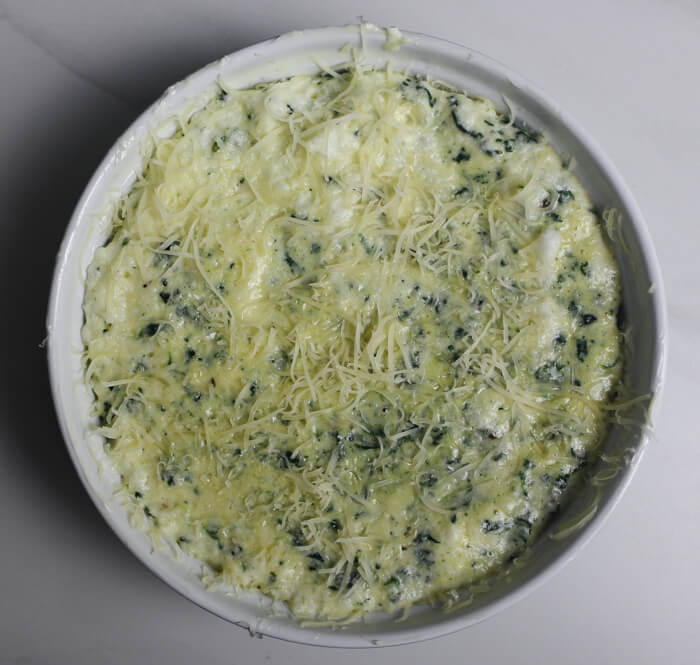 Now to get the fluff- whisk those egg whites! About halfway through this process, I always regret not using the handmixer. Oh well, it's good to get your heartbeat up, right? A little bit of the egg whites get stirred into the base to lighten it and the cheese too. The rest of the egg whites are folded in carefully, and the top is sprinkled with cheese. After cooking, hopefully you end up with a beautiful puffy soufflè!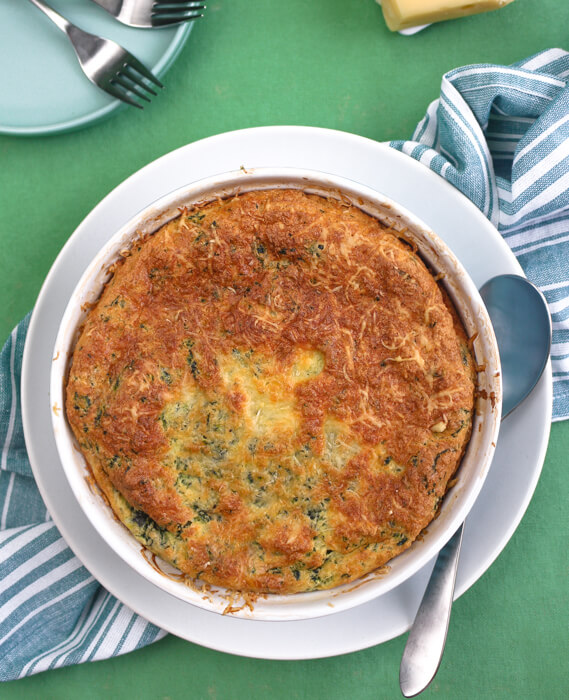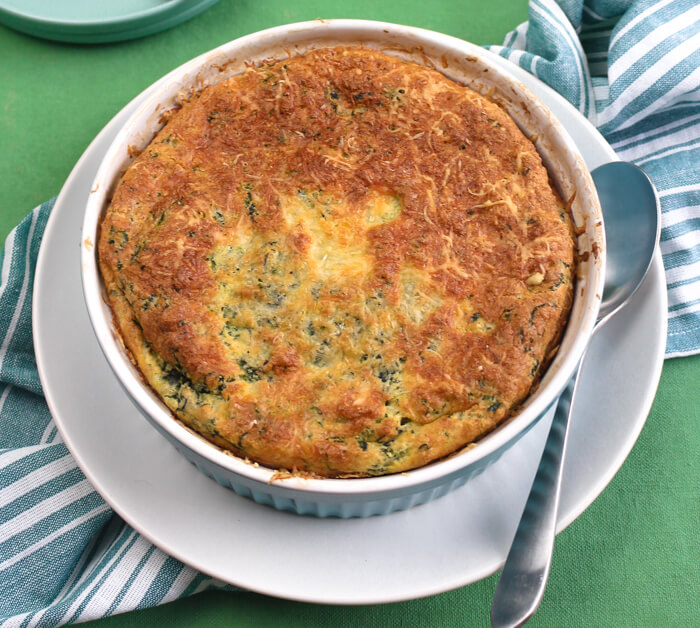 YOU MAY ALSO LIKE
• Julia Child's Spinach Quiche
• Julia Child's Cheese Soufflé
• Julia Child's Spinach and Cheese Canapès
__________________________________
You can find this recipe and all the other Julia Child recipes I make in Mastering the Art of French Cooking, Volume I. This cookbook and these recipes were written by Julia Child who co-authored with Simone Beck & Louisette Bertholle and were published by Alfred A. Knopf.
Check out my Recipe Checklist to see a list of all my completed and pending recipes from Mastering the Art of French Cooking!
Bon appétit!
August 3, 2021 by Laura Bullock