Laura The Gastronaut > Julia Child Recipes > Soup > Soupe au Pistou
Soupe au Pistou
May 29, 2020 | Laura Bullock | This post may contain affiliate links.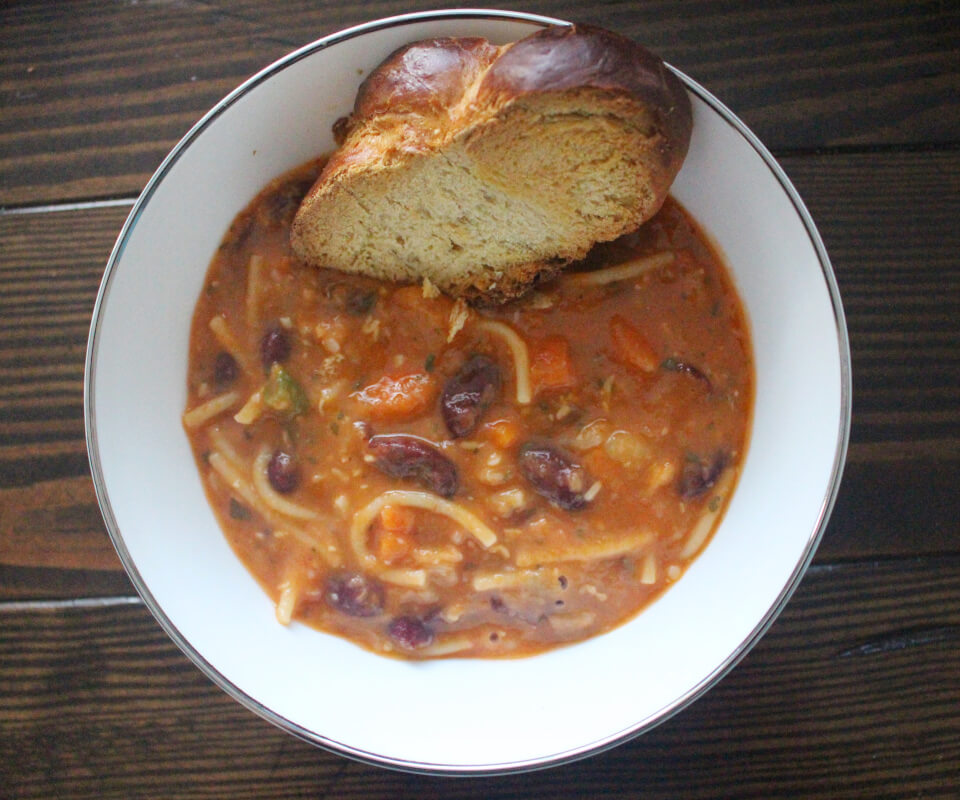 Recipe from Mastering the Art of French Cooking, I | Julia Child
Co-authored with Simone Beck & Louisette Bertholle | 1961 | Published by Alfred A. Knopf
This blog, Laura The Gastronaut, and this blog post were/are not endorsed or supported by Julia Child or Julia Child Foundation. The views expressed on this blog are my own.
Recipe 114
- Soupe au Pistou [Provençal Vegetable Soup with Garlic, Basil, and Herbs], p. 45
You can buy Julia Child's Mastering the Art of French Cooking, Volume I which contains this recipe here. This cookbook and recipe were written by Julia Child who co-authored with Simone Beck & Louisette Bertholle and were published by Alfred A. Knopf.
Looking for another Julia Child recipe? Check out my Recipe Checklist to see if I've made it! You can see all the Soup recipes from Chapter 1 here!
____________________________
Butter Count: +0 TB
Cost: $9.27 [~$1.32 per serving]
IF BASIL IS ON THE INGREDIENT LIST, I'M IN.
This soup surprised me in a good way. I was expecting just your average everyday stew-like soup, but boy was I wrong. Pistou is like pesto and adds a huge punch of flavor. Though Julia says this is a summer soup since that's when the ingredients are fresh, I definitely can see myself eating this wrapped up in blankets watching the snow fall. She also suggests that you can add the pistou on top of spaghetti- yum!
What is pistou?
Pistou is a condiment from the Provence region in the south of France that, as I mentioned, is very similar to pesto. The main difference between pesto and pistou is that pistou does not contain pine nuts. Julia's version of pistou is made with garlic, tomato purée or paste, basil, Parmesan cheese, and olive oil. Traditionally, pistou only contains garlic, basil, and olive oil. Pistou comes from the Provençal word, pista, which means 'to crush' as the ingredients are usually crushed in a mortar and pestle.
Why is a piece of stale white bread stirred into soupe au pistou?
I thought this was strange as I had never added bread to soup before, and, honestly, it kind of grossed me out. The thought of soggy bread boiling in my soup- bleh. It turns out that Italians frequently stir stale bread into their soups in order to thicken it up. The bread soaks up the liquid, breaks down, and, voilà- thick soup! It also turns a soup into something more substantial and a great way to use up that bread that has turned stale in your pantry.
What kind of fruity olive oil should I use for soupe au pistou?
I've only tried one kind of fruity olive oil for this recipe because it's the best. I got a little bottle of lemon olive oil in my stocking at Christmas, and it adds the best flavoring for this soup. While I haven't tried other flavors of oil in this soup, I highly recommend lemon. It just works so well!
SOUPE AU PISTOU FACTS
• It is said that the soup is made with water rather than stock so that the flavors of the fresh vegetables shine through.
• Soupe au pistou can be many different combinations of vegetables and ingredients. Common ingredients include navy beans, kidney beans, string beans, peas, zucchini, bell pepper, potatoes, carrots, leeks, and onions. Whatever vegetable in season during the summer will work. In fact, Julia says that it's perfectly acceptable to use canned or frozen vegetables during the winter as well.
• The reason why soupe au pistou is usually served during the summer is because that's when an abundance of vegetables are available.
For this recipe:
HOW TO MAKE SOUPE AU PISTOU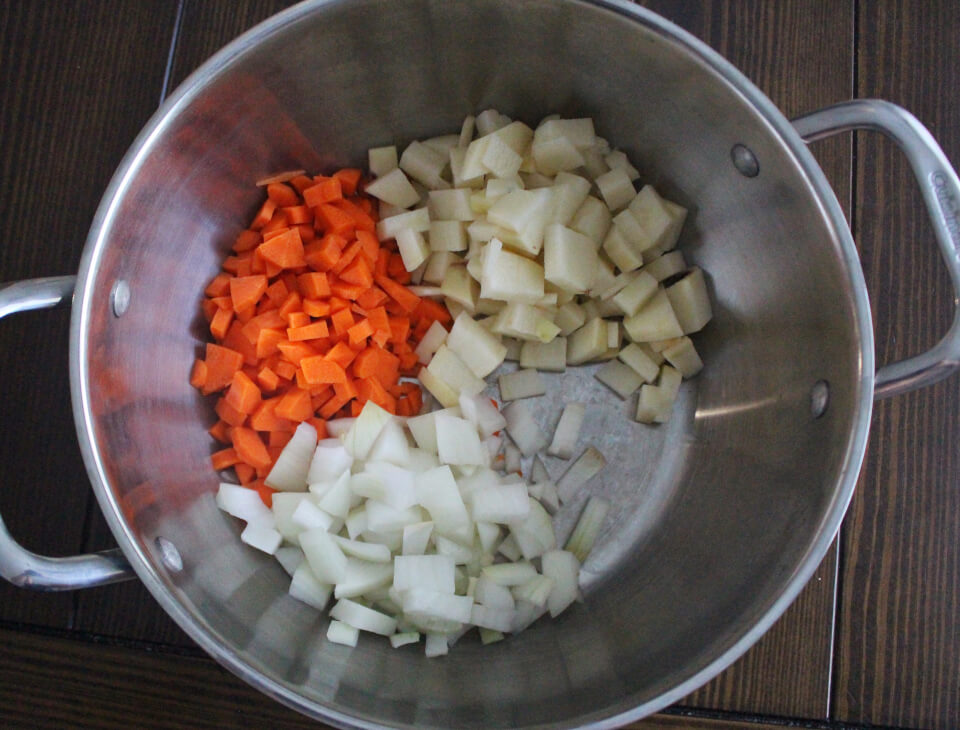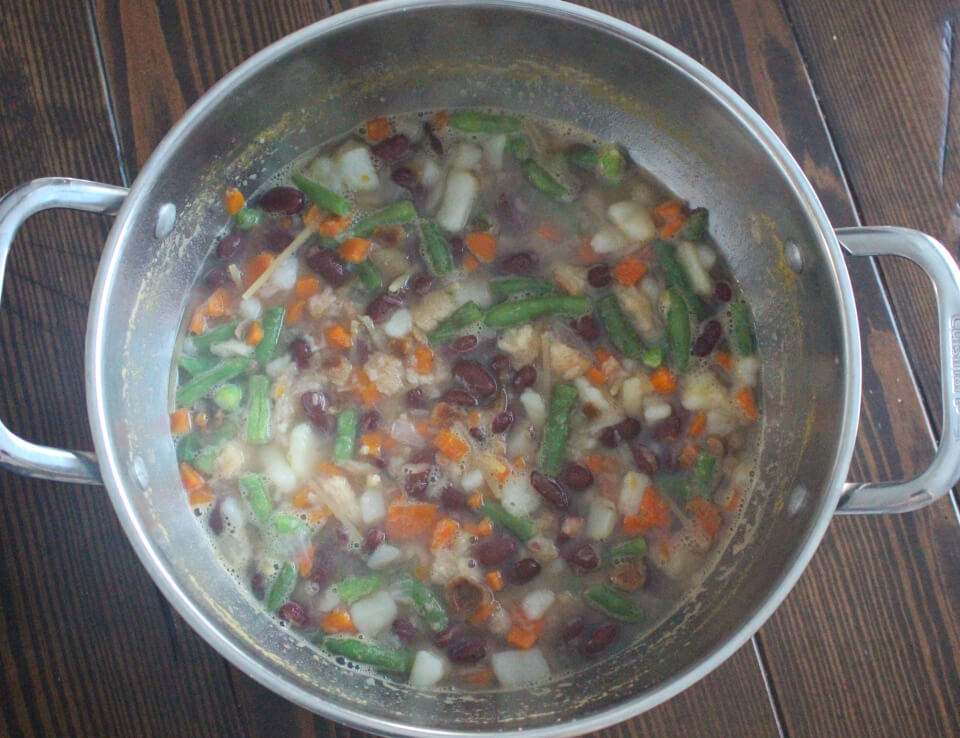 This soup recipe starts off by boiling water, aromatic vegetables, and salt. A few minutes before serving the soup, green beans, kidney beans (or navy beans), broken spaghetti, a slice of crumbled stale white bread, pepper, and saffron is added to the pot. Let me stop right here and say I HATE soggy bread. I can get past a piece of hard-toasted bread in my French onion soup because the bread still holds its form. Also, it just tastes so good. But putting stale white bread crumbs in a pot of liquid? Ehhh. The purpose of adding bread is to make the soup thicker. Initially, I was a little queasy about it, but eventually the bread almost completely disappeared and the soup indeed did get quite a bit thicker. If anybody has a soggy bread problem like me- have no fear. This one will be okay!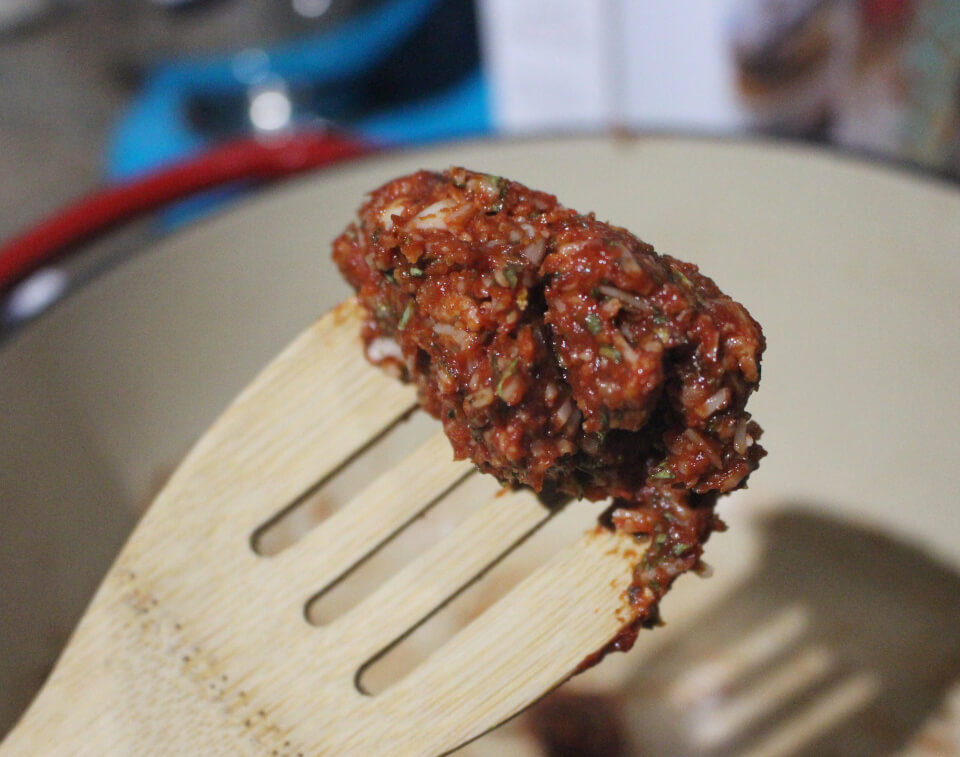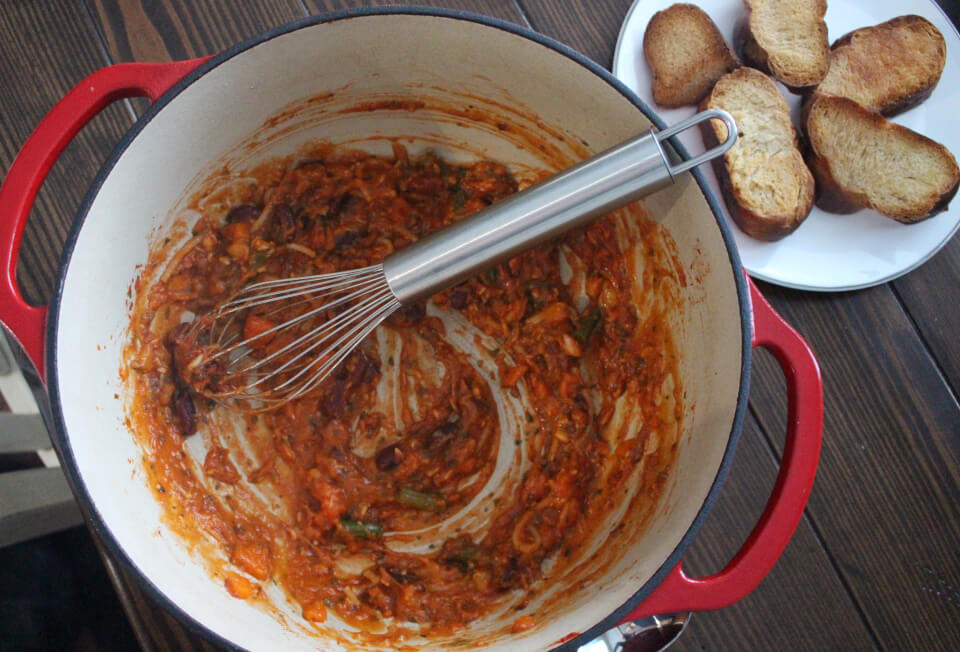 While the soup is cooking, the pistou is made. It consists of garlic, tomato paste, basil, and Parmesan cheese and is blended together until well combined. Olive oil is beaten in drop-by-drop. I used lemon-infused olive oil, and I thought it added such a nice hint of citrus to this soup. Once the soup is ready, it is beaten into the pistou. We ate our soup with a nice piece of warm crusty bread which was perfect to wipe up all the deliciousness in the bowl!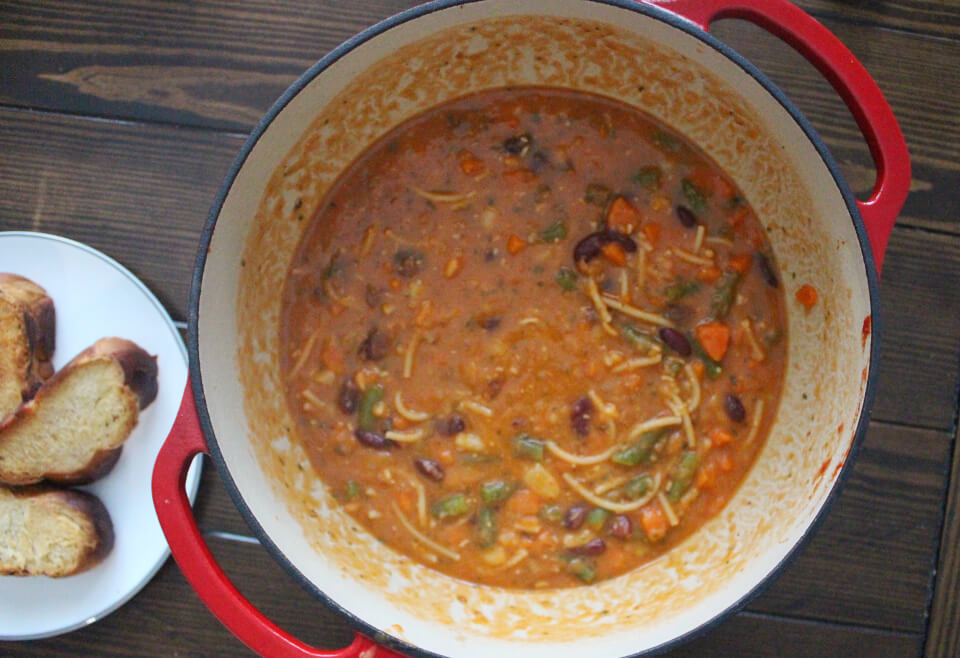 YOU MAY ALSO LIKE
• Julia Child's Garlic Soup with Poached Eggs
• Julia Child's Cream of Mushroom Soup
__________________________________
You can find this recipe and all the other Julia Child recipes I make in Mastering the Art of French Cooking, Volume I. This cookbook and these recipes were written by Julia Child who co-authored with Simone Beck & Louisette Bertholle and were published by Alfred A. Knopf.
Check out my Recipe Checklist to see a list of all my completed and pending recipes from Mastering the Art of French Cooking!
Bon appétit!
May 29, 2020 by Laura Bullock