Garlic Soup
Aïgo Bouïdo (Garlic Soup)
June 18, 2020 | Updated April 19, 2022 | Laura
*This post may contain affiliate sales links. Please see full disclosure policy for details. *The views expressed on this blog are my own.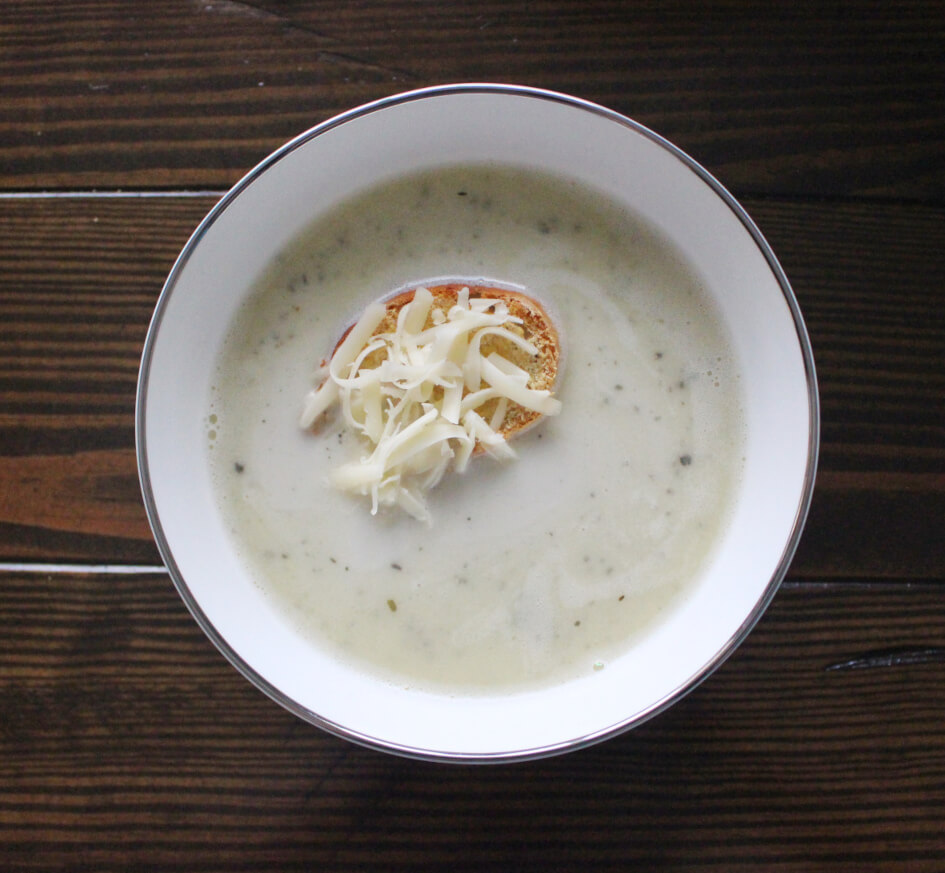 ✽ Recipe from Mastering the Art of French Cooking, Vol. I | Julia Child ✽
Julia Child Recipe 118 | 410 recipes to go!
✽ Aïgo Bouïdo [Garlic Soup], p. 46
__________________________________
✽ Mastering the Art of French Cooking, Vol. I was written by Julia Child who co-authored with Simone Beck & Louisette Bertholle and was published by Alfred A. Knopf in 1961.
✽ You can buy Julia Child's Mastering the Art of French Cooking, Volume I which contains these recipes here. (affiliate link)
The purpose of this Julia Child section of my blog is to document my journey of learning how to cook. To show my successes, my failures, and what I learned along the way.
Since I didn't create these recipes (if only!), I do not post exact amounts of ingredients or word-for-word instructions. If any of these recipes spark your interest, I highly recommend you buy Julia Child's Mastering the Art of French Cooking (affiliate link). It's a great investment and learning tool and contains hundreds of classic recipes.
I hope that you enjoy reading my thoughts, learn something new, and leave inspired to try a new recipe. Bon appétit!
__________________________________
Butter Count & Cost: Garlic Soup
✽ Butter Count: +0 TB
✽ Cost: $5.96 [~$0.85 per serving]
Check out the total Julia Child butter count & cost here!
→ Looking for a different Julia Child recipe? Here's a list of all of the completed and pending Mastering the Art of French Cooking recipes!
Garlic Soup. That's about as simple as it gets.
I would have never in a million years thought of the idea of making a soup out of an entire head of garlic.
There are many recipes in this book that are lengthy and pack BIG flavor. Then every once in a while you will run into a recipe that is simple from ingredients to technique. This is one of those recipes.
Despite the simplicity, this soup is flavorful and absolutely perfect the way it is.
That's one reason why I respect Julia so much. She never added unnecessary steps to her recipes to make them "fancier." Sometimes all you need is a handful of ingredients and thirty minutes to make something great.
For those of you that are thinking a head of garlic is way too much- Julia says think again. "For some addicts, it is not even enough."
Also did you know that some say garlic soup is good for your health? It is thought to be good for your liver, blood circulation, physical tone, and spiritual health. Now, I'm not recommending that you add tons of garlic to your diet, but I am recommending that you make this soup because it's good.
Aïgo Bouïdo: Questions
✽ Why isn't this garlic soup super garlicky despite having an entire head of garlic in it?
Garlic loses its pungent flavor when heated. Basically, the enzymes that do all the work to create that classic strong garlic flavor get deactivated when heated. So this is why raw garlic is more potent than cooked garlic.
Furthermore, if you mince the garlic, it will also have a stronger flavor. After boiling garlic, you're left with a mild, almost sweet flavor.
✽ Why are egg yolks beaten into this garlic soup?
Olive oil beaten into egg yolks creates a mayonnaise-like mixture. This mixture will thicken the soup, create a creamy soup, and add rich flavor.
It is important to temper the eggs with the hot soup so the eggs do not scramble. You temper the eggs by adding drops of hot soup at a time to the egg mixture. This allows the eggs to slowly heat up.
If the temperature of the yolks increase too quickly, the proteins in the egg will link up causing the eggs to scramble.
✽ Aïgo Bouïdo History
Aïgo Bouïdo translates to 'boiled water.' It is popular in South France as a cure for illnesses, to help with digestion, and as a detox after feasting. It has also been called 'the perfect hangover soup.'
Some say that the broth used in Aïgo Bouïdo was created by hikers in Provence. They would pick various herbs and then boil them in water. The boiling was to ensure that anything growing on the herbs would be killed off.
It became part of peasant food traditions due to how cheaply it could be made.
And because garlic grew like crazy in Provence and was thought to cure various illnesses, it evenutally started to be added to the broth. Source: The Epoch Times.
Looking for more Julia Child soup recipes to read about?
→ Check out all of the soup recipes that I've completed so far!
Fun Garlic Facts
Find these facts plus more on Wikipedia and Mental Floss.
✽ Who produces the most garlic?
China grows the most garlic. About 76% of all garlic comes from China. That's close to 46 billion pounds per year!
✽ How much garlic is consumed per person?
It is estimated on average that every person eats about 2 pounds of garlic every year. That's about 302 cloves per person!
✽ What is garlic's scientific name?
Garlic's scientific name is Allium sativum. It is closely related to the onion, shallot, leek, and chive.
How to Make Garlic Soup (Aïgo Bouïdo)
✽ Step 1: Boil Garlic Cloves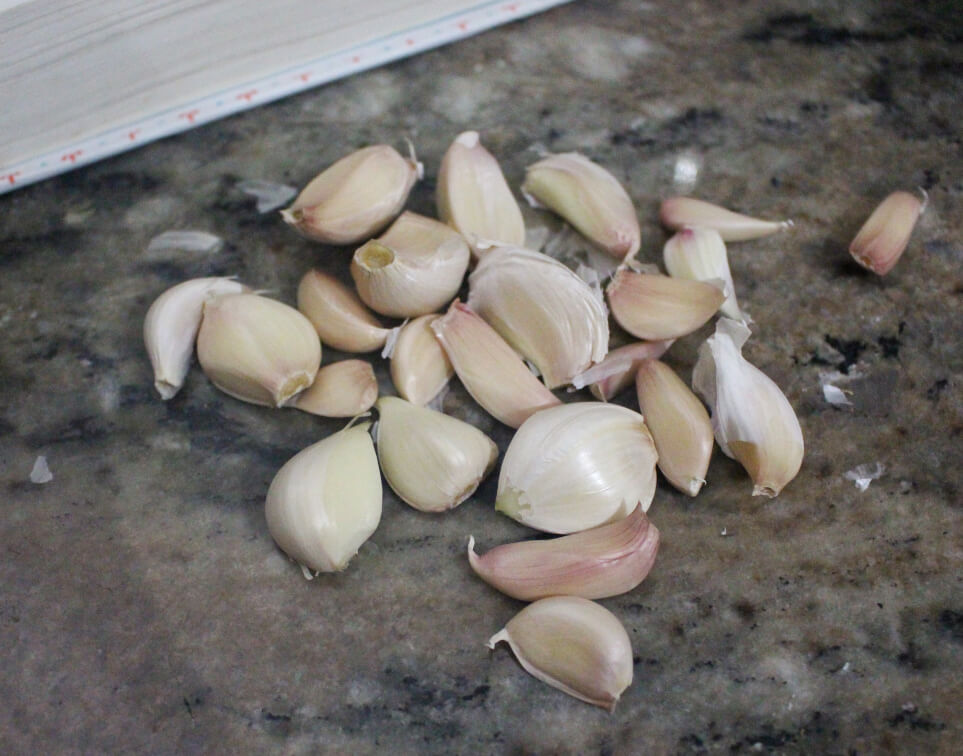 First, you will drop an entire head of garlic worth of unpeeled garlic cloves into boiling water for a few seconds.
This will make them easier to peel. Drain and run them over cold water prior to peeling.
✽ Step 2: Boil Garlic and Herbs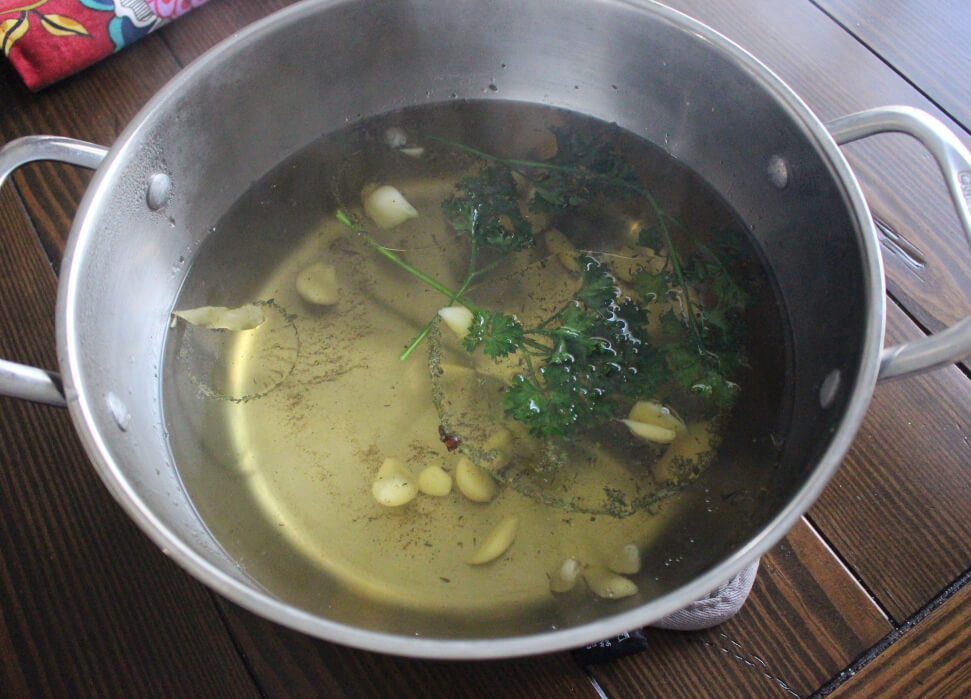 The garlic, seasonings, herbs, and olive oil are added to saucepan. It is all boiled slowly for about half an hour.
Boiling the garlic will tone down its flavor almost to the point you will not even realize what this soup is made out of.
At this point, the soup is going to look mehh. It looks like a very watered-down soup.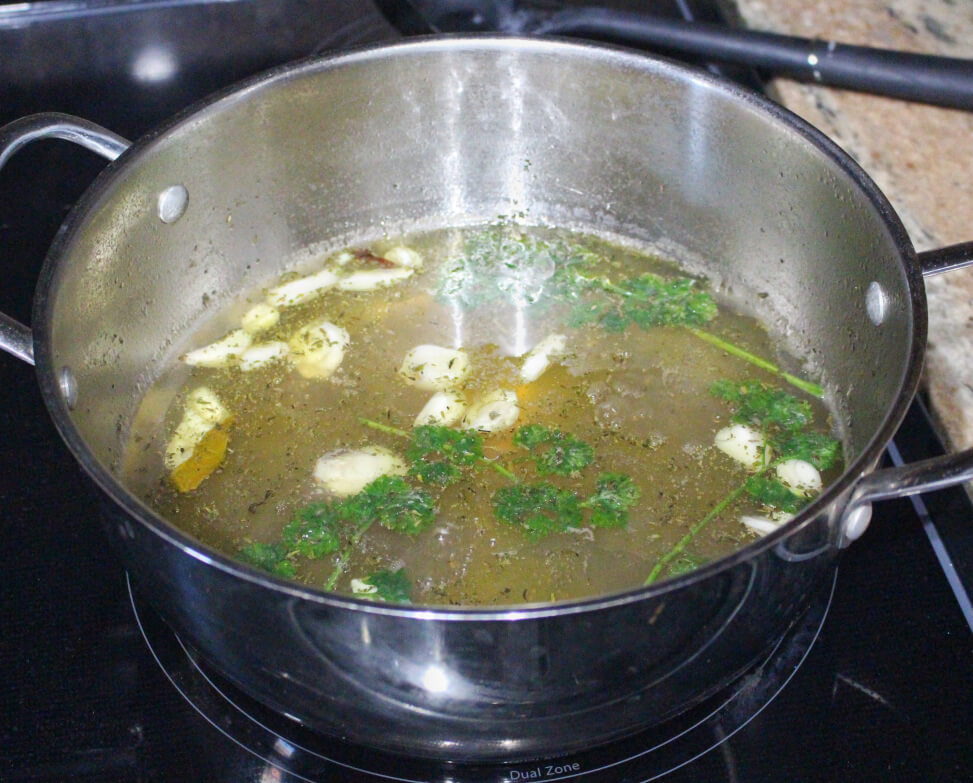 ✽ Step 3: Beat Together Egg Yolks and Oil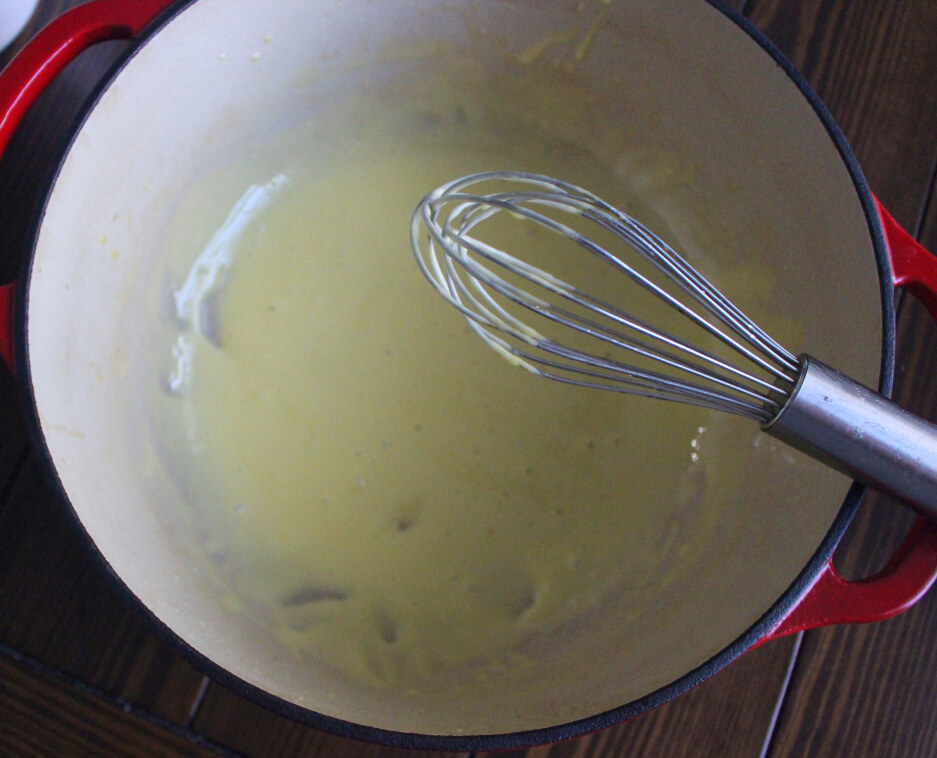 Have no fear! Here comes the good part. Egg yolks are beaten until they are thick and sticky.
A few tablespoons of olive oil are beat into the eggs drop-by-drop. Just like when you make mayonnaise!
✽ Step 4: Slowly Add Hot Soup to Egg Yolk Mixture
Right before you serve the soup, a spoonful of hot soup is added the egg mixture slowly. Be careful to not scramble the eggs!.
The rest of the soup is strained in making sure to press out the juice from the garlic.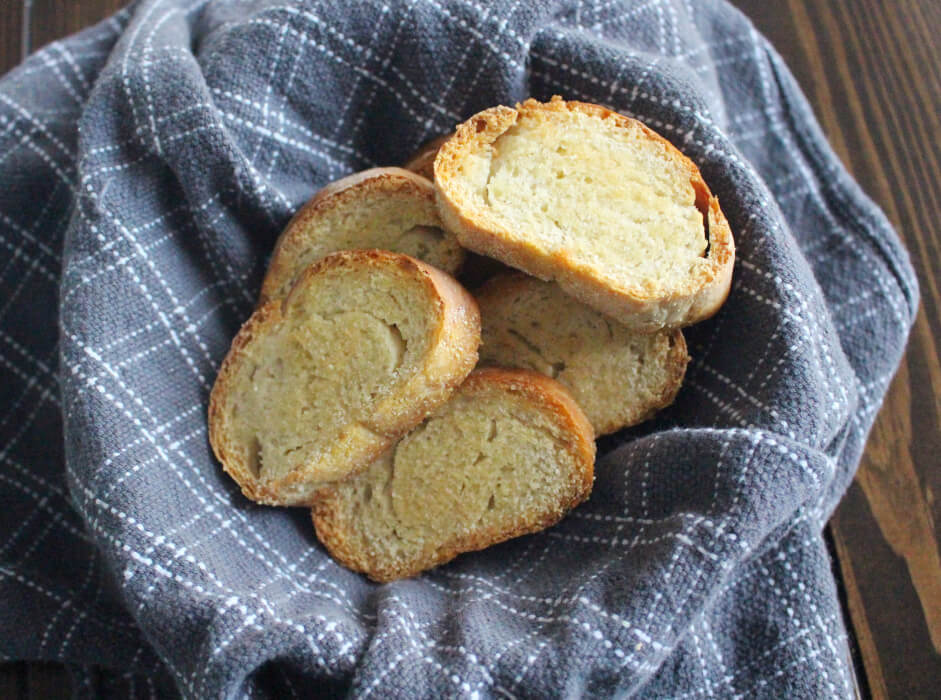 The soup is served with rounds of hard-toasted French bread and grated Swiss cheese.
You won't get very full from eating this soup, but your taste buds will be happy!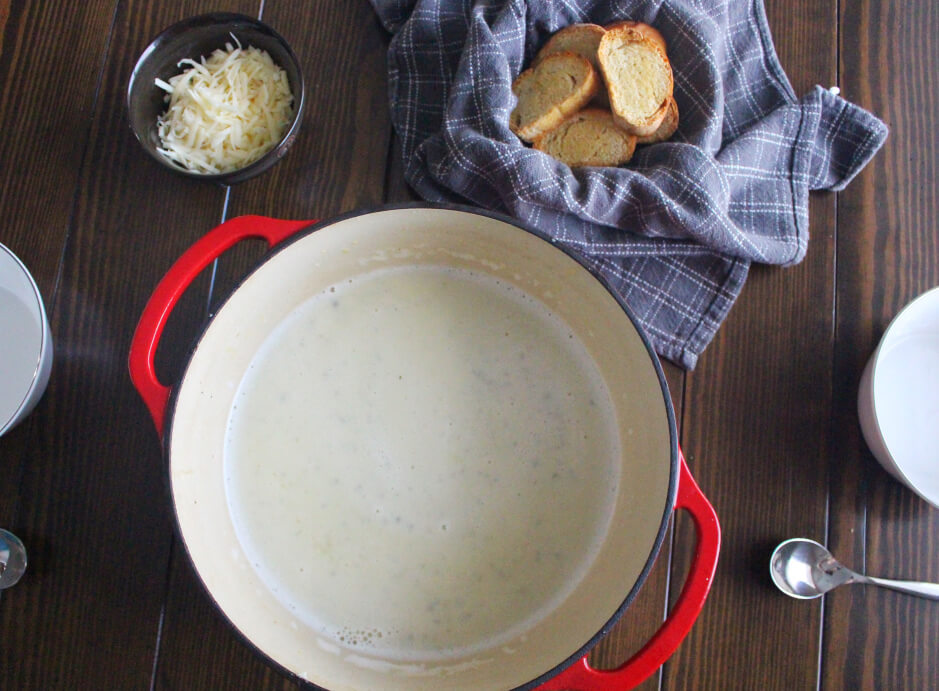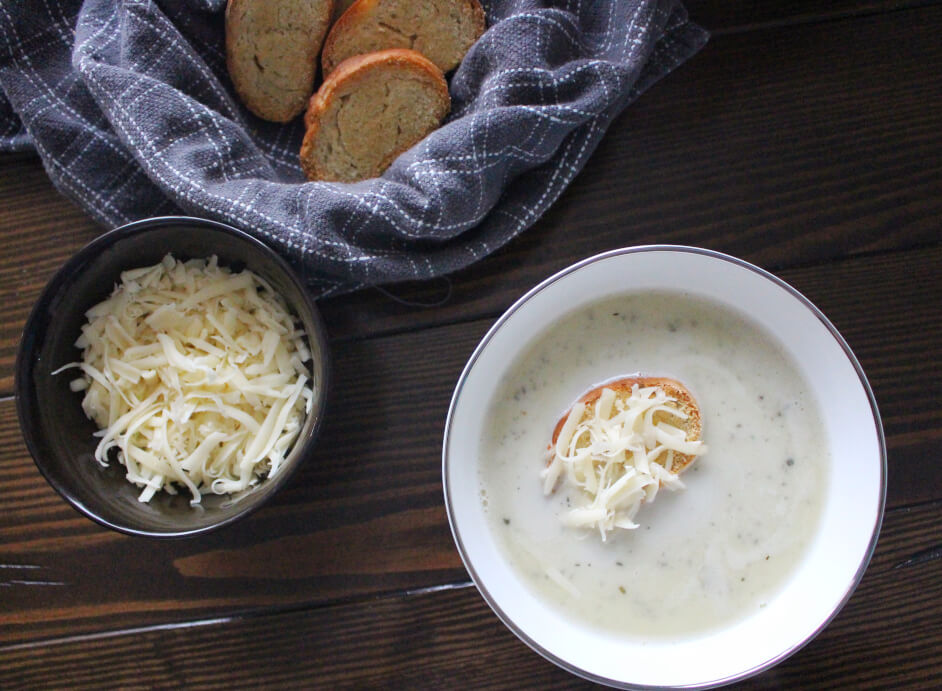 *This blog, Laura The Gastronaut, and this post were/are not endorsed or supported by Julia Child or The Julia Child Foundation.

Category: Julia Child, Soup Cuisine: French
Keywords: aigo boulido, aigo boulido julia child, julia child garlic soup recipe, cream of garlic soup
✽ Did you make this recipe too?
→ Let me know by leaving a comment below and sharing on Instagram. Tag @laurathegastronaut and hashtag it #laurathegastronaut.
More Soup Recipes:
✽ Garlic Soup with Poached Eggs (the same garlic soup but with a little more protein on top)
✽ Saffron-flavored Garlic Soup with Potatoes (potatoes and saffron are added to the garlic soup for extra deliciousness)
✽ Soupe au Pistou (another tasty Provencal soup)
→ Check out all of the completed Julia Child soup recipes!
✽ You can find this recipe and all the other Julia Child recipes I make in Mastering the Art of French Cooking, Volume I (affiliate link).
→ Mastering the Art of French Cooking, Vol. I was written by Julia Child who co-authored with Simone Beck & Louisette Bertholle and was published by Alfred A. Knopf in 1961.
✽ Check out my Julia Child Recipe Checklist to see a list of all my completed and pending recipes from Mastering the Art of French Cooking!
Bon appétit!
June 18, 2020 by Laura Bullock
*This Garlic Soup blog post may contain some Amazon affiliate links. These link to products that I personally use and recommend. If you purchase anything using my links, it will not cost you anything. It will though give laurathegastronaut.com some financial support which helps me keep this blog running. Thank you for reading my blogs and your continued support.