Shirred Eggs
Shirred Eggs
February 29, 2020 | Updated April 20, 2022 | Laura
*This post may contain affiliate sales links. Please see full disclosure policy for details. *The views expressed on this blog are my own.
✽ Recipe from Mastering the Art of French Cooking, Vol. I | Julia Child ✽
Julia Child Recipe 77 | 451 recipes to go!
✽ Shirred Eggs [Oeufs sur le Plat- Oeufs Miroir], p. 122
__________________________________
✽ Mastering the Art of French Cooking, Vol. I was written by Julia Child who co-authored with Simone Beck & Louisette Bertholle and was published by Alfred A. Knopf in 1961.
✽ You can buy Julia Child's Mastering the Art of French Cooking, Volume I which contains these recipes here. (affiliate link)
The purpose of this Julia Child section of my blog is to document my journey of learning how to cook. To show my successes, my failures, and what I learned along the way.
Since I didn't create these recipes (if only!), I do not post exact amounts of ingredients or word-for-word instructions. If any of these recipes spark your interest, I highly recommend you buy Julia Child's Mastering the Art of French Cooking (affiliate link). It's a great investment and learning tool and contains hundreds of classic recipes.
I hope that you enjoy reading my thoughts, learn something new, and leave inspired to try a new recipe. Bon appétit!
__________________________________
Butter Count & Cost: Shirred Eggs Recipe
✽ Butter Count: +0.5 TB
✽ Cost: $0.22 per serving
Check out the total Julia Child butter count & cost here!
→ Looking for a different Julia Child recipe? Here's a list of all of the completed and pending Mastering the Art of French Cooking recipes!
Simple, but delicious egg recipe.
Happy Saturday, friends! Today, I have a super simple and quick breakfast or brunch recipe for you. That's something I don't say very often on this blog- super simple and quick.
But don't let those words fool you, this recipe is just as delicious as the others!
How can you turn down a runny egg covered in butter??
Shirred Eggs: Questions
✽ What are shirred eggs?
So let's go over what a shirred egg is in the first place. Shirred eggs are also known as baked eggs. An egg that is cracked open into a buttered dish and cooked quickly underneath the broiler. The white will set, but the yolk will still be perfectly runny.
Ideally, you would want to use a small, flat dish. Traditionally, they were made in a dish called a shirrer, hence where they got their name. I used a small ramekin because it was all I had. It still turned out great!
✽ What are some variations of shirred eggs?
There's many different ways to make shirred eggs. Some popular ways include swapping out regular butter with black butter or herb butter. It's also common to add cream and cheese to the top of the egg prior to placing under the broiler. You can also add vegetables such as tomatoes, onions, and peppers.
Pretty much the world is your oyster when it comes to what you can add to the top of your shirred eggs!
✽ Shirred Eggs vs. Eggs Baked in Ramekins (Oeufs en Cocotte)
Shirred eggs are cooked in a flat shallow dish and placed under a broiler. If they are cooked in an oven, they will become tough.
Eggs baked in ramekins are cooked in an oven, but the ramekins are placed in a simmering water bath to prevent toughening of the eggs.
Looking for more Julia Child egg recipes to read about?
→ Check out all of the egg recipes that I've completed so far!
Fun Egg Facts
Find these facts plus more on Val-Co.
✽ How many eggs does a chicken lay per year?
The average chicken lays 300-325 eggs each year.
✽ Heaviest Chicken Egg
The heaviest chicken egg was laid in 1956 in New Jersey. The egg had a double yolk and double shell. It weighed 16 ounces (454 grams)!
✽ Why do we eat more chicken eggs than any other kind of eggs?
The reason we mostly eat chicken eggs is because chickens lay more eggs than other species. Chickens also require less nesting space and are not as protective of their eggs.
How to Make Shirred Eggs
✽ Step 1: Break Egg into Buttered Dish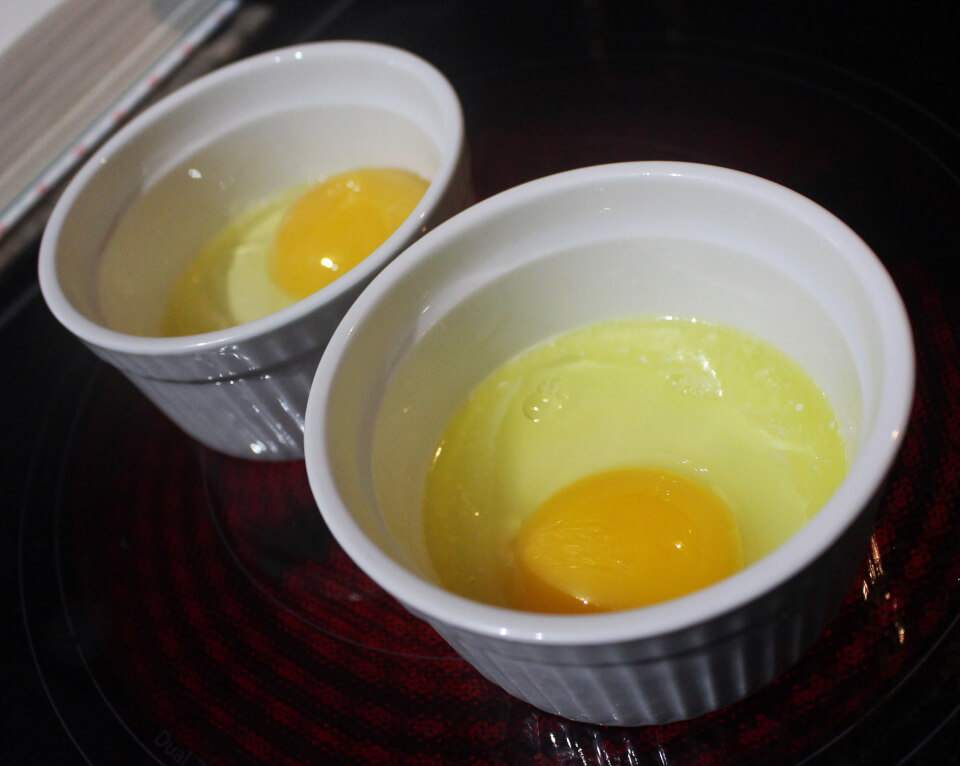 First, you will want to turn your broiler on to get it really hot.
Put a little bit of butter into your dish and place it on the stove until the butter has melted. Crack your egg into the dish and cook for about 30 seconds. You will see the white begin to set at the bottom.
✽ Step 2: Broil Egg
Baste the egg with the butter and put directly under the broiler. Every few seconds you will need to slide the dish out and baste the egg.
It will take about a minute for the entire white to set. The yolk will film over and glisten.
Lastly, sprinkle with a little salt and pepper.
I found these eggs to be extremely good when stirred with a piece of toast. YUM! I am a lover of all breakfast things, and this recipe is no exception. As Ron Swanson said, "There has never been a sadness that can't be cured by breakfast food."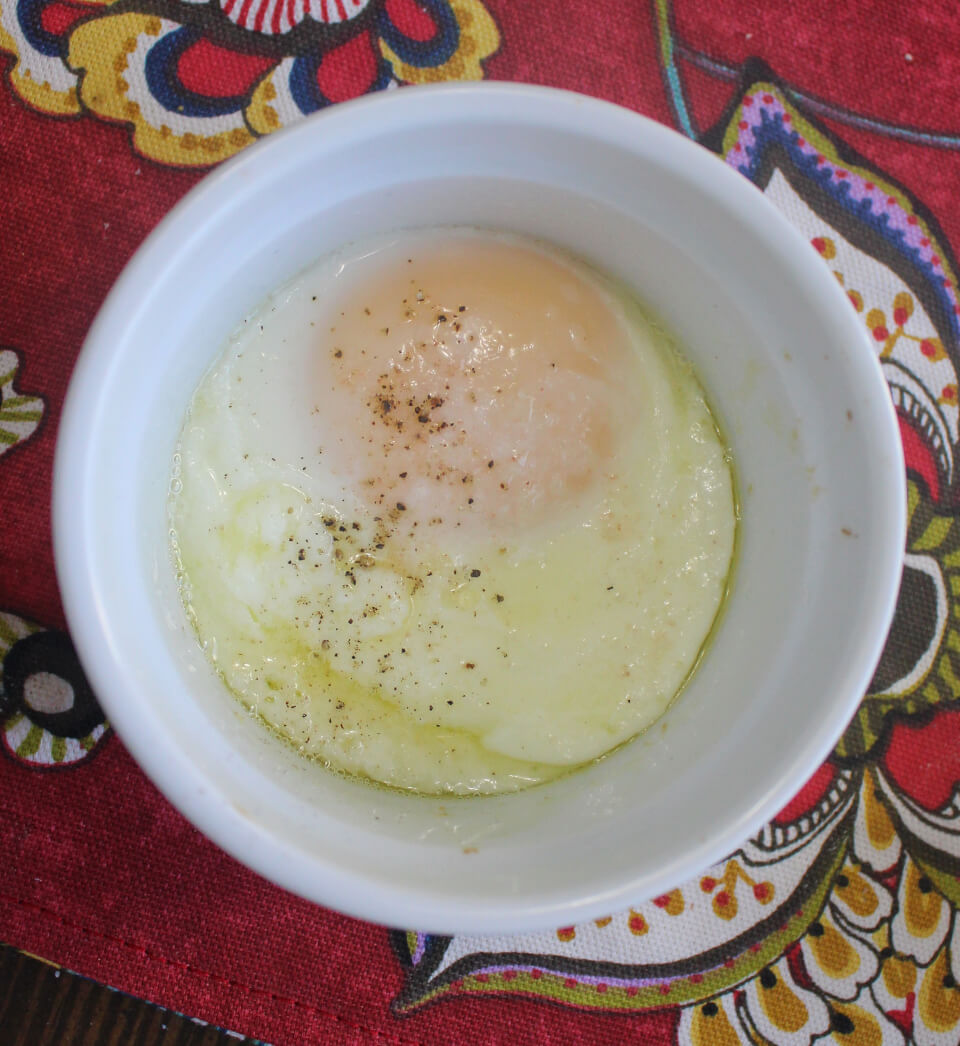 *This blog, Laura The Gastronaut, and this post were/are not endorsed or supported by Julia Child or The Julia Child Foundation.

Category: Julia Child, Eggs Cuisine: French
Keywords: shirred eggs recipe, shirred eggs definition, shirred eggs julia child, julia child eggs
✽ Did you make this recipe too?
→ Let me know by leaving a comment below and sharing on Instagram. Tag @laurathegastronaut and hashtag it #laurathegastronaut.
More Egg Recipes:
✽ Oeufs en Cocotte (very similar recipe but the eggs are baked not broiled)
✽ Scrambled Eggs (super creamy scrambled eggs recipe)
✽ Scrambled Omelette (you can't go wrong with an omelette!)
→ Check out all of the completed Julia Child egg recipes!
✽ You can find this recipe and all the other Julia Child recipes I make in Mastering the Art of French Cooking, Volume I (affiliate link).
→ Mastering the Art of French Cooking, Vol. I was written by Julia Child who co-authored with Simone Beck & Louisette Bertholle and was published by Alfred A. Knopf in 1961.
✽ Check out my Julia Child Recipe Checklist to see a list of all my completed and pending recipes from Mastering the Art of French Cooking!
Bon appétit!
February 29, 2020 by Laura Bullock
*This Shirred Eggs blog post may contain some Amazon affiliate links. These link to products that I personally use and recommend. If you purchase anything using my links, it will not cost you anything. It will though give laurathegastronaut.com some financial support which helps me keep this blog running. Thank you for reading my blogs and your continued support.