Scrambled Eggs
Scrambled Eggs
May 8, 2020 | Updated March 28, 2022 | Laura Bullock
*This post may contain affiliate sales links. Please see full disclosure policy for details.
*The views expressed on this blog are my own.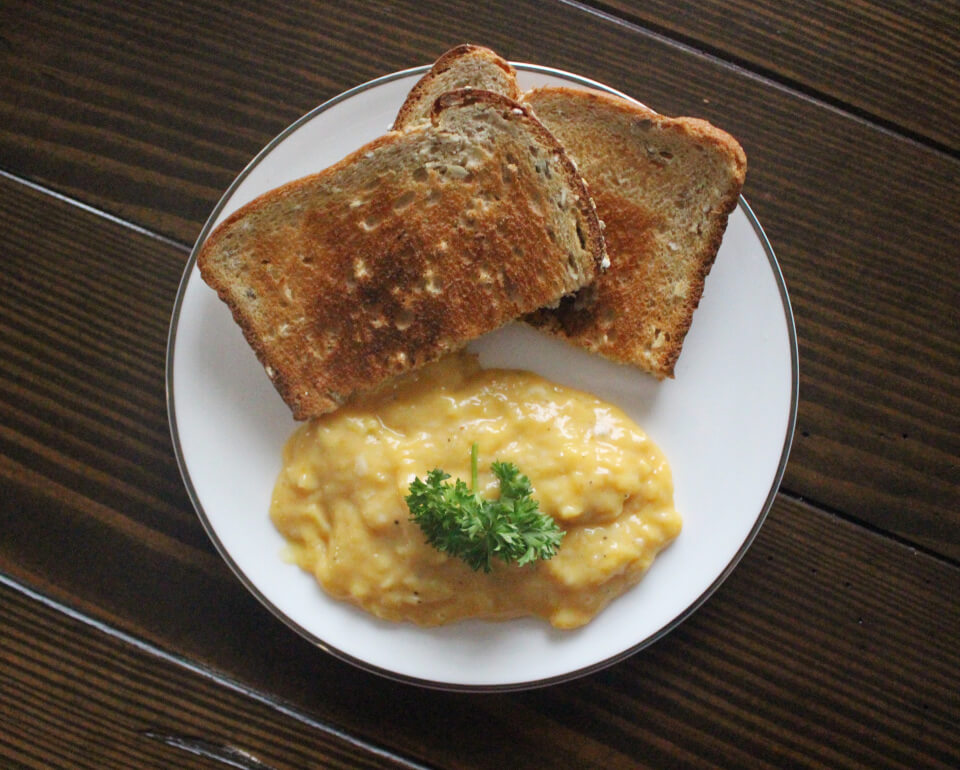 ✽ Recipe from Mastering the Art of French Cooking, Vol. I | Julia Child ✽
Julia Child Recipe 105 | 423 recipes to go!
✽ Oeufs Brouillés [Scrambled Eggs], p. 125
__________________________________
✽ Mastering the Art of French Cooking, Vol. I was written by Julia Child who co-authored with Simone Beck & Louisette Bertholle and was published by Alfred A. Knopf in 1961. You can buy Julia Child's Mastering the Art of French Cooking, Volume I which contains these recipes here. (affiliate link)
The purpose of this Julia Child section of my blog is to document my journey of learning how to cook. To show my successes, my failures, and what I learned along the way.
Since I didn't create these recipes (if only!), I do not post exact amounts of ingredients or word-for-word instructions. If any of these recipes spark your interest, I highly recommend you buy Julia Child's Mastering the Art of French Cooking (affiliate link). It's a great investment and learning tool and contains hundreds of classic recipes.
I hope that you enjoy reading my thoughts, learn something new, and leave inspired to try a new recipe. Bon appétit!
__________________________________
Butter Count & Cost: Oeufs Brouillés
✽ Butter Count: +4 TB
✽ Cost: $1.26 [~$0.32 per serving]
Check out the total Julia Child butter count & cost here!
→ Looking for a different Julia Child recipe? Here's a list of all of the completed and pending Mastering the Art of French Cooking recipes!
Creamy scrambled eggs are perfect scrambled eggs.
If you are anything like me, making scrambled eggs in the morning is a quick and easy process. I've never worried too much about getting the right consistency.
I crack some eggs into a bowl and mix them with a little bit of milk and pepper. I then dump them into a skillet over moderate heat and continue making coffee. I give them a good stir and plop them on a plate. Boom, breakfast.
So, those are my easy scrambled eggs and they probably should be put into a whole different category than Julia's scrambled eggs.
Julia's eggs are a little more complicated than that (though that really shouldn't come as a surprise at this point). They are pillowy creamy eggs and are made by stirring constantly over low heat until they turn into a custard, and are most definitely worth the extra effort.
I have never had eggs like this before and now I can't turn back to my old ways.
French Style Scrambled Eggs Recipe: Questions
✽ What is the science behind scrambled eggs?
Eggs basically just consist of water and proteins. These proteins consist of long chains of amino acids. In a raw egg, the proteins are folded and held together by weak bonds.
When you heat up eggs, the bonds that hold the chains of amino acids together begin to break down. This is because the heat causes the molecules to move faster and collide, and these collisions cause these weak bonds to break.
When the bonds begin to break, the amino acid chains lose their structure and shape and start to form links to other parts of the chains to form a 3D web. The mass of proteins become more interconnected the more the eggs heat up.
This leaves less room for the water in the eggs so the water evaporates. This process is called weeping. As the water leaves the eggs, the egg proteins begin to coagulate.
If you overcook your eggs, you will be left with a protein web that is very tight with little water. The eggs will be rubbery and tough. Source: Popular Science
✽ Why do you stir constantly on low heat for eggs to be custard-like?
Eggs will begin to coagulate around 158°F. With continuous stirring over low heat, you allow the eggs to heat evenly and prevent them from reaching 158°F giving you custard-like eggs.
✽ Why do you add milk to scrambled eggs?
Adding in milk will dilute the proteins and raise the coagulation temperature. The eggs will take longer to cook and low heat will prevent the eggs from weeping. Source: Fine Cooking
✽ How much milk should you add to scrambled eggs?
For best results, Julia recommends adding a half teaspoon of milk per egg. Any more than that, the eggs will turn out watery.
Looking for more Julia Child egg recipes?
→ Check out all of the egg recipes that I've completed so far!
Fun Scrambled Eggs Facts
What is the largest scrambled egg?
✽ The largest scrambled egg consisted of 35,000 eggs and weighed about 5,436 pounds.
Who were the first to make scrambled eggs?
✽ According to Mashed, the Ancient Romans were the first to make scrambled eggs centuries ago.
Scrambled Egg Variations
✽ There are so many different ways to prepare eggs. Here in America, the most common way is also the quickest way which gives you larger curds. In Britain, the scrambled eggs are stirred constantly giving a soft, fine texture. The French way is the most time-consuming, giving you custard-like eggs. A popular English dish is buttered eggs where melted butter is added to the egg mixture prior to cooking.
How to Make Julia Child's Recipe for Scrambled Eggs
To make these scrambled eggs, you will only need 3 main ingredients: eggs, milk, and butter.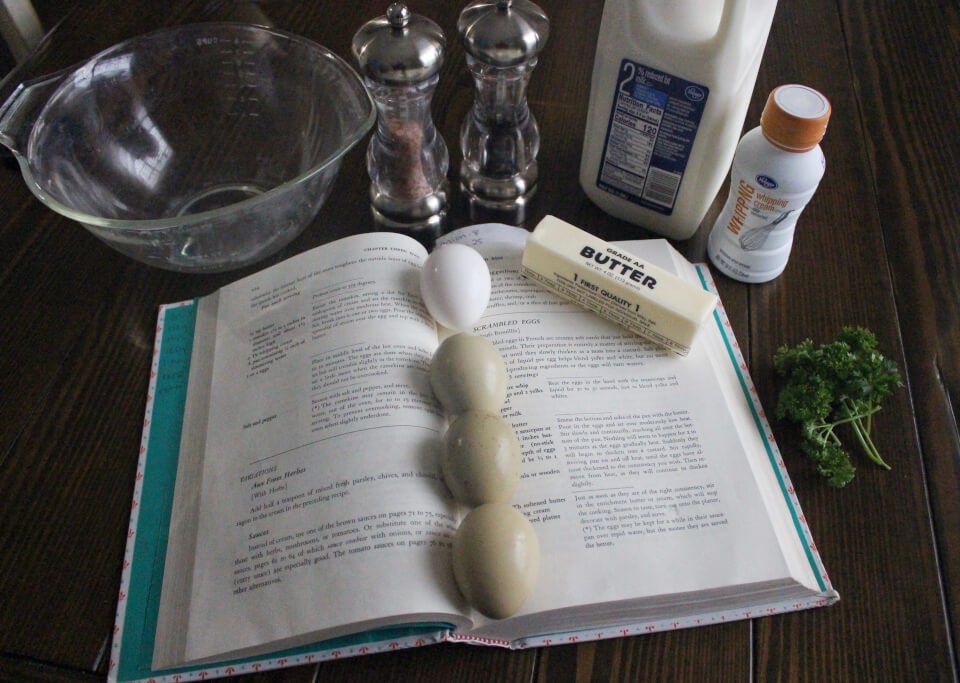 ✽ Step 1: Beat Eggs
The eggs are beat in a bowl with seasonings and a small amount of milk for about 30 seconds.
Each egg should only get a half teaspoon of milk. Julia mentions that if you use more than this, the eggs will become watery. This will just begin to blend the egg yolks and the whites.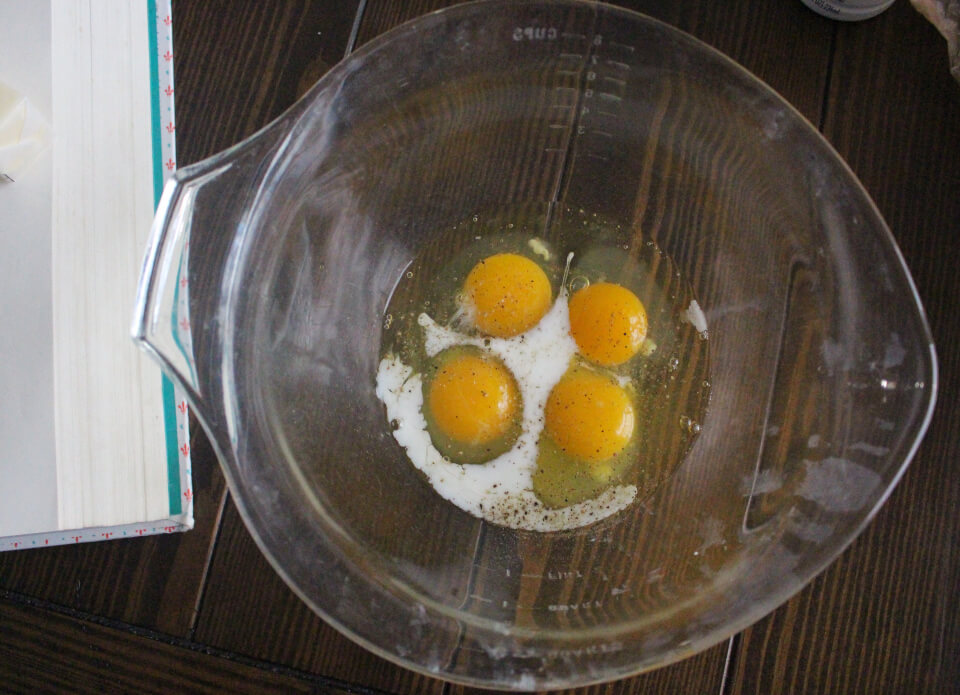 ✽ Step 2: Cook Eggs
To cook the eggs, I used my non-stick skillet which is highly suggested. Anything to make cleanup easier, right?
The bottom of the pan is rubbed down with a pat of butter, and the beaten eggs are poured into the hot pan.
The important part of this recipe is that the eggs are cooked over moderate-low heat and slowly stirred the entire time. Nothing will happen for a few minutes, and you will begin to wonder if you are doing something wrong. About at that moment, the magic will happen. The eggs will thicken into a custard.
Stir rapidly while moving the skillet on and off the heat until the eggs are the desired consistency. They will continue to cook just a little longer once removed from the heat.
✽ Step 3: Enrichment Butter
Lastly, stir in some enrichment butter (or you could also use cream). This will stop the cooking and make them even more delicious. Season the cooked eggs to taste and decorate with a fresh parsley sprig or other fresh herbs. And there you have it- the most perfect scramble eggs in the world.
I personally think the addition of sauteed mushrooms or goat cheese would be wonderful mixed into these scrambled eggs!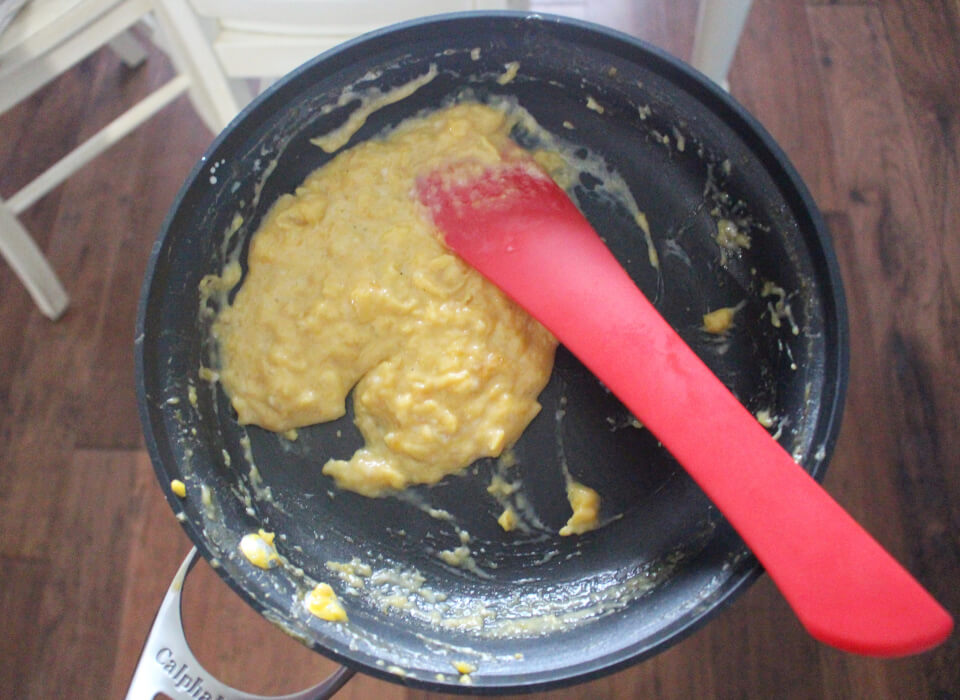 *This blog, Laura The Gastronaut, and this post were/are not endorsed or supported by Julia Child or The Julia Child Foundation.

Category: Julia Child, Eggs Cuisine: French
Keywords: Julia Child scrambled eggs, best Julia Child breakfast recipes, creamy scrambled eggs, julia child eggs
✽ Did you make this recipe too?
→ Let me know by leaving a comment below and sharing on Instagram. Tag @laurathegastronaut and hashtag it #laurathegastronaut.
More Julia Child Egg Recipes:
✽ Shirred Eggs (simple and delicious eggs)
✽ Scrambled Omelette (a super tasty and perfect omelette recipe)
✽ Hollandaise Sauce (eggs benedict with this hollandaise sauce is one of my favorites)
→ Check out all of the completed Julia Child eggs recipes!
✽ You can find this recipe and all the other Julia Child recipes I make in Mastering the Art of French Cooking, Volume I (affiliate link). Mastering the Art of French Cooking, Vol. I was written by Julia Child who co-authored with Simone Beck & Louisette Bertholle and was published by Alfred A. Knopf in 1961.
✽ Check out my Julia Child Recipe Checklist to see a list of all my completed and pending recipes from Mastering the Art of French Cooking!
Bon appétit!
May 8, 2020 by Laura Bullock
*This Scrambled Eggs blog post may contain Amazon affiliate links. These link to products that I personally use and recommend. If you purchase anything using my links, it will not cost you anything. It will though give laurathegastronaut.com some financial support which helps me keep this blog running. Thank you for reading my blogs and your continued support.