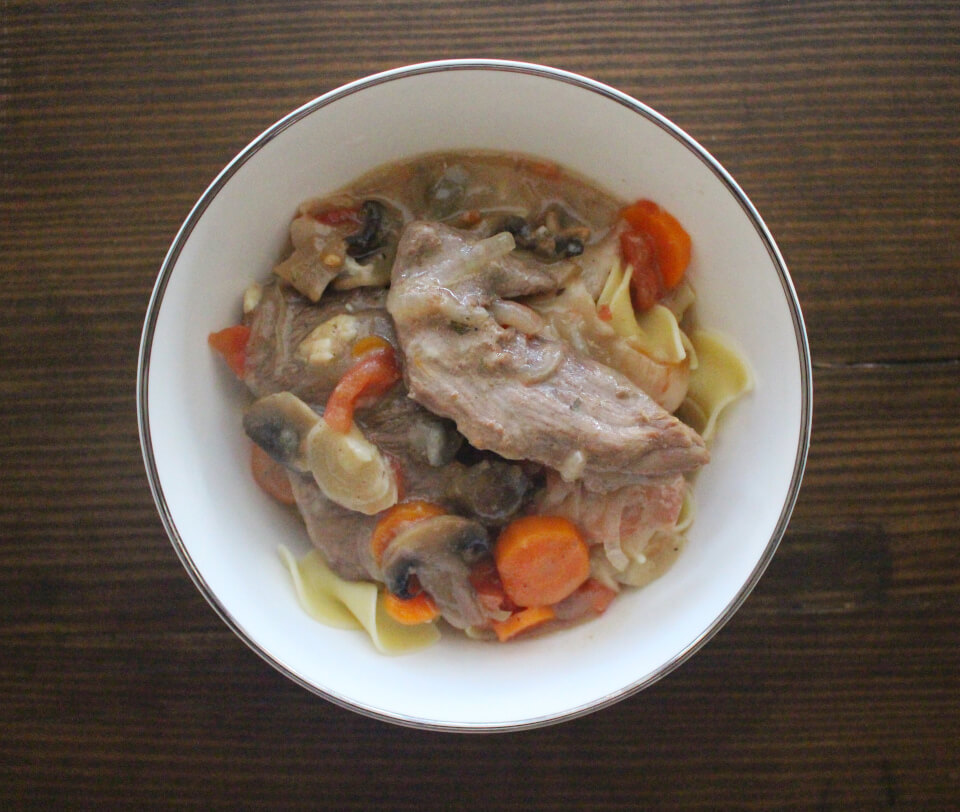 Mastering the Art of French Cooking | Julia Child
Recipe 138
- Daube de Boeuf/ Estouffade de Boeuf/ Terrine de Boeuf [Casserole of Beef with Wine and Vegetables], p. 322
You can buy Julia Child's Mastering the Art of French Cooking which contains these recipes here.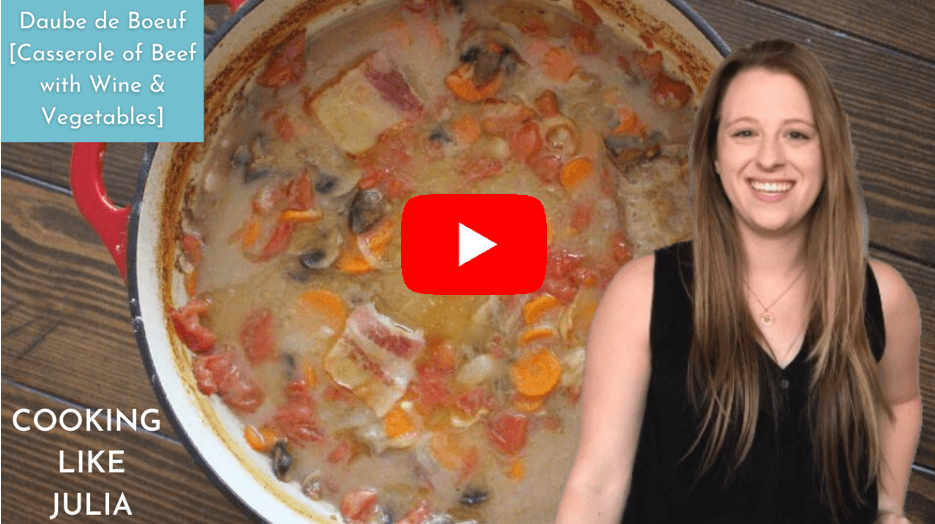 You can watch me make this recipe for the first time on my YouTube channel here.
Butter Count: +0 TB
Cost: $32.99 [~$5.50 per serving]
Well, here's another braised beef recipe. I actually didn't realize I made back-to-back beef recipes until I sat down to write this. But with the Meat Chapter being forever long, it seems as this was going to happen sooner rather than later. This recipe wasn't much different than the others- beef braised in wine, onions, carrots, bacon, mushrooms, and tomatoes. The whole nine yards. Except this time, Julia gave the option of red wine, white wine, or dry white vermouth. I went with the dry white vermouth, and it did change the flavors quite a bit! I won't go as crazy to say that it beats the classic red wine, but it was such a nice change of pace. OH another thing about this recipe- it is the quickest Julia beef recipe ever in terms of prep time! I mean besides the marinating and cooking time, this was so fast to just throw together!
LAURA'S RATING: 6
BRIAN'S RATING: 7.5
I thought it was good, and I would make it again. The fact that this dish brought so much flavor and had so little prep work made it so worth it. Don't feel like doing all the prep for beef bourguignon but still want the flavors? Well, this dish is perfect for you! However, when just talking about taste, I would choose the other braised beef recipes over this one.
COOKING PROCESS:
Let's talk about how simple this is actually! First, cut stewing beef is marinated in wine, brandy, olive oil, salt, pepper, thyme, bay leaf, garlic, onions, and carrots for six hours in the fridge.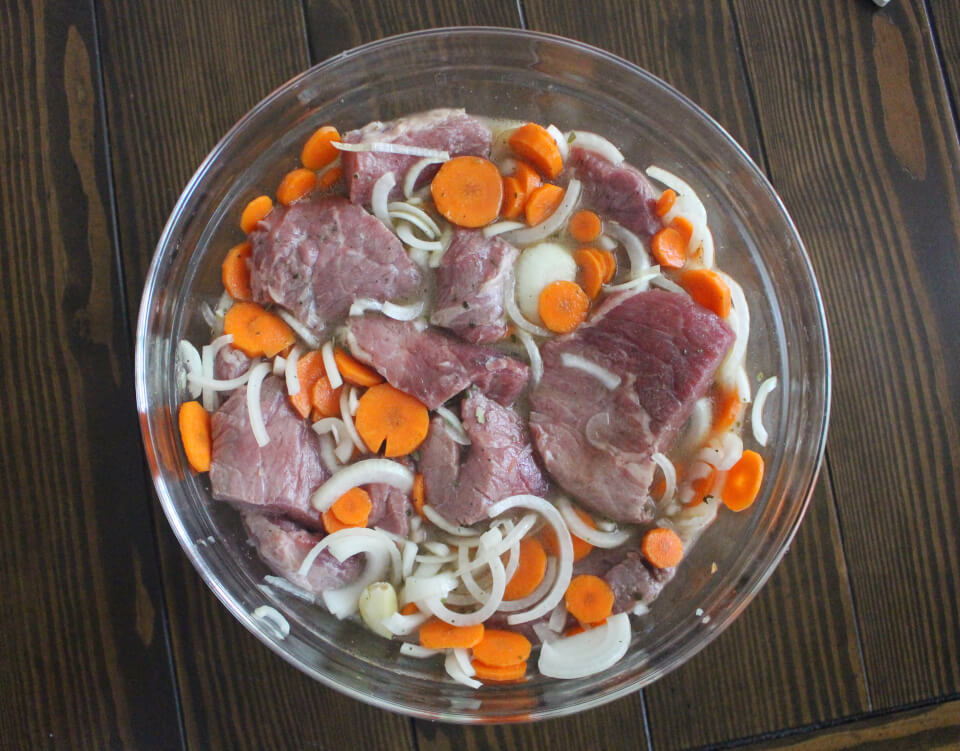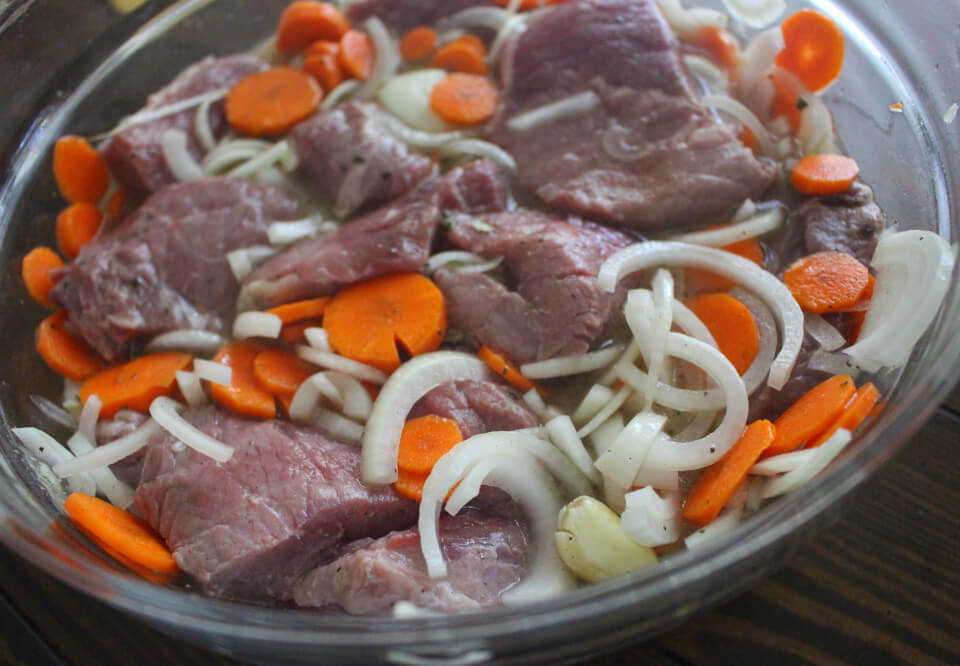 Once the beef is done bathing, the bacon is blanched, the mushrooms are sliced, and the tomatoes are peeled, seeded, juiced, and chopped.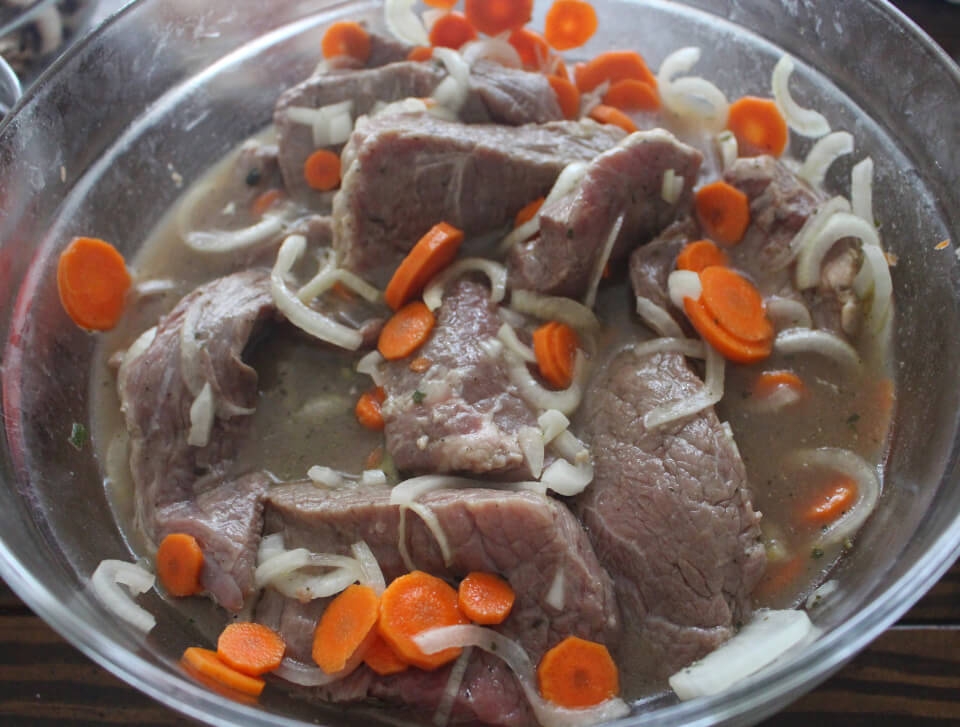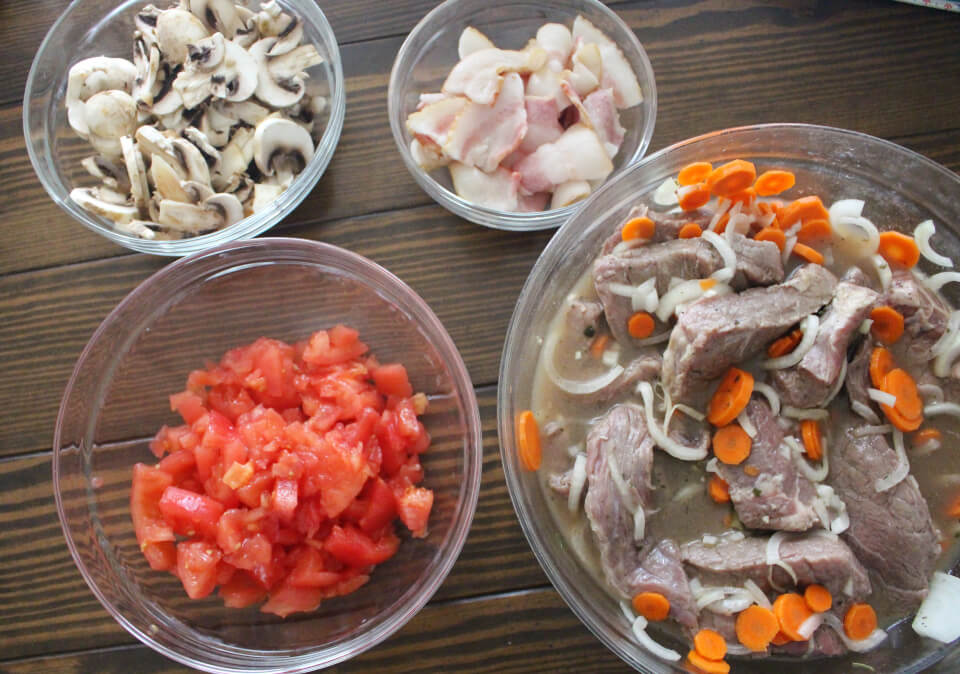 Now it's time to prepare the casserole dish. Everything is layered just like a lasagna! First, some blanched bacon goes down, then some marinade vegetables, some mushrooms, and some tomatoes. The beef is rolled in sifted flour and placed over the vegetables. The layers are continued until everything is put into the casserole ending with a layer of vegetables and bacon.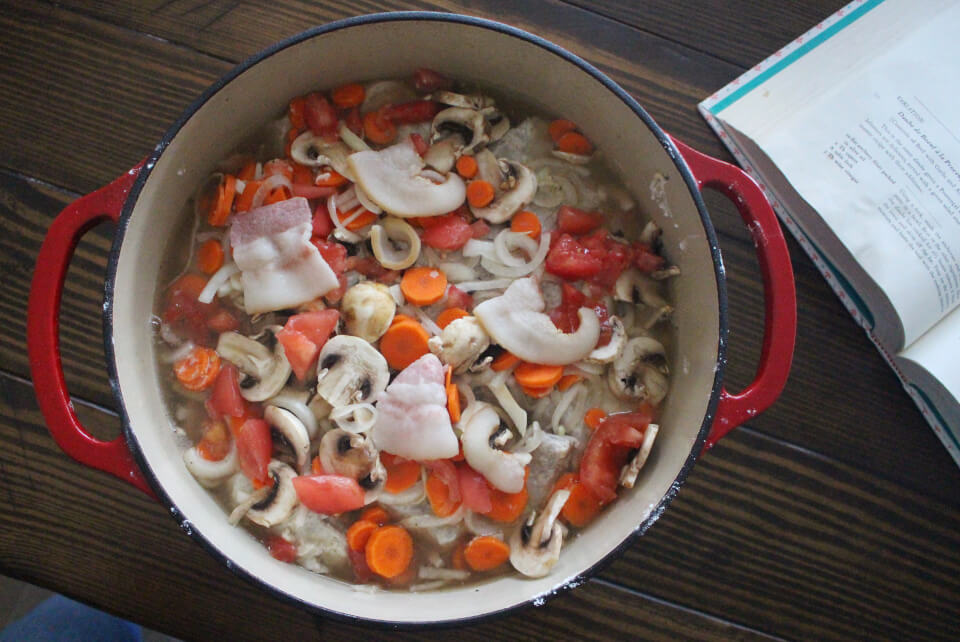 The wine from the marinade is poured in along with a couple of cups of beef bouillon. It's all brought to a simmer on the stove and placed into a 325-degree oven for about three hours or until the meat is tender.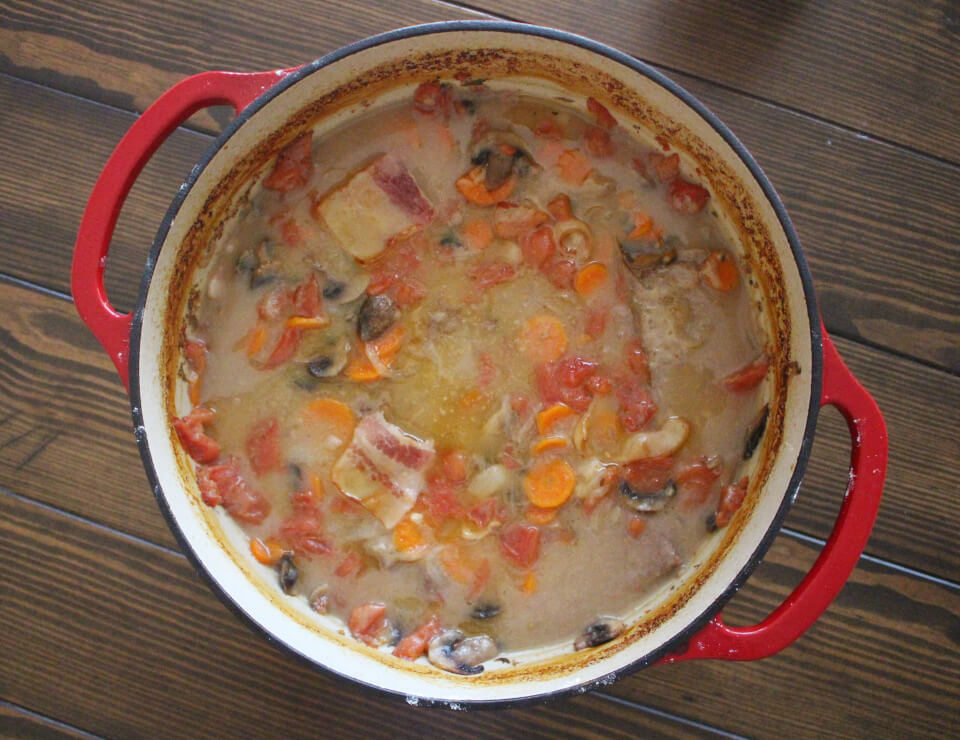 Besides skimming out the fat, that's it! It really does have to be the simplest Julia recipe with the biggest flavors. I served mine with egg noodles, and it was perfect.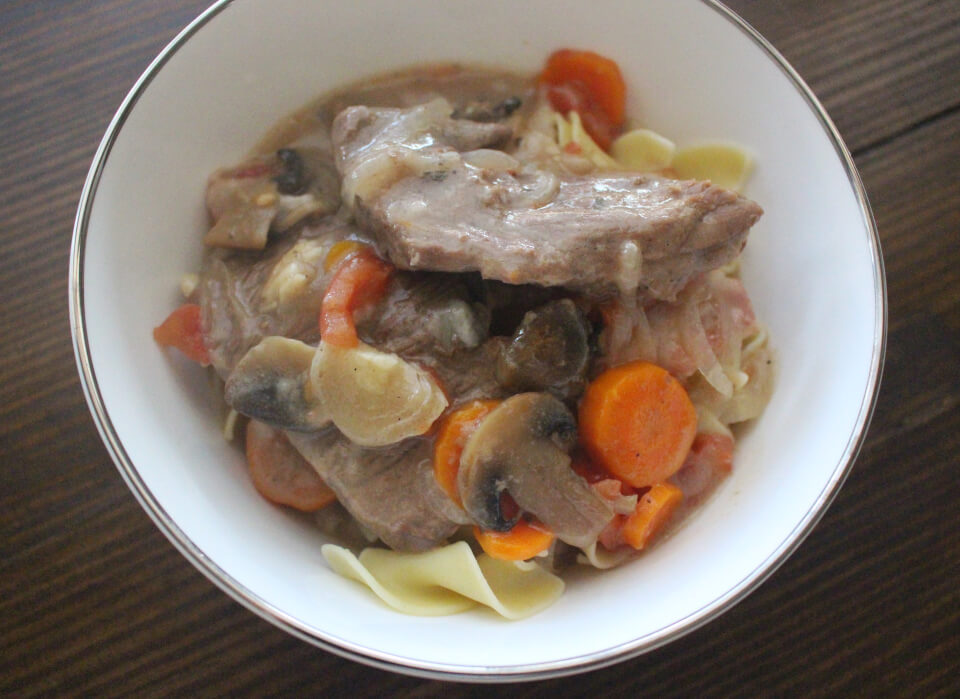 You can find these recipes and all the other Julia Child recipes I make in Mastering the Art of French Cooking
Bon appétit!
August 26, 2020 by Laura Bullock