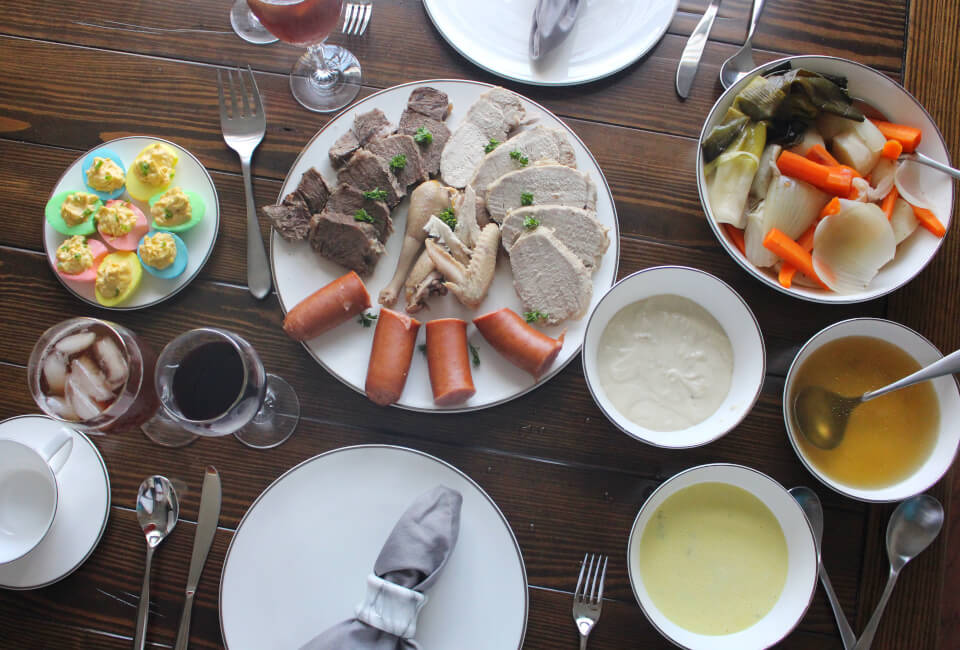 Mastering the Art of French Cooking | Julia Child
Recipes 106-108
- Potée Normande/ Pot-au-Feu [Boiled Beef with Pork, Chicken, Sausage, and Vegetables], p. 306 - Sauce Alsacienne/ Sauce de Sorges [Herbal Mayonnaise made with Soft-boiled Eggs], p. 93 - Sauce Créme- Sauce Suprême [Cream Enrichment- Cream Sauce], p. 59
You can buy Julia Child's Mastering the Art of French Cooking which contains these recipes here.
____________________________
Butter Count: +4 TB
Cost: $103.23 [~$7.37 per serving]
This recipe was probably one of my most dreaded recipes thus far. One, it makes a TON of food. Two, it's boiled meat. However, the description for this recipe in the book is the best. "It is brought to the table in its kettle or a reasonable facsimile, looking for all the world like a plain pot-au-feu. The host starts the proceedings as usual by spearing out the beef and placing it on a platter. Then he finds a sausage, and after that a big piece of pork. Finally, to wild acclaim, he brings out a chicken." Overall, this meal was okay. That's all I'll give it. It does give off the feel of a Sunday lunch meal and made a perfect shelter-in-place Easter dinner for my husband and I. The sauces (as always) were the best part of the meal. Also it was a joy to create meals throughout the week with the tremendous amount of meat that was leftover.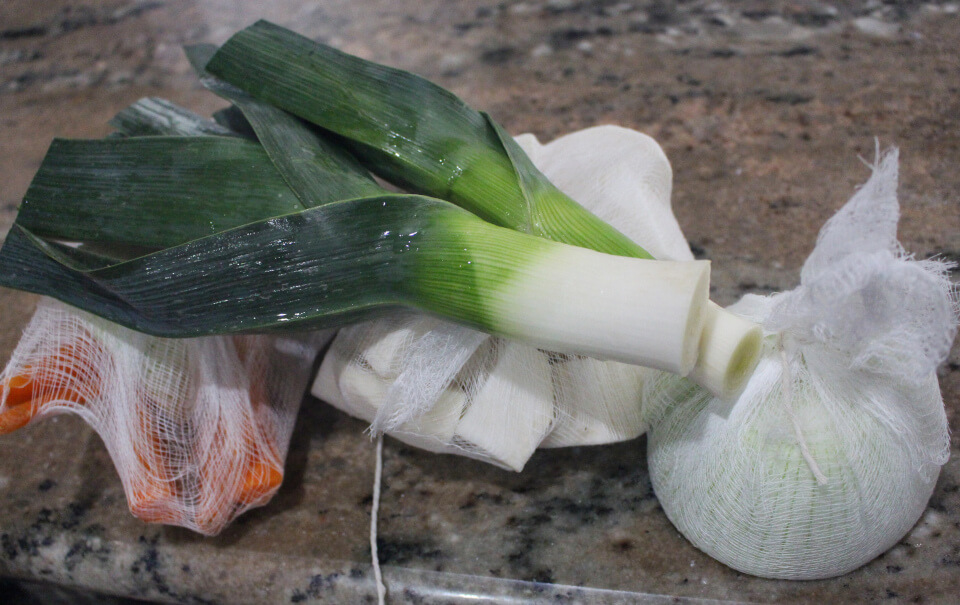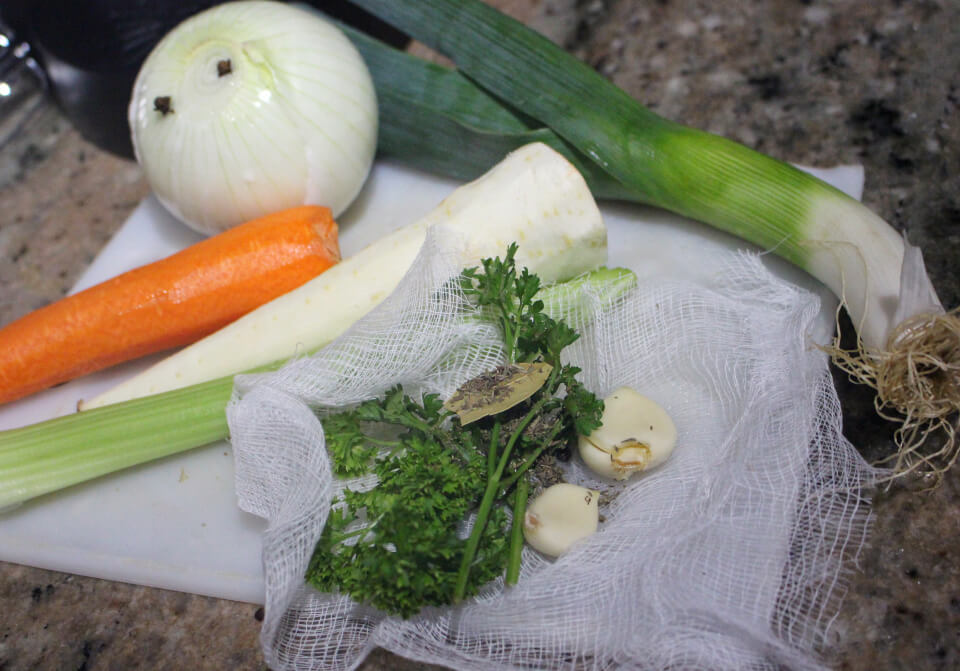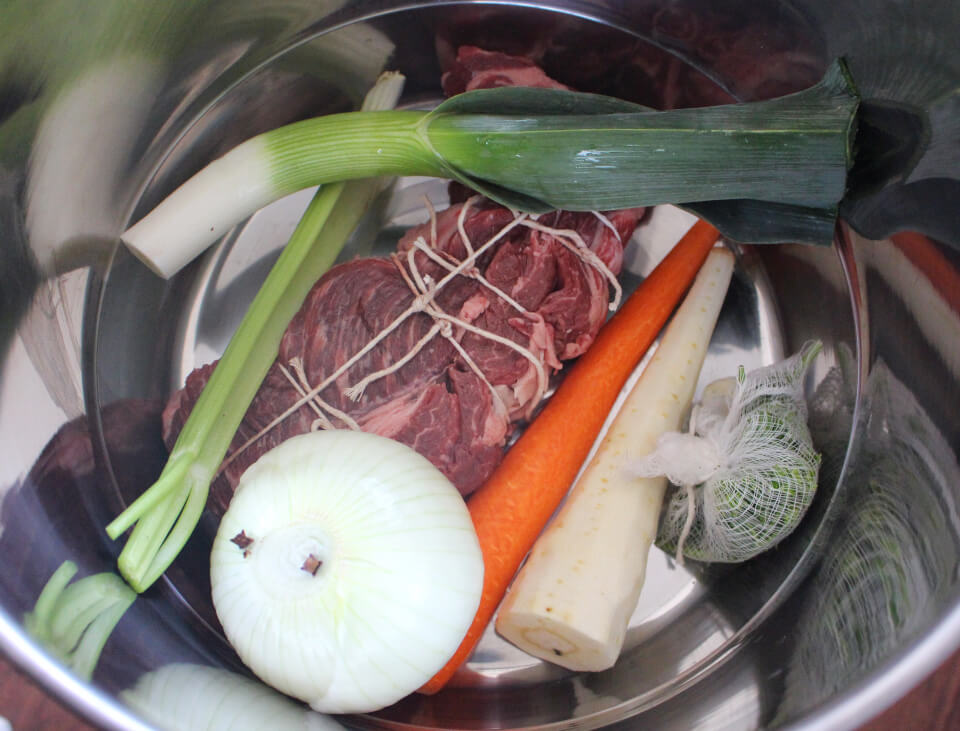 To begin this recipe, you will need a BIG pot because everything is going in! Each item cooked goes in a different times depending on how long they cook in order for everything to finish cooking at the same time. The cookbook also lists many different cuts of meat that you can use. The meats are beef, pork, sausage, and a stewing hen. A stewing hen is a chicken that no longer lays eggs. They require a long cooking time in order to become tender. I, personally, did not care for it. Maybe I didn't do it right- which may very be the reason. It was tough and difficult to eat. Along with the meat, vegetables and a vegetable garnish are added to the pot as well. The vegetable garnish is placed inside cheesecloths and includes carrots, onions, turnips, and leeks. The vegetables include carrots, onion stuck with a whole clove, parsnips, celery, leeks, and a large herb bouquet (parsley, bay leaf, thyme, garlic, and peppercorns). All of this food is added to the kettle and covered with meat stock. Bring to a simmer over moderate heat and skim. Partially cover and simmer until everything is done. Don't forget to stagger when you add the meats/vegetables! You can be extra and pull out the meat one-by-one at the table in front of your guests like mentioned above or you can carve it in the kitchen and place it on a platter garnished with parsley. The cooking stock is strained, degreased, and seasoned and passed along with the other sauces.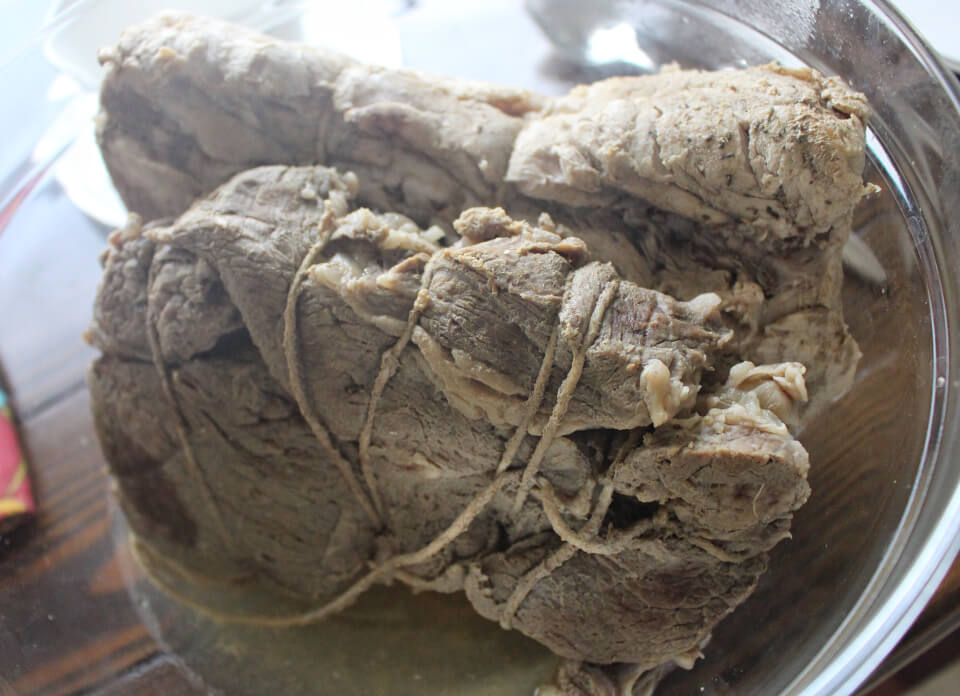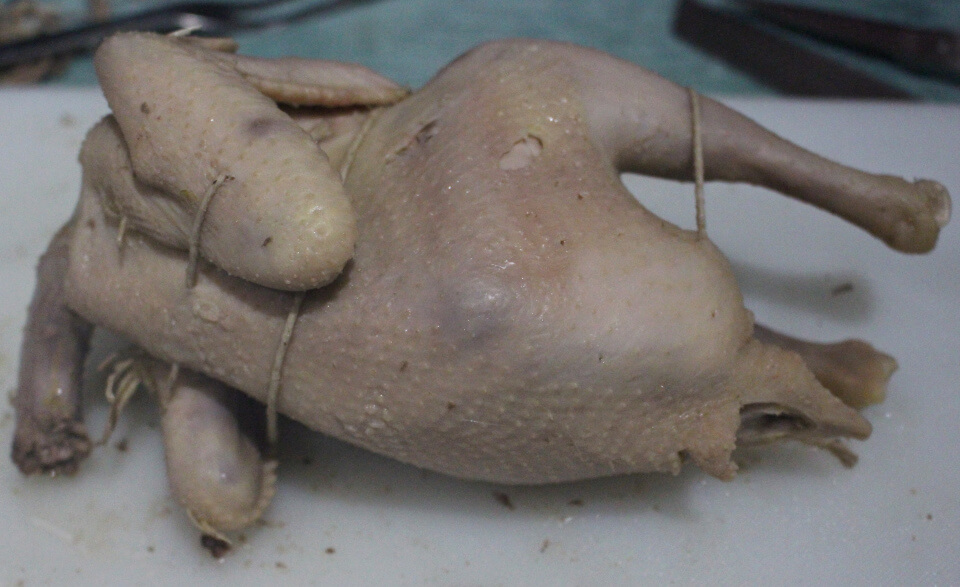 I decided to make herbal mayonnaise which was the right choice. This was my first time to make homemade mayonnaise, and it turned out absolutely delicious just like everybody on the internet says it is. This mayonnaise is made with soft-boiled eggs. The yolks are beaten until they are thick and mustard, salt, and lemon juice is then beaten in. Oil is beat in drop-by-drop. Egg yolks are able to absorb about ¾ cup each. If you exceed this, your yolks will break down and the sauce will become thin or curdle. Julia suggest beginners not to exceed ½ cup per yolk to be on the safe side. I used my cooking stock for the additional liquid. Lastly, green onions, capers, minced herbs, chopped egg whites, and salt/pepper are beat in.
I also made a sauce crème which was also the right decision. A sauce crème is a béchamel sauce that has cream added to it. First, the béchamel sauce is made by melting butter over low heat. Flour is blended in and it is all stirred together for about 2 minutes. Now you have a white roux! I used my cooking stock from the kettle as the liquid and beat it in vigorously. Set it all over moderate-high heat, boil for one minute, and season with salt and white pepper. Now the whipping cream is beat in by the spoonfuls while it is all simmering. Season again with salt, white pepper, and drops of lemon juice. Right before serving, beat in the enrichment butter. How could this not be good?? These two sauces really elevated this meal. If you decide to make a big pot of boiled meat, make sure you have these two sauces to accompany it. I, for one, will not be boiling meat any time soon.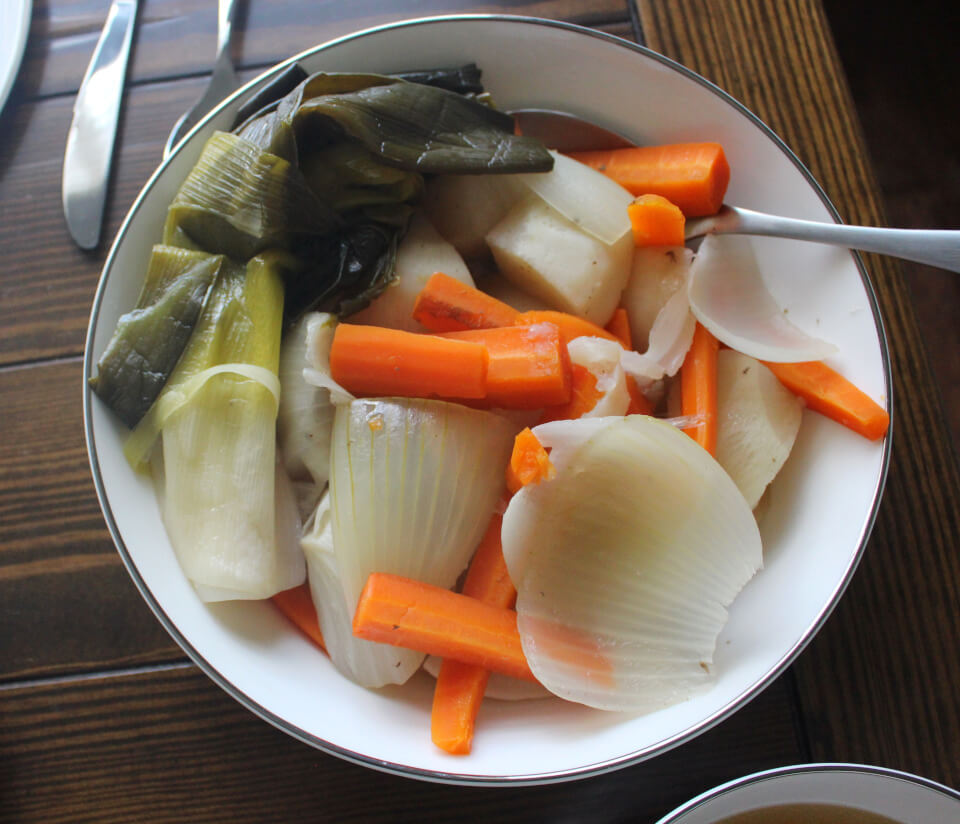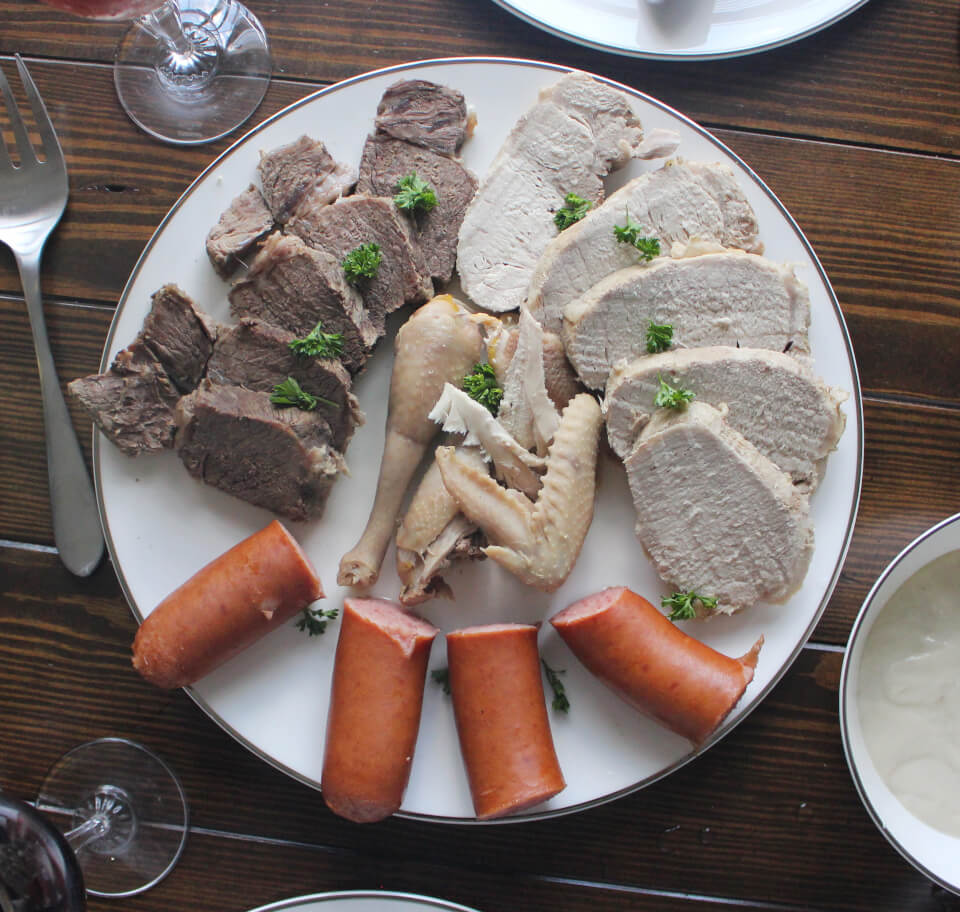 You can find this recipe and all the other Julia Child recipes I make in Mastering the Art of French Cooking
Bon appétit!
May 12, 2020 by Laura Bullock