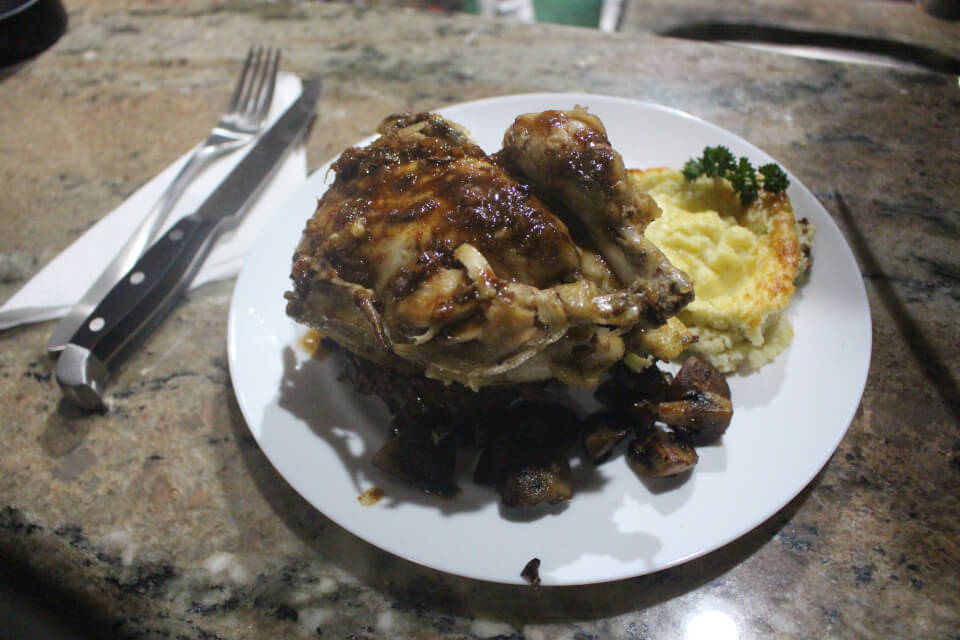 Mastering the Art of French Cooking | Julia Child
Recipe 59
- Coquelets sur Canapés [Roast Squab Chickens with Chicken Liver Canapés and Mushrooms], p. 246
You can buy Julia Child's Mastering the Art of French Cooking which contains these recipes here.
____________________________
Butter Count: +20 TB
Cost: $87.58 [~$14.60 per serving]
This recipe is bound to impress everybody. These little chickens are so cute and delicious. Ideally, you would probably want to use a smaller bird, but these were all I could find. The cookbook suggests squab pigeons, game hens, partridge, quail, or dove. Personally, even though my chickens were extremely large compared to their canapé, I didn't mind. It was still delightful. I served my chicken with souffléed potatoes (not Julia's recipe). I found they complimented the meal extremely well, and it was a lot of fun to make.
First up, mushrooms. If you have read any of my past blogs, you know that mushrooms cooked in butter is one of my favorite things. These are no exception. Some mushrooms sautéed in hot butter then mixed with shallots and garlic. Brilliant. Next, the canapés are prepared (slices of bread sautéed in clarified butter).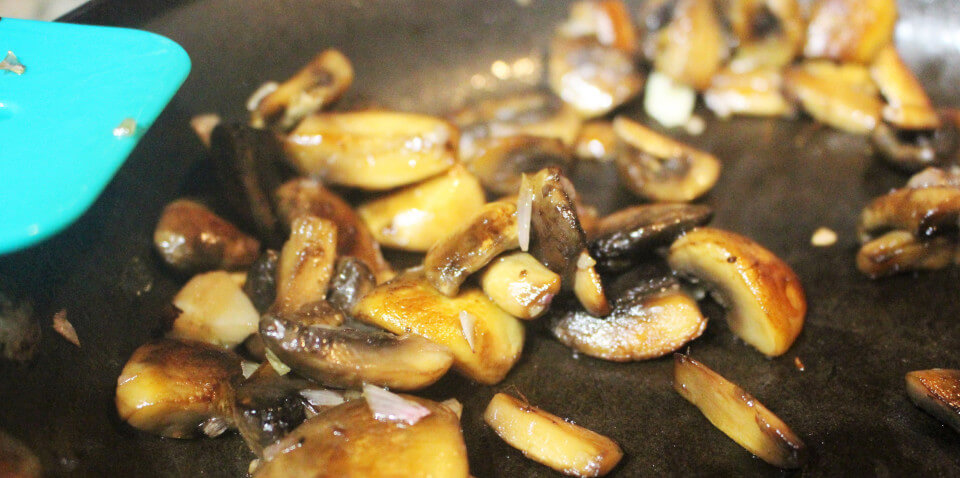 Now, the really exciting part of this recipe- chicken livers! I didn't grow up eating chicken livers nor have I eaten much of it in my adult life, but I find the taste to be rich and flavorful. Not something that I would want every day (or maybe not even on their own), but they are perfect when accompanied with the right dish. The livers must be trimmed of any black or green spots (gross, I know). They are then puréed with bacon, salt, pepper, and cognac (not gross). The liver mixture is spread upon the canapés and, right before serving, placed under a hot broiler for a couple minutes.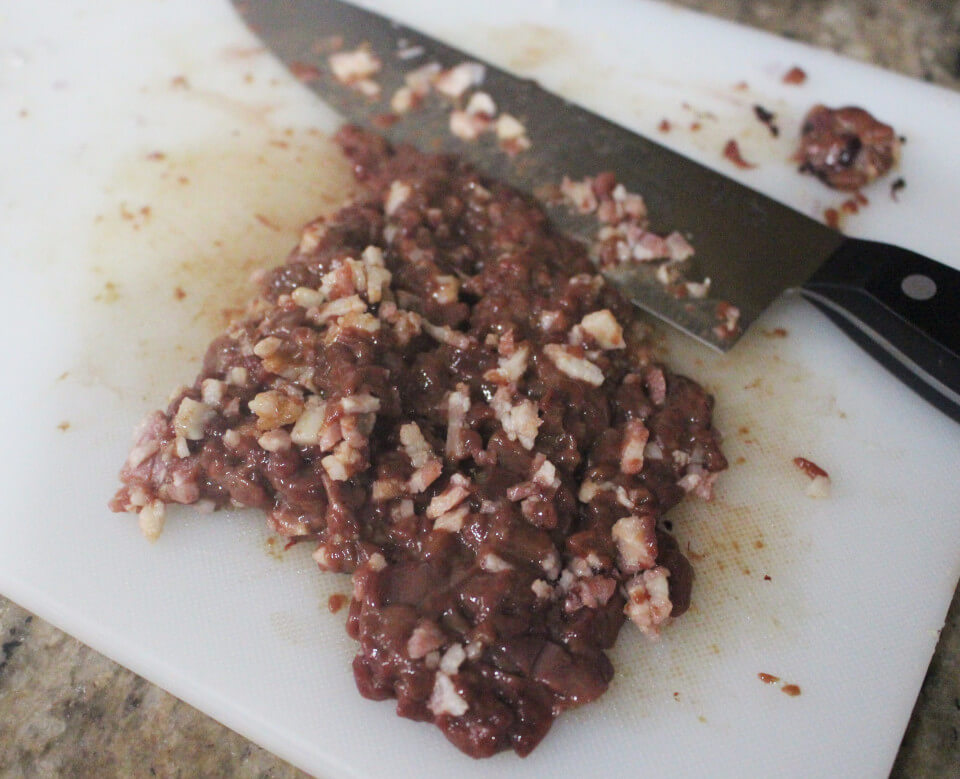 The chickens were pretty simple to make. The past five poultry recipes really helped me perfect the roast chicken! Cavities of birds are sprinkled with salt, shallot, tarragon, and butter. They are then trussed and wrapped with stripes of bacon (YUM). Oh! But don't forget to blanch the bacon first to get rid of that smoky taste. To be honest, I'm not sure I will ever get used to boiling bacon... The chickens are baked just like the previous roast chickens- basted every 5-7 minutes until they are done.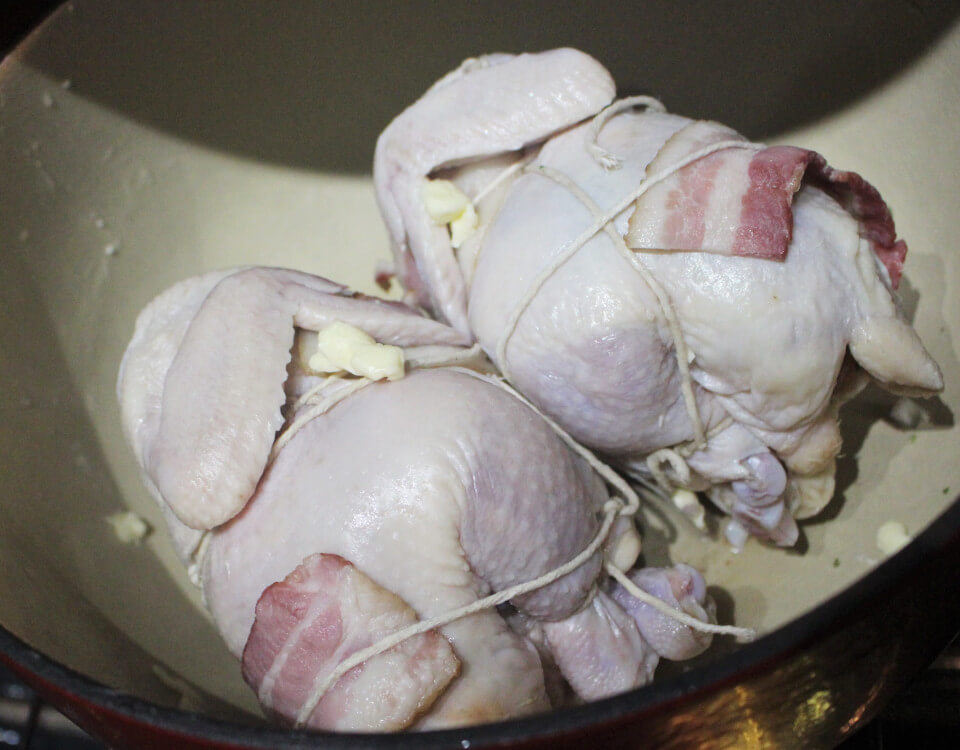 Julia's sauces is one of my favorite things about her recipes. They are always rich and absolutely delicious especially when they are cooked in the same roasting pan as the chicken. After the chickens are removed, shallots are cooked in 2 tablespoons of the fat. Then you will make a reduction using beef bouillon and port wine and swirled with butter.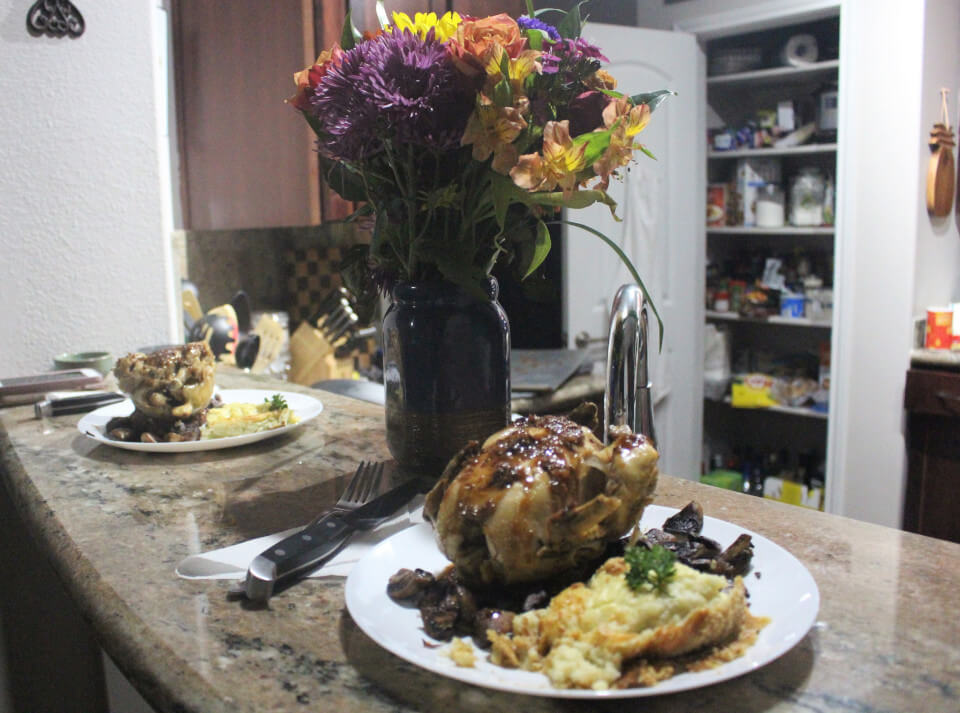 Place a liver-covered canapé under each bird. Surround with your delicious mushrooms, decorate with parsley sprigs, and spoon that amazing sauce over the chicken. And there you have it- a meal that will be talked about for days to come.
You can find these recipes and all the other Julia Child recipes I make in Mastering the Art of French Cooking
Bon appétit!
January 24, 2020 by Laura Bullock