Braised Sauerkraut
Braised Sauerkraut
May 10, 2021 | Updated April 20, 2022 | Laura
*This post may contain affiliate sales links. Please see full disclosure policy for details. *The views expressed on this blog are my own.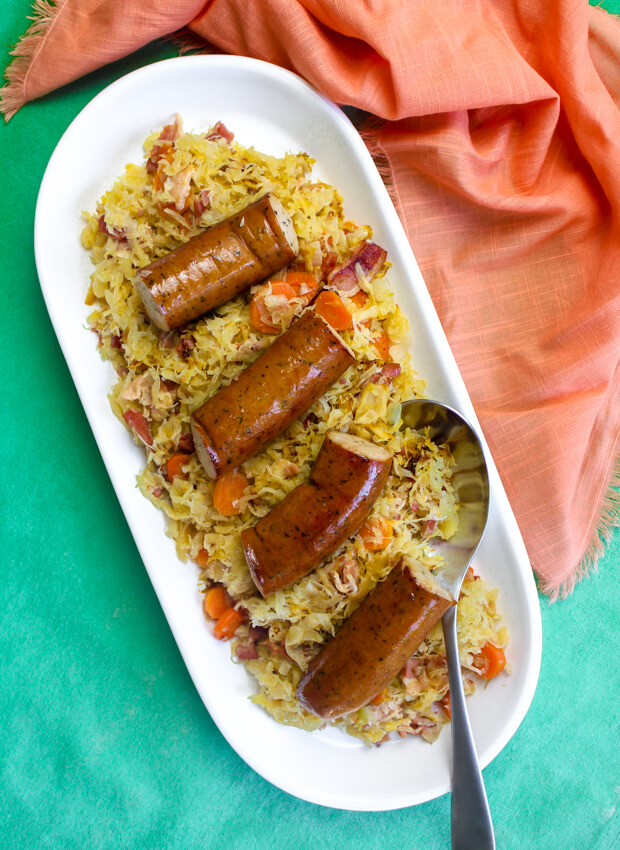 ✽ Recipe from Mastering the Art of French Cooking, Vol. I | Julia Child ✽
Julia Child Recipe 176 | 352 recipes to go!
✽ Braised Sauerkraut [Choucroute Braisée à l'Alsacienne], p. 498
__________________________________
✽ Mastering the Art of French Cooking, Vol. I was written by Julia Child who co-authored with Simone Beck & Louisette Bertholle and was published by Alfred A. Knopf in 1961.
✽ You can buy Julia Child's Mastering the Art of French Cooking, Volume I which contains these recipes here. (affiliate link)
The purpose of this Julia Child section of my blog is to document my journey of learning how to cook. To show my successes, my failures, and what I learned along the way.
Since I didn't create these recipes (if only!), I do not post exact amounts of ingredients or word-for-word instructions. If any of these recipes spark your interest, I highly recommend you buy Julia Child's Mastering the Art of French Cooking (affiliate link). It's a great investment and learning tool and contains hundreds of classic recipes.
I hope that you enjoy reading my thoughts, learn something new, and leave inspired to try a new recipe. Bon appétit!
__________________________________
Butter Count & Cost: Braised Sauerkraut
✽ Butter Count: +4 TB
✽ Cost: $12.03 [~$2.00 per serving]
Check out the total Julia Child butter count & cost here!
→ Looking for a different Julia Child recipe? Here's a list of all of the completed and pending Mastering the Art of French Cooking recipes!
This sauerkraut + sausage is a match made in heaven.
This recipe was so exciting to make!
I love sauerkraut, but I always considered it a final product. I would just open the bag, pile it high on a hot dog, and enjoy. It never crossed my mind to cook it further, but I'm so glad that I discovered this sauerkraut.
If you are unsure about sauerkraut then you definitely need to give this recipe a try. The sourness of it is barely there, and it is just packed full of flavor.
Oh, and you get to cook with juniper berries. How fun is that??
Braised Sauerkraut: Rating
✽ Laura's Rating: 9
✽ Brian's Rating: 7
This sauerkraut earned a high rating from me. I could eat this at all times. When paired with a sausage link, it tastes even better.
The only reason it didn't get a perfect ten is because I wish that a little more of the sourness was there. Maybe next time I make this I won't rinse it as much.
Either way though, this recipe is a winner, and I recommend it to everyone!
Braised Sauerkraut: Questions
✽ What is sauerkraut?
According to Wikipedia's sauerkraut page, sauerkraut translates to 'sour cabbage'. It's raw cabbage that has been fermented by lactic acid bacteria.
Since sauerkraut is very popular in Germany, one may assume that Germany is where it orginated. However, during the days of building the Great Wall of China, they were eating fermented cabbage called suan cai.
It's likely that fermented cabbage arrived in Germany from China. It became mostly popular in Central and Eastern Europe, but it also spread to the Netherlands (where it's called zuurkool) and France (where it's called choucroute).
✽ How is sauerkraut made?
To make sauerkraut, the cabbage is shredded, combined with salt, and left to ferment. Following this method, sauerkraut can last for months without refrigeration or pasteurization.
The fermenting process has three phases. In the first phase, anaerobic bacteria (bacteria that do not require oxygen) like Klebsiella and Enterobacter start the fermentation process and make the environment acidic.
In the second phase, the acid is too much for lots of bacteria to survive so Leuconostoc species dominate.
In the last phase, Lactobacillus species such as L. brevis and L. plantarum ferment the leftover sugars which continues to make the environment more acidic.
A well fermented sauerkraut will be acidic enough so Clostridium botulinum (botulism-causing bacteria) will not grow.
✽ Is there a difference between sauerkraut and choucroute?
In France, choucroute is mostly found in the Alsace region. The German sauerkraut and French choucroute are very similar. However, the choucroute is always cooked in wine.
A very popular dish in Alsace is choucroute garnie. This dish consists of sauerkraut cooked in wine. It's then topped with a variety of meats such as sausages, frankfurters, salted meats, and potatoes.
Looking for more Julia Child vegetable recipes to read about?
→ Check out all of the vegetable recipes that I've completed so far!
Fun Facts about Sauerkraut
Find more of these facts on Make Sauerkraut.
✽ When was the word, sauerkraut, invented?
The first time the word sauerkraut is mentioned in a dictionary is in 1776.
✽ Explorers & Sauerkraut
During the 18th century, many explorers brought pounds and pounds of cabbage on to the ships with them to prevent scurvy since sauerkraut is high in Vitamin C.
✽ How much sauerkraut is eaten each year?
Americans eat about 387 million pounds of sauerkraut every year. That's about 1.5 pounds per person per year.
In Germany, they eat about 2.6 pounds per person. In France, its about 3.75 pounds per person, and in Korea, they eat about 49 pounds per person of kimchi every year!
How to Make Braised Sauerkraut
✽ Step 1: Soak Sauerkraut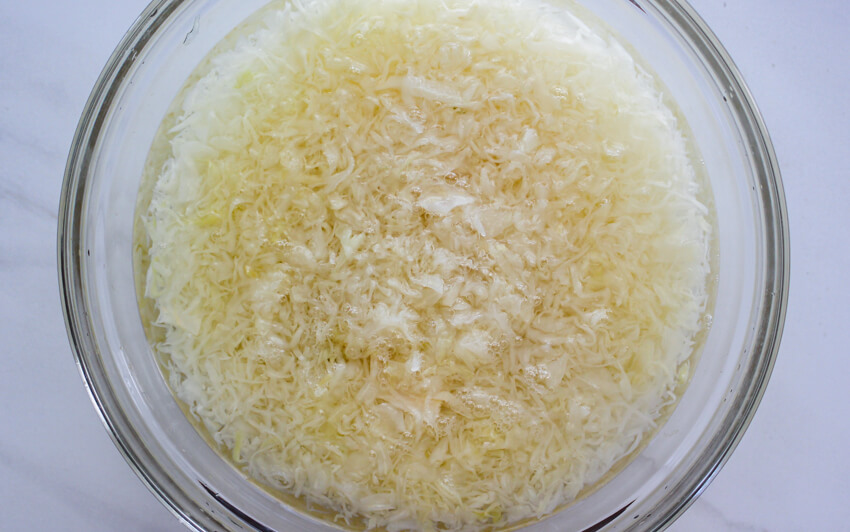 First, the sauerkraut gets a bath. This will remove all of the briny flavor.
I used Boar's Head sauerkraut which comes in a bag in the deli section of a grocery store. You can also used canned sauerkraut, but Julia says it won't be as good.
The sauerkraut is soaked for a bit, and the water is changed 3 times during that time period. After soaking, it is squeezed until most of the water is out.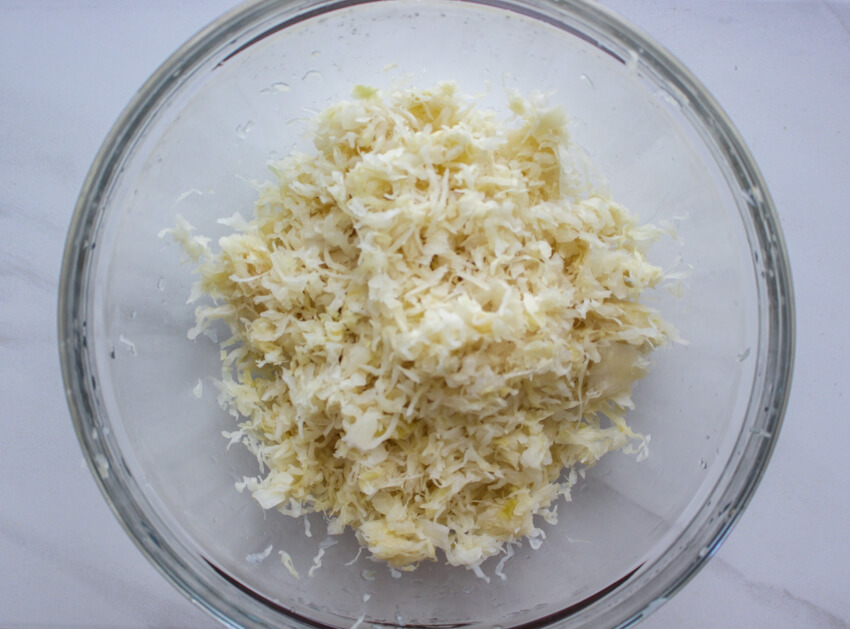 ✽ Step 2: Simmer Bacon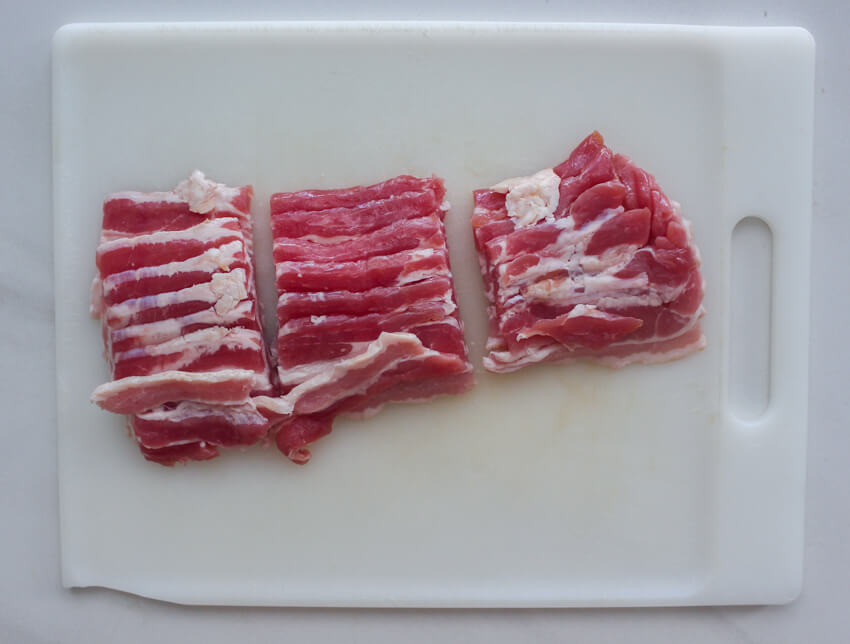 Next thing, is boiling bacon! I don't think I'll ever get used to boiling bacon. I get that it removes the smokiness of American bacon, but I like the smokiness.
Boiling bacon is one of the things you'll never catch me doing after this project is complete!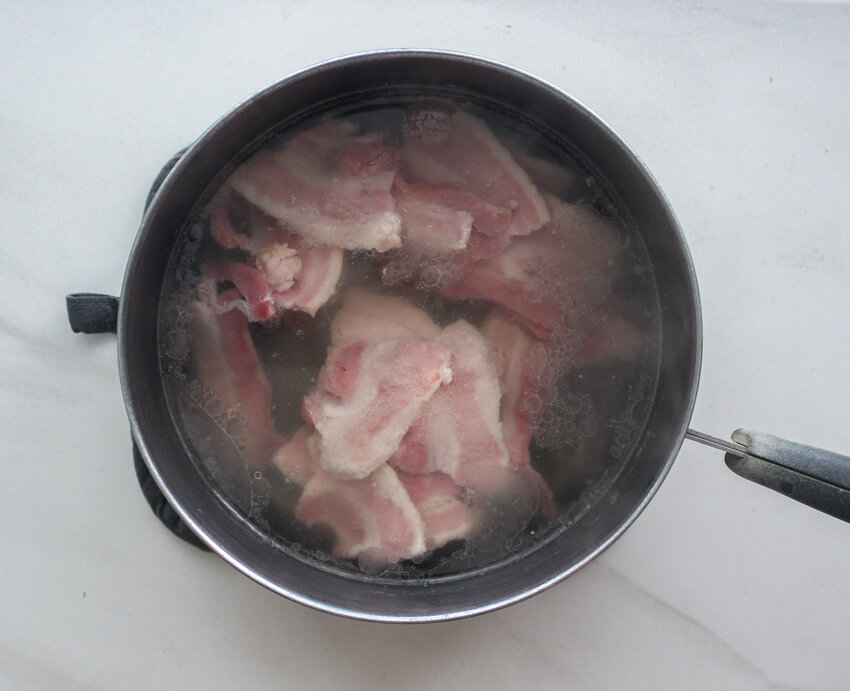 ✽ Step 3: Cook Bacon and Aromatic Vegetables in Butter & Add Sauerkraut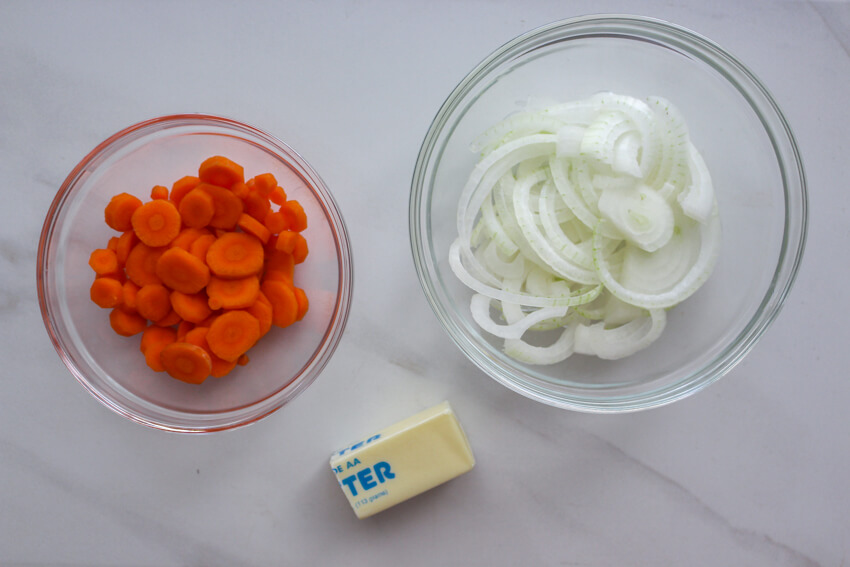 Now it's time to add in all of our veggies. The bacon and aromatic vegetables get cooked in butter slowly for a few minutes until softened.
The drained sauerkraut is added in and cooked for a little bit longer.
✽ Step 4: Add Spices and Liquids & Put in Oven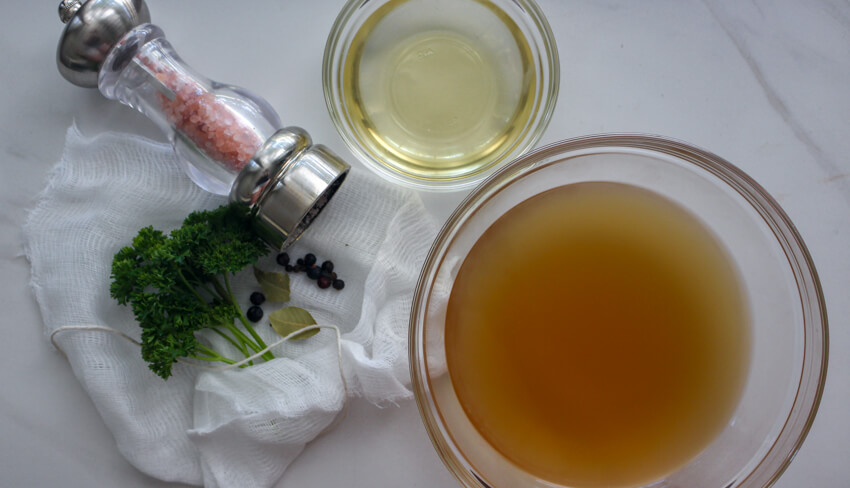 An herb and spice packet consisting of parlsey, bay leaf, peppercorns, and juniper berries is buried underneath the sauerkraut. White vermouth and stock are added until the sauerkraut is covered.
Now all of this just gets cooked for 5 hours in the oven. Yes, 5 hours! So you must plan ahead for this one.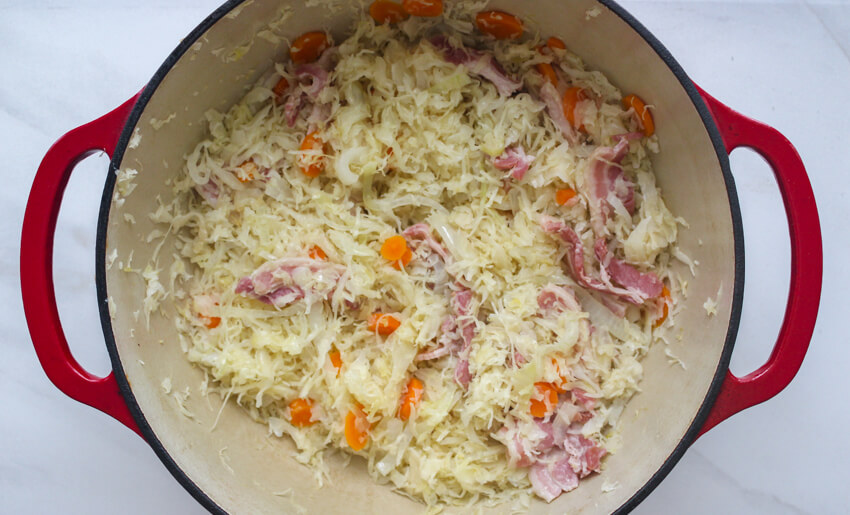 I served the sauerkraut with sausage which was absolutely the right decision. You can also serve sauerkraut with pork chops, roast pork, ham, goose, duck, or pheasant.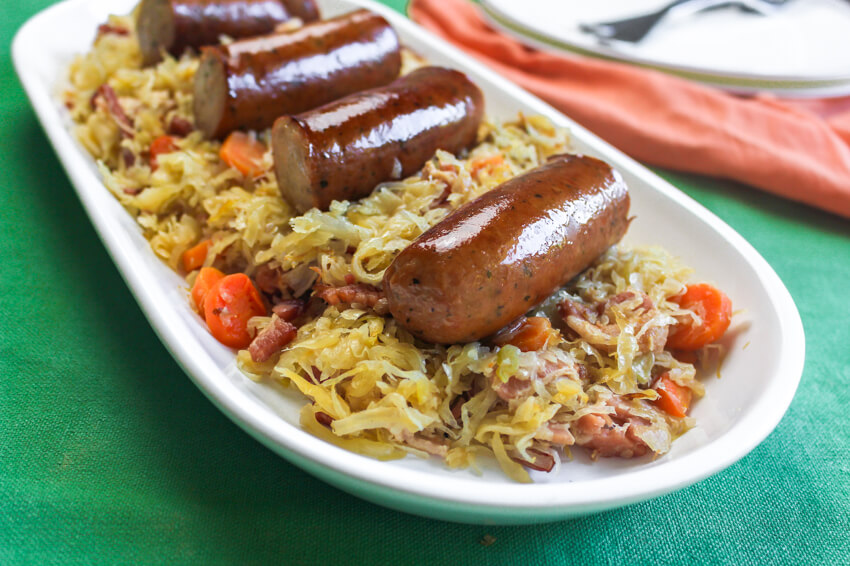 *This blog, Laura The Gastronaut, and this post were/are not endorsed or supported by Julia Child or The Julia Child Foundation.

Category: Julia Child, Vegetables Cuisine: French
Keywords: braised sauerkraut, julia child sauerkraut, sauerkraut recipes, choucroute garnie julia child, braised sauerkraut recipe, french sauerkraut recipe
✽ Did you make this recipe too?
→ Let me know by leaving a comment below and sharing on Instagram. Tag @laurathegastronaut and hashtag it #laurathegastronaut.
More Vegetable Recipes:
✽ Braised Lettuce (who knew that cooked lettuce could taste so good?)
✽ Baked Cucumbers (these baked cucumbers are so delicious)
✽ Gratin Dauphinois (one of my favorite potato recipes)
→ Check out all of the completed Julia Child vegetable recipes!
✽ You can find this recipe and all the other Julia Child recipes I make in Mastering the Art of French Cooking, Volume I (affiliate link).
→ Mastering the Art of French Cooking, Vol. I was written by Julia Child who co-authored with Simone Beck & Louisette Bertholle and was published by Alfred A. Knopf in 1961.
✽ Check out my Julia Child Recipe Checklist to see a list of all my completed and pending recipes from Mastering the Art of French Cooking!
Bon appétit!
May 10, 2021 by Laura Bullock
*This Braised Sauerkraut blog post may contain some Amazon affiliate links. These link to products that I personally use and recommend. If you purchase anything using my links, it will not cost you anything. It will though give laurathegastronaut.com some financial support which helps me keep this blog running. Thank you for reading my blogs and your continued support.