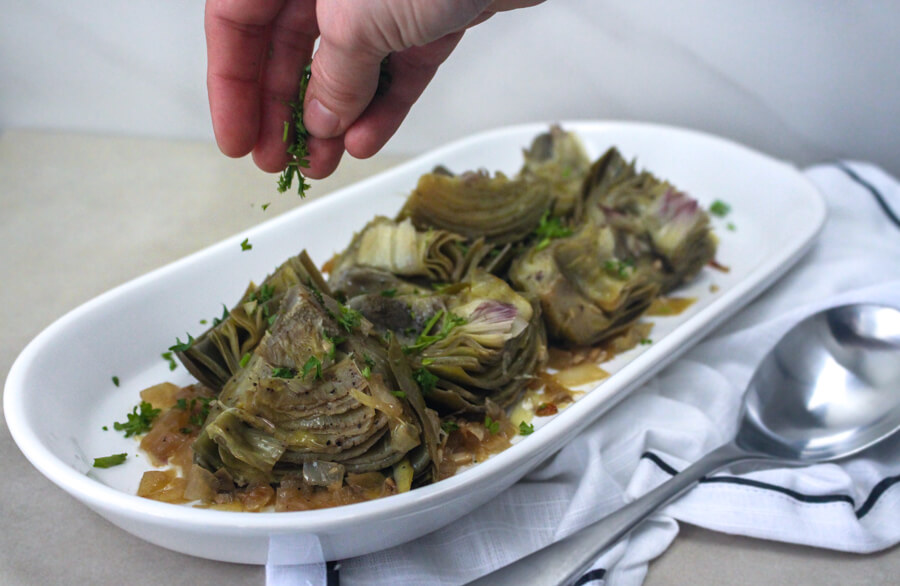 Mastering the Art of French Cooking | Julia Child
Recipe 168
- Artichauts Braisès à la Provençale [Artichokes Braised with Wine, Garlic, and Herbs], p. 426
You can buy Julia Child's Mastering the Art of French Cooking which contains these recipes here.
You can watch me make this recipe for the first time on my YouTube channel here.
Butter Count: +0 TB
Cost: $24.09 [~$3.44 per serving]
Looking for another Julia Child recipe? Check out my Recipe Checklist here to see if I've made it!
First things first, why does nobody here eat whole artichokes?! I'll be honest. I didn't even know that you could buy whole artichokes at the grocery store before I started this own thing. Check out my first time making artichokes! It was actually the first recipe I made from Mastering the Art of French Cooking. Anyways, eating them can be a little challenging. It may be a lot of work for little reward, but, oh man, are they good. Dipped in lemon butter or braised in wine and garlic, either way is fantastic. Second, why are artichokes so expensive?! Is that why nobody is eating them because they are apparently food for the rich? At our local grocery store, each artichoke is almost $4! Looks like daily artichokes are not in our future until these student loans are paid off.
LAURA'S RATING: 8
BRIAN'S RATING: 7
Like I previously said, these artichokes are not easy to eat. We chose to eat them with our hands instead of silverware. Basically, just scraping off the meat with our teeth. The oil, wine, garlic, and onions were perfection. I wish I had made fresh bread to dip in all that goodness. I ended up pulling out the middle leaves of the artichokes- the ones that could be consumed whole. I put them on top of a pizza with kalamata olives, bechamel sauce, cheese, onions, and jalapenos. So so good!
COOKING PROCESS: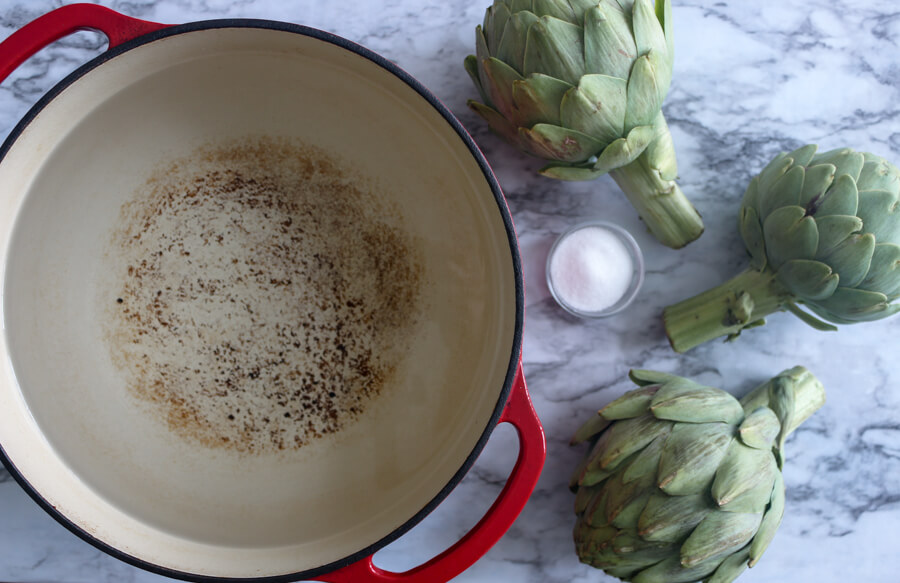 The first task is preparing the artichokes. Snapping off the stem is satisfying as it just snaps of so crisply. The recipe then instructs to make the artichoke 1 1/2 inches tall which isn't that big. It is actually extremely hard to cut through the dead center of an artichoke. It will definitely put those muscles to work. The tips of the leaves are trimmed, and the artichoke is cut into quarters. The quarters are boiled in salt water for ten minutes.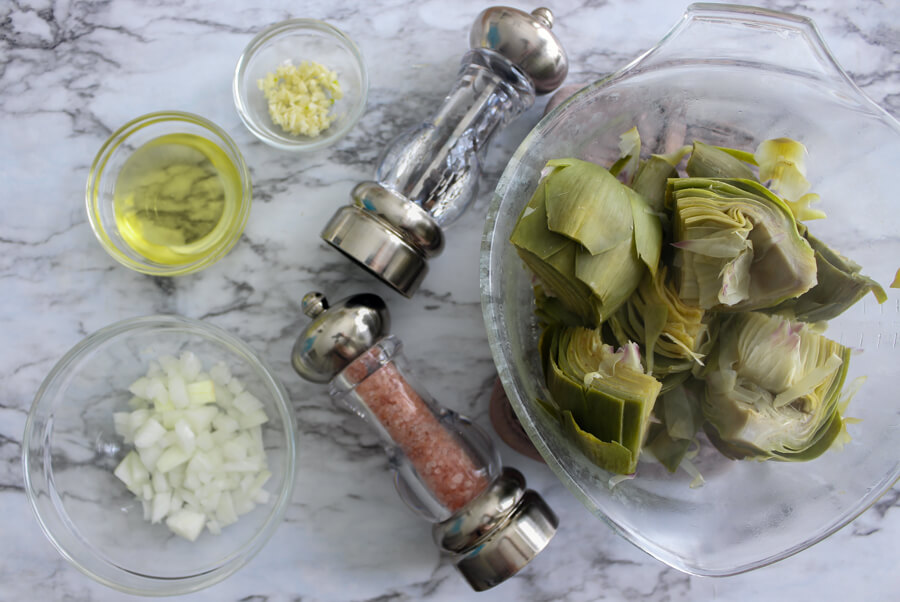 Now diced onions are cooked slowly in olive oil, and the garlic is stirred in. The artichokes are added, basted with the oil, sprinkled with salt and pepper, covered, and cooked for ten minutes.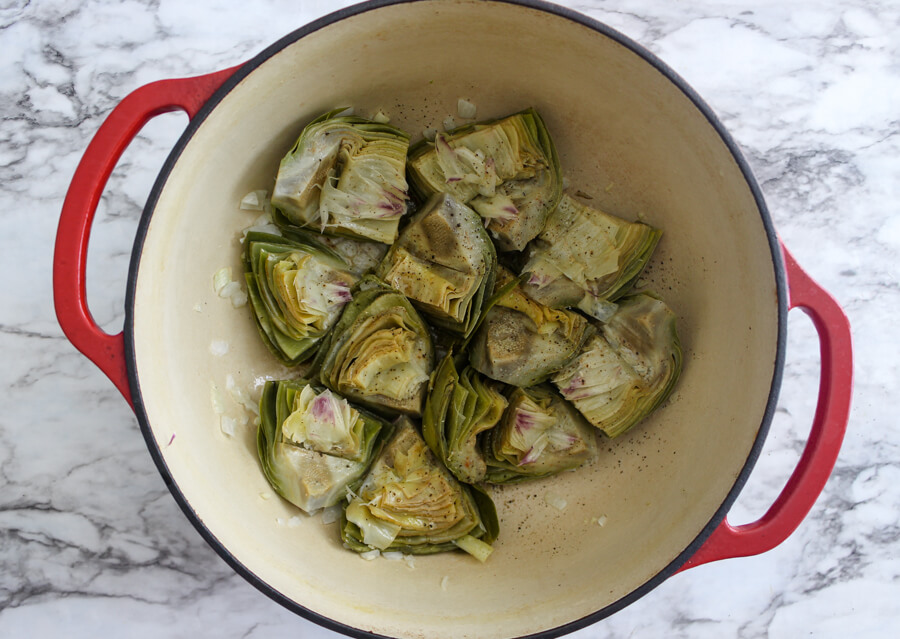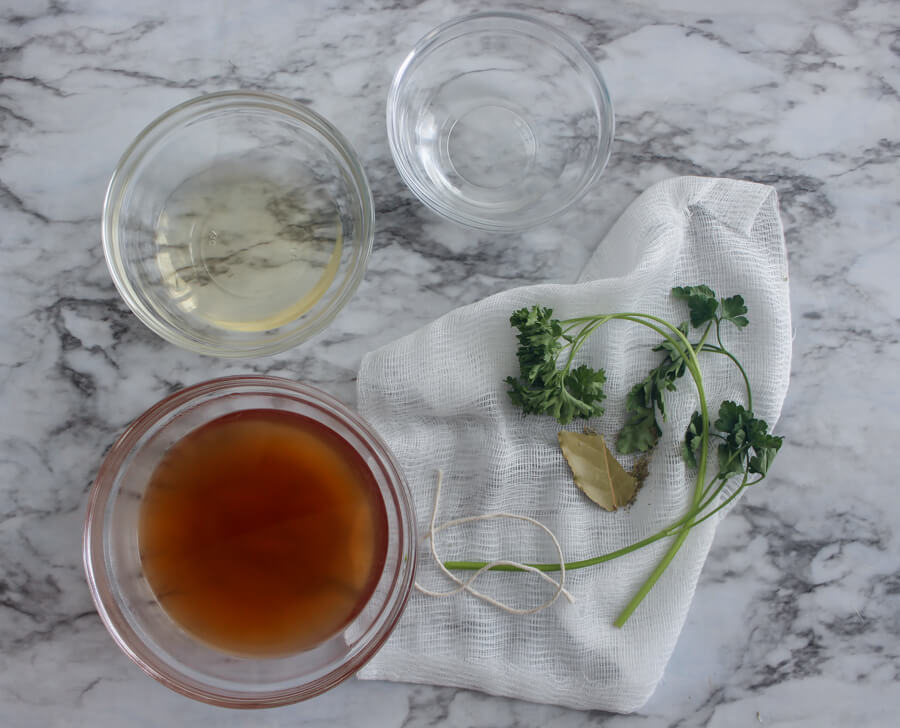 Wine vinegar and white vermouth are poured into the casserole and reduced by half. Now beef bouillon is added and an herb bouquet is thrown in there as well. After it is all brought to a simmer, it's put into the oven to cook for 1 1/2 hours.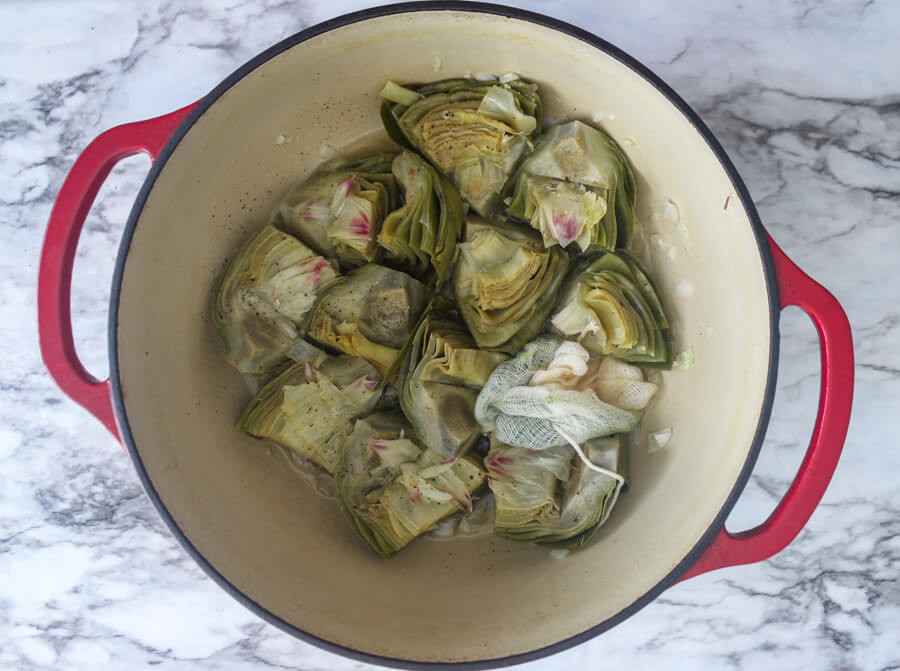 Lastly, the artichokes are sprinkled with minced parsley right before bringing to the table.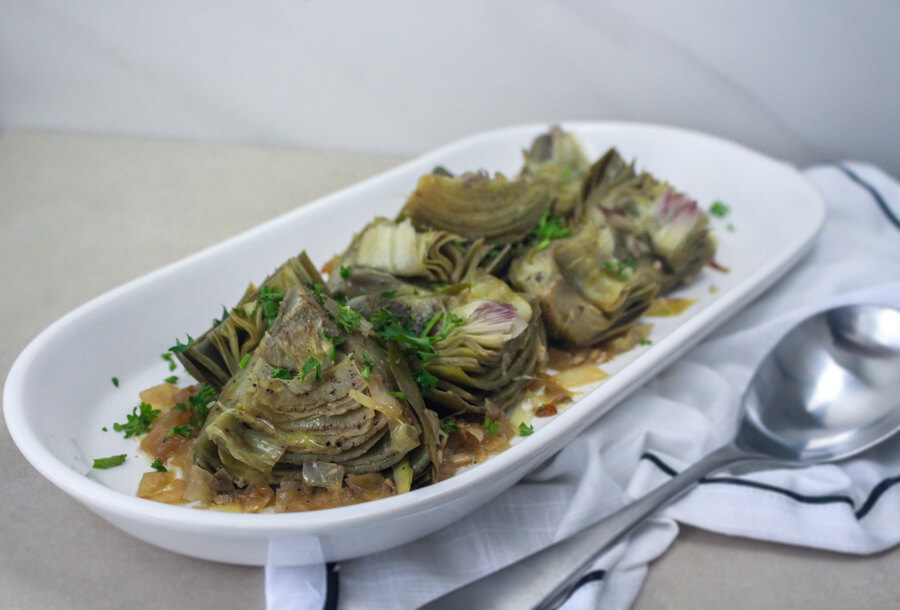 You can find these recipes and all the other Julia Child recipes I make in Mastering the Art of French Cooking
Check out my Recipe Checklist to see a list of all my completed and pending recipes from Mastering the Art of French Cooking!
Bon appétit!
March 15, 2021 by Laura Bullock