1940's Liberal Monday Meal Plan
March 10, 2021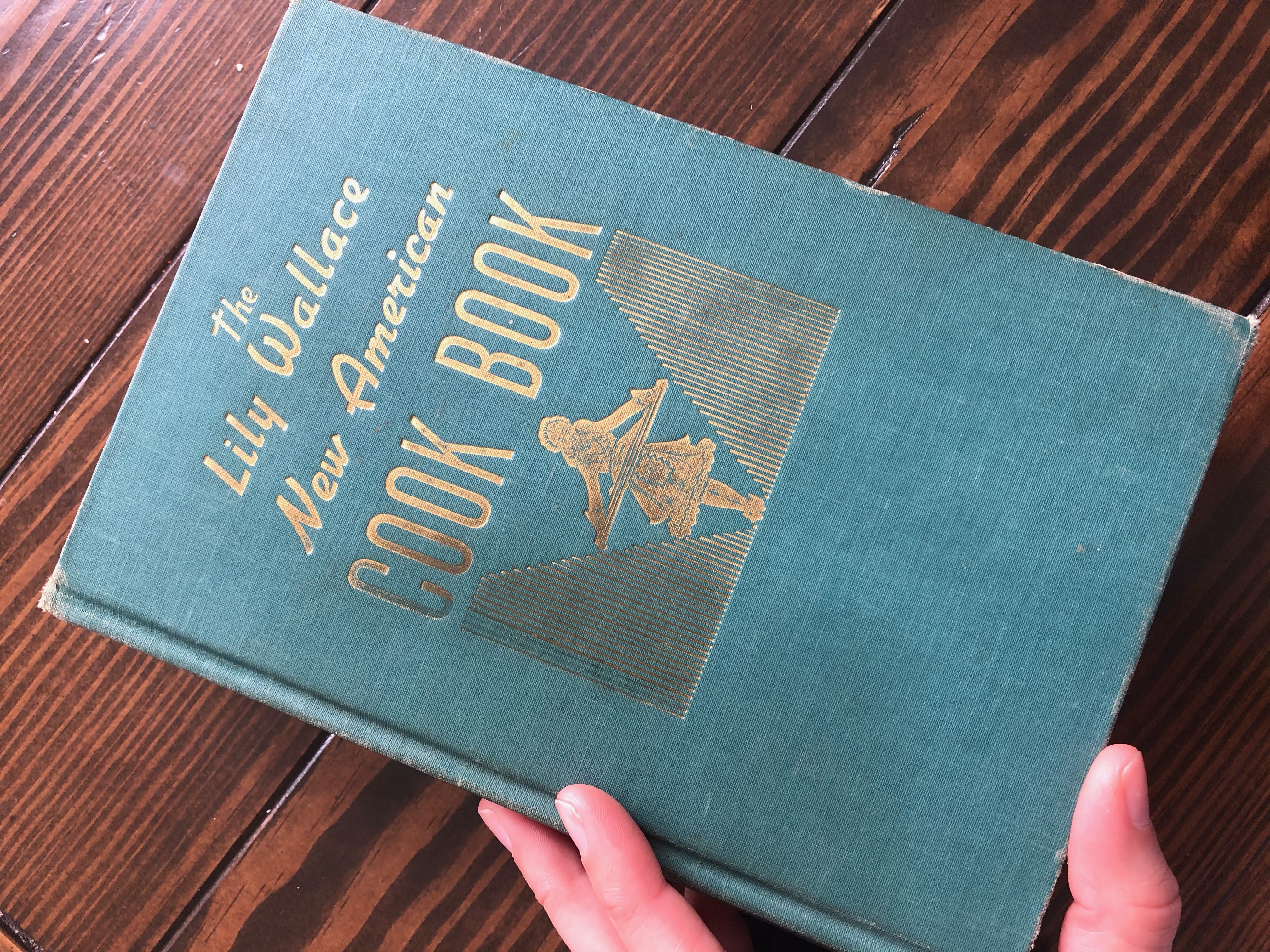 The other day while rummaging through all my cookbooks, I ran across The Lily Wallace New American Cook Book. This cookbook was written in 1946 by Lily Haxworth Wallace who was a home economics lecturer and writer. This book is jammed packed with recipes. Most are simple with common ingredients. Some are fairly strange. Anybody care for a Orange Tomato Aspic or maybe you'd prefer the Pineapple and Cheese Salad?
My favorite part of this book is the last few pages where it goes into detail on how to set a table, how to diet, and meal plans. I originally set out to do the entire weekly meal plan in one week. That is until I got weary just from making the grocery list for it. Major kudos to the women that could pull this off weekly. By the time you clean up the kitchen from lunch, it's time to start prepping for dinner. It's very exhausting, and I'm not cut out for it.. and I love to be in the kitchen.
There's three weekly meal plans in the book: Liberal Diet, Minimum Cost Diet, and Restricted Diet. The Liberal Diet was listed first so that's what I went with. This plan was made for those with $3,000 or over annual income, and "provides abundantly the nutrients needed by young and old for the enjoyment of buoyant health." For reference, $3,000 in 1946 is about $43,000 in today's world.
Each day has breakfast, lunch, and dinner listed. I started with Monday.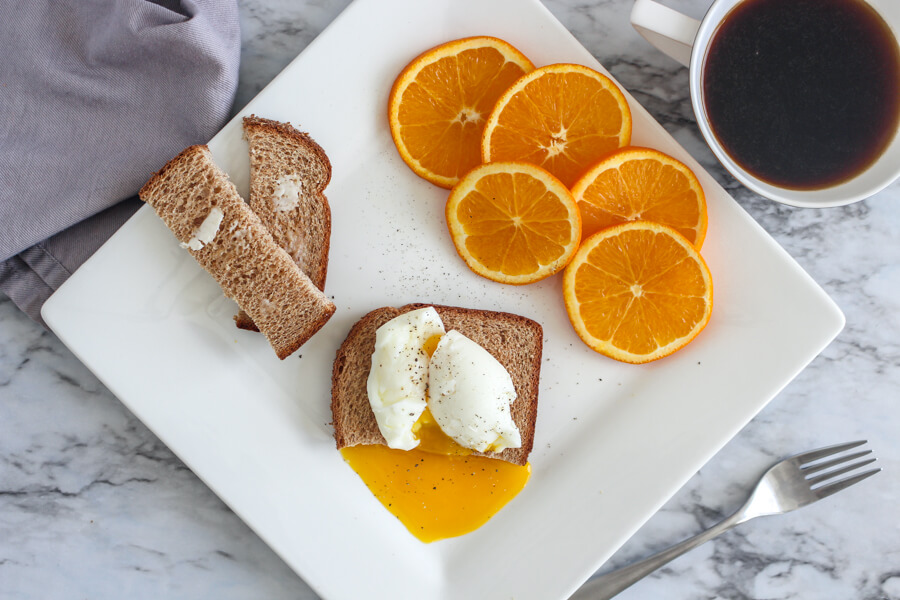 MONDAY BREAKFAST: First things first- breakfast! I sliced up an orange, cooked a soft-boiled egg, and served it with toast. If your toast-making skills are lacking, no worries. This book has you covered by providing you an actual recipe for toast. If you have children, you would also make hot cereal for them. The children drink milk while the adults drink coffee.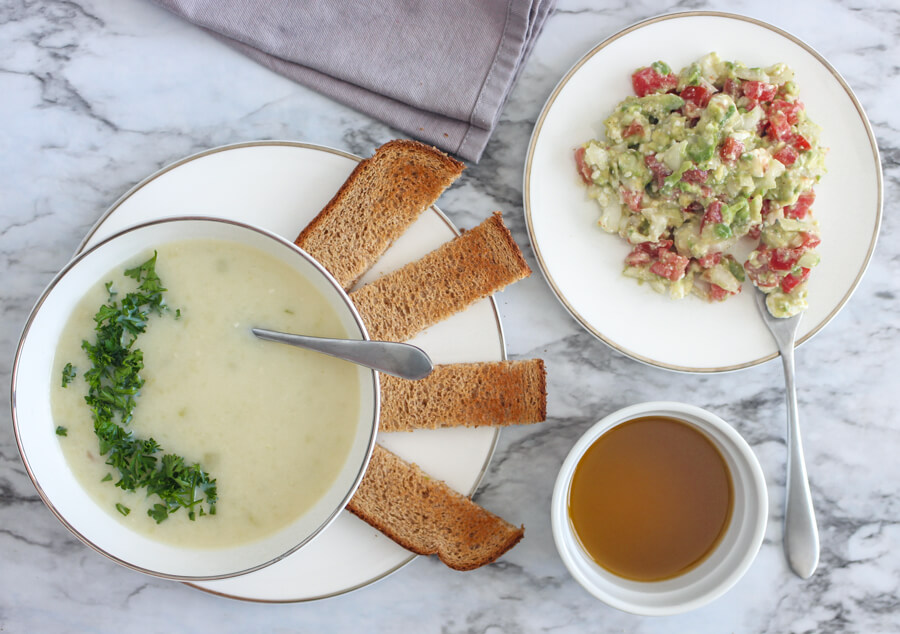 MONDAY LUNCH: A couple hours after cleaning the breakfast mess in the kitchen, I began lunch. I made a homemade French dressing for the avocado salad. I wasn't much excited for the avocado salad, but it actually ended up tasting a lot like a creamy pico. Is creamy pico a thing? If not, it should be. This salad consisted of minced avocado, chopped tomatoes, chopped onion, cottage cheese, olive oil, lemon juice, salt, and pepper. I'm not quite sure why I needed to make the French dressing as this salad was already pretty oily just from the original recipe. If I ever made it again, I would skip the hassle of making the dressing. The next item for lunch was cream of potato soup. This recipe reminded me a lot of Julia Child's Leek or Onion and Potato Soup recipe. A thin white sauce was made and that gave the soup its creamy consistency. The meal was served with toast and only the children got milk. I'm actually not too sure what the adults were supposed to drink. It doesn't clarify. Perhaps, just water.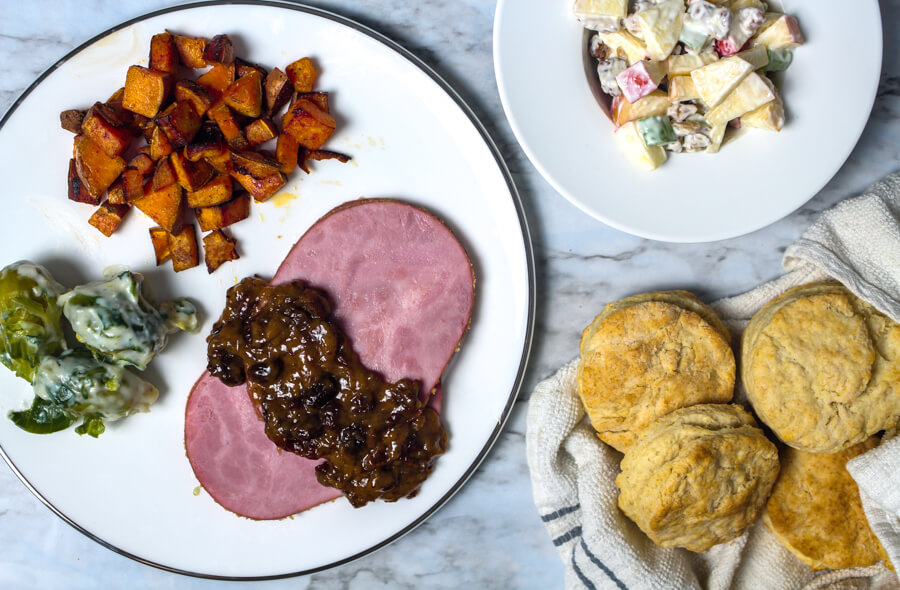 MONDAY DINNER: The main dish for dinner was a brown sugar baked ham served with a raisin sauce. Raisin sauce sounds a little lackluster to me, but I actually enjoyed it with the ham. The first 15 minutes of making the sauce, it's literally just raisins simmering in water. Bleh, raisin water. But then flour, fat, and seasonings are stirred in making it quite tasty. As Julia Child says, "Fat gives things flavor!" The sides for the dinner were sweet potatoes, Brussels sprouts, and hot biscuits. The sweet potatoes could be prepared "any style" so I just chopped the potato up and threw it in a skillet with a little bit of oil. The sprouts were boiled and then covered in a white sauce. I'm not a huge Brussels sprouts fan so I could've done without these, but my husband seemed to enjoy them. I ended up overcooking the biscuits so they were dry (womp womp). I guess I'm just not cut out to be a 1940's housewife. This is just too much fuss for a Monday night, am I right?
Okay, let's talk about Waldorf salad. This was also to be served with dinner. If you don't know, Waldorf salad is basically a salad of things that should never go together. It is made up of apples, walnuts, celery, and mayonnaise. WHY. I would've never made this on my own, but it was on the meal plan so I had to. With my first bite, I was very hesitant. But then I took another bite, and another, and another. Next thing I knew, my bowl was empty. This salad has no right to taste good. ZERO rights. I'm not sure I'll ever make Waldorf salad again, but if somebody invites me to their ladies night to play cards and eat tea sandwiches with Waldorf salad, I'll be there.
MONDAY DESSERT: Lastly, the dessert for the day was honey cake. This is a simple cake with simple ingredients- honey, sugar, shortening, eggs, flour, baking powder, and caraway seeds. The recipe doesn't specify how big the pan is supposed to be so I just plopped it into an 8" round pan. That wasn't the right thing to do. The outside became hard while the inside was still extremely gooey. In desperation, I threw a piece of foil on top and continued to bake it. While warm, this cake was excellent. After it cooled, it would've been a really great door stop. Anyways, this cake was served with milk. A good ending to a very tiring 1940's day.
Stay tuned for next 1940's day coming soon!
Bon appétit!
March 10, 2021 by Laura Bullock