Laura The Gastronaut > Cooking Series > Old Recipes > 1940's Liberal Wednesday Meal Plan
1940's Liberal Wednesday Meal Plan
August 25, 2021 | Laura Bullock | This post may contain affiliate links.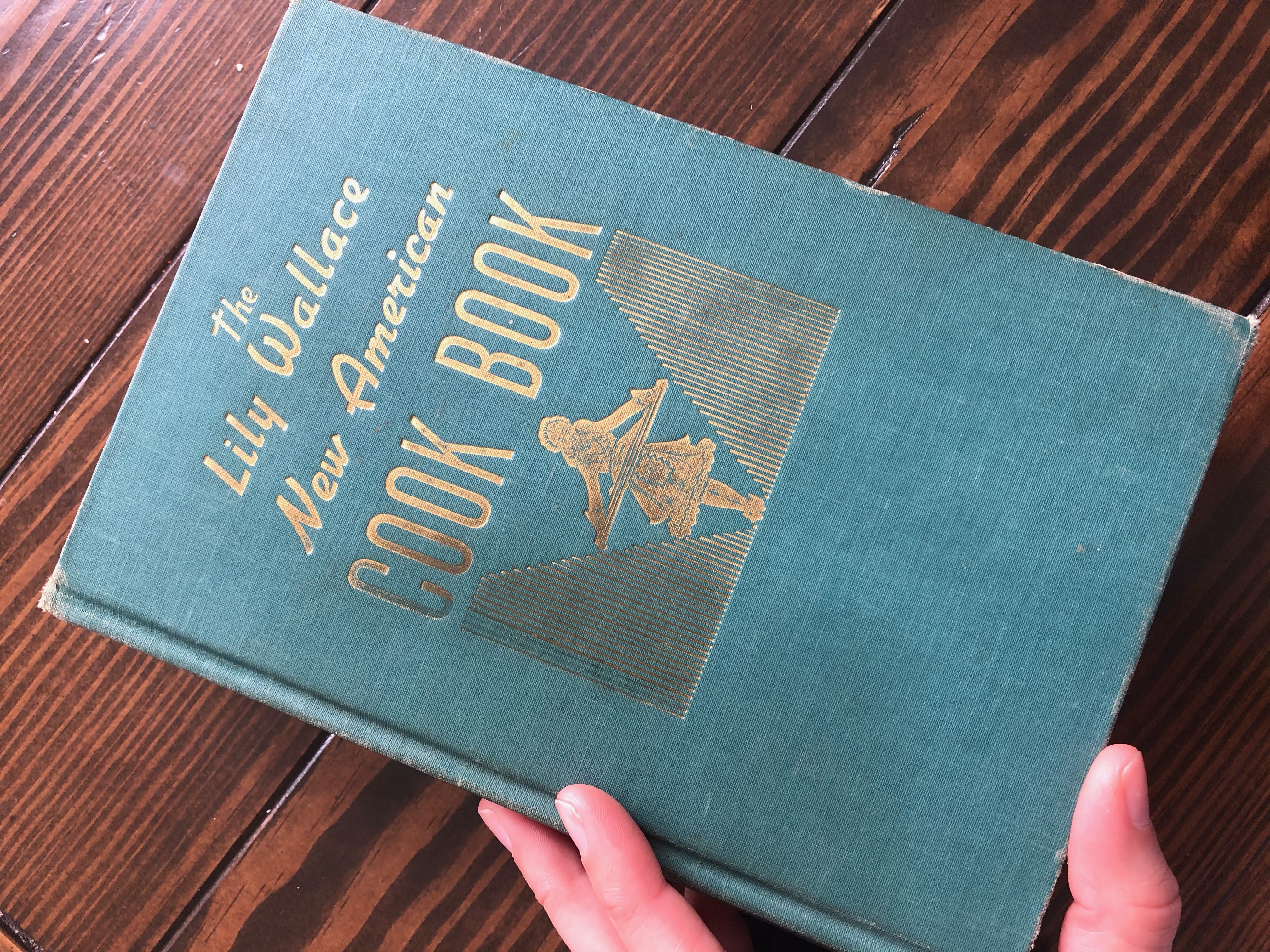 The views expressed on this blog are my own.
You can buy Lily Wallaces's New American Cook Book which contains these recipes here.
Check out the previous 1940 recipes I've made!
You can watch me make these recipes on my YouTube channel here.
__________________________________
LILY WALLACE NEW AMERICAN COOK BOOK
I acquired a copy of The Lily Wallace New American Cook Book, and I was immediately intrigued by the recipes inside. It's like stepping into the past, and I love it. This cookbook was written by Lily Haxworth Wallace in 1946. She was a home economics lecturer and writer. This book came out right after World War II so it holds a lot of fun things such as entertaining, meal plans for all budgets, dieting, how a housewife should be running their home, vitamins, and how to set a table. This cookbook is packed full of recipes including some pretty strange ones. Anybody care for a Orange Tomato Aspic or maybe you'd prefer the Pineapple and Cheese Salad?
My favorite part of this cookbook besides all of the simple, delicious, and straight-to-the-point recipes are the meal plans in the back. Originally, I had my mind set on completing an entire week of 1940 cooking. I changed my mind about halfway through making the grocery list.. It's just too much for me. A HUGE round of applause for any housewife that was able to get all this cooking done plus the other 1000 things I'm sure she had to do as well.
There's four weekly meal plans in the book: Liberal Diet, Moderate-Cost Adequate Diet, Minimum-Cost Adequate Diet, and Restricted Diet for Emergency Use. The Liberal Diet was listed first so that's what I went with. This plan was made for those with $3,000 or over annual income, and "provides abundantly the nutrients needed by young and old for the enjoyment of buoyant health." For reference, $3,000 in 1946 is about $42,000 in today's world.
Each day has breakfast, lunch, and dinner listed. I have already completed the Monday meal plan and the Tuesday meal plan. So let's move on to Wednesday!
1940's WEDNESDAY BREAKFAST
The breakfast meal plans in this book are pretty calm compared to the lunch and dinner menus. All the breakfasts that we have eaten from this book are something I'd eat again. In fact, I do usually eat something like this on weekday mornings. Well, except mine aren't as put together... For this Wednesday morning we ate bananas, corn flakes, bacon, toast with marmalade, and coffee. If children are at the table, they received a glass of milk.
Also aren't these plates perfect for these 1940s meals?! They were my great-grandma's. They have some wear and tear, but I think that just adds to the experience.
1940's WEDNESDAY LUNCH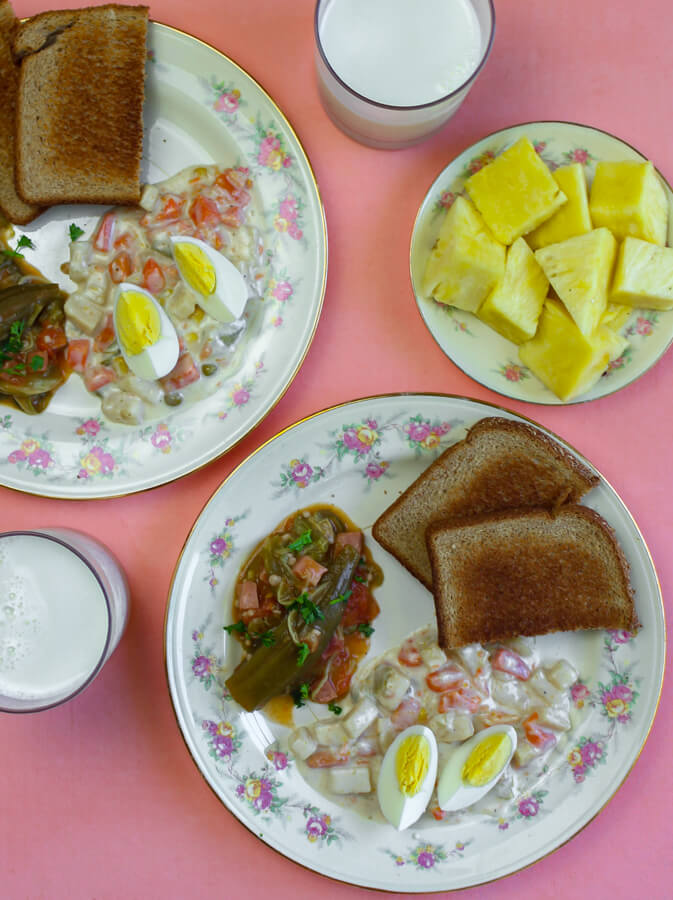 I was NOT excited about this lunch AT ALL. Not only did the dishes sound meh, I also felt like that had no business belonging together on the same plate. We had creamed vegetables with hard-boiled eggs, stewed okra, whole-wheat toast, pineapple, and a glass of milk. The creamed vegetables were simply canned mixed veggies stirred into a white sauce. This is just me, but I think I would have just preferred canned mixed veggies. The hard-boiled egg was simmered for 30 minutes! I've never cooked an egg that long, and it was reallyyy well done when I peeled it open. The stewed okra also has stewed tomatoes in it. The flavor was fantastic, but the slime got to me. I can handle okra slime, but the addition of a flour and butter mixture at the end is what did me in. This created a really thick slime that coated your mouth with every bite. I still ate it all, but again I wouldn't add the flour in next time. The pineapple was just a little weird to have on the side as its flavor didn't match. And of all the meals we have eaten, they choose this one to have a glass of milk? Seems odd.
1940's WEDNESDAY DINNER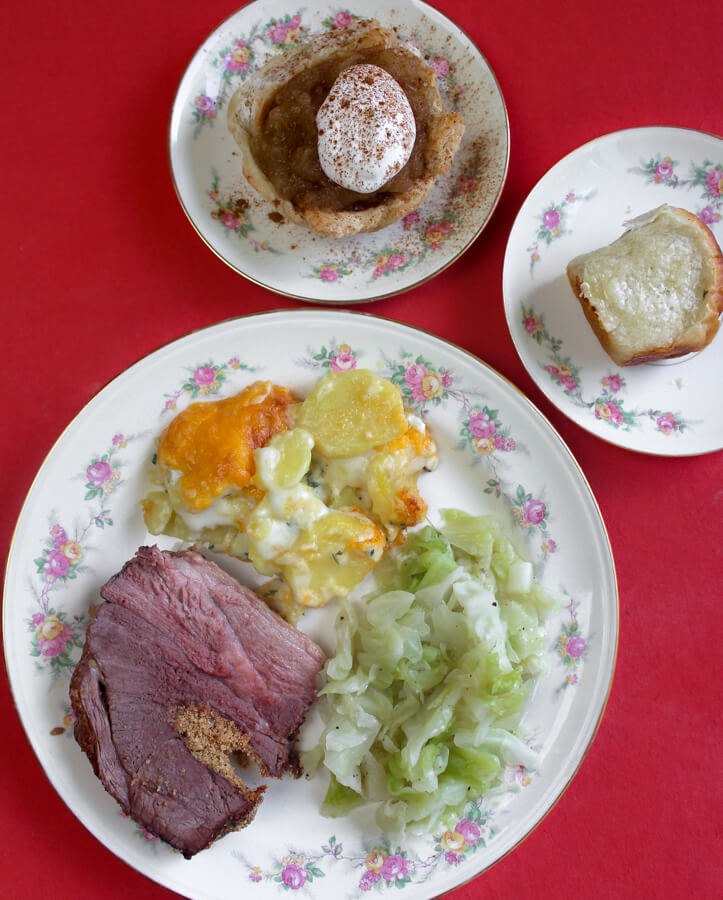 This may have be may favorite meal yet from this meal plan. Absolutely delicious! The menu calls for a stuffed lamb shoulder, but I couldn't find one. I remember Julia Child saying that lamb shoulders and lamb legs are pretty interchangeable so I opted for a mini lamb leg stuffed with bread crumbs, onions, and mint leaves. It cooked under high heat to get that perfect crust and then the book instructed 30 minutes per pound. I found that to be a tad bit too long for a good medium-rare, but I did end up with a leg that was a bit over medium. So not too bad! The new potatoes were so good! They were boiled, tossed in a white sauce (this book has you eating so much roux!), and baked in the oven topped with cheese and breadcrumbs. The cabbage was so simple but so good. It's just shredded cabbage boiled until tender and the seasoned and buttered right before serving. The potatoes and cabbage needed to be soaked in water for at least an hour before cooking so some planning ahead was definitely required. This was all served with leftover bread and butter.
For dessert, we had hot apple tarts. The shell was puff pastry which required you to make it at least 24 hours in advance. Once the puff pastry was made, it was rolled out and chilled 4 times. But let me tell you, this puff pastry was gorgeous. It was so flaky and every layer was visible to the eye. I loved it. It was my first successful attempt at puff pastry so that was a huge win! The shells were filled with an applesauce which was just green apples and a bit of sugar cooked down until mushy. The applesauce wasn't sweet at all so I ended up at a little more sugar and some cinnamon. The tarts were topped with hand-whipped cream. Only the children got a glass of milk with their meal.
As always, this day wore me out. Having to make the puff pastry a day in advance really made these meals require a lot of energy. Not only is it so impressive that a housewife made all of this food in one day but the planning it out so that everything finishes at the same time is incredible.I'm still a work in progress.
Stay tuned for next 1940's day coming soon! But not too soon, a girl gotta have some rest in between these days.
YOU MAY ALSO LIKE
• 1940s Liberal Monday Meal Plan
• 1940s Liberal Tuesday Meal Plan
__________________________________
You can buy Lily Wallace's New American Cook Book which contains these recipes here.
Check out the previous 1940s recipes I've made!
Bon appétit!
August 25, 2021 by Laura Bullock