1940's Liberal Saturday Meal Plan
1940s Liberal Saturday Meal Plan
July 29, 2022 | Laura
*This post may contain affiliate sales links. Please see full disclosure policy for details. *The views expressed on this blog are my own.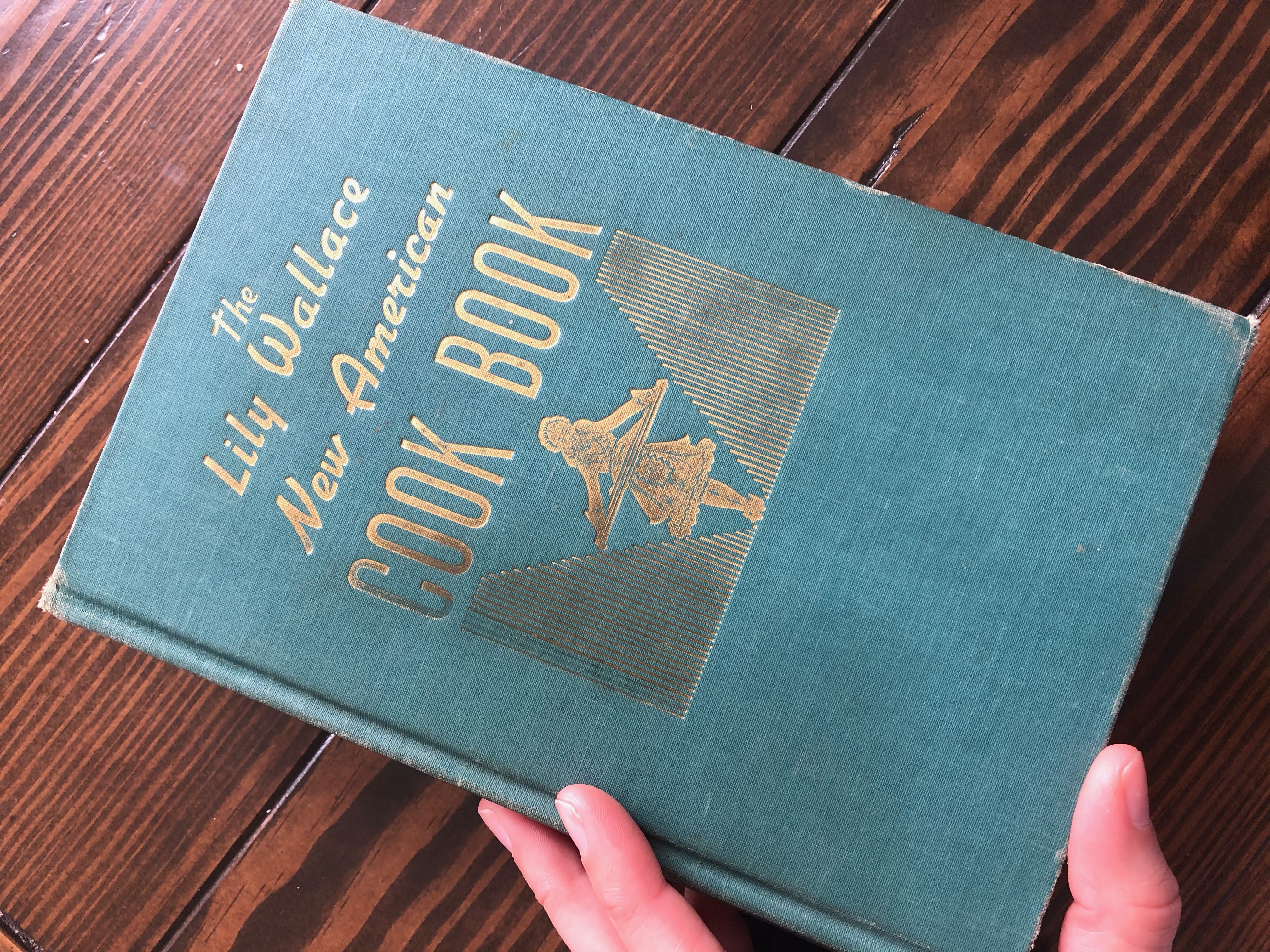 __________________________________
✽ The Lily Wallace New American Cook Book's editor-in-chief was Lily Haxworth Wallace. The cookbook was copyrighted by Books, Inc. in 1941. I am currently using the 1946 edition.
✽ You may be able to find used versions of this cookbook (from various publication years) on Amazon. Check it out here! (affiliate link)
The purpose of this Old Recipes section of my blog is to talk about and show pictures of actual meal plans from the 1940s.
Since I didn't create these recipes, I do not post the exact recipe ingredients or word-for-word instructions. My 1946 copy of The Lily Wallace New American Cook Book was found at a garage sale. If you are looking for a copy of this book, I suggest looking on Amazon, Etsy, Ebay, garage sales, estate sales, and library sales.
__________________________________
Lily Wallace New American Cook Book from 1946
I acquired a copy of The Lily Wallace New American Cook Book, and I was immediately intrigued by the recipes inside. It's like stepping into the past, and I love it.
This cookbook was written by Lily Haxworth Wallace in 1946. She was a home economics lecturer and writer.
This book came out right after World War II so it holds a lot of fun things such as entertaining, meal plans for all budgets, dieting, how a housewife should be running their home, vitamins, and how to set a table.
This cookbook is packed full of recipes including some pretty strange ones. Anybody care for a Orange Tomato Aspic or maybe you'd prefer the Pineapple and Cheese Salad?
My favorite part of this cookbook besides all of the simple, delicious, and straight-to-the-point recipes are the meal plans in the back.
Originally, I had my mind set on completing an entire week of 1940 cooking. I changed my mind about halfway through making the grocery list.. It's just too much for me.
A HUGE round of applause for any housewife that was able to get all this cooking done plus the other 1000 things I'm sure she had to do as well.
There's four weekly meal plans in the book: Liberal Diet, Moderate-Cost Adequate Diet, Minimum-Cost Adequate Diet, and Restricted Diet for Emergency Use.
The Liberal Diet was listed first so that's what I went with. This plan was made for those with $3,000 or over in annual income, and "provides abundantly the nutrients needed by young and old for the enjoyment of buoyant health." Each day has recipes listed for breakfast, lunch, and dinner.
For reference, $3,000 in 1946 is about $45,500 in today's world (2022).
Looking for more 1940s recipes to read about?
I have already completed Monday through Friday's meal plans. Head over to my Old Recipes Home Page to find them all.
1940s Saturday Breakfast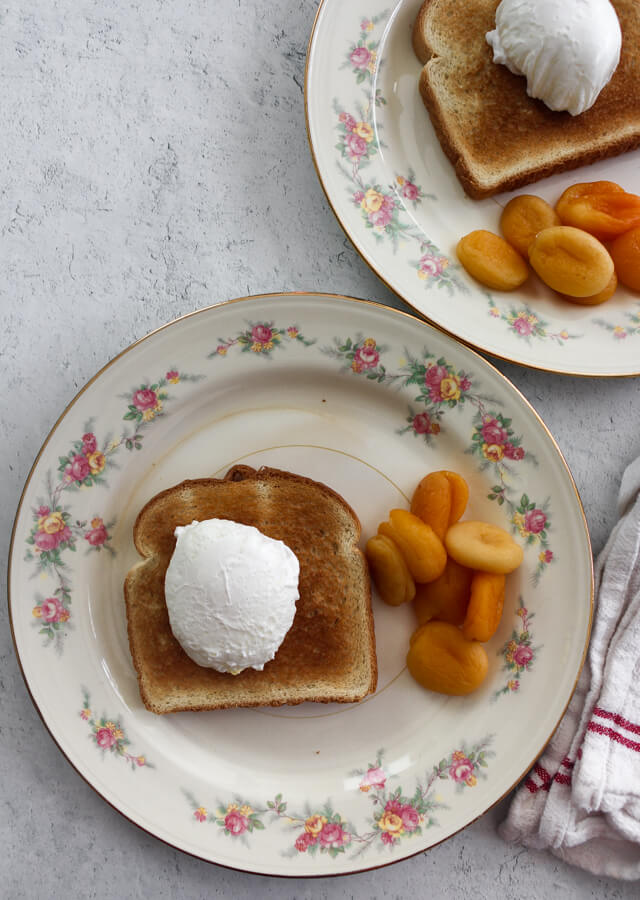 The Saturday breakfast was quick and straight to the point. I was surprised and expected the breakfast to be a bigger deal on the weekend. The wife didn't need to send off children and a husband to their out-of-the-house duties on a Saturday so why such a quick meal?
The menu was stewed apricots and poached eggs on toast. If children were present, they would receive hot cereal and milk.
The most important question here is... WHERE IS THE COFFEE? Perhaps since there was no where to be on a Saturday one didn't need the caffeine. I, for one, missed the cup of coffee tremendously.
I had already made these stewed apricots before for Thursday lunch. The dried apricots are washed and then soaked in cold water for at least 24 hours. They become quite plump during this soaking! The apricots are then simmered for 30 minutes. This recipe still leaves me scratching my head. Why not just eat them dried or why not grab some fresh fruit at the store?
I guess it wouldn't be so bad if you didn't have to plan out this recipe an entire 24 hours before cooking them. Despite the unnecessary soaking and boiling, the apricots were good. But honestly, they didn't taste much different than just eating them out of the bag.
The poached egg instructions were actually pretty good and very similar to Julia Child's poached egg instructions. The cookbook mentions you can also poach them in milk instead of water and then pour a little of the milk and melted butter over the egg when serving.
Lastly, a piece of toast. Unlike previous meal plans, this one does not refer you back to the recipe for toast. I guess they assume you know how to make it by now.
Overall, this breakfast left me wanting more. Especially coffee. Of course the egg on toast was good, but I missed my hot sauce. The apricots- I could take them or leave them. And I'll probably leave them because I will never remember to start soaking my dried apricots 24 hours prior to Saturday breakfast ever again.
1940s Saturday Lunch or Supper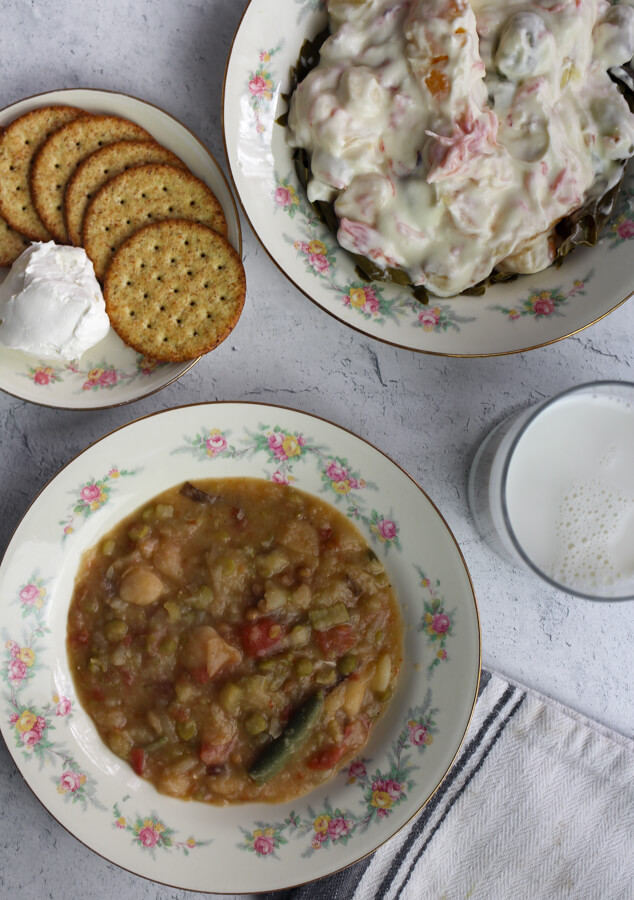 Our Saturday lunch menu consisted of leftover vegetable soup, fruit salad, cream cheese, whole-wheat crackers, and a glass of milk.
If you read Friday's meal plan then you know that we had vegetable soup for dinner. This vegetable soup leftover was actually not bad, and it was so nice to already have something prepared from a previous day. Seems like maybe the wife is taking it easy for breakfast and lunch so she can get ready for the big Saturday night feast.
The fruit salad was quite lovely. Inside the mix, you'd find grapefruit, oranges, banana, pineapple, and grapes. The recipe did instruct me to skin the grapes which was actually easier to do than I had first thought. With that said, will I ever peel my grapes again? Absolutely not.
Mixed into the fruit was a pineapple dressing which was SO yummy. It's made with flour, sugar, pineapple juice, butter, eggs, and whipped cream. The result is a light, fluffy, and sweet cream that was so good with the fruit. But in true 1940s fashion, we will serve this delicious and pretty salad on some lettuce leaves. Now I know you aren't supposed to eat the lettuce and that it's just for decoration, but who thought adding lettuce under a fruit salad made it pretty? Who?? I must know.
We also had a dollop of cream cheese and crackers to go with our soup and fruit, and milk for all.
Overall, not a bad lunch. Besides peeling the grapes, it was also a fairly quick lunch to throw together. Which is good because this poor 1940s housewife could use a "break".
1940s Saturday Dinner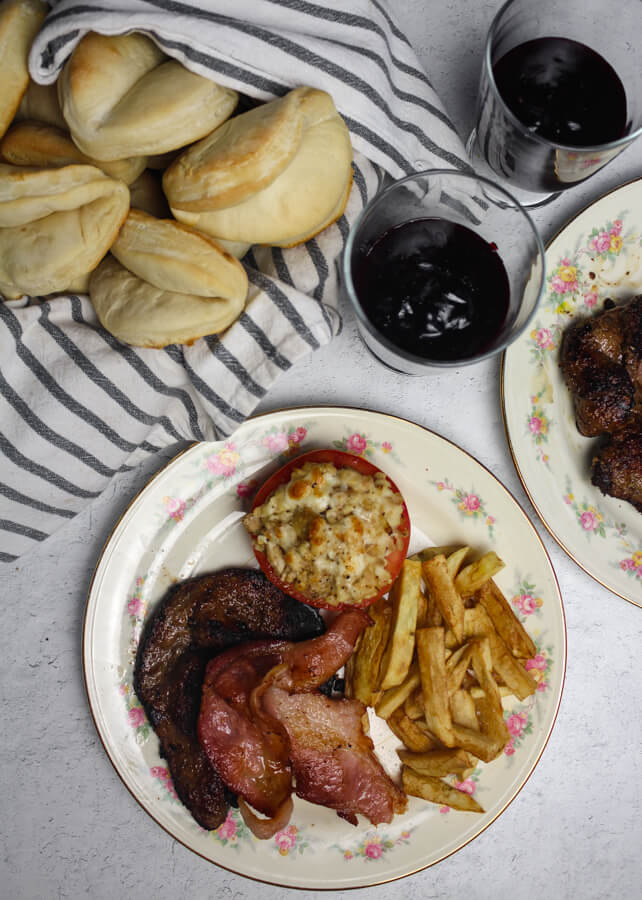 The big Saturday night feast was calf's liver and bacon, french-fried potatoes, broiled tomatoes, Parker House rolls, and blackberry flummery.
Are you a liver fan? Just like with the stewed apricots- I can take it or leave it. For the protein of this dinner, you could choose between sirloin steak or calf's liver. My husband chose calf's liver.. The saving grace of this recipe is the bacon. After frying the bacon, the flour-coated liver is fried in the bacon fat until well browned.
This wasn't the best thing, but it also wasn't the worst. I do wish that there would have been a gravy of some sort though to somewhat mask the strong liver taste a bit.
The french-fried potatoes were, as you probably guessed, amazing. How could deep-fried potatoes be bad?
If I never see a broiled tomato again, I'd be okay with it. Julia Child is always recommending broiled tomatoes to go with her dishes, and honestly, I'm over it. But dare I say- I'd rather have these broiled tomatoes over Julia's.
These tomatoes are almost a meal on their own, and I found it odd that they were served as a side along with so much other food. The tomato halves are piled high with sauteed chicken and grated cheese and then broiled for a few minutes until browned.
The most disappointing part may have been the homemade rolls. I've made my fair share of homemade rolls, and the Parker House rolls from this cookbook always let me down when compared to others I've made. After mixing them up, kneading the dough twice, and letting the dough rise 3 times, I'd expect them to taste better. After looking so delicious, multiple people on TikTok have asked me to share the recipe, but I always tell them to search somewhere else. Looks can be deceiving.
Now, dessert. I'm not going to say that the blackberry flummery was bad. It tasted okay, but the consistency was strange. Almost like a gravy that had sat cold on the stove too long. And while I'm a huge nutmeg fan, the 1/2 teaspoon of nutmeg was overwhelming.
Overall, this Saturday dinner was a let-down. It wasn't the most labor-intensive meal, but it was a lot of work for the taste. Next time, I'll just have a huge plate of those fries and skip out on the rest of it.
A Day in the Life of a 1940s Housewife- Thoughts
I would have expected more out of a Saturday. The breakfast was puny. The lunch was good, but nothing special. The dinner was tiring and not that great. Overall, this may have been my least favorite meal plan of them all. Here's to hoping Sunday is better!

Category: Old Recipes Cuisine: American
Keywords: 1940s meal plan, 1940s diet plan, 1940s diet, 1940s housewife diet, 1940s recipes, 1940s meals, typical 1940s diet
✽ Would you enjoy this 1940s menu?
→ Let me know by leaving a comment below!
More 1940s Meal Plans:
✽ 1940s Liberal Wednesday Meal Plan (bacon, stewed okra, stuffed lamb shoulder, & more)
✽ 1940s Liberal Thursday Meal Plan (baked apples, minced lamb sandwiches, baked cheese fondue, & more)
✽ 1940s Liberal Friday Meal Plan (French toast, bacon sandwiches, scalloped salmon, & more)
→ Check out all of the completed old recipes!
Bon appétit!
July 29, 2022 by Laura Bullock
*This 1940's Liberal Saturday Meal Plan blog post may contain some Amazon affiliate links. These link to products that I personally use and recommend. If you purchase anything using my links, it will not cost you anything. It will though give laurathegastronaut.com some financial support which helps me keep this blog running. Thank you for reading my blogs and your continued support.