Mulled Wine
Cooking Laboratory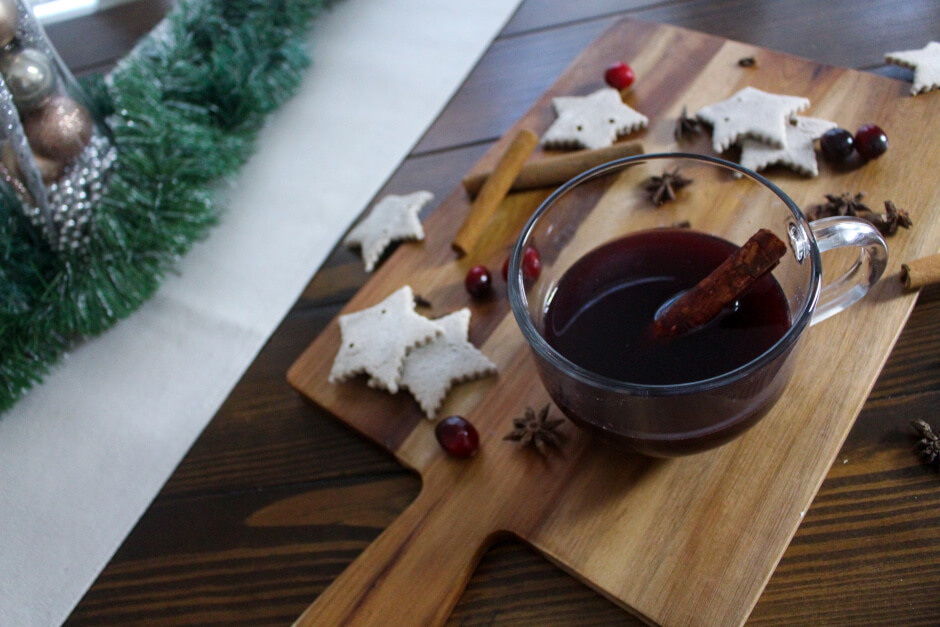 Mulled wine is a Christmas tradition that dates way back. In fact, people have been drinking mulled wine since the 2nd century. Once I took my first sip of the warm spiced wine, I understood why! It's comforting. It's delicious. It's cozy, and it smells just like Christmas. It was a no brainer for me to make mulled wine my 4th episode of the Cooking Laboratory. I get to talk alcohol science and drink multiple batches of mulled wine. It's a win-win!
Mulled wine is usually made with a cheap dry red wine. It's warmed up with various spices and citrusy fruits until it takes on the perfect flavor of Christmas. My husband and I have made the tradition of drinking mulled wine while putting up our Christmas decorations every year. It's such a fun tradition. After a couple glasses of the wine, I always tear up looking at our festive humble abode while "Have Yourself a Merry Little Christmas" plays in the background. Is there anything better than to be snuggled up on the couch, a fire roaring in the fireplace, the smell of spices in the air, Kenny G playing Christmas music, Home Alone playing on the TV, a full glass of mulled wine while looking at all those beautiful twinkling lights? Yeah, I didn't think so.
How did I come up with this recipe? Well, I looked into the history of mulled wine, learned about mulled wine science, and made four different recipes that I found online. I then took what I learned in my lab (AKA: my kitchen), and through trial & error came up with this wonderful mulled wine that's backed by history and science.
If you are interested the history of mulled wine, the science behind mulled wine, and the various recipes I made- click the video below!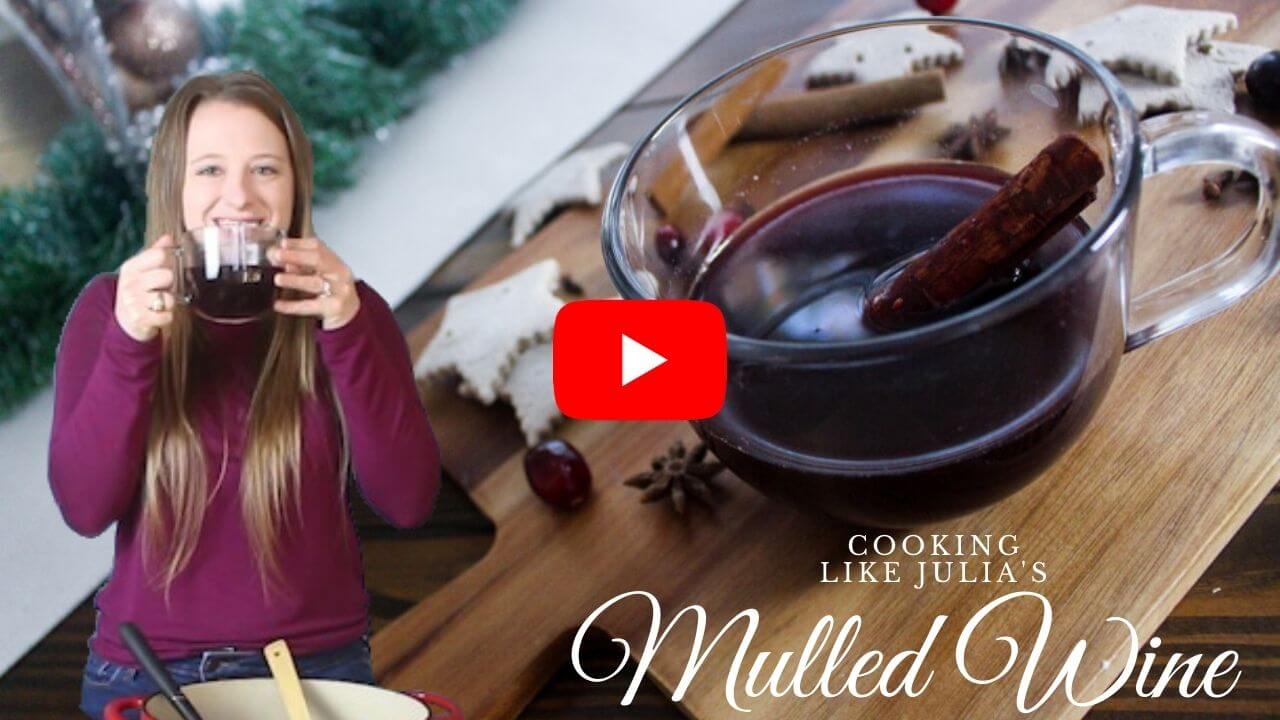 __________________________________
Let's talk about the other four recipes that I chose to make!
First, I made Culinary Hills's Mulled Wine (Culinary Hill Homepage). The ingredient that made this recipe different was the addition of extra orange juice outside of the oranges. Coming from somebody who is relatively new to drinking mulled wine, this recipe seemed like it was more traditional. It had great flavor.
Second, I made Tasty's Mulled Wine (Tasty Homepage). This recipe definitely stood out from the others because of its addition of pineapple juice. It tasted almost like a wine punch so not really traditional but still good.
Third, I made Ina Gartens's Mulled Wine (Food Network Homepage). Of course, I had to try Ina's mulled wine recipe. This recipe is set apart from the others in that it calls for apple cider as well. Ina uses honey instead of sugar to sweeten the wine which is what they did wayy back in the day when they first started drinking mulled wine!
Lastly, I made The Forked Spoon's Spicy Mulled Wine (The Forked Spoon Homepage). Okay, my husband and I may be a little biased towards this mulled wine recipe. I didn't realize it when I picked it, but this is actually the recipe we have been using to maked mulled wine previously. It hit me when I was making it! With that said, this is a wonderful mulled wine recipe. I love the addition of fresh cranberries and blackberries. Also, the brandy makes it an extra special treat!
Overall, all of these recipes were delicious. I would happily drink any of them again. My husband picked The Forked Spoon's mulled wine as his favorite. Though, as mentioned previously, this decision may be a little biased. It tastes like Christmas to us!
__________________________________
LET'S TALK ABOUT THE RECIPE I CREATED!- WHY DID I DO THAT?!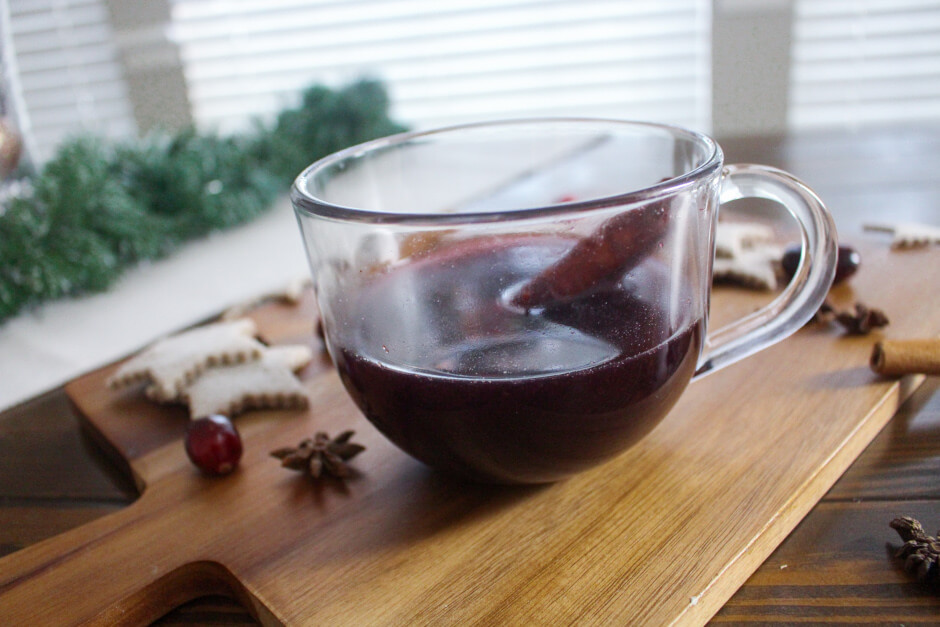 Honey: I used honey instead of sugar for two reasons. One, this is the sweetener they used way way back in the day so I love the idea of keeping the recipe traditional in this aspect. Second, I love honey. Citrus Peels: I liked the taste of just adding the lemon peel instead of adding lemon juice. As for the orange, I throw in the peel and the juice for maximum orange flavor! Spices: I grind and grate the spices in order to get a huge spice flavor. By grinding and grating, we will increase the surface area of the spices so more spice is exposed to the wine. Star Anise: Star anise is very sweet and has a licorice flavoring to it. I added it towards the end to finish the mulled wine off with a slight sweetness but not to overdo it by having the star anise in there the whole time. Warming Up the Wine: It's so important not to let your mulled wine boil. If it does boil, you will be boiling off your alcohol, and nobody wants that! I heat the mulled wine up in two separate steps to prevent the alcohol from disappearing. First, we heat up a small amount of wine, the honey, and the spices. This will allow the oils from the spices to be extracted and the honey to meld with the wine. After this step, the rest of the wine and the brandy is added. It is all heated just until it is warm. A great resource I used to help with the science behind the mulled wine was from Laura Powell. You can read the article here and watch the video here.
If you want to watch an instructional video on how to make my mulled wine- click the video below!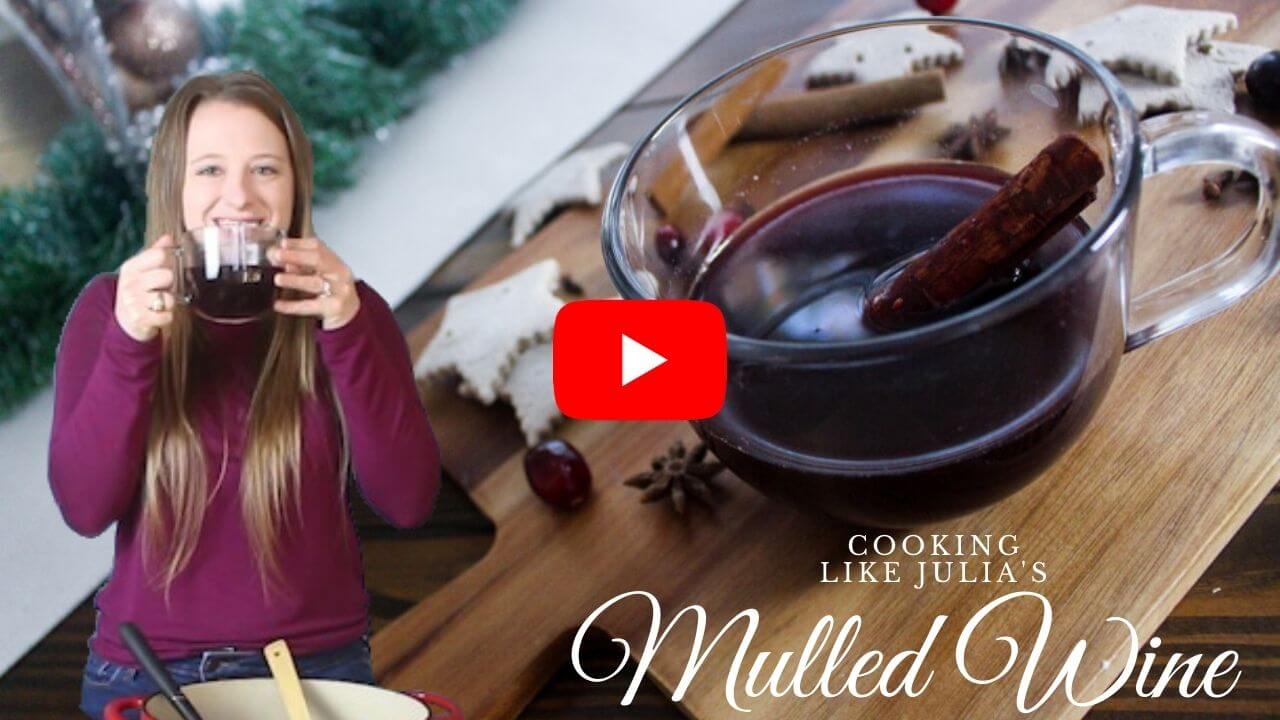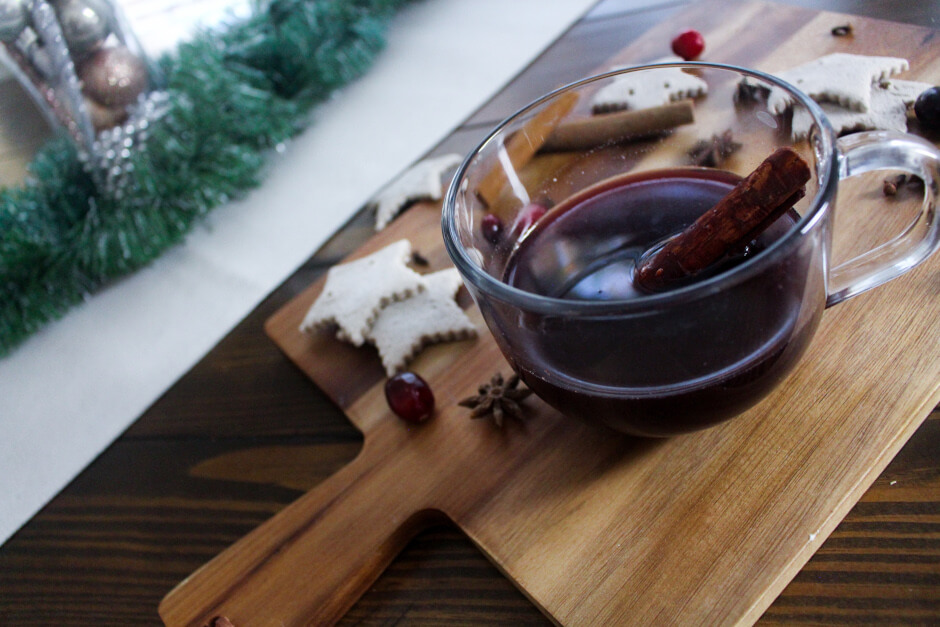 MULLED WINE
By Laura Bullock | Laura The Gastronaut
Prep Time: 5 minutes | Cook Time: 15 minutes | Total Time: 20 minutes
Yield: 4 servings
DESCRIPTION
Mulled wine is a traditional Christmas beverage made with red wine, spices, and citrusy fruits that is guaranteed to make you feel warm and cozy. It is a perfect way to celebrate the holidays. So, whip up a batch, start a fire, turn on those holiday tunes, grab your blanket, and enjoy.
INGREDIENTS
• 1 (750 mL) bottle dry red wine • 1/2 cup honey • Peel from 1 lemon • 1 orange, peeled and juiced • 4 whole cloves, crushed • 2 cinnamon sticks • 1/2 whole nutmeg, grated • 2 one inch long fresh ginger slices • 1/2 cup fresh cranberries, halved • Pinch of black pepper, freshly grated • 1/2 cup brandy • 2 star anise
INSTRUCTIONS
1. In a large pot, pour in honey and just enough wine just to cover the honey. Stir in lemon peel, orange peel, juice from orange, crushed cloves, cinnamon sticks, grated nutmeg, fresh ginger slices, cranberries, and a couple turns of freshly grated black pepper. 2. Place the pot over medium heat and allow to simmer for about 5 minutes. 3. After simmering, pour in the rest of the red wine, brandy, and star anise. 4. Heat up the wine just until warm which is about 174°F (79°C). Do not let boil. 5. Strain the mulled wine into glasses and enjoy!
__________________________________
DID YOU MAKE THIS RECIPE?
Let me know by leaving a comment below and sharing on Instagram. Tag @laurathegastronaut and hashtag it #laurathegastronaut.
__________________________________
*NOTES
Wine Choice: I always go with a cheap dry red wine. We will be adding in honey, so a dry is best so the sweetness does not overpower. I go with cheap because the spices will mask a lot of the wine flavor. Using an expensive wine will not likely increase the taste your mulled wine.
Cloves: If you absolutely have no way of crushing your cloves, putting them in whole will not be the end of the world. Just know that their flavor will not be as strong. You may be able to crush them some with the back of a spoon.
Brandy: I love the addition to brandy to this mulled wine. However, you can leave it out. Or you can replace with a liquor of your choice.
Warming the Wine: It's so important not to let your wine boil. Watch it closely so you can take it off the heat once warmed. You could also use a thermometer and take it off the heat once it reaches 174°F (79°C).
If you have any other questions, let me know down below!
Bon appétit!!
December 11, 2020 by Laura Bullock