Peanut Butterscotch Bird Nests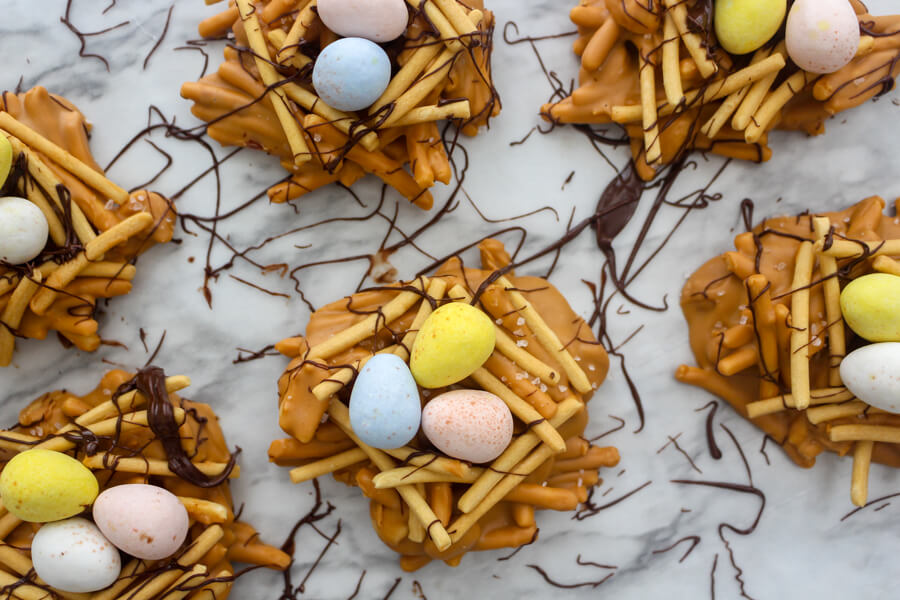 Aren't these bird nests just the cutest?! They would look absolutely adorable on your Easter table! I discovered these delicious nests when I was a kid when one of Aunts would bring them to all the holiday functions. That's right, you can eat these bad boys all year long. Take the eggs out of the middle and you have your dessert for Thanksgiving, Christmas, New Year's, you name it.
__________________________________
Let's talk about the recipe!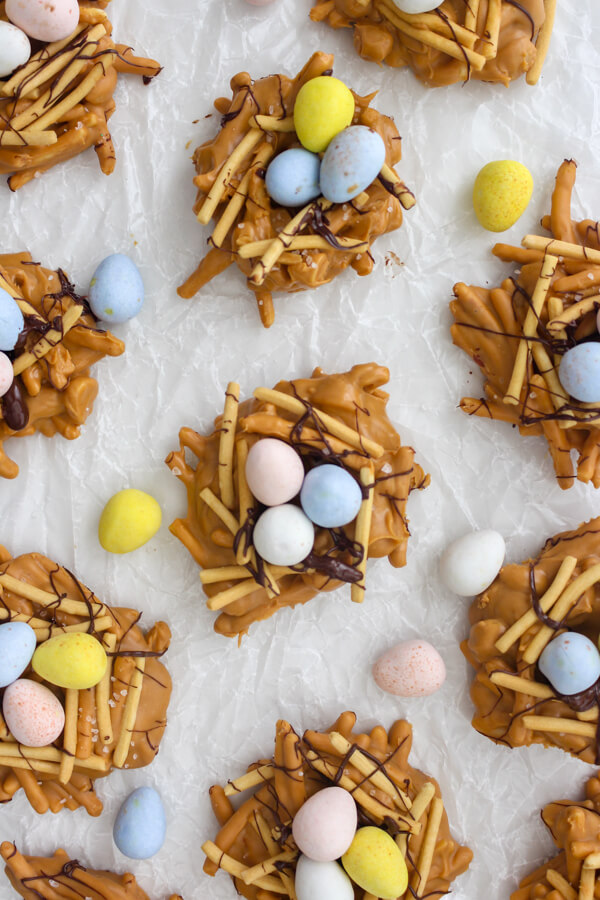 Of course, I wanted to create the best version of this recipe. That means the calculator came out and the ratio calculating began. I tried many peanut butter to butterscotch ratios, but I found the best ratio was a 1 cup to 1 cup. However, the more peanut butter there is in this recipe, the less likely the nests are going to harden. Even though I thought this was the best flavor profile, I chose to add a bit more butterscotch chips so the eating process wasn't as messy.
I tried these nests with and without peanuts. While the non-peanut version is the version I used to eat during the holidays, the peanuts add such fun texture and made them just a little bit better, in my opinion. The chow mein noodle amount was difficult to determine. Do you want these to have a nice sturdy noodle structure or would you rather have a loose structure where the holes are filled with peanut butter and butterscotch goodness?! I chose the second route.
Each nest will be a heaping tablespoons' worth of mixture. Plop them out on a piece of wax or parchment paper that is placed on a baking sheet. The baking sheet just makes it easier to transport the nests into and out of the fridge. Once you used all the mixture (you should have about 16-20 nests), it's time to form the little guys! Using your fingers, push down in the center to shape it into a nest. I like to take extra chow mein noodles and surround the outside. This really makes it look like a real nest, and it will help those eggs stay put. Next, the sprinkling of sea salt. This is such a small step but a crucial one. Who doesn't love a good sweet and salty mixture? I then put all the nests in the fridge for about 30 minutes. This will help them to harden so your fingers won't get as messy when you pick them up!
After the nests have had a nice rest in the fridge, I like to give them some chocolate. I didn't want chocolate to actually be inside the mixture as I felt it would overpower the peanut butter and butterscotch flavors which I enjoy so much. The small amount of chocolate on the nests was the perfect amount to accompany the flavors. I just melted some chocolate chips in the microwave and use a spoon to fling chocolate all over them. Do not be afraid to get messy! Not only will this chocolate make them taste better, but it will also bring about a sense of realness to the nests. Bird nests in real life are messy and a mixture of things are found in them. Well I'm not sure if you'll find chow mein noodles and chocolate in a real bird nest, but you get the point.
The last part is putting in those chocolate eggs. I, personally, love Cadbury Mini Eggs. They are the best, but you can use whatever candy eggs you want. Even jellybeans would work!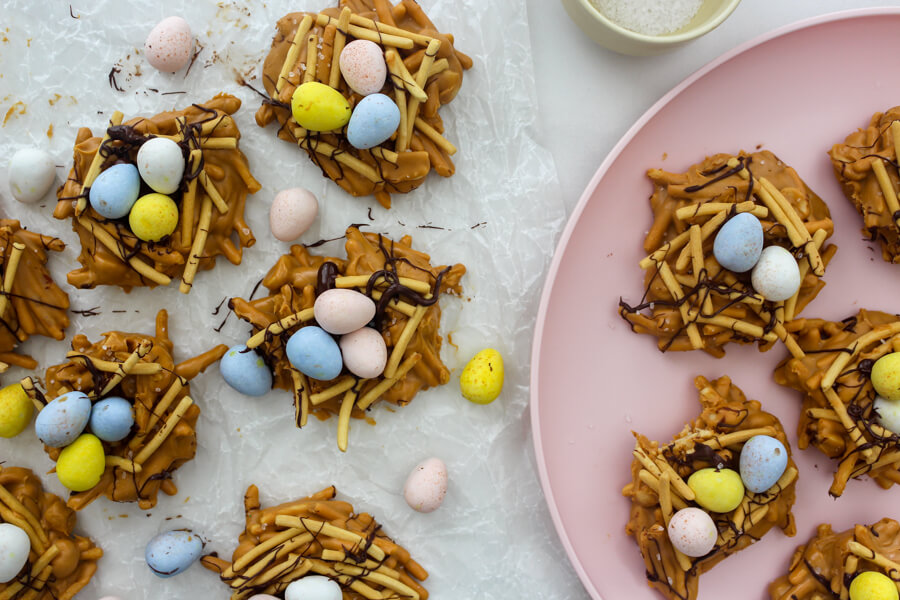 PEANUT BUTTERSCOTCH BIRD NESTS
By Laura Bullock | Laura The Gastronaut
Prep Time: 15 minutes | Total Time: 45 minutes
Yield: 16-20 nests
DESCRIPTION
These peanut butter & butterscotch bird nests cookies are made out of chow mein noodles. They are super adorable and make for the perfect Easter treat! See *notes below for additional details.
INGREDIENTS
• 1 1/3 cups smooth peanut butter • 1 cup butterscotch chips • 2/3 cup peanuts • 3/4 cup chow mein noodles, plus a few extras for decorating • sea salt, to taste • 1/2 cup chocolate chips • 60 chocolate eggs
INSTRUCTIONS
1. Combine peanut butter and butterscotch chips in a medium microwave-safe bowl. Microwave the peanut butter and butterscotch in 30 second increments, stirring in-between, until fully melted. 2. Stir in peanuts and then stir in the chow mein noodles. 3. Place a sheet of wax or parchment paper on a baking sheet. Scoop a heaping tablespoon of the mixture onto the wax/parchment paper. Continue until you run out of mixture (about 16-20 nests). 4. Using your fingers, work each nest so there is a dip in the middle of each one. This will allow the eggs to sit better in the nests. Take the extra chow mein noodles and decorate the outside of the nest to help form the spot for the eggs. 5. Place nests into the refrigerator until hardened- about 30 minutes. 6. Melt chocolate chips in a small microwave-safe bowl in 30-second increments, stirring in-between, until fully melted. 7. Dip a spoon into the melted chocolate and fling chocolate over the nests. The messier, the better! 8. Lastly, fill each nest with the chocolate eggs.
__________________________________
DID YOU MAKE THIS RECIPE?
Let me know by leaving a comment below and sharing on Instagram. Tag @laurathegastronaut and hashtag it #laurathegastronaut.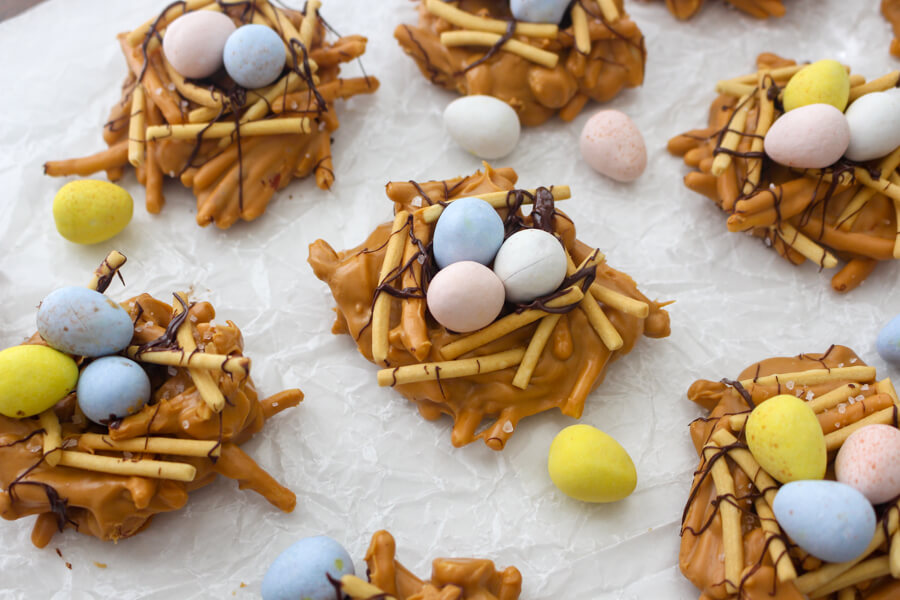 __________________________________
*NOTES
Stove Method: Instead of melting the peanut butter and butterscotch in the microwave, you can also melt in on the stove in a saucepan over low heat while constantly stirring.
Peanuts: I love the addition of peanuts in these nests, but definitely feel free to leave them out as well. You may need to add a little more chow mein noodles so the structure of the nest holds up.
Chocolate & Extra Chow Mein Noodles: These components are optional as well. However, I feel like they really capture the messiness of an actual bird nest. Plus, the chocolate makes these nests even more delicious!
Eggs: There's so many candy eggs out there. I love love love Cadburry Mini Chocolate Eggs, but any candy egg will do the trick! There's jellybeans, Hershey's milk chocolate eggs, Robin Eggs, Tootsie Roll Eggs, etc.
If you have any other questions, let me know down below!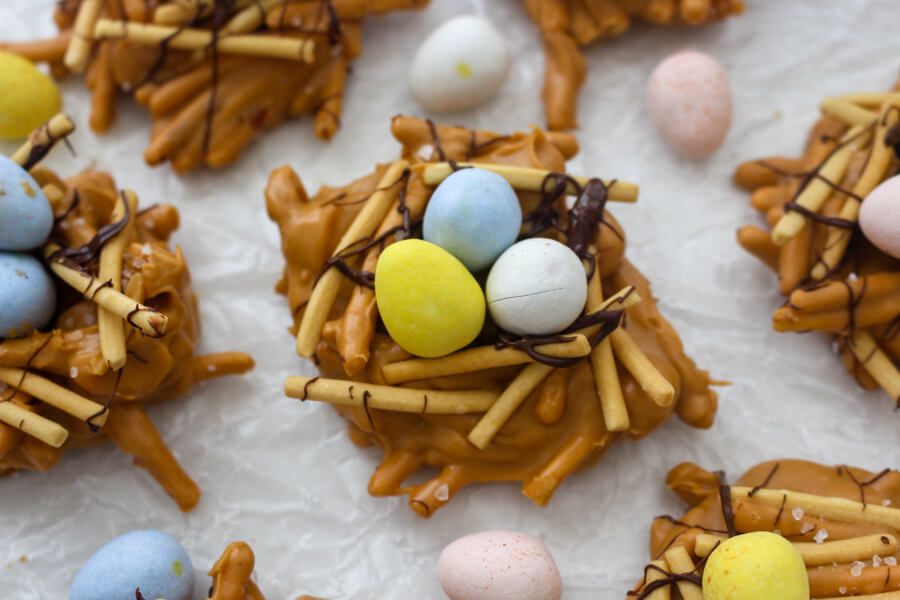 Bon appétit!!
April 1, 2021 by Laura Bullock