What's in the Box | Box 1
November 9, 2020
Hi! Welcome to my first post of my What's in the Box cooking series. In this series, my husband and I are given a box full of 4-5 random ingredients. Our challenge is to make a single dish using all of the box's ingredients. Our goals are to discover a new and unique recipe while also have a lot of fun. Do you have suggestions for ingredients that should make it into the box? Let us know down in the comments below!
For our first What's in the Box, we decided to make a 3-course meal. Our first box to open was the appetizer box. In it, we had cinnamon bread, onion dip, fried chicken, and zucchini. Wow, what a combination! This was a very difficult box as we had so many flavors going on. We had sweetness coming from the cinnamon bread, a very potent savory coming from the onion dip, a greasy (but very delicious) fried chicken, and raw zucchini. With cooking so many Julia recipes, I have become quite familiar with canapés so that was my first thought for the bread. I cut the cinnamon bread into rounds, clarified some butter, and cooked the bread into the butter until it was crispy. The chicken was the hardest part. We decided to take the fried skin off and make an almost chicken salad. We added multiple seasonings and a little bit of the onion dip to create a sweet and spicy chicken. For the topping, Brian decided to quick-pickled the zucchini, and I made an onion dip crema. Lastly, we added on a slice of jalapeño.
For the appetizer course, we present to you a sweet and spicy onion glazed chicken on a cinnamon canapé topped with quick-pickled zucchini, green onion, jalapeño sliced thin, and onion dip crema.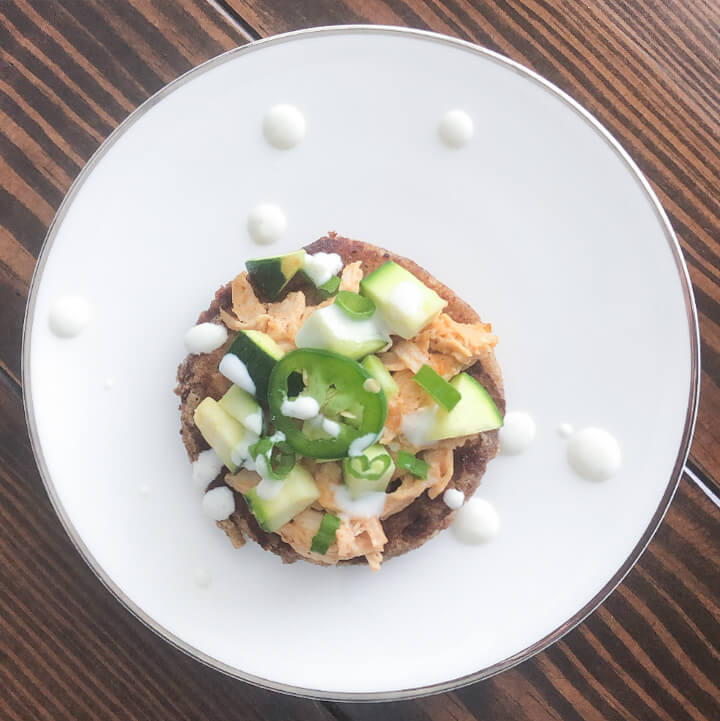 TASTE: 4
PRESENTATION: 6.5
This was... strange. The cinnamon and chicken formed such a weird combination- nothing like anything we had ever tasted. I wouldn't say it was nasty, but it was different. With that said, we did eat all of it, but I think that was mostly because we kept eating hoping that we would form the words to describe the taste. In the end, the only thing we could think of was- weird and strange.
Our second box held the ingredients for the main course. The four ingredients were apples, beets, pork chops, and honey. Okay, we got lucky on this one. I love fried pork chops so that instantly what I wanted to do. I battered the pork chop in flour and seasonings and let the hot oil work its magic. Because of Julia, I know that pork and mustard are best friends. I whipped up a honey mustard to top the pork chop. To tie in the apple flavor, I used apple cider vinegar in the honey mustard as well. Brian worked on the side. He julienne cut the apples, beets, and jalepeños and let them marinate together. Eventually everything turned pink from the beets. Lastly, a honey bourbon sauce was mixed into the slaw.
For the main course, we present to you a fried pork chop toppped with apple cider honey mustard served with an apple, beet, and jalepeño slaw in a honey bourbon sauce.
TASTE: 9
PRESENTATION: 5
Both the pork chop and slaw were SO good. Not only were they delicious individually, but they were very tasty paired with each other. Overall, a huge success.
The third and last box was for the dessert. It had the ingredients coffee, bacon, canned pizza dough, and popcorn. Some very random ingredients here, but we could imagine them working together.
We decided that our best bet was to make a turnover with the pizza dough. Brian candied the bacon in pancake syrup over high heat until it was cooked through, thick, sticky, and tasty. The pizza dough was wrapped around the bacon, and I covered the turnover in a cinnamon-sugar mixture. They went into the oven until the dough was done. I made a vanilla coffee simple syrup and threw in the cooked popcorn. The popcorn topped the turnover, and extra simple syrup was served on the side.
For dessert, we present to you candied bacon stuffed cinnamon turnovers topped with popcorn covered in vanilla coffee simple syrup.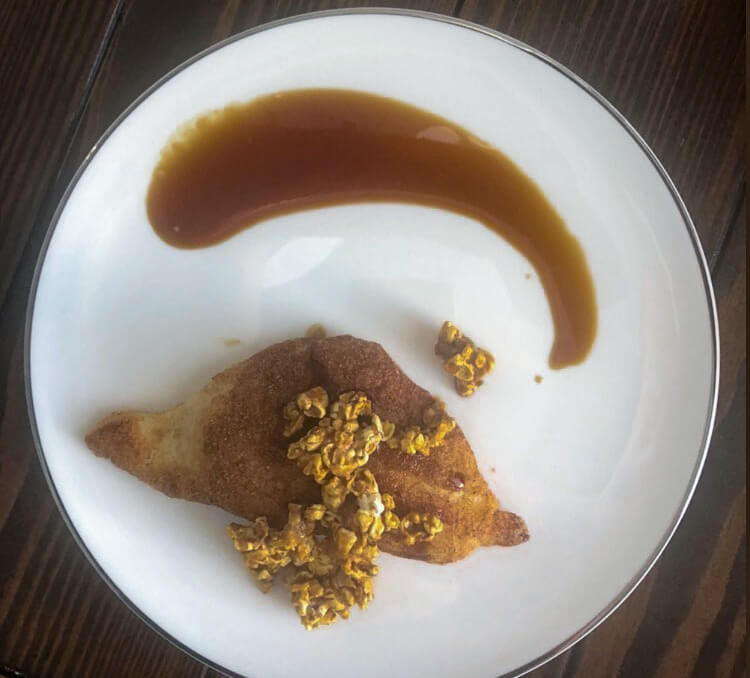 TASTE: 10
PRESENTATION: 7
Wow! This dessert exceeded all expectations. Everything paired so well together. The texture of everything was perfect. The taste was amazing. Was the popcorn necessary? No, but I liked what it brought to the dish. Since this day, I have tried to make these again and failed. I will probably try again because I really want to share this dessert with you. I hope that it wasn't a one-time only success.
That's it for our first What's in the Box meal! I hope you enjoyed reading about it. Like I mentioned previously, let me know down in the comments if you have any suggestions for future boxes!
Bon appétit!
November 9, 2020 by Laura Bullock