Laura the Gastronaut > Life & Travel > 50 States Bucket List >

Turkey Run State Park Hike
Hiking in Turkey Run State Park
November 10, 2022 | Laura
Turkey Run State Park is absolutely beautiful and has trails that range from easy to challenging. We chose to hike trail #3 which was so much fun. We climbed ladders, saw the Punch Bowl, walked across the suspension bridge, saw a ton of mushrooms, and walked on ledges. We loved seeing the changing leaves in October. Highly recommend exploring all that Turkey Run State Park has to offer.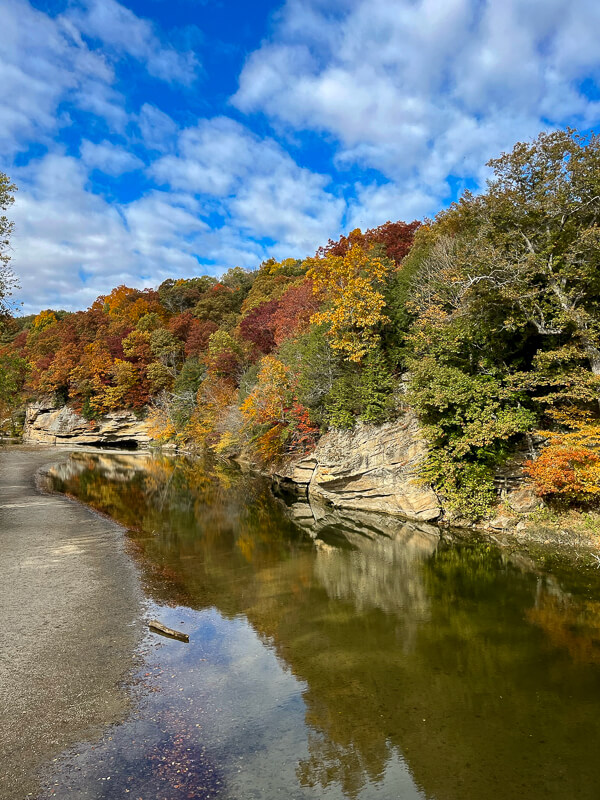 Turkey Run State Park Adventures
We knew that in ordered to count a state as a visited state we would need to dive into some nature! Since we were going to be right next to Turkey Run State Park for the Covered Bridge Festival the previous day, we decided to plan a hike there. I am so glad we did because it was absolutely gorgeous.
In October, this state park is full of changing fall leaves which makes it so pretty. Every corner we turned left us awestruck. This was one of most fun hikes we have every done so let's get into everything we saw and did during our time at Turkey Run State Park!
If you are looking for more Indiana content check out my other travel blogs!: 4-Day Indiana Itinerary, Covered Bridge Festival, Fall Days in Indiana Itinerary, Food in Indiana, Weekend in Indianapolis Itinerary, and Our 4-Day Indiana Trip Budget.
Our Visit
Turkey Run State Park is located in Parke County in Marshall, Indiana. It is open daily from 7am to 11pm, and the hiking trails are open from dawn to dusk.
While we just had time for hiking, there is so much more that you can experience at this state park including horseback riding, picnic sites, swimming pools, historic sites, a nature center, ball courts, canoeing & kayaking, and fishing. It is also a great place to stay the night at the campground or inside of a cabin.
Since we were visiting from out-of-state, we had to pay $9 to enter the parking lot (which is more than worth it, by the way). If you are live in Indiana it costs $7 to enter.
We visited on an October Monday morning after a cold front had just blew in. I'm not sure if it was because it was a Monday or because it was 35 degrees outside, but there were only a handful of people inside the park. This made for a very cool hiking experiences as it was pretty much just us and nature for the most of it.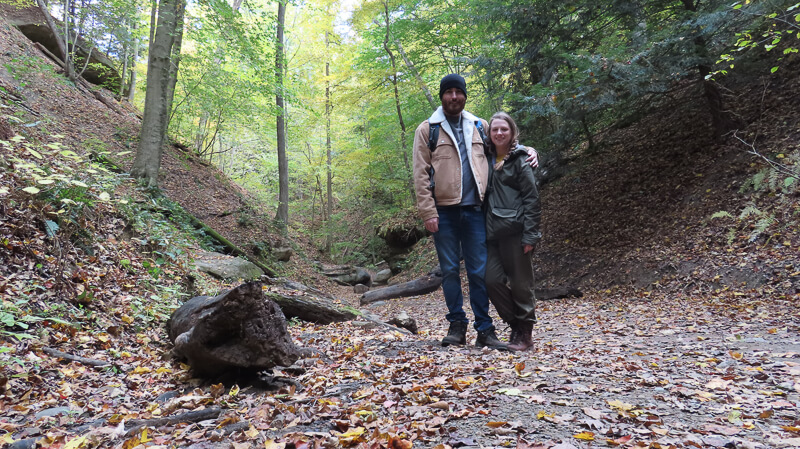 Turkey Run State Park History
Turkey Run State Park was first purchased in 1916 when the State Park system began. Turkey Run became Indiana's second state park following McCormick's Creek. It contains 2382 acres of land.
There's a bit of a debate how how Turkey Run obtained its name, but one legend says that it came from the fact that there were many turkeys in the area which would hide out in the runs (canyon bottoms) during the cold months.
Turkey Run State Park Geology
Turkey Run is such an adventure and anything but flat. The sandstone gorges are a result of many millions of years of work by nature. About 2 million years ago, the sandstone bedrock was formed into a canyon due to the melting glacial waters.
The gorges you can walk through today still look very similar to what the Native Americans and pioneers saw!
Turkey Run State Park's Hiking Trails
There are 11 nature trails at this state park which consist of 14 miles of trails total ranging from easy to challenging. There is something for hikers of all levels. Each trail has its own unique perks which you can read more about on Turkey Run's website. Since we only hiked trail #3, I will only talk about that trail for this blog post.
Trail 3 at Turkey Run State Park
Trail 3 is labeled as 'very rugged', and I would say that it is pretty challenging. That also means it will give you some pretty awesome views and adventures. Its total length is 1.7 miles long.
The Suspension Bridge
We first crossed over the suspension bridge. This bridge crosses over Sugar Creek. The bridge with the water and changing fall leaves of the trees offered some of the most beautiful sights we saw in the park. We spent quite a bit of time just standing on the bridge admiring nature's beauty.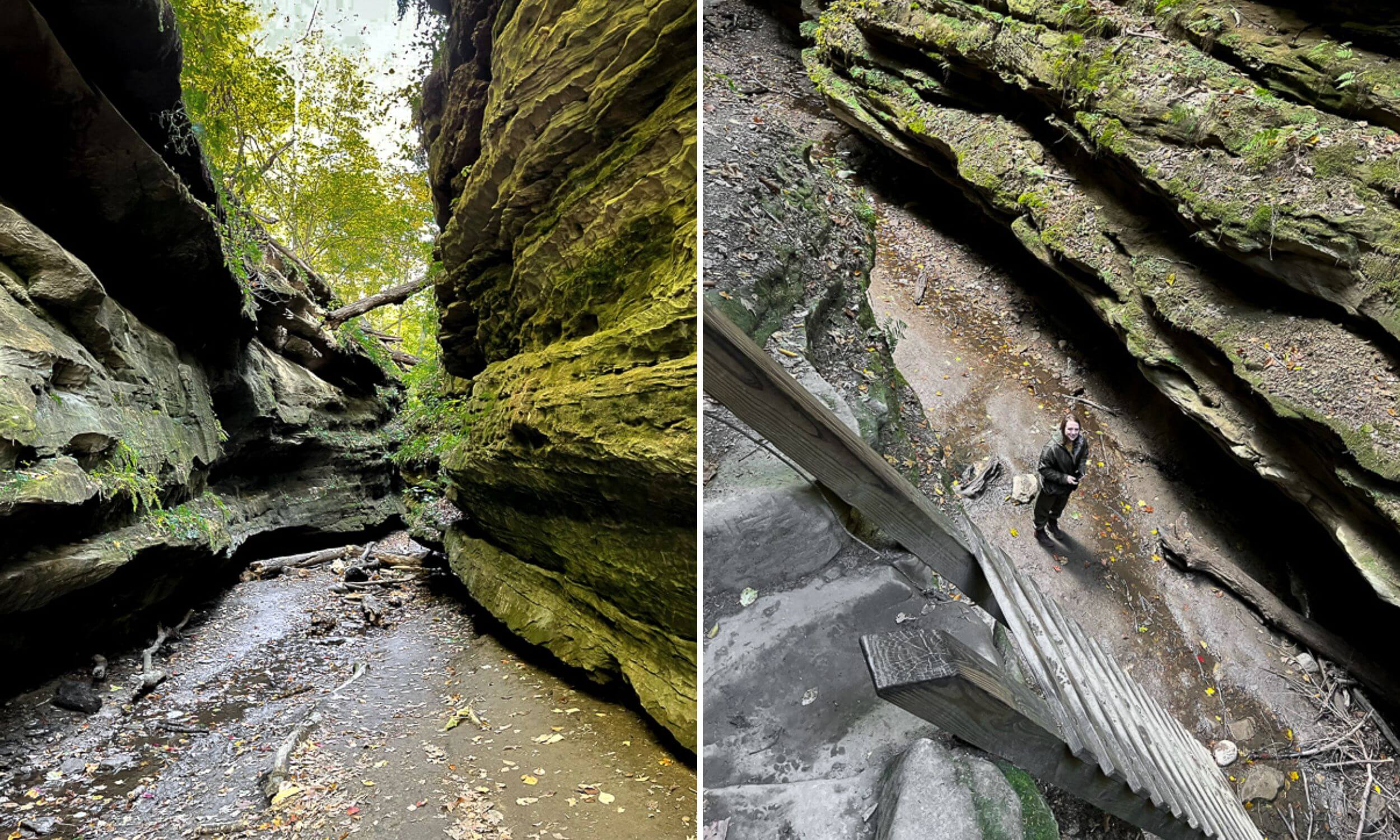 Bear Hollow + Ladders
We next explored Bear Hollow. It was so exciting to hike between two very large rock formations inside of the gorge. Inside of Bear Hollow, you will find the ladders which will send you up to the next part of the trail.
The ladders were a lot of fun to climb and added even more excitement to this hike. This will be my first time I recommend wearing shoes with grips when exploring these trails.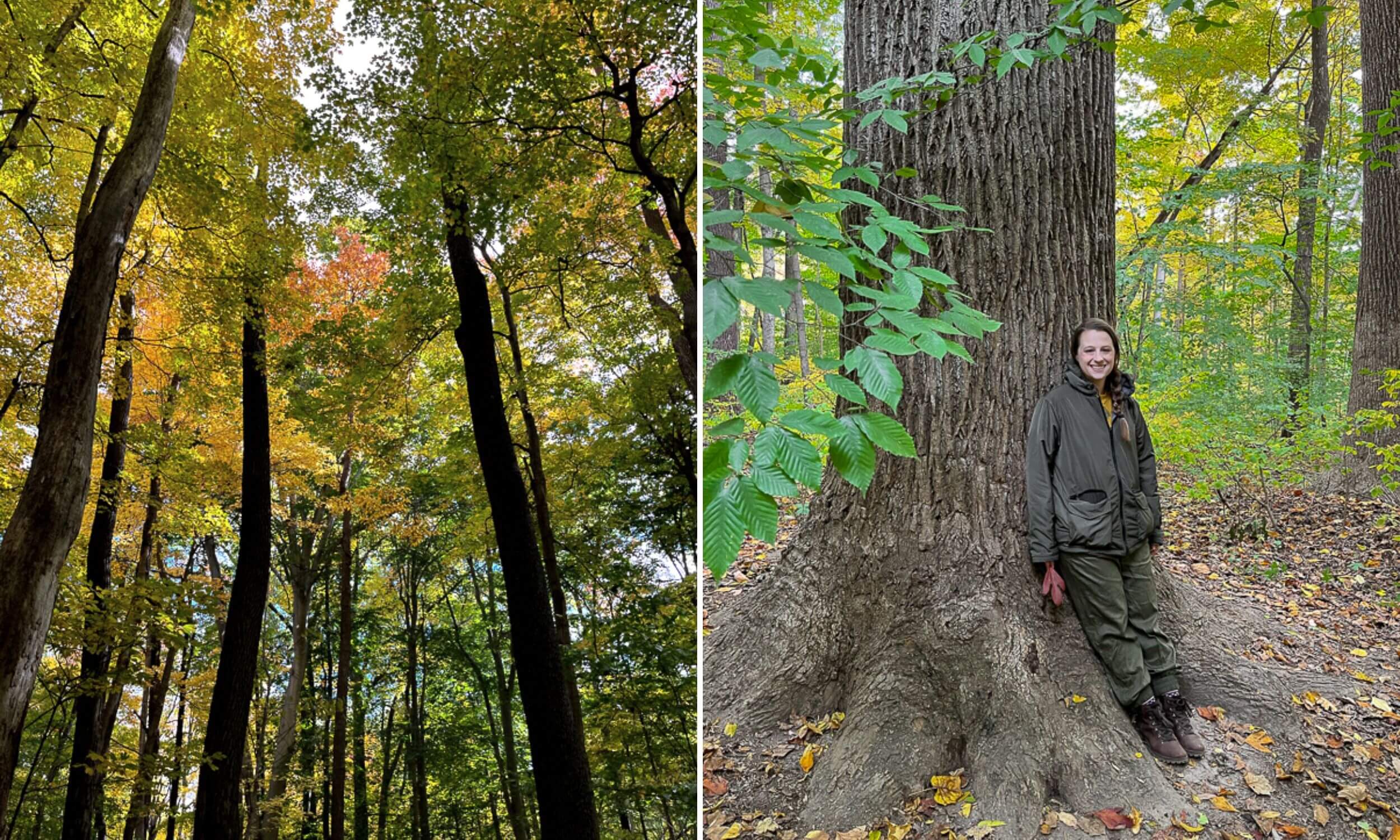 Fall Heaven
The next stretch of the trail was the most flat part of the trail (if I'm remembering correctly), and we were surrounded by beautiful fall trees and leaves. This was also the part of the hike that we found SO MANY different types of mushrooms. So if you are a fan of fungi, this is the perfect place to search. Keep your eyes on the ground!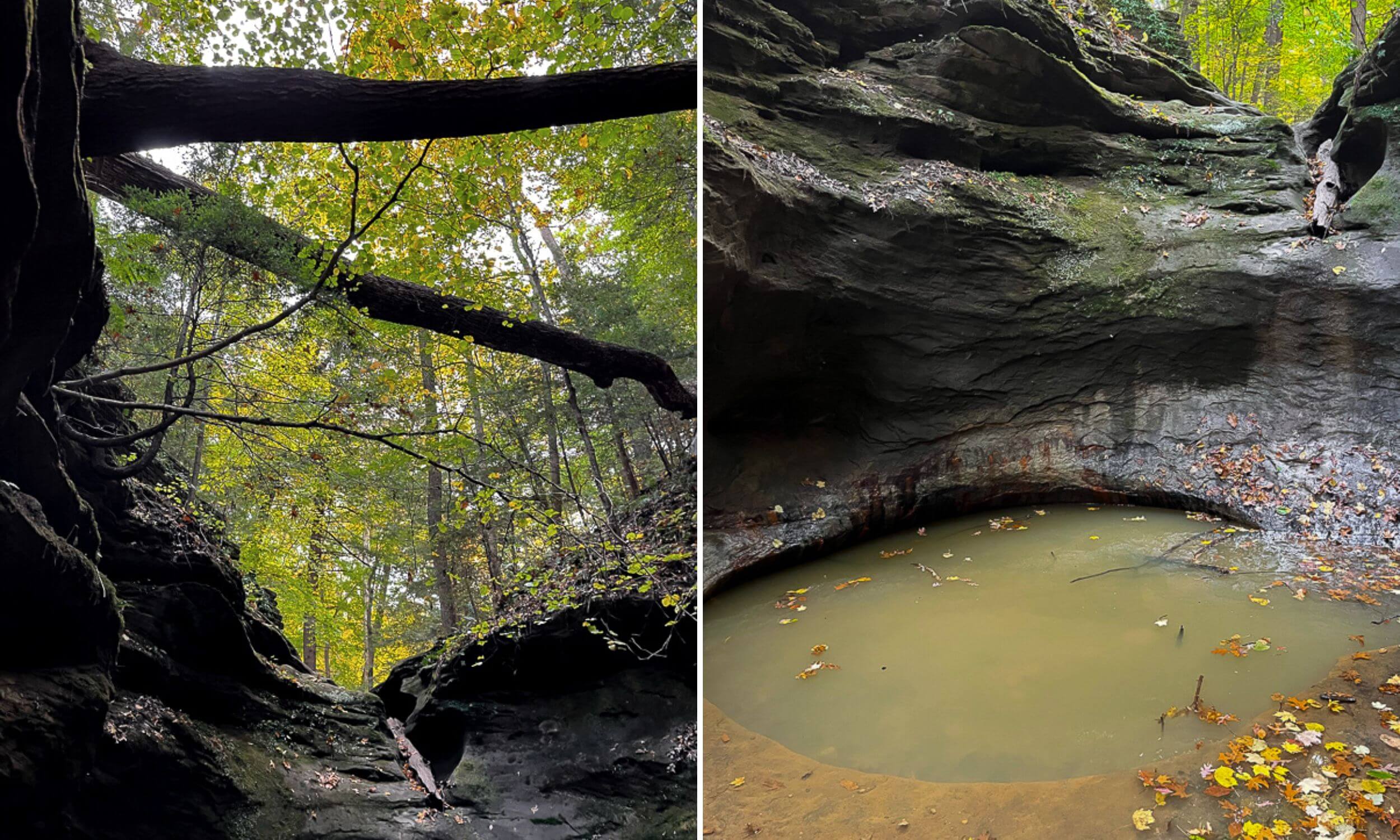 The Punch Bowl
Next, we ran across the punch bowl. This hidden gem is a hole that was formed by glacial erratics. Erratics are bedrock pieces from Canada that were carried here via glaciers. The water wasn't flowing when we were there, but the bowl was full!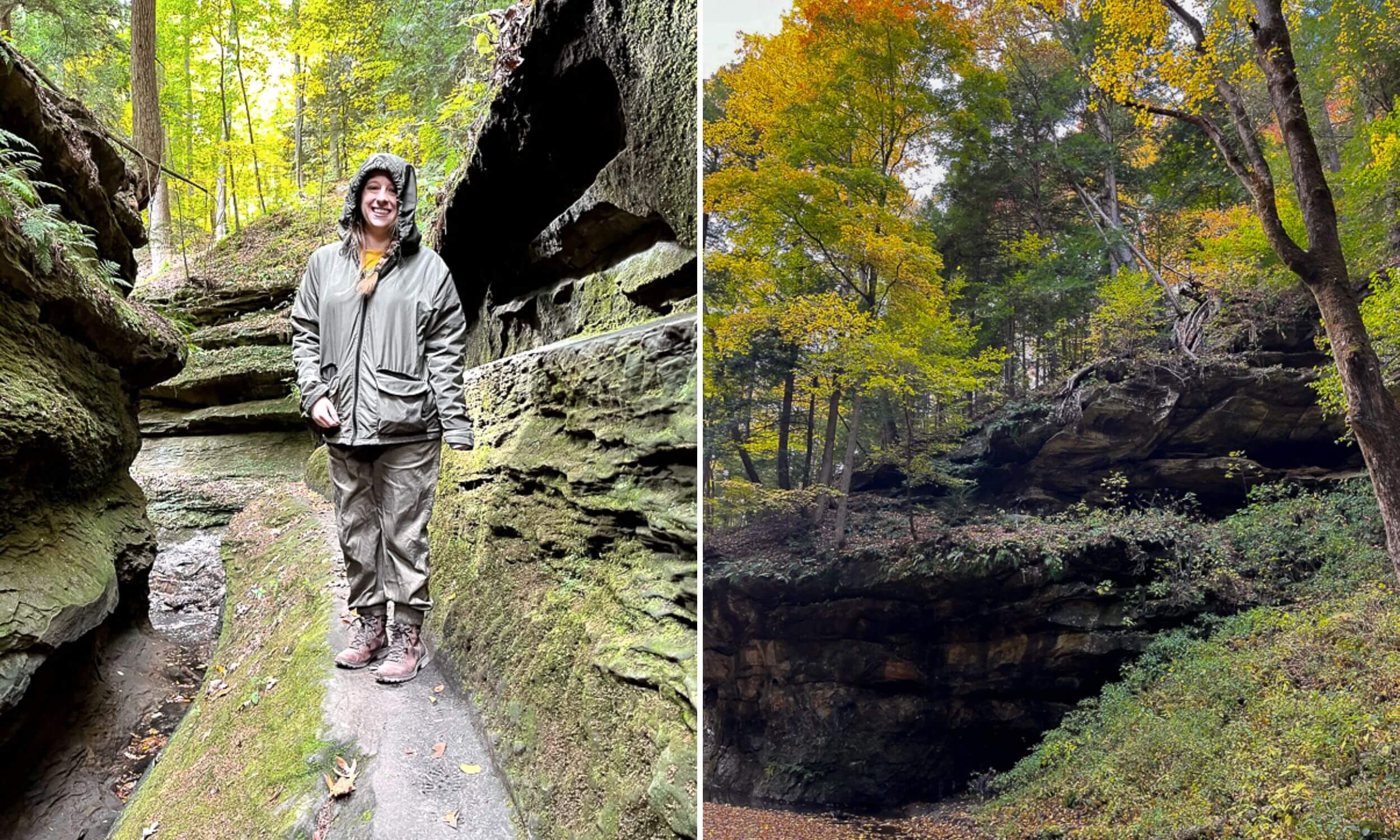 Rocky Hollow
Now Rocky Hollow-Falls Canyon Nature Preserve was an adventure! This is a deep sandstone canyon that you can walk through and just soak up all the beauty. We walked across ledges which was honestly my favorite part of the whole hike. This will be the second time I recommend getting some shoes or boots that have good grips on the bottom. Some of the areas were slippery!
Afterwards, we were surrounded by the tall rock formations on both sides. Looking up we could see the pretty yellow leaves on the trees. This nice place was so peaceful. I could have stayed here for hours.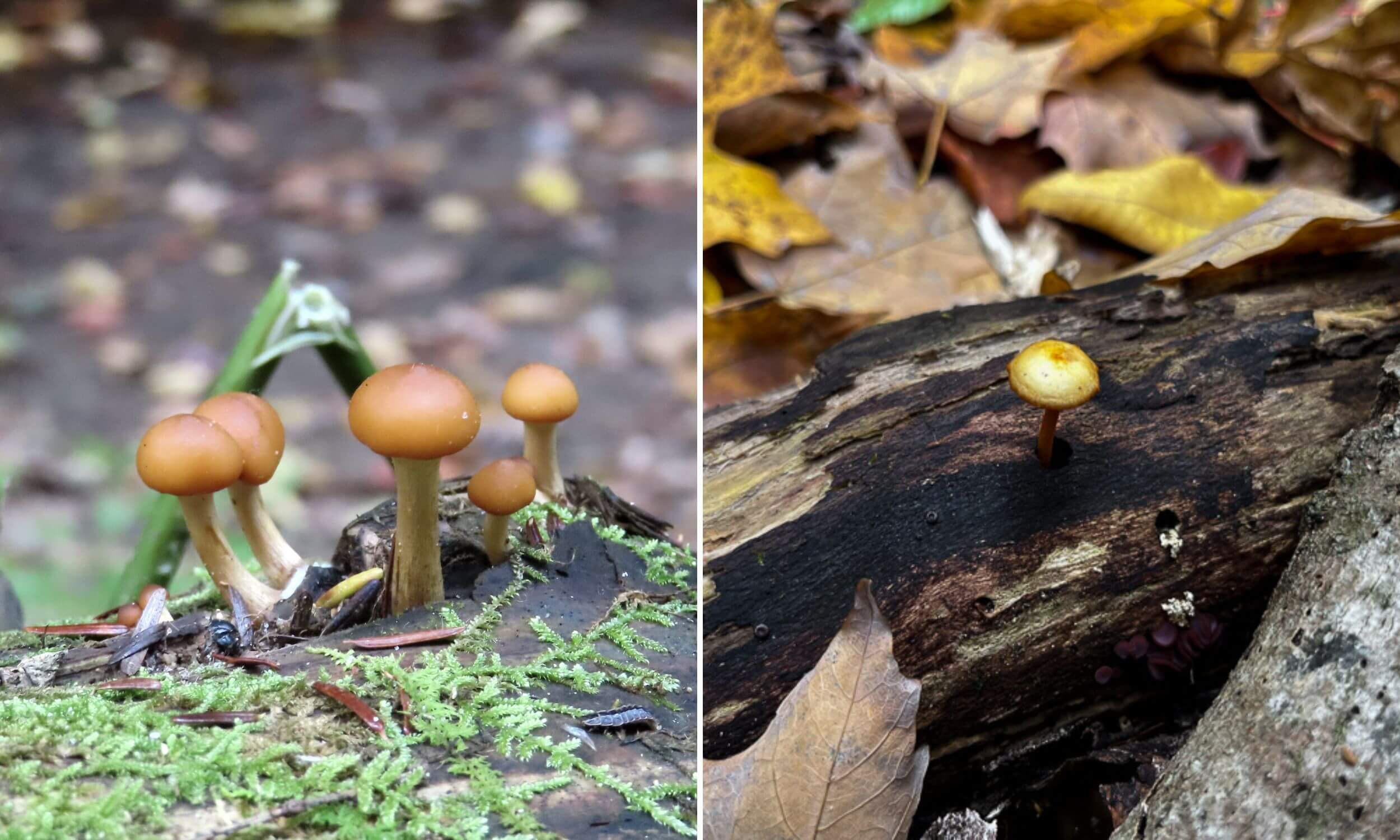 Final Thoughts about Turkey Run State Park
I couldn't recommend visiting this park enough- especially during the fall. I wish we lived closer so we could explore some of the other trails and other parts of the park. Even though it was pretty chilly when we went, we didn't even notice the cold after a few minutes. Turkey Run is a great way to spend a day outside. The beauty and calmness of the nature completely captured us. Overall, a great spot to enjoy nature, get some fresh air, and have a great time.
→ Find more information about this state park on Turkey Run's website!
50 States by 50
Indiana was our first state for our 50 states by 50 challenge. My husband, Brian, and I are planning to visit all the states in the United States by the time we turn 50 years old. To choose which state we travel to next, we will draw it randomly!
For each state, we will plan at least a 4 day trip that consists of visiting the state capitol and state museum, exploring a state park, and eating whatever food that state is most known for. I will be documenting all of our travels here on my blog and making vlogs as well which will be posted on YouTube. Read more about our 50 States by 50 Bucket List.
__________________________________
Thank you for reading about our amazing hike inside of Turkey Run State Park. I hope you enjoyed the pictures, and it was helpful in planning your visit to Indiana! If you have any questions or just want to share your Turkey Run State park adventures, please leave a comment down below.

Category: Life & Travel, 50 States Bucket List
Keywords: hiking in turkey run state park, indiana state park hiking, hiking near indianapolis, best hikes in Indiana
More Indiana Travel Blogs:
We also did a bunch of other things during our 4 days in Indiana. Each blog goes into more detail about each thing that we did, saw, or ate! I have a blog over:
✽ Our entire 4-Day Indiana Itinerary (downtown Indianapolis, apple picking, beautiful scenery, Covered Bridge Festival, Turkey Run State Park, & more)
✽ A Fall Weekend in the state of Indiana (fall leaves, southern Indiana, antique shops, Brown County Art Gallery, & tons of carved pumpkins)
✽ Parke County's Covered Bridge Festival (local artists, fall foliage on a scenic drive, small town living, covered bridges, & tons of delicious food)
✽ Weekend in Indianapolis Itinerary (motor speedway, White River State Park, Bottleworks district, tasty food, & more)
✽ Indiana Food Trip (pork tenderloin sandwiches, sugar cream pie, The Garage Food Hall, bagles, and homemade apple treats)
✽ Our 4-Day Indiana Trip Budget (how much our 4-day, 5-night trip to Indiana cost for two of us)
Bon voyage & bon appétit!
November 10, 2021 by Laura Bullock
*This Hiking in Turkey Run State Park blog post may contain some Amazon affiliate links. These link to products that I personally use and recommend. If you purchase anything using my links, it will not cost you anything. It will though give laurathegastronaut.com some financial support which helps me keep this blog running. Thank you for reading my blogs and your continued support.