Laura the Gastronaut > Life & Travel > 50 States Bucket List >

Sam Houston Jones State Park
Sam Houston Jones State Park (Louisiana)
May 12, 2023 | Laura
Sam Houston Jones State Park was a blast to visit and so pretty! We stayed the night in one of their cabins, saw gators in the swamp, witness so much different wildlife including snakes, lizards, birds, and insects, and hiked on the Orange Trail. The park was so green and blooming when we visited in April. I highly recommend nature lovers checking Sam Houston Jones State Park out!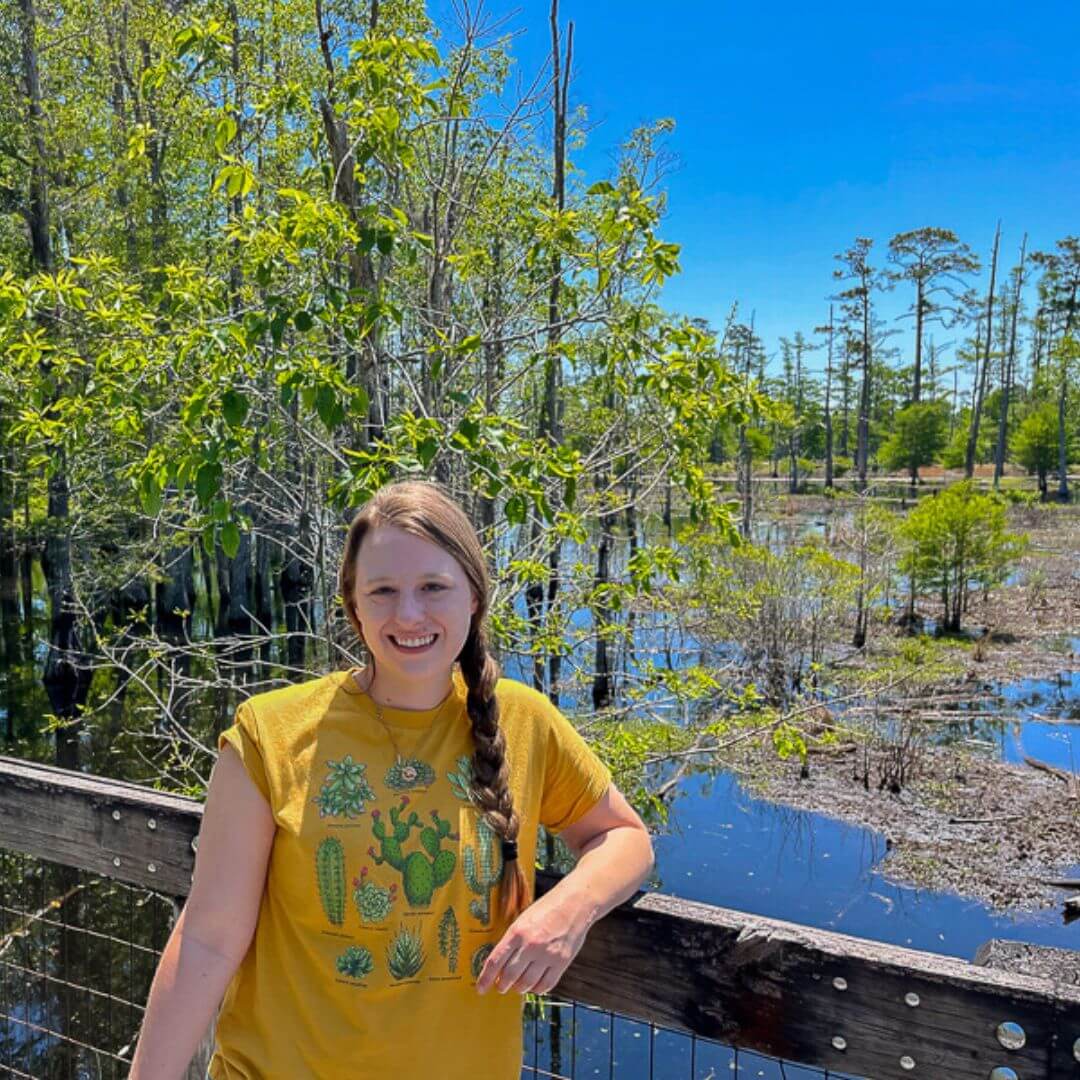 Sam Houston Jones State Park Adventures
One of our requirements for visiting a state is to check out a state park. It is important to us to dive deep into the nature side of each state! We decided to visit Sam Houston Jones State Park mostly due to its location. It allowed us to get a bit closer to Texas so our drive home the next day wouldn't be so long.
I am so glad we decided to go to Sam Houston Jones state park because it was an absolute blast! If you love searching for local wildlife in the Bayou State then this is the place for you. Though, we didn't really have to search that hard.. we were surrounded by critters the whole time we were there! Let's get into all that we saw during our time in Sam Houston Jones State Park!
If you are looking for blogs that go into more detail over certain parts of our Louisiana trip check out my other travel blogs!: French Quarter Festival, Food in Louisiana, 7-Day Louisiana Itinerary, Our Day in Baton Rouge, Our Weekend in New Orleans, and Our 7-Day Louisiana Trip Budget.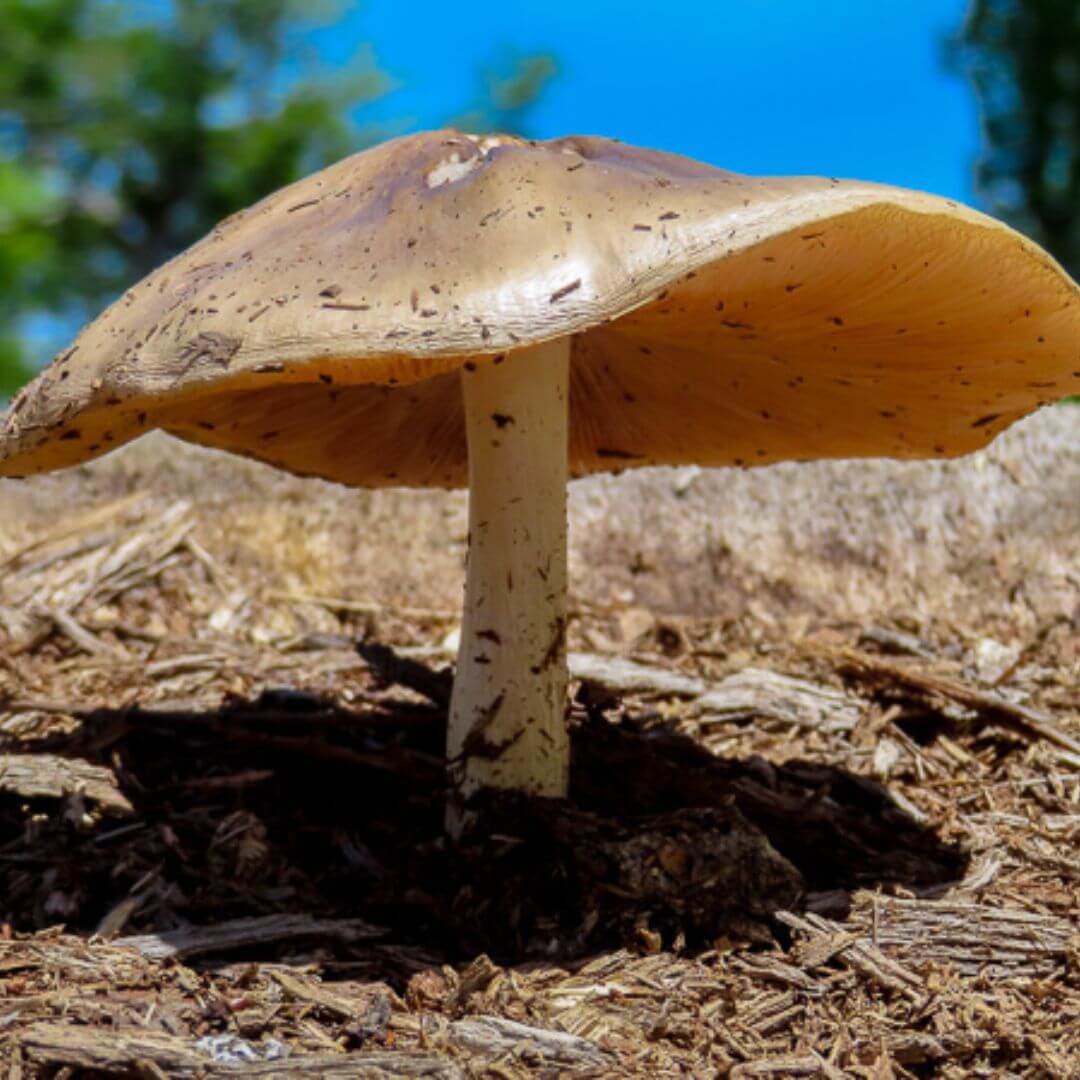 Our Visit
Sam Houston Jones State Park is located in Lake Charles, Louisiana. The gates are open daily from 6am to 10pm. It costs $3/person to get in. However, since we were staying at one of their cabins, we did not have to pay the entrance fee.
There is so much to do at this state park including biking, boating, hiking, fishing, paddling, and wildlife viewing. It is also a great place to stay the night at or the entire weekend in one of their cabins, in a glamping tent, or at one of the campsites.
We visited the park in mid-April. We arrived on a Sunday afternoon and left around lunchtime on Monday. There were quite a few people out on Sunday, but it was not crowded. We still were able to spend most of our time exploring in peace and quiet. Monday morning was a lot less busy. This is when we saw the most animals. On the hiking trail, it was pretty much just us and nature.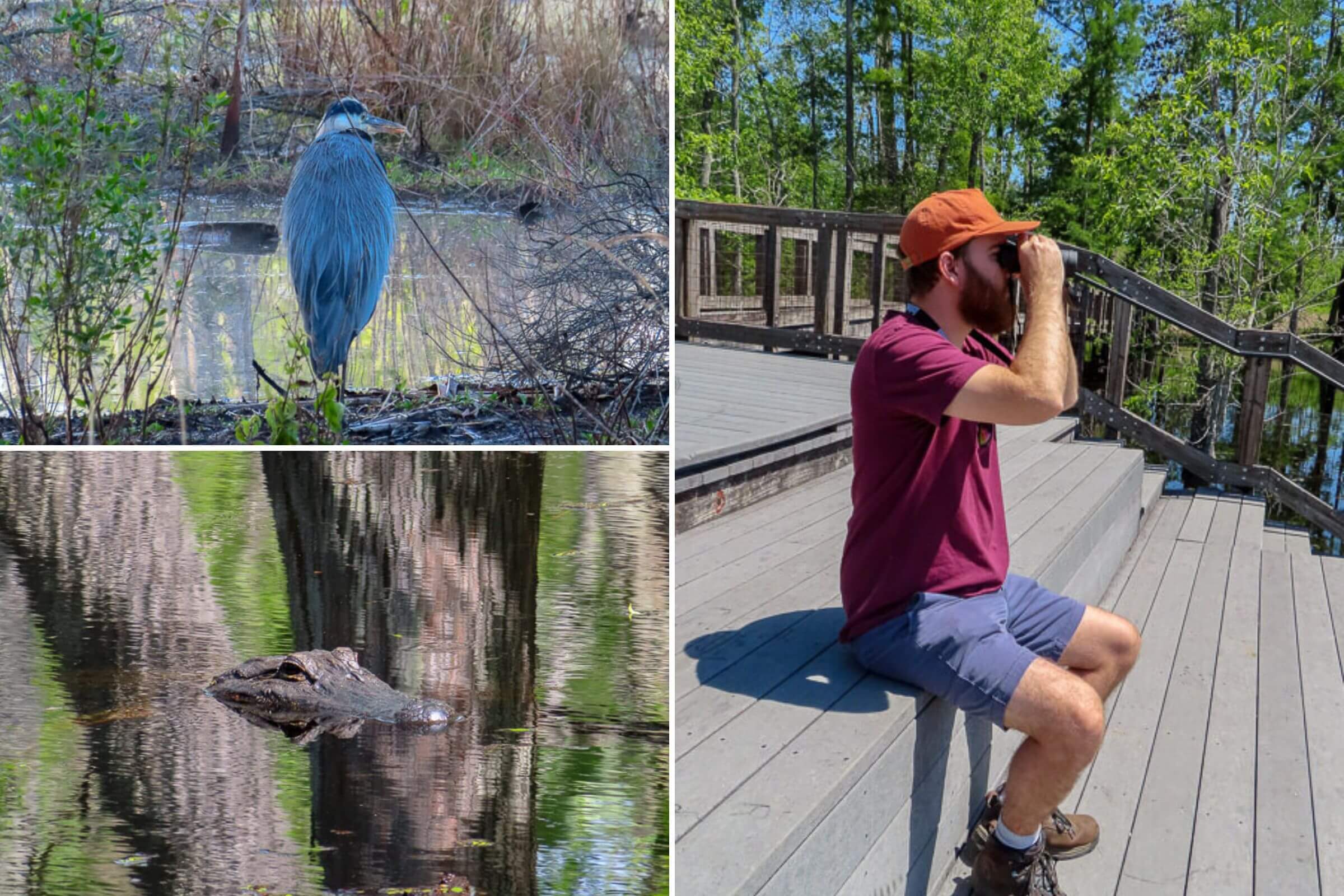 Sam Houston Jones State Park
According to the park's website, this state park was originally named after Sam Houston, the Texan who traveled in western Louisiana. However, its current name is in honor of Louisiana's 46th governor who helped make this 1,087-acre land available to the public.
The caretakers of this park do an excellent job of preserving this land allowing the wildlife to stay put and thrive here. You may see alligators, white-tailed deer, squirrels, bobcats, rabbits, otters, nutria rats, raccoons, foxes, ducks, geese, snakes, fish, lizards, turtles, and so many different types of birds.
This park is the perfect place for some bird watching. It is in the Central Migratory Flyway and just a bit north of a huge birding region. In the spring and fall, up to 200 bird species will be in and around the state park.
Sam Houston Jones State Park was home to tree-filled lagoons and pine & hardwood forests within the park. You'll find many bald cypress trees growing in the water here. This park had more than 70 acres of longleaf pines which are the oldest living southern pine species. They were working on a project called Longleaf Legacy Project in order to preserve these trees.
Unfortunately, Sam Houston Jones State Park was hit pretty hard by Hurricane Laura in August 2020. The state park director estimated that about 98% of the trees were gone. After two years of clean-up, volunteers joined the state park employees to plant almost 20,000 trees. Over 5,000 longleaf pines were donated to the park to be planted. They hope to re-establish the longleaf and other species.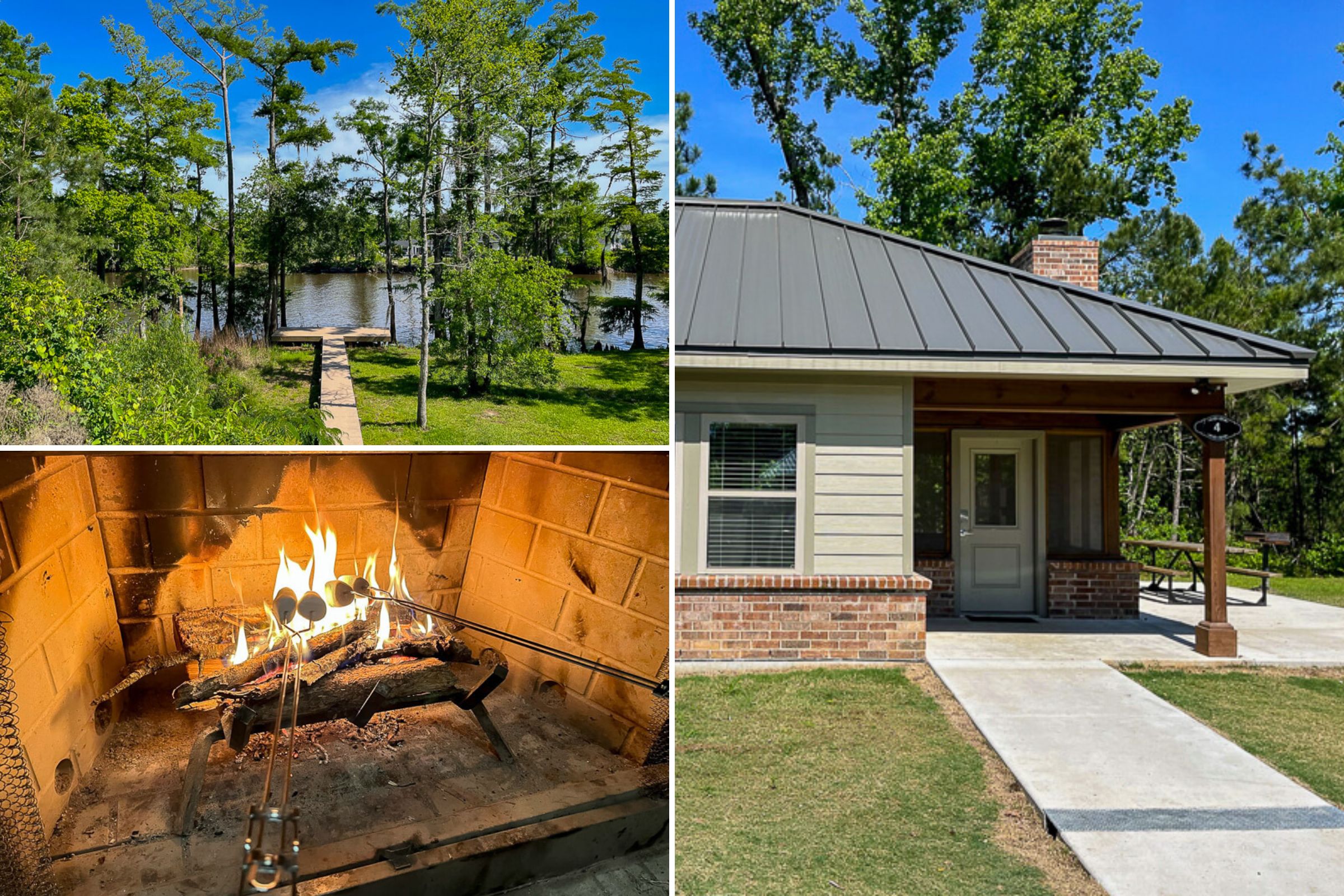 The Cabins
We spent one night at the new cabins in Sam Houston Jones State Park. They are called cabins, but they are more like a small house. Each one has an amazing screen-in porch with a fireplace, TV, and rocking chairs. Inside you will find a dining table, full kitchen, living room, bathroom, and two bedrooms. Our cabin had one queen bed and two bunk beds.
Beside each cabin there is a long wooded pathway that leads you to a dock that overlooks the Calcasieu River. This is a wonderful place to just sit, watch the sunset, or even do some fishing.
This cabin was perfect for us since we were traveling and did want to bring along all of our camping gear. We were able to maximize our time in nature, and it was great!
We didn't feel like cooking a big dinner ourselves so we went to Red Tails Boil House which is only a few minutes away from the park. We got a combination boil full of crawfish, crab, shrimp, potatoes, and mushrooms. It was the perfect camping dinner!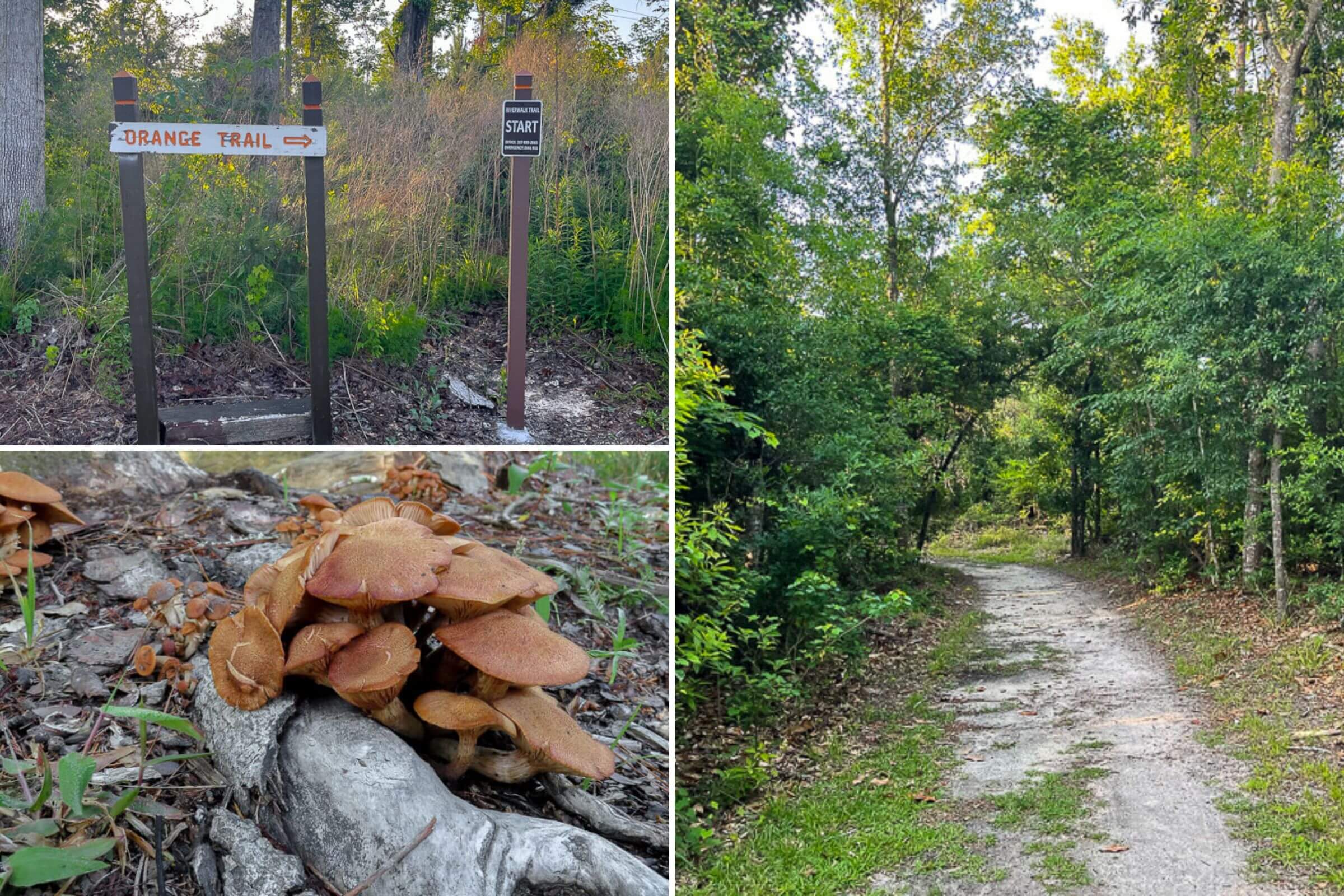 Sam Houston Jones State Park's Hiking Trails
The park has a few trails you can walk on, but we chose to take the Orange Trail.
The Orange Trail is a 1.9 mile loop nature trail and is also known as the Riverwalk Trail. It takes about 34 minutes from start to finish. We hiked this trail on a Monday morning, and we were the only ones on the trail. It was very peaceful and a lot of fun seeing all the mushrooms, flowers, berries, and wildlife.
I would consider this a pretty with a beginner skill level. I actually wish it would've been a little bit longer! You will wind through tree-filled lagoons and pine forests on the trail. The trail also follows along the river so there are pretty scenic views to look at while you hike.
After our morning hike, we spent the majority of the rest of our time on the boardwalk looking for wildlife. There was a ton going on in the animal world! We saw multiple species of birds, pretty big alligators, lots of snakes in the water, lizards, and dragonflies. I could have just sat there for hours watching the wildlife.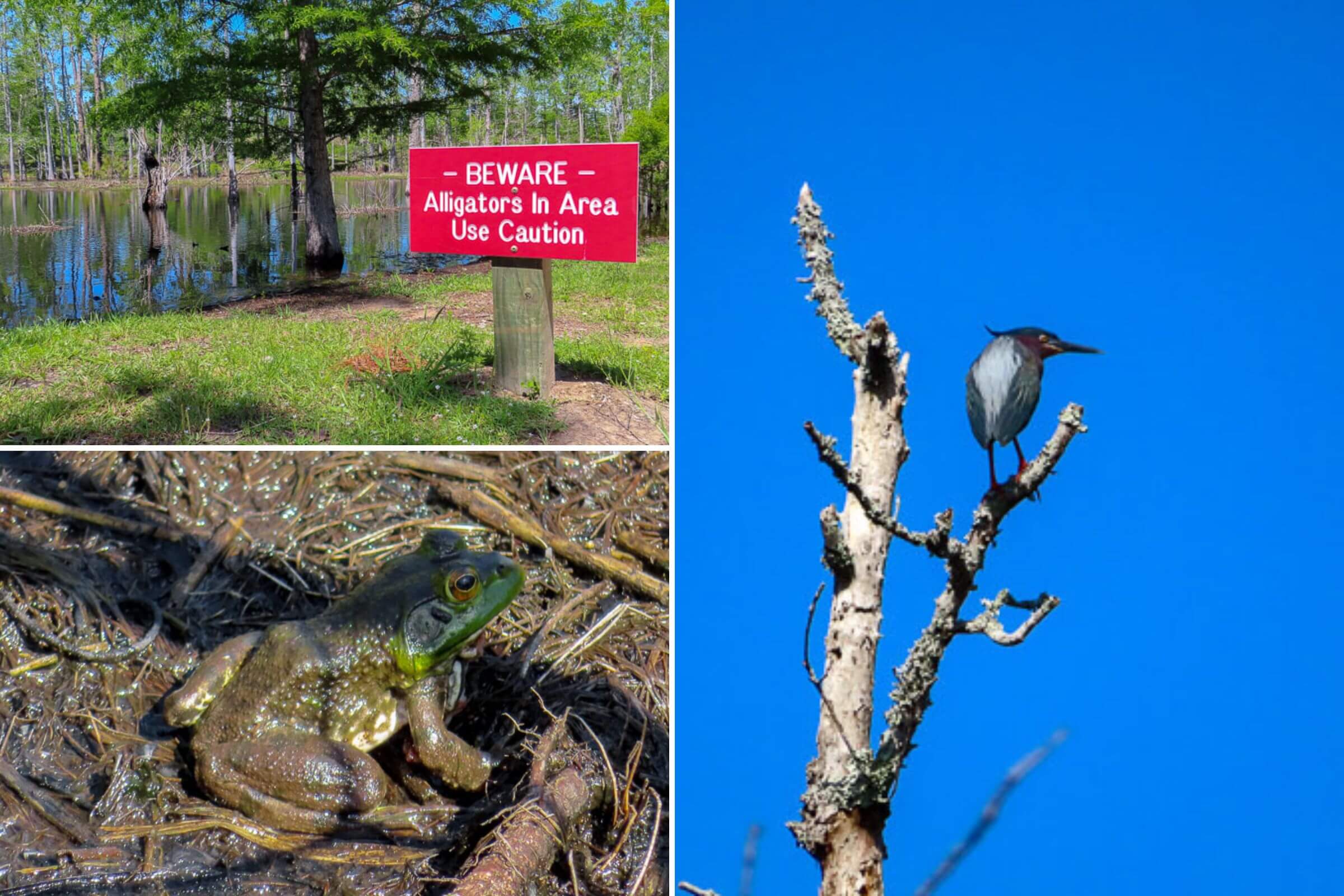 Final Thoughts about Sam Houston Jones State Park
While I wish that we were able to visit this state park prior to the hurricane damage, I don't regret stopping here at all. We had such a great time. The hiking was great, the sunset over the river was beautiful, the cabins were fun to stay at, and the boardwalk provided an opportunity to see many different kinds of species. Sam Houston Jones State Park is a great place to spend some time outside! The beauty of the trees and wildlife is something I won't forget. Overall, an excellent place to take is slow, get some fresh air, and enjoy the beautiful state of Louisiana.
→ Find more information about this state park on Sam Houston Jones State Park's website!
More Louisiana State Parks Fun!
I really do wish we had enough time to visit all the state parks in the state. Unfortunately, in order to see a variety of what the state has to offer, we only had time to spend at one.
While creating our itinerary, I discovered that Louisiana has multiple state parks and other nature areas. They all have something to offer. Of course, I cannot write up a review of them because we didn't visit in-person. But hopefully this will give you more ideas to look up when planning your upcoming Louisiana trip!
✽ Kisatchie National Forest (2500 Shreveport Highway, Pineville, LA 71360) - Kisatchie is the only national forest in Louisiana full of longleaf pine forests. Here you will find some of the best hiking trails. The Wild Azalea Trail has been designated a National Recreation Trail because of its pretty views! The Caroline Dormon Trail and Backbone Trail are also popular.
✽ Chicot State Park (3469 Chicot Park Road, Ville Platte, LA 70586) - A wildlife reserve with a 2000 acre lake where you can fish. Lake Chicot Loop Trail is popular here. Also check out Louisiana State Arboretum which is inside the state park.
✽ Fontainebleau State Park (62883 LA-1089, Mandeville, LA 70448) - This park that is located on the shore of Lake Pontchartrain was one a sugarcane plantation. Cane Bayou Trail is popular here.
✽ Grand Isle State Park (108 Admiral Craik Drive, Grand Isle, LA 70358) - This state park is on the edge of Louisiana right on the Gulf. Great for fishermen, swimmers, and birders.
✽ Barataria Preserve (6588 Barataria Boulevard, Marrero, LA 70072) - The Barataria Preserve is one of six sites comprising Jean Lafitte National Historical Park and Preserve. Experience the Louisiana wetlands by going to Barataria Preserve's hardwood forest, swamp, and bayous.
✽ Tunica Hills Wildlife Management Area (LA-66, St Francisville, LA 70775) - Great place to go horseback riding and hiking.
✽ Tickfaw State Park (27225 Patterson Road, Springfield, LA 70462) - One of Louisiana's most popular state parks because it is right in-between Baton Rouge and New Orleans.
✽ Bogue Chitto State Park (17049 State Park Boulevard, Franklinton, LA 70438) - One of Louisiana's newest state parks that offers kayaking, canoeing, fishing, and hiking.
50 States by 50
Louisiana was our second state for our 50 states by 50 challenge. My husband, Brian, and I are planning to visit all the states in the United States by the time we turn 50 years old. To choose which state we travel to next, we will draw it randomly!
For each state, we will plan at least a 4 day trip that consists of visiting the state capitol and state museum, exploring a state park, and eating whatever food that state is most known for. I will be documenting all of our travels here on my blog and making vlogs as well which will be posted on YouTube. Read more about our 50 States by 50 Bucket List.
__________________________________
Thank you for reading about our amazing time and hike at Sam Houston Jones State Park. I hope you enjoyed the pictures, and it was helpful in planning your visit to Louisiana! If you have any questions or just want to share your Sam Houston Jones adventures, please leave a comment down below.

Category: Life & Travel, 50 States Bucket List
Keywords: hiking in sam houston jones state park, hiking in louisiana, best hikes in louisiana, louisiana trails, camping at sam houston jones state park, camping in louisiana
More Louisiana Travel Blogs:
We also did a bunch of other things during our week in Louisiana. Each blog goes into more detail about each thing that we did, saw, or ate! I have a blog over:
✽ French Quarter Festival (local artists, tons of delicious cajun food, good music, & exploring the french quarter)
✽ Food in Louisiana (gumbo, jambalaya, etouffee, crawfish, alligator cheesecake, boudin, cracklins, beignets, & so much more)
✽ 7-Day Louisiana Itinerary (state capitol, airboat swamp tour, amazing cajun food, museums, & festival)
✽ Baton Rouge Itinerary (state capitol, state museum, po-boys, USS Kid museum, & Mississippi River)
✽ New Orleans Itinerary (National WWII Museum, city park, beignets, oysters, & Bourbon Street)
✽ Our 7-Day Louisiana Trip Budget (how much our 7-day, 6-night road trip to Louisiana cost for two of us)
Bon voyage & bon appétit!
May 12, 2023 by Laura Bullock
*This Sam Houston Jones State Park blog post may contain some Amazon affiliate links. These link to products that I personally use and recommend. If you purchase anything using my links, it will not cost you anything. It will though give laurathegastronaut.com some financial support which helps me keep this blog running. Thank you for reading my blogs and your continued support.