Laura the Gastronaut > Life & Travel > 50 States Bucket List >

New Orleans Itinerary
Our Weekend in New Orleans
May 11, 2023 | Laura
Need helping planning your New Orleans trip? Read all about our time spent in New Orleans Louisiana. We did a plantation tour, went to the French Quarter Festival, saw the famous Bourbon Street, ate delicious cajun food, experienced The National WWII Museum, and relaxed at New Orleans City Park.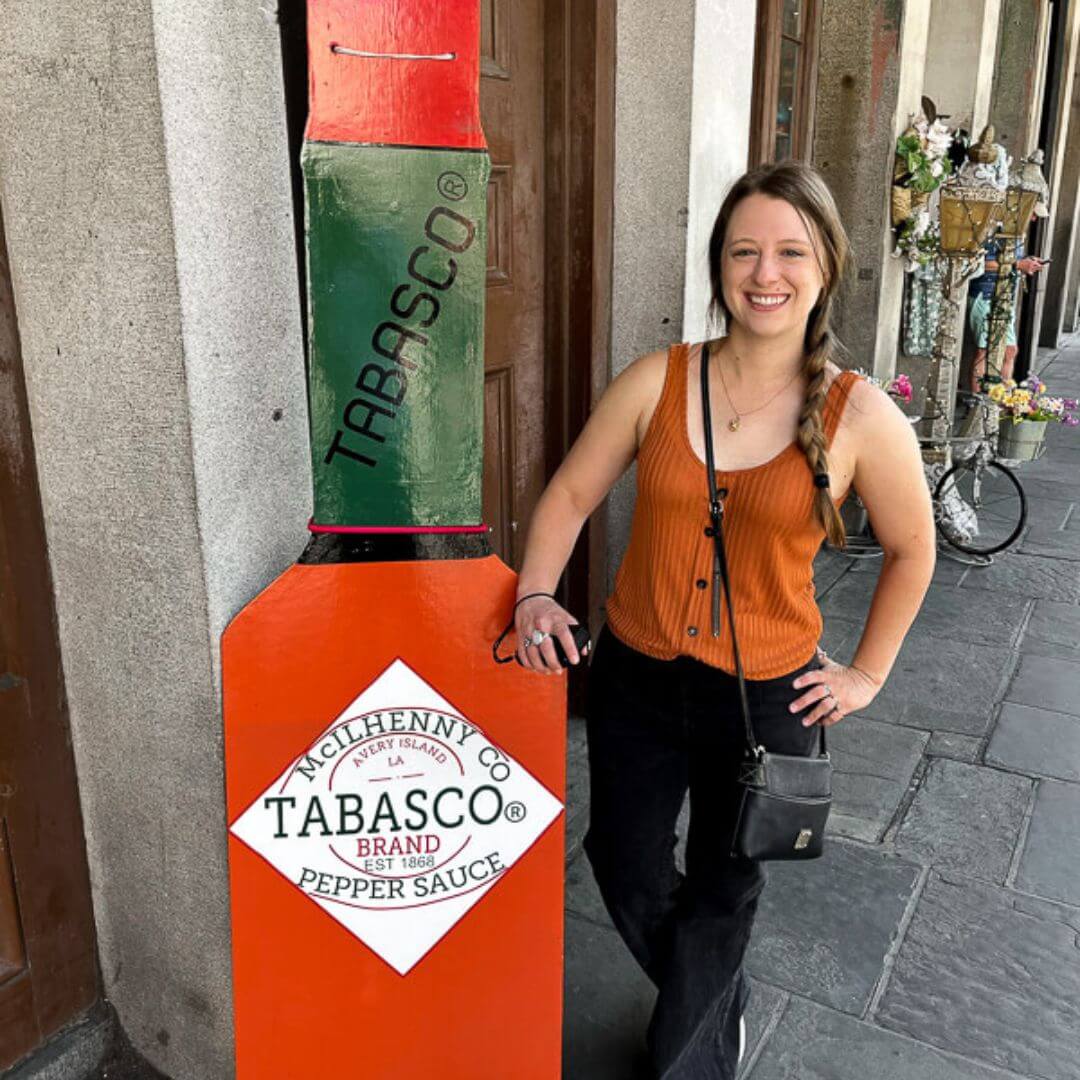 Weekend Getaway to New Orleans
I just cannot believe that it has taken me 31 years to visit New Orleans especially since we are practically next door neighbors over here in Texas! I definitely will not be waiting 31 more years to go back because New Orleans is an absolute blast.
New Orleans is full of culture and all around good vibes. It's a city filled with fun, good fun, lively music, and vibrant art. The Big Easy is also the best place for a weekend getaway or to take a long weekend.
This New Orleans itinerary is not a comprehensive list of things to do in New Orleans. Rather, it is the exact itinerary that we followed during our trip with my honest reviews of each stop. My hope is that it helps you to plan your own New Orleans vacation full of things that you will actually enjoy!
If you are looking for more Louisiana content check out my other travel blogs!: 7-Day Louisiana Itinerary, French Quarter Festival, Food in Louisiana, Sam Houston Jones State Park, Baton Rouge Itinerary, and Our 7-Day Louisiana Trip Budget.
Laura Plantation
2247 LA-18
Vacherie, LA 70090
So my first recommendation is not actually in New Orleans, but a lot of people travel to a plantation house while visiting New Orleans. Plantation tours are filled with Louisiana history that is important for anybody to learn about, and it is definitely worth the short drive from the city.
The Laura Plantation is located in Vacherie, Louisiana which is about an hour away from New Orleans. Unfortunately, the Laura Plantation does not offer a shuttle to and from the city so you must drive yourself there. There is free public parking on the site.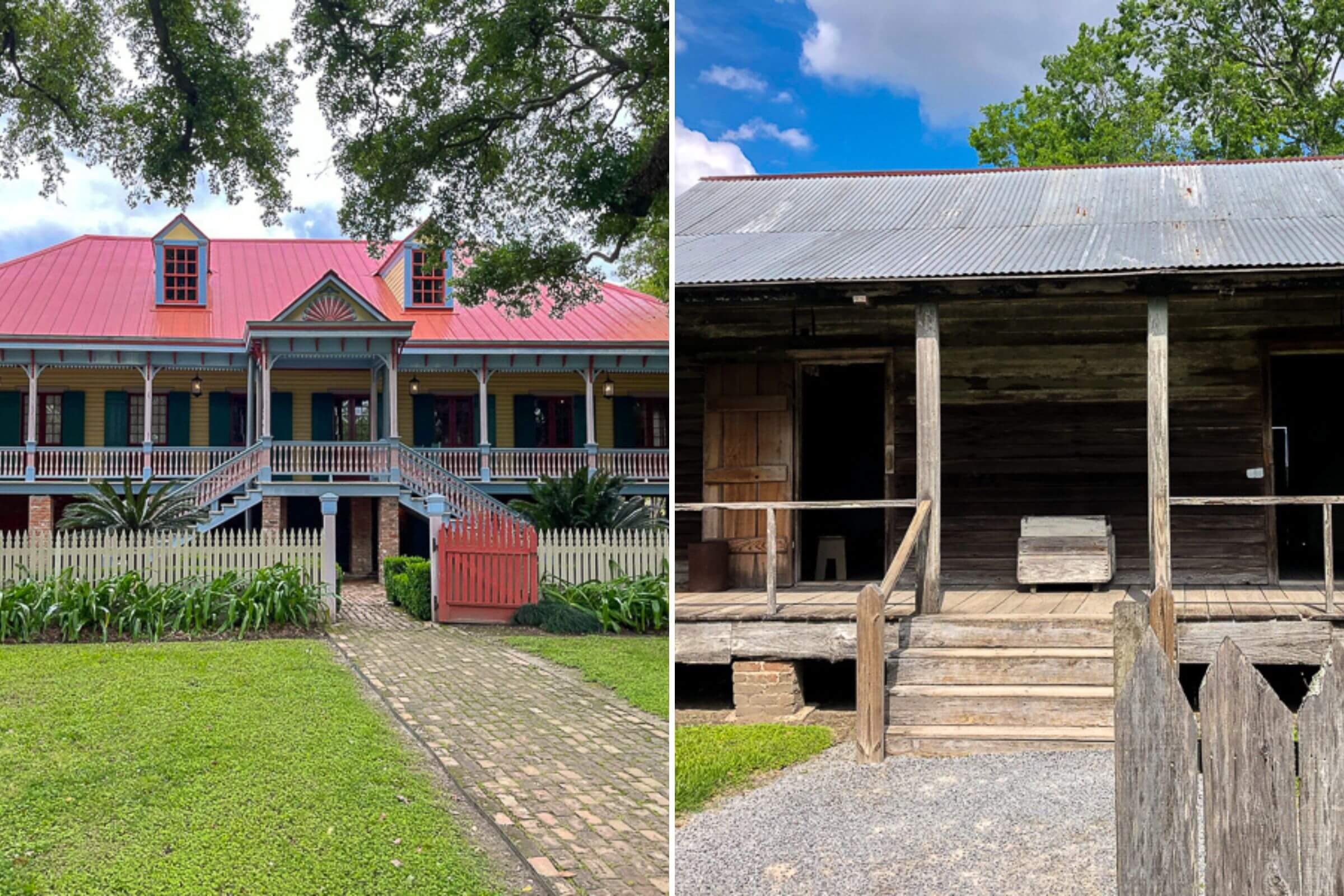 They offer 75 minute walking throughs that take you through the main house, gardens, and slave quarters.
The Laura Plantation is one of Louisiana's Creole Plantation houses. The house is so colorful painted with yellows, blues, and pinks. This is where the Duparc lived and ran their sugarcane plantation in the 1800s.
During the tour, you will hear in-depth stories about both the Duprac family and the slaves. This tour is a very eye-opening experience that takes you through plantation life while ensuring that all accounts are told. It is filled with both beauty and tragedy, and I highly recommend a plantation tour while visiting Louisiana.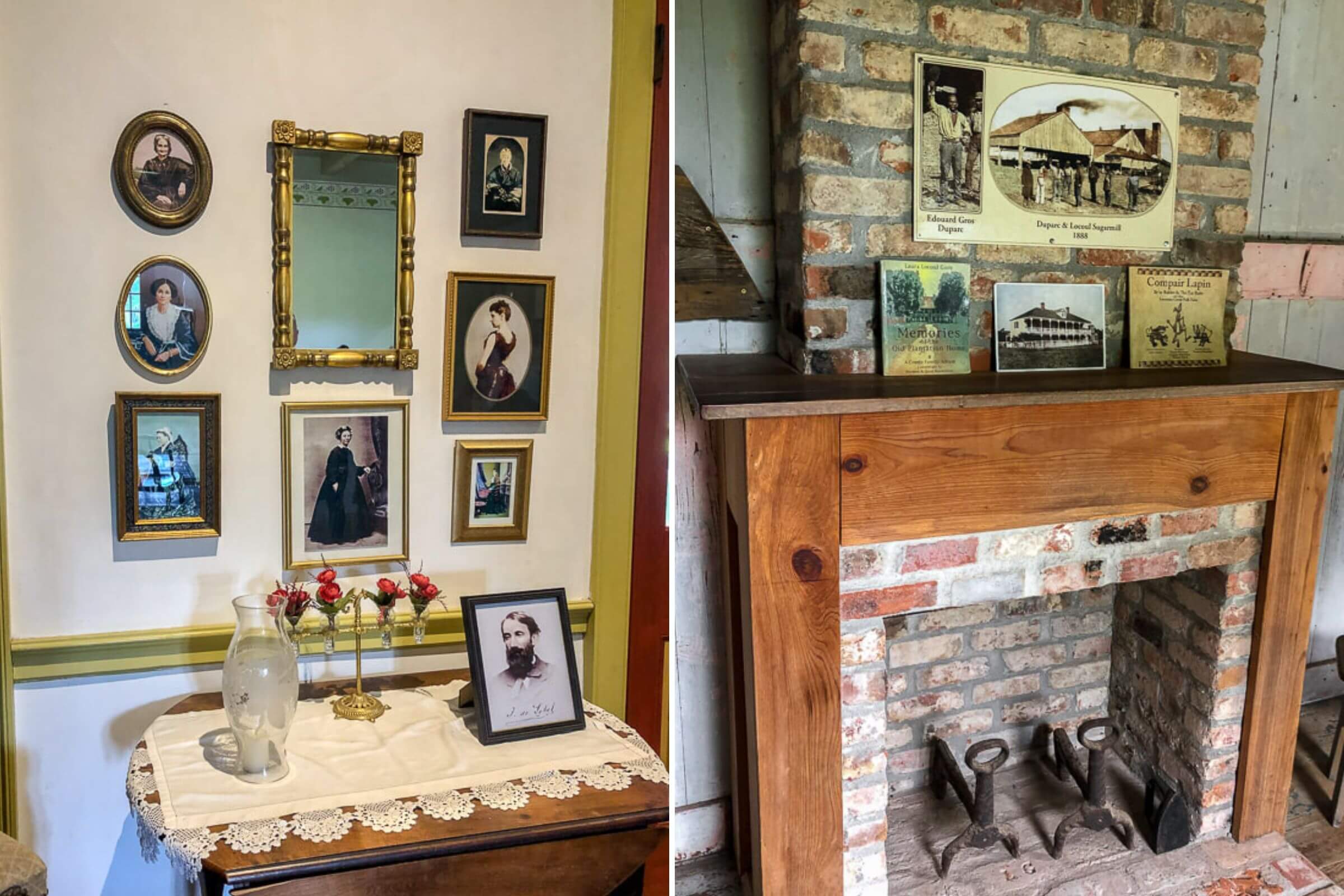 Creole House Restaurant & Oyster Bar
509 Canal Street
New Orleans, LA 70130
Our next stop was the Creole House. Brian went to this restaurant about six years ago, and up until this trip he still talked about the chargrilled oysters he ate there. So, of course, we had to go back so I could taste them for myself.
The chargrilled oysters are buttery, cheesy, and everything you look for when eating an oyster. For me, at least. I'm not a huge raw oyster fan. I'll eat them every once and awhile, but I would take this chargrilled oysters every single day of my life. So good! It now all makes sense why he went on and on about them for years.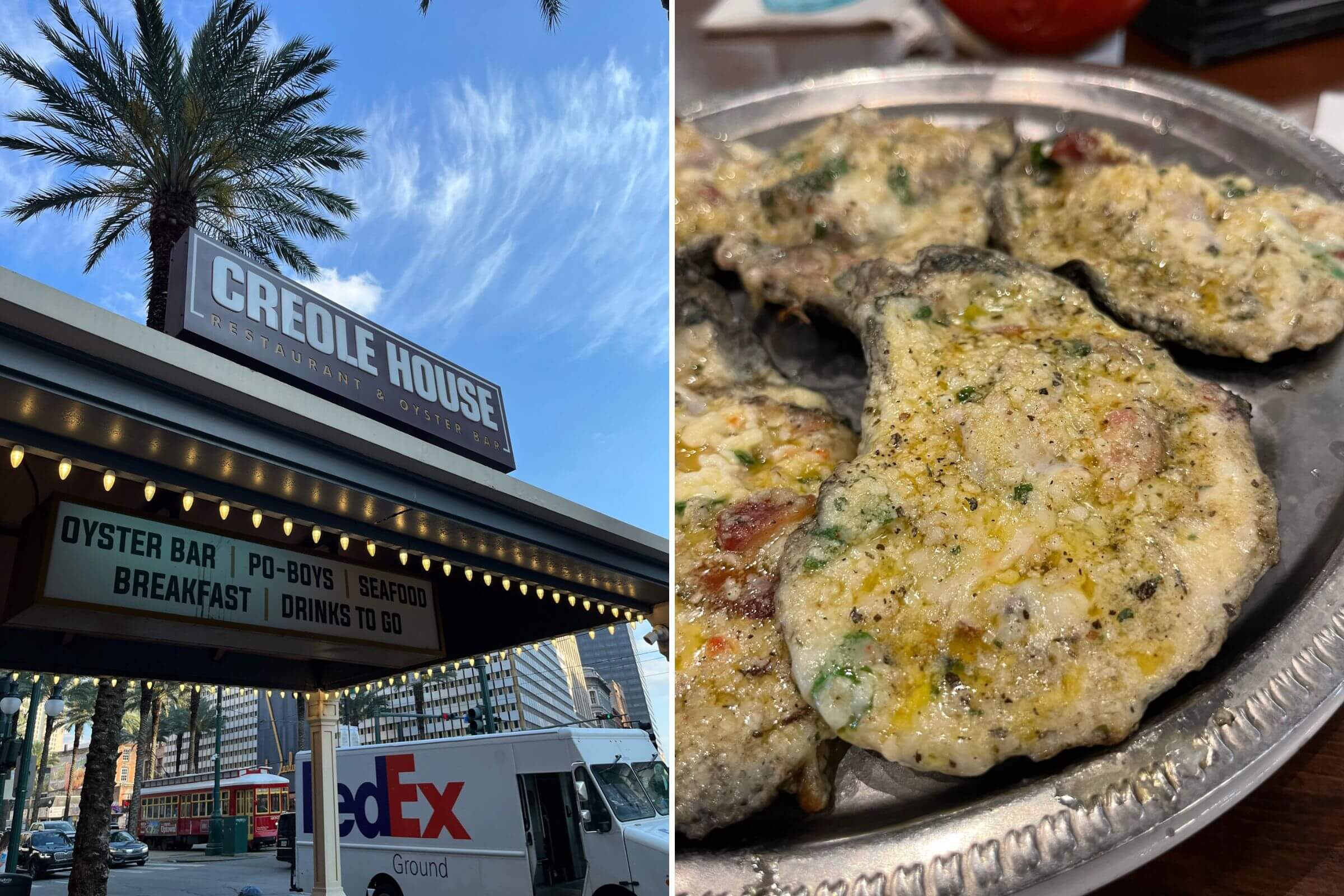 Also, I have to mention that I found a pearl in one of my oysters. Some may not be excited to find a pearl in their mouth after eating a chargrilled oyster, but I was super excited!
For our entrees, we ordered the muffaletta sandwich and the seafood platter. Did you know that the muffaletta sandwich was actually created in New Orleans? So it is an absolute must when visiting.. along with all the other delicious food Louisiana is known for!
At the time of our trip, we weren't able to book reservations. However, we showed up about 6:00PM and had no problems getting a table.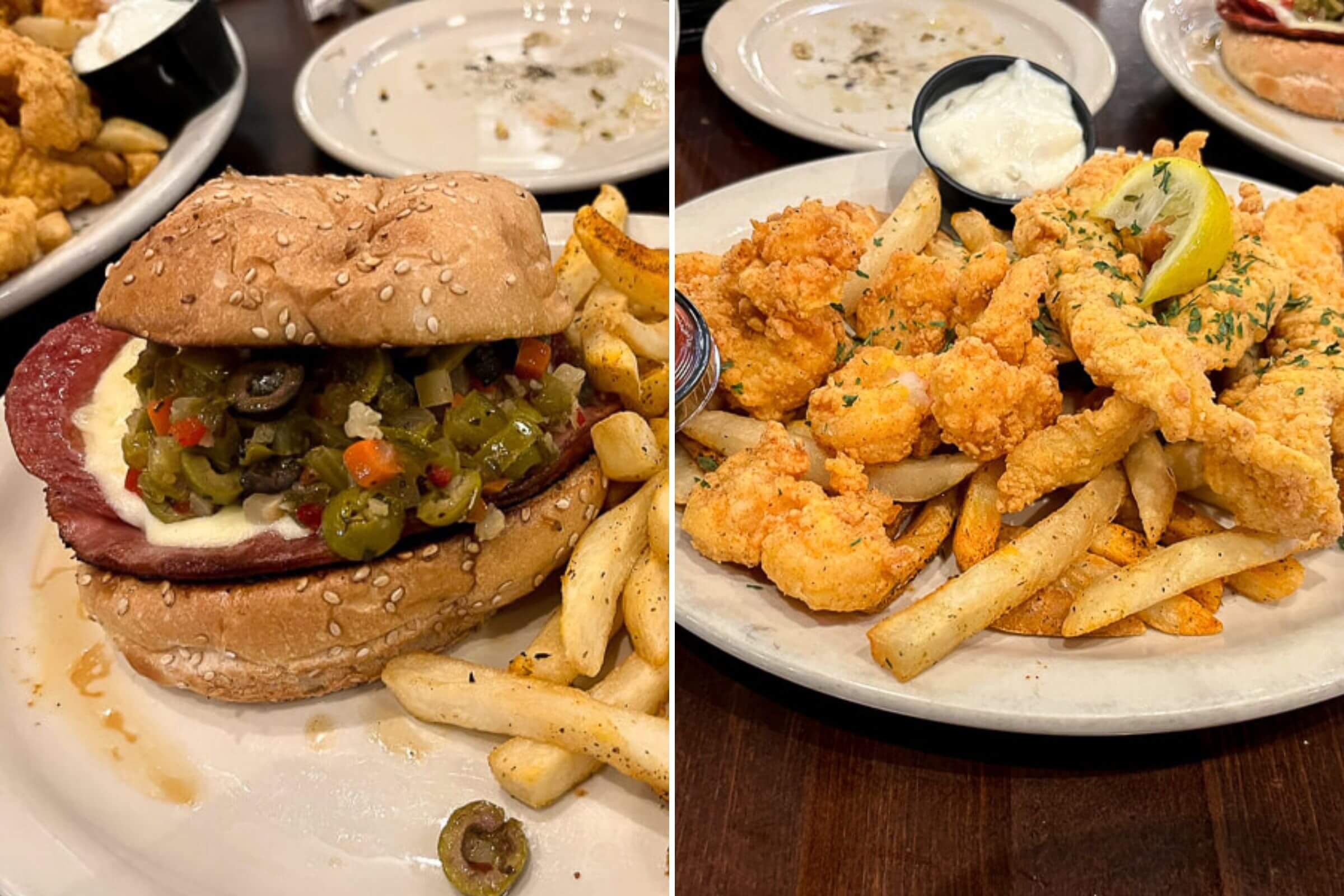 → Find out more information and see the menu on Creole House's website!
Best Western Plus St. Christopher Hotel
114 Magazine Street
New Orleans, LA 70130
We stayed at the Best Western while in New Orleans. This hotel was in the perfect location so we were able to walk to everything the entire time during our stay. We found that walking is the best way to get around the French Quarter especially when a big festival is going on. Getting a hotel located walking distance from your destinations is a great way to avoid the crazy traffic!
You do have to pay extra for parking inside the hotel's parking garage. There is no valet. The parking garage is a couple blocks away from hotel.
The free breakfast every morning is great offering both hot and cold options.
French Quarter Festival
The French Quarter Festival is a New Orleans annual festival that happens every April. Multiple stages are set up around the French District featuring local musicians and various types of genres.
In addition to the good live music, there is so much great food. SO MUCH. This festival is pretty much a New Orleans food tour. There are so many local restaurants at this festival serving up their best grub. Just to mention a few- we ate rabbit jambalaya, andouille gumbo, shrimp yakamein, alligator cheesecake, and so much more. Every single thing that we had was fantastic, seriously.
If you are planning a trip to New Orleans in April, be sure to check out the French Quarter Festival for lots of fun!
Read more about our day at the French Quarter Festival.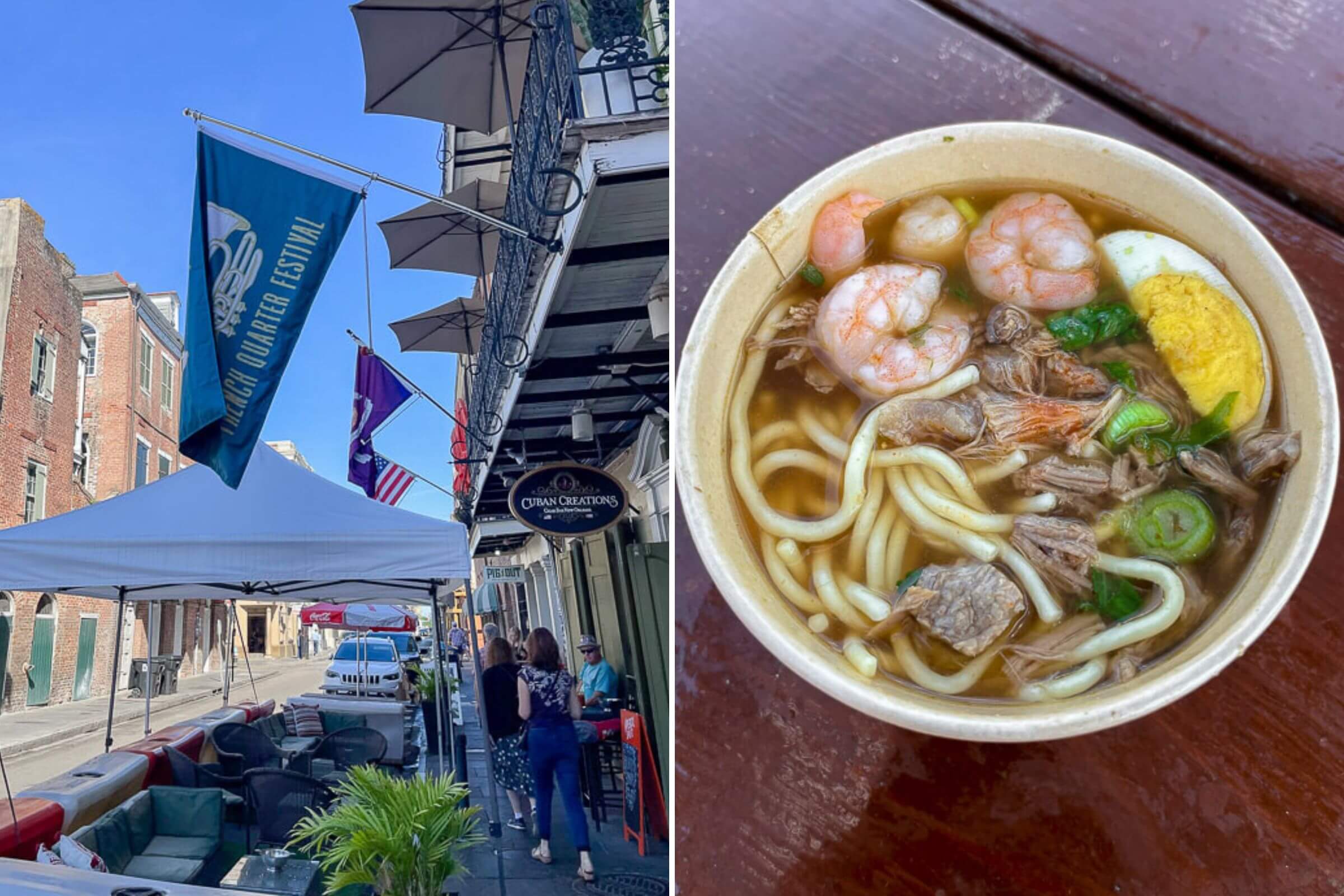 French Quarter Sights-to-See
There is so much to see and do around the historic French Quarter! Here are some of my favorite stops we took.
First and foremost, go walk down the iconic Bourbon Street. Disclaimer- we only visited Bourbon Street during the day so I cannot comment on the nightlife. Though I hear it gets pretty fun and wild! Be sure to visit Lafitte's Blacksmith Shop Bar. It was built between 1722 and 1732 by Nicolas Touze. It is believed to be the oldest structure used as a bar in the United States!
During the day, there are numerous shops, restaurants, and bars that are perfect for having a chill afternoon. I especially loved going into Marie Laveau's House of Voodoo which is full of voodoo dolls, candles, potions, and so much more!
We also enjoyed an afternoon drink at Napoleon House. I ordered the Pimm's cup which is their signature drink and very tasty.
And of course, you have to go admire the beauty of St. Louis Cathedral inside and out- located by Jackson Square (the heart of the French Quarter). The St. Louis Cathedral is the oldest cathedral in use in North America.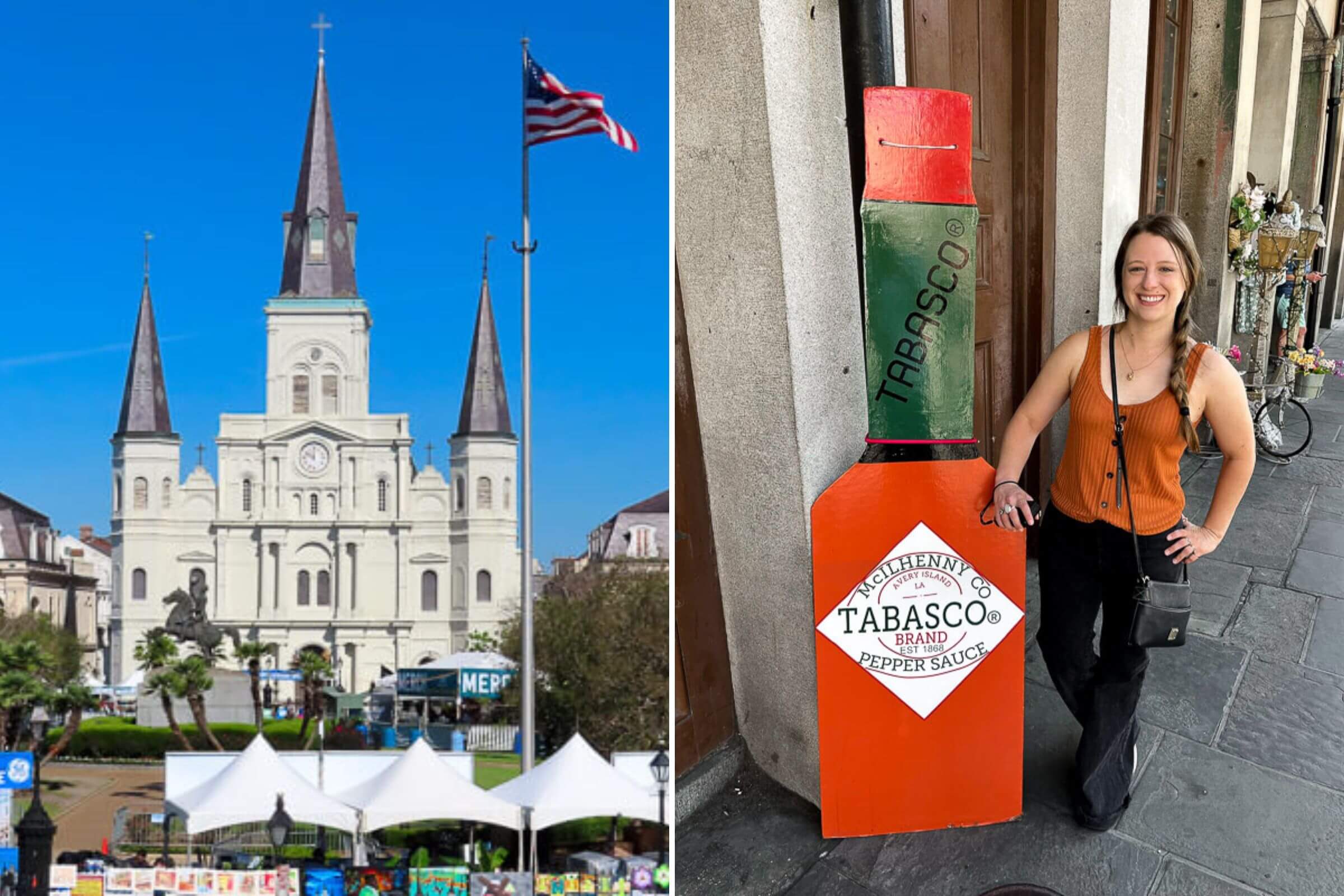 The National WWII Museum
945 Magazine Street
New Orleans, LA 70130
The National World War II Museum is an incredible experience, and I very highly recommend every single person go at least once in their life. This is the best museum I have every been to and is packed full of war history and artifacts.
In fact, this museum is so big that some people choose to spend 2 days walking through it all. We spent about five hours there. Towards the end, we were in information overload so we didn't read everything as thoroughly as we did at the beginning. However, we definitely need to come back another day to fully appreciate the whole story this museum is telling.
Allow yourself enough time so you can see everything. I would say plan AT LEAST 4-5 hours when visiting.
For parking, the museum has their own parking garage located at 1024 Magazine Street (right across the street from the museum). It cost us $20 to park there.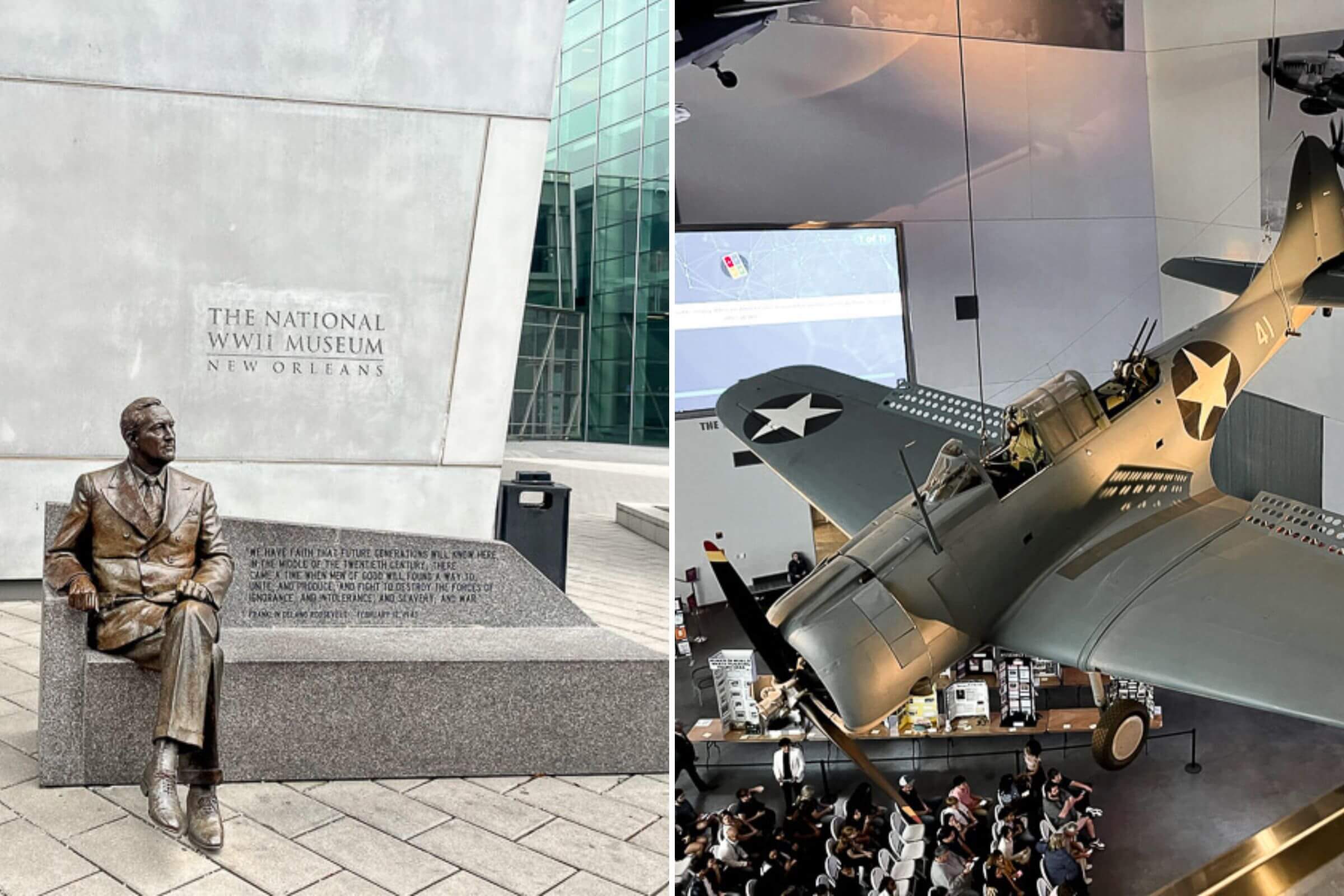 The museum is set up in chronological order starting with the draft to the years after the war. Be sure to grab your own dog tag at the beginning of the museum so you can follow along with an actual veteran's life during the war years.
Find hundreds of actual war artifacts, newspaper headlines, multiple short videos interviewing veterans, and get a glimpse into what life was like during the war for the soldiers and the families of soldiers. The museum design is amazing which really sets to scene to understand what those times were like. While this museum is a lot of reading, it also has lots to look at making it a fun object for kids as well. There are also many planes hanging from the ceiling and cars within the museum.
I also highly recommend paying for a ticket to see the Beyond All Boundaries movie narrated by Tom Hanks. This is a must-see during a New Orleans trip.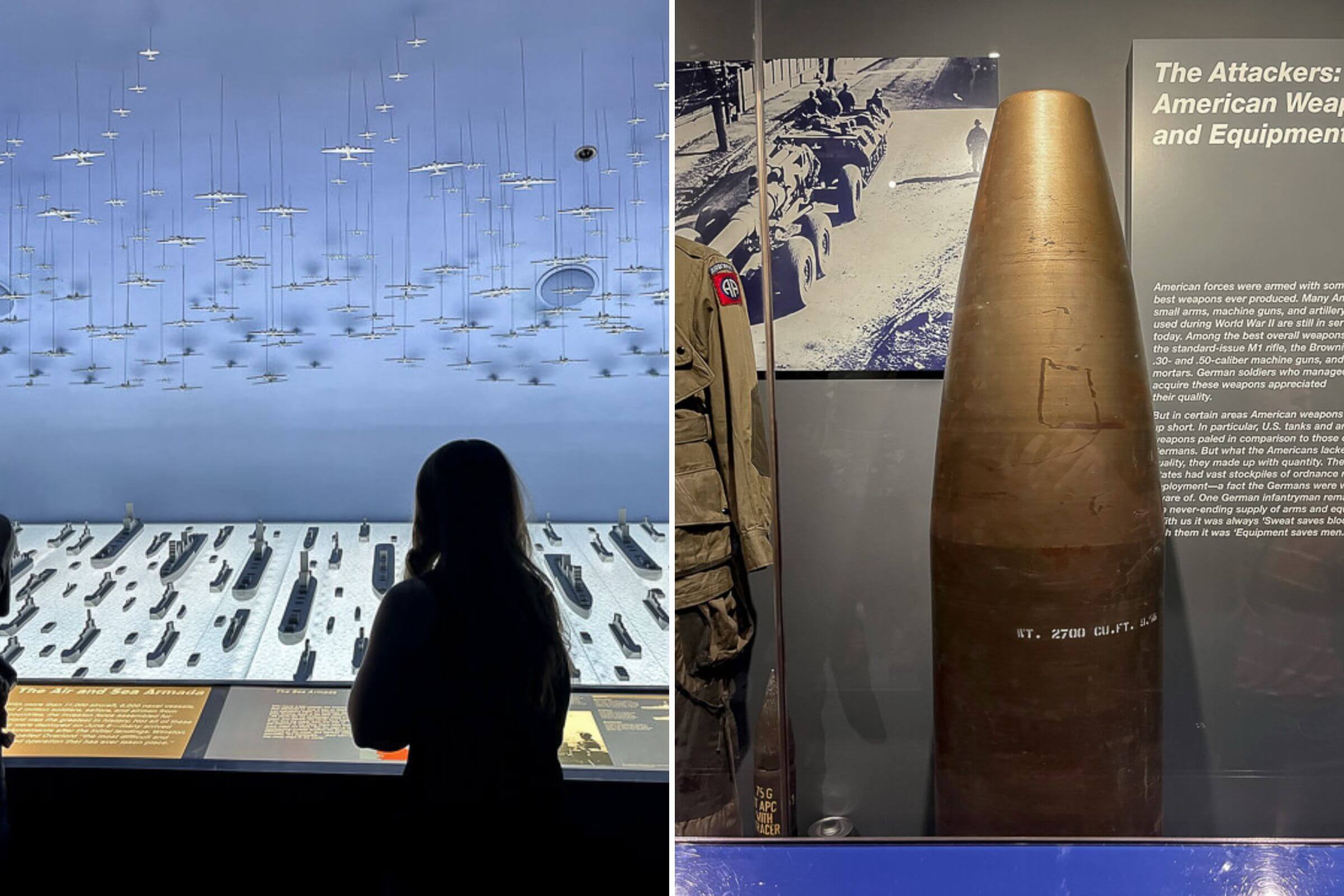 Katie's
3701 Iberville Street
New Orleans, LA 70119
After spending hours at the museum, we were definitely hungry and ready for some lunch. Since we were on our way to the city park, we stopped at Katie's which is nearby.
Katie's is a restaurant with Creole-Italian fare. We ordered up some chargrilled oysters, a roast beef & gravy po-boy, and a remmy po-boy with fried green tomatoes and shrimp remoulade. Everything was so delicious!
Fun fact- Guy Fieri from The Food Network stopped here. Now I know why he picked this place, it is so good. Katie's is a great spot to get some delicious New Orleans food!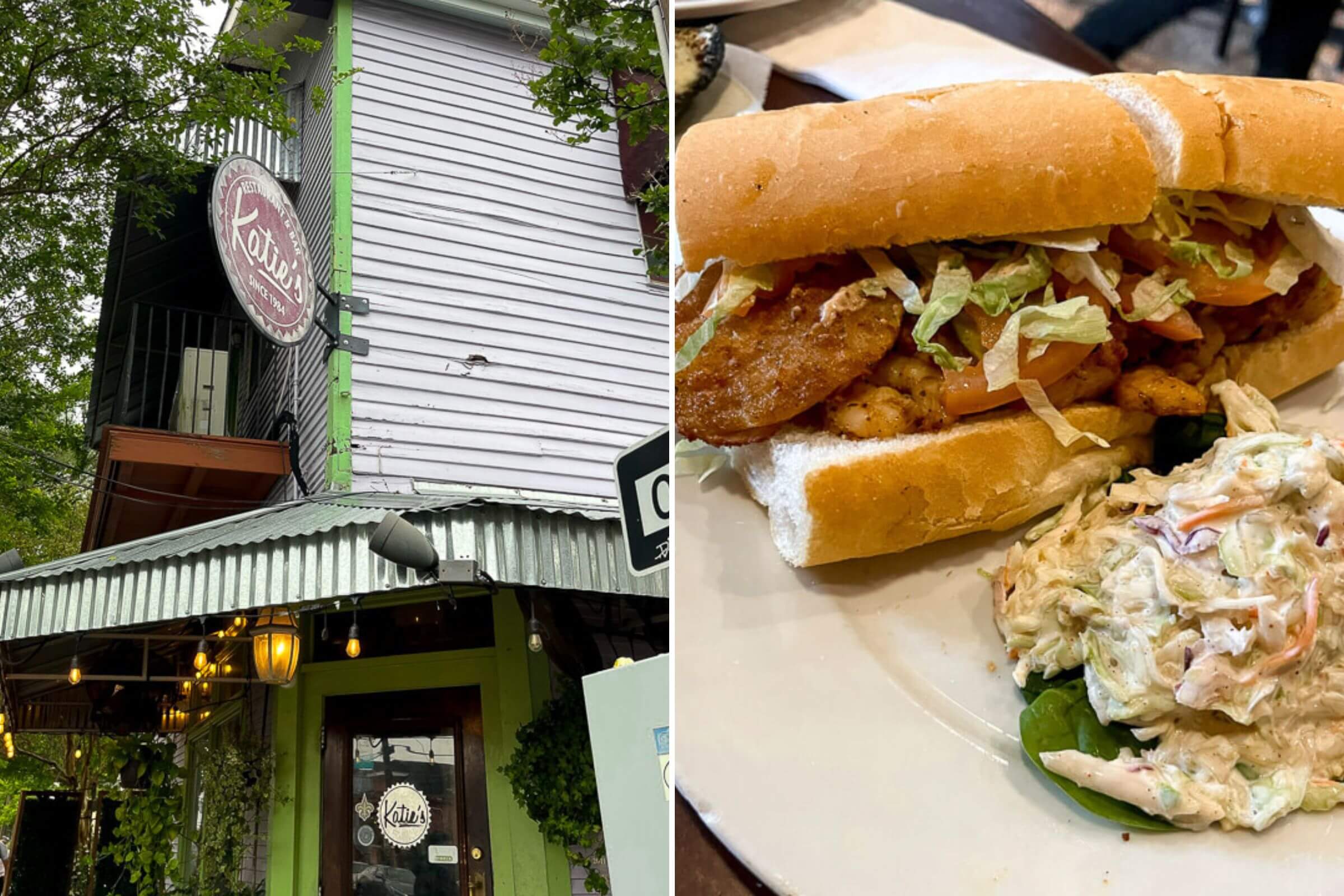 New Orleans City Park
1 Palm Drive
New Orleans, LA 70124
The New Orleans City Park is so pretty and well maintained. When we went in mid-April, everything was green and blooming! The huge trees covered in Spanish moss sure is a sight to see.
The city park is a wonderful place to spend a morning or afternoon. It is also the perfect place for a picnic. Be sure to check out the sculpture garden within the park. There are so many unique and fun statues to look at while you are taking a stroll through the park.
If you are looking for some quiet time in the great outdoors away from the hectic city life, check out New Orleans City Park for a couple hours. We had a great time here!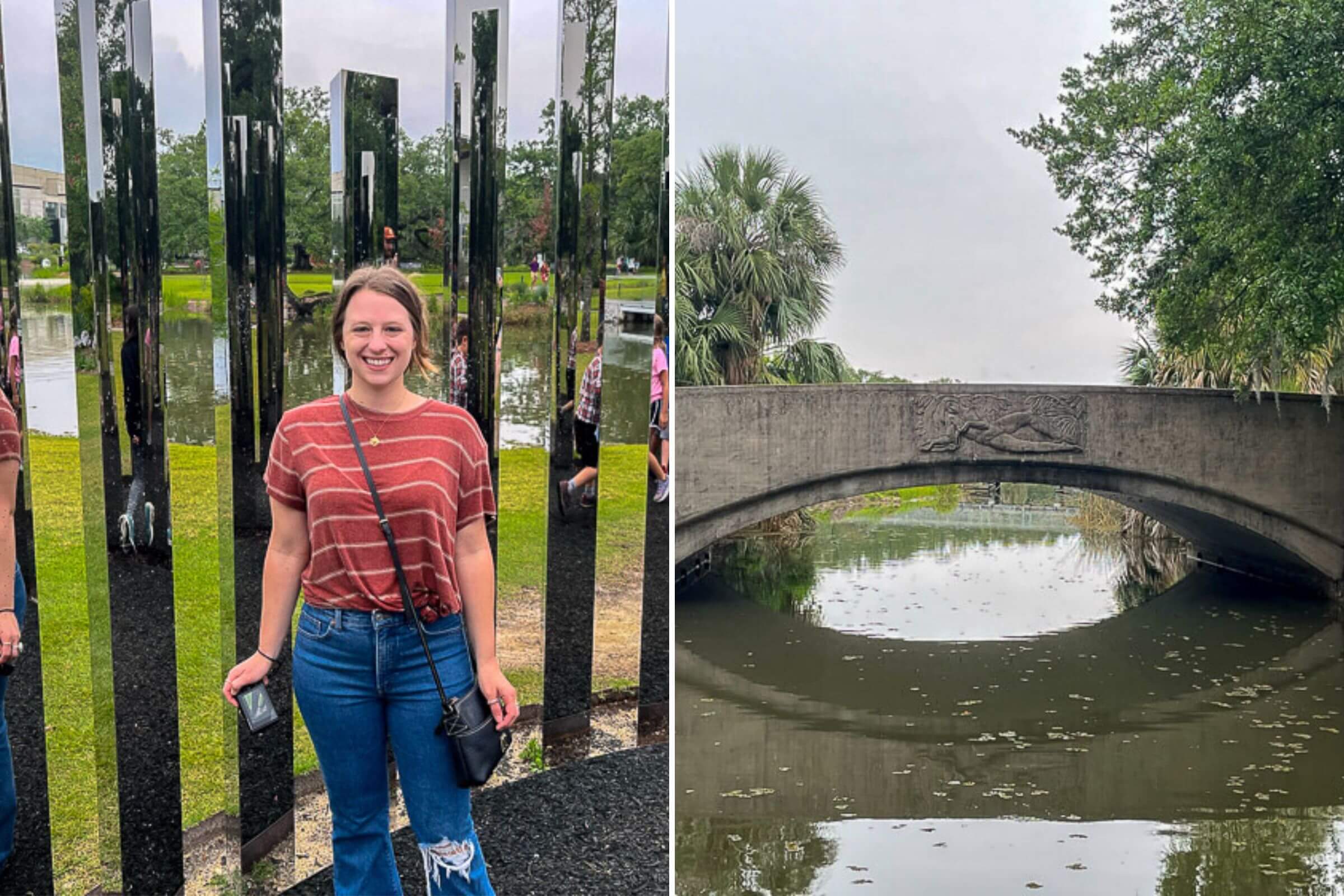 Café Du Monde
56 Dreyfous Drive
New Orleans, LA 70124
Within the New Orleans City Park, there is the famous Cafe du Monde. The Original Cafe du Monde coffee stand was established in 1862 so I'd definitely say they know what they are doing when it comes to coffee!
Cafe du Monde is known for the coffee and chicory and beignets piled a mile high with powdered sugar. I don't think I'll ever have a bad beignet, but Cafe du Monde's are especially good. Plus, there's just something fun about eating fried dough completely covered in powdered sugar. I love all the powdered sugar sprinkled all over their floors from previous happy customers.
Cafe du Monde is considered by many to be one of the best places to get beignets in the city. It is a must-stop while in the city park.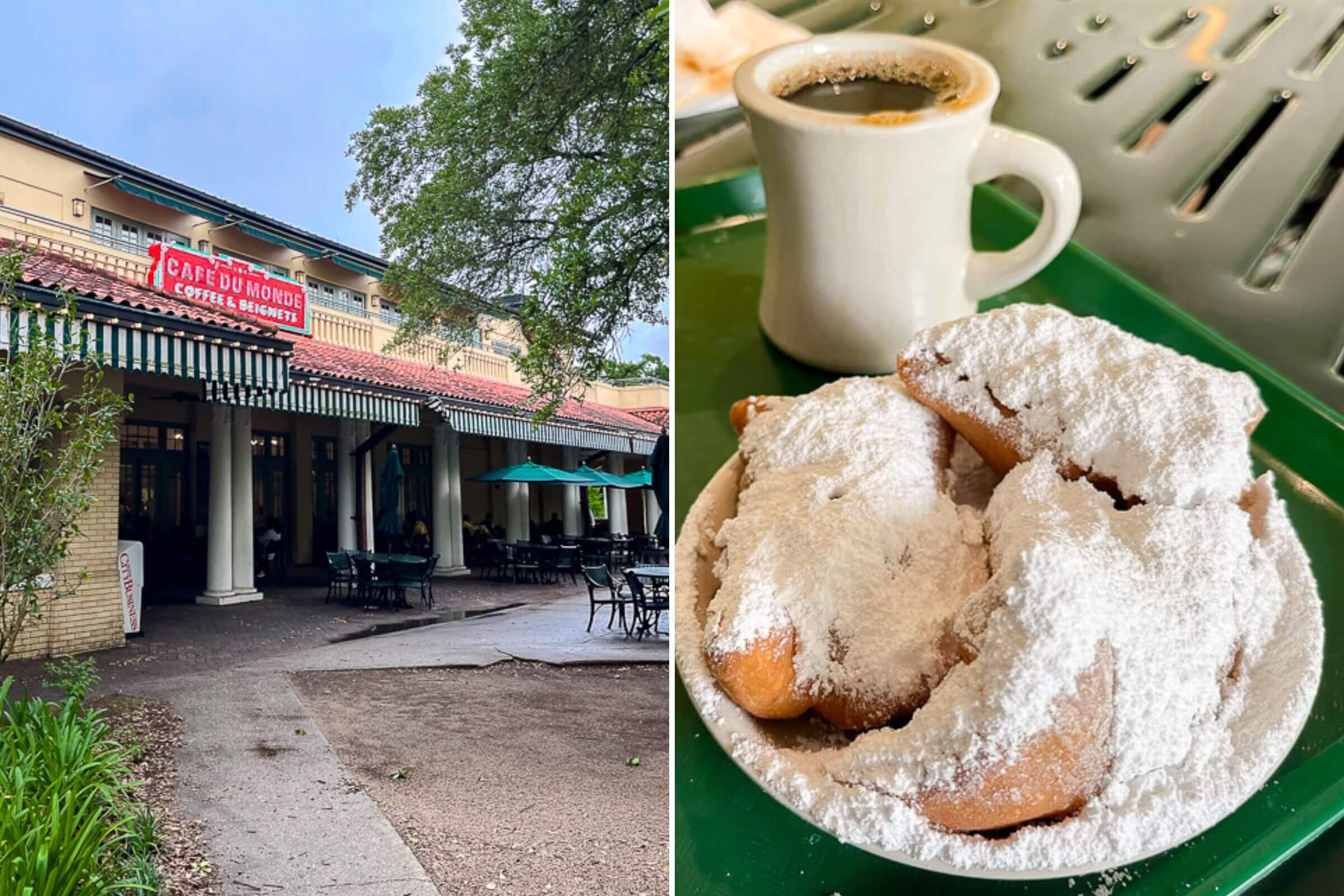 More New Orleans Fun!
Since we wanted to see many different cities on our trip to Louisiana, we didn't have time to go to all the fun New Orleans places, unfortunately. Here are some other places that I found while doing my own research of fun things to do in the New Orleans area. They all sound like a blast, and we will have to check out next time we visit.
Of course, we didn't actually go to these places so I cannot write a review over them. But hopefully this will give you more ideas to look up for your upcoming New Orleans trip!
✽ French Market (2-48 French Market Pl, New Orleans, LA 70116) - The French Market offers a lot including good food, drinks, and lots of shopping.
✽ Garden District - Head over to the garden district if you love looking at old historic homes and buildings.
✽ Oak Alley Plantation (3645 LA-18, Vacherie, LA 70090) - A plantation house that offers tours and is located right next to the Laura Plantation.
✽ Whitney Plantation (5099 LA-18, Edgard, LA 70049) - Another plantation house that offers tours and is also located near the Laura Plantation.
✽ Ghost Tour / Voodoo Tour - The thing I am bummed about missing the most is the ghost tours. There are a ton of different ghost tours offered around New Orleans every single night. Go check them out if you liked to be spooked!
✽ Faulkner House Books (624 Pirates Alley, New Orleans, LA 70116) - A good stop for a bookworm.
✽ New Orleans Museum of Art (1 Collins Diboll Circle, New Orleans, LA 70124) - This is the oldest fine arts museum in New Orleans. It is located within the New Orleans City Park.
✽ New Orleans Historic Voodoo Museum (724 Dumaine Street, New Orleans, LA 70116) - Learn about the mysteries, history, and folkore related to African diaspora religion of Louisiana Voodoo. Located between Bourbon Street and Royal Street.
50 States by 50
Louisiana was our second state for our 50 states by 50 challenge. My husband, Brian, and I are planning to visit all 50 states by the time we turn 50 years old. To choose which state we travel to next, we will draw it randomly!
For each state, we will plan at least a 4 day trip that consists of visiting the state capitol and state museum, exploring a state park, and eating whatever food that state is most known for. I will be documenting all of our travels here on my blog and making vlogs as well which will be posted on YouTube. Read more about our 50 States by 50 Bucket List.
__________________________________
Thank you for reading about everything we saw, did, and ate during our New Orleans trip. If you have any questions or just want to share your New Orleans experiences, please leave a comment down below.

Category: Life & Travel, 50 States Bucket List
Keywords: things to do in new orleans, new orleans weekend getaway, best restaurants in new orleans, things to do on bourbon street, new orleans museums, 2-day new orleans itinerary
More Louisiana Travel Blogs:
We also did a bunch of other things during our week in Louisiana. Each blog goes into more detail about each thing that we did, saw, or ate! I have a blog over:
✽ French Quarter Festival (local artists, tons of delicious cajun food, good music, & exploring the french quarter)
✽ Food in Louisiana (gumbo, jambalaya, etouffee, crawfish, alligator cheesecake, boudin, cracklins, beignets, & so much more)
✽ Sam Houston Jones State Park (hiking, alligators, snakes, river sunsets, & our cabin)
✽ 7-Day Louisiana Itinerary (festival, amazing cajun food, airboat swamp tour, hiking, holding alligators)
✽ Baton Rouge Itinerary (state capitol, state museum, USS Kidd museum, Mississippi River)
✽ Our 7-Day Louisiana Trip Budget (how much our 7-day, 6-night road trip to Louisiana cost for two of us)
Bon voyage & bon appétit!
May 11, 2023 by Laura Bullock
*This New Orleans Itinerary blog post may contain some Amazon affiliate links. These link to products that I personally use and recommend. If you purchase anything using my links, it will not cost you anything. It will though give laurathegastronaut.com some financial support which helps me keep this blog running. Thank you for reading my blogs and your continued support.