Laura the Gastronaut > Life & Travel > 50 States Bucket List >

Indianapolis Itinerary
Weekend in Indianapolis Itinerary
November 10, 2022 | Laura
We spent 1 1/2 days exploring Indianapolis and having a great time seeing the city! In this blog post, I'll talk about everything that we saw and did in Indianapolis. We went to the Indianapolis Motor Speedway, Indiana State Museum, ate dinner at the Bottleworks District, saw all the carved pumpkins at Newfields Harvest Nights, and enjoyed a morning by the Soldiers & Sailors Monument, at the Indianapolis City Market, and the capitol.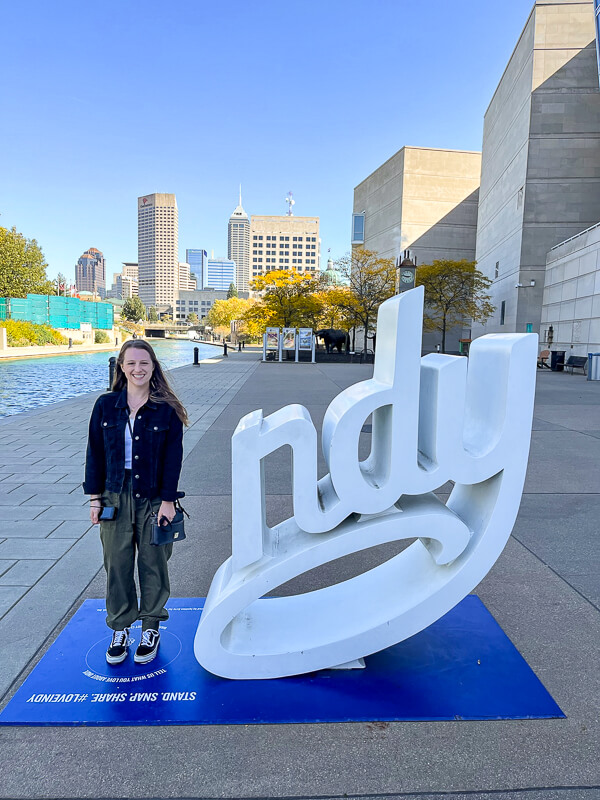 Our 1 1/2 Days Spent in Indianapolis, Indiana
When we first decided to start out on our 50 States by 50, I knew that I would want to spend a good amount of time in each capital city before heading off into nature and the smaller towns.
After doing a bit of research prior to our trip, I realized that Indianapolis has a ton to offer and was pretty bummed that we couldn't fit all the fun things into our 4 days in Indiana. I strategically planned our itinerary and tried to fit in everything that were absolute must-sees for us. All of these options ended up being fun date ideas!
With that said, this itinerary is in no way an extensive list of things to do in Indianapolis. It is, however, the exact itinerary that we used for our 1 1/2 days there of the best things we did and best places we went. I don't regret any of the options we settled on. Indianapolis was an absolute blast!
If you are looking for more Indiana content check out my other travel blogs!: 4-Day Indiana Itinerary, Covered Bridge Festival, Fall Days in Indiana Itinerary, Food in Indiana, Turkey Run State Park, and Our 4-Day Indiana Trip Budget.
Day 1
Indianapolis Motor Speedway Museum
4750 West 16th Street
Indianapolis, IN 46222
✽ 10:00 AM - The very first thing that I thought of when we drew the state, Indiana, was the Indy500 so I felt like making a stop here was necessary. The Indianapolis Motor Speedway Museum is actually located inside the oval track- how cool is that?! In 1987, the speedway was designated a National Historic Landmark and is a popular tourist destination for a reason.
Within the museum you will find tons of history from past winning race cars, trophies, helmets used throughout the years, and so much more! Neither my husband and I are big car or racing people, but we both still really enjoyed spending time in this museum learning the history behind the Indianapolis Motor Speedway.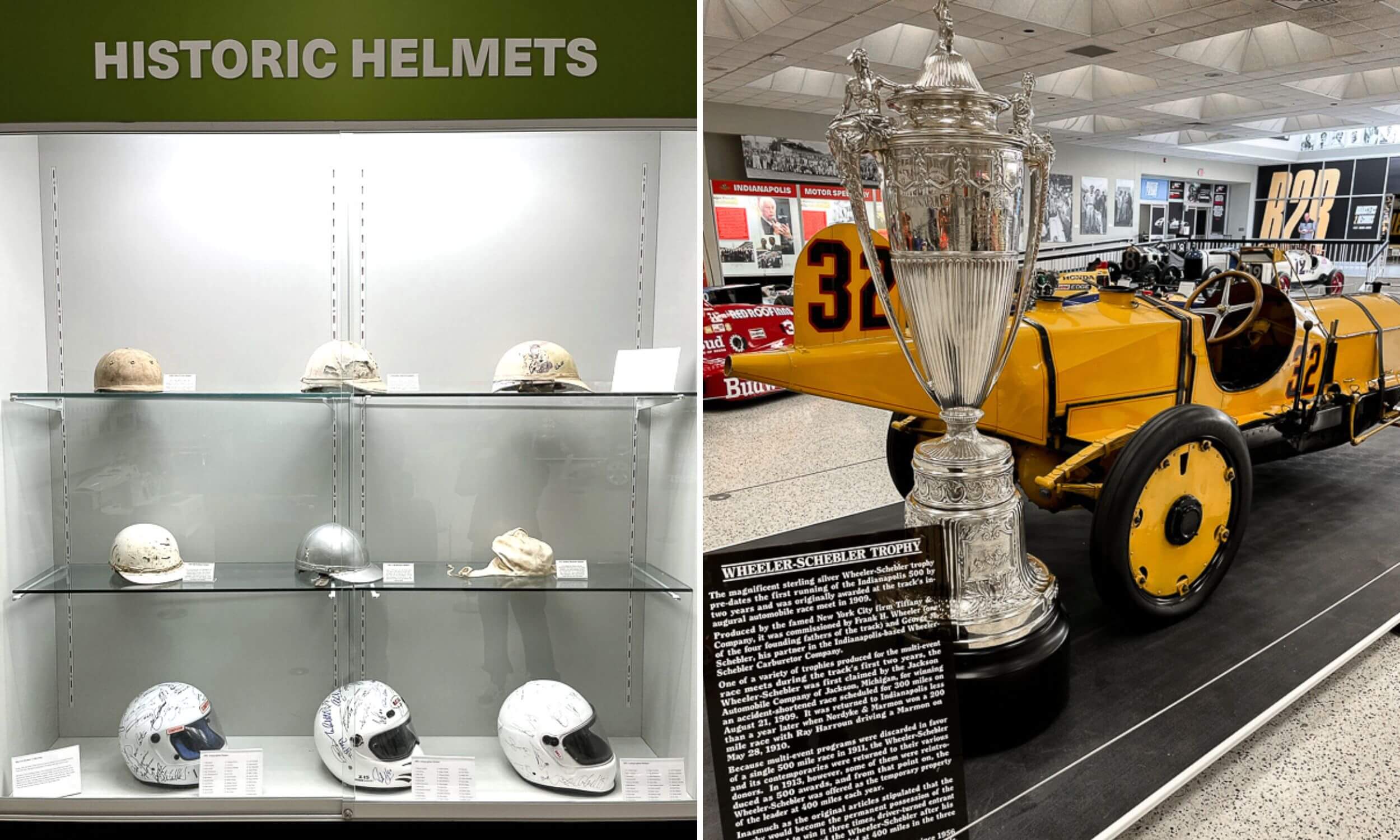 There's also an interactive room in which you can do a race car simulation and sit inside of a life size faux race car. It's crazy how low down they are! After seeing this museum, I kind of wish a race would have been going on during our time here in Indiana.
We spent about 1 1/2 hours here and left without feeling like we missed something or went too fast. If you find yourself with more time than us, you can even take a guided tour around the track for a little extra money. I would definitely consider the speedway an Indianapolis must-see.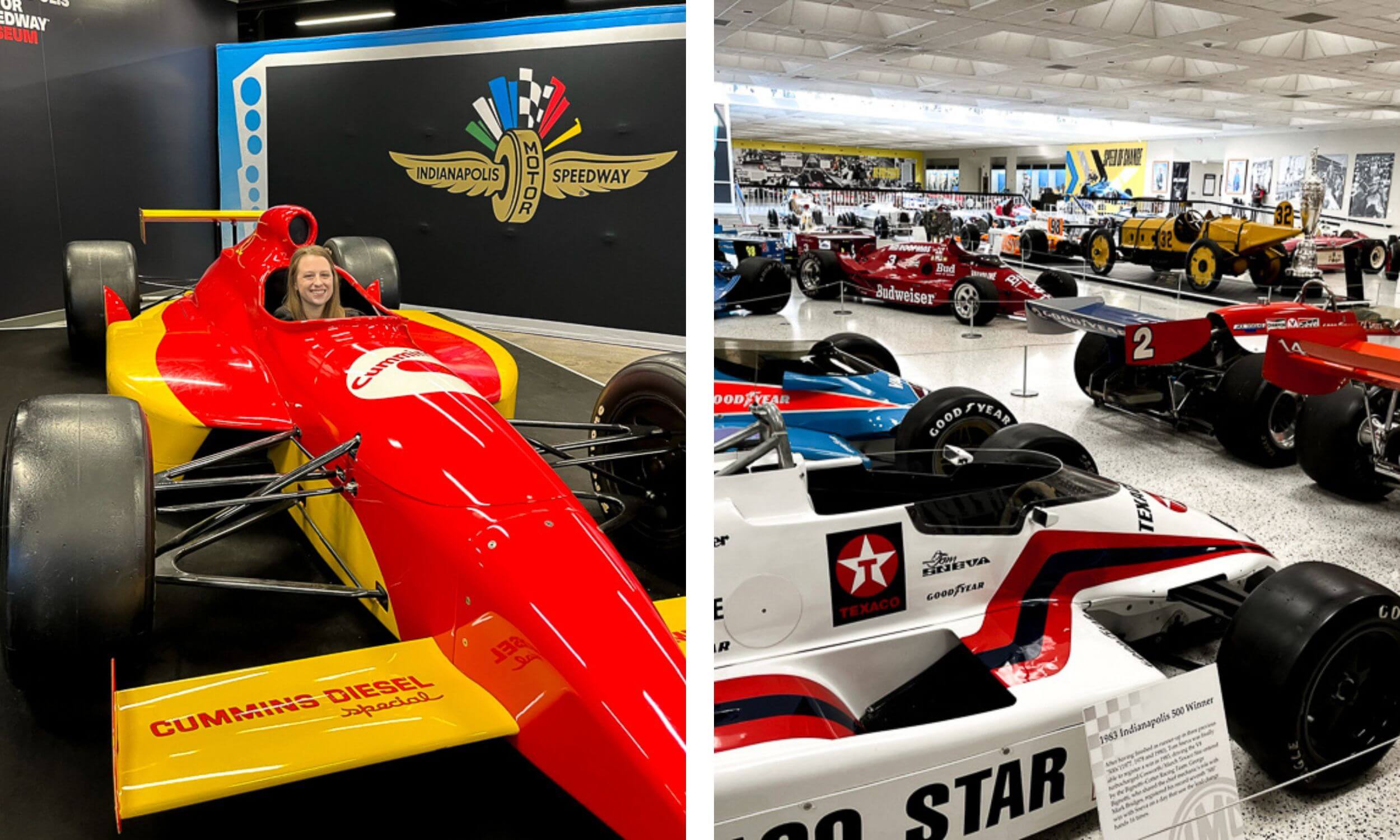 Lunch at Rally's
✽ 12:00 PM - Now hear me out. As a foodie, we don't normally seek out fast food on vacation, but I had to know what Rally's tasted like. You see, a few months ago I posted a TikTok video that went viral and the comment section got a little heated.
My husband and I were rating our favorite fast food burgers. I won't get into the nitty gritty, but basically many people said that if we had Rally's in Texas, it would be #1 on our list.
So Rally's was a must for us. Plus, it's called 'Rally's' and they have a racing flag on the building. Seemed appropriate after visiting the Motor Speedway.
Well.. the verdict of the burger is that they are really good! I can't say for sure if it would have been #1 without having all the burgers side-by-side, but I'm pretty confident it would have been in the top of the list.
The fries really won me over though- sooo good. Any place that gives you seasoned fries as their standard fry gets a gold star in my book.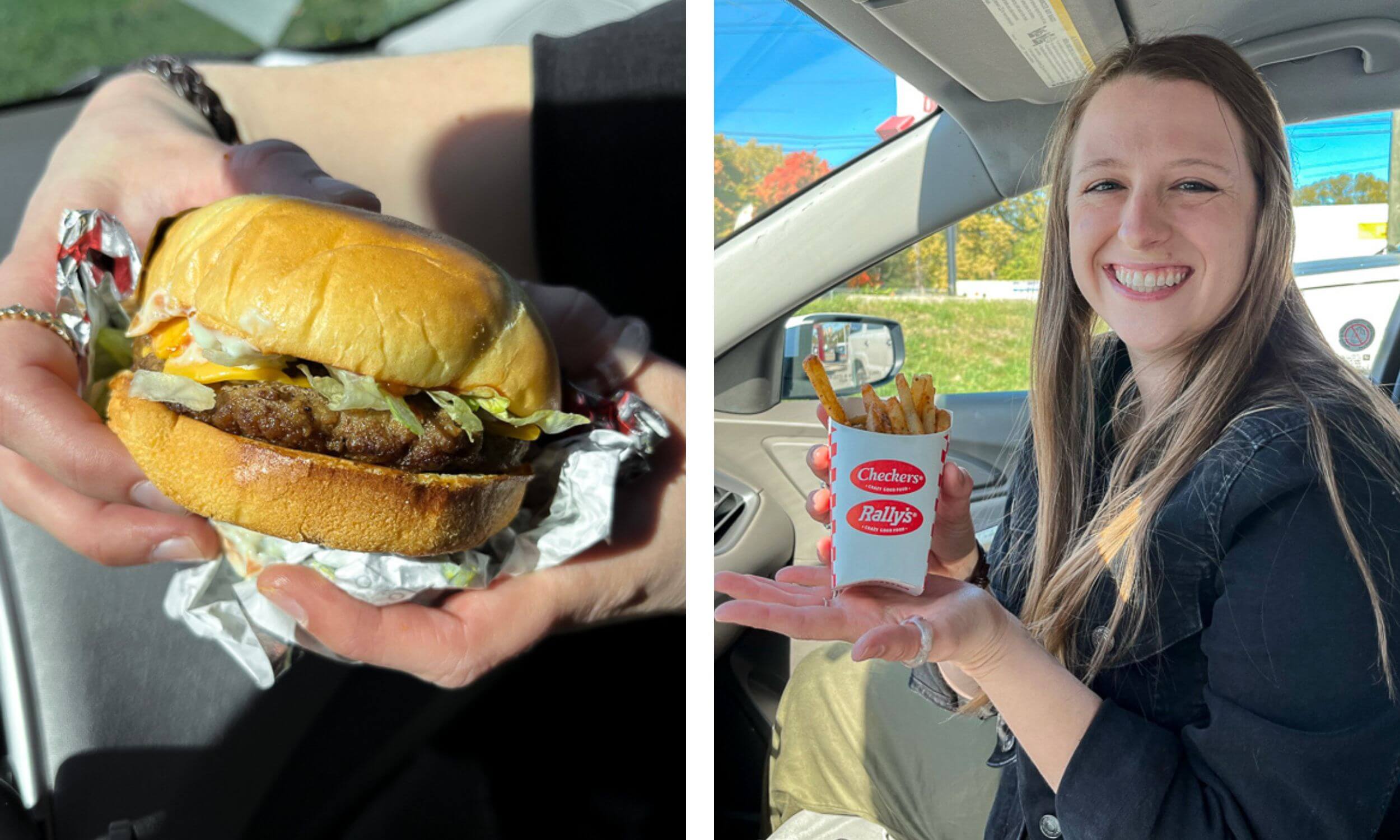 Indiana State Museum
650 West Washington Street
Indianapolis, IN 46204
✽ 1:00 PM - One of our checklist items for a visited state is going to the state museum and learn about the state's origins. We really enjoyed the Indiana State Museum. It contains pretty everything you ever would need to know about Indiana.
The Indiana State Museum is located within White River State Park (also home to the Indianapolis Zoo and Eiteljorg Museum of American Indians and Western Art). We parked at White River State Parking Garage (located at 650 West Washington St.). We were able to bring our parking ticket into the museum which gave us a discount on parking ($4 total).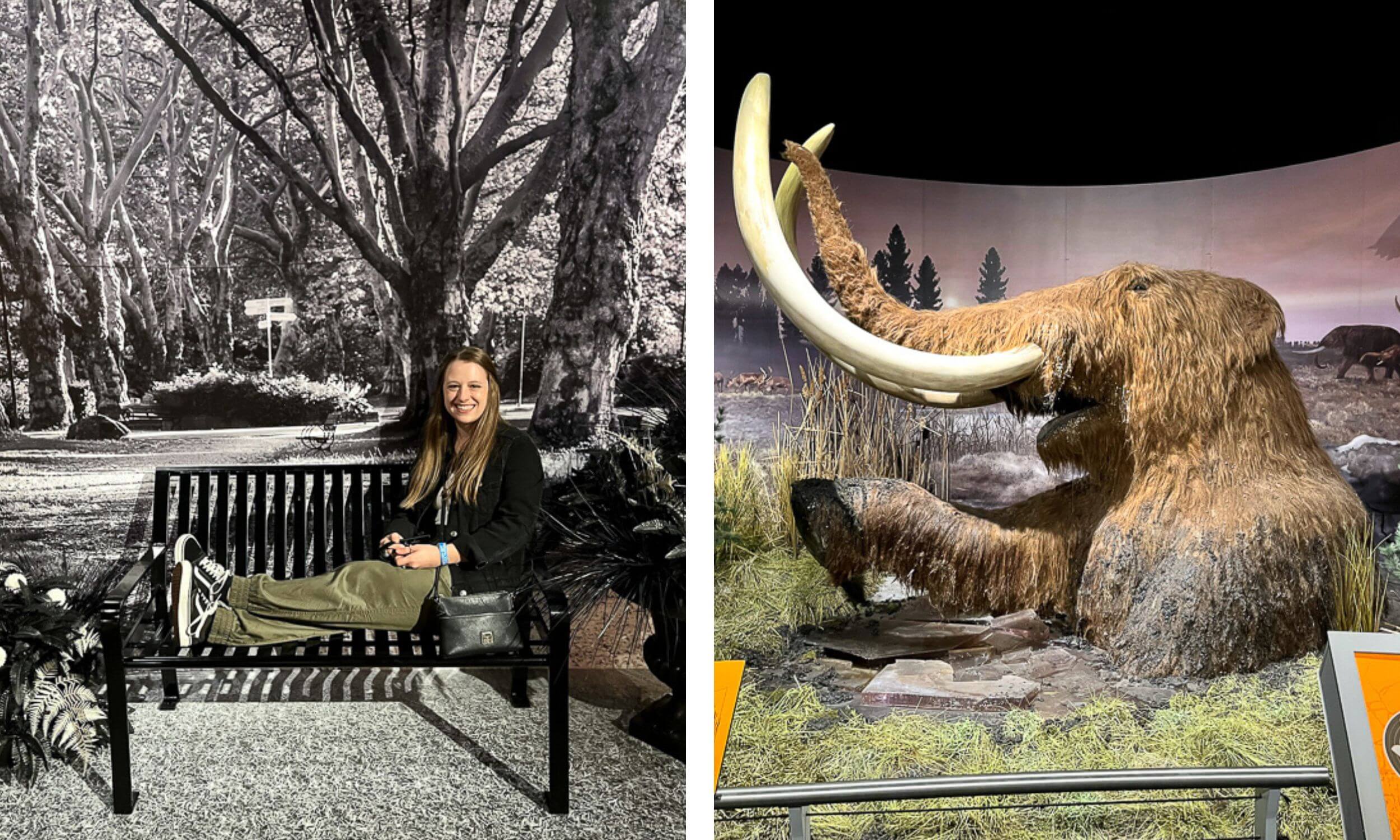 The state museum is also located along the canal walk so when you leave the museum, you will be right by the water along with a great view of the city!
My favorite in the museum was learning about the mastodons. Many mastodon bones have been resurfaced from Indiana soil including Fred, the mastodon found by Dan Buesching on his peat farm in Allen County. He named it after his grandpa Fred.
You'll also find hundreds of fossils, car history, items from the past, famous people who lived in Indiana, science, history, art, and architecture. With so much to offer, you are bound to find something that sparks your interest. There's also quite a bit of interactive exhibits in this museum making it a great option for the whole family!
Visit the museum to learn where the term 'Hoosier' came from and why Indiana is known as the 'Crossroads of America.' Walk through the history of Indiana starting back when Indiana was underwater to early settlement to the 20th century to present day and everything in between.
Indiana State Museum's gift shop is where we were able to find our Indiana post card, patch, and sticker. We spent a little over 2 hours here, but we could have spent 3 - 3 1/2 hours roaming around this museum without any problem.
We are pretty big museum nerds so I can't help but saying that Indiana State Museum was a great time, and I highly recommend a visit!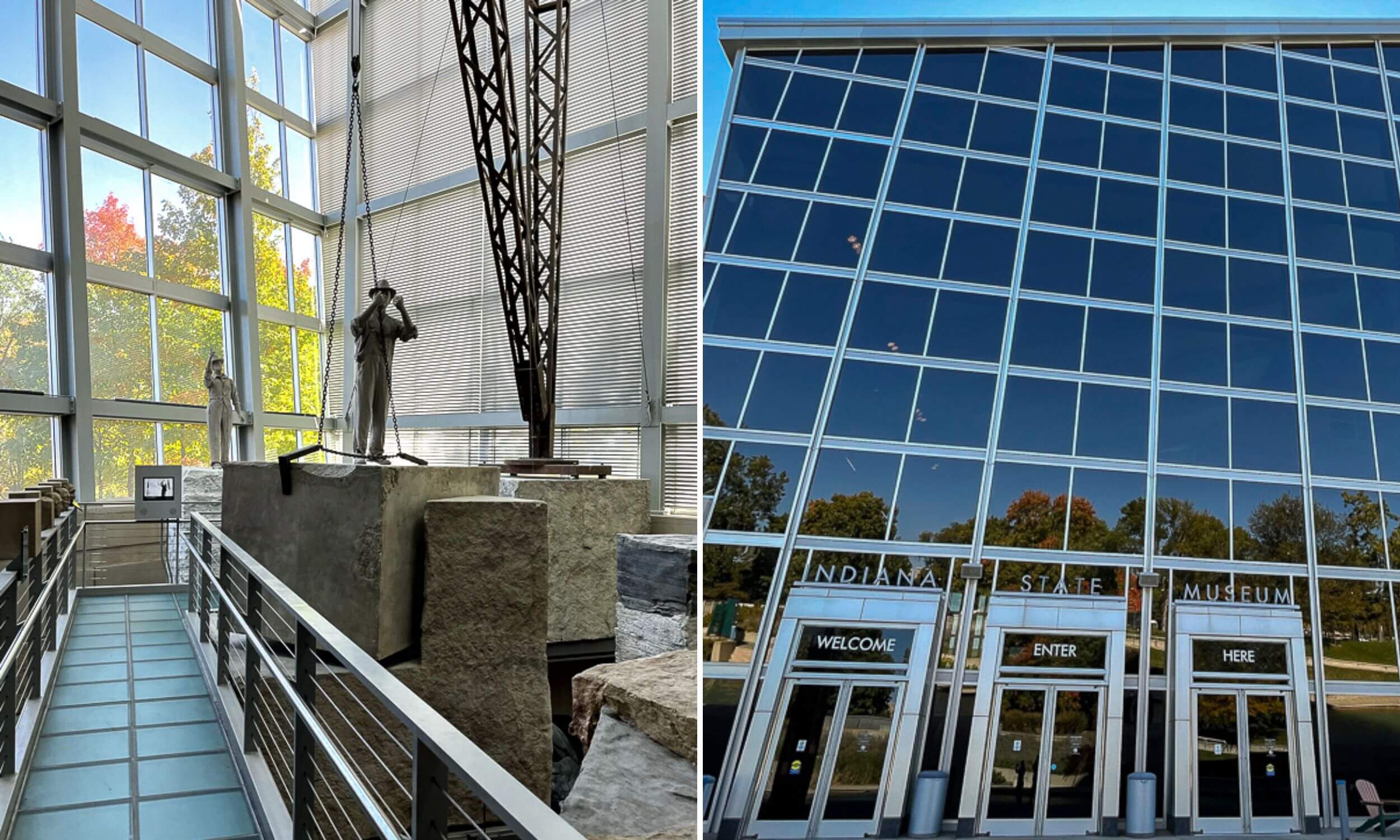 → Find out more information and buy tickets to the museum on Indiana State Museum's website!
Bottleworks District
850 Massachusetts Avenue
Indianapolis, IN 46204
✽ 4:00 PM - After checking into our Airbnb, we went to the Bottleworks District to hang out and grab some dinner. Named the Bottleworks District because in the 1920s this area became home to the Coca-Cola Bottling Company of Indianapolis.
This district is a really cute area in Indianapolis and is a great place for a date night- would even be great for a first date! From retail stores to bars to theaters to live music nights to food, they pretty much have it all! There's even a boutique hotel in the middle of the district which is snazzy looking. The hotel building is actually the old historic Coca-Cola bottling works administration building.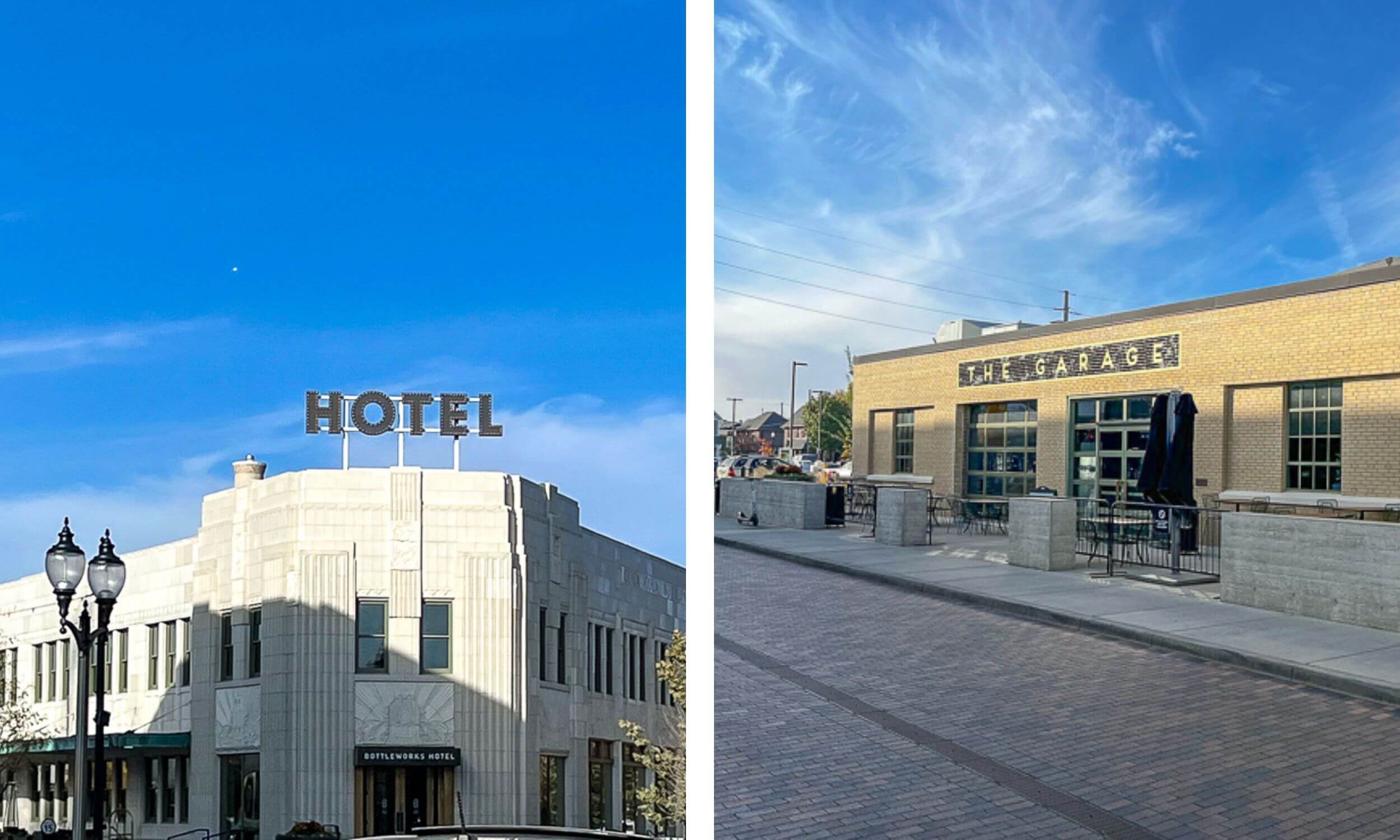 Since we were looking for a bite to eat, we spent most of our time in The Garage, a food hall filled with numerous vendors and delicious food. Everything sounded and looked great so it was a difficult decision.
We tried 3 different places, and everything we tried was tasty. I really don't think you can go wrong with your food choice at The Garage Food Hall. My favorite was the Peluda arepa (shredded beef, gouda, and butter inside a white cornmeal patty) from a Venezuelan restaurant named 'Azucar Morena'.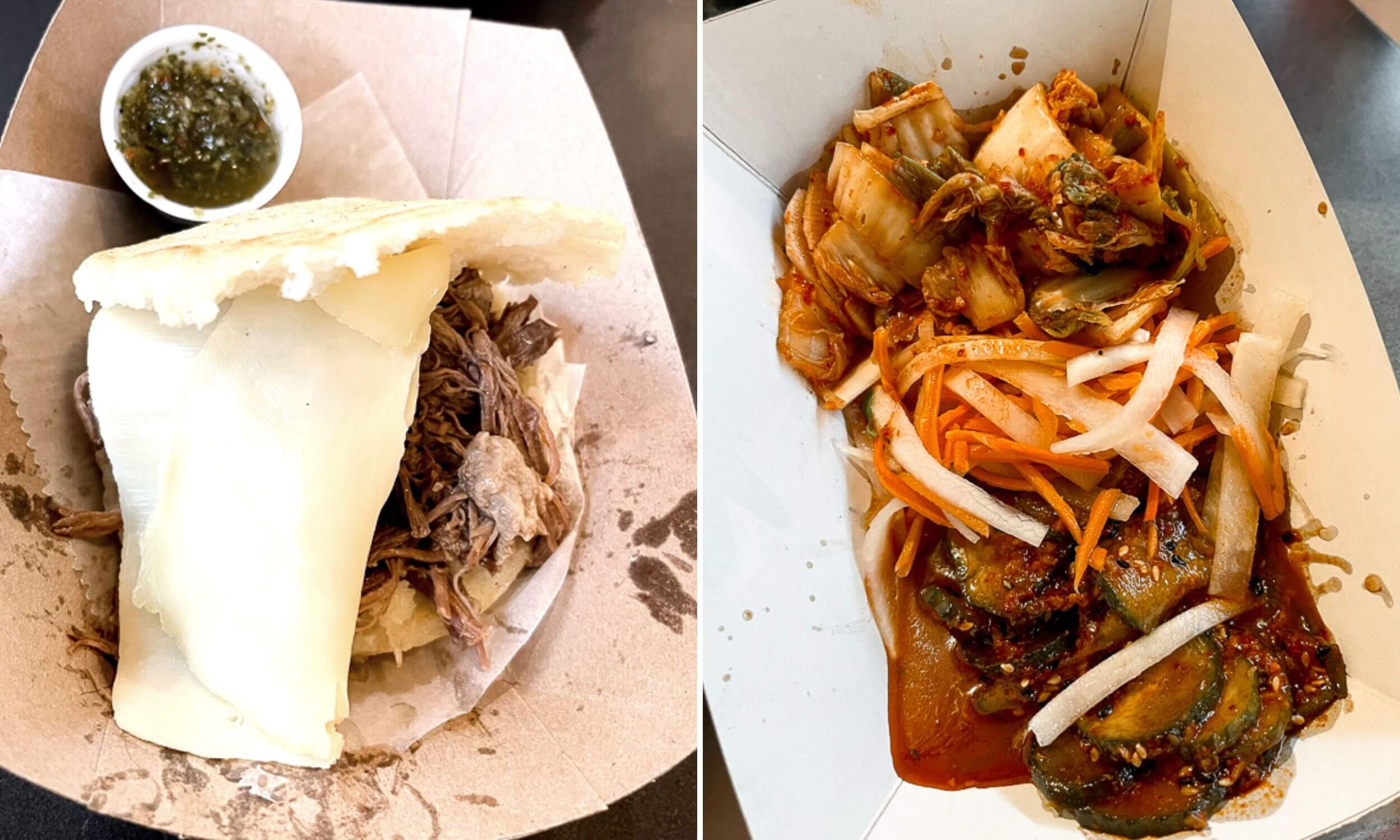 → Find out more information and see all the food vendors on Bottleworks District's website!
Newfields Harvest Nights
4000 North Michigan Road
Indianapolis, IN 46208
✽ 8:00 PM - We spent our evening/night at Newfields Harvest Nights. This is a seasonal event and only runs during the month of October. Newfields is an art museum and nature park in Indianapolis.
Even I was pretty bummed we weren't able to visit Newfields during the day, I was really excited that we were able to go in some way shape and form.
If your Indiana trip is not planned during October, I still would recommend visiting Newfields if you have time. I really enjoyed the parts that we were able to see and have heard raving reviews about the museum itself. Great for nature lovers as there are beautiful gardens here!
They also have a Winterlights, another one of their special events, that runs at night during the months the latter half of November and all of December.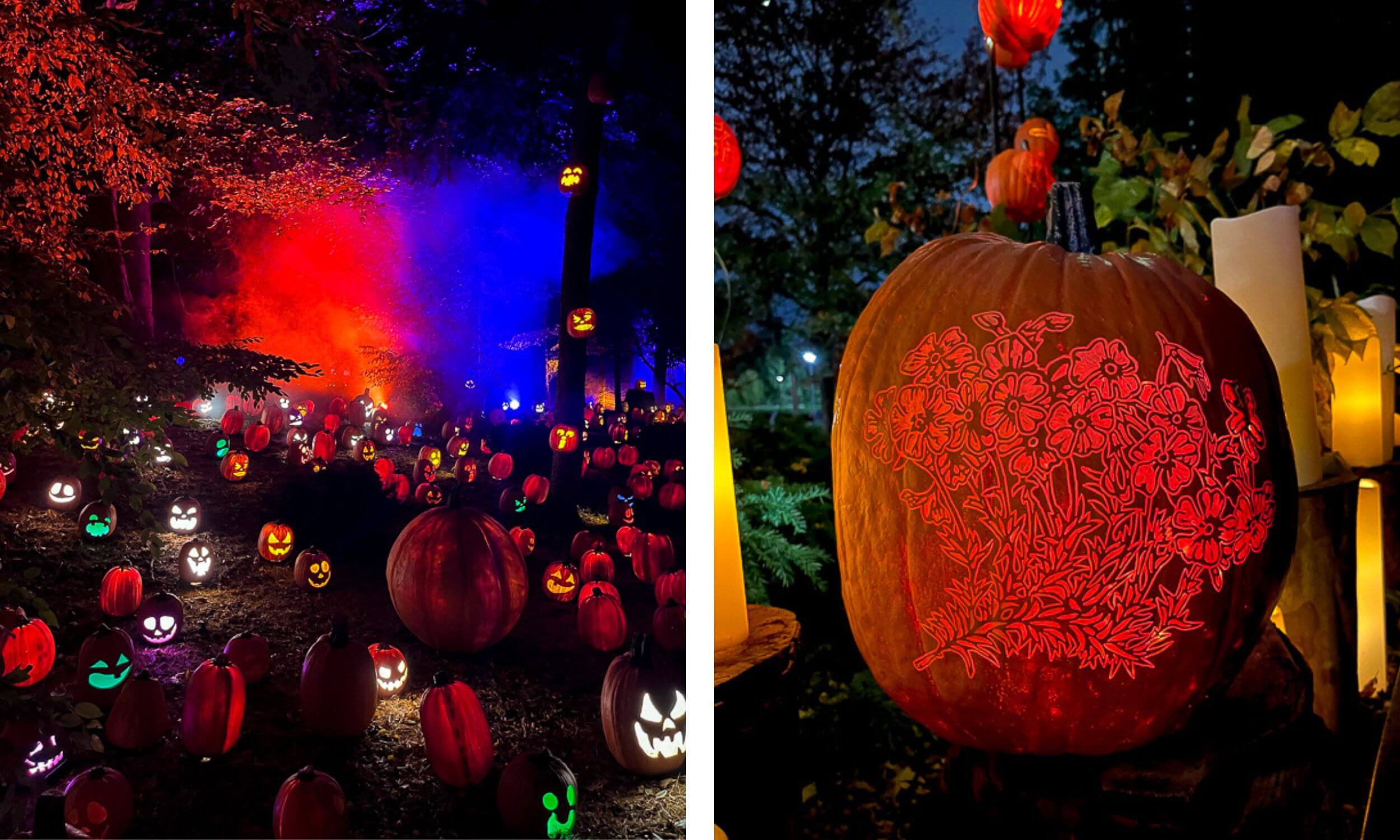 As for Harvest Nights, we absolutely loved it and had such a good time. 10/10- highly recommend! I don't want to spoil too much so I'll keep it brief. There was so much do to and see here.
Highlights were the countless pumpkins that were etched with nature things such as flowers, butterflies, and snails and hung from trees, walking on the trail and being surrounded by hundreds of lit carved pumpkins, and walking through the spooky decorations in the huge old (and maybe haunted...) Lilly House. As somebody who loves old houses, this house was so cool to walk through even without all the decorations. The Lilly House was built in the early 1900s and is listed on the National Register of Historic Places.
Of course, there were snacks as well. We got a pretzel with mustard, an apple cider, and a hot chocolate. You could also purchase fancy boozy drinks too.
The Newfields Harvest Nights would be fun for any age, and also is a great option to add to your list of date night ideas. It's the perfect place to get those spooky vibes! I can't recommend enough if visiting during October- they really go all out!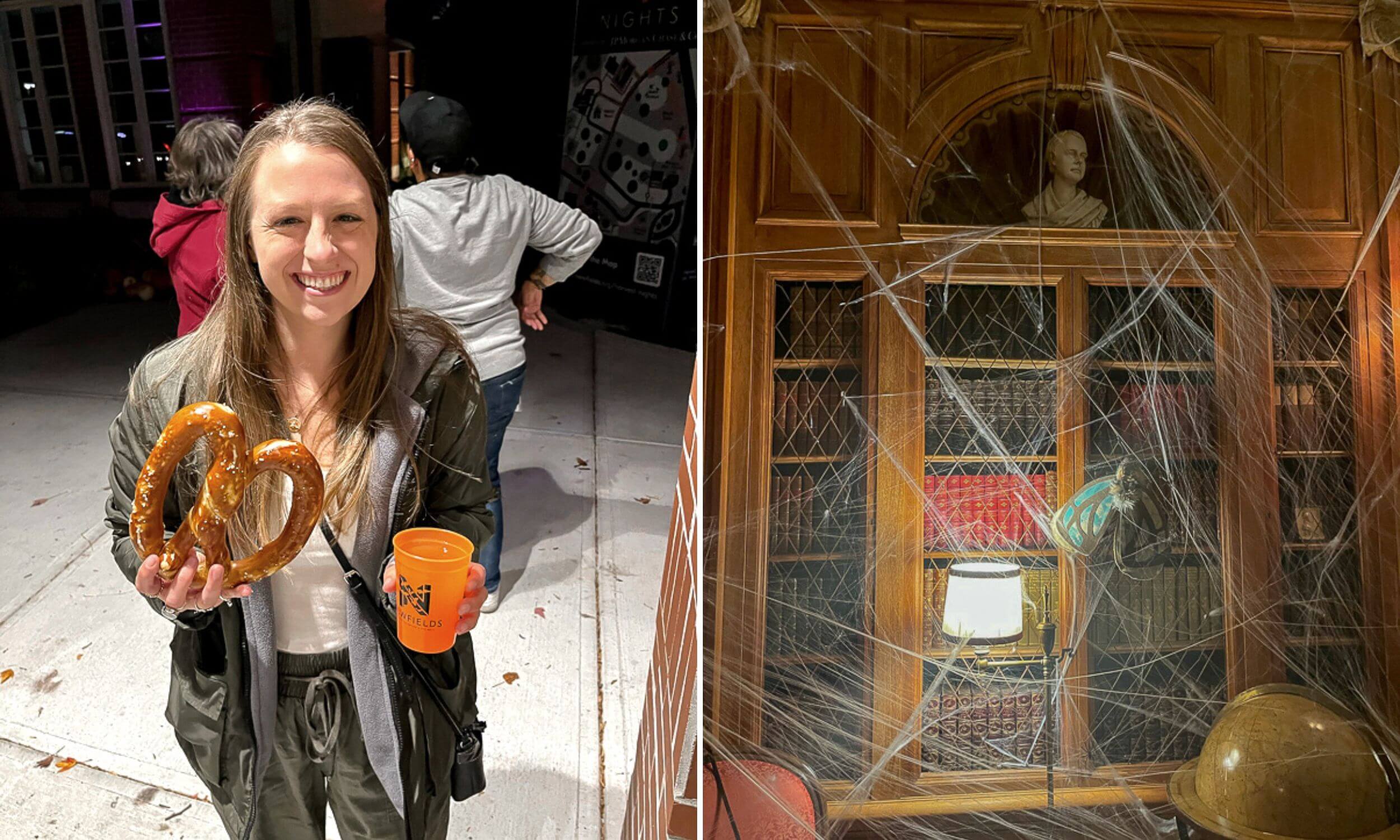 → Find out more information and see all the food vendors on Newfields' website!
Day 2
Sidedoor Bagel
1103 East 10th Street
Indianapolis, IN 46202
✽ 8:30 AM - We were able to find an Airbnb located near the Bottleworks District and walking distance to a bagel shop which was super exciting to me. I love bagels, and these bagels did not disappoint.
I recommend placing an order the day before especially if you are wanting the bagels on a Saturday. It can be pretty busy, and there can be a wait.
We ordered the Lox & Loaded and an everything bagel with pumpkin brown butter. Each were so good. I can never say no to a lox, but especially not this lox. I could and would eat this every single morning. Great spot for grabbing breakfast to-go!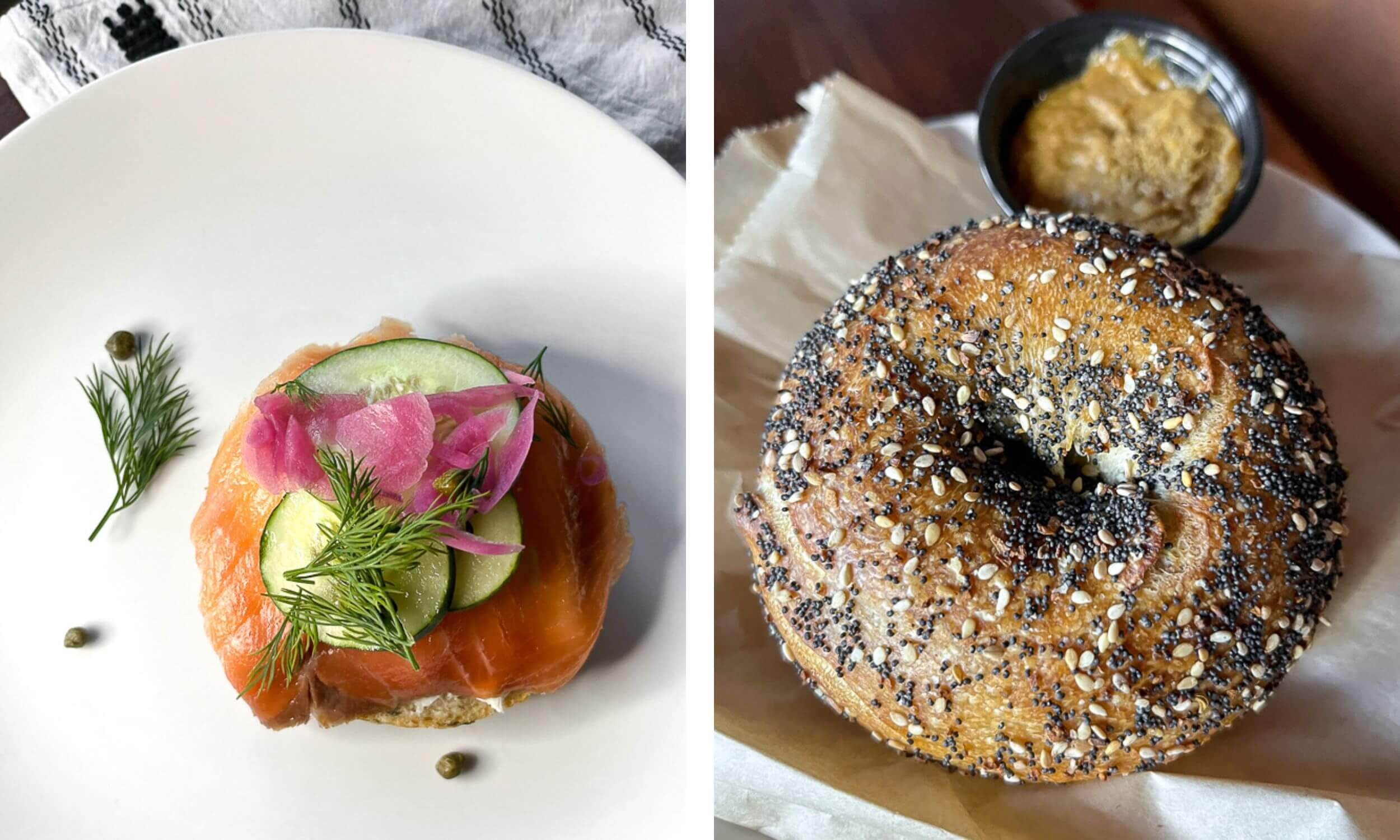 → Browse the menu and schedule a pick-up order on Sidedoor Bagel's website!
Soldiers & Sailors Monument
1 Monument Circle
Indianapolis, IN 46204
✽ 9:30 AM - We only had half a day to spend before we headed to southern Indiana so we decided to roam around downtown Indianapolis. Indiana's downtown area is really cool, and the Soldiers & Sailors Monument is definitely worth a visit.
This monument is huge and the details on it and on the structures around it are spectacular. There's calming music that plays over speakers and all the shops encircle the structure.
This monument is a memorial to all the Hoosiers that served in the Revolutionary War, the War of 1812, the Mexican War, the Civil War, the Frontier Wars, and the Spanish-American War.
It is made out of limestone which we learned that limestone is a pretty big deal in Indiana at the state museum. The monument stands at 284 feet and 6 inches! It cost $598,318 back in 1902.
You can actually go up to the top of the monument, but it was closed while we were there. After climbing 330 steps or paying $2 to ride the elevator, you'll be able to see Indianapolis from way up high!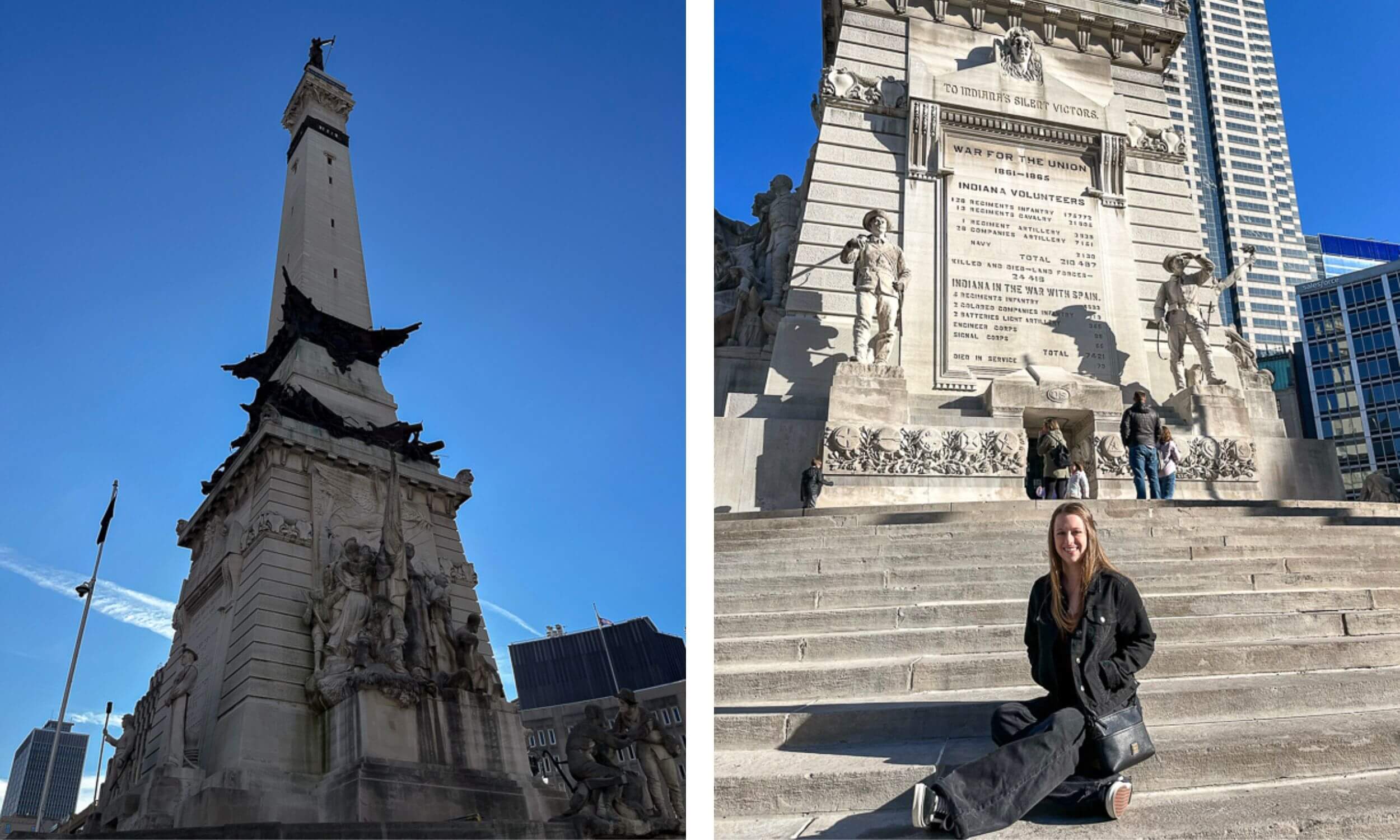 South Bend Chocolate Co. / Chocolate Cafe
30 Monument Circle
Indianapolis, IN 46204
✽ 10:00 AM - After admiring the monument, we decided to grab a treat in one of the shops that encircles the monument.
I'm a sucker for seasonal items so we ordered a spooky spiced chai and a S'mores hot chocolate. We sat inside the cafe since it was a bit chilly out for these two Texans. It was the perfect spot to enjoy the monument and a fun place to do some good people watching!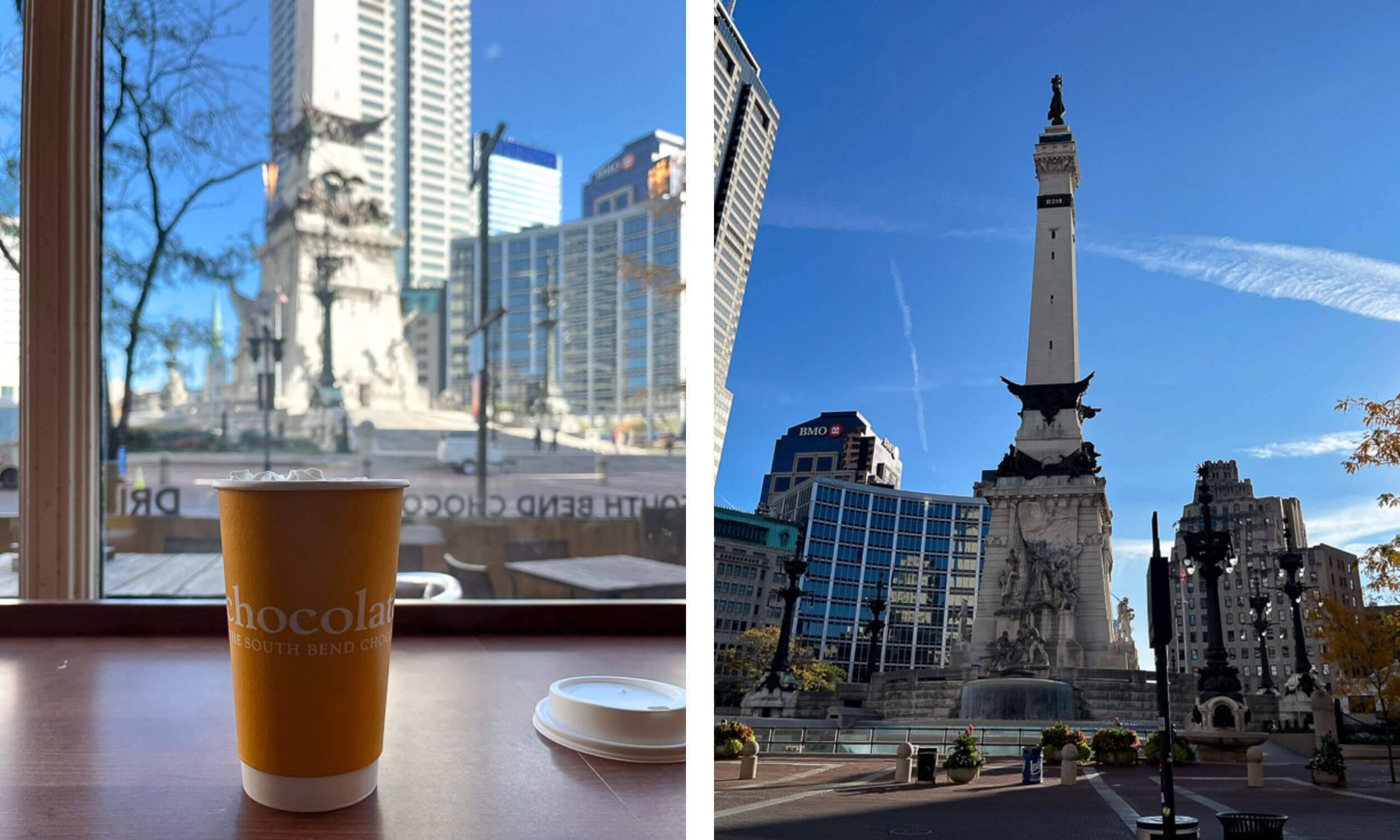 Indianapolis City Market
222 East Market Street
Indianapolis, IN 46204
✽ 10:30 AM - We then walked over to the City Market. I had read that most of the vendors are closed on the weekends, and that ended up being true. Their farmers markets are held only on Wednesdays, May through October. However, still makes for a really good place to grab a cup of coffee and sit for awhile in a neat building even on a weekend.
I was also really bummed that the catacombs tour was sold out when I checked about 2 weeks before our trip. The catacombs are beneath the city market and on a select few Saturdays you can pay for a guided tour. Plan in advance though because they will sell out!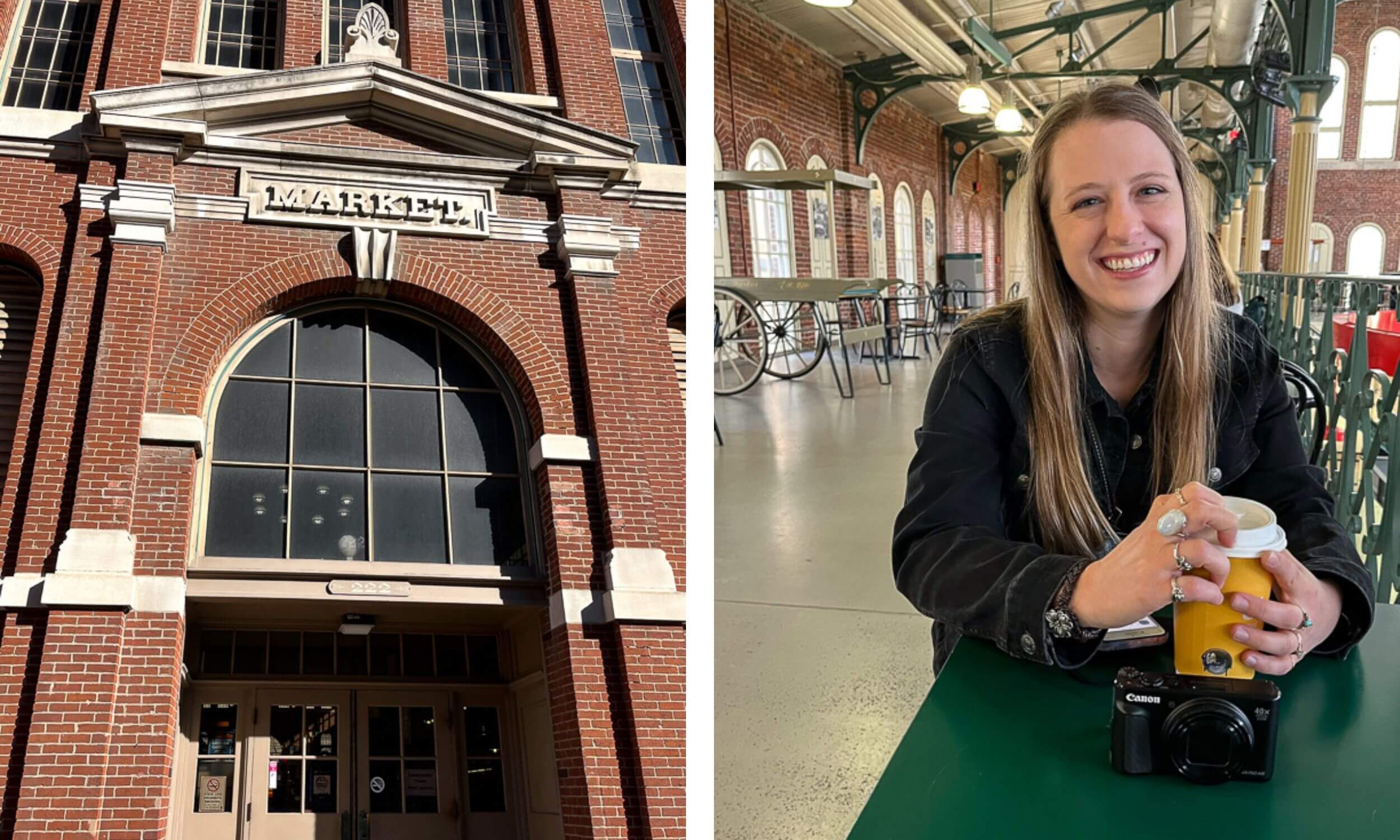 Indiana State Capitol Building
200 West Washington Street
Indianapolis, IN 46204
✽ 11:00 AM - Our last stop in Indiana was the statehouse- another checklist item for a visited state. If you love historic buildings, on your short walk over to the capitol make sure to stop and admire the Indiana Repertory Theatre. It's a beautiful building!
I'm kind of kicking myself for not doing a self-tour of the inside of the statehouse after seeing some pictures of it online. The building looks just as beautiful inside as it does on the outside.
They offer free guided tours every hour on the hour on the weekdays from 9am-5pm, and free self-guided tours on the weekend.
Indiana's statehouse was finished being built in 1888 and made out of Indiana limestone and white oak. Did you know that Indiana is one of the few states that has all 3 branches of government operating in the capitol building?
Even though we didn't go inside, the outside of Indiana's capitol building is still very impressive. It was great to visit, read the outside plaques, and snap some pictures.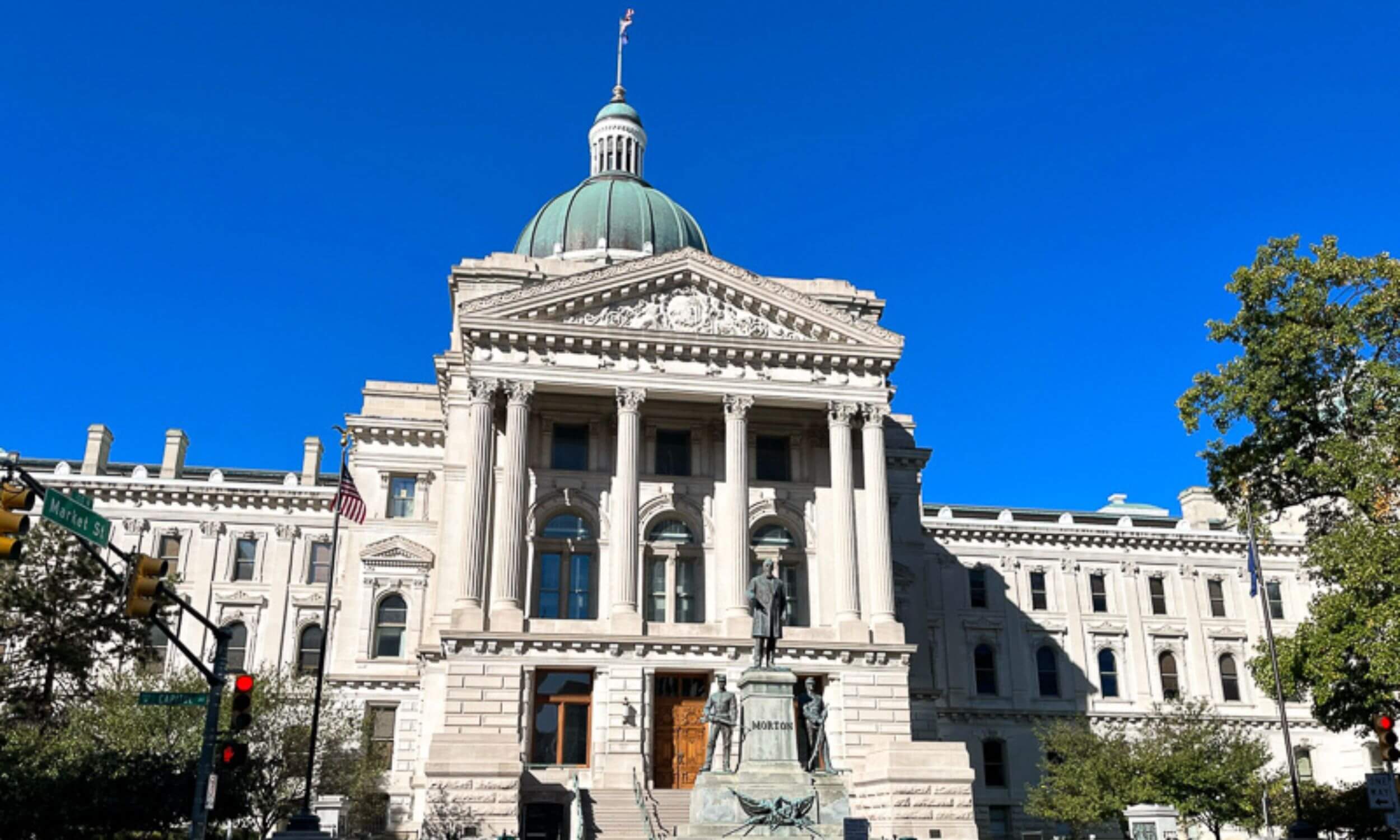 50 States by 50
Indiana was our first state for our 50 states by 50 challenge. My husband, Brian, and I are planning to visit all the states in the United States by the time we turn 50 years old. To choose which state we travel to next, we will draw it randomly!
For each state, we will plan at least a 4 day trip that consists of visiting the state capitol and state museum, exploring a state park, and eating whatever food that state is most known for. I will be documenting all of our travels here on my blog and making vlogs as well which will be posted on YouTube. Read more about our 50 States by 50 Bucket List.
__________________________________
Thank you for reading about our entire weekend spent in Indianapolis. I hope this itinerary was helpful in planning your Indianapolis trip! If you have any questions or just want to share your must-see Indianapolis places, please leave a comment down below.

Category: Life & Travel, 50 States Bucket List
Keywords: best weekend getaways, indianapolis weekend trips, indianapolis date ideas, road trip to indianapolis, indianapolis dining options, one day in indianapolis, best date ideas in Indianapolis
More Indiana Travel Blogs:
We also did a bunch of other things during our 4 days in Indiana. Each blog goes into more detail about each thing that we did, saw, or ate! I have a blog over:
✽ Our entire 4-Day Indiana Itinerary (downtown Indy, apple picking, beautiful scenery, Covered Bridge Festival, Turkey Run State Park, & more)
✽ A Fall Weekend in the state of Indiana (fall leaves, southern Indiana, antique shops, Brown County Art Gallery, & tons of carved pumpkins)
✽ Parke County's Covered Bridge Festival (local artists, fall foliage on a scenic drive, small town living, covered bridges, & tons of delicious food)
✽ Food in Indiana (pork tenderloin, apple treats, sugar cream pie, Korean pickles, arepas, & more)
✽ Turkey Run State Park (hiking through fall leaves, sugar creek, a nature center, climbing up ladders, & walking on ledges)
✽ Our 4-Day Indiana Trip Budget (how much our 4-day, 5-night trip to Indiana cost for two of us)
Bon voyage & bon appétit!
November 10, 2021 by Laura Bullock
*This Weekend Indianapolis Itinerary blog post may contain some Amazon affiliate links. These link to products that I personally use and recommend. If you purchase anything using my links, it will not cost you anything. It will though give laurathegastronaut.com some financial support which helps me keep this blog running. Thank you for reading my blogs and your continued support.