Laura the Gastronaut > Life & Travel > 50 States Bucket List >

Indiana Fall Weekend Itinerary
Fall Weekend in Indiana Itinerary
November 10, 2022 | Laura
Plan a visit to Indiana during October or November because there is so much fall in Indiana to enjoy! We picked apples at an apple orchard, visited Nashville Indiana, found beautiful old covered bridges, experienced local festivals, saw gorgeous fall foliage, hiked in Turkey Run State Park, walked through hundreds of carved pumpkins, and ate so much delicious food at the Covered Bridge Festival.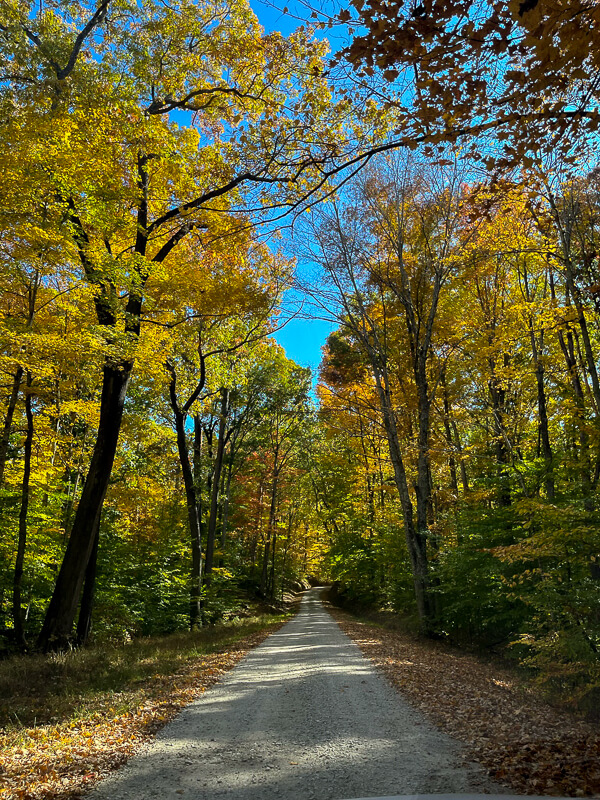 October in Indiana
When we planned our trip to Indiana, we chose October for two reason. One was the Covered Bridge Festival. Two was to see some actual fall foliage and enjoy some sweater weather. Living in Texas we don't see many changing leaves in October. Everything is still green here!
So in order to find the best fall vibes and pretty leaves in Indiana, I did a lot of research prior to our trip. I'll share with you our fall season day(s) in Indiana so you too can have a magical day filled with red, yellow, and orange leaves and fall events.
If you are looking for Indiana content check out my other travel blogs!: 4-Day Indiana Itinerary, Covered Bridge Festival, Our 1 1/2 Days in Indianapolis, Food in Indiana, Turkey Run State Park, and Our 4-Day Indiana Trip Budget.
Anderson Orchard
369 East Greencastle Road
Mooresville, IN 46158
I could not contain my excitement when I found out that Indiana had apple orchards. Real life apple orchards like in the movies!
While there are many orchards to choose from I decided on Anderson Orchard in Mooresville, Indiana. Two things stood out to me when reading about Anderson orchard- you could pick your own apples and there were tons of delicious apple treats to choose from at the concession stand. There is something for the entire family here at this orchard!
Anderson orchard is located in central Indiana, about 21 miles southwest of downtown Indianapolis. This Indiana apple orchard is free admission and free parking. We went on a Saturday afternoon in October and there were quite a few people there. However, there wasn't too many people there that it was not enjoyable. Thankfully, it is a big place so you weren't running into anybody. During harvest season inn September and October, they are open 7 days a week, 8am to dark.
Let's talk about the apples! They have a multitude of tree species on their land. I won't list out all the varieties of apples, but there are almost 30 different kinds to choose from. That's a lot! You pay for a bag, and then you are free to roam the orchard to pick out which apples you want.
Unfortunately, we flew to Indiana so we didn't pick any apples, but it was still really fun (and very movie-like) to walk through the orchards. It was a great experience! They also have U-pick red raspberries, pumpkin patches, and sometimes even chestnuts.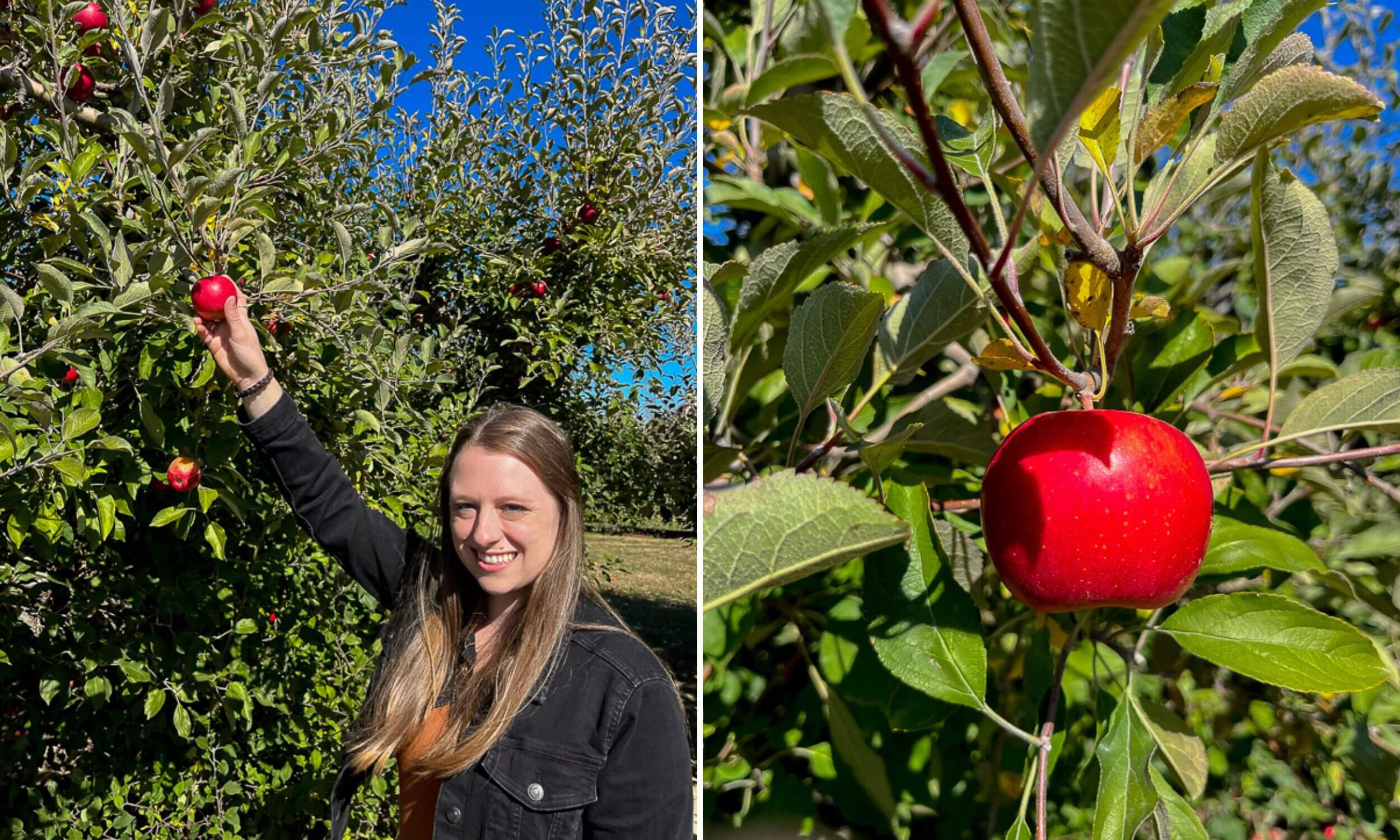 Aside from apple picking, you can also browse through all the pumpkins they have for sale, listen to the live music, and shop at the Apple Barn. Inside you will find an assortment of fresh produce (including apples if you don't feel like picking your own) and canned preserves, jams, and vegetables. The only thing they were missing was a corn maze!
Now on to the tasty treats! There was so much to choose from on the menu including caramel apples, caramel apple fondues, elephant ears, fried biscuits with apple butter, fried apple pies, and apple cider slushies.
It was a difficult decision, but we decided on apple cobbler, fried biscuits, a caramel apple with peanuts, and an apple cider slush. While all were absolutely amazing, those fried biscuits with apple butter were SO GOOD. I will also say, while I haven't eaten many caramel apples in my lifetime, this one was by far my favorite.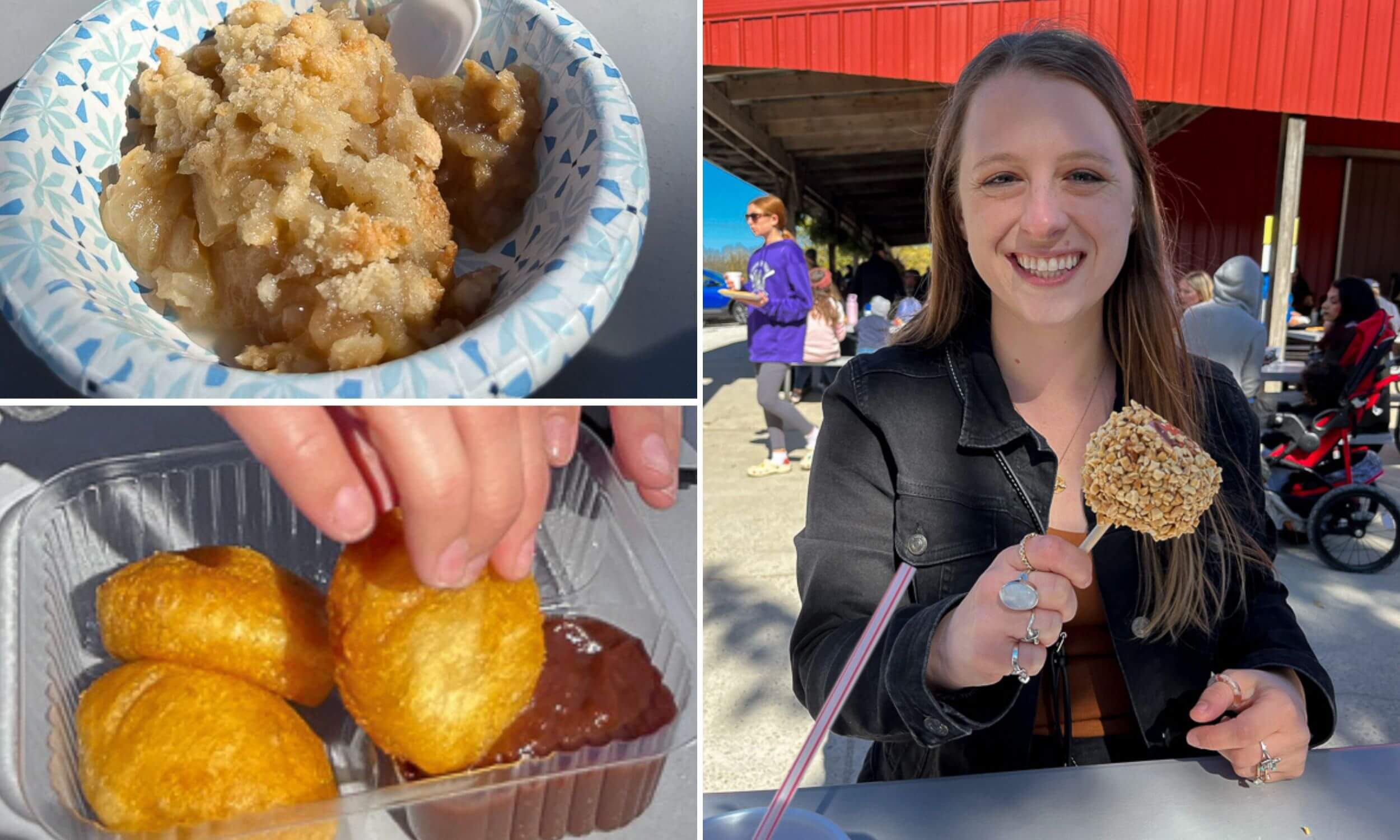 Nashville, Indiana
During all my Indiana fall research, I kept running into people suggesting visiting the town of Nashville. Nashville, Indiana is a small town in southern Indiana with a population of about 1200 and is located near Brown County State Park.
On our way to Nashville from the orchard, we stopped at Bean Blossom Covered Bridge. I think this was my favorite bridge out of all the ones we saw during this Indiana trip.
It is the oldest bridge in Indiana built 1880 by Joseph Balsey and was used as the main road between Bean Blossom and Nashville until 1936 when State Road 135 bypassed it.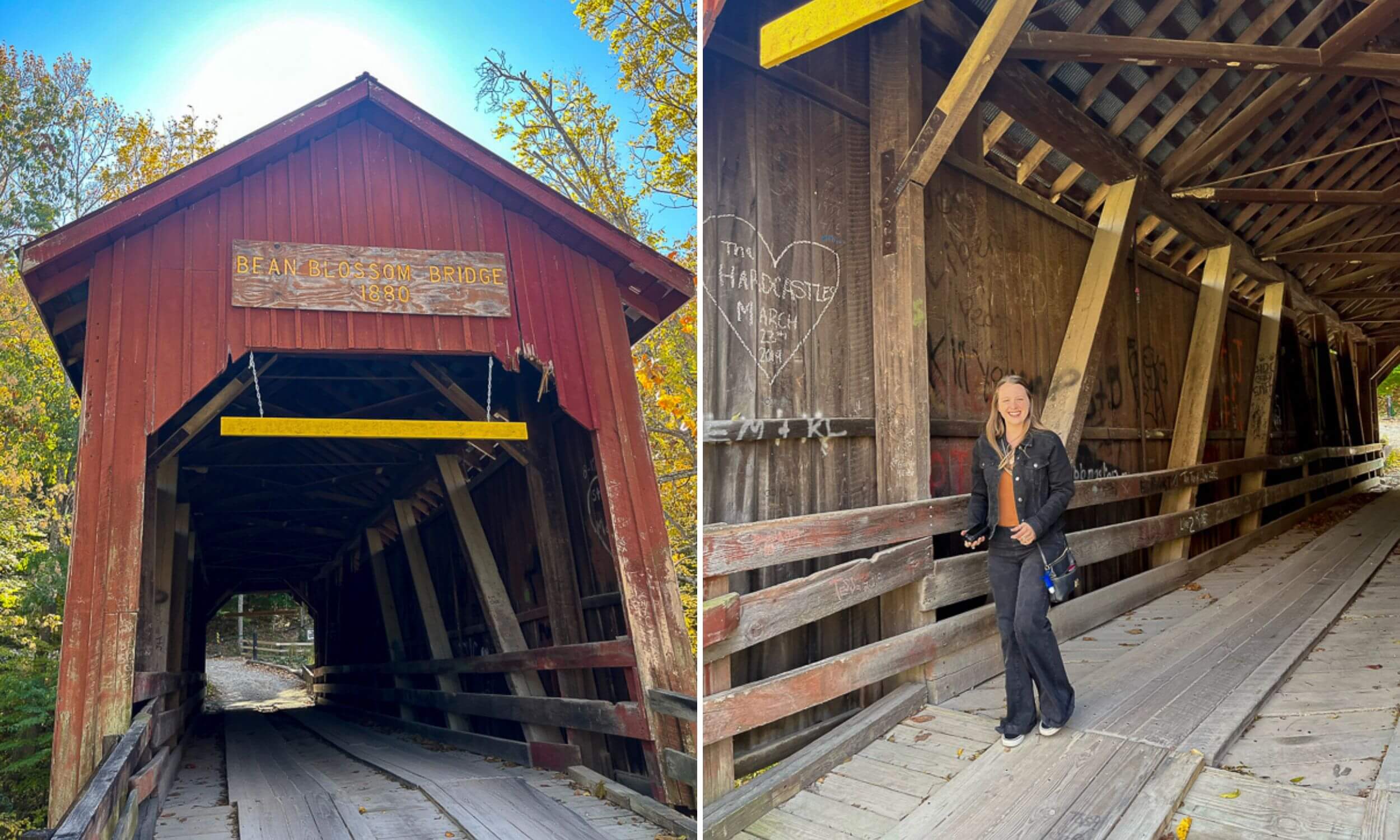 This bridge has seen a lot over the years including many repairs to keep it alive. Now I don't know anything about covered bridges, but this one is built differently than most of the others in the state. Bean Blossom bridge was built as a Howe truss (one of three to still exist) rather than a Burr arch truss.
And just FYI- while our rental car (Chevrolet Malibu) made it up and down the roads just fine there were a couple of moments that we held our breath due to the steepness. However, that drive from Bean Blossom to Nashville- absolutely gorgeous in the fall.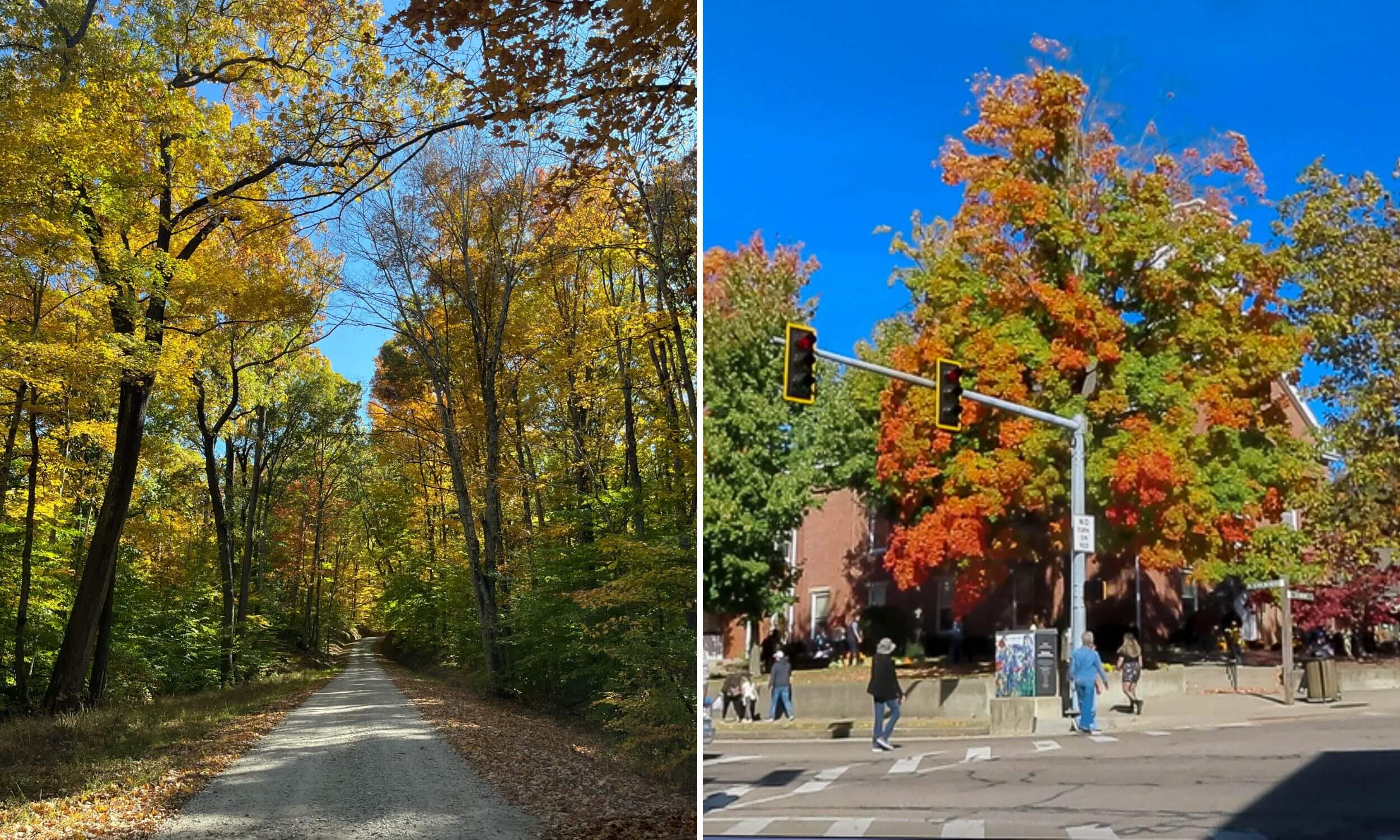 Nashville feels like it is straight out of a movie. There are endless antique shops, boutiques, bars & wineries with live entertainment, and art galleries to visit. All of which are incredibly adorable. As somebody that grew up in a town with a population of 1000 which had 2 gas stations and 1 very small restaurant, I was shocked by the amount of local businesses in this town. And people... So. Many. People.
We visited Nashville on the third Saturday in October. A local man told us that this was the busiest day of the year, and I have to believe it. I can't imagine any more people in this small area. We circled multiple parking lots for a good amount of time before even finding a parking space!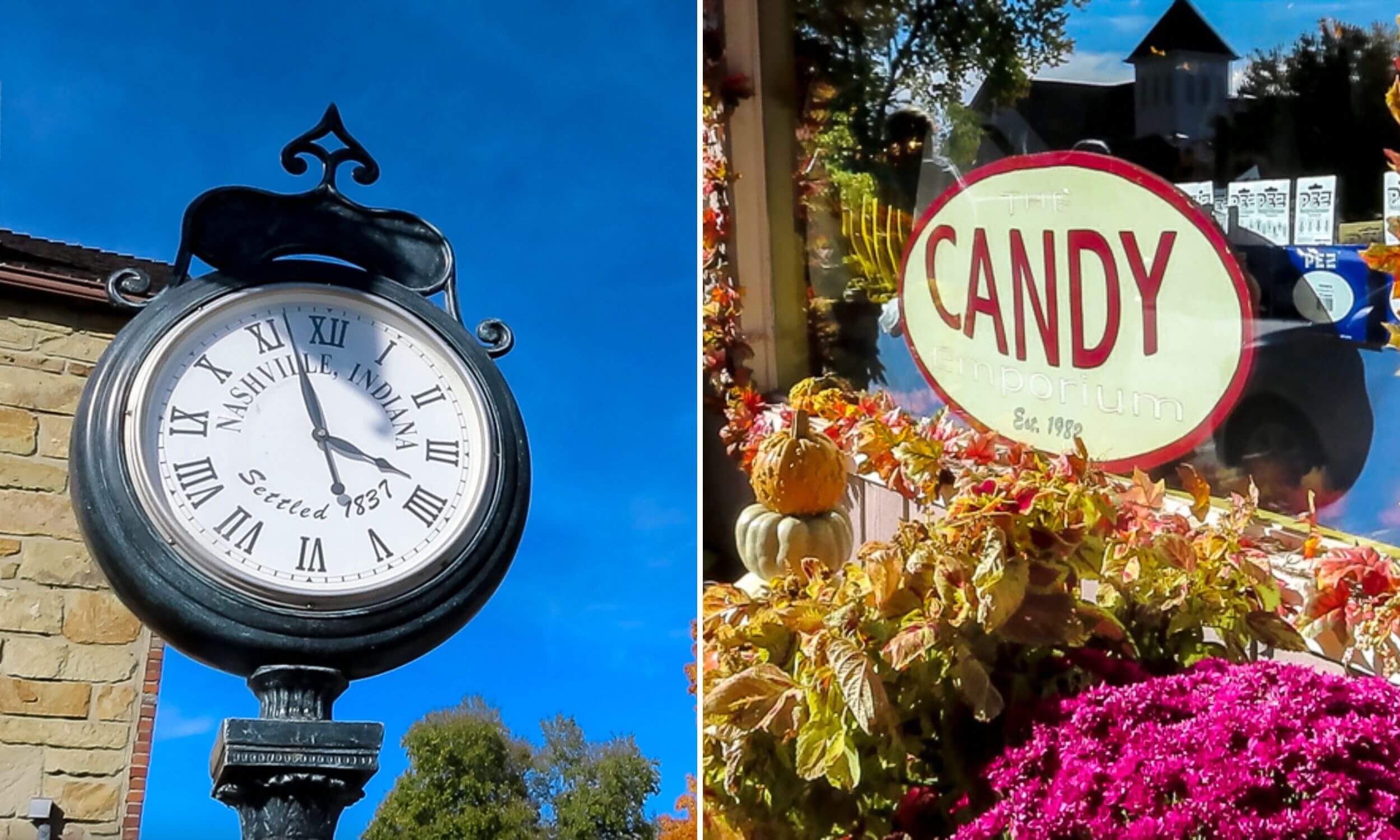 I did really enjoy our time here, but I do feel like some of the charm of the town was lost due to the amount of people. We couldn't even enter some of the smaller shops because they were so crowded which was a bummer.
We did, however, get to enjoy the fall foliage which was beautiful. You can even pay to ride on one of the helicopter rides to see the pretty leaves from up above. We also found that the art galleries (The Brown County Art Guild and Brown County Art Gallery) were quite peaceful to stroll through.
Now I don't want to deter you from visiting Nashville, but I would advise visiting on a weekday if traveling to Indiana in October. This town has a lot of charm, and if there were just about 30-40% less of the people there the day we visited, I would have spent countless hours going in and out of the shops and restaurants.
It's still fun while it's bustling so if the only day that works for your schedule is Saturday, go for it!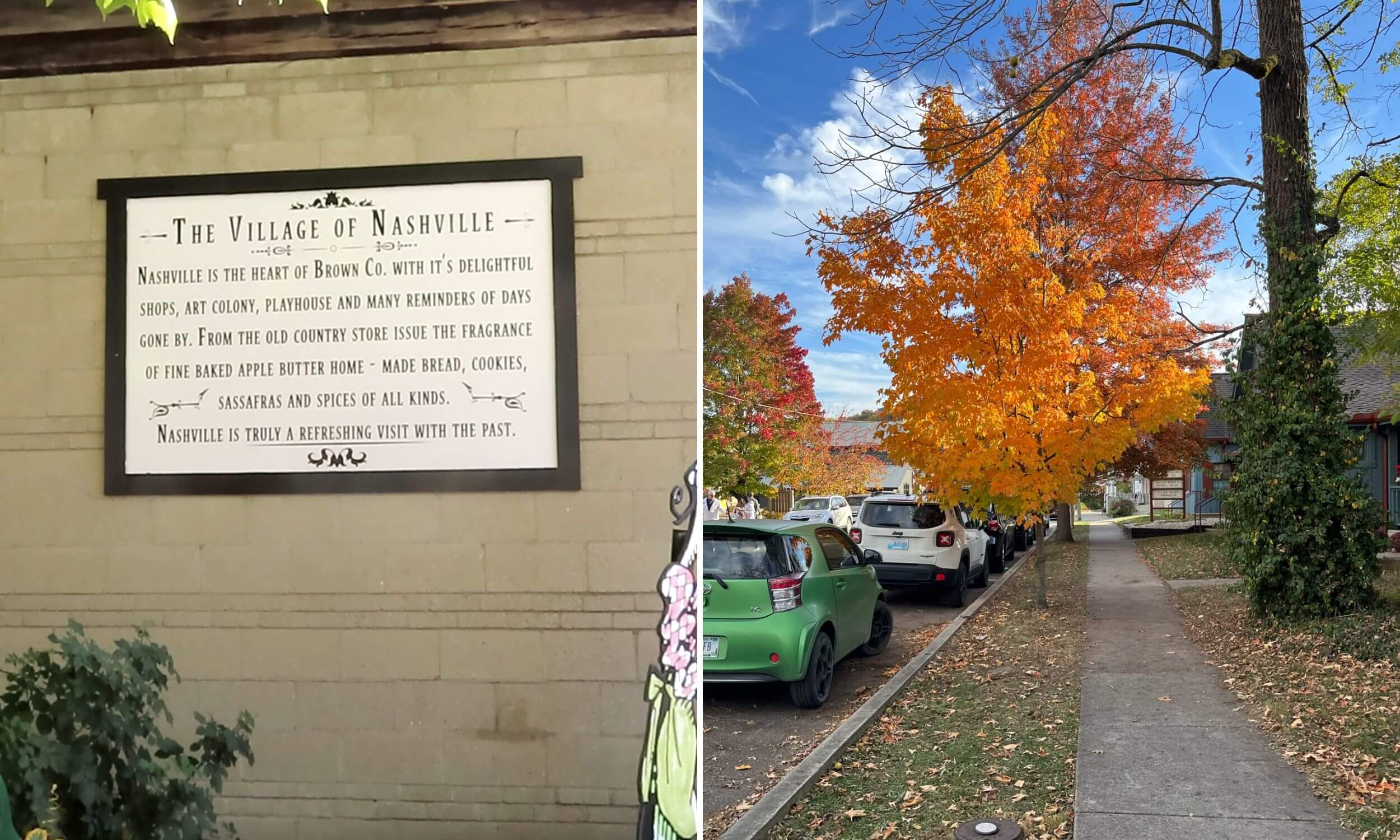 Since it was crowded and we didn't feel like waiting a long time for a table at a restaurant, we opted for pizza to-go. We ordered a Canal Street pizza (highly recommend) and a side of knuckles (twisted dough with garlic sauce) from Brozinni Pizzeria. We took it to the closest park bench, enjoyed our pizza, and watched all the people walk buy with all of the treasures they bought that day. A great ending to a great day.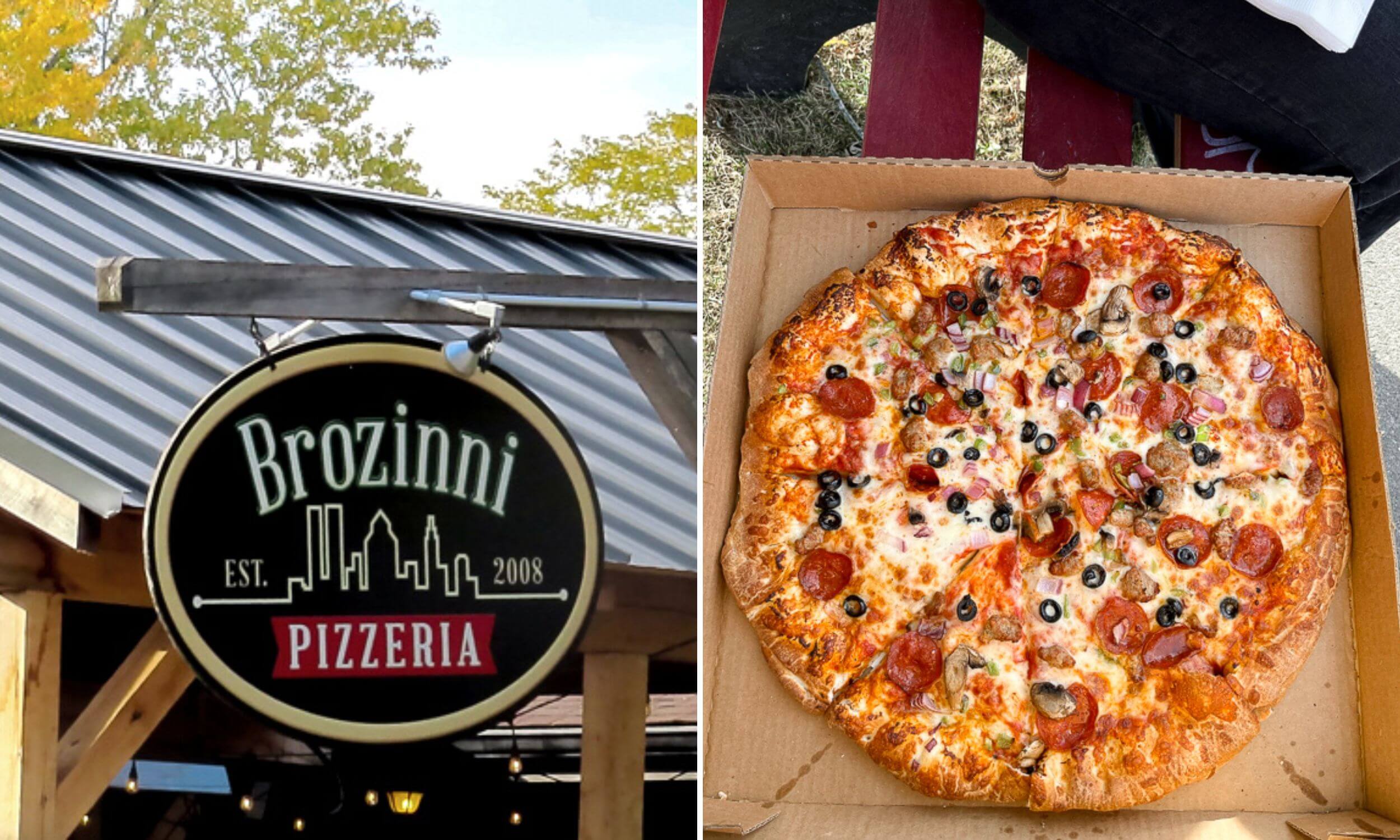 Covered Bridge Festival
During our Indiana trip, we also visited Indiana's largest festival- the Covered Bridge Festival. This annual festival is a great way to spend a fall October day in Parke County Indiana. This is a 10-day festival and always begins on the 2nd Friday in October.
This Indiana festival is made up of 10 separate towns each of which have their own charm and contribution to the festival. In and between the festival locations are 31 covered bridges that you can visit.
We had 1 1/2 days to spend doing festival things and were able to visit 6 of the various locations and 7 of the covered bridges. I'll briefly go over what we saw/did at the Covered Bridge Festival on this blog post, but you can read more details about this festival and our time spent there on my Covered Bridge Festival blog.
The 3 biggest festival locations are Mansfield, Bridgeton, and Rockville. We weren't able to get to Mansfield until later in the day so many people had already left or were leaving, but there were tons of vendors here (more flea market type of vendors rather than local art).
I felt like Mansfield had tons of food vendors and food trucks to choose from though all in one spot- sirloin tips, ice cream, persimmon pudding, beans, chicken noodle soup, fried veggies, pumpkin roll, fudge, etc. It was really cool to walk through the old Mansfield Roller Mill and Mansfield Bridge.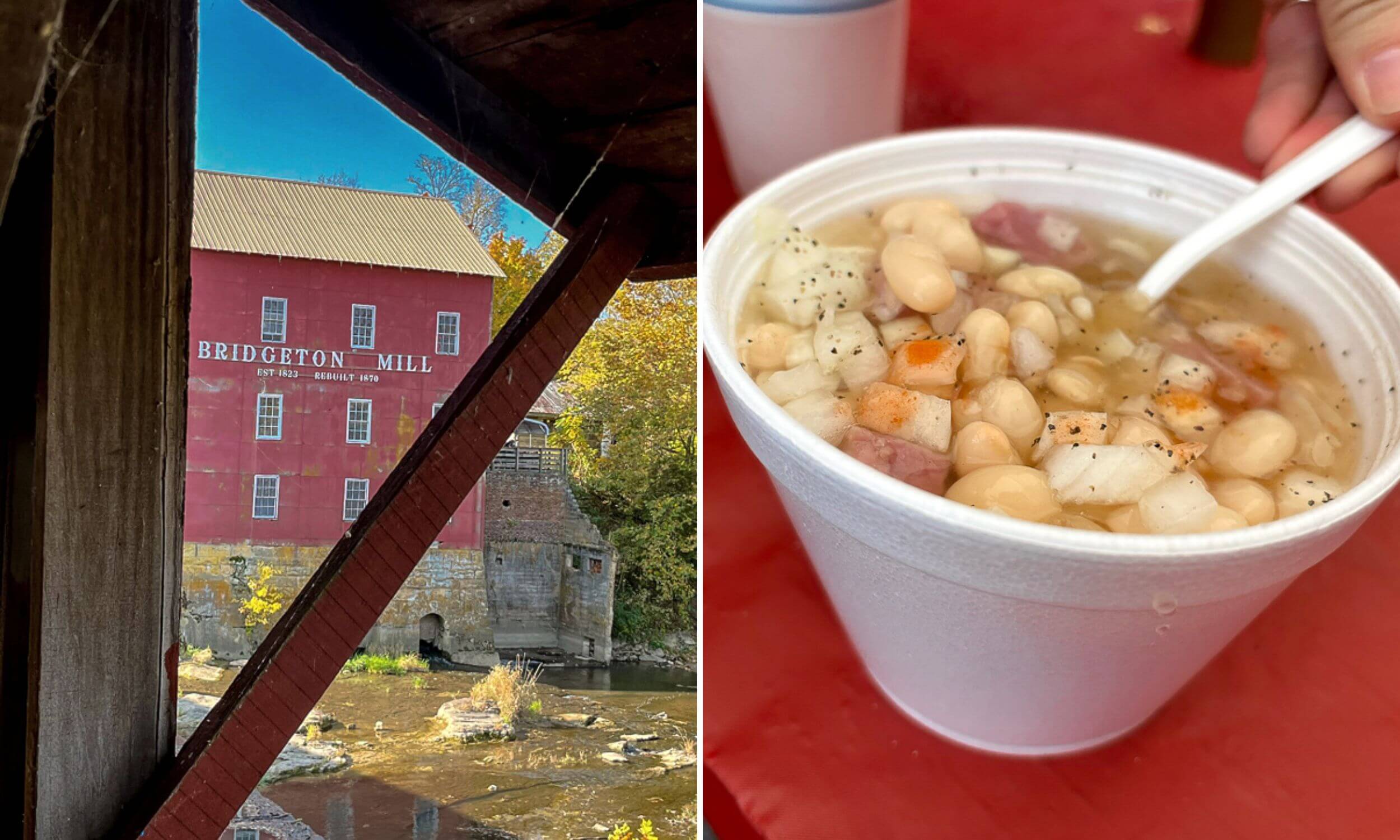 Bridgeton was also really huge with a mix of flea market type of vendors and local art? goods/ craft booths. During our time at Bridgeton we ate freshly ground grits with bacon, beans and ham from the Bean Shack, persimmon pudding, and a mouse ear.
I only wished I had a second stomach at this festival because you are pretty much surrounded by tons of delicious food at all times. It's difficult to choose! At Bridgeton, you can also see history by walking through the running Bridgeton Mill, the Bridgeton Bridge, the 1822 Log Cabin, and the Olde Bridgeton School.
Rockville was my favorite location. It had more of a small town festival feel to it and you could just tell that everybody put their heart into what they were doing. You'll find lots of local goods, craft vendors, art, antique stores, food booths, and an art gallery along the main street.
We even walked to the Rockville cemetery which had beautiful fall foliage and falling leaves- a perfect stroll in the crisp weather. We ate a lot here including chicken noodle soup, fudge, sassafras hard candy, freshly made warm apple cider, corn fritters, and crullers.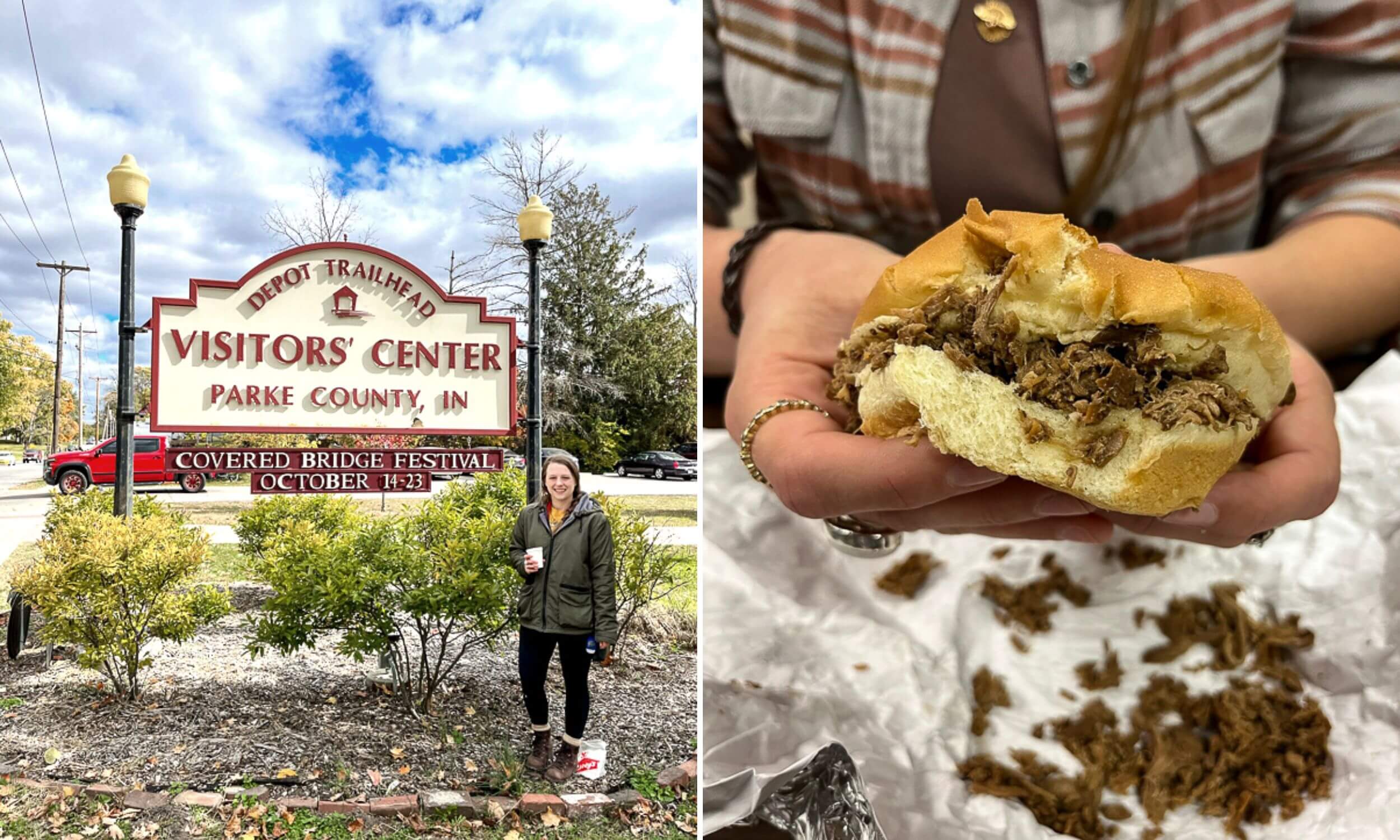 As for the smaller towns, Montezuma offers roast hog, crullers, and beans as well as Wabash & Erie Canal tours. Mecca has a beautiful bridge as well as a one-room schoolhouse and a tent set up with local items for sale. When we visited, the thirty or so people there were enjoying their afternoon by doing some do-si-do dancing. Lastly, in Tangier we ate the world famous buried beef.
Even if you can't make it to Parke County during the Covered Bridge Festival, I still highly recommend trying to find some of the covered bridges. It is very cool to walk and see history right there in front of you.
Plus, they make for some really great photos especially during the fall with the changing leaves. Which I must also mention that the back roads that led us to the bridges were so beautiful with fall leaves everywhere- such a vibe! Oh, and lots and lots of corn too!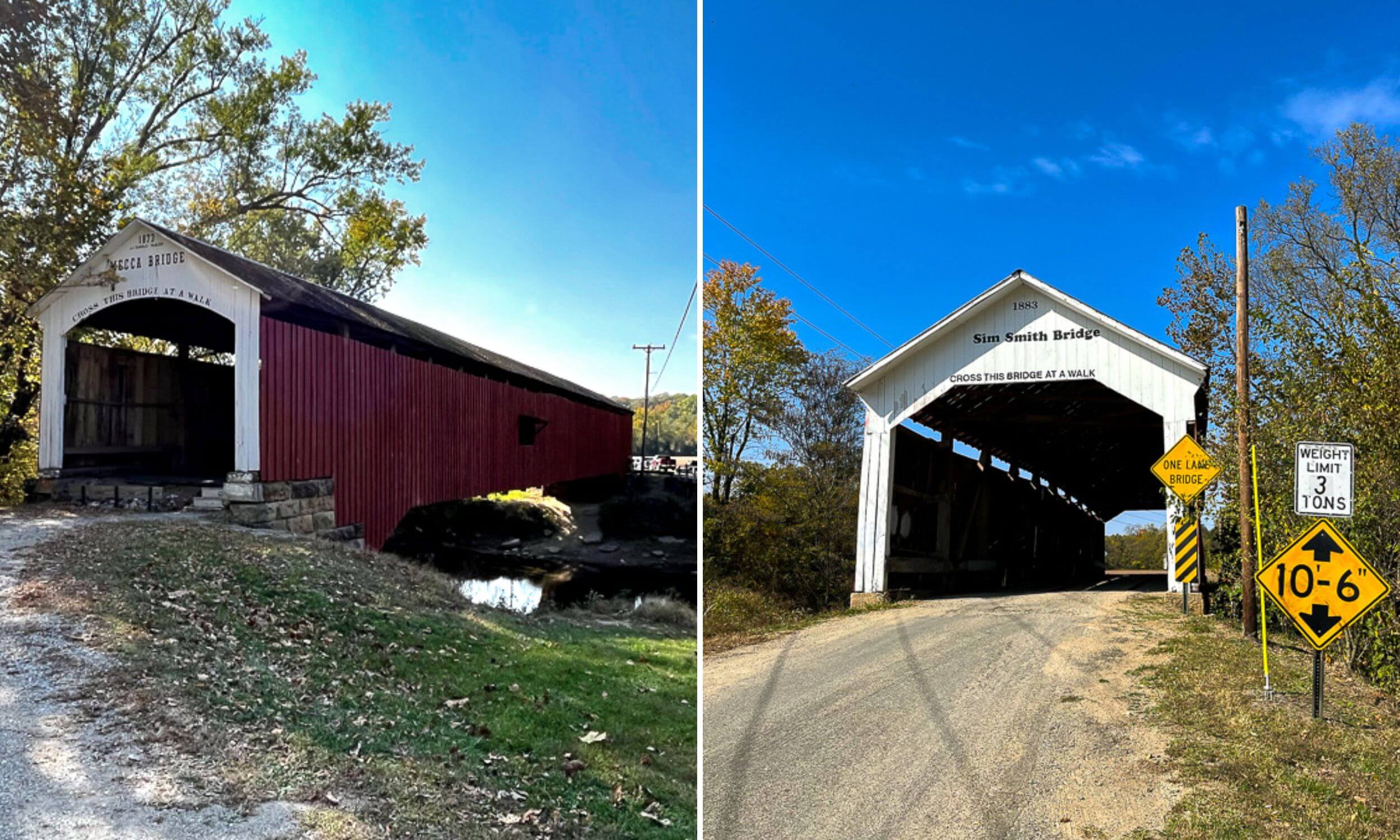 Since neither my husband or I had cell service while bridge hunting, we relied on using a physical map. I was able to request one from the Parke County website. We only got turned around a time or two (ha!).
Unfortunately, we weren't able to make it to the other locations: Bloomingdale, Billie Creek Village, Bellmore, or Rosedale. Next time! Though I'm really glad were able to visit what we could and see some beautiful bridges along the way. It was a lot of fall fun and an absolutely great place to spend a fall day!
Turkey Run State Park
8121 Park Road
Marshall, IN 47859
After seeing the fall beauty at Turkey Run State Park, it may have been my favorite part of our Indiana trip. I mean, just wow. 10/10. Highly recommend. Just make sure you pack a pair of shoes that have good grips on the bottom.
We decided to hike trail #3. I would say this trail is fairly challenging. After crossing the suspension bridge, we had to climb ladders, walk along ledges, saw the Punch Bowl, and walk between the steep walls of Rocky Hollow.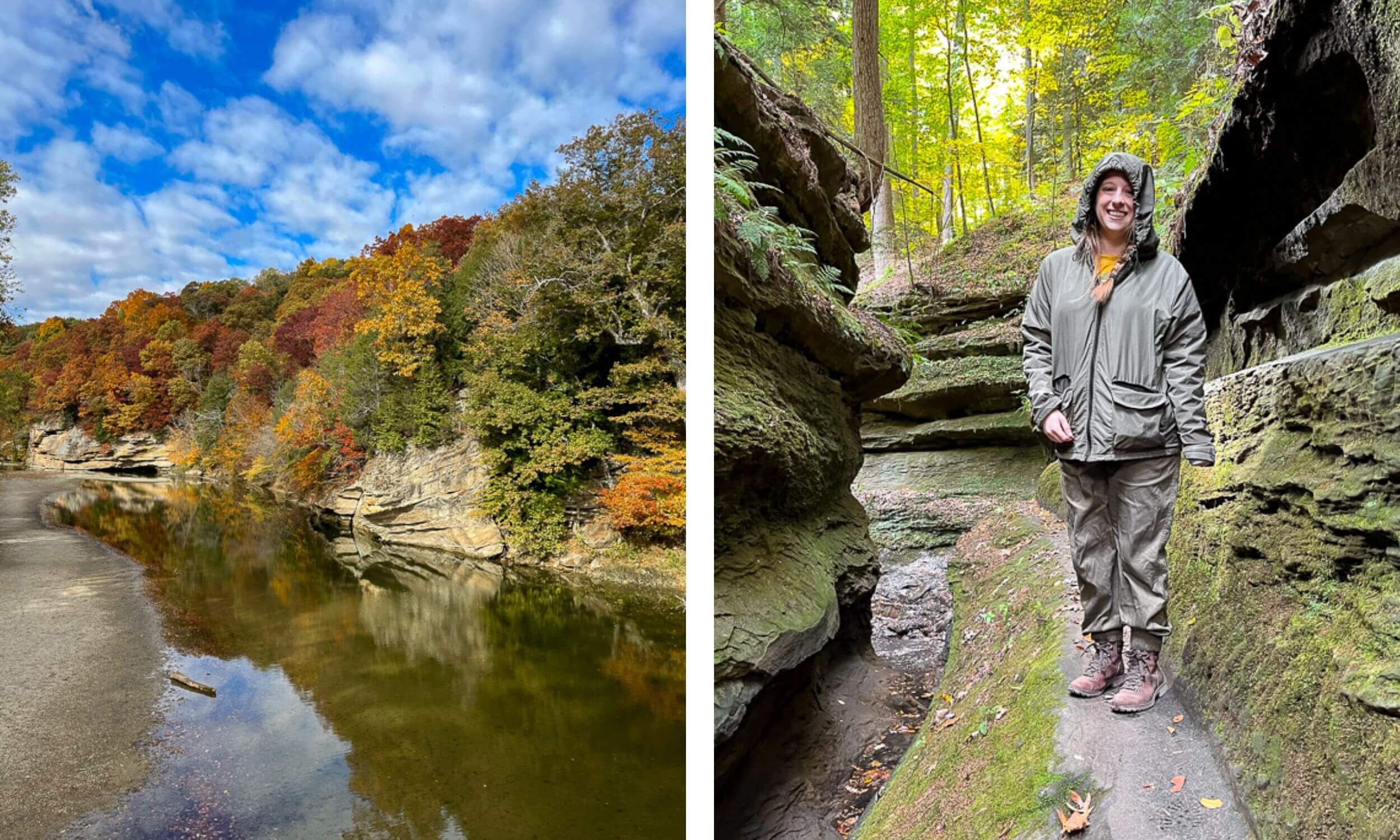 It was an absolute blast, and this park has such beautiful scenery. After a few minutes into hiking, we didn't even notice that it was only 30 degrees outside. Oh, and we saw tons of different species of mushrooms!
You can read in more detail about our Turkey Run State Park visit on Turkey Run State Park blog post.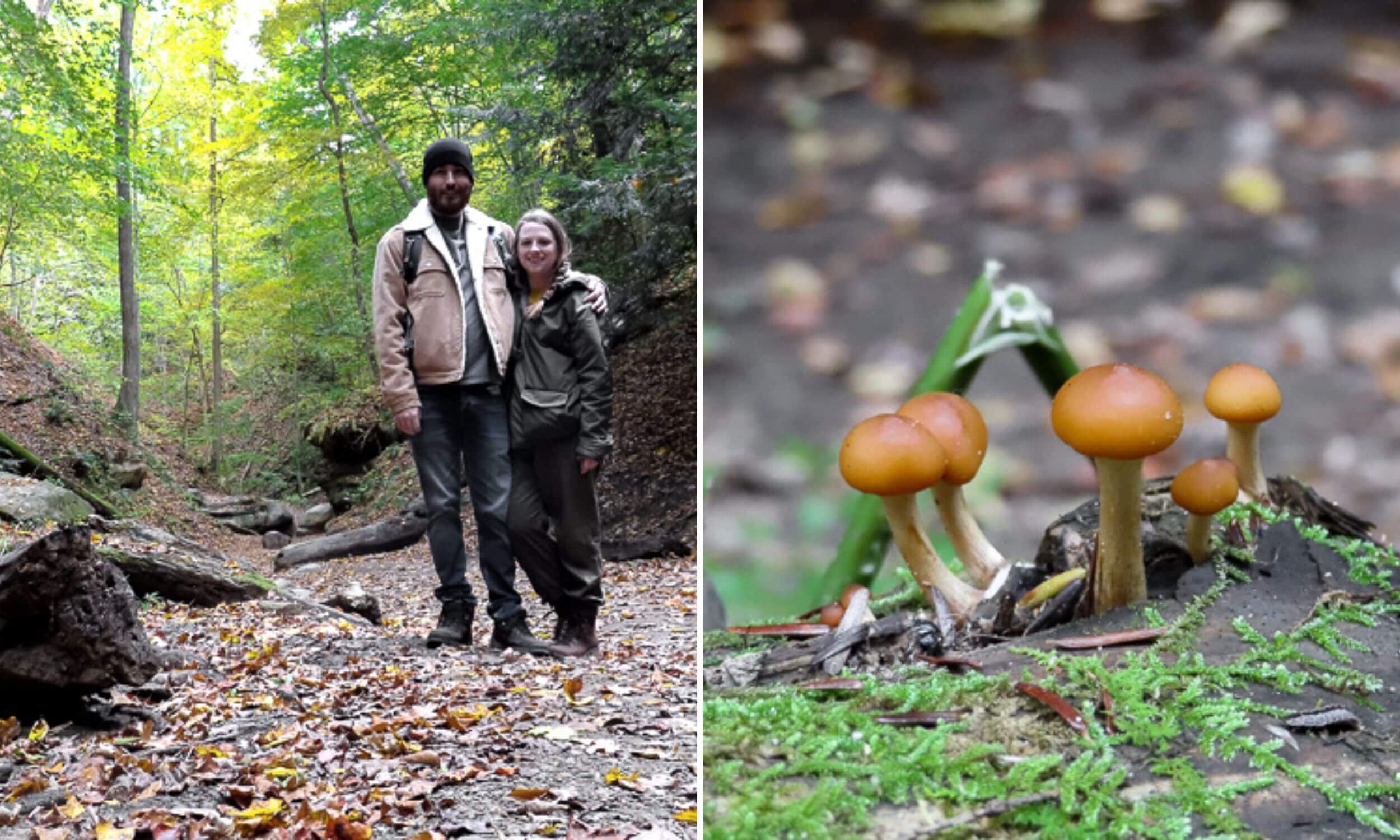 Newfields Harvest Nights
4000 Michigan Road
Indianapolis, IN 46208
Lastly on our fall Indiana activities, we went to Newfields Harvest Nights. I was pretty bummed that we didn't get to visit Newfields, an Indianapolis Museum of Art, during the day. I was less bummed out when I found that they do special events including Harvest Nights during October!
I wasn't sure what to expect, but I'll just say Harvest Nights exceeded my expectations. This event is great for the whole family, but even as a couple with no kids, we had so much fun. We paid $25/person, and it was worth every penny. I won't go into much detail over each of the fun activities as I don't want to spoil the fun so I'll keep it brief.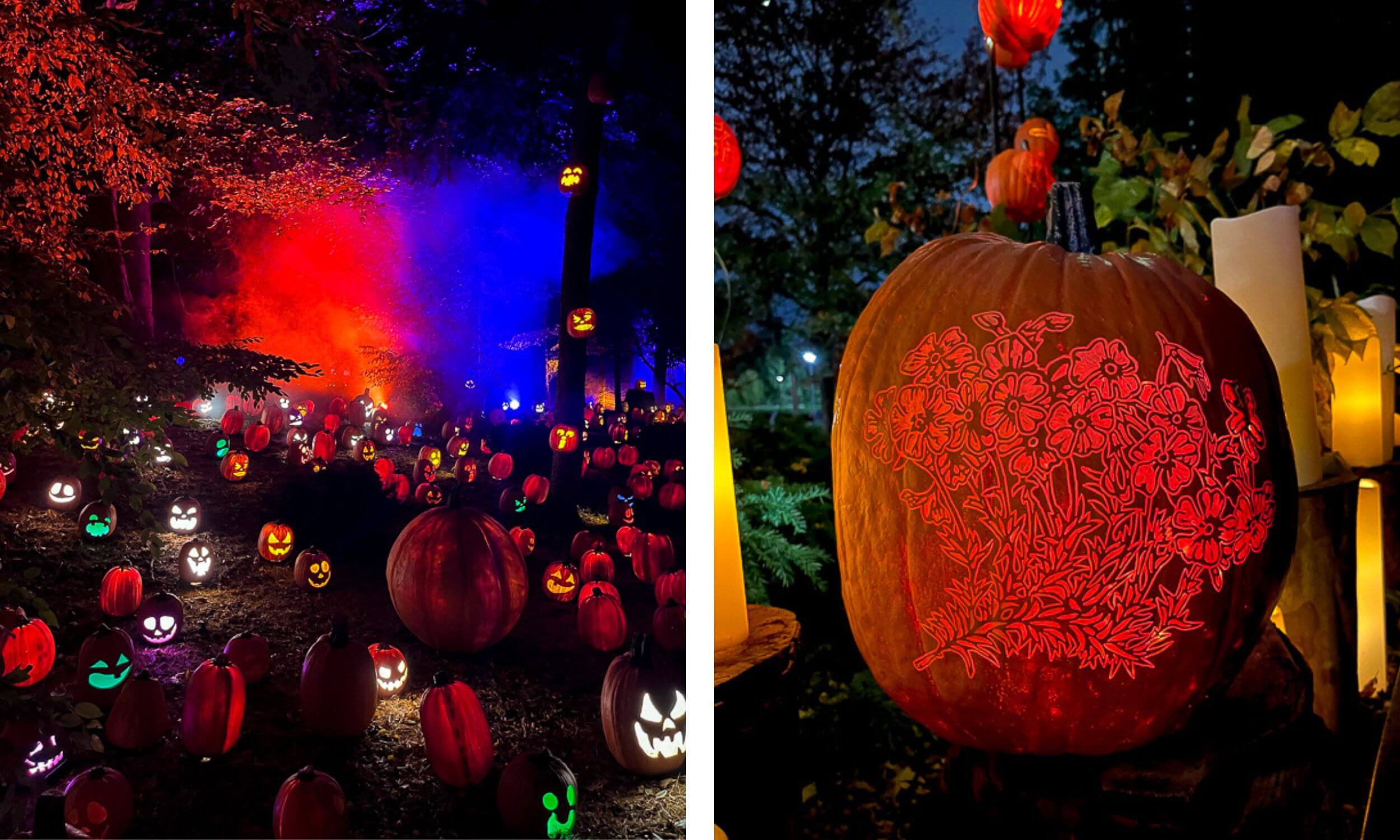 At Newfields Harvest Nights, you'll first run into so many pumpkins that have been etched. Flowers, snails, frogs, all nature things have been etched onto these pumpkins. Now my favorite part was the trail of carved pumpkins- literally hundreds of lit up carved pumpkins surround the trail. It was such a spooky vibe, and I absolutely loved every second.
While there's much more to Harvest Nights, the last attraction I'll talk about is the Lilly House. They were giving spooky tours of the old (maybe haunted house- I'll let you decide) mansion. Not only were the decorations on point, the house itself was really cool to walk through.
Of course, we had to get some snacks- a pretzel with mustard, an apple cider, and a cup of hot chocolate. They also had fun boozy drinks to purchase as well.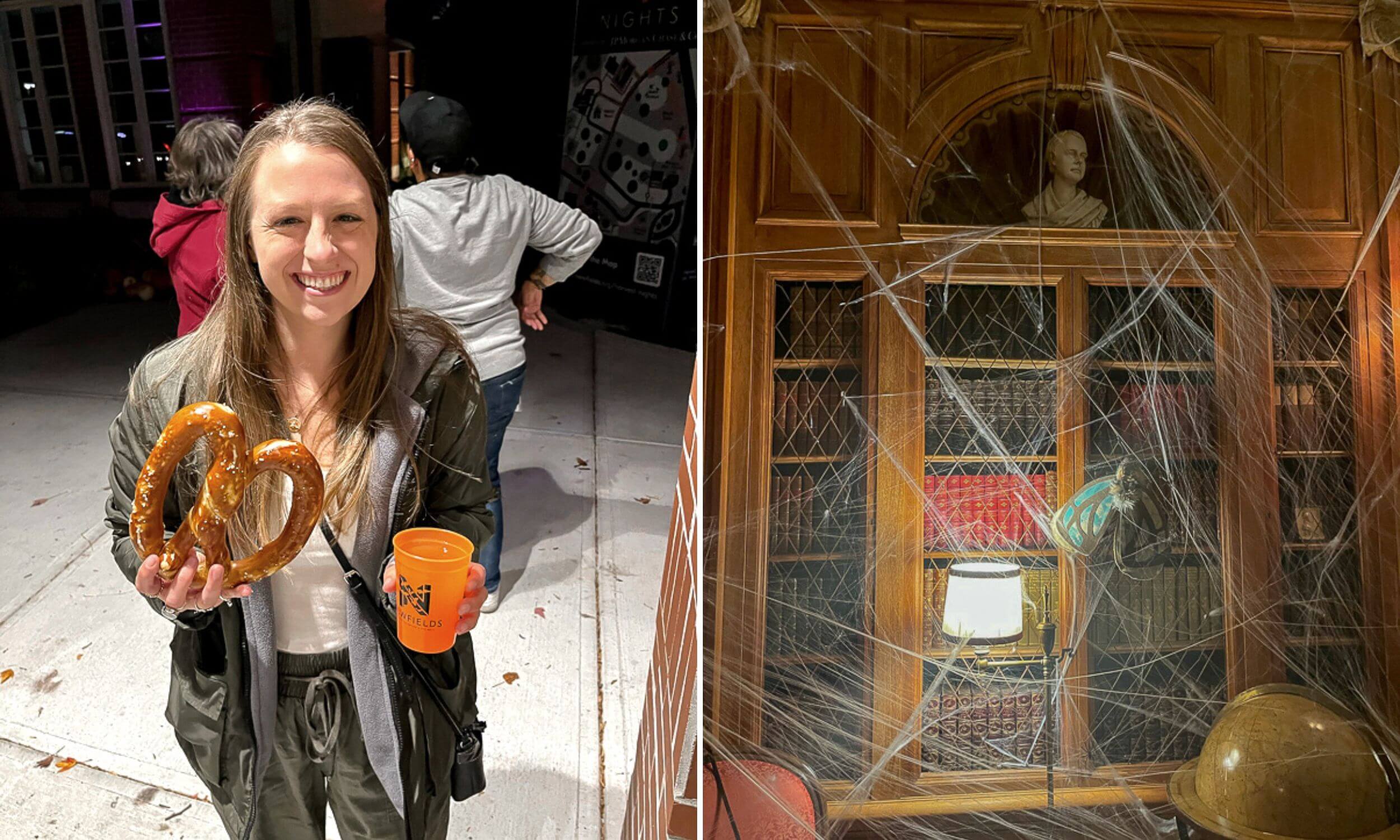 A wonderful spooky October night, indeed.
50 States by 50
Indiana was our first state for our 50 states by 50 challenge. My husband, Brian, and I are planning to visit all 50 states by the time we turn 50 years old. To choose which state we travel to next, we will draw it randomly!
For each state, we will plan at least a 4 day trip that consists of visiting the state capitol and state museum, exploring a state park, and eating whatever food that state is most known for. I will be documenting all of our travels here on my blog and making vlogs as well which will be posted on YouTube. Read more about our 50 States by 50 Bucket List.
__________________________________
Thank you for reading about all our fall activities on our Indiana trip. If you have any questions or just want to share your fall experiences in Indiana, please leave a comment down below.

Category: Life & Travel, 50 States Bucket List
Keywords: fall festivals Indiana, pumpkin festival Indiana, harvest festivals, fall things to do in Indiana, Indiana festivals, free outdoor event, free family-friendly event, fall fun events in Indiana
More Indiana Travel Blogs:
We also did a bunch of other things during our 4 days in Indiana. Each blog goes into more detail about each thing that we did, saw, or ate! I have a blog over:
✽ Our entire 4-Day Indiana Itinerary (Indianapolis, apple picking, Nashville, Covered Bridge Festival, Turkey Run State Park, & more)
✽ Covered Bridge Festival (amazing food, art vendors, fall leaves, & covered bridges)
✽ Our 1 1/2 Days in Indianapolis (capitol, Soldiers & Sailors Monument, Motor Speedway, state museum, & more)
✽ Food in Indiana (pork tenderloin, apple treats, sugar cream pie, Korean pickles, arepas, & more)
✽ Turkey Run State Park (hiking through fall leaves, sugar creek, climbing up ladders, & walking on ledges)
✽ Our 4-Day Indiana Trip Budget (how much our 4-day, 5-night trip to Indiana cost for two of us)
Bon voyage & bon appétit!
November 10, 2021 by Laura Bullock
*This Fall Weekend in Indiana Itinerary blog post may contain some Amazon affiliate links. These link to products that I personally use and recommend. If you purchase anything using my links, it will not cost you anything. It will though give laurathegastronaut.com some financial support which helps me keep this blog running. Thank you for reading my blogs and your continued support.