Laura the Gastronaut > Life & Travel > 50 States Bucket List >

French Quarter Festival
French Quarter Festival in New Orleans, Louisiana
May 11, 2023 | Laura
We spent a day having great fun at the French Quarter Festival in New Orleans, Louisiana. There was so much beautiful vibrant art to see and so much great music to listen to from multiple stages scattered around the French Quarter. The food made by numerous local restaurants was all so delicious. I wish we could have tried it all!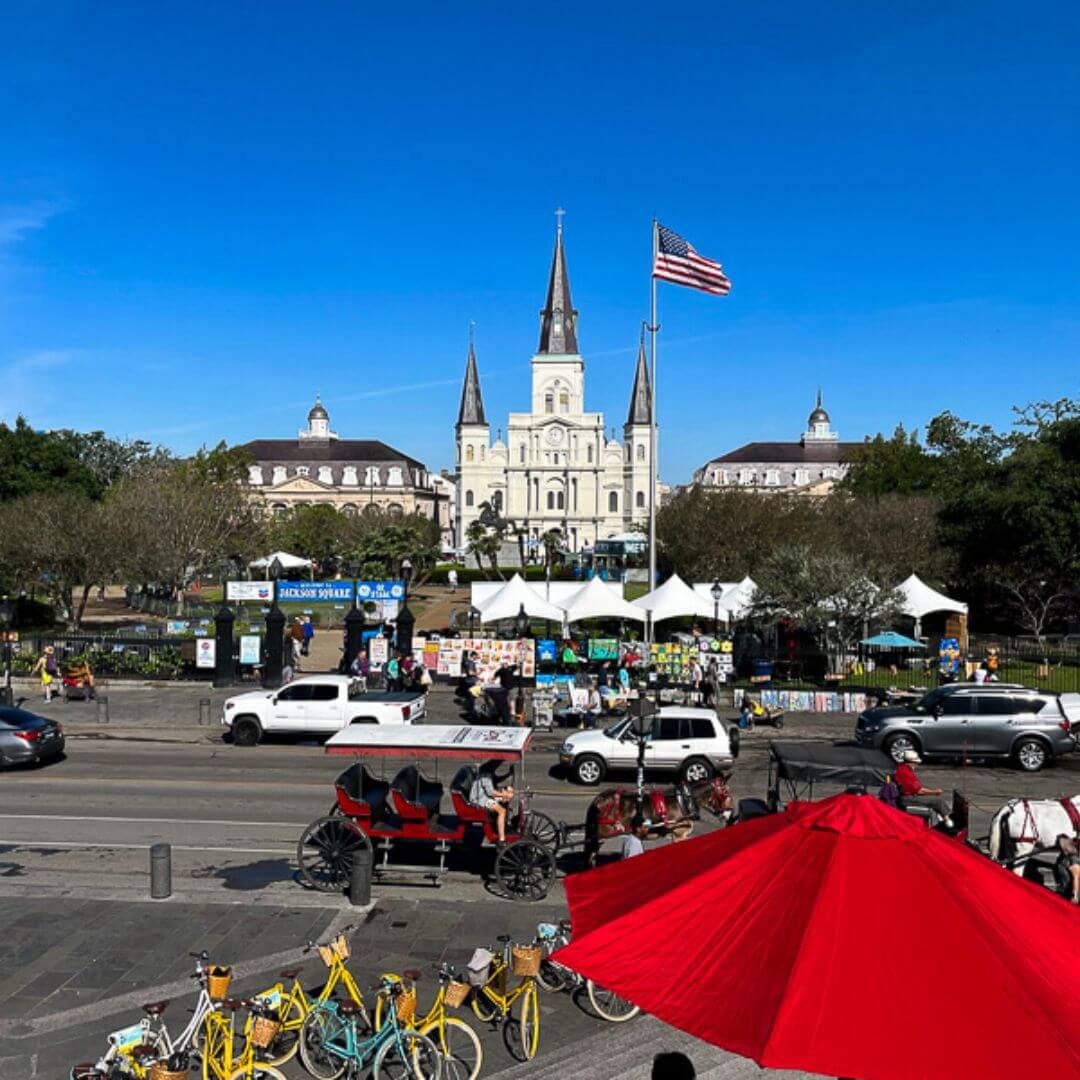 Great Music
When traveling, we love to plan our vacations around local festivals. One know the ones that have local music, delicious homemade food sold from a booth or food truck, and great art. So if there is a big festival going on during the time period we are planning a vacation, we will be there!
The French Quarter festival happens in April of every year in the historic French Quarter neighborhood in New Orleans, Louisiana. It lasts for four days (Thursday-Sunday) with music playing from 11:00AM to 8:00PM every day. Oh, and this is also a completely free festival! You just need to bring money for all that delicious food you are going to eat.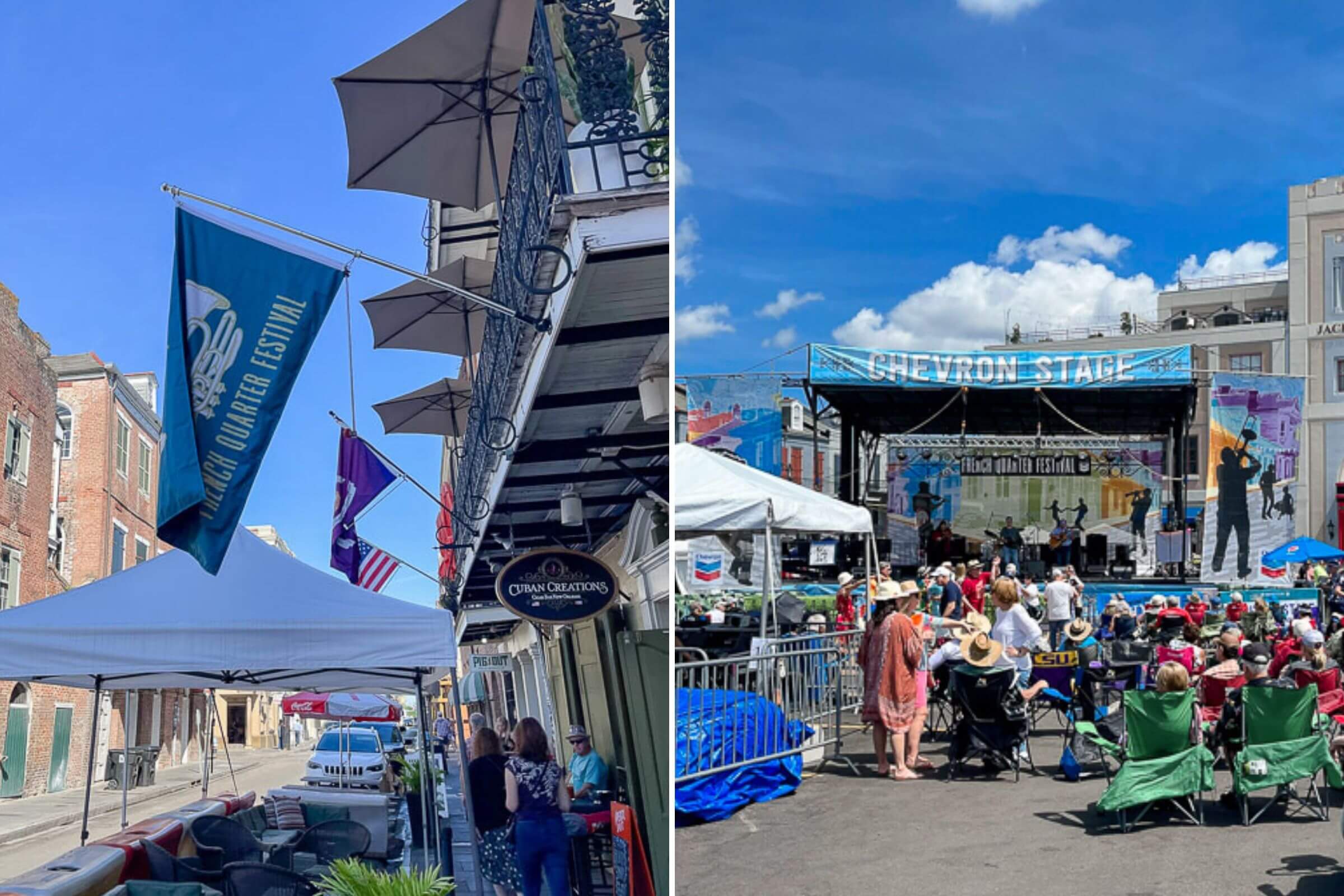 The French Quarter Festival was a blast. This annual festival features local musicians and artists. There are 25 different stages scattered all throughout the French Quarter in various locations making it the largest free music event in the United States. During the four days, 1700 musicians will be featured playing 400 hours of free music. This festival is perfect for music lovers.
During our day spent at the festival, we heard so many different types of genres on those stages. There really is something for everybody here at this huge festival. You know it is going to be a good day when you are listening to live music outside on a sunny spring day. Good times had by all!
Great Art
After listening to the music for awhile, get up and stretch your legs by walking around the French Quarter. You will find so many local artists set up with so much vibrant and beautiful art. It was so much fun just walking around and looking at all the talent. There's tons of artwork that you can buy right on the spot and take home with you.
Also, while strolling through the art, you will hear multiple musicians playing on the street. They are really good and so fun to listen to!
Great Food
During the festival, you will discover some of the best food made by some of the city's finest restaurants. I mean, really it is the some of the best food, and there is so many delicious food vendors at this festival. I wish we could have tried it all.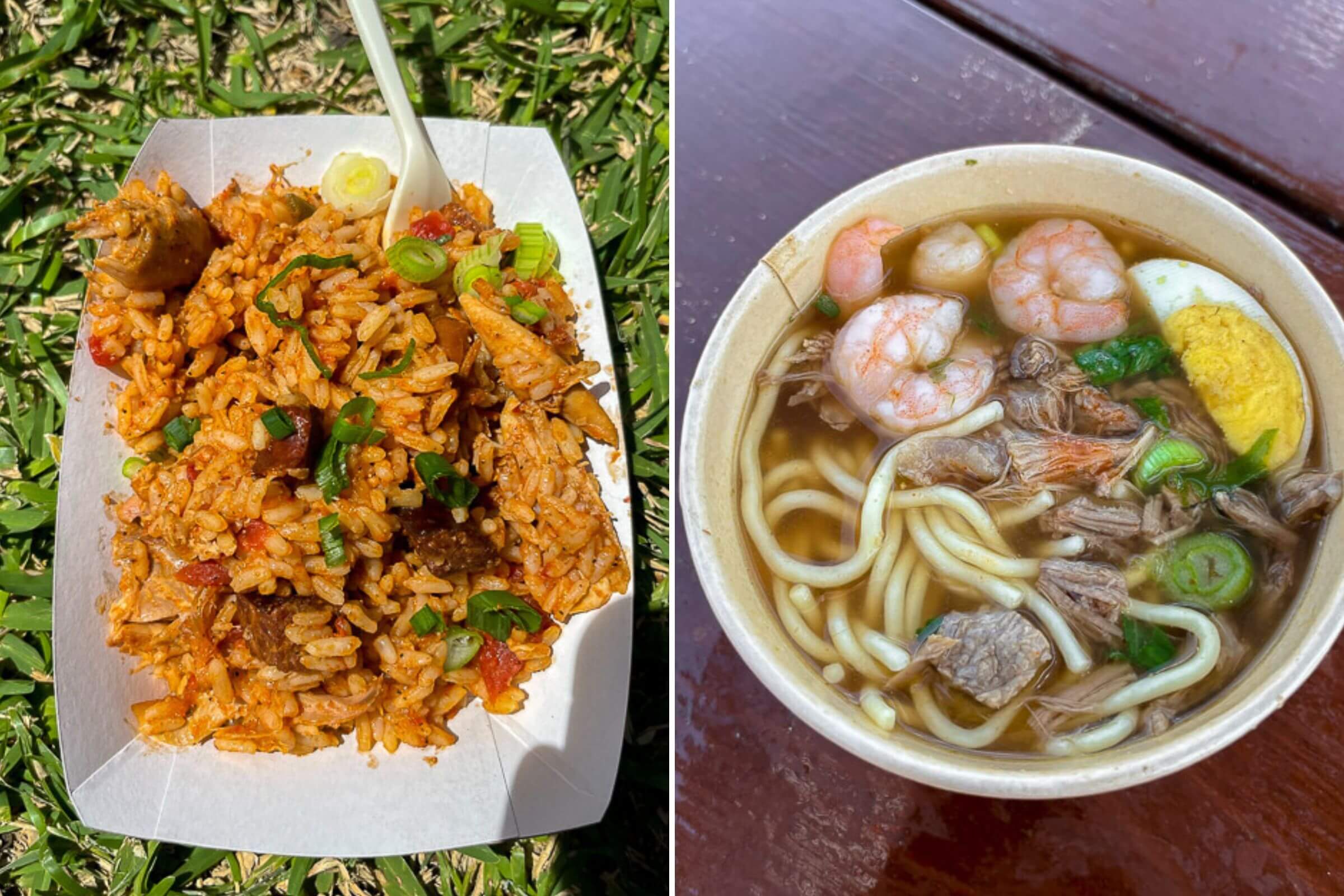 Let's go over some of our favorite foods that we had at the festival. Ones that I would consider a must-have. If you cannot make it to the festival in April, do not worry! Almost all the food we had at the festival comes from actual local restaurants located in New Orleans.
First, yakamein from Miss Linda the Yakamein Lady. Yakamein is almost like a ramen but with creole flavors. That broth is to die for! The rabbit jambalaya from Crabby Jacks was also amazing and perfectly seasoned. The rabbit was excellent! Next, get the shrimp & alligator sausage cheesecake from Jacques-Imo's Cafe. This was mindblowing! I had no idea that a savory cheesecake full of alligator could be so good. Lastly for dessert get some bread pudding covered in a rum sauce from Desire Oyster Bar. It is just *chef's kiss*.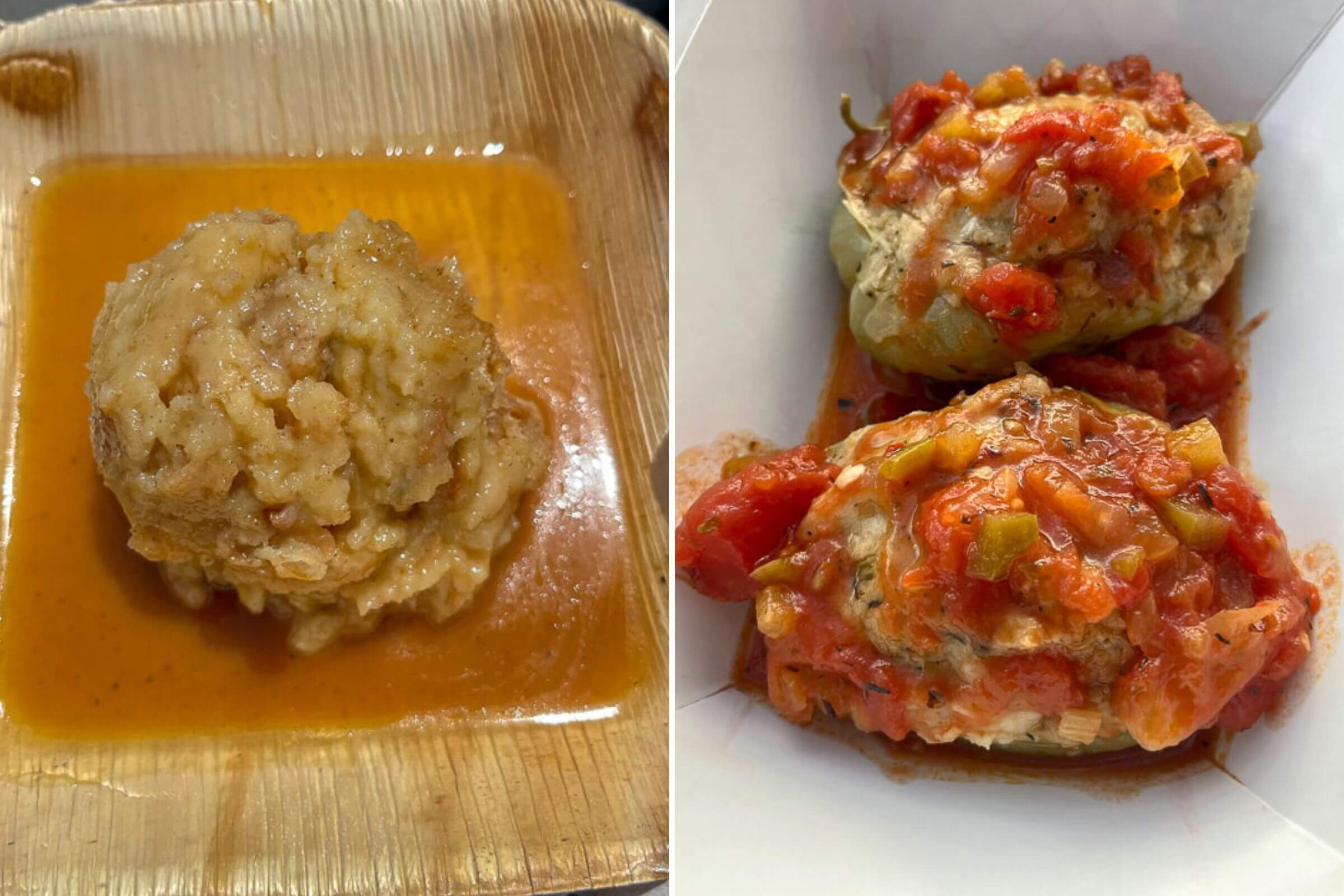 We ate so much more amazing food at the festival and during our trip to Louisiana. Read all about the food we ate on my Louisiana Food Trip blog!
Great Sights
Since the French Quarter festival is located pretty much around the entire French Quarter, we took some time to explore. Of course, we had to go check out the famous Bourbon Street and the surrounding streets. The streets are fun to walk up and down looking at all the unique and pretty New Orleans balconies that people have decorated. There are also so many different little shops that you can go into that sell local items such as homemade pralines. My favorite was Marie Laveau's House of Voodoo which is full of voodoo dolls, potions, and so much more.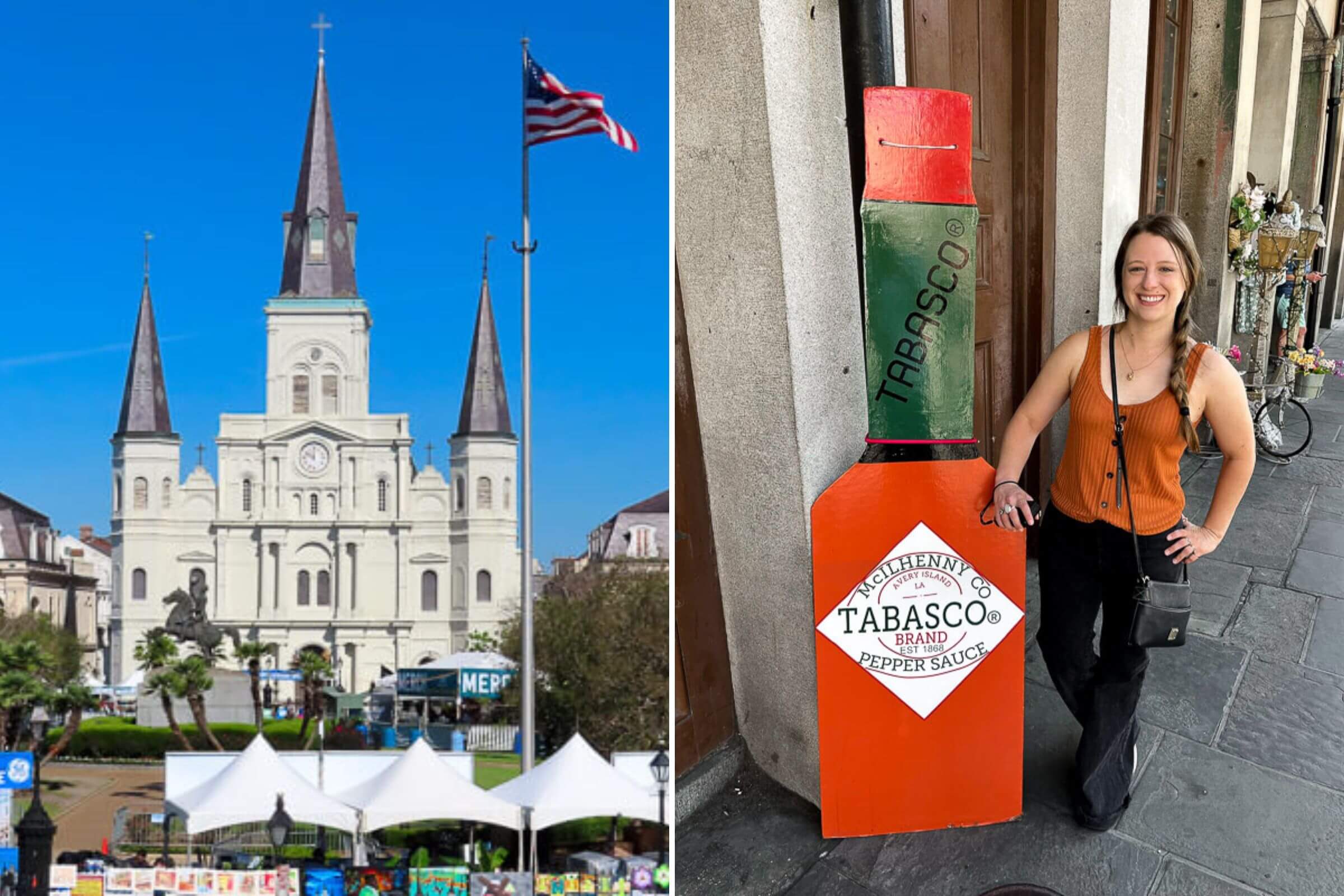 We also went to go see Lafitte's Blacksmith Shop Bar which is claimed to be the oldest structure used as a bar in the United States. It was built between 1722 and 1732! In addition, there are plenty of restaurants and bars to choose from to have a sit and enjoy the afternoon. And, of course, you have to go admire the inside and outside beauty of the St. Louis Cathedral located by Jackson Square.
My tips- from somebody after attending the French Quarter Festival for the first time:
✽ There are A TON of people here. We went on a Friday so I'm sure that Saturday and Sunday are even more packed. When we got into the festival at 11:00AM when the gates opened, there were not too many festival goers there yet. It really started to pick up around 2:00PM or so. My advice- go early (and on Friday if you can) and take advantage of no food lines! Around 6:00PM, some food areas were so packed that we had a difficult time telling which line went to which food booth.
✽ With that said, if you really want to try a food, don't let a long line discourage you. The lines move pretty fast.
✽ A lot of the food booths took card, but some of them were cash only. There were ATMS on-site, but if you don't want to pay a fee, bring cash with you.
✽ If your plan is to just sit and listen to music in one or two areas, bring a lawn chair. If you don't bring a chair, you will be standing or sitting in the grass. We, however, were jumping from one area to the next so a lawn chair probably would have been more of a hassle than it's worth.
✽ Parking is tricky. I would suggest heading over to the French Quarter Fest's page where they go into detail about parking. Or better yet, get an Uber to the festival.
✽ We stayed at the Best Western Plus St. Christopher Hotel (114 Magazine Street). This was so convenient as we could just walk to the festival that morning. And since the hotel has their own parking spaces in a parking garage, we did not have to worry about finding a parking spot (it does cost extra for hotel parking though).
More New Orleans Festival Fun!
If you can't make it to New Orleans in April when the French Quarter Festival is going on, do not worry! New Orleans has so many different kinds of festivals that happen all throughout the year. It's always festival season in the Big Easy. New Orleanians sure do know how to party!
These are some of the New Orleans festivals I found when deciding which festival we wanted to attend. Of course, I can't give reviews of these festivals since we have never gone to them, but maybe this list will help you plan an upcoming New Orleans trip for yourself!
✽ Mardi Gras: February/March; Perhaps the biggest celebration in Louisiana. It's a big deal and loads of fun.
✽ New Orleans Bourbon Festival: March; Enjoy amazing bourbon and cuisine and the culture of New Orleans at Bourbon Fest.
✽ New Orleans French Film Festival: March; At the film fest, find live music, lectures, parties, and screenings of French cinema.
✽ New Orleans Jazz & Heritage Festival April-May; Jazz Fest is a celebration of local music and culture.
✽ Mid-City Bayou Boogaloo: May; A three day festival celebrating music, art, and food.
✽ French Market Creole Tomato Festival: June; A festival where you will find fresh creole tomatoes, hear live music, and eat delicious food.
✽ Essence Music Festival: June-July; The Essence festival celebrates contemporary African American music and culture.
✽ Satchmo Summerfest: August; This festival is a celebration of Louis Armstrong.
✽ New Orleans Funk Fest: October; This festival is to celebrate Louisiana's music history featuring local music legends.
✽ Crescent City Blues & BBQ Festival: October; This festival features musicians from Louisiana & Mississippi, delicious food, and art.
✽ Voodoo Music & Arts Experience: October; Voodoo Festival is a multi-day arts and music festival held over Halloween weekend.
✽ Oak Street Po-boy Festival: November; A festival to celebrate the delicious po-boy.
→ Find the New Orleans festival calendar on neworleans.com!
50 States by 50
Louisiana was our second state for our 50 states by 50 challenge. My husband, Brian, and I are planning to visit all 50 states by the time we turn 50 years old. To choose which state we travel to next, we will draw it randomly!
For each state, we will plan at least a 4 day trip that consists of visiting the state capitol and state museum, exploring a state park, and eating whatever food that state is most known for. I will be documenting all of our travels here on my blog and making vlogs as well which will be posted on YouTube. Read more about our 50 States by 50 Bucket List.
__________________________________
Thank you for reading about our time spent at the French Quarter Festival in Louisiana. If you have any questions or just want to share your Covered Bridge Festival experiences, please leave a comment down below.

Category: Life & Travel, 50 States Bucket List
Keywords: french quarter festival new orleans, new orleans festivals, french quarter fest new orleans, new orleans festival food, new orleans louisiana festivals, downtown new orleans festival
More Louisiana Travel Blogs:
We also did a bunch of other things during our week in Louisiana. Each blog goes into more detail about each thing that we did, saw, or ate! I have a blog over:
✽ New Orleans Itinerary (The National WWII Museum, beignets, city park, plantation house tour)
✽ Food in Louisiana (gumbo, jambalaya, etouffee, crawfish, alligator cheesecake, boudin, cracklins, beignets, & so much more)
✽ Sam Houston Jones State Park (hiking, alligators, snakes, river sunsets, & our cabin)
✽ 7-Day Louisiana Itinerary (festival, amazing cajun food, airboat swamp tour, hiking, holding alligators)
✽ Baton Rouge Itinerary (state capitol, state museum, USS Kidd museum, Mississippi River)
✽ Our 7-Day Louisiana Trip Budget (how much our 7-day, 6-night road trip to Louisiana cost for two of us)
Bon voyage & bon appétit!
May 11, 2023 by Laura Ehlers
*This French Quarter Festival blog post may contain some Amazon affiliate links. These link to products that I personally use and recommend. If you purchase anything using my links, it will not cost you anything. It will though give laurathegastronaut.com some financial support which helps me keep this blog running. Thank you for reading my blogs and your continued support.