Laura the Gastronaut > Life & Travel > 50 States Bucket List >

Louisiana Food Trip
Louisiana Food Trip (Gumbo, Jambalaya, Crawfish, & More)
May 11, 2023 | Laura
We ate so much delicious food during our week spent in Louisiana! Louisiana has some of the best food in the world, and we wanted to try as much as we possibly could. We ate a lot of iconic dishes such as crawfish, alligator, gumbo, jambalaya, etouffee, beignets, and so much more. We also had tasty food at the French Quarter Festival including alligator sausage cheesecake!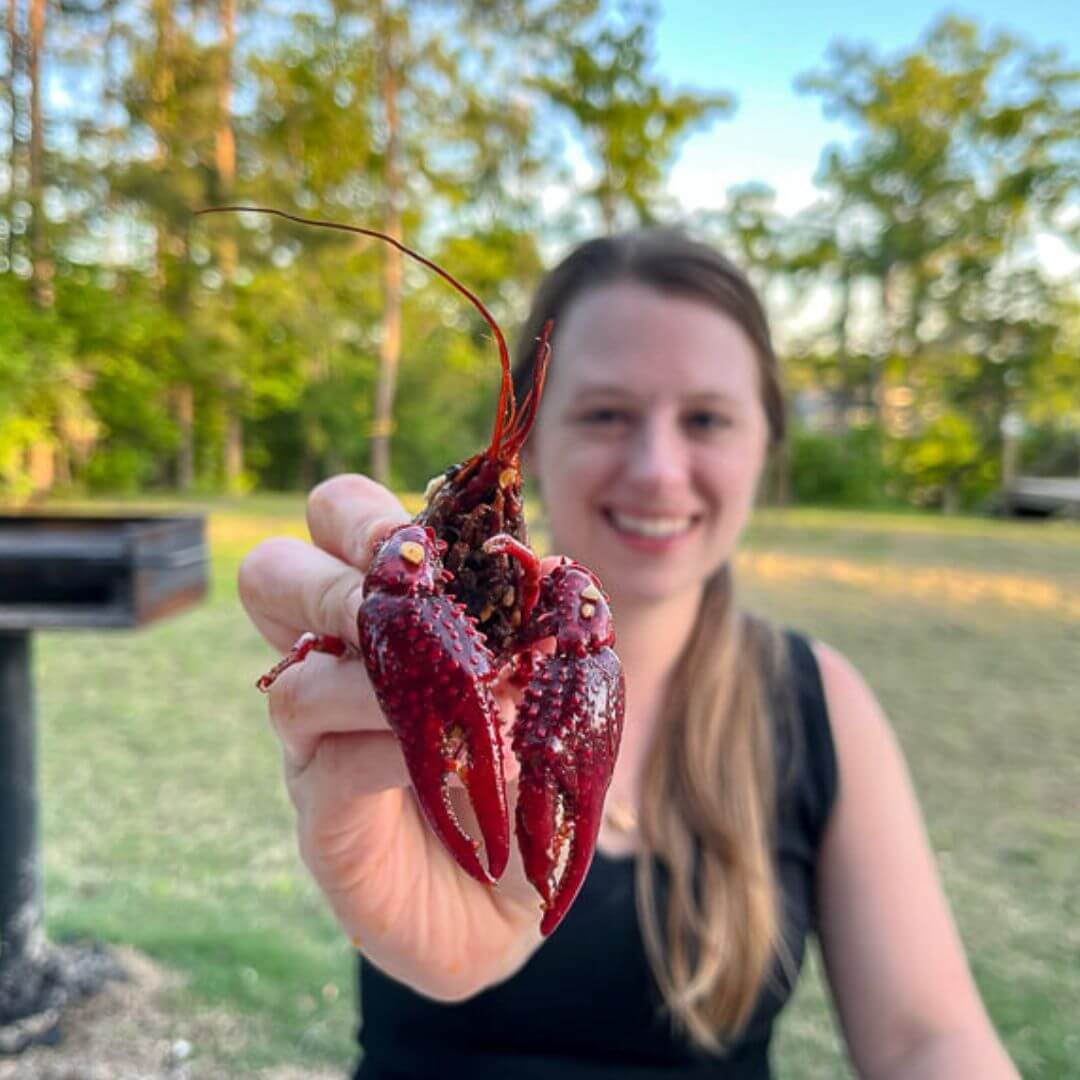 Our Food Trip to Louisiana
Food is one of the main reasons we travel! We love trying new foods that represent that part of the world's culture. Every place we stop to eat is planned out to ensure that we are eating the some of the best that state has to offer. Our goal is to head home full, happy, and satisfied. In this blog, you will see and read about everything that we ate during our 7-day trip to south Louisiana.
If there's one thing that I know about Louisiana, it is that they sure do know how to cook! The Big Easy is home to creole cuisine, cajun cooking, and soul food. We ate some amazing food at some of the best places during our trip, and I can't wait to share with y'all!
If you are looking for more Louisiana content check out my other travel blogs!: 7-Day Louisiana Itinerary, French Quarter Festival, New Orleans Itinerary, Sam Houston Jones State Park, Baton Rouge Itinerary, and Our 7-Day Louisiana Trip Budget.
720 I-10 South Frontage Road
Scott, LA 70583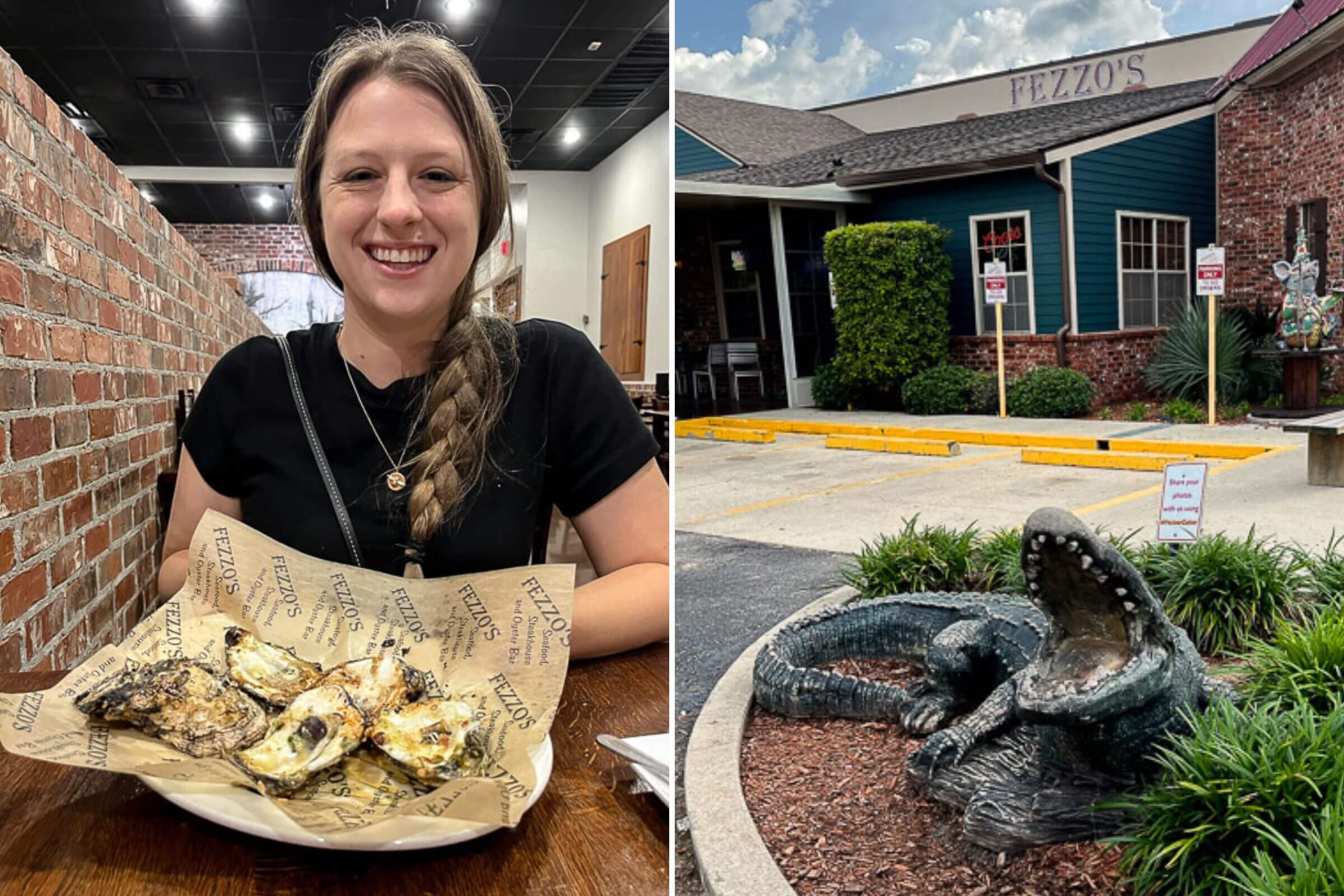 Our first food stop of the trip was Fezzo's. Fezzo's is local to Louisiana with three locations in the state- Scott, Broussard, and Crowley. At the Scott location, it is located right off of I-10. It is right next to the hotel we were staying at making it super convenient. Fezzo's has been cooking up Cajun grub since 1999, and they sure are good at what they do!
For our appetizer, we ordered the Fezzo's Oyster Sampler. It came with two charbroiled, two Oysters Rockefeller, two Monterrey Jack oysters, and buttery French bread. This was my first time eating charbroiled oysters, and they did not disappoint. All three were good, but my favorite were the Monterrey Jack oysters. They were so cheesy and buttery with a slight kick to them thanks to the jalapeno. The Rockefeller oysters were Brian's favorite. They are cooked with creamy spinach and artichokes and excellent when paired with the bread.
Brian ordered the Fezzo's Cajun Trio which came with a bowl of gumbo, bisque, and red beans & rice. They were all perfectly seasoned and tasty, but those red beans & rice were perfection.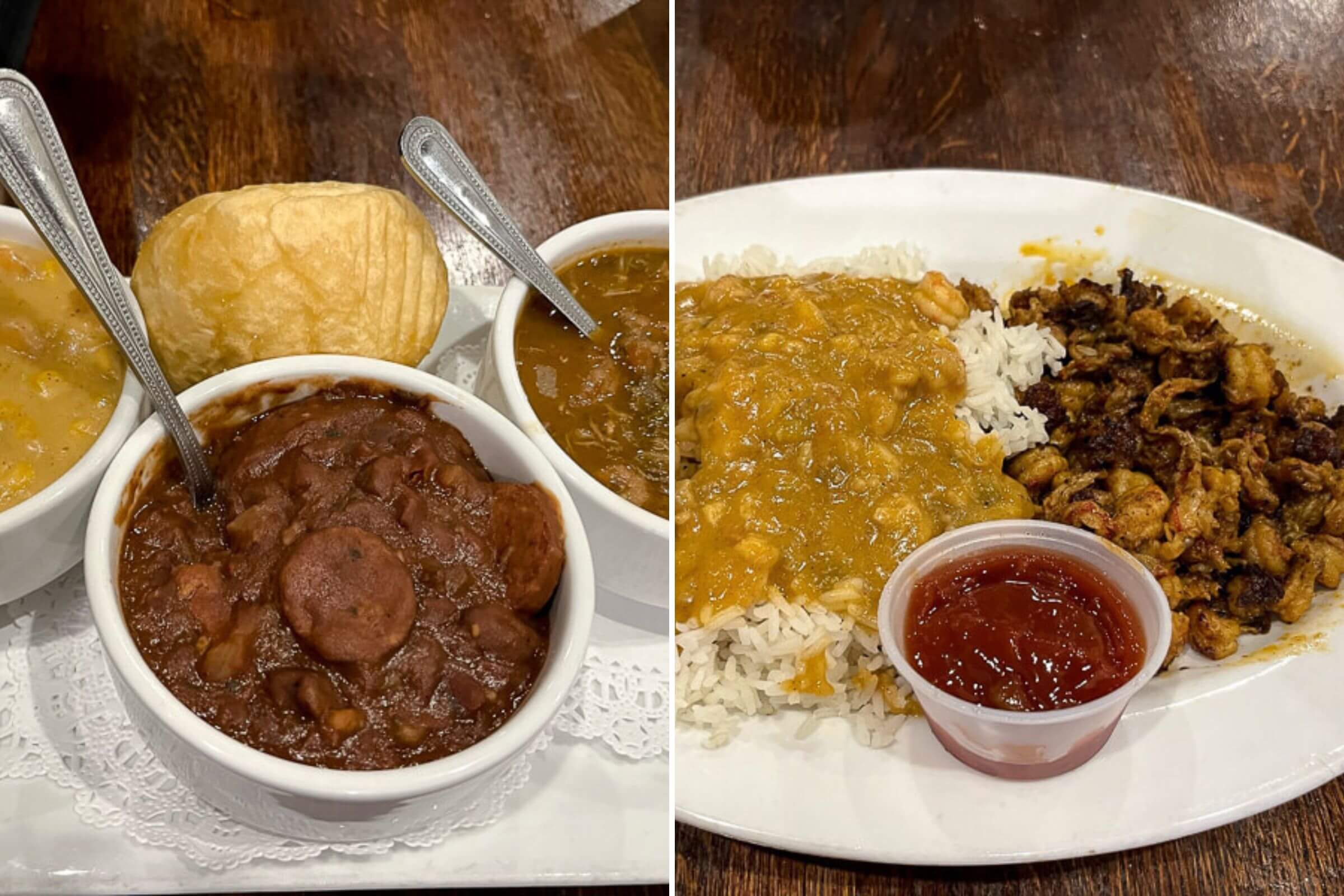 I ordered the Crawfish Half & Half which came with fried or grilled crawfish and crawfish étouffée over rice. Etouffee is one of our must-eats in Louisiana- voted as one of the three foods Louisiana is most known for. This was my first time trying etouffee, and it was really good. But let me tell you about those grilled crawfish.. This was hands-down the best crawfish I have ever eaten in my life. Seriously! Whatever Fezzo's is using to season those crawfish, they are doing it right!
Oh, and the stuffed potato casserole is every potato lover's dream.
760 LA-415
Port Allen, LA 70767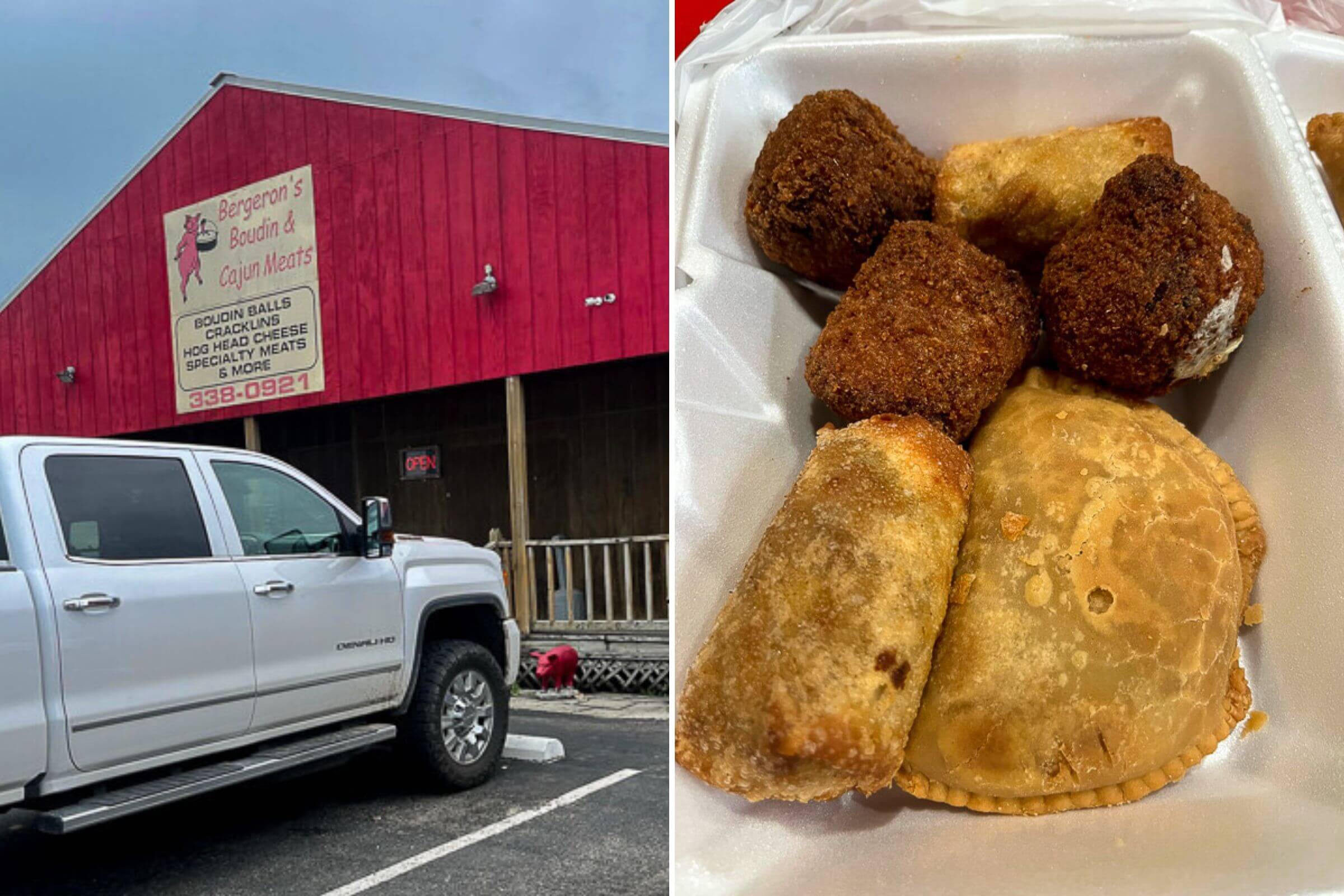 Our lunch stop on our second day was not a healthy one, but boy was it a delicious one. Bergeron's is located in Port Allen which is about 15 minutes east of Baton Rouge. It was the perfect stop for our drive from Lafayette to Baton Rouge.
Bergeron's is a place that has whatever you are looking for- fried foods behind the counter, order off the menu, and frozen meats that you take home and cook. So if you are passing through make sure to bring along your ice chest!
When we walked in we knew we wouldn't be able to pass up all that delicious-looking fried food. So, our lunch was all fried. But trust me, it was worth all the calories. All of them!
We ordered the crawfish meat pies, regular boudin balls, pepper jack boudin balls, and boudin egg rolls. It was all fantastic, and I think we are know addicted to boudin balls. The boudin here is packed full of flavor making you instantly regret not buying more.
Brian's favorite was the regular boudin balls, but mine was the pepper jack ones. What can I say, I'm a cheese girl! Though let me make it clear- I would never turn down any of the food from Bergeron's.
421 North Third Street, Suite B
Baton Rouge, LA 70801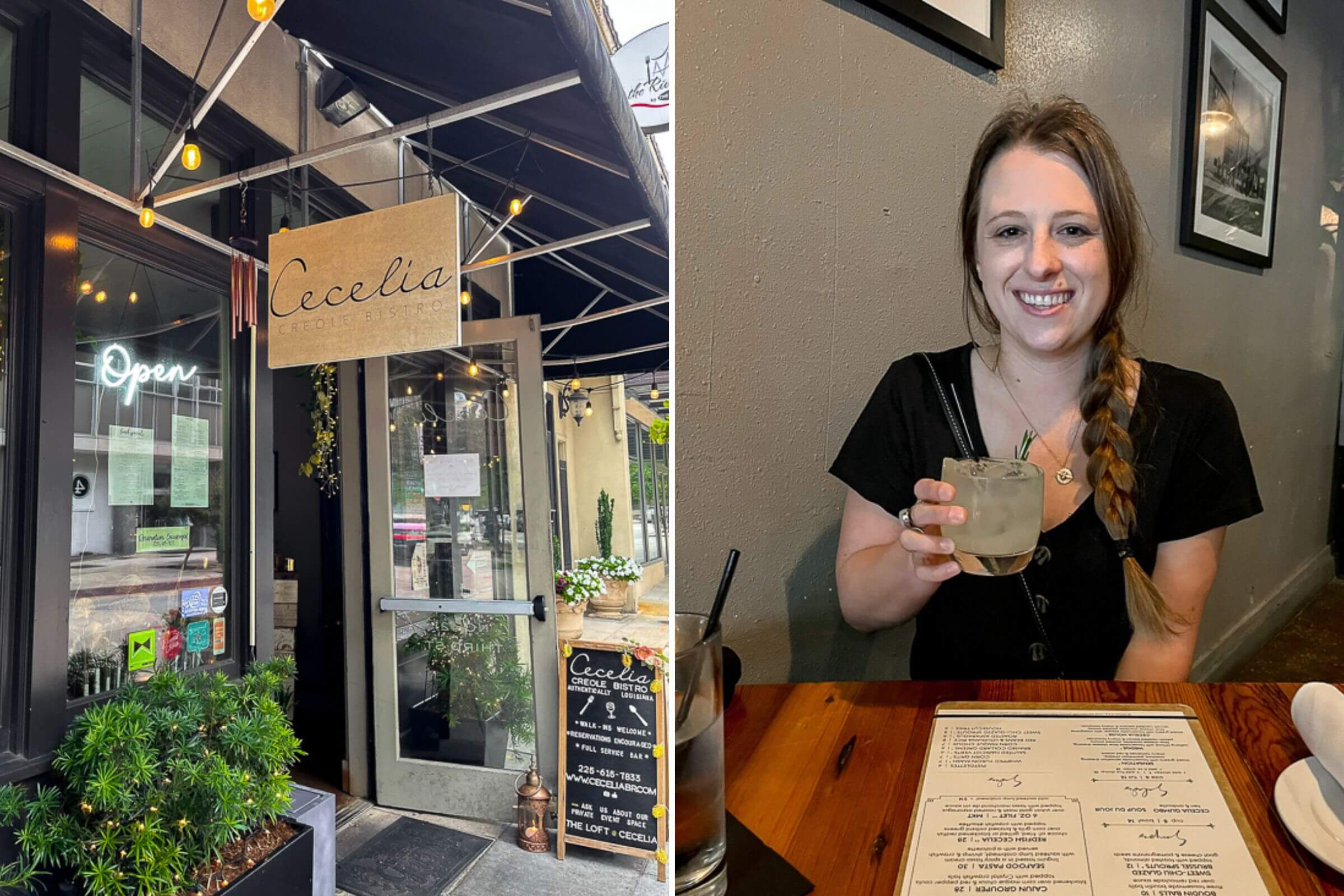 After eating a bunch of fried food, we thought we would class it up a bit and have a date night. Cecelia is the perfect place for this. It is a super adorable bistro that has such a fun vibe to it. It is the perfect date night location in downtown Baton Rouge!
Everybody at Cecelia was so friendly. When we asked if they could make us a mocktail, they whipped one up real quick with no hesitation. And it was delicious!
For our appetizer, we ordered the Sweet & Spicy Alligator - fried alligator tossed in chili aioli. I hate to say that it tasted like chicken, but it really did almost taste like chicken. It was fried beautifully and the sweet sauce was very tasty with a slight kick to it.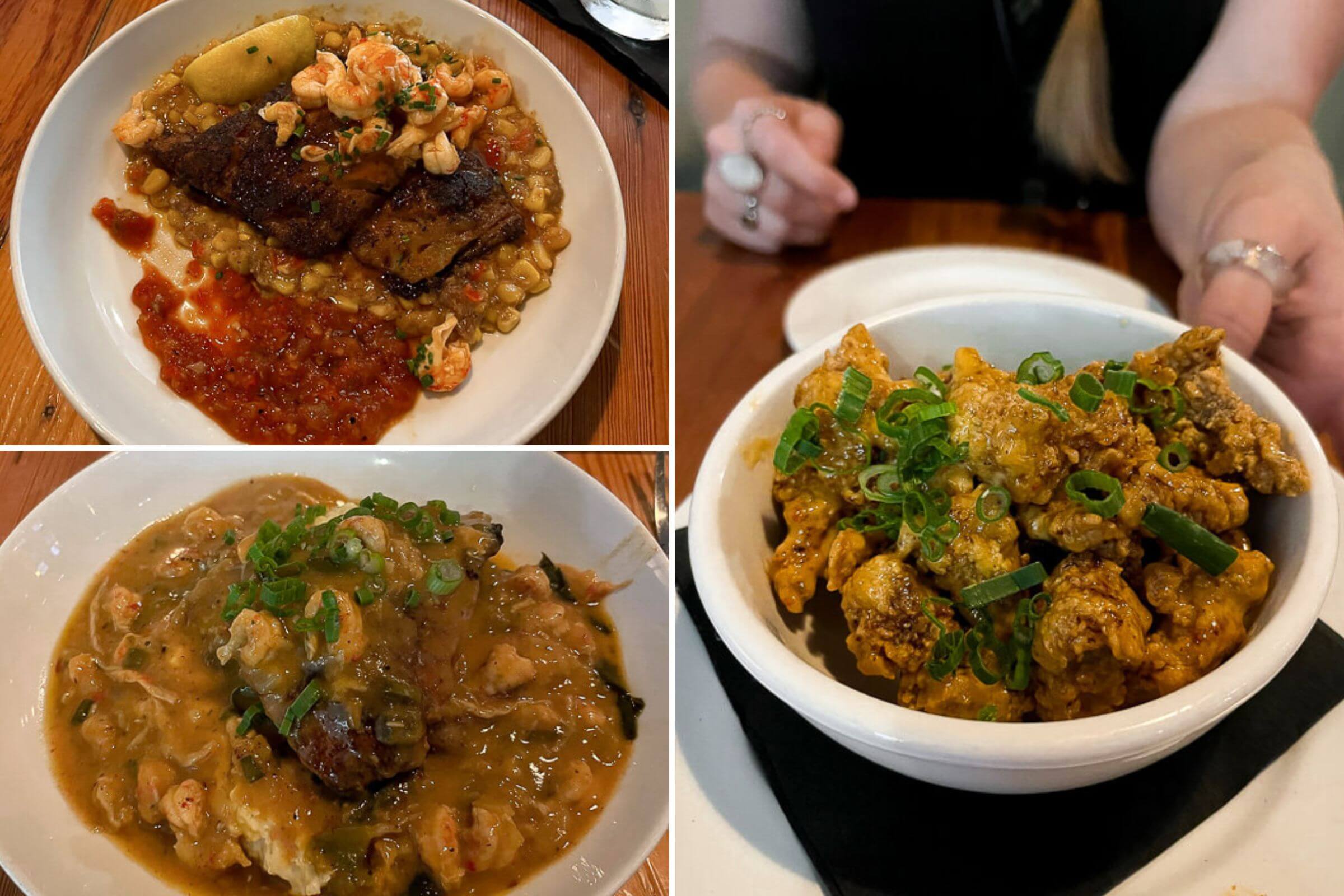 Brian ordered the Redfish Cecelia - blackened redfish served over corn grits & braised collard greens and topped with crawfish etouffee. Those braised collard greens were amazing!
I ordered the Cajun Grouper - blackened grouper served over corn maque choux & red pepper coulis topped with crawfish tails. We both enjoyed our dishes very much, cleaned our plates clean, and loved the ambience. Gotta love Louisiana's fresh seafood!
333 Laurel Street
Baton Rouge, LA 70821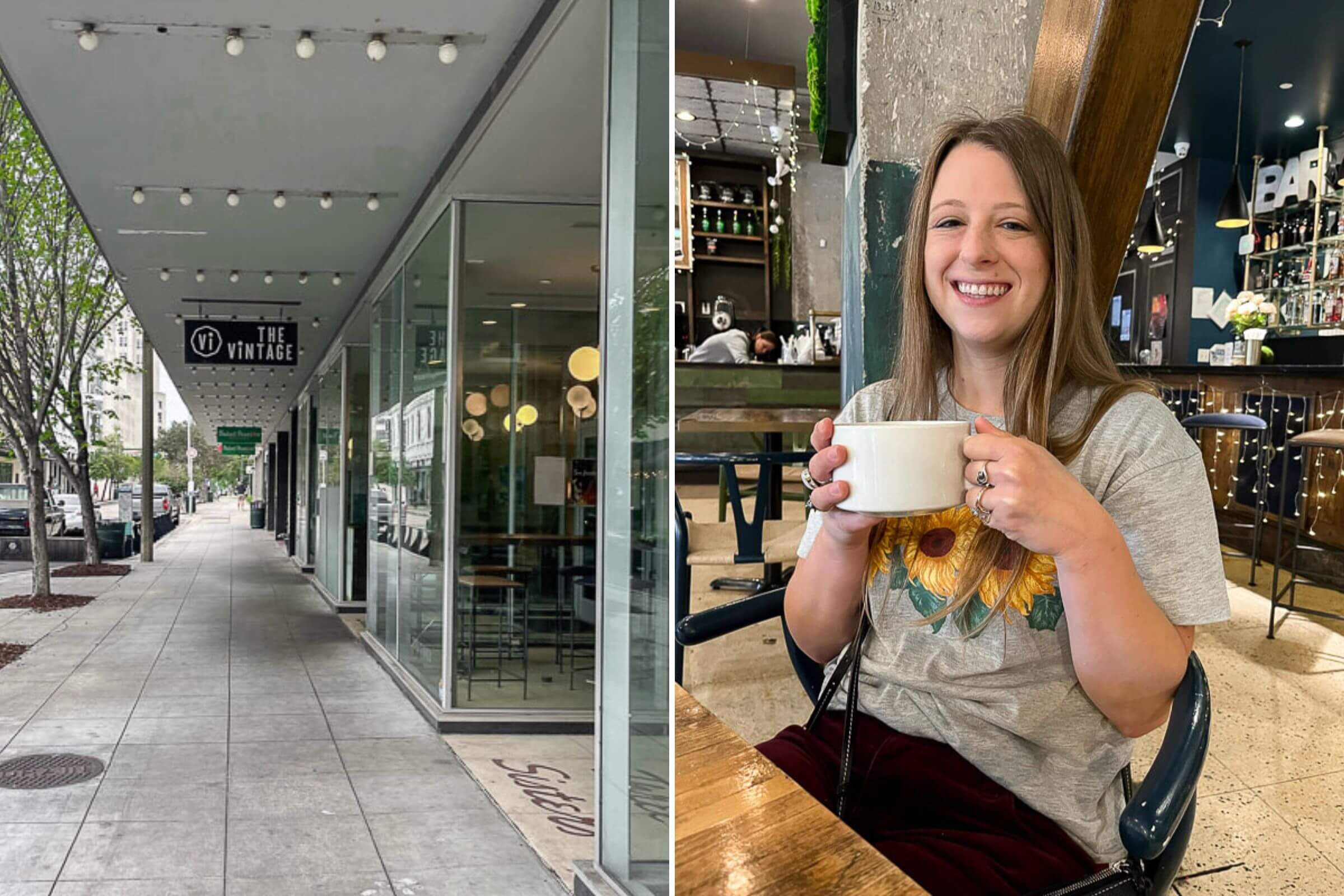 For our morning in Baton Rouge, we looked for a restaurant where we could have a slow morning sipping coffee and eating beignets. The Vintage was perfect for that! Inside, The Vintage is super cute and well decorated. I loved the artwork and lights!
When we first got there, I ordered a cup of earl grey tea and Brian got a cup of coffee. We also got our first plate of beignets of the trip. To me, beignets are similar to donuts. They are fried dough covered in powdered sugar, and they are absolutely amazing.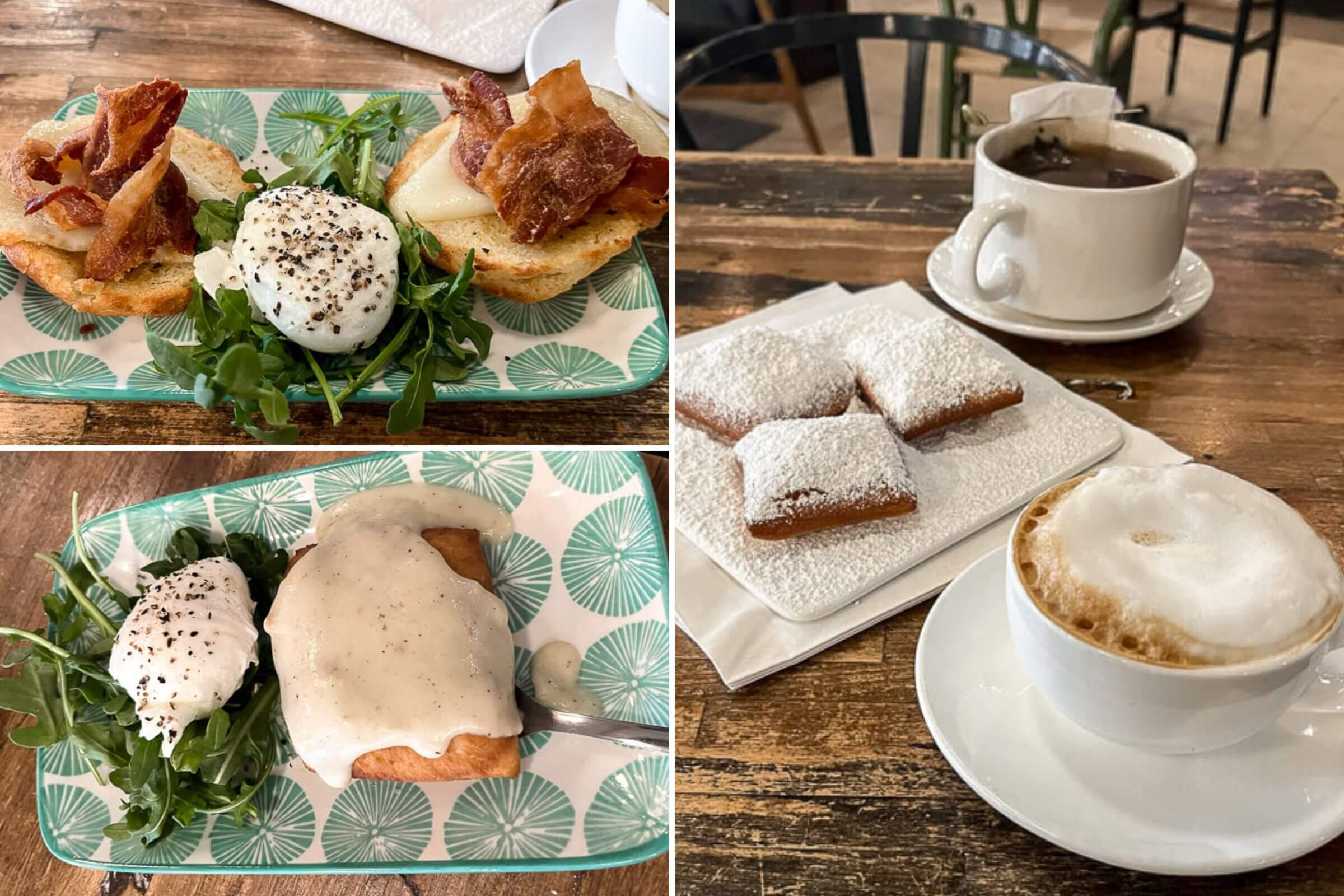 Brian then ordered the Breakfast Biscuit served with bacon, cheese, arugula, and a poached egg. I ordered the Beignet & Sawmill Gravy which is a savory beignet smothered in bacon gravy with a poached egg. Both were good! We had the perfect slow morning here at The Vintage.
201 Florida Street
Baton Rouge, LA 70801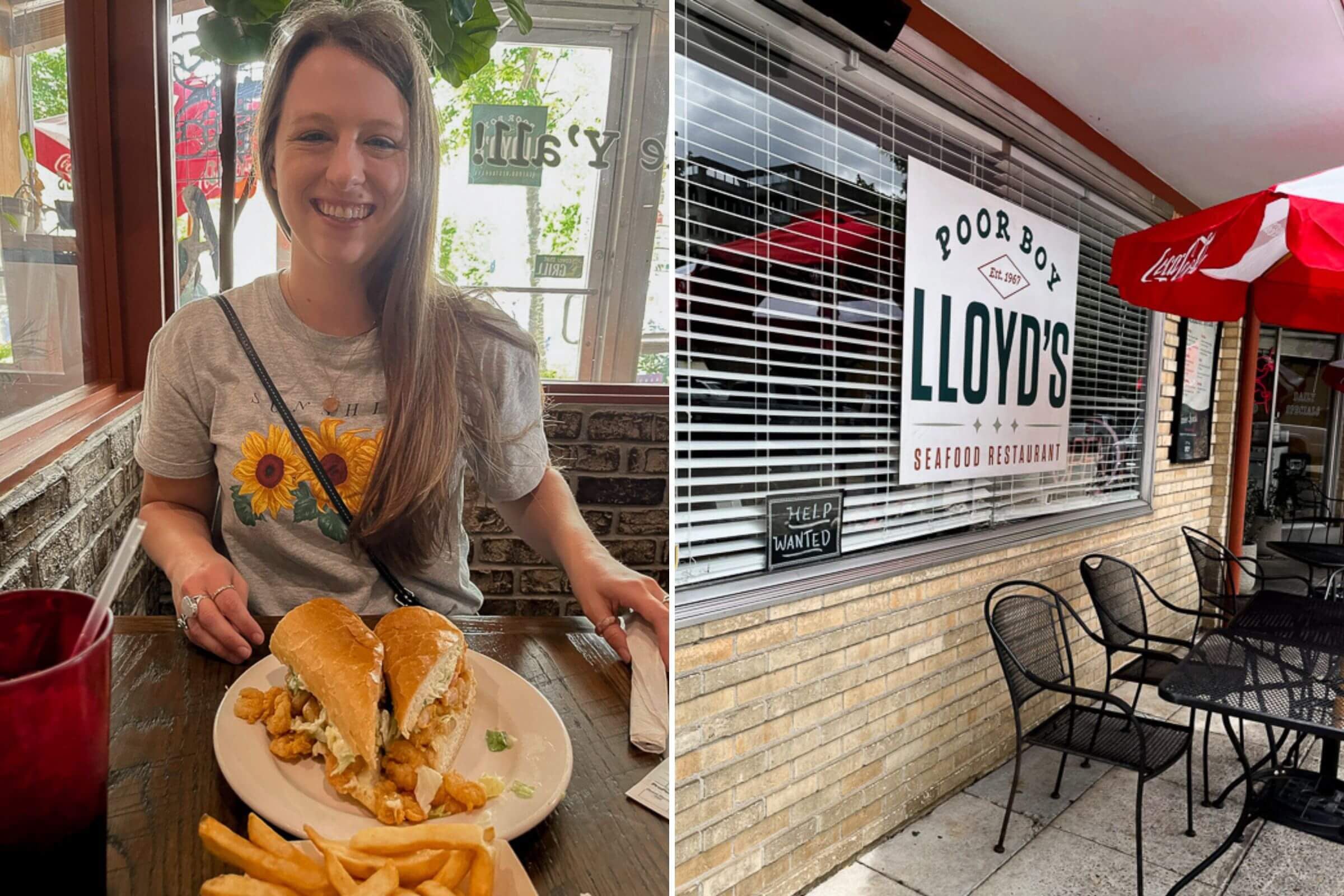 Poor Boy Lloyd's has to be one of the best lunch spots in downtown Baton Rouge! By the time we were leaving, the lunch crowd had arrived, and it was busy. After eating their good food, I can understand why so many people come here!
Poor Boy Lloyd's has a lot of their menu from fried fish to classic cajun dishes to sandwiches. But we just had to get the po-boys. It's in the name!
We ordered the crawfish po' boy and the shrimp po' boy fully dressed with mayonnaise, lettuce, tomatoes, and pickles with a side of fries. Everything was so tasty. I could definitely see us coming here weekly for a lunch date if we lived in Baton Rouge.
509 Canal Street
New Orleans, LA 70130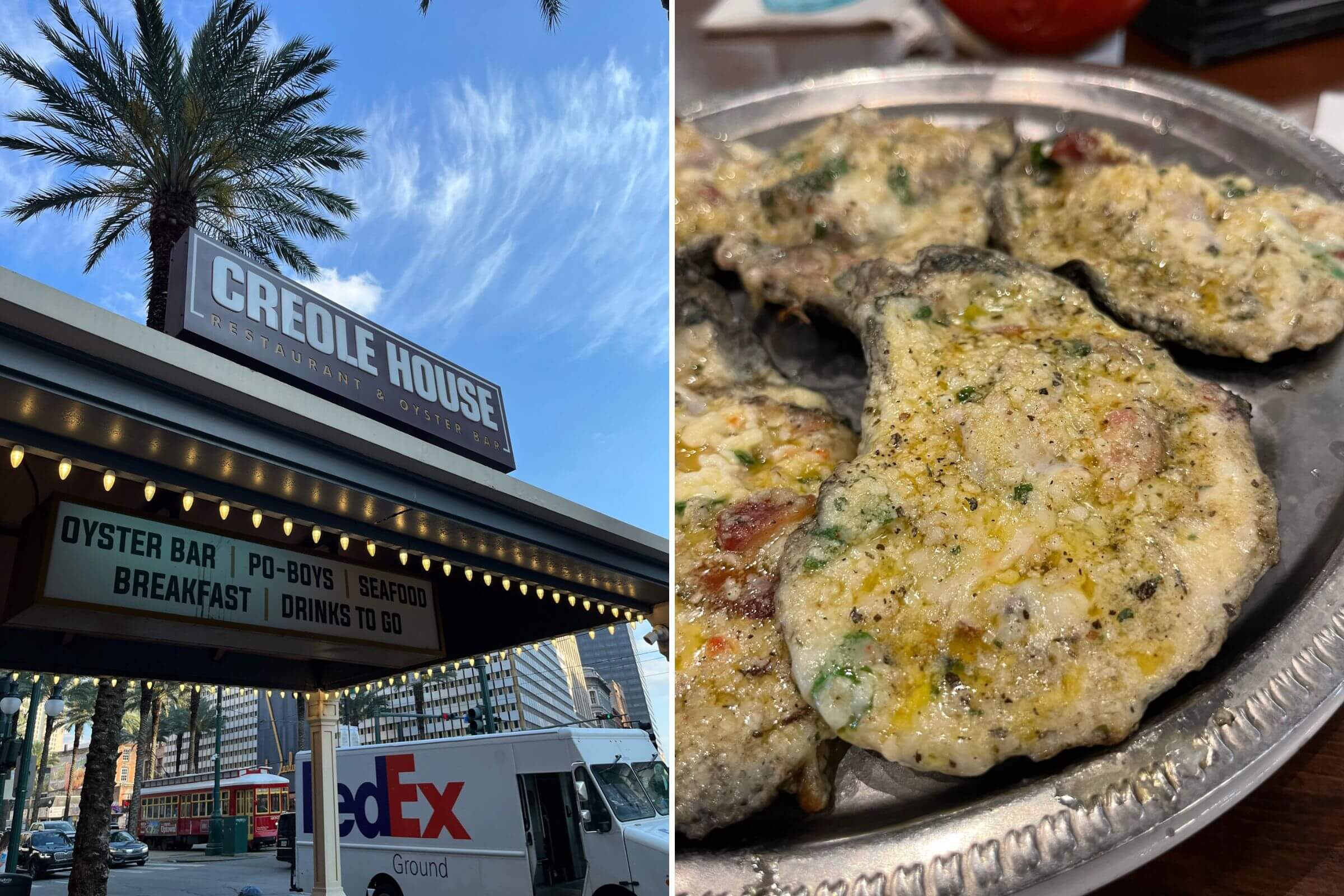 I am not exaggerating when I say that Brian is still going on and on about some chargrilled oysters that he had at Creole House six years ago. Six years!! He said that Creole House is a must-stop during our time in New Orleans so that he can eat them again and I can understand the obsession.
We ordered the chargrilled oysters as soon as we sat down, and they did not disappoint. These oysters are buttery, cheesy, and garlicky. Perfection.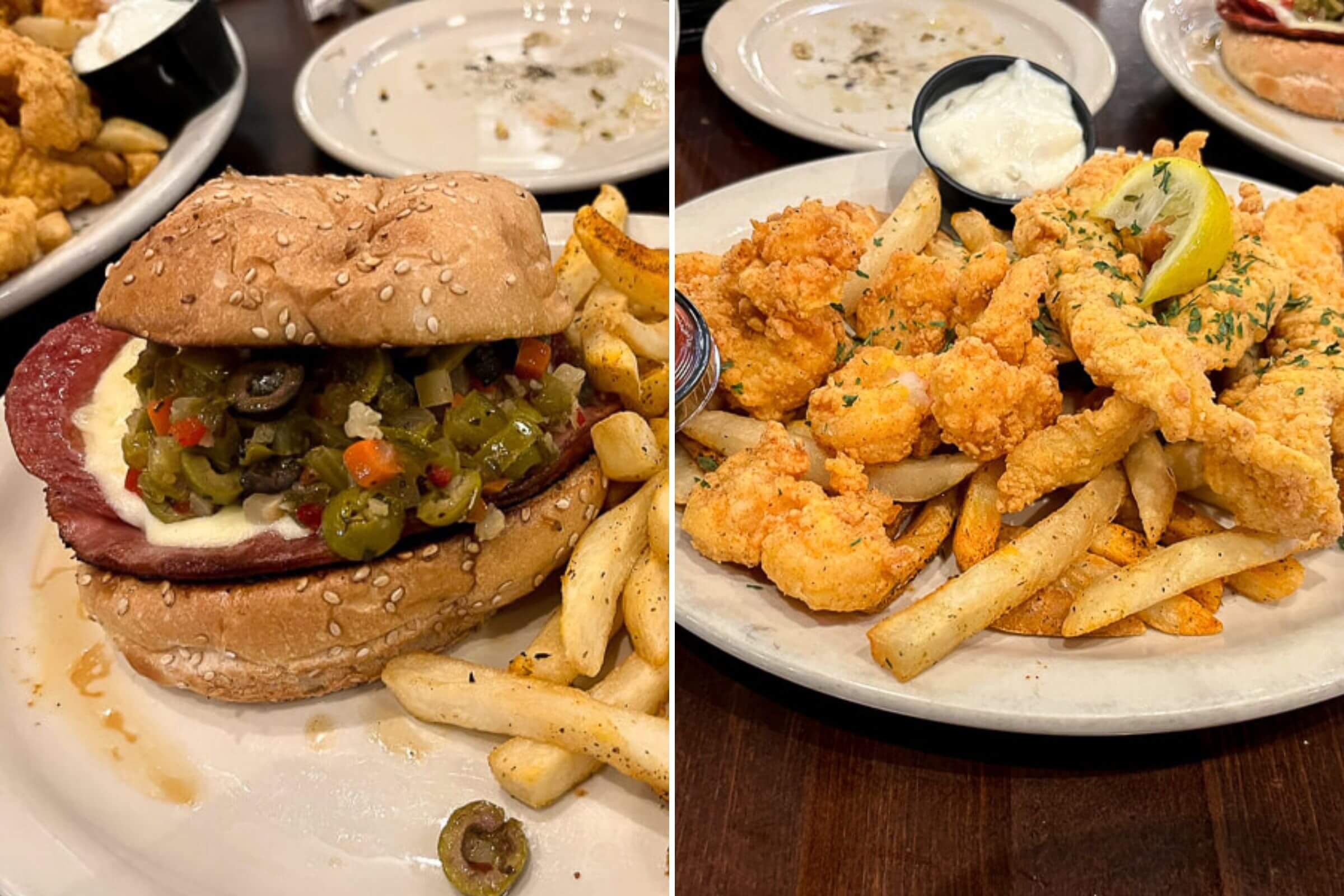 For dinner, I ordered a muffaletta sandwich. Did you know that muffalettas were actually created in New Orleans? Just add that to your very long list of foods to try when in Louisiana. This sandwich is piled high with cured meats, cheese, and olive dressing. It was excellent!
Brian ordered the seafood platter which had perfectly fried fish, shrimp, hushpuppies, and fries. Go to Creole House if you are looking for a scrumptious meal!
French Quarter Neighborhood
New Orleans, LA
We spent a day at the French Quarter Festival which is an annual festival that features local music and food in New Orleans' French Quarter. We ate so much at the festival, and everything was seriously so good. If you aren't in New Orleans during this festival, do not worry. All the food we ate while we were there comes from actual local New Orleans restaurants. So you can still visit the restaurant location to get their amazing New Orleans food!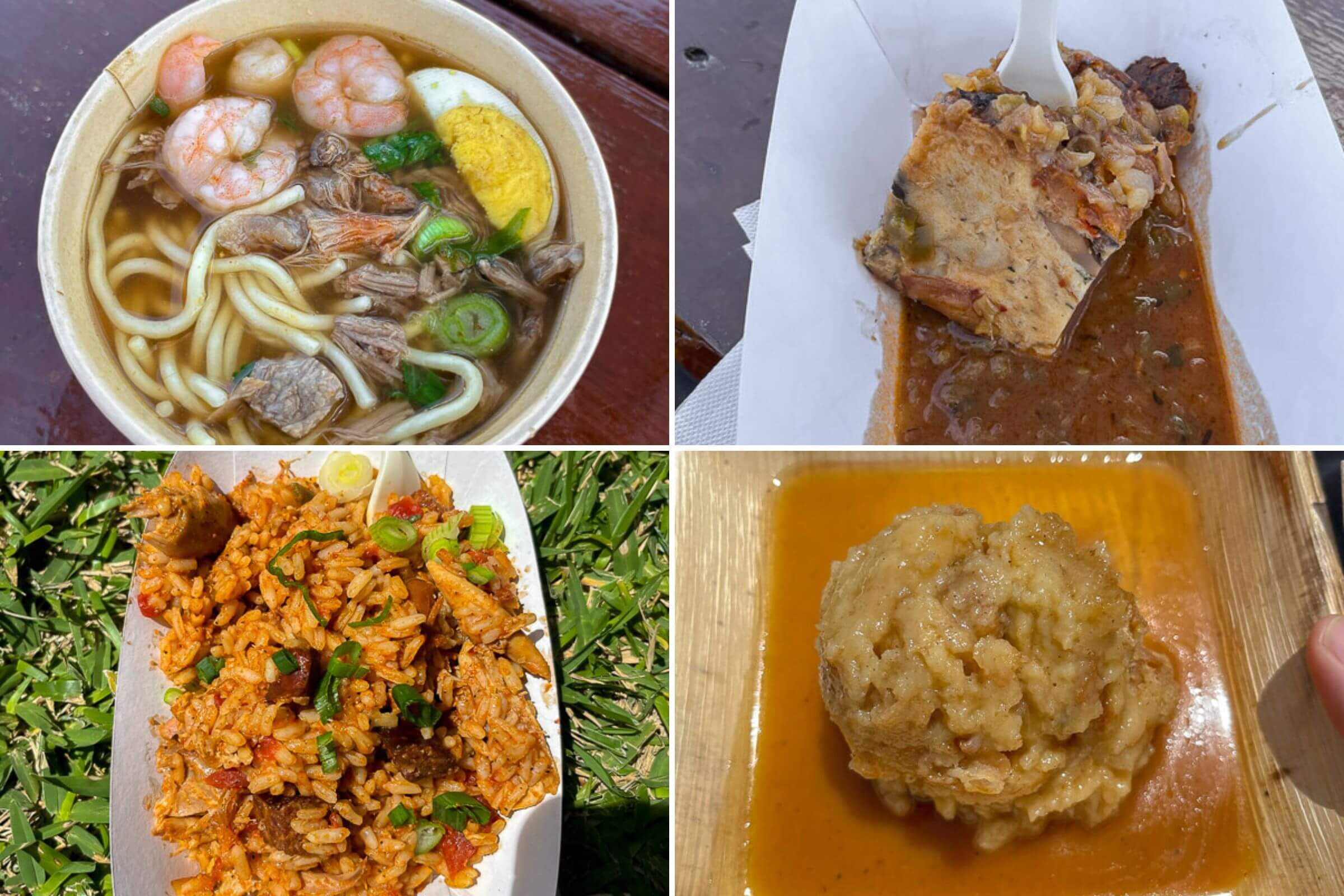 First, we got some beef & shrimp yakamein from Miss Linda the Yakamein Lady. If you don't know Miss Linda, check out Netflix's 'Street Food: USA' show where they feature her and her amazing yakamein. Yakamein is also known as Old Sober because it is said to help with hangovers. It is a beef-based stock filled with noodles, beef, shrimp, and a hard-boiled egg. That broth is so comforting and to die for! As Miss Linda says, "It's like a bowl of love."
Next we ate some crawfish bread pudding from The Bower. It was super flavorful and delicious. The closest thing I can relate it to is a very savory Thanksgiving dressing.. which I love!
The rabbit jambalaya from Crabby Jacks was some of the best jambalaya I have ever eaten. The seasonings were on point, and the rabbit was incredible. Jamabalaya is another one of the three foods that was voted as one of the foods Louisiana is most known for. Jambalaya is full of Creole and Cajun flavors consisting of meats, vegetables, and rice.
We then tried the bread pudding with rum sauce from Desire Oyster Bar. This dessert was a 10 out of 10! The soft inside with the slightly crunchy outside and the amazing rum caramel sauce- excellent.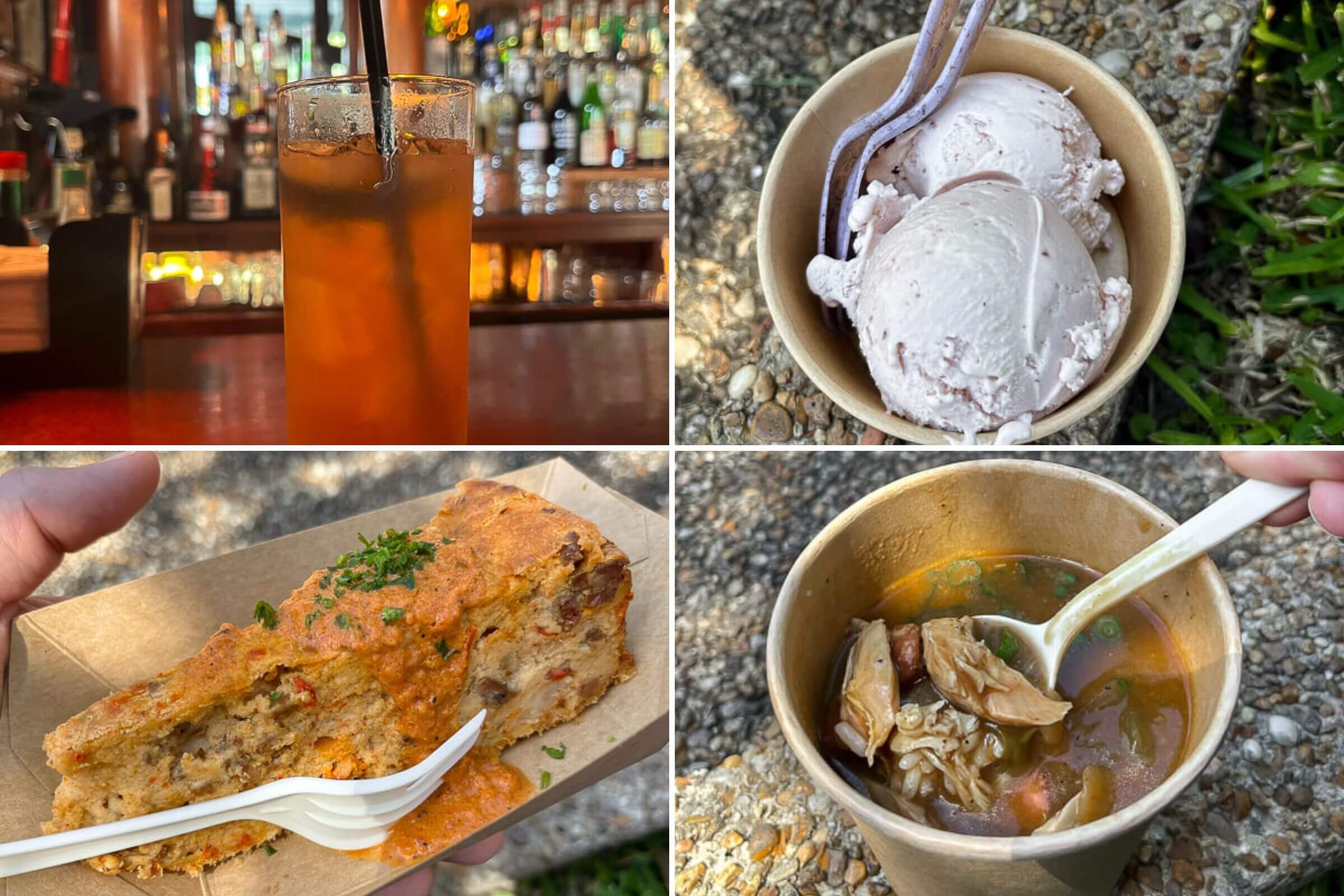 We then walked over to Napoleon House for a drink. I ordered a Pimm's cup which is their signature drink. This popular cocktail is a gin based aperitif mixed with lemonade, lemon-lime soda, and a slice of cucumber. Perfect for a hot New Orleans day!
Next we enjoyed a bowl of strawberry Creole cream ice cream from Quint's Natural Ice Cream & Sorbet. This fruity flavor was very tasty. You just can't go wrong with ice cream on a warm day!
We then had a slice of shrimp & alligator sausage cheesecake from Jacques-Imo's Cafe. I thought this sounded like the craziest food, and I just had to try it. And am I glad that I did.. It was so good! The best way I can describe it is like a savory dip shaped like a cheesecake slice. It is kind of similar to a slice of quiche.
We also got the duck and andouille gumbo from Jacques-Imo's Cafe. This gumbo was very flavorful and the broth was amazing. I especially loved the andouille sausage. Gumbo is the last of the three foods we had to eat when visiting Louisiana (the other two being jambalaya and etouffee). Gumbo is a stew made with meat, vegetables, and Creole & Cajun seasonings that is served over rice.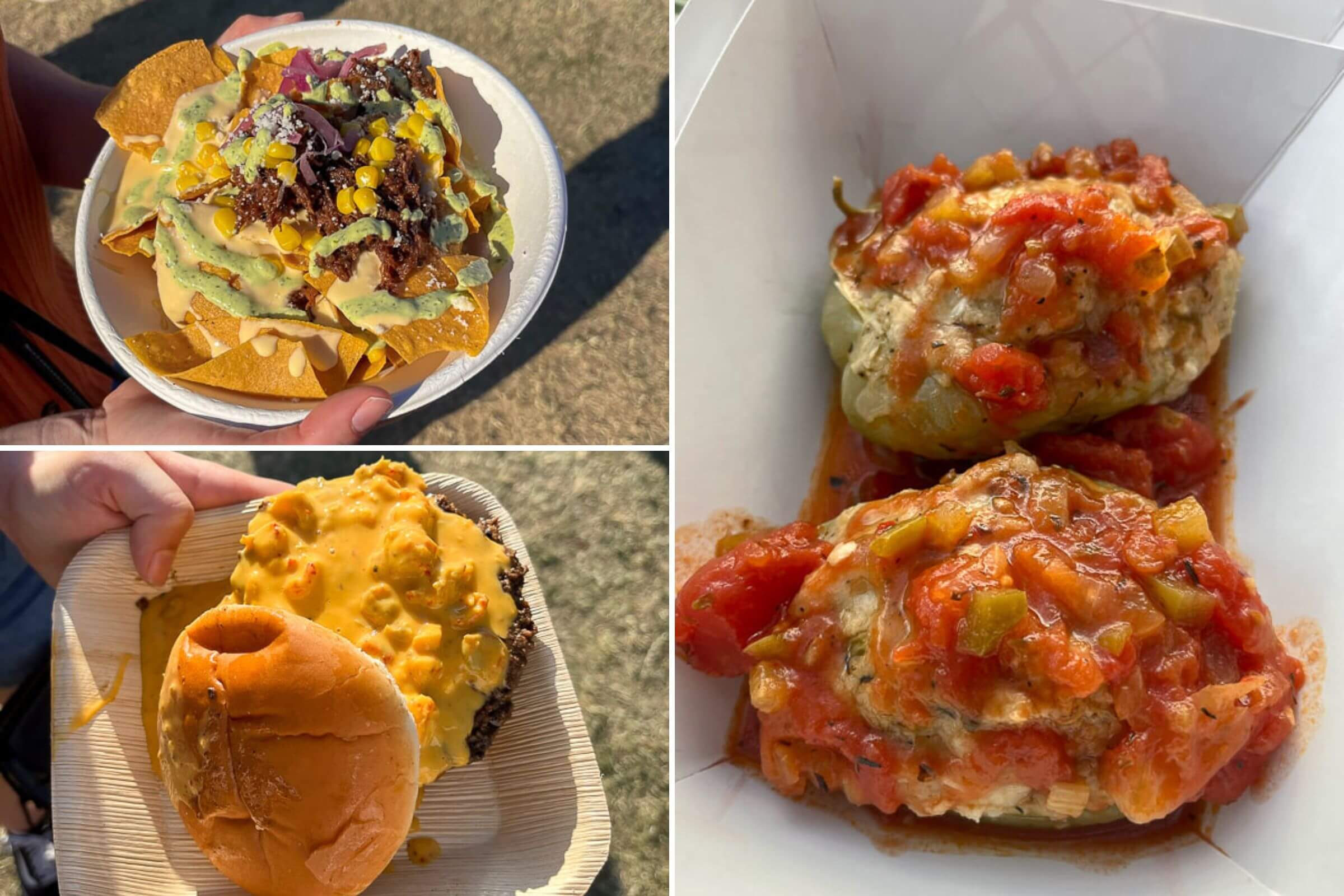 I am a huge fan of nachos so I just had to get the bowl of smoked brisket bbq nachos from House of Blues. The beef brisket was more on the sweet side which paired well with the queso and pickled red onions.
While I was chowing down on nachos, Brian decided he needed a surf & turf burger with crawfish cheese sauce from Desire Oyster Bar. This delicious burger was covered in cheesy crawfish goodness.
Lastly, we got seafood stuffed mirliton from Tujague's Restaurant. Neither of us had eaten mirliton before. In fact, we didn't even know what it was! Come to find out, mirlitons are a squash known as the 'unofficial squash of New Orleans'. I sure am glad we took a chance on it because it was a great way to end our festival day of feasting.
3701 Iberville Street
New Orleans, LA 70119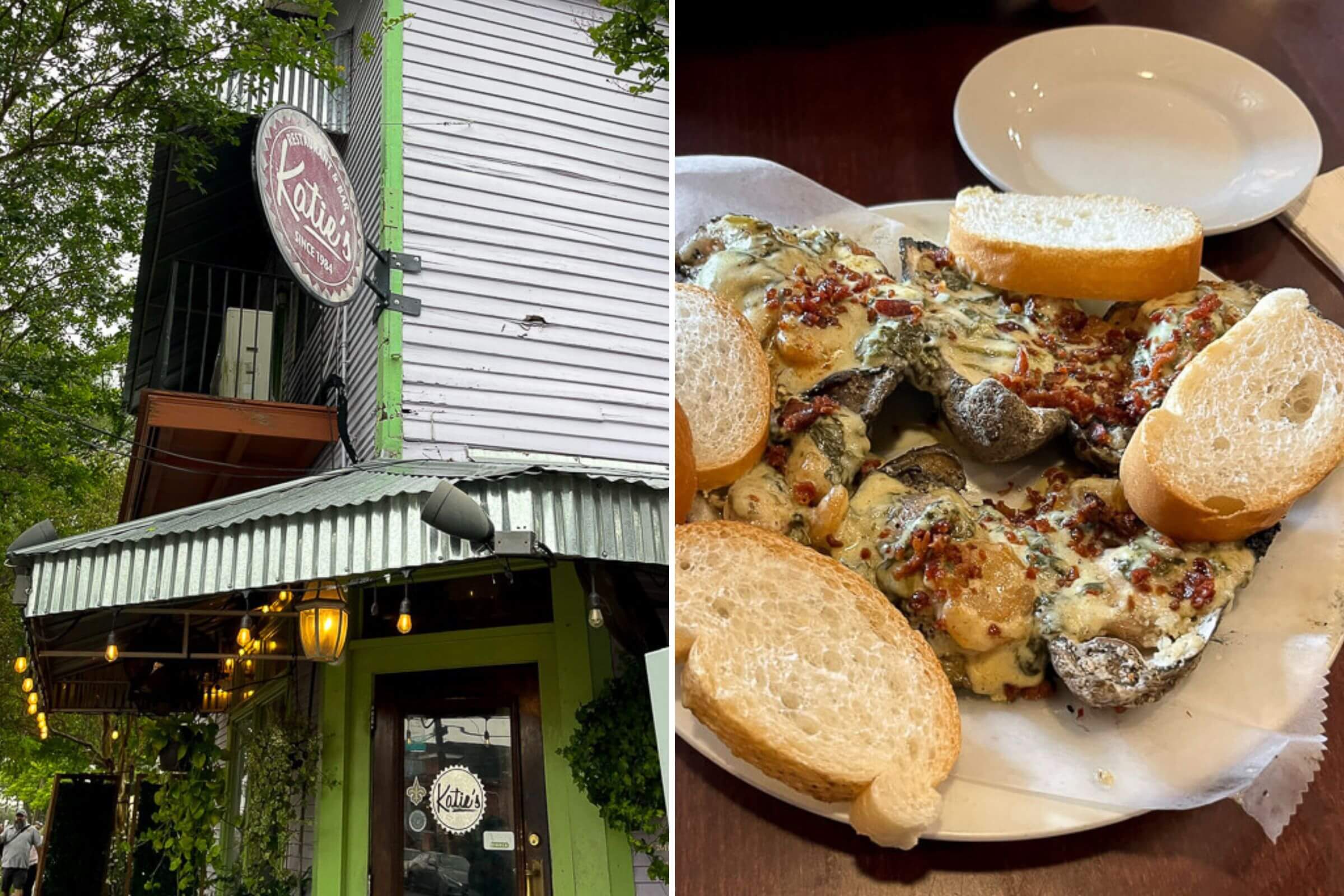 Katie's is a small restaurant and bar located pretty close to the New Orleans City Park. It is known for its Creole-Italian fare such as pizzas and po' boys.
It is easy to see why Guy Fieri from The Food Network stopped here to eat. The food is amazing! For an appetizer, we ordered the chargrilled oysters. If you've read this whole blog post through, you understand by now that we really like chargrilled/charbroiled oysters. And these oysters at Katie's were just as good as the others! I especially like them when topped with a little bit of hot sauce.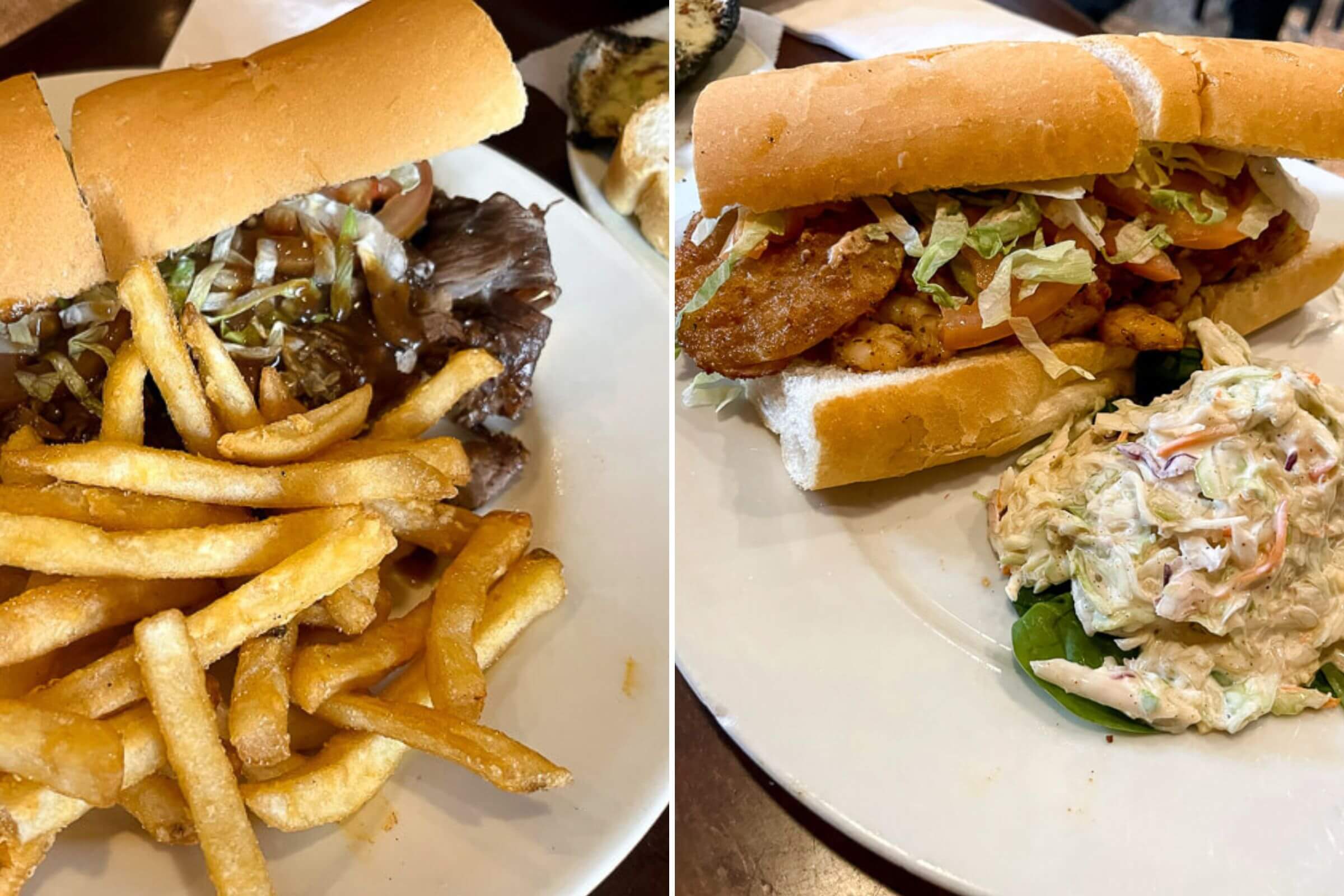 Brian ordered the Remmy Po'Boy (fried green tomatoes and shrimp remoulade), and I ordered the Hot Roast Beef & Gravy Po'Boy. Both were big sandwiches and both were super tasty. Katie's turned out to be the perfect place to grab lunch before heading off to the city park!
56 Dreyfous Drive
New Orleans, LA 70124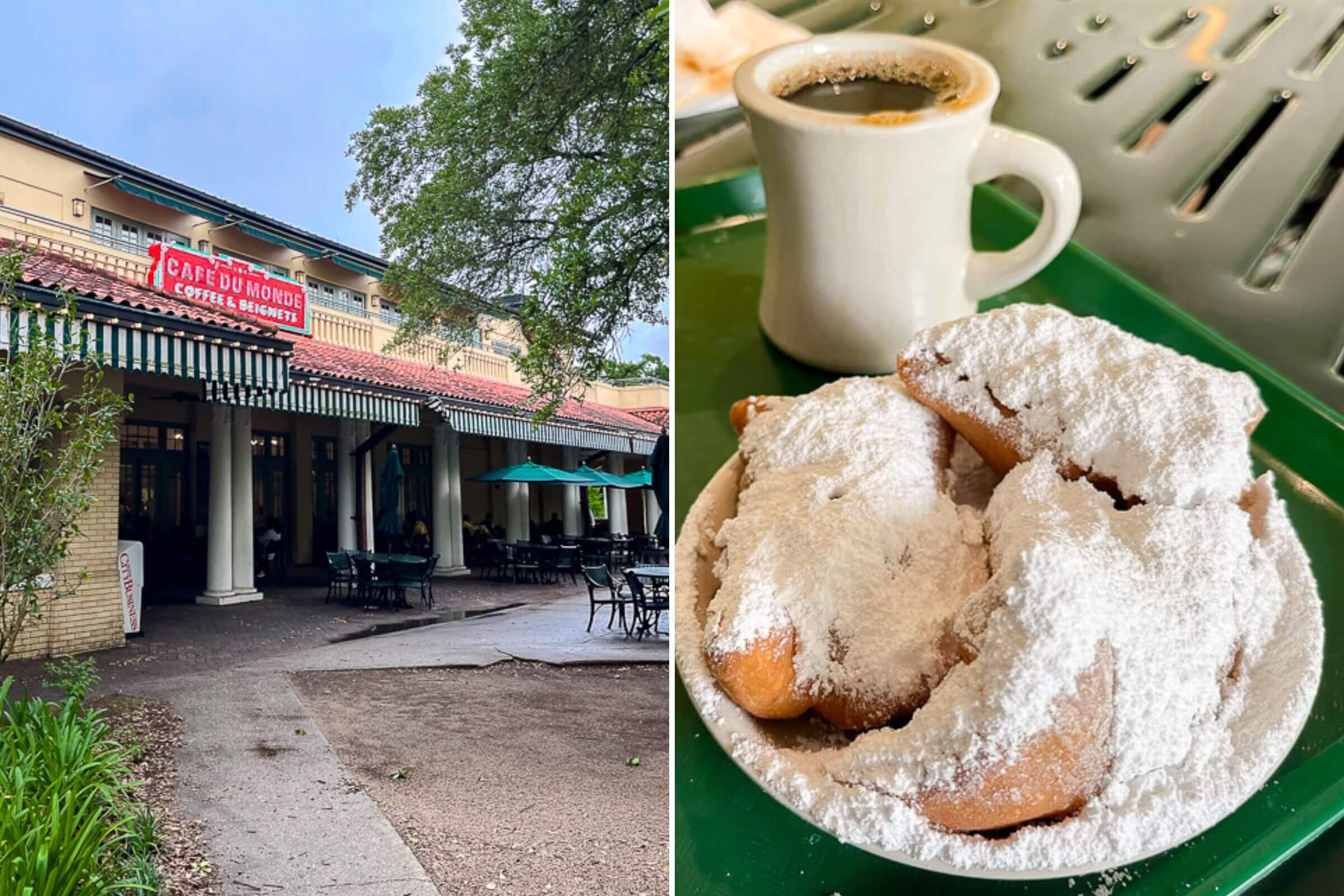 Cafe du Monde is pretty well-known and famous in the city of New Orleans. The original Cafe du Monde was established in 1862!
They are known most for their café au lait and beignets that are piled a mile high with powdered sugar. Cafe du Monde's beignets are especially good! You just can't go wrong with fried dough covered in sugar.
We visited the location that is within New Orleans City Park, but there are multiple locations within the New Orleans area. Cafe du Monde is a must-stop!
615 LA-93
Scott, LA 70583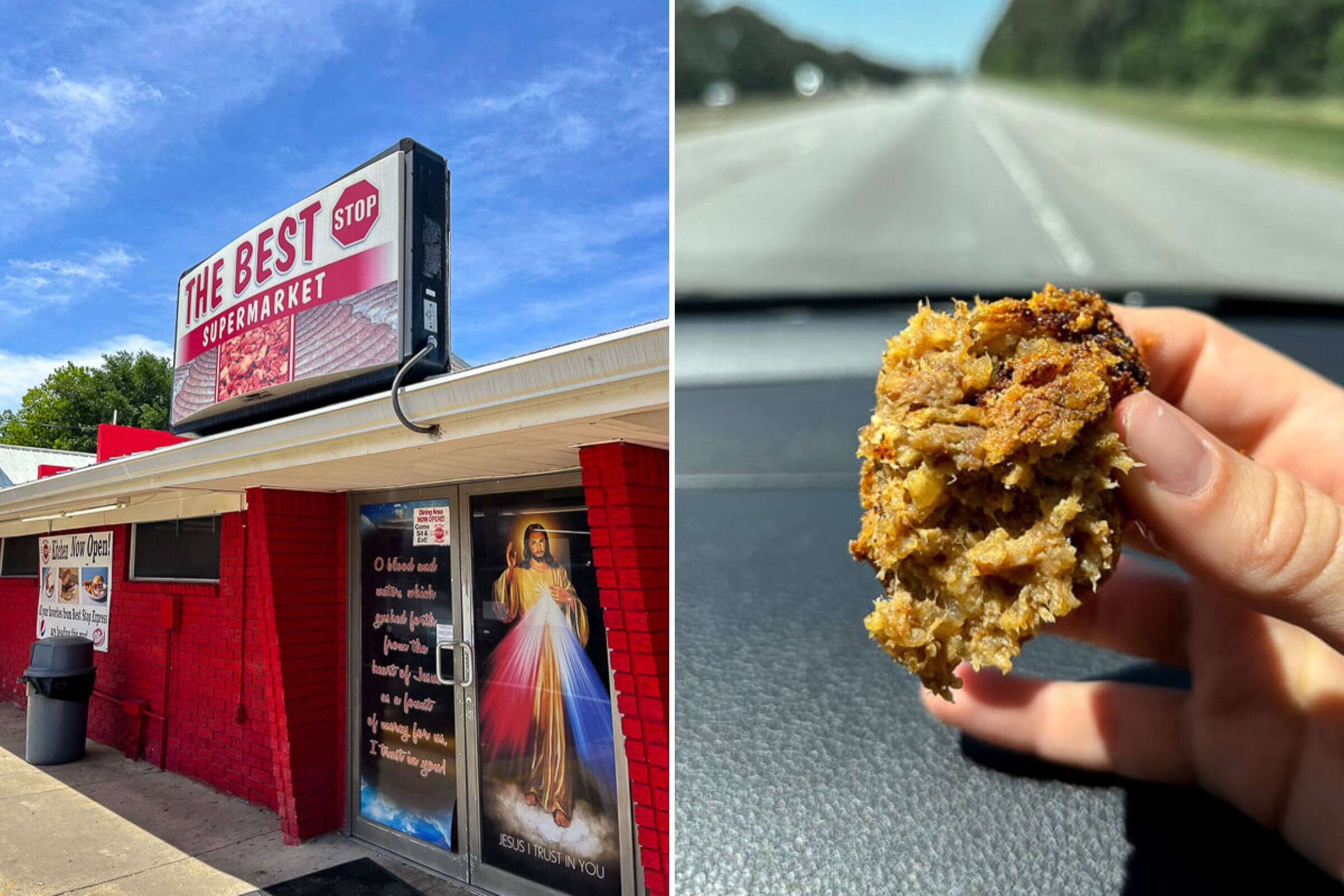 As we were working our way back towards the Lake Charles area we decided that we absolutely needed another boudin stop. The Best Stop delivered!
The Best Stop is a small store that has a wide variety of meats including already made and take-home to cook meats. So make sure you bring your ice chest along with you when you come here as well!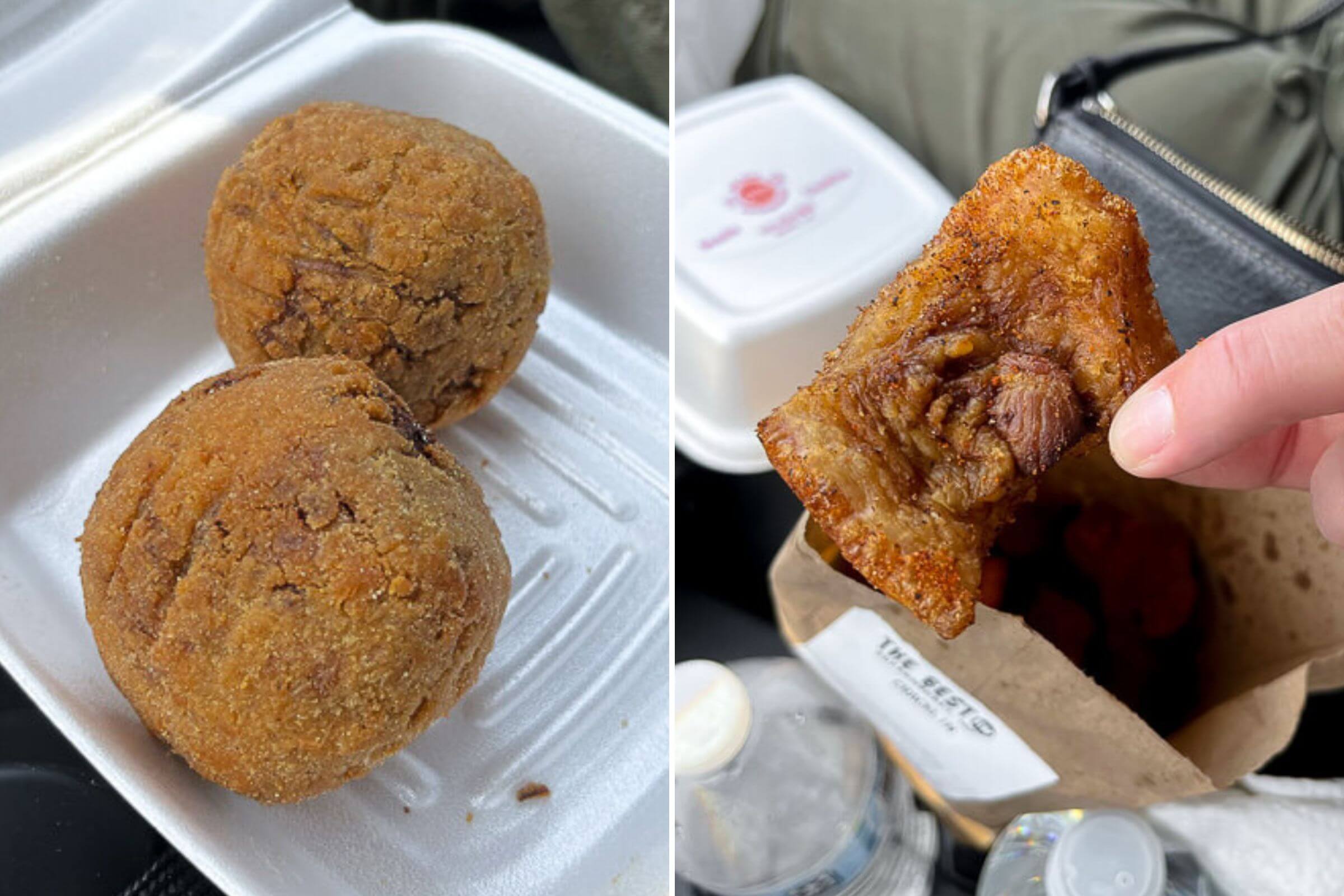 We decided to get some smoked boudin, boudin balls, and fresh hot cracklins. If we weren't fully 100% addicted to boudin before, we are now! This boudin and those boudin balls were incredible. And those cracklin were a real treat!
All I'm going to say is.. there is a reason this place is called The Best Stop.
2259 Sam Houston Jones Parkway
Moss Bluff, LA 70611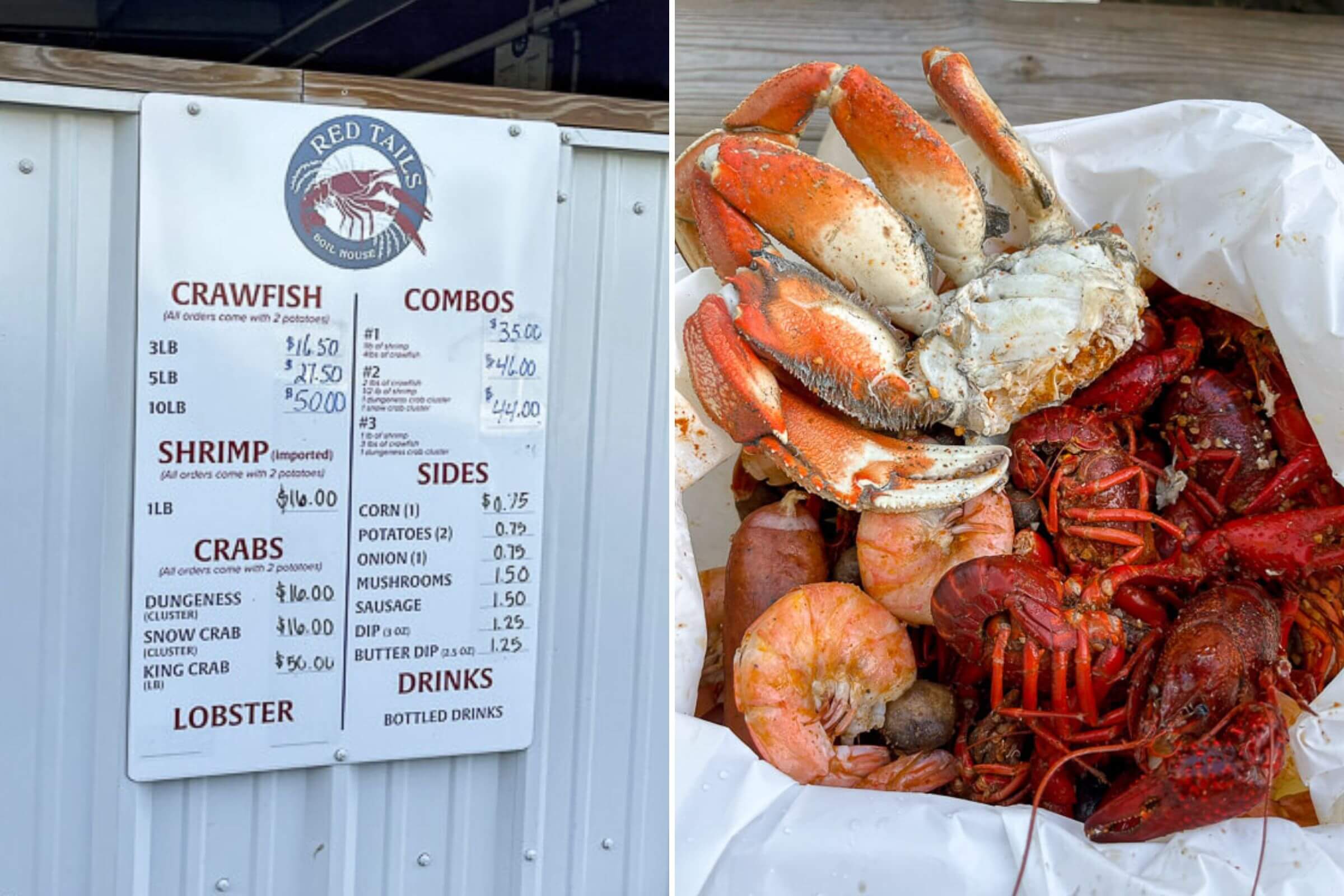 For our last meal in Louisiana, we decided on a crawfish boil. Thankfully it was crawfish season! We were staying the night at a cabin in Sam Houston Jones State Park, and Red Tails Boil House was just a few minutes away.
We got the combination of crawfish, crab, sausage, and shrimp. We also ordered a side of mushrooms, and Red Tails always throws in 2 complimentary potatoes in your mix. This boil was perfectly seasoned and had so much flavor. The crab was especially good. We ate it all up in a matter of minutes. Those mud bugs sure were finger licking good!
Don't forget to also order a couple sides of the dip. It tastes so good with the crawfish, shrimp, and potatoes!
__________________________________
50 States by 50
Louisiana was our second state for our 50 states by 50 challenge. My husband, Brian, and I are planning to visit all the states in the United States by the time we turn 50 years old. To choose which state we travel to next, we will draw it randomly!
For each state, we will plan at least a 4 day trip that consists of visiting the state capitol and state museum, exploring a state park, and eating whatever food that state is most known for. I will be documenting all of our travels here on my blog and making vlogs as well which will be posted on YouTube. Read more about our 50 States by 50 Bucket List.
While we were able to try so many new things in Louisiana, there was so much more that we weren't able to try. I wish we could have eaten it all! If you feel like we missed out on some famous Louisiana foods or a famous restaurant, please let me know! If you have any questions or just want to share your Louisiana food, please leave a comment down below.

Category: Life & Travel, 50 States Bucket List
Keywords: famous louisiana food, what food is louisiana known for, best restaurants in louisiana, what to eat in louisiana, cajun restaurants in louisiana, cajun food in Louisiana, the best louisiana cuisine
More Louisiana Travel Blogs:
We also did a bunch of other things during our week in Louisiana. Each blog goes into more detail about each thing that we did, saw, or ate! I have a blog over:
✽ French Quarter Festival (local artists, tons of delicious cajun cuisine, good music, street vendors, & exploring the french quarter)
✽ 7 Days in Louisiana (state capitol, holding alligators, airboat swamp tour, festival, & swamps)
✽ Sam Houston Jones State Park (hiking, alligators, snakes, river sunsets, & our cabin)
✽ Baton Rouge Itinerary (state capitol, state museum, po-boys, USS Kid museum, & Mississippi River)
✽ New Orleans Itinerary (National WWII Museum, city park, beignets, oysters, & Bourbon Street)
✽ Our 7-Day Louisiana Trip Budget (how much our 7-day, 6-night road trip to Louisiana cost for two of us)
Bon voyage & bon appétit!
May 11, 2023 by Laura Bullock
*This Louisiana Food Trip blog post may contain some Amazon affiliate links. These link to products that I personally use and recommend. If you purchase anything using my links, it will not cost you anything. It will though give laurathegastronaut.com some financial support which helps me keep this blog running. Thank you for reading my blogs and your continued support.