Laura the Gastronaut > Life & Travel > 50 States Bucket List >

Indiana Food Trip
Indiana Food Trip (Pork Tenderloin, Sugar Cream Pie, & More)
November 10, 2022 | Laura
We ate so much good food during our 4 days spent in Indiana! Of course, we got the Indiana favorites- giant pork tenderloin sandwiches and a slice of sugar cream pie (okay, two slices). We also had delicious food during our time at the Covered Bridge Festival including beans and ham, persimmon pudding, and crullers, and we stuffed our faces at the Bottleworks District.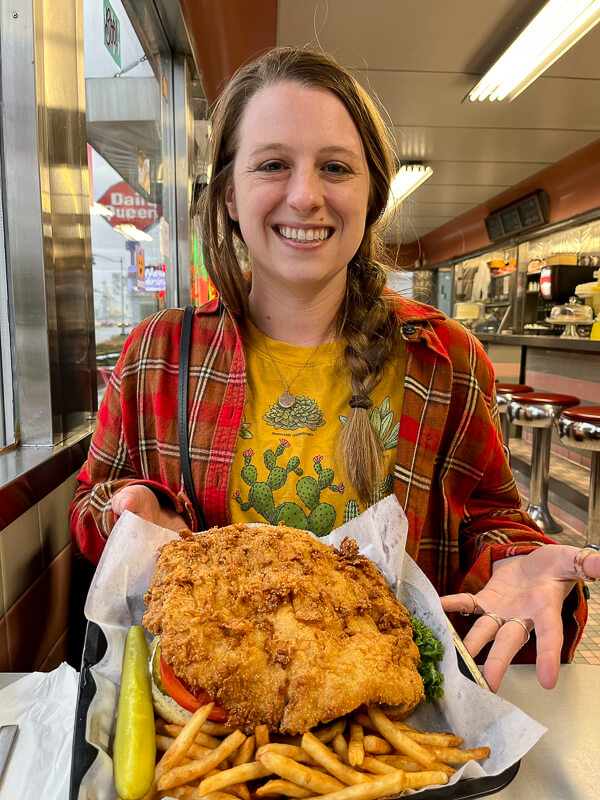 Our Food Trip to Indiana
Food is a big part of our lives so naturally most of our trips revolve around what food we are going to eat while vacationing. Every food stop we make is carefully planned out in order to find the best hidden food treasures. We love trying new things and hope to go home from each vacation satisfied, happy, and full. In this blog, you will find our 7 food stops during our 4-day trip to the Hoosier state.
If you are looking for more Indiana content check out my other travel blogs!: 4-Day Indiana Itinerary, Covered Bridge Festival, Fall Days in Indiana Itinerary, Hiking in Turkey Run State Park, Weekend in Indianapolis Itinerary, and Our 4-Day Indiana Trip Budget.
405 West Main Street
Plainfield, IN 46168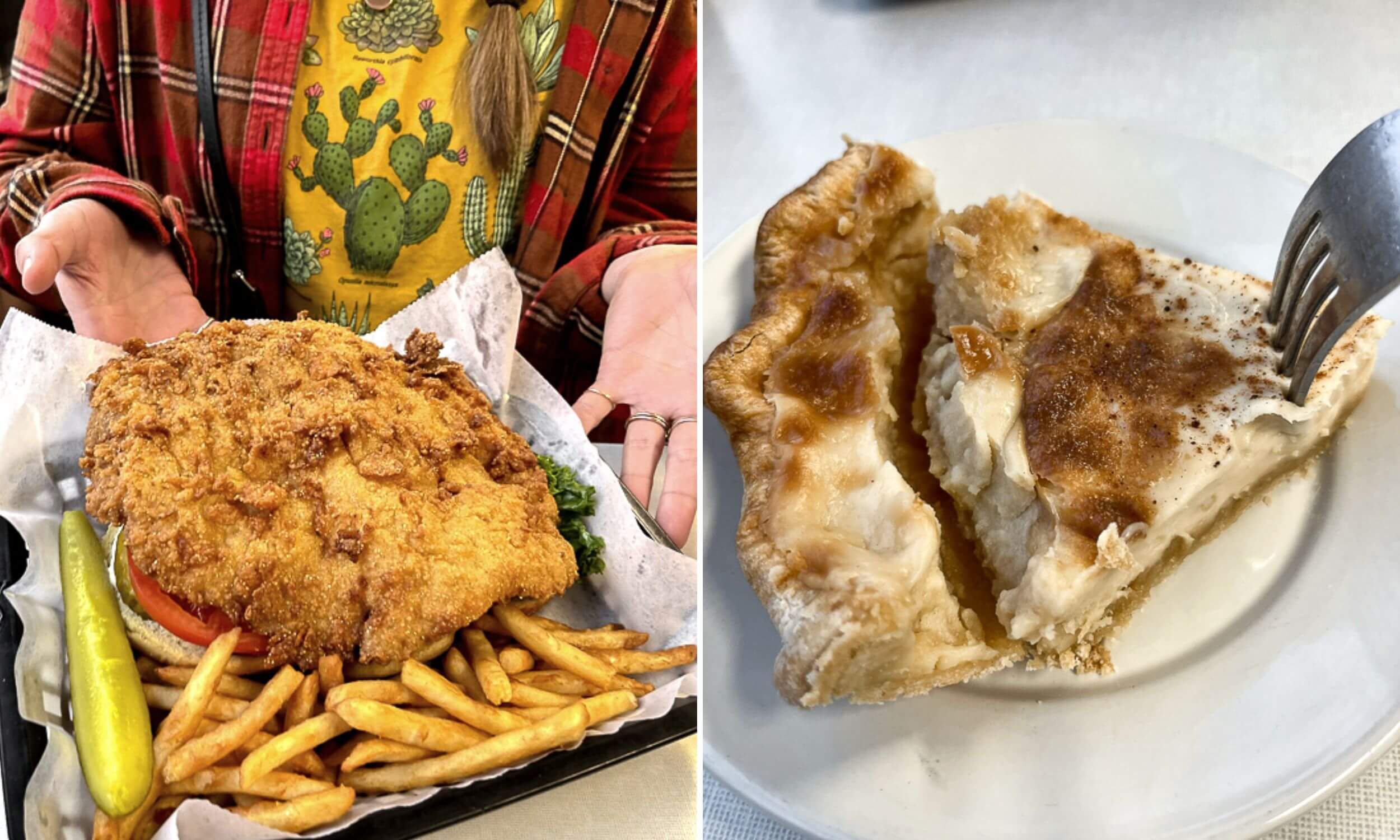 One of my favorite stops in Indiana was eating in this diner. I can't believe that it has taken me over 30 years to eat at a restaurant that looks like an actual diner (you know, the kind of diners you see in the movies!).
Oasis Diner in Plainfield, Indiana has the classic diner exterior, delicious fried comfort food, booths, a bar with the classic red & metal barstools, handcrafted sodas, malts & milkshakes, and pie.
We visited Oasis Diner because it has two very important Indiana signature foods on its menu- breaded pork tenderloin sandwich and sugar cream pie. Let's get into the classic pork tenderloin first- possibly Indiana's most famous food. While this was my first (and only, for now) Indiana pork tenderloin I've eaten, I can't compare it to others.
However, I can say that I fully enjoyed the entirety of this sandwich. Just as expected, it is HUGE. The tenderloin definitely surpasses the size of the brioche bun. The sandwich is complete with lettuce, tomato, onion, pickle, and garlic mayo. I'm a sandwich girl so I was so excited to learn that Indiana's famous food was a sandwich.
The pork tenderloin was fried and had an excellent crispy batter on the outside. You could also get the pork grilled or blackened as well, but the fried and breaded version is the most common. I love that the standard for this sandwich is a brioche bun. Brioche just has so much more flavor than a regular bun, and it raised the rating of this sandwich for me.
Of course, no sandwich would be complete without the veggies especially the onion (my fave!). I also thought the garlic mayo was a nice touch to add a bit more flavor bomb to the sandwich than regular mayo would have. If I lived in Indiana, I would eat these at least once a month. At least.
Moving on to sugar cream pie. I had never even heard of sugar cream pie prior to planning this trip, but there's always room for more pie in my life. While Indiana doesn't have an official state food, it seems like most people consider this pie to be its official food anyways- with good reason!
Sugar cream pie is a made up of a vanilla-tasting custard inside a classic single-curst and sprinkled with nutmeg. It's considered a desperation pie due to it being made with simple ingredients.
As I get older and I try more and more pie, I realize that everybody and every restaurant has their own version of classic pies. And to be honest, as long as the pie is good and tastes somewhat like the classic standard version, I'll never be upset about it. Check out the Hoosier pie trail for all the best sugar cream pies in Indiana!
We had two different sugar cream pies during this Indiana trip, both were unique. Oasis Diner's pie was insanely creamy and smooth- almost like ice cream or a cheesecake. It was perfectly sweet, and honestly I probably could have eaten the entire pie. My taste buds were happy. So delicious.
850 Massachusetts Avenue
Indianapolis, IN 46204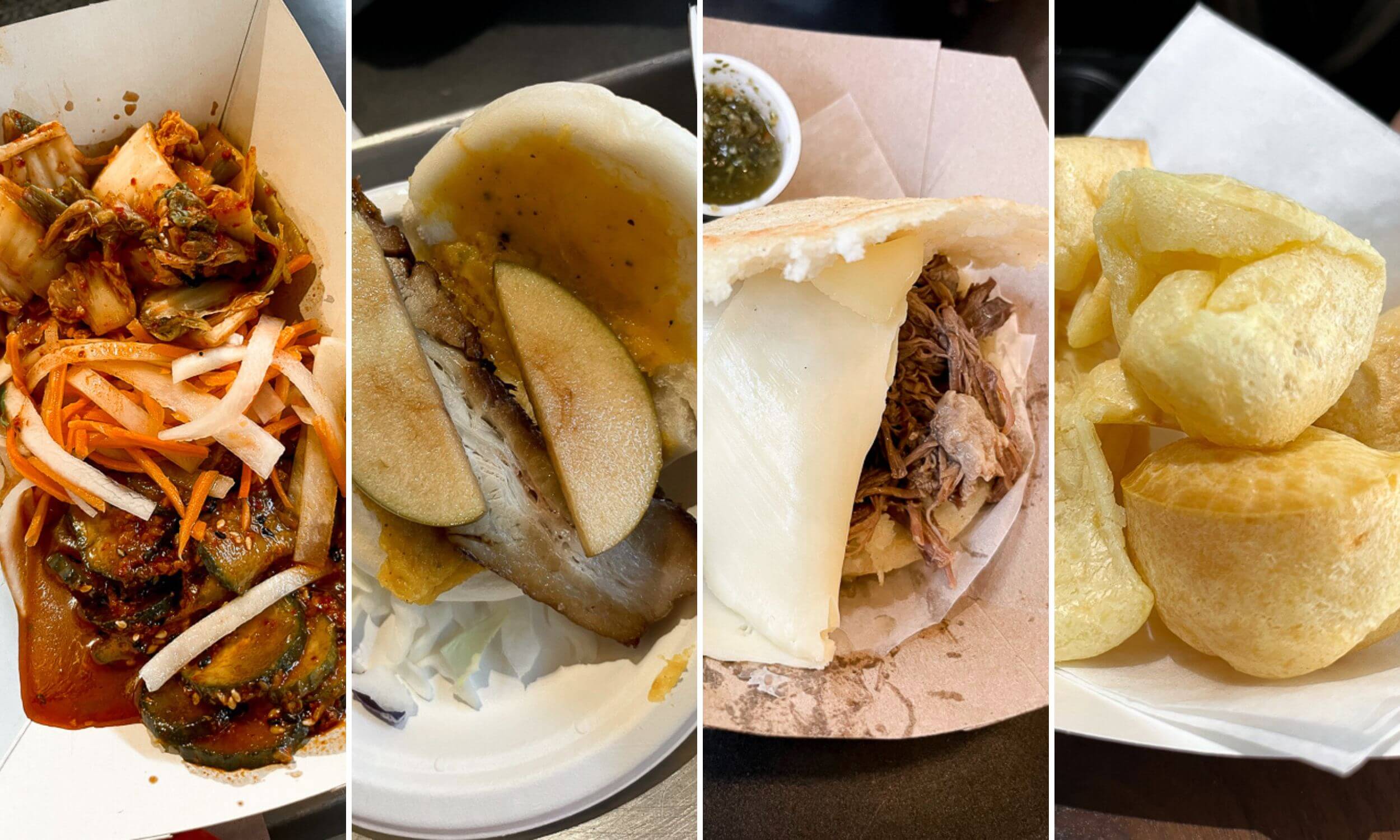 The Bottleworks District was such a cute area that makes for a fantastic date night. The district has so much to offer from retail stores, craft beer, cocktail bar, coffee shop, theater, and so much food. There is even a boutique hotel that you can stay at which is located in the old historic Coca-Cola bottling works administration building.
For dinner, we headed over to The Garage, a food hall filled with multiple local restaurants. Honestly, every thing smelled and looked delicious so it was a bit difficult to decide which to choose.
The good thing about so many restaurants close together is that you can order something from multiple places. We decided to try 3 different restaurants.
From Lil' Dumplings Noodle Bar we ordered the Korean pickles variety and bun of the week which contained squash puree, apples, and pork belly. The Korean pickles were good. The kimchi is what I loved the most.
I like trying new things, but I was a little unsure how I felt about that combination of ingredients. I was so pleasantly surprised. The squash, apple, and pork all worked so well together, and it was the best fall-inspired treat.
From Azucar Morena, a Venezuelan restaurant, we ordered a Peluda Arepa (shredded beef, gouda, and butter inside a white cornmeal patty). This was my first time eating an arepa, and it was amazing. The beef was so flavorful and juicy. I am more than ready to try different types of arepas.
Lastly, we ordered some cheese bread from Sal & Pimenta. These cheese bread bites were light and cheesy. I probably could have eaten way more of them due to their lightness and deliciousness.
Parke County, IN
The annual Covered Bridge Festival is Indiana's largest festival. The festival runs for 10 days and always begins on the 2nd Friday in October. There are 10 separate festival locations throughout Parke County and 31 covered bridges within and between all of these locations.
When I started researching about the Covered Bridge Festival prior to our trip almost everybody said that the food at the festival was the best food and that there was tons of it. They weren't wrong. This was the best place to find so many different foods, and everything that we ate was delicious. The only bummer was that we ended up being too full to try everything.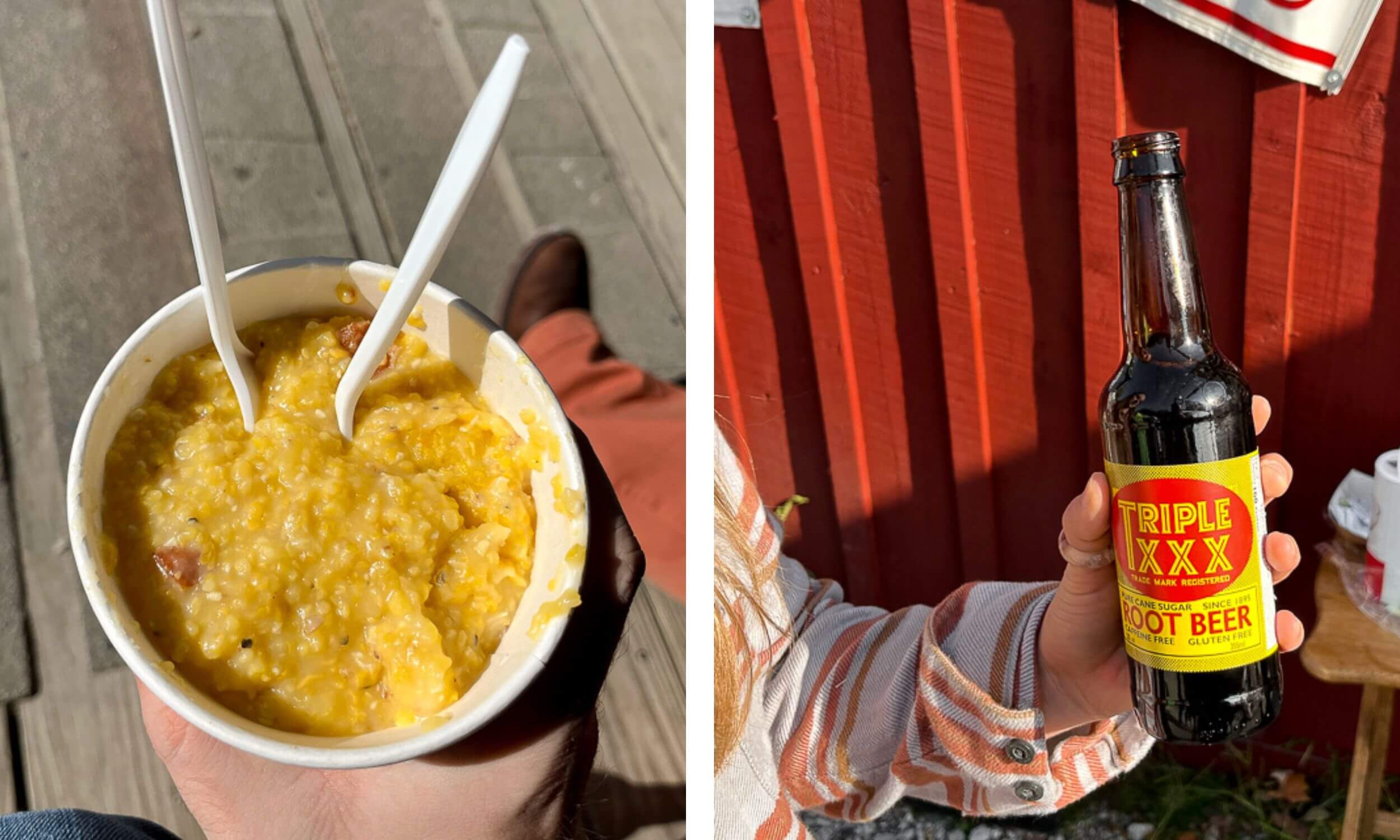 In Bridgeton, Indiana, we first bought a cup of grits with bacon. The grits are freshly ground at the nearby Bridgeton Mill- established in 1823! While grits aren't my favorite, it was still very cool to taste extremely fresh and homemade grits. I just couldn't pass up that opportunity. We washed it down with a bottle of Triple XXX root beer.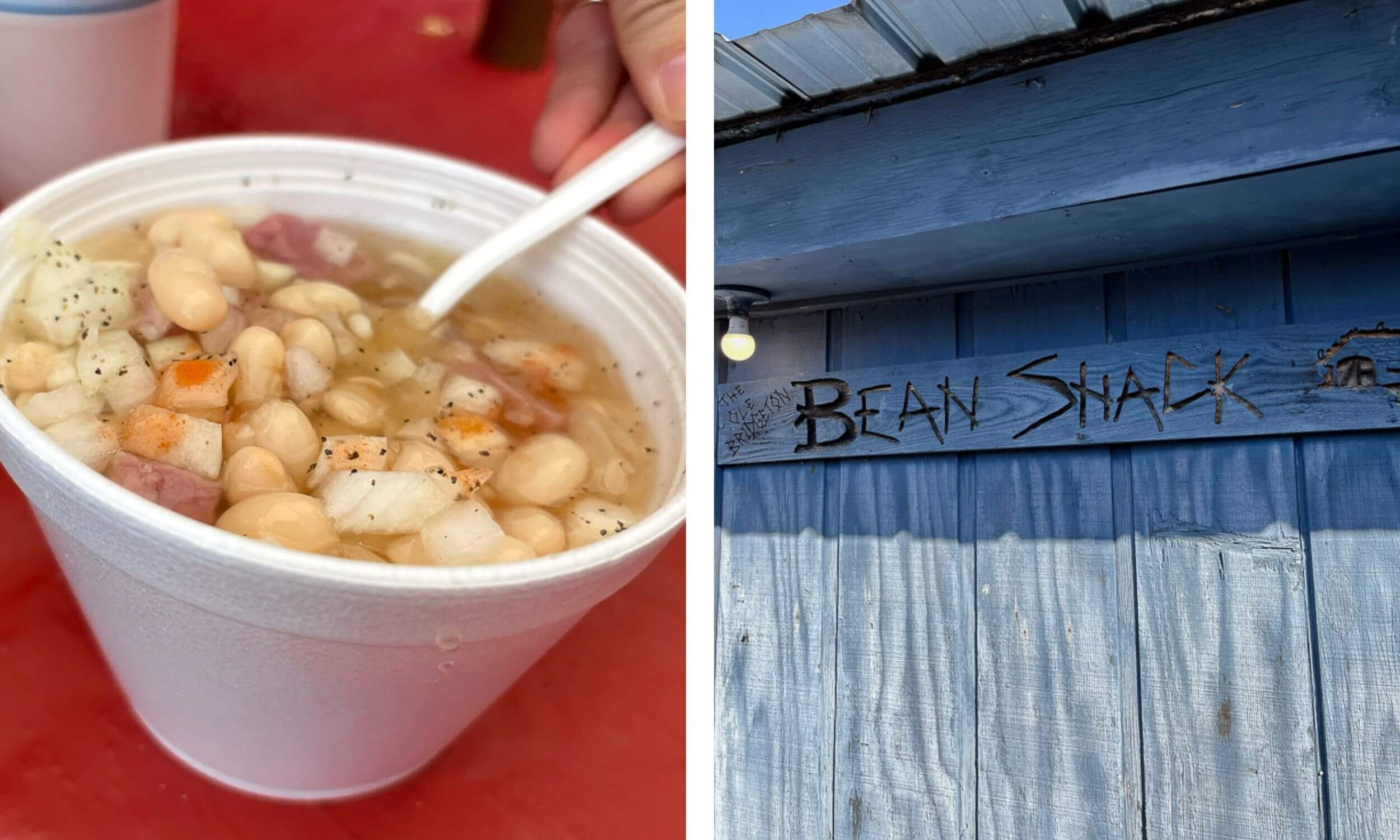 Next, we went to the Bean Shack and ordered a cup of beans & ham. They use Great Northern Beans from 'Hurst's HamBeens' located in Zionsville, Indiana. I absolutely love a good big pot of beans.
And I really do mean BIG pot of beans. Right next to the Bean Shack you will see the huge pot of hot of beans cooking sitting on the ground. They also gave us a delicious piece of cornbread which really won me over.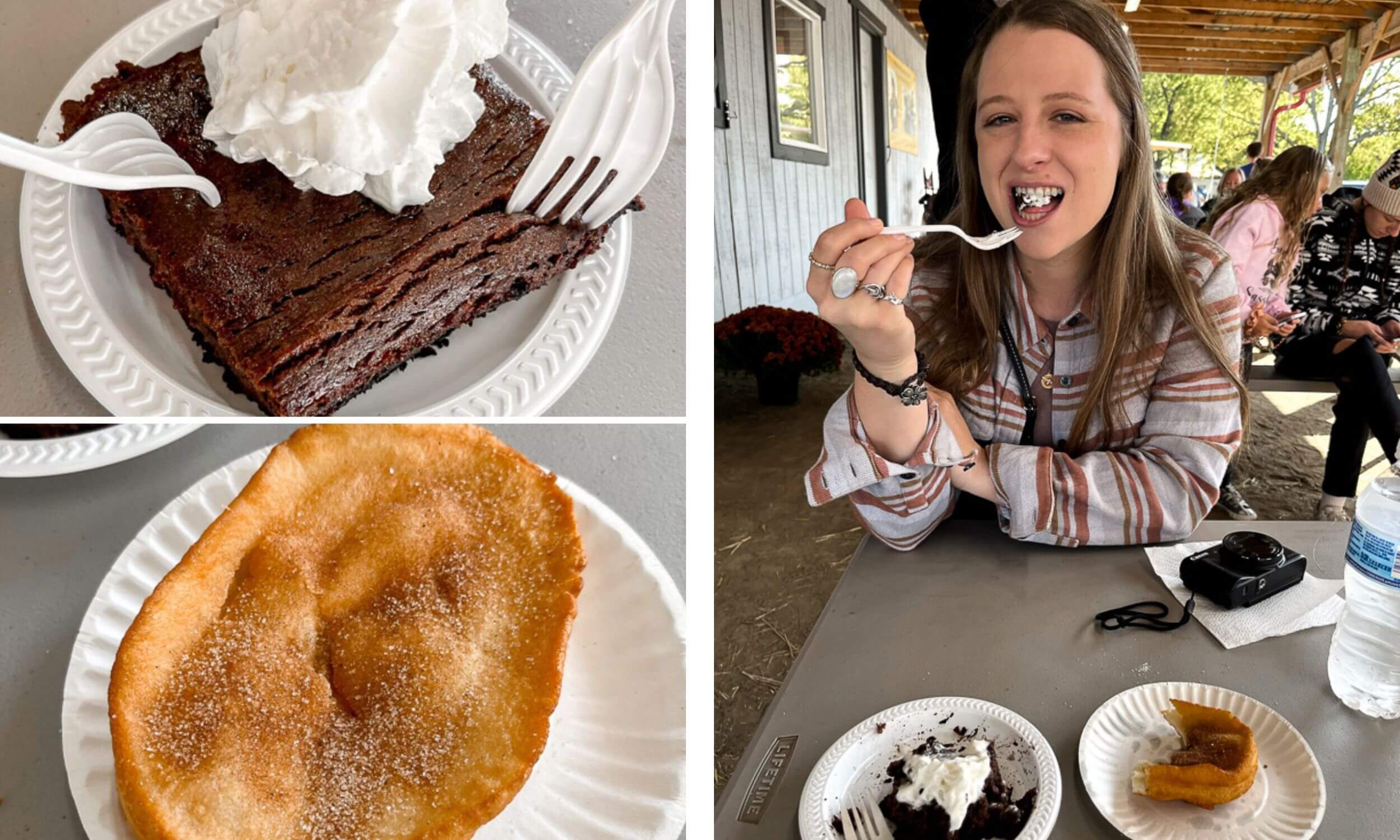 We then ordered a mouse ear which is just a smaller version of an elephant ear- a circle of fried dough coated with cinnamon & sugar. I mean, how could that be bad??
We also ordered a persimmon pudding. This may have been the best decision we made the entire trip. The persimmon pudding really was something to write home about. The texture reminded me of figgy pudding and tasted of Christmas- sweet molasses and spices. So good. Highly recommend.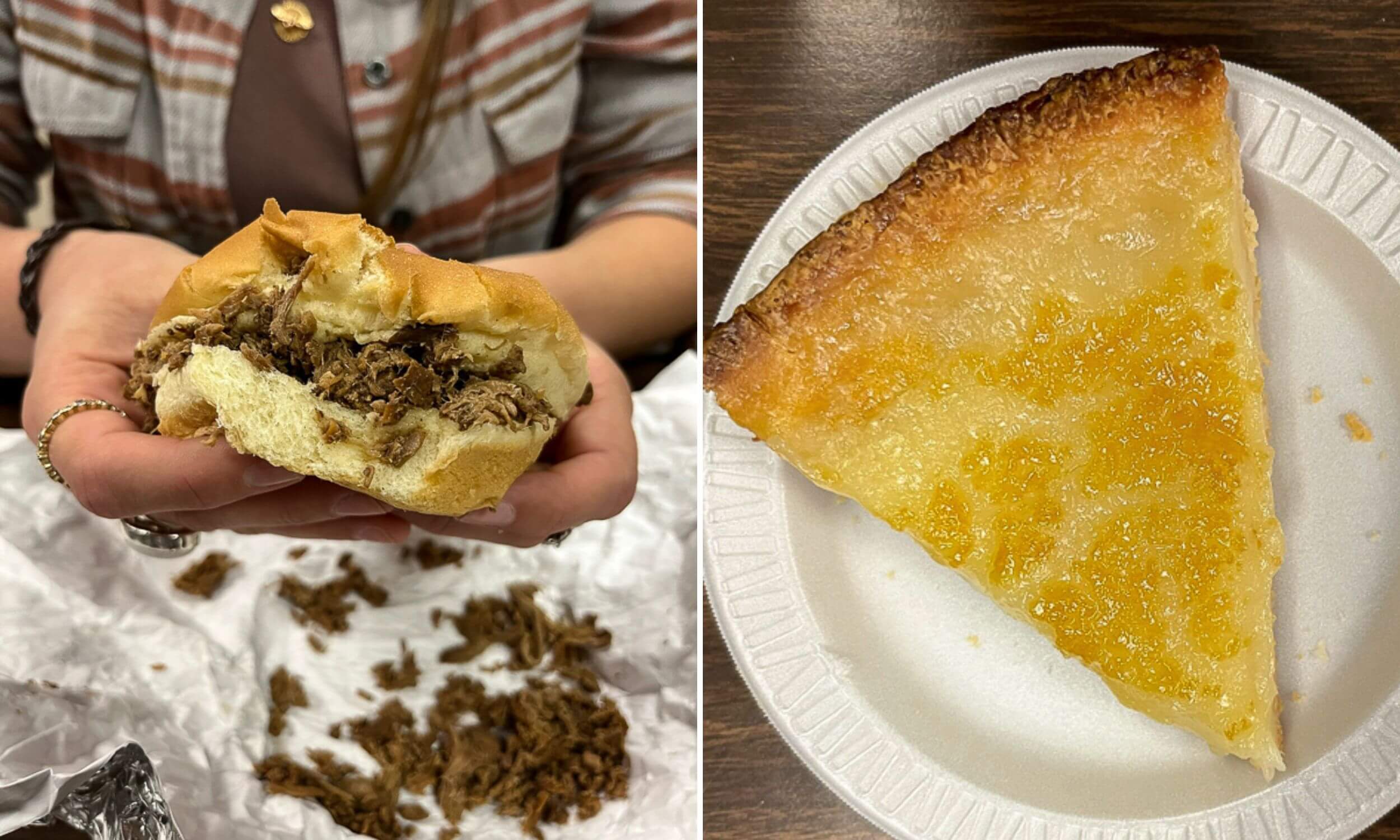 In Tangier, Indiana, we tried the world famous buried beef which is exactly what it sounds like, beef cooked underground. Find out more about Tangier and it's buried beef tradition here. We had the buried beef sandwiches, a cup of baked beans, and a slice of homemade sugar cream pie. The beef was good and so tender, and the sugar cream pie was so delicious.
I had never even heard of sugar cream pie prior to this trip so this was a real treat. This pie reminded me of one of my favorite pies, buttermilk. It's sweet with a slightly crisp top.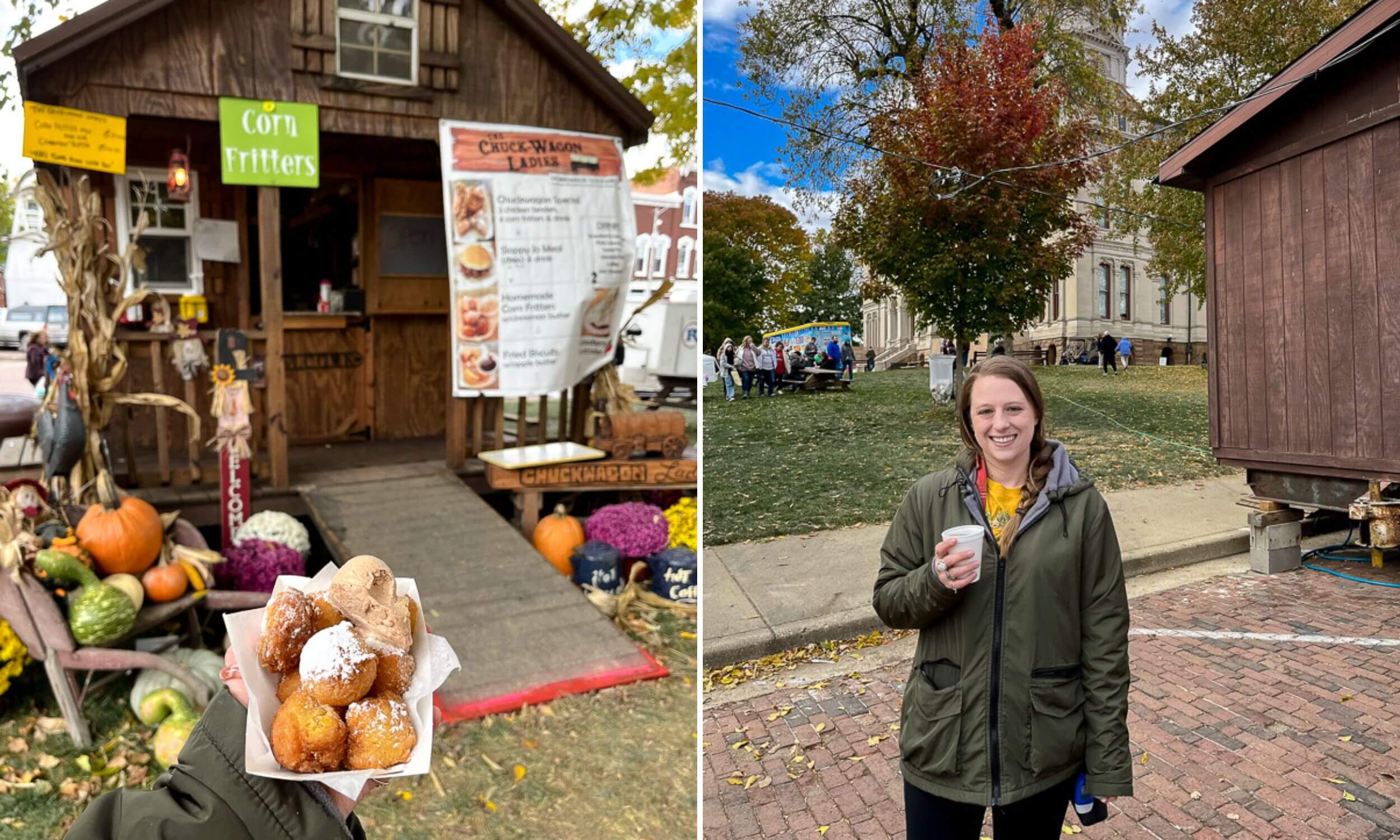 Our final Covered Bridge Festival food destination was Rockville, IN. This day was so cold so I had to order a cup of the chicken noodle soup. It really hit the spot. We continued on our food tour and had corn fritters, crullers, and a cup of freshly made warm apple cider. So fresh that we actually watched the man press the apples!
The corn fritters are fried batter with corn. Tasted kind of like funnel cake, and they are served with cinnamon butter. The crullers didn't disappoint either. They are really delicious doughnuts! I hate sounding redundant, but I thought all of these foods were so good and would recommend all of them.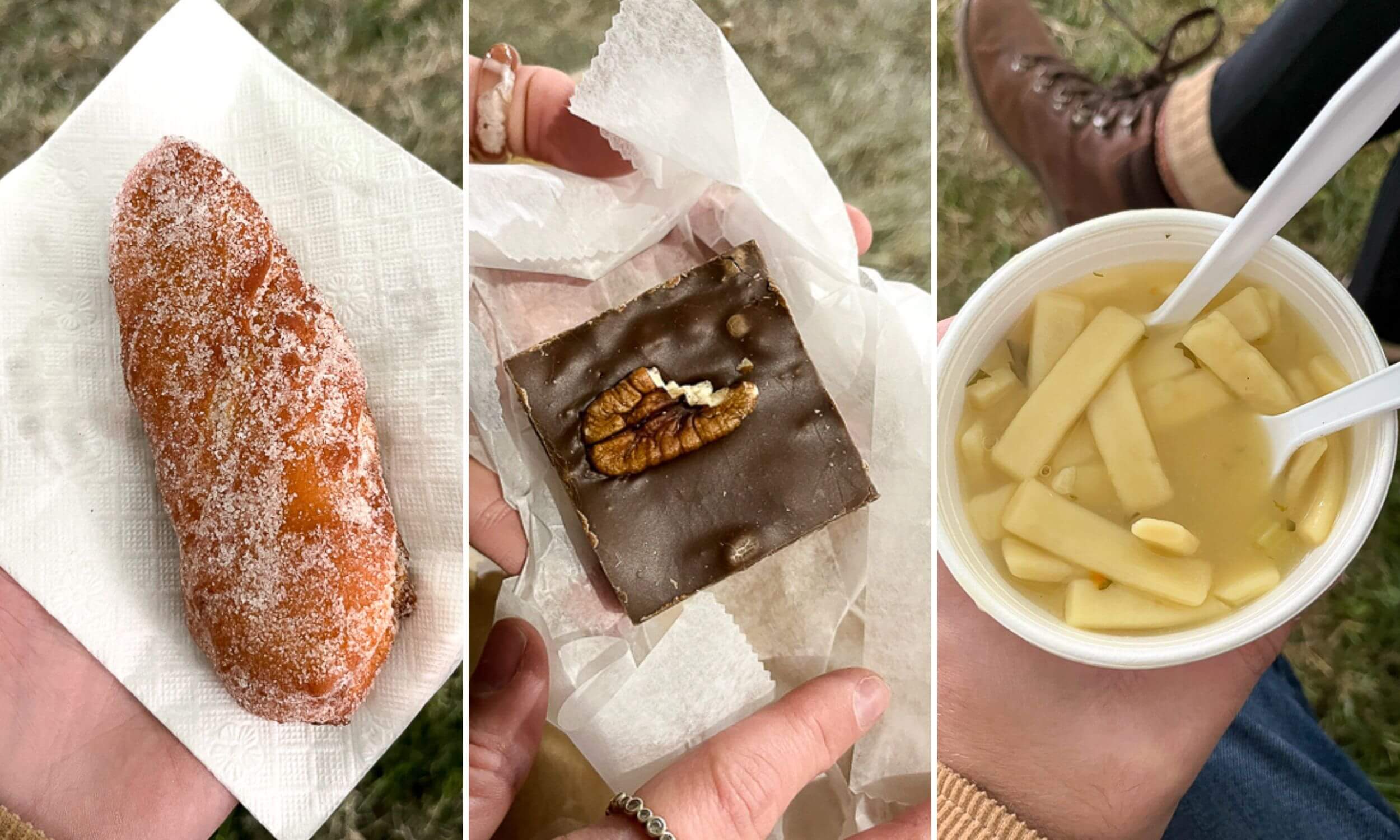 Lastly, we tried a piece of homemade pecan fudge which practically just melted in your mouth and a couple pieces of sassafras hard candy which taste almost exactly like root beer candy.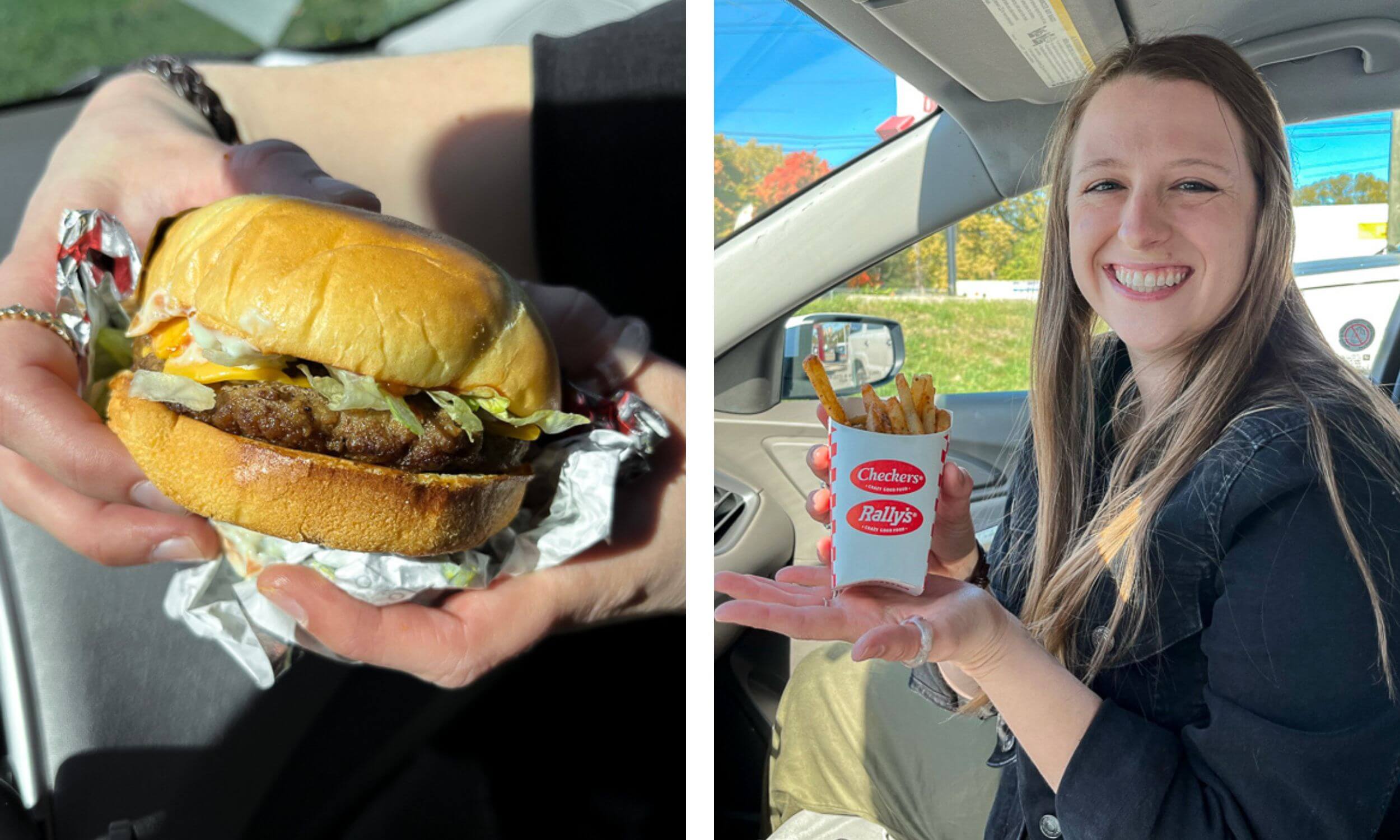 As big foodies, we very rarely find ourselves at fast food restaurants or chain restaurants on a vacation. However, this trip I had to make an exception. You see, a few months ago we made a video where we compared all the fast food restaurant burgers with one another and ranked them.
It was a pretty controversial video and a lot of people had opinions. There were a few people that were confident that a Rally's burger would have been top of the list if we had one near us in Texas. So when I learned that Indiana had multiple Rally's locations, I knew we had to go!
I ordered the #1 because I always feel like a place is going to put their best traditional burger in the #1 spot. This was the Big Buford, AKA- Boss of Burgers. It's difficult to say whether or not this burger would have been on the top of our list without being able to compare all of the burgers side-by-side, but I'm pretty confident in saying that it would have been up there.
While I could still tell that this was a fast food burger (which isn't a bad thing by the way), it was done better than most. The 2 patties on the burger were flavorful and I loved all all the toppings- cheese, lettuce, tomato, red onion, pickles, ketchup, mustard, and mayo. I also liked that it came on a bun that wasn't just your average cheap hamburger bun. It added flavor as well.
Let me talk about the french fries, though. They were so good. They are well seasoned and fried to perfection. Any restaurant that hands out seasoned fries as their standard fry gets a gold star in my book.
1103 East 10th Street
Indianapolis, IN 46202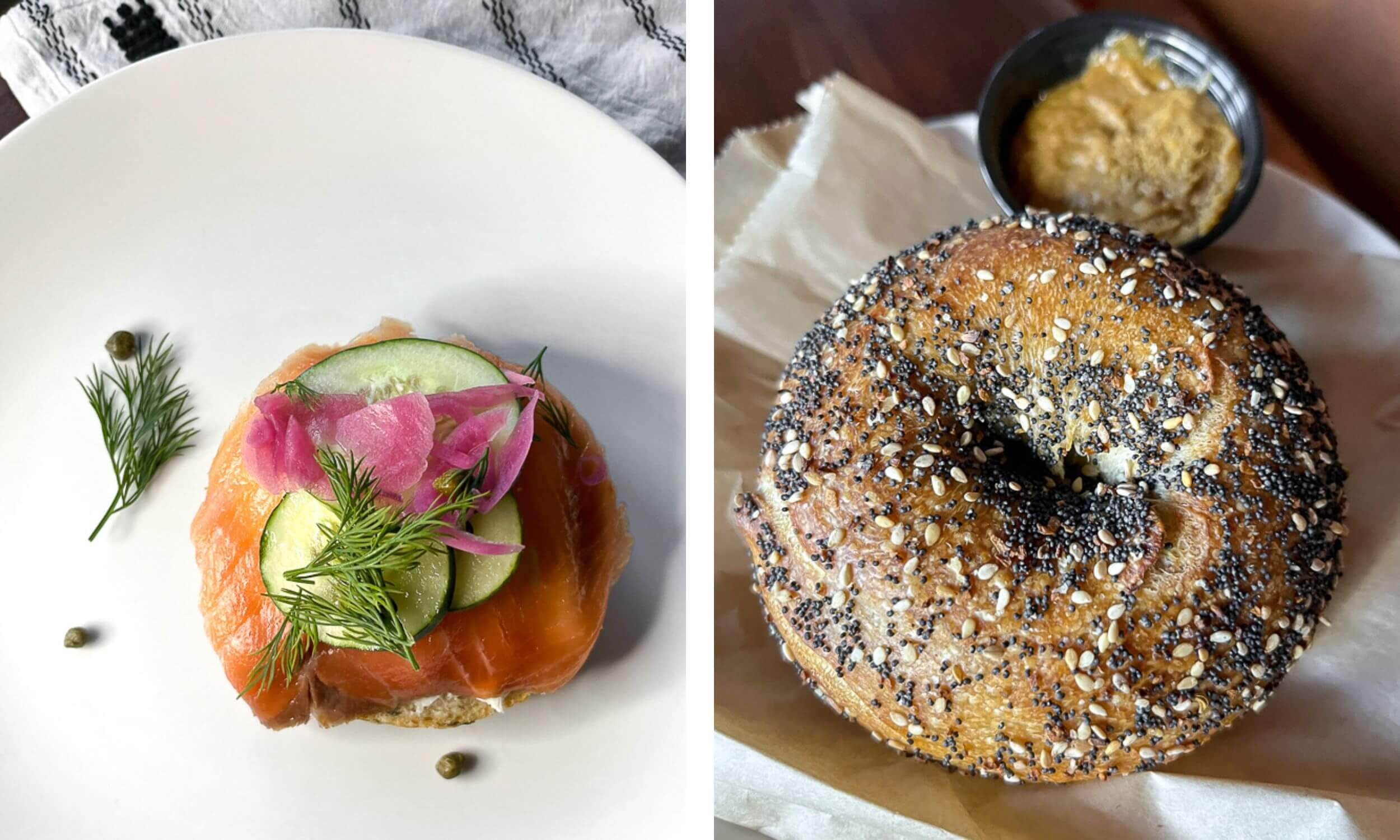 If you are staying by or in the Bottleworks District, I highly recommend checking out Sidedoor Bagel in the morning for a delicious breakfast. Just make sure to place your order on their website the day before so you don't have to wait in line- especially if you want your bagels on a weekend morning.
We first ordered a open face 'Lox & Loaded'. I'm a huge fan of lox, and I don't eat them much so this was a real treat. For $13, you get both sides of the bagel. Each each side there is cream cheese, smoked salmon, cucumber, fresh dill, pickled red onion, and capers. If you are a fan of lox, you are going to want to try this.
We also ordered an everything bagel with pumpkin brown butter which I'm assuming the butter was a seasonal choice. The bagel and seasoning were great and, of course, adding the pumpkin butter on top made it even better. I could eat these bagels every single morning.
140 West Main Street
Nashville, IN 47448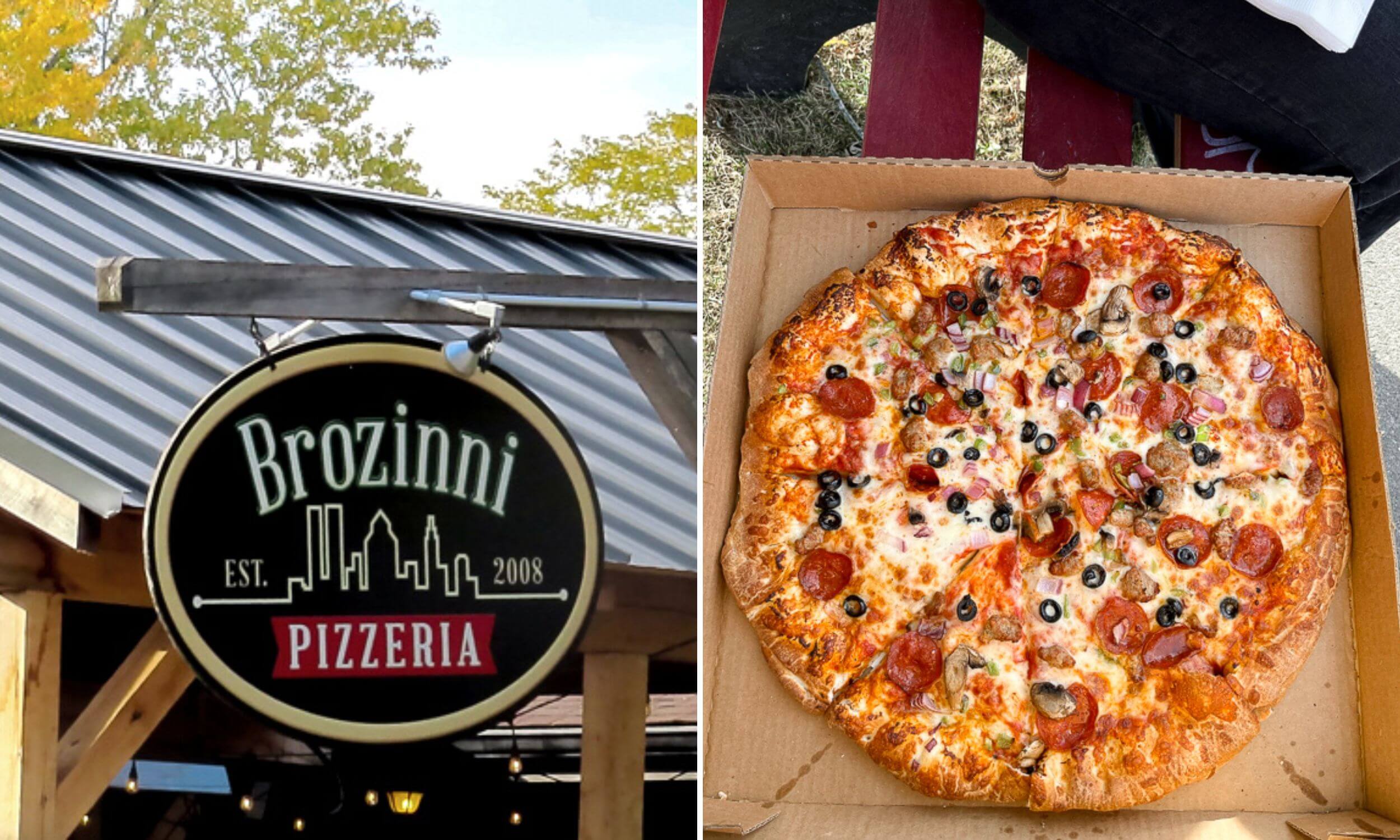 When researching fall things to do in Indiana during October everybody suggested visiting the town of Nashville, Indiana. This is a small town about 60 miles south of Indianapolis. There's tons of boutiques, art galleries, antique stores, places to eat, and changing fall leaves.
The town is such a fall vibe, and I love it. However, we were told by a local that we visited Nashville on the busiest day of the year- the third Saturday in October. I'm not exaggerating when I say that there were people everywhere.
The amount of people definitely made it difficult to find a parking spot, enter small stores and find a table at a restaurant. While Nashville was very much still enjoyable and I'm glad that we visited, I would recommend to visit during the week if possible when traveling during October.
Instead of spending a good chunk of our time waiting for a table to open up we decided to order some pizza, take it to a park bench in the middle of town, and enjoy our pizza while watching all the people stroll by. It was a perfect evening.
Now let's get into the food! We ordered an appetizer of knuckles, baked twisted dough with a garlic butter sauce. These were pretty good, but really the pizza was SO GOOD. We got the Canal Street pizza which comes with sausage, pepperoni, mushrooms, black olives, onions, and green peppers. Delicious!
369 East Greencastle Road
Mooresville, IN 46158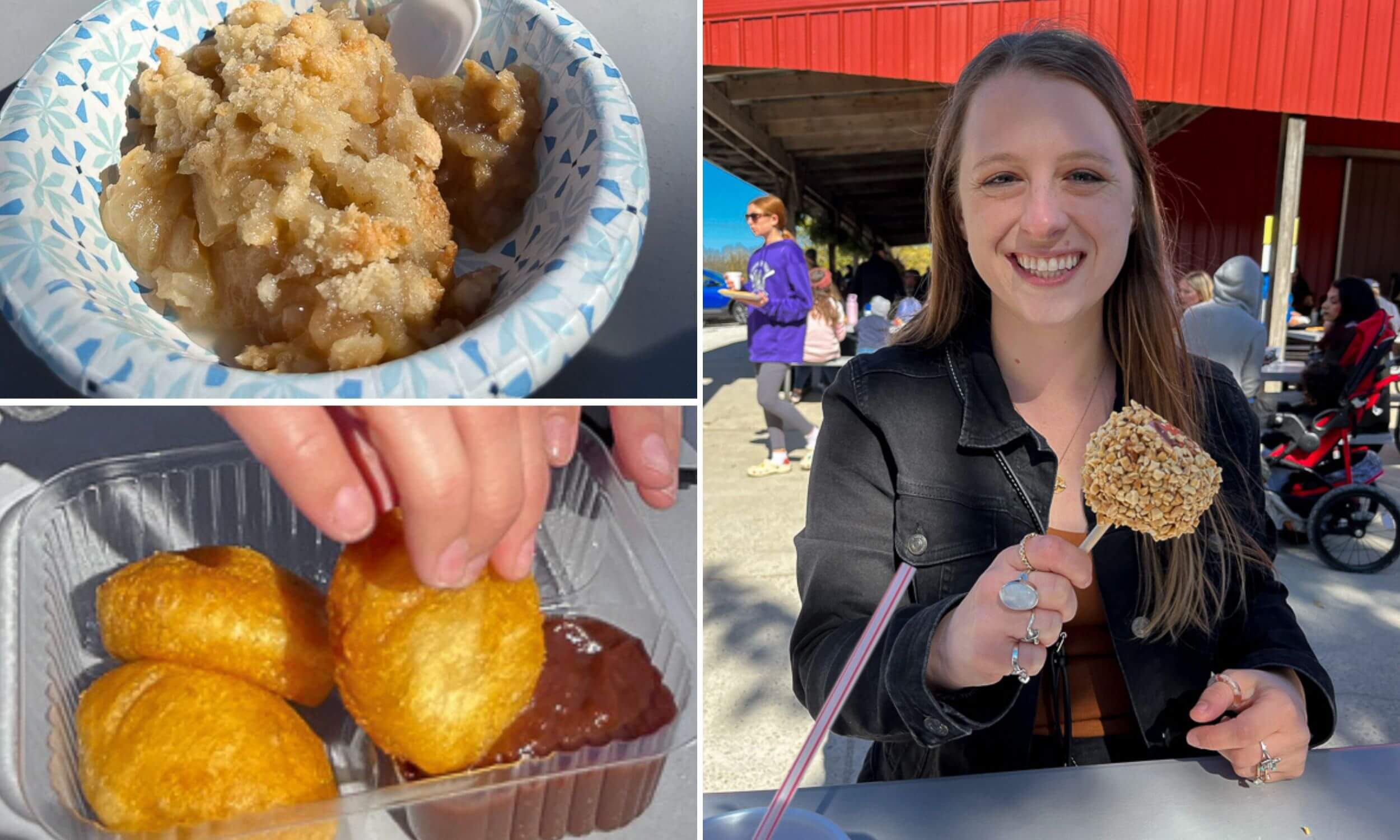 Seeing an actual apple orchard and being able to pick the apples and walk through the trees was such a fun experience for me! Up until this moment, I had only ever seen an orchard like this in the movies. This is a great place to spend a fall day.
In addition to apple picking, you can also pick your own raspberries, pumpkins, and sometimes even chestnuts! The orchard is open 7 days a week in September and October, 8 am to dark.
And of course, the best part is that there are so many delicious snacks to choose from including caramel apples, caramel apple fondues, elephant ears, fried biscuits with apple butter, fried apple pies, and apple cider slushies.
It was hard to choose, but we decided to try the apple cobbler, fried biscuits, a caramel apple with peanuts, and the apple cider slush. The apple cobbler was very good and a very traditional apple cobbler. I haven't eaten many caramel apples in my lifetime, but this one was hands-down my favorite to date. The caramel was not too chewy and not too hard. It was just right, and the peanuts made it even tastier.
Every one online said that the apple cider slush was a must. While it was very good and I loved the flavor of it, it was SO sweet! I wasn't able to finish it because of that, but I did enjoy what I did drink. If you are a big apple cider fan then it is a must!
Lastly, the fried biscuits. Absolutely amazing. I mean, how could they be bad though?! The homemade apple butter just made them even better. Huge fan!
__________________________________
50 States by 50
Indiana was our first state for our 50 states by 50 challenge. My husband, Brian, and I are planning to visit all the states in the United States by the time we turn 50 years old. To choose which state we travel to next, we will draw it randomly!
For each state, we will plan at least a 4 day trip that consists of visiting the state capitol and state museum, exploring a state park, and eating whatever food that state is most known for. I will be documenting all of our travels here on my blog and making vlogs as well which will be posted on YouTube. Read more about our 50 States by 50 Bucket List.
While we were able to try so many new things in Indiana, there was so much more that we weren't able to try. If you feel like we missed out on some famous Indiana foods or a famous restaurant, please let me know! If you have any questions or just want to share your Indiana food, please leave a comment down below.

Category: Life & Travel, 50 States Bucket List
Keywords: famous food in Indiana, Indiana pork tenderloin, Indiana sugar cream pie, midwest states food, most popular foods in Indiana
More Indiana Travel Blogs:
We also did a bunch of other things during our 4 days in Indiana. Each blog goes into more detail about each thing that we did, saw, or ate! I have a blog over:
✽ Our entire 4-Day Indiana Itinerary (downtown Indy, apple picking, beautiful scenery, Covered Bridge Festival, Turkey Run State Park, & more)
✽ A Fall Weekend in the state of Indiana (fall leaves, southern Indiana, antique shops, Brown County Art Gallery, & tons of carved pumpkins)
✽ Parke County's Covered Bridge Festival (local artists, fall foliage on a scenic drive, small town living, covered bridges, & tons of delicious food)
✽ Weekend in Indianapolis Itinerary (motor speedway, famous landmarks, Bottleworks district, tasty food, & more)
✽ Turkey Run State Park (hiking through fall leaves, sugar creek, a nature center, climbing up ladders, & walking on ledges)
✽ Our 4-Day Indiana Trip Budget (how much our 4-day, 5-night trip to Indiana cost for two of us)
Bon voyage & bon appétit!
November 10, 2022 by Laura Bullock
*This Indiana Food Trip blog post may contain some Amazon affiliate links. These link to products that I personally use and recommend. If you purchase anything using my links, it will not cost you anything. It will though give laurathegastronaut.com some financial support which helps me keep this blog running. Thank you for reading my blogs and your continued support.