Laura the Gastronaut > Life & Travel > 50 States Bucket List >

Covered Bridge Festival
Weekend at Covered Bridge Festival in Indiana
November 10, 2022 | Laura
We spent 1 1/2 days exploring all that the Covered Bridge Festival in Parke County, Indiana has to offer. We had a blast! There was so many vendors to stroll through, live entertainment, and so much good food. I wish we could have tried it all! We also ventured out to some of the smaller towns and found multiple covered bridges along the way.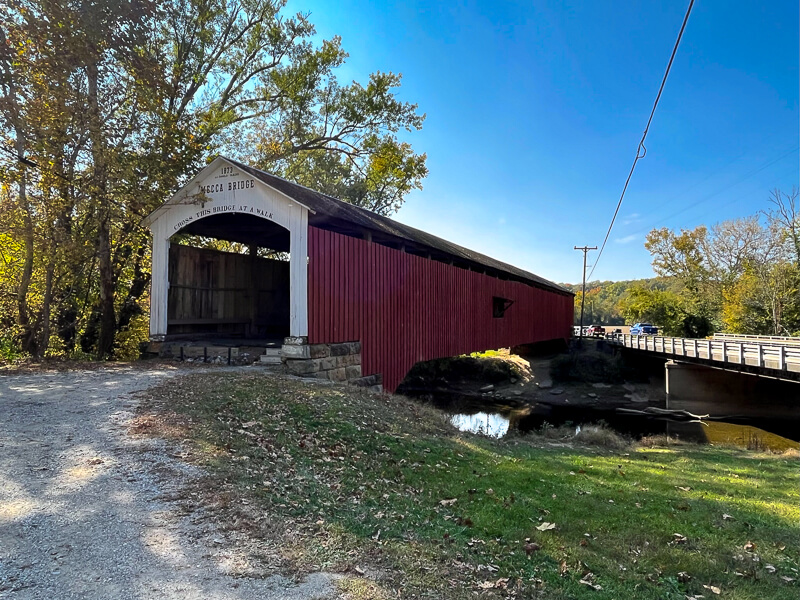 Parke County Covered Bridge Festival
The reason why we planned our trip to Indiana in October was so we could go to the Covered Bridge Festival which is Indiana's largest festival and has been an annual event since 1957. This is a 10-day festival that begins on the 2nd Friday of October. It is located in Parke County (central Indiana, ~75 miles west of downtown Indianapolis). It is free admission to get into the festival. However, you may have to pay a small fee to park at some of the locations.
The festival consists of 10 separate towns that each have their own charm. In and between these towns you are able to find 31 of Indiana's covered bridges. That's why Parke County is known as the 'Covered Bridge Capital of the World'!
This family-friendly event is a combination between a craft & arts festival, a history festival, and a food festival. We spent the day strolling through art vendors, visiting the old bridges, enjoying the gorgeous fall foliage, and eating so much delicious food from so many different food vendors. The Covered Bridge Festival is a great place to spend a few fall October days with the whole family, support some small businesses and craft vendors, listen to local musical entertainment, and eat great food.
If you are looking for more Indiana content check out my other travel blogs!: 4-Day Indiana Itinerary, A Fall Weekend Spent in Indiana, Our 1 1/2 Days in Indianapolis, Food in Indiana, Turkey Run State Park, and Our 4-Day Indiana Trip Budget.
Bridgeton, Indiana
The first town that we visited was Bridgeton. After paying $5 for parking, we entered the festival. Before we even got into the actual town, we were surrounded by so many vendors, art, and food booths & food trucks!
Upon entering the town, we heard live music from a guy singing Johnny Cash songs and saw the Bridgeton Covered Bridge. You are able to walk through the bridge and peep out the window for a nice side view of the mill. Unfortunately, the original Bridgeton bridge built in 1868 was burned down by an arsonist in 2005. It was rebuilt in 2006.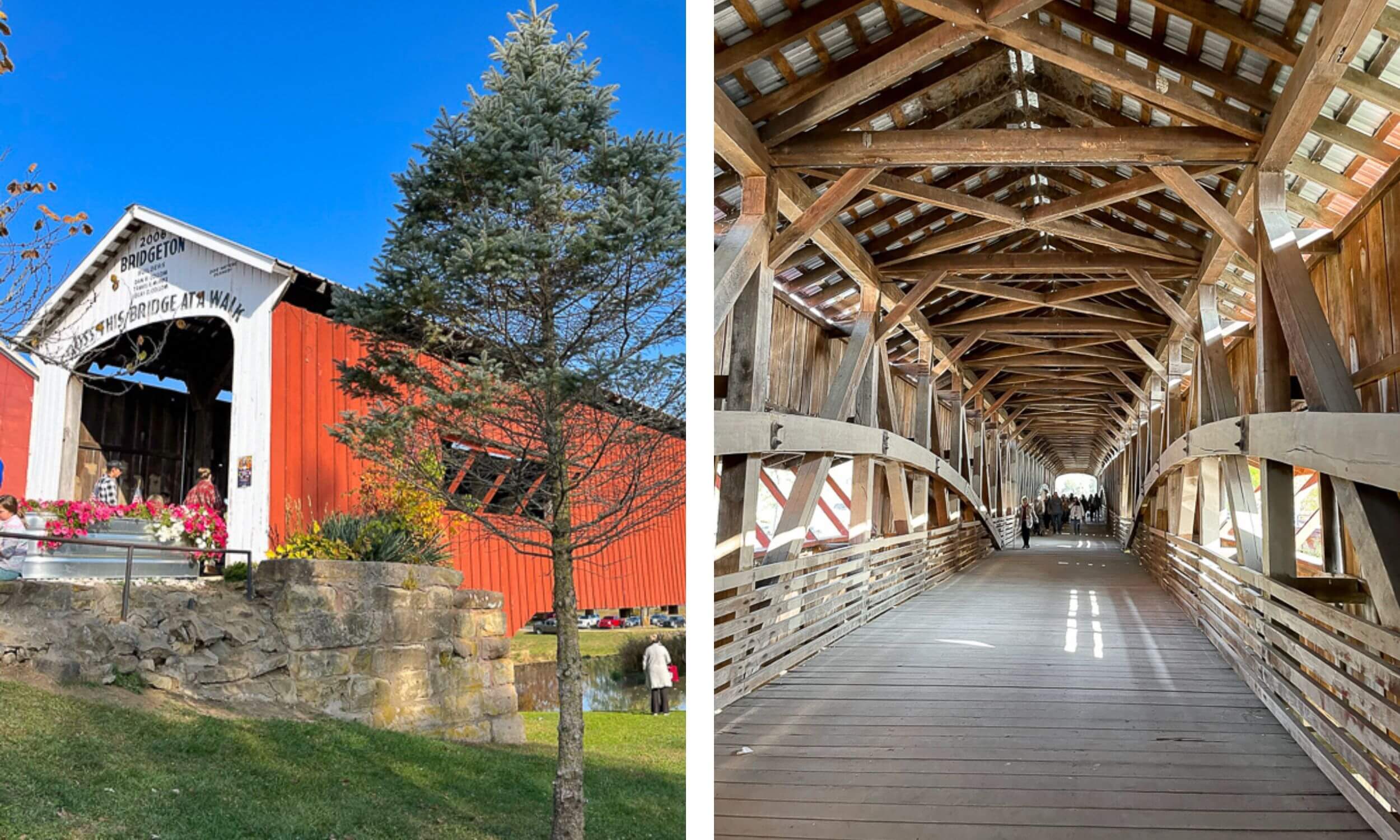 The next stop was the working Bridgeton Mill established in 1823! You can actually enter during the festival to buy freshly ground grits. You can also see them working and the machinery running.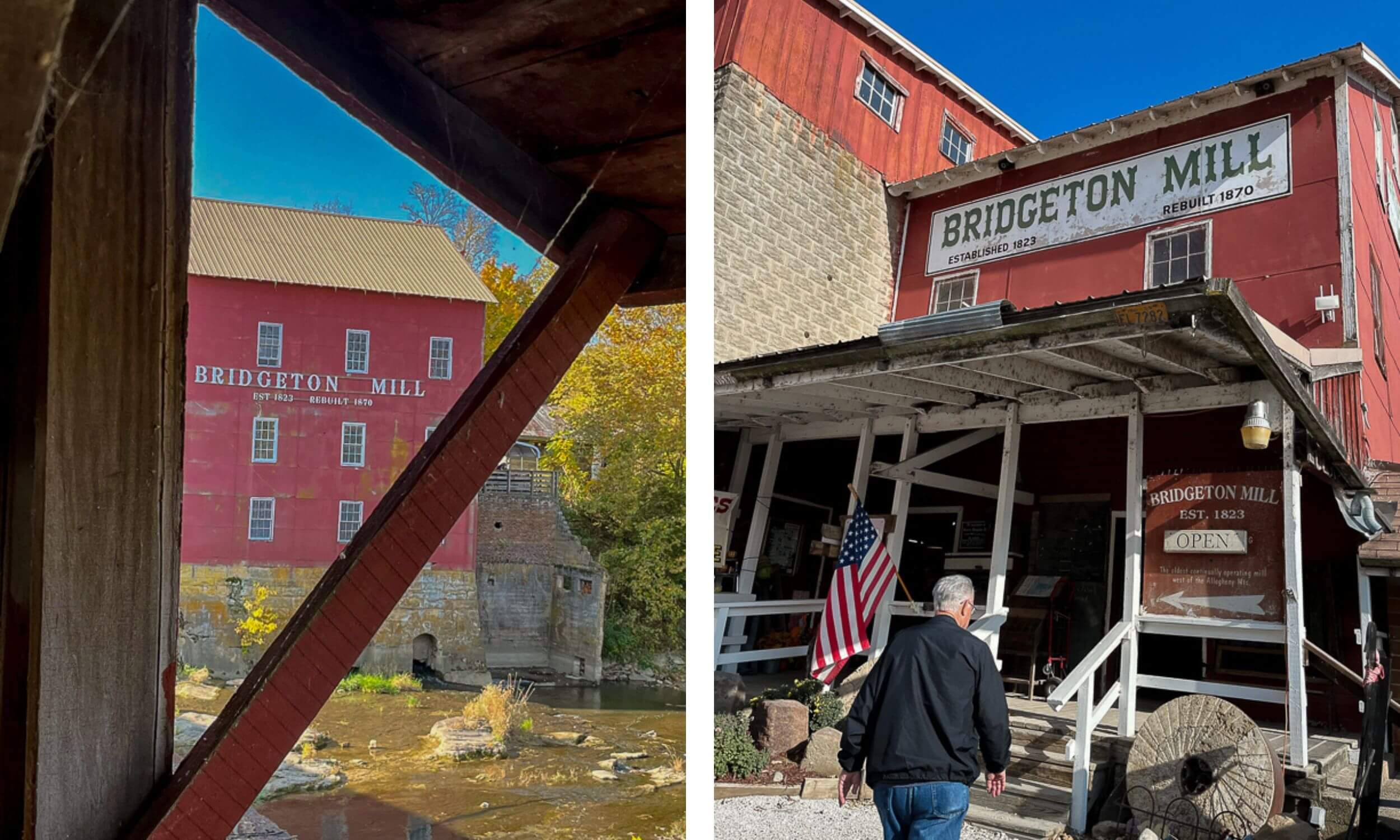 We decided to buy a cup of those freshly ground grits with bacon and washed it down with an Indiana root beer.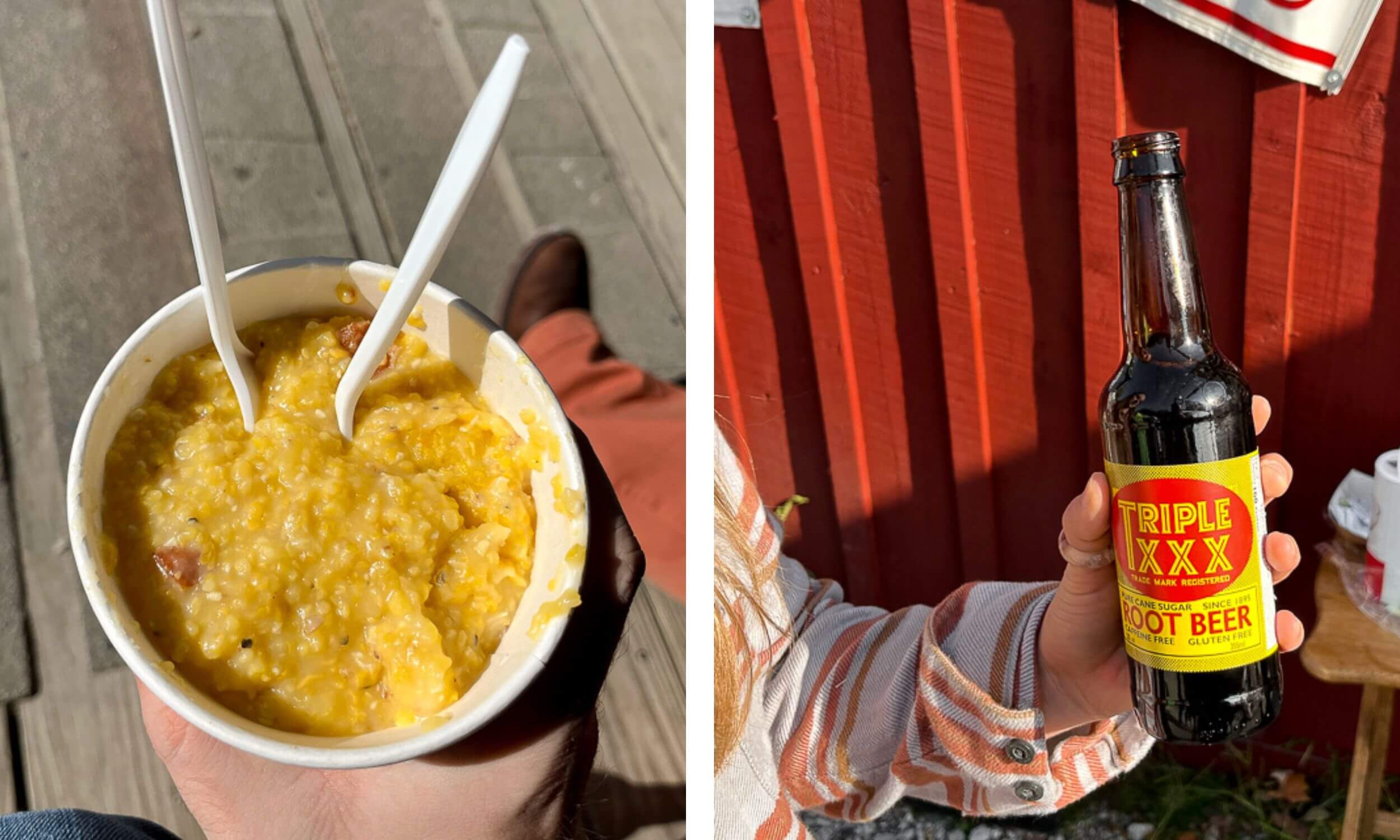 We then wondered over to the Bean Shack. First I must say that beans are my favorite food so I was really excited to run into the HUGE pot of beans and ham cooking. They smelled wonderful. They use Great Northern Beans from 'Hurst's HamBeens' located in Zionsville, Indiana. They really won us over by also giving us a slice of delicious cornbread.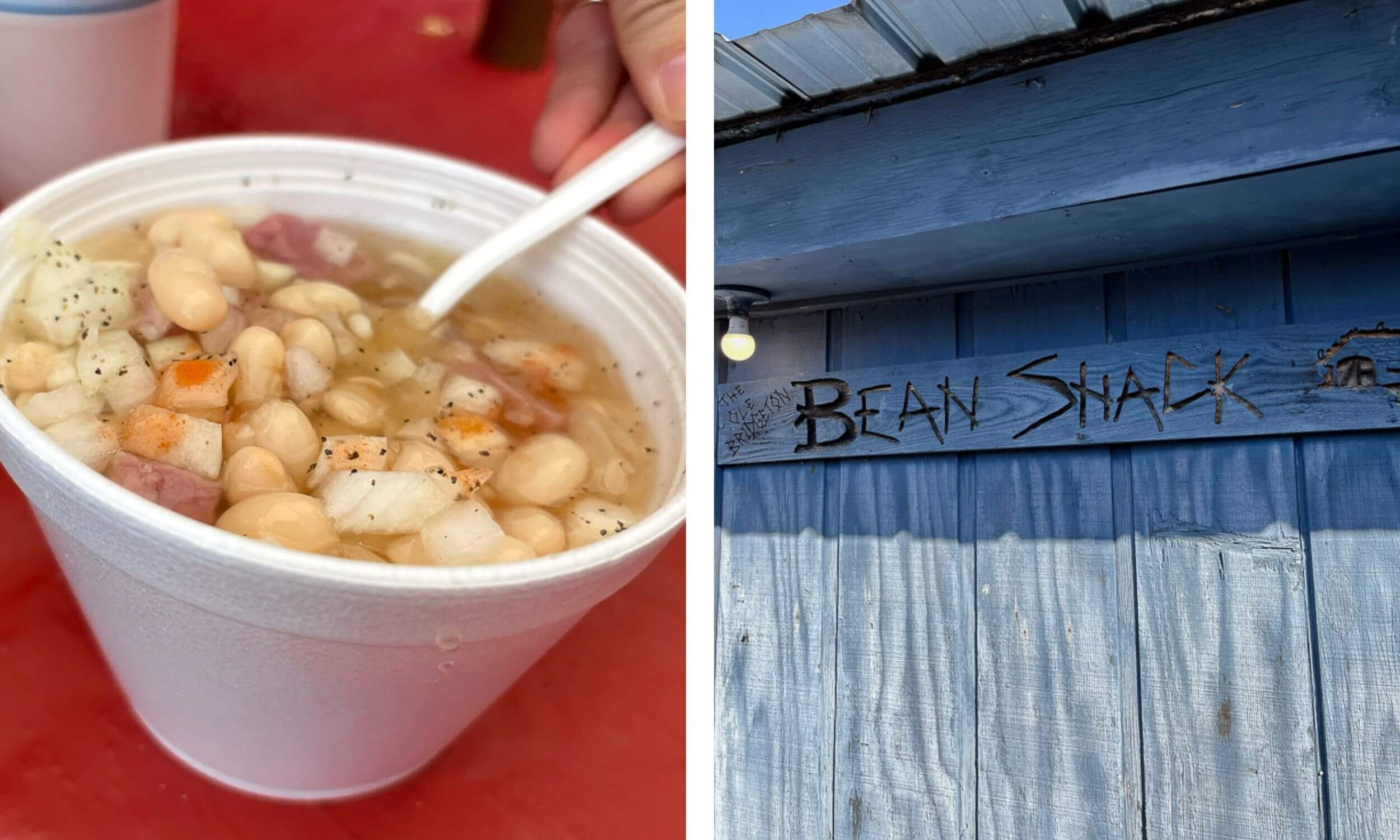 Aside from all of the tasty treats, there is also a lot of history in this town as well. There are many old buildings and houses here that are fun to visit such as the Olde Bridgeton School built in the 1920s.
We were able to go inside of the Case 1822 Log Cabin which was the home of the Seba Case family in the 1820s. Brian even got invited to play the spoons alongside a man who was playing, what I believe is called, a dulcimer!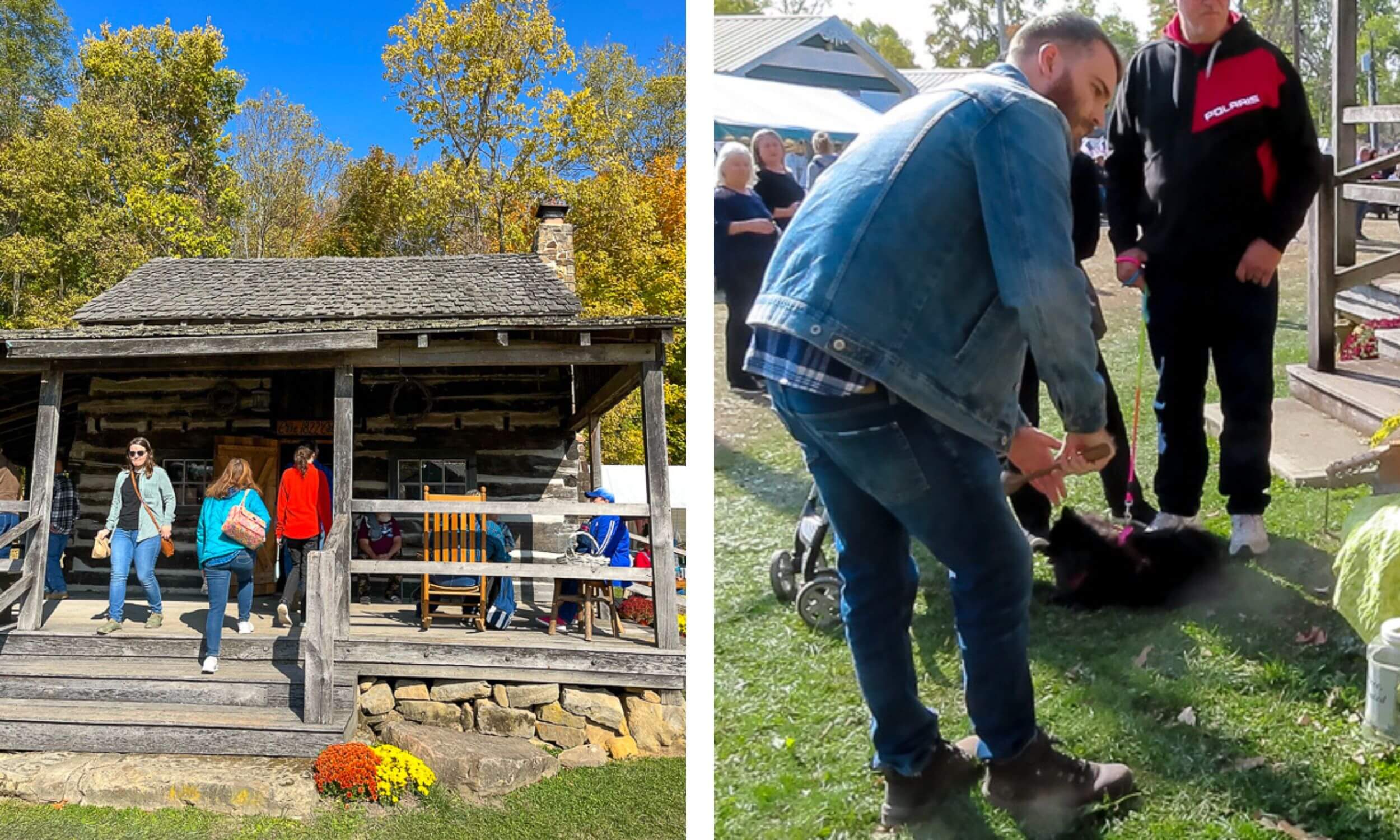 We then found more food to try- not surprising. There really is so much tasty food that surrounds you the entire time you are walking around this festival. This time we tried a mouse ear and persimmon pudding.
A mouse ear is basically a smaller version of an elephant ear which is a circle of fried dough sprinkled with cinnamon and sugar.
As for the persimmon pudding- absolutely delicious. We had never eaten persimmons before so we were pleasantly surprised when taking the first bite of this pudding. My best description is that it tastes like Christmas- sweet molasses and spices. The consistency is just like figgy pudding!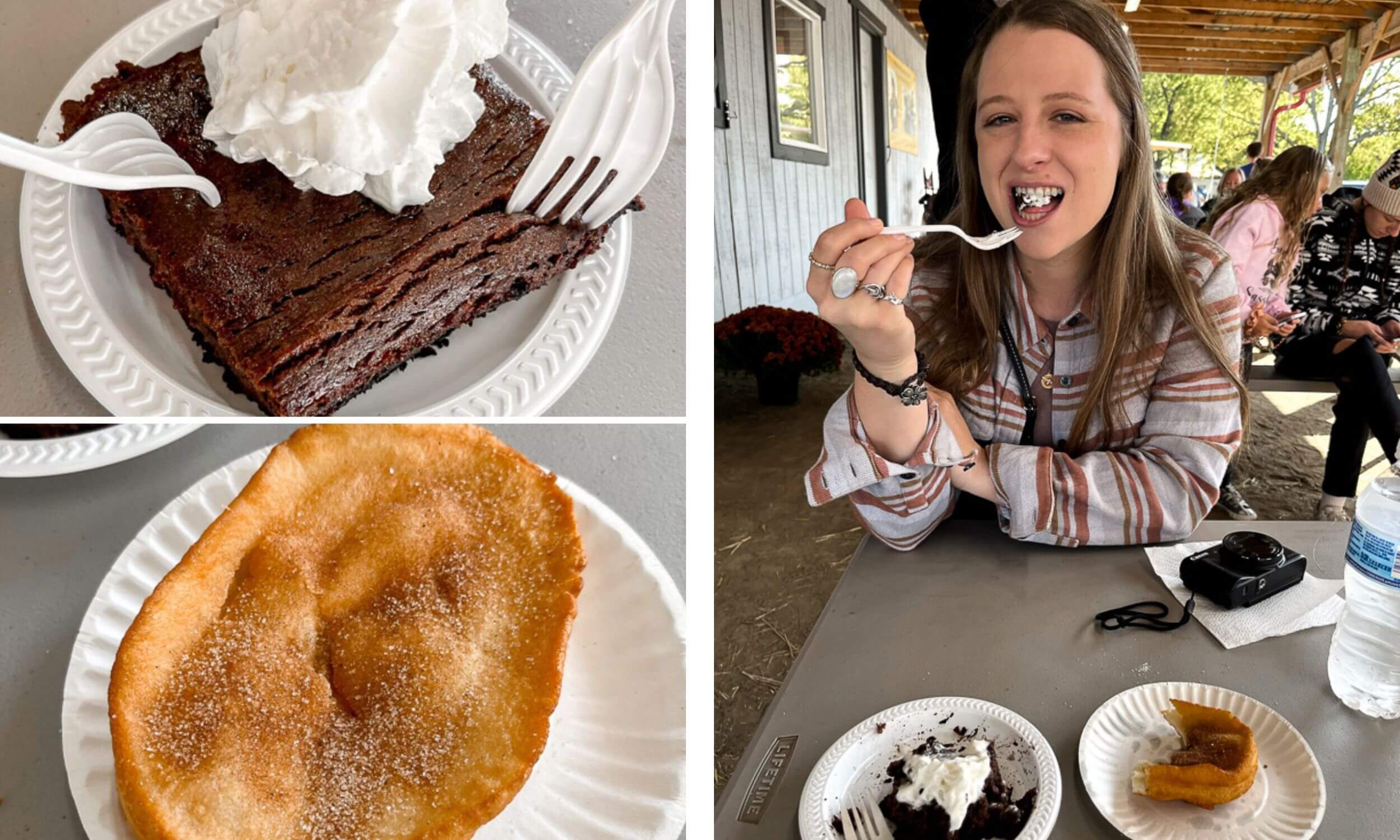 Searching for Covered Bridges
After Bridgeton, we decided to drive around on the back roads to find other covered bridges. We requested a physical map from the Parke County website. I'm so glad we had this map because neither one of us had cell service to use GPS. It was also helpful in guiding us in which bridges you could drive over and which bridges were by foot only.
Overall, we found six more bridges- Thorpe Ford Bridge (1912), Roseville Bridge (1910), Harry Evans Bridge (1906), Mecca Bridge (1873), Phillips Bridge (1909), and Sim Smith Bridge (1883). The bridges were so cool to see in person and be able to walk over them! Most of them had beautiful scenery around them which made for great pictures.
Driving around on the back roads of Parke County was also a fun way to spend the afternoon. Besides seeing LOTS of corn, we also saw some really, and I mean REALLY, pretty fall foliage- something straight out of a picture book.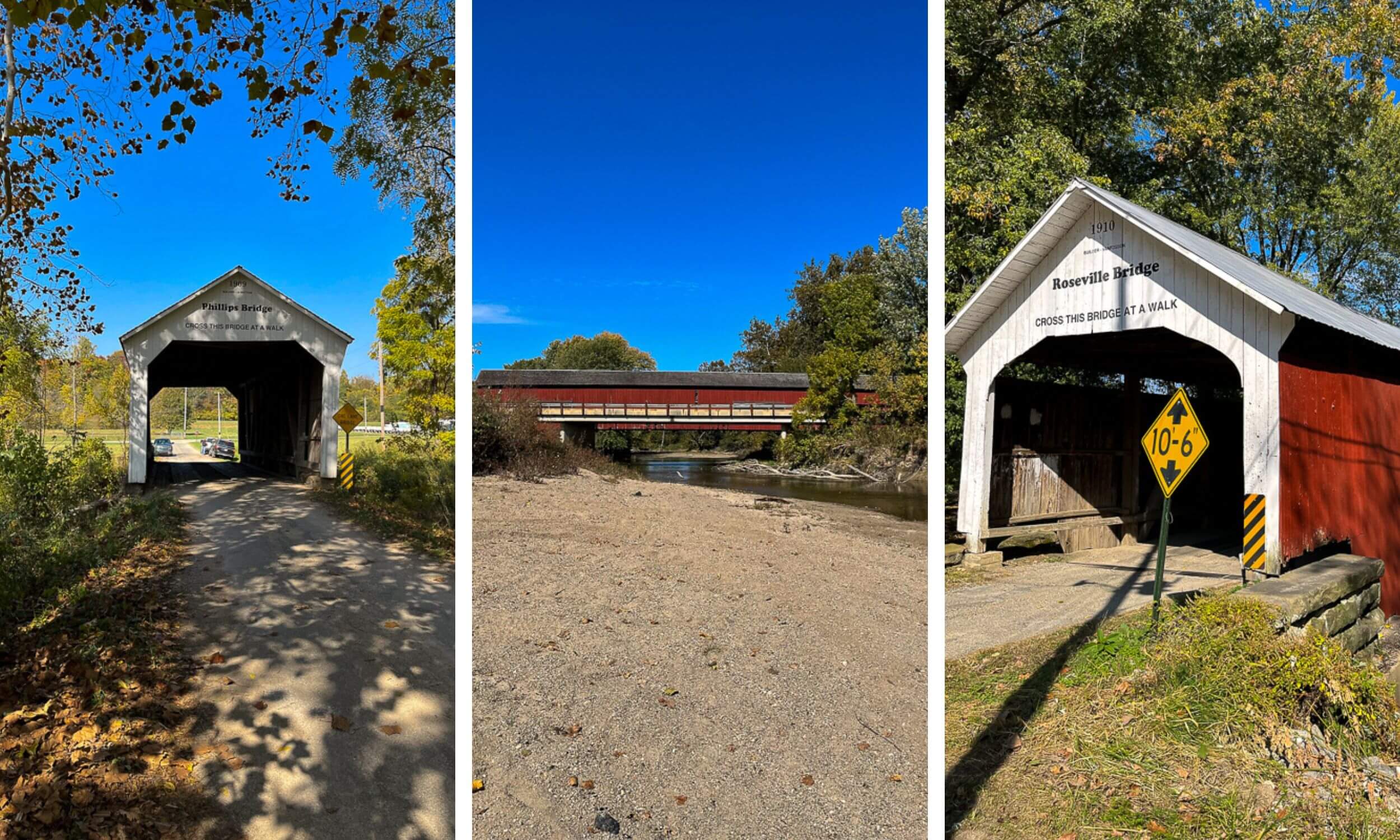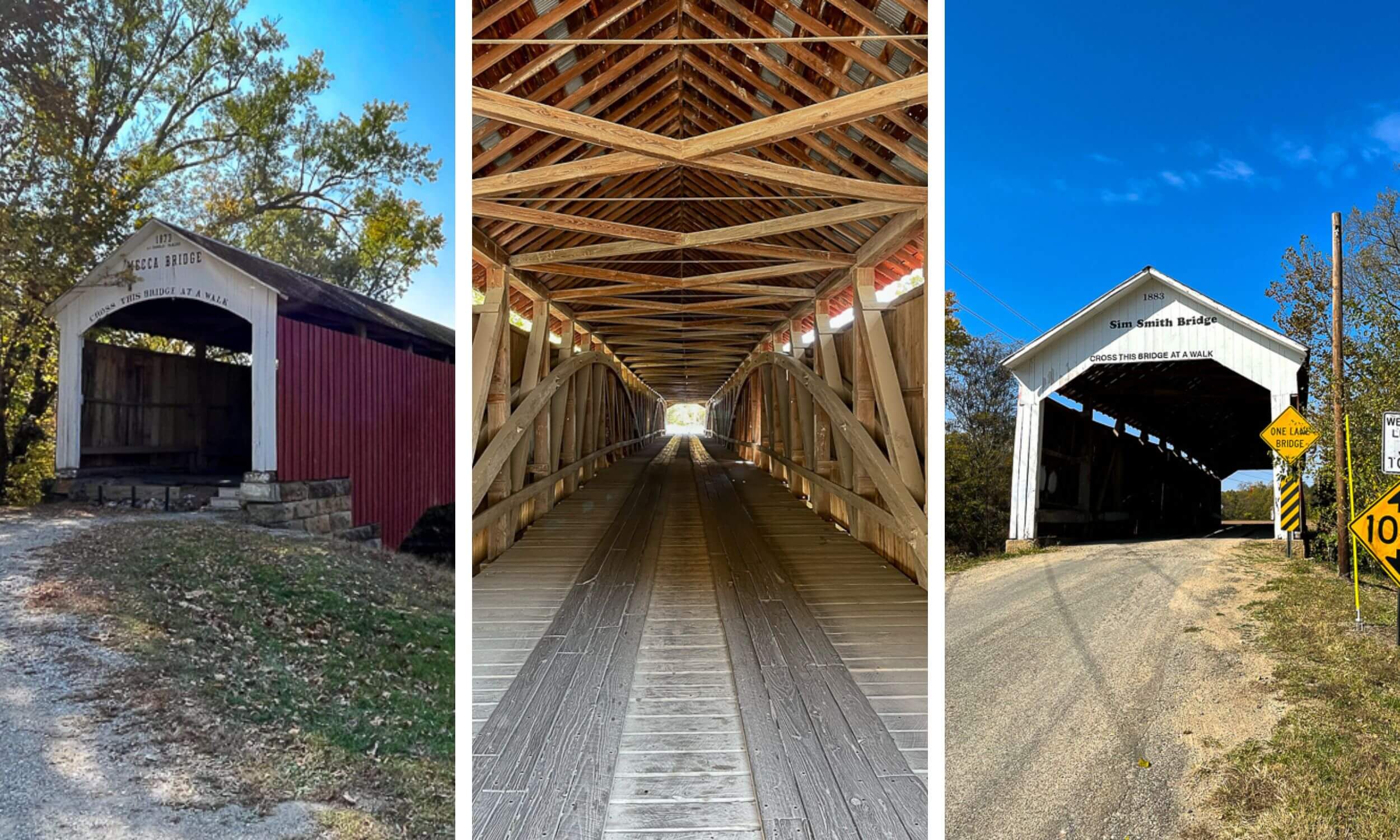 While we were searching for covered bridges, we also stumbled upon some of the smaller locations that take part in the festival. In Mecca we saw the one-room schoolhouse built in 1874 (relocated in 1966; renovated in 2021).
Mecca, Indiana
While there were far less people in Mecca than in Bridgeton, there was a group of people enjoying their day by partaking in some do-si-do dancing and shopping the local crafts. We didn't stop by, but we heard that the Mecca Tavern makes one mean pork tenderloin sandwich.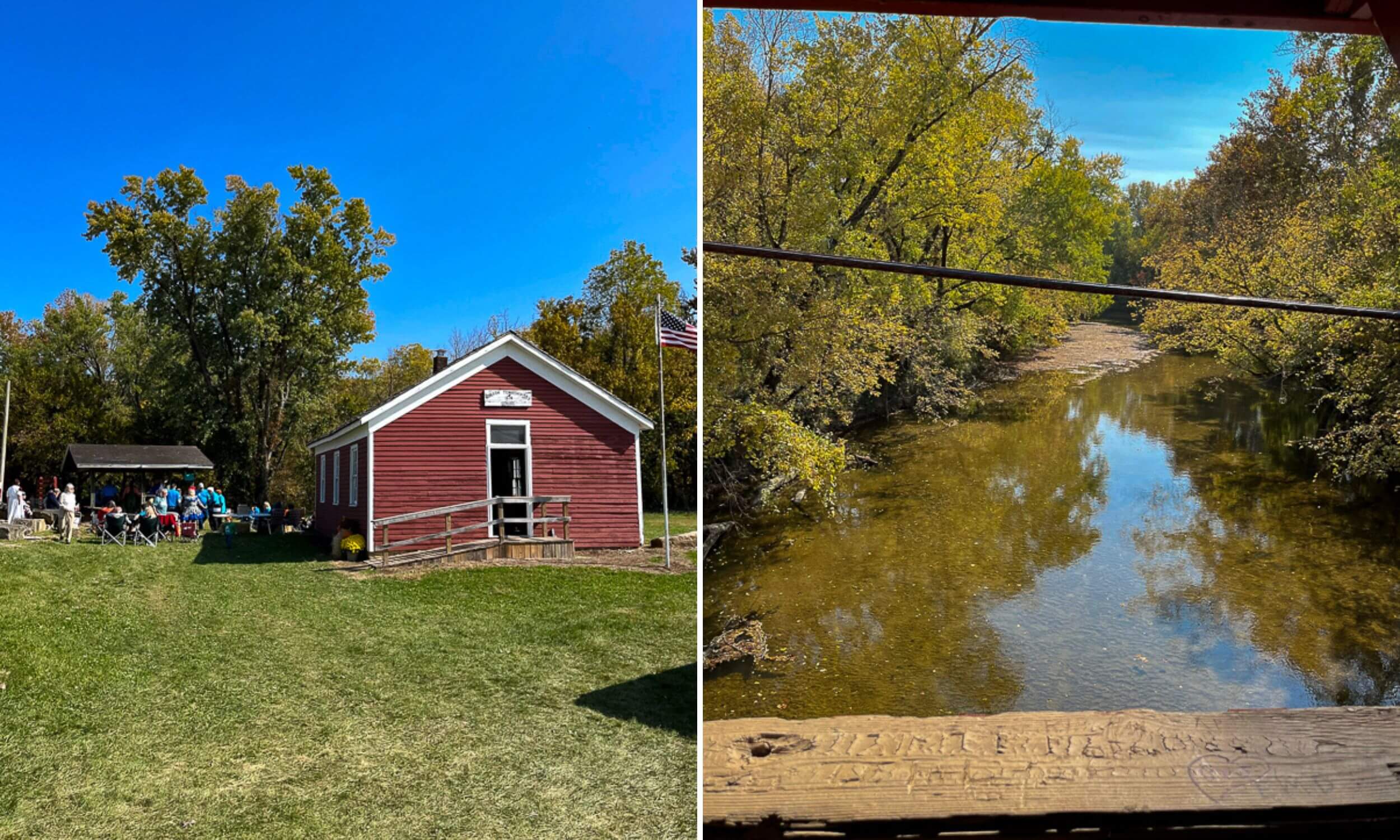 Montezuma, Indiana
We then ended up in Montezuma. Here was where we found the Wabash & Erie Canal and strolled through a couple of antique stores. If you have time, enjoy a tour of Wabash & Erie Canal and the famous crullers, roast hog, and beans!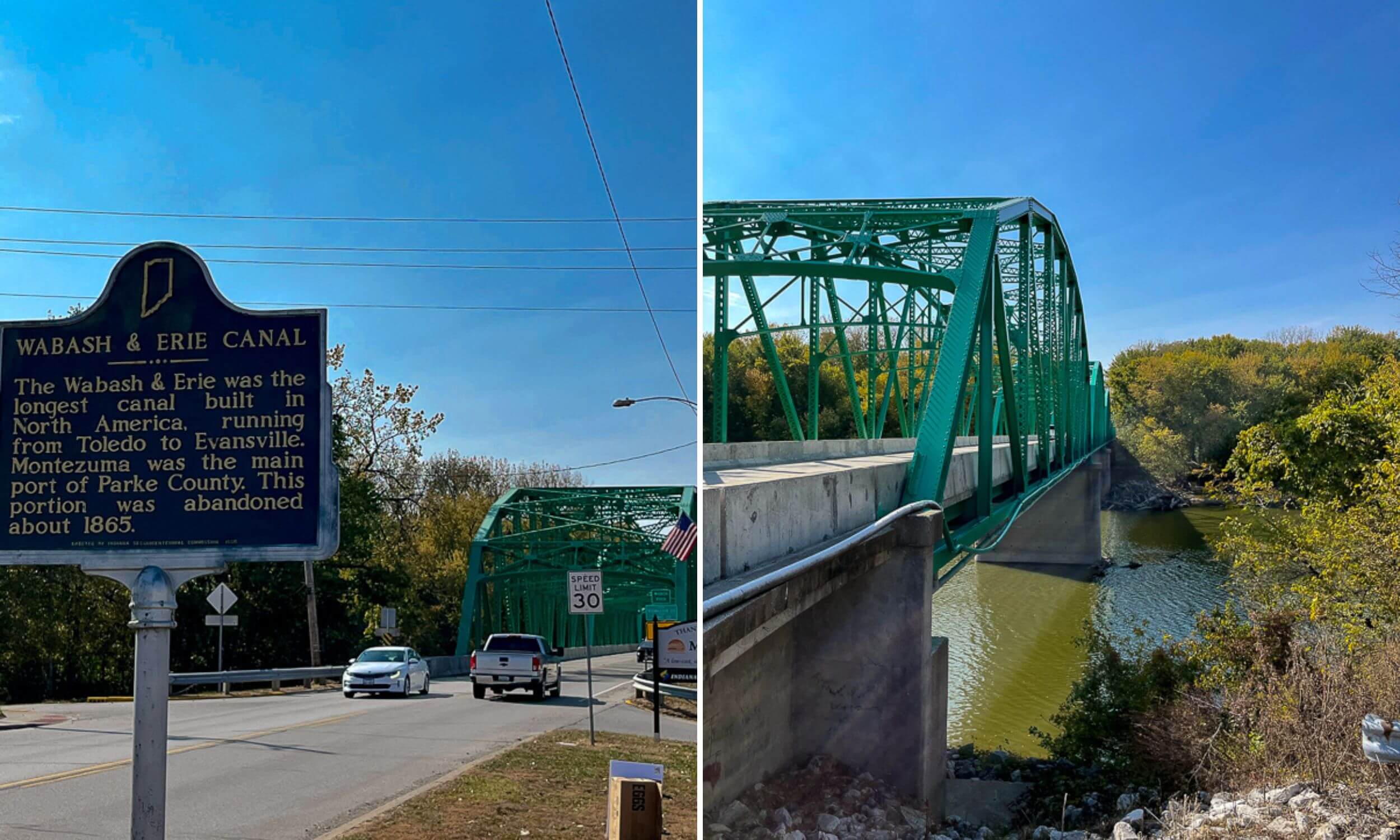 Tangier, Indiana
Our last stop of the day was Tangier, Indiana, or also known as, Home of the Buried Beef. The volunteers will spend a whole day burning wood into coals in an underground pit lined with bricks. The coals are topped with sand then the beef wrapped in foil is placed inside. The top is covered with metal and more sand, and it cooks overnight.
The buried beef has been a festival tradition since 1979, and it's so much more than just beef buried in the ground. They keep it going in hopes to keep a piece of the authentic original Covered Bridge Festival alive.
I'm a sucker for old traditions and could go on and on about keeping them alive, but instead, I'll leave you with this article that I found- Trib Star: Tangier's festival volunteers keep past alive for future. I may have teared up just a bit. With that said, you gotta get a buried beef sandwich and a cup of beans if you are attending the annual festival. It's a great pit stop after an afternoon of searching for bridges. They even have slices of homemade sugar cream pie.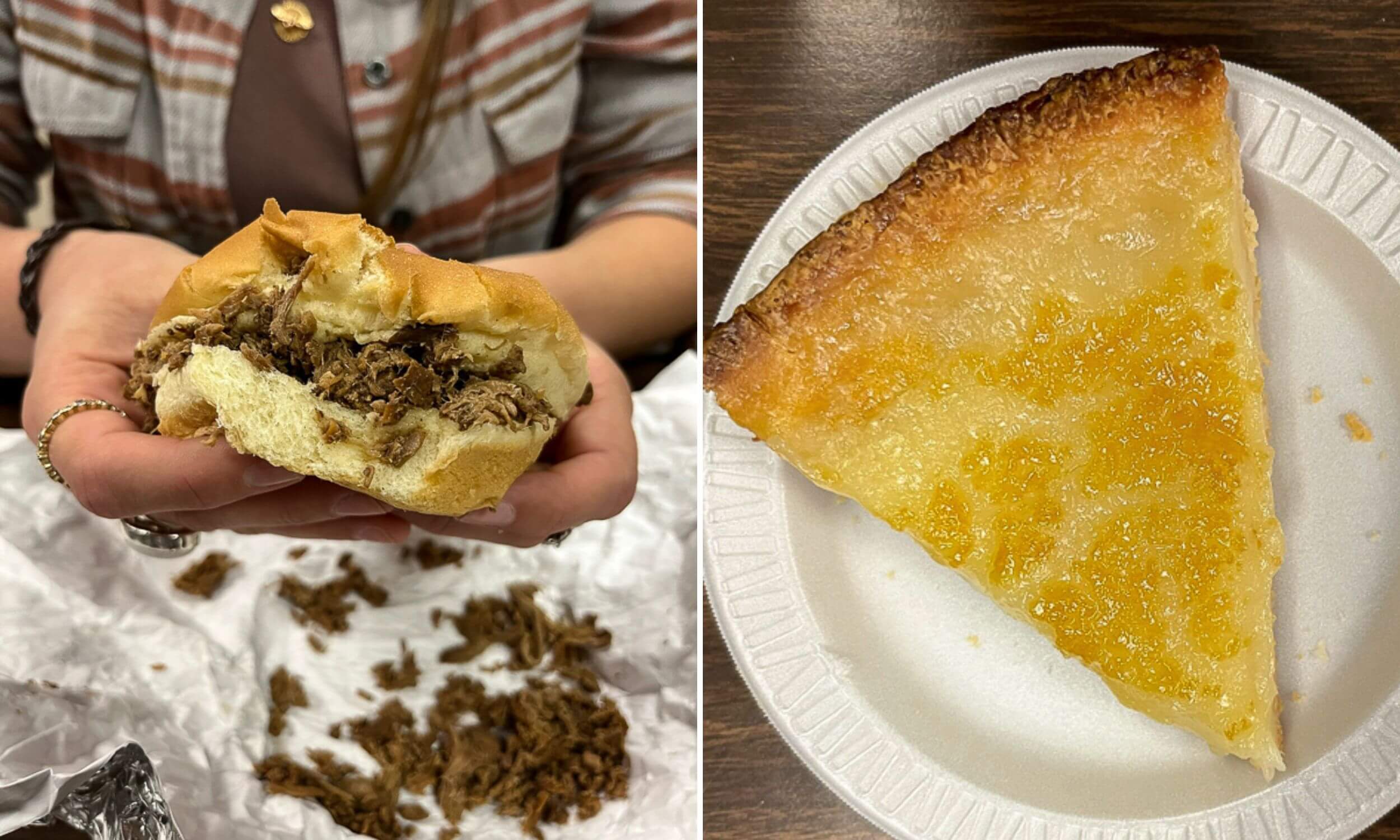 Rockville, Indiana
On the next day, we headed to downtown Rockville. This is the headquarters of the Covered Bridge Festival. It was so cold this day so my main mission was seeking out chicken noodle soup which was delicious!
We continued our feast with the famous corn fritters, crullers, and freshly made warm apple cider. We also tried a piece of homemade pecan fudge and sassafras hard candy.
Rockville was my favorite location for the festival. The town had all the fall small town vibes and had a sense of home despite never being there before. The people were friendly, artistic, and you could just tell they took pride in what they did. We ran across lots of local goods & authentic arts, a woman painting a covered bridge, and artwork.
Outside of vendor booths and fantastic food, there are also store fronts including antique shops, boutiques, and art galleries. We even walked to the local cemetery which had beautiful fall foliage and falling leaves which painted the entire area with their fall colors. Rockville is a great place to spend the day.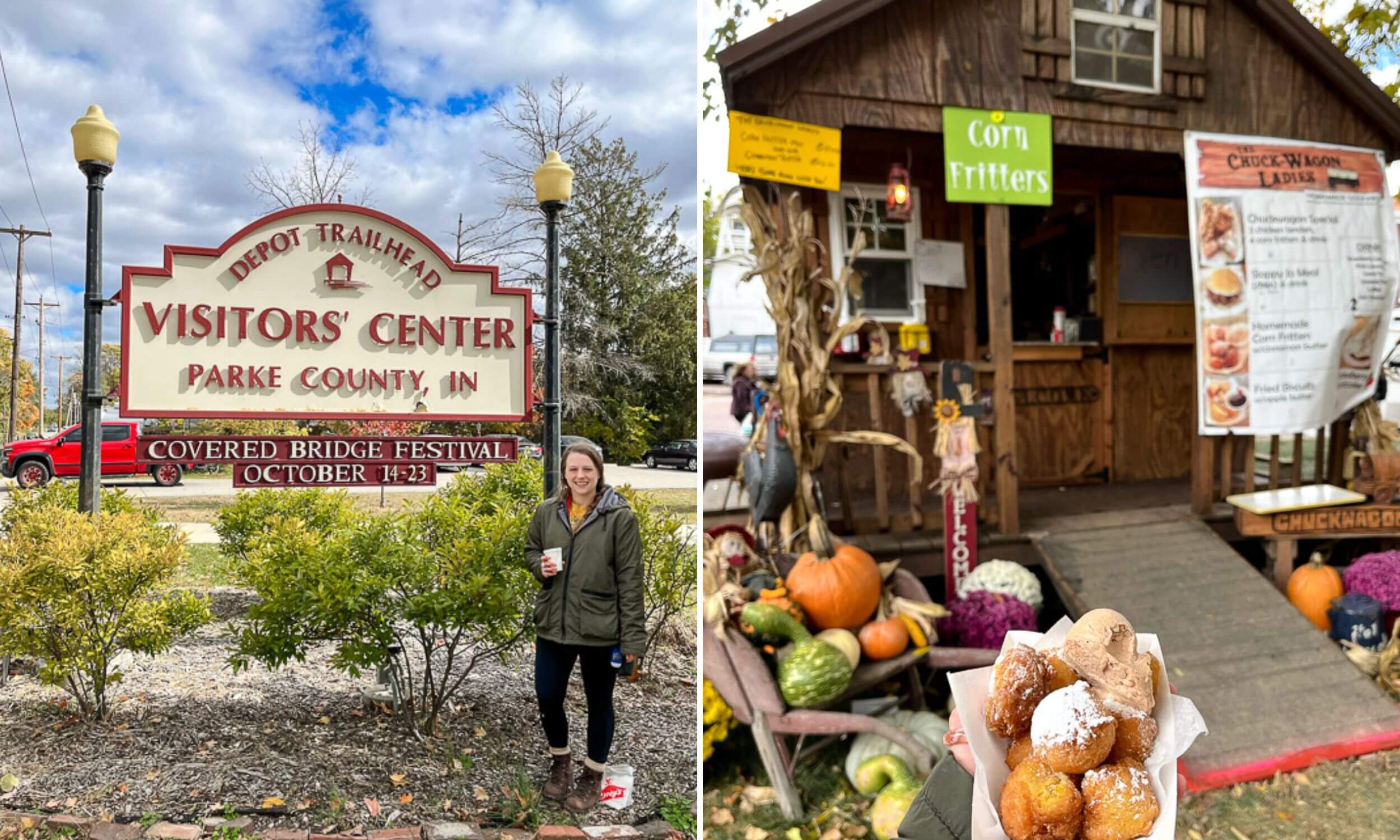 Mansfield, Indiana
The last stop in our Covered Bridge Festival experience was Mansfield. We didn't show up to the village until later in the day so most people were gone or heading home. However, you could just tell that it was bustling earlier in the day.
There were tons of vendors (more flea market type of vendors rather than local art/ craft booths) and tons of food including ice cream, pumpkin roll, fudge, fried veggies, persimmon pudding, chicken noodle soup, beans, and sirloin tips. If we didn't have a huge tenderloin sandwich planned in one hour, we would have bought one of everything. It all looked so delicious.
You can also visit the Mansfield Covered Bridge (1867) and go inside of the Mansfield Roller Mill- a flour mill with authentic machinery built in the 1880s. It was really cool to climb up the stairs to the very top, see the machinery working, and watch the water run through.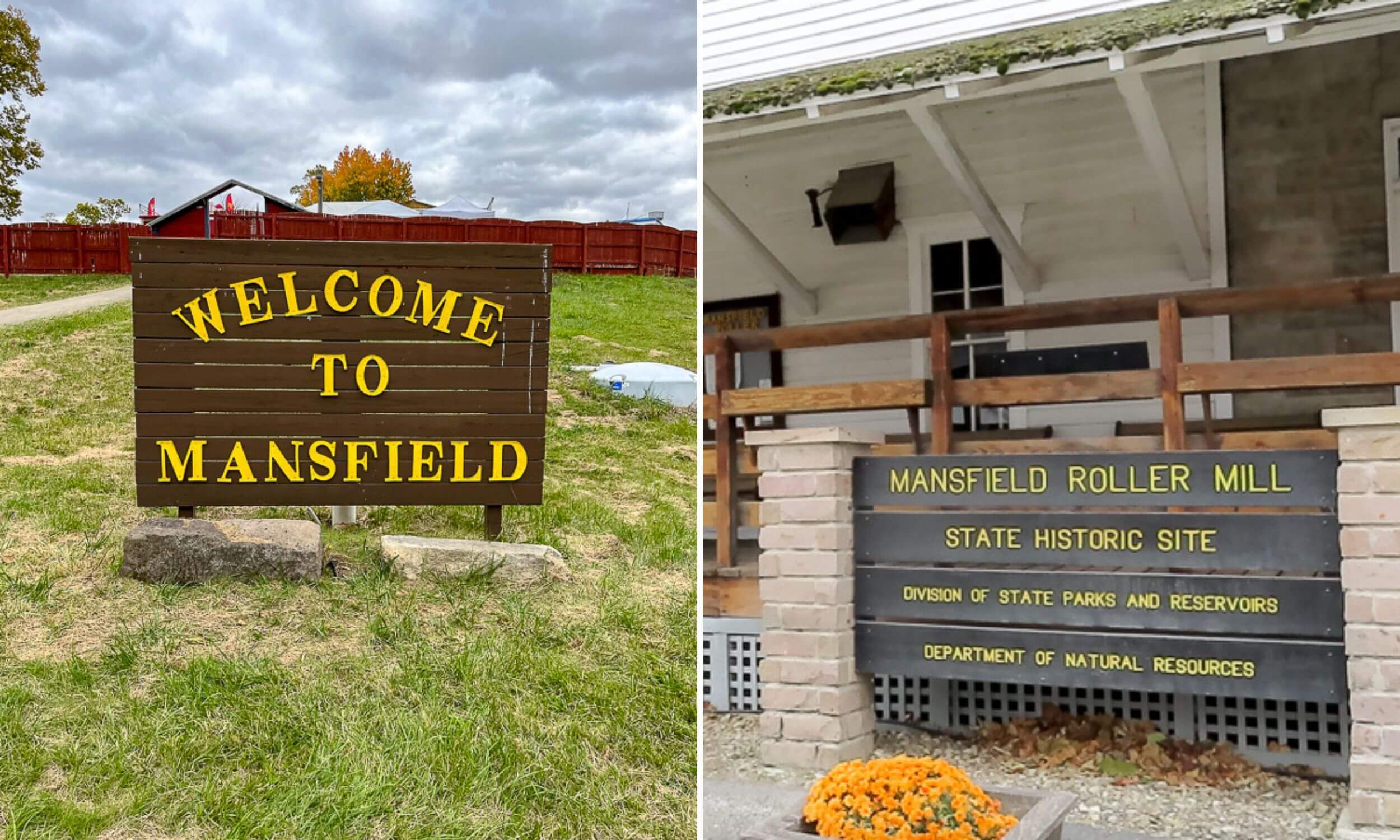 Unfortunately, we didn't have enough time and didn't make it to Bloomingdale, Billie Creek Village, Bellmore, or Rosedale. Next time!
Overall, we had a great time at the Covered Bridge Festival. It's a fun event, and I am so glad we were able to plan our Indiana trip in October! It was so much fun walking through all the art vendors, eating amazing food, searching for the bridges, and just enjoying the fall foliage. It really was the perfect fall weekend.
→ Find out more festival information on the official Parke County website!
My tips- from somebody after attending the Covered Bridge Festival for the first time:
✽ While I do believe some places took card, most wanted cash. I would recommend bringing cash with you to avoid high ATM fees. We brought $200 in cash, and it was more than enough- HOWEVER, we didn't buy anything besides parking, food, and a couple small souvenirs. If you want to buy art, decor, or anything else, you'll probably need to bring more.
✽ The two locations I saw charging for parking were Mansfield and Bridgeton. We paid $5 to park at Bridgeton. For Mansfield, we showed up after 3pm, and they were not charging for parking any more since the festival was almost over for the day, but they were charging earlier that day.
✽ Wear comfortable shoes especially if visiting more than one of the bigger locations. We were walking pretty much the whole day and the festival is pretty spread out especially in Bridgeton and Mansfield.
✽ Secure a physical map of the bridges if you are planning to go bridge hunting and don't know the area. Brian and I both lost cell service meaning we had to rely on using an actual map instead of our GPS. The map shows all the locations of the 31 covered bridges, the 10 festival locations, and all the shopping and restaurant locations as well. I was able to request a physical copy of the bridge map from Parke County website. Just make sure you request it a couple months in advance. If not, I believe Rockville gives out maps as well.
✽ I would recommend filling your car up on gas prior to heading to the festival especially if you will be driving around looking for bridges. I'm not saying that there aren't any gas stations nearby, but we personally didn't see any during all of our Parke County adventures.
✽ Get the persimmon pudding. I really wish I had some now.
50 States by 50
Indiana was our first state for our 50 states by 50 challenge. My husband, Brian, and I are planning to visit all 50 states by the time we turn 50 years old. To choose which state we travel to next, we will draw it randomly!
For each state, we will plan at least a 4 day trip that consists of visiting the state capitol and state museum, exploring a state park, and eating whatever food that state is most known for. I will be documenting all of our travels here on my blog and making vlogs as well which will be posted on YouTube. Read more about our 50 States by 50 Bucket List.
__________________________________
Thank you for reading about our time spent at the Covered Bridge Festival in Indiana. If you have any questions or just want to share your Covered Bridge Festival experiences, please leave a comment down below.

Category: Life & Travel, 50 States Bucket List
Keywords: indiana festivals, festival season in Indiana, great festivals in Indiana, family-friendly fun, indiana festival guide, indiana's largest festivals
More Indiana Travel Blogs:
We also did a bunch of other things during our 4 days in Indiana. Each blog goes into more detail about each thing that we did, saw, or ate! I have a blog over:
✽ Our entire 4-Day Indiana Itinerary (Indianapolis, apple picking, Nashville, Covered Bridge Festival, Turkey Run State Park, & more)
✽ A Fall Weekend in the state of Indiana (fall leaves, southern Indiana, apple trees, apple butter, apple pies, appreciating fine arts, & tons of carved pumpkins)
✽ Our 1 1/2 Days in Indianapolis (capitol, Soldiers & Sailors Monument, Motor Speedway, state museum, & more)
✽ Food in Indiana (pork tenderloin, apple treats, sugar cream pie, Korean pickles, arepas, & more)
✽ Turkey Run State Park (hiking through fall leaves, sugar creek, climbing up ladders, & walking on ledges)
✽ Our 4-Day Indiana Trip Budget (how much our 4-day, 5-night trip to Indiana cost for two of us)
Bon voyage & bon appétit!
November 10, 2021 by Laura Bullock
*This Covered Bridge Festival blog post may contain some Amazon affiliate links. These link to products that I personally use and recommend. If you purchase anything using my links, it will not cost you anything. It will though give laurathegastronaut.com some financial support which helps me keep this blog running. Thank you for reading my blogs and your continued support.