Laura the Gastronaut > Life & Travel > 50 States Bucket List >

Baton Rouge Itinerary
Baton Rouge Itinerary
May 11, 2023 | Laura
We spent a day exploring Baton Rouge and having a great time seeing the capitol city! In this blog post, I talk about everything that we saw and did in Baton Rouge. We saw the state capitol, visited Capitol Park Museum, ate dinner and breakfast downtown, saw the old historical buildings, and walked through the USS Kidd Museum.
Our Day Spent in Baton Rouge, Louisiana
As a part of all of our state trips during 50 States by 50, we aim to spend a decent amount of time in each capital city before heading off to other cities and exploring nature. While Baton Rouge is a smaller and less populated city, it still has lots to offer. I would imagine it would be pretty easy to spend an entire weekend in Baton Rouge and not run out of things to do and see. We got into Baton Rouge around lunchtime, spent the night, and spent a whole morning exploring around the city.
My itinerary below is not an extensive list of things to do in Baton Rouge. It is, however, the exact itinerary that we used while visiting Louisiana's capital. During our trip, we saw so much history and learned a lot about the state of Louisiana. Baton Rouge was a lot of fun!
If you are looking for more Louisiana content check out my other travel blogs!: 7-Day Louisiana Itinerary, French Quarter Festival, Food in Louisiana, Sam Houston Jones State Park, New Orleans Itinerary, and Our 7-Day Louisiana Trip Budget.
Day 1
Bergeron's Boudin & Cajun Meats
760 LA-415
Port Allen, LA 70767
✽ 12:00 PM - Okay, this isn't technically in Baton Rouge, but this food was so good that I have to mention it. This is the perfect lunch spot if driving into Baton Rouge from Lafayette. Port Allen is about fifteen minutes east of Baton Rouge.
Bergeron's has take-home-to-cook meats in the meat market, a full menu, and fried snacks. We couldn't resist the fried food so our entire lunch was fried.. It wasn't healthy, but it sure was good. 100% worth all of those calories.
We ordered crawfish pies, boudin egg rolls, regular boudin balls, and pepper jack boudin balls. Everything was so good. I think I could exist on boudin balls alone. They are an absolute must-try if visiting Louisiana!
We arrived at Bergeron's a little before noon on a Wednesday. Thankfully we got there when we did because by the time we were leaving around 12:30 it was packed full of people on their lunch break. So I would suggest getting there a little before noon or waiting until the lunch crowd dies down a bit.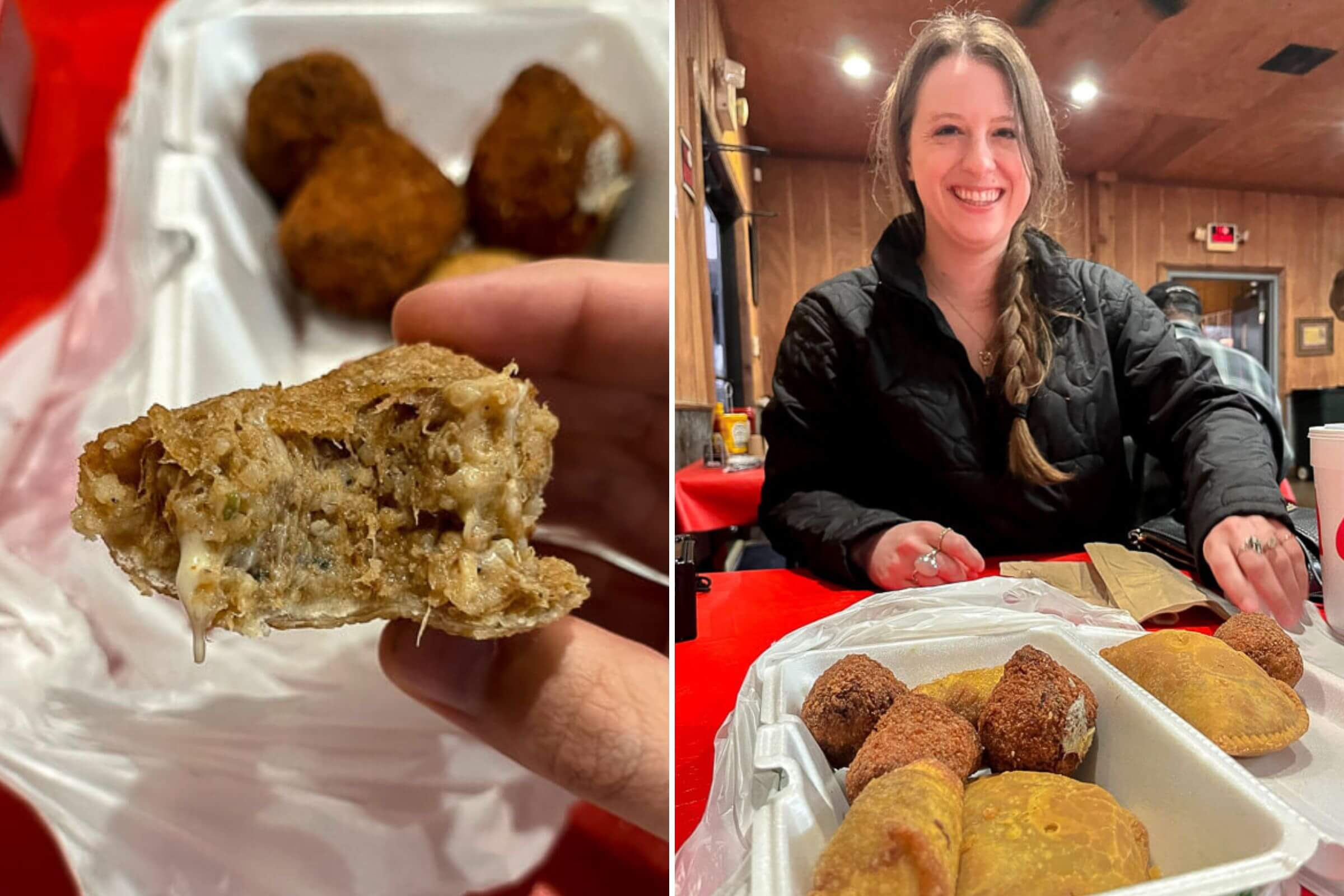 Louisiana State Capitol
900 North Third Street
Baton Rouge, LA 70802
✽ 1:00 PM - Louisiana's state capitol is so unique. You just gotta see it if you are in Baton Rouge!
Louisiana has the tallest capitol in the United States! It stands 450 feet tall and has 34 floors.
It is free to go inside of the capitol. On the 27th floor, check out the observation deck where you can see Baton Rouge and the Capitol grounds from way up above.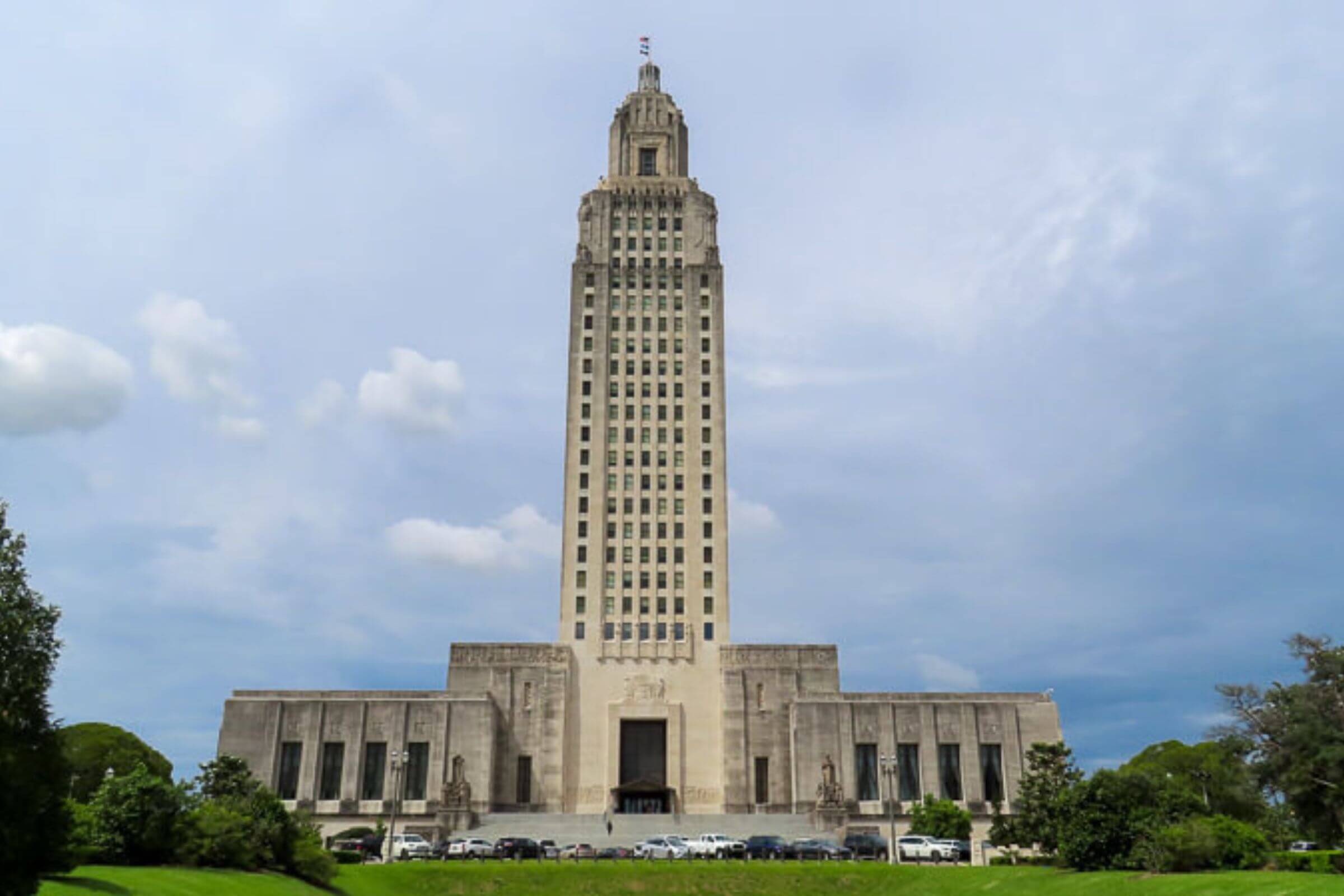 Around the capitol, you will find lots of things to go look at including the tombstone and grave of Huey P Long. Huey was the 40th governor of Louisiana from 1928-1932. He then was a United States senator from 1932 up until his assassination. Huey was assassinated inside of the Louisiana capitol on September 8, 1935 and buried right beside the capitol. You can learn all about Huey Long at the Capitol Park Museum.
Also on the capitol grounds, you will find a statue of George Washington, magnolia trees (the state flower), a replica of the Liberty Bell, and a ceremonial American Indian mound constructed around 1000 AD. Also, beside the capitol is the Old Arsenal Museum which is open only on Thursdays from 9:00AM-3:00PM.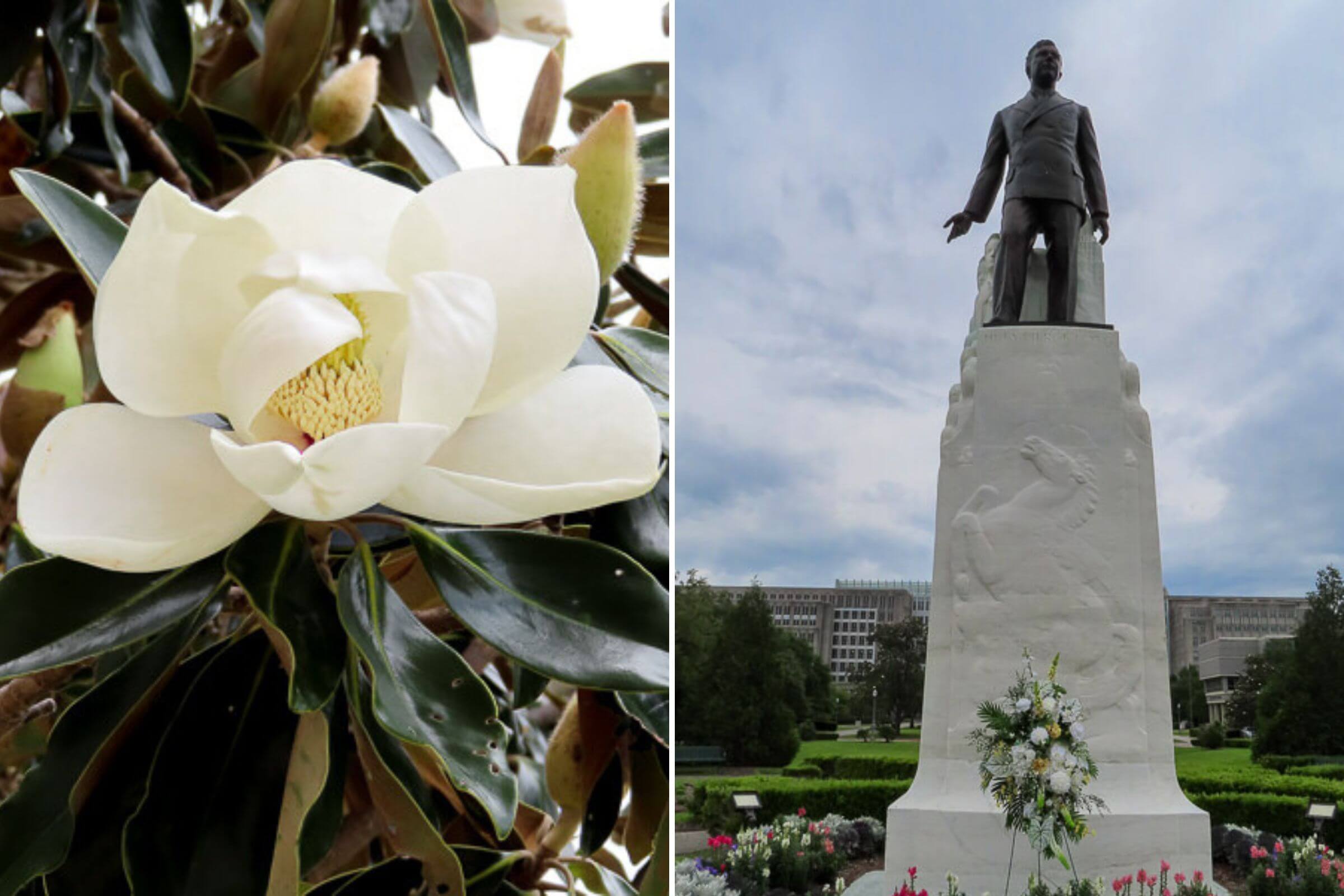 As for parking, we parked in the River Road Parking Lot. This is a long parking lot the runs along the Mississippi River east of the capitol. It's free to park there so we left our car there the entire time we were walking around the capitol are.
Capitol Park Museum
660 North Fourth Street
Baton Rouge, LA 70802
✽ 2:00 PM - One of our checklist items for visiting a state is to go to the state museum to learn everything there is to know about that state. Capitol Park Museum fit the bill for just that! We found a lot of Louisiana history here.
Capitol Park Museum is only a short walk away from the capitol building. So visiting the capitol and the museum in the same day is wise. And because the museum is so close to the capitol, we were able to leave our car parked at the River Road Parking Lot.
At the time that we visited (April 2023), admission to the museum was $7/person making this a pretty cheap afternoon! The museum is open Tuesdays-Saturdays, 9:00AM-4:00PM.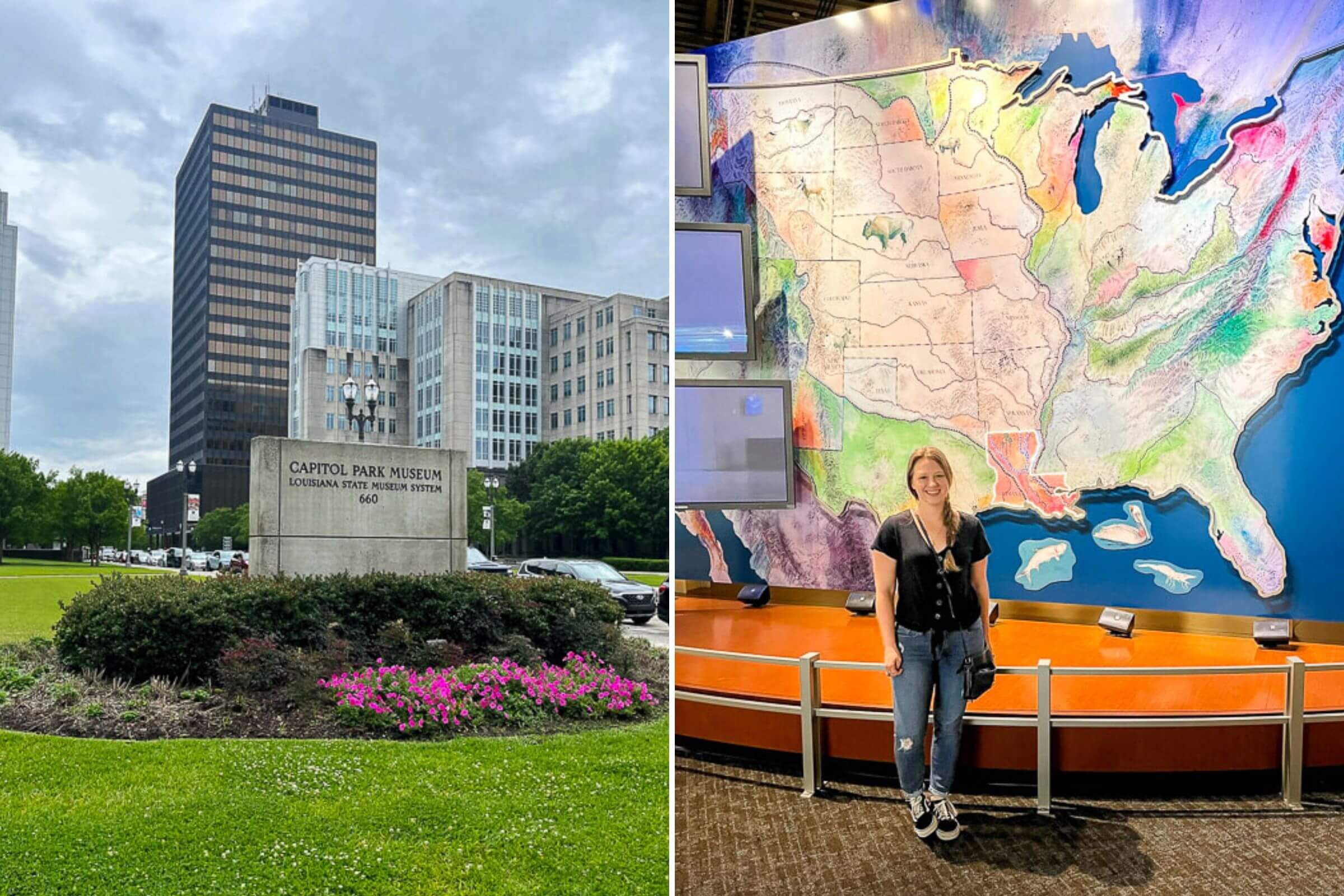 Within the museum, walk through the beginnings of Louisiana up to present day Louisiana. You will find a wide variety of Louisiana topics including the importance of the Mississippi River in Louisiana's history, the life of Louie Armstrong, the sugar and cotton plantations and the stories of the slaves who ran them, Louisiana's wildlife, the life and assassination of Huey Long, and the Louisiana Purchase. Did you know that Louisiana was bought for $15 million in 1803? That's only about four cents an acre!
This museum holds a wealth of information. We spent about 2 hours here, but we could have easily roamed around longer without any problems. There are also interactive exhibits making it a great option for the whole family. We love a good museum so of course I am going to recommend you check it out especially if you are visiting the capitol anyways. This is the perfect place for anybody that is wanting to learn more about the great state of Louisiana!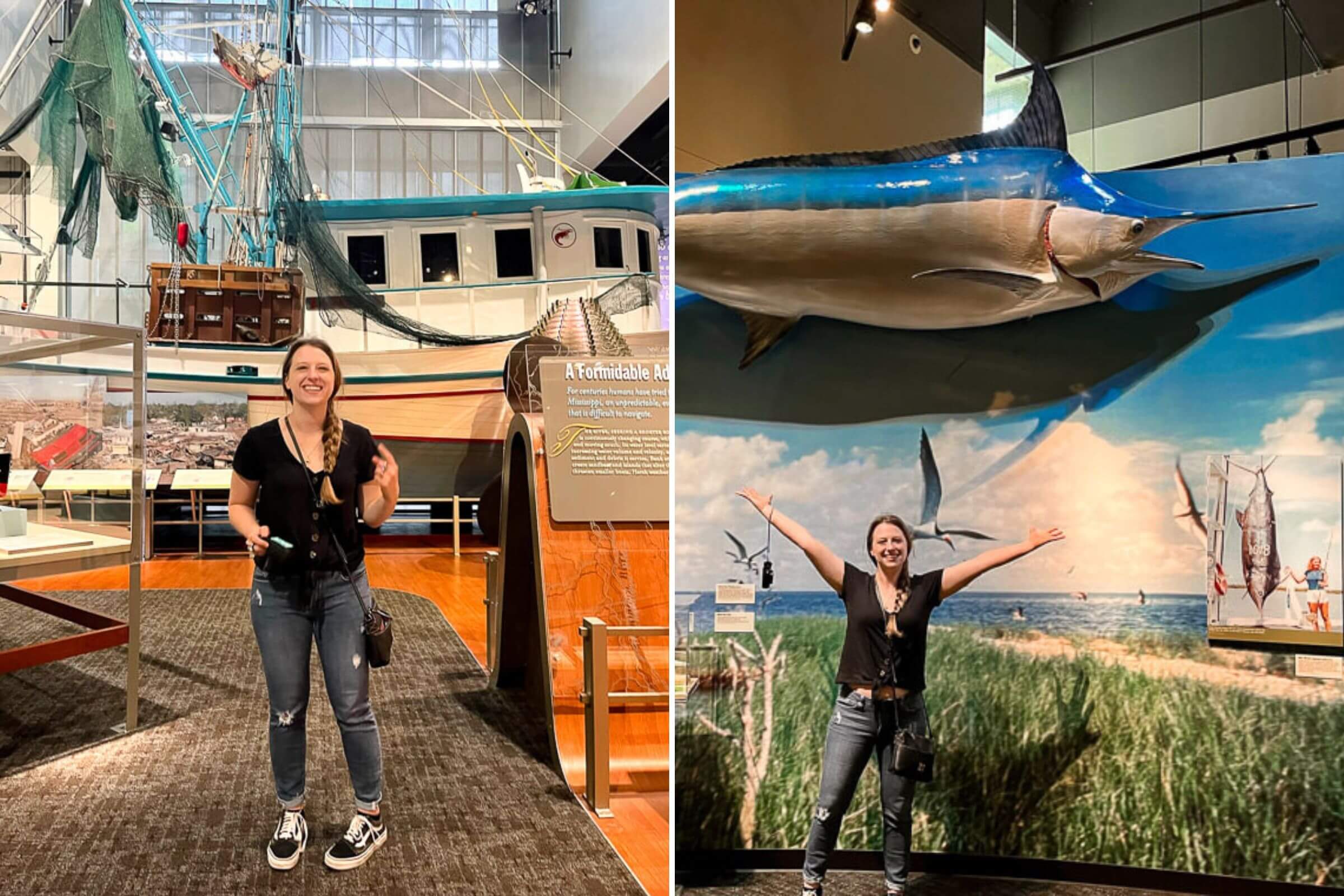 Mississippi River Park
299 River Road
Baton Rouge, LA 70801
✽ 4:00 PM - After checking into our hotel, we wandered down to the Mississippi River. I had never seen the Mississippi River in person before so this was something new!
The Mississippi River Park has a long sidewalk that runs along the river that you can go for a stroll. This area is great for sitting and just enjoying the great Mississippi River. There's plenty of benches around!
There is also a deck that you can walk out on for a cool view.On a Wednesday spring evening, it was very peaceful and breezy.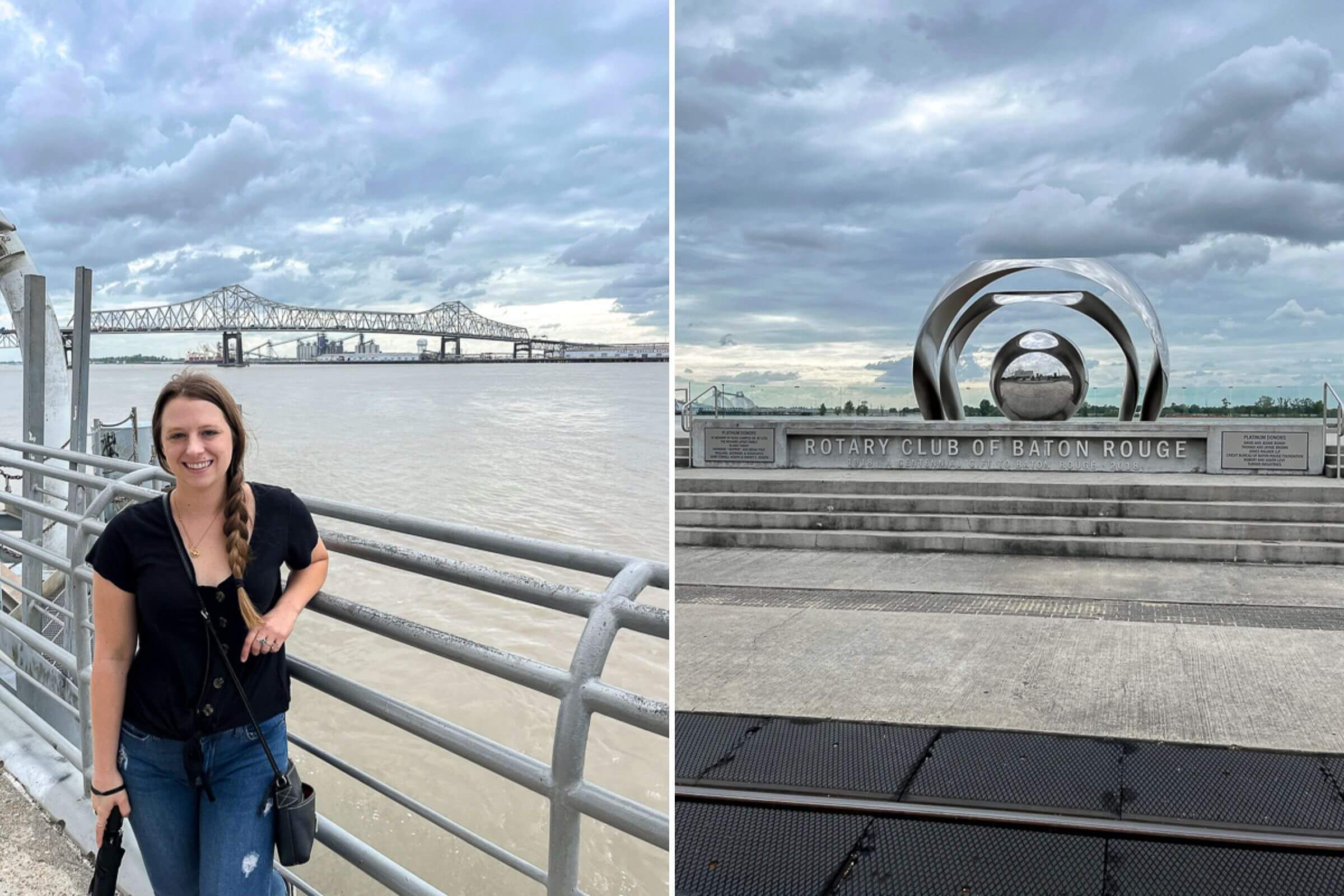 Cecelia Creole Bistro
421 North Third Street, Suite B
Baton Rouge, LA 70801
✽ 6:30 PM - For dinner, we ate a the cutest downtown Baton Rouge restaurant, Cecelia Creole Bistro. It had a fun vibe and was perfect for a date night.
The staff was very friendly. We asked if they had any mocktails, and they whipped us up a very delicious drink in no time!
Now, let's talk about food. For our appetizer we got the sweet & spicy alligator. This is fried alligator in a chili aioli. I'm not going to be that person that says that all 'different' meat tastes like chicken, but this alligator did taste like delicious fried chicken wings. So good!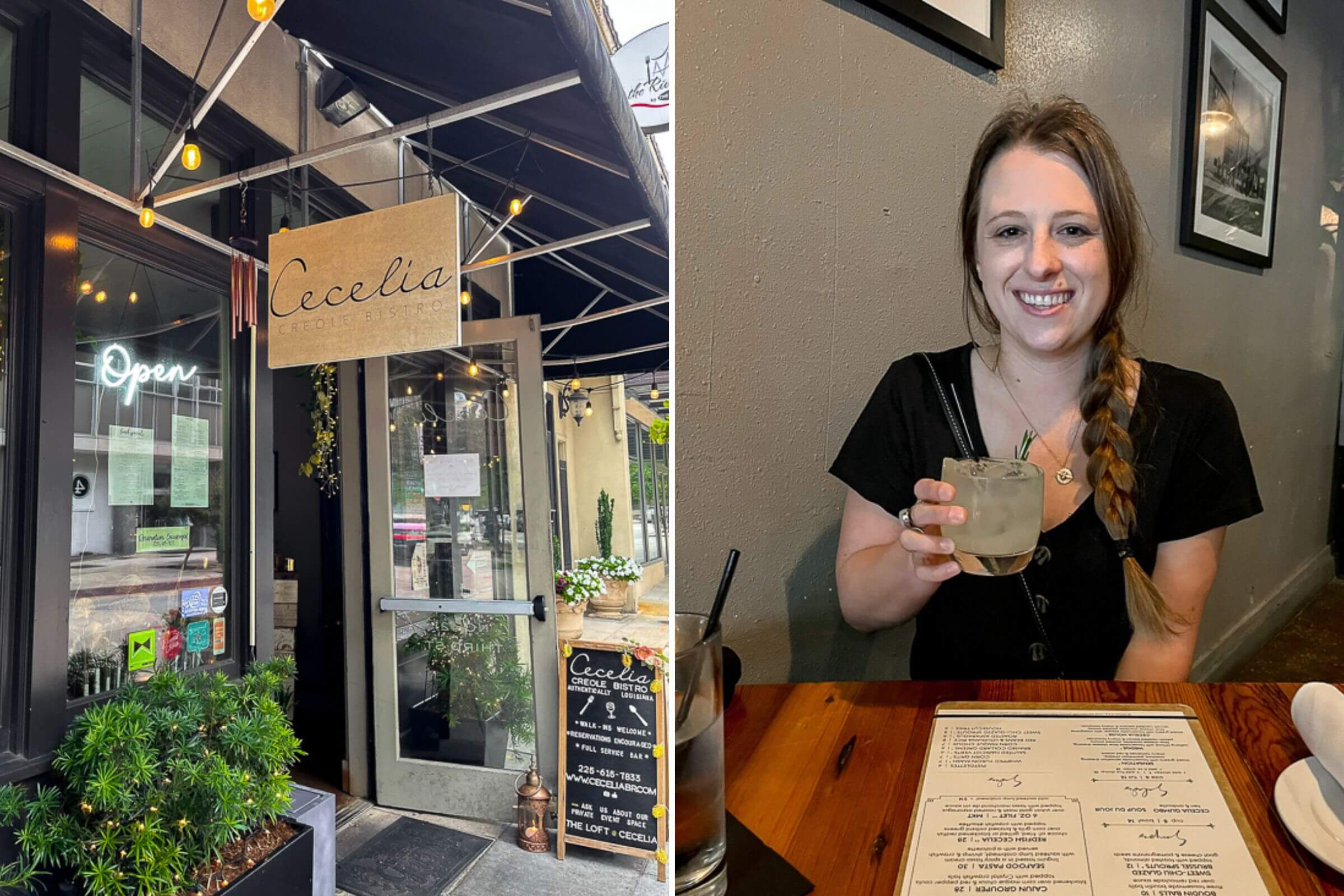 For our entrees, we ordered the Cajun Grouper (blackened grouper over corn maque choux & red pepper coulis topped with crawfish) and the Redfish Cecelia (blackened redfish over corn grits and braised collard greens topped with crawfish etouffee. The fish was cooked to perfection and all the flavors work so well with each other. The braised collard greens were to die for. This was a huge win in our book!
We arrived early, and it wasn't crowded. However, by the time we were leaving it was filling up. It isn't a big restaurant so make sure you make a reservation ahead of time.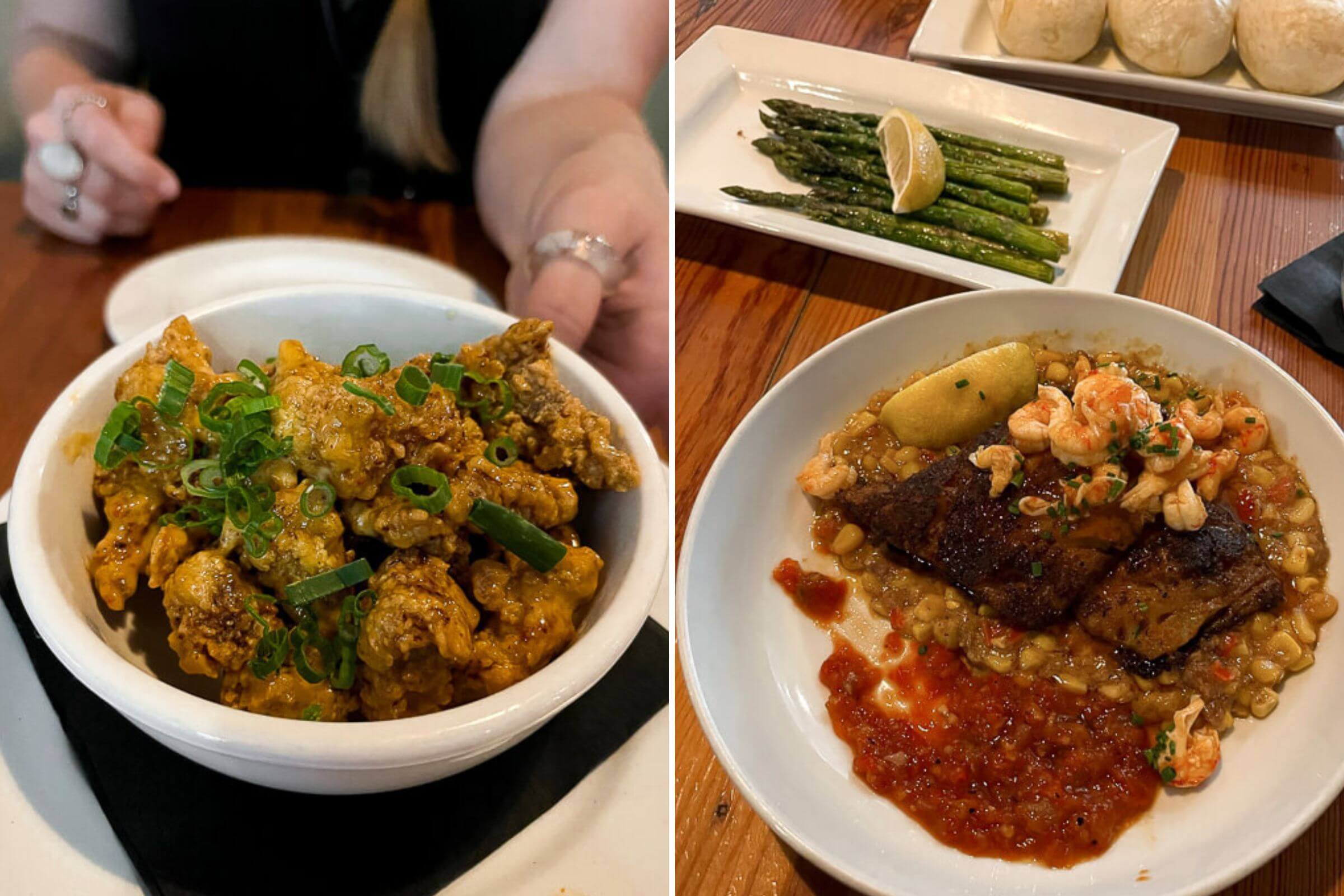 → Find out more information and see the menu on Cecelia's website!
Courtyard by Marriott
260 Third Street
Baton Rouge, LA 70801
✽ 8:00 PM - We stayed at the Courtyard by Marriott which was so convenient! This hotel is located right in the middle of downtown so you can walk to the Mississippi River, a variety of restaurants, the USS Kidd Museum, and the Old Louisiana State Capitol.
We self-parked our car in the parking lot right behind the Courtyard and kept it there while we explored the next day. The lot is located at 345 Convention Street. It cost us about $15 to keep it there for 24 hours.
Day 2
The Vintage
333 Laurel Street
Baton Rouge, LA 70821
✽ 8:30 AM - We wanted to find a fun restaurant to eat breakfast and have a slow morning. The Vintage was perfect for that. There wasn't many people in there on a Thursday morning, and we got our food quickly.
First, we ordered a cup of earl grey tea, a cup of coffee, and a plate of beignets. You just can't go wrong with a beignet. It reminds me of a doughnut piled high with powdered sugar- yummm.
For our main dishes, we ordered the breakfast biscuit and a beignet with sawmill gravy. This was a great joint to have a slow cup of coffee and some tasty bites.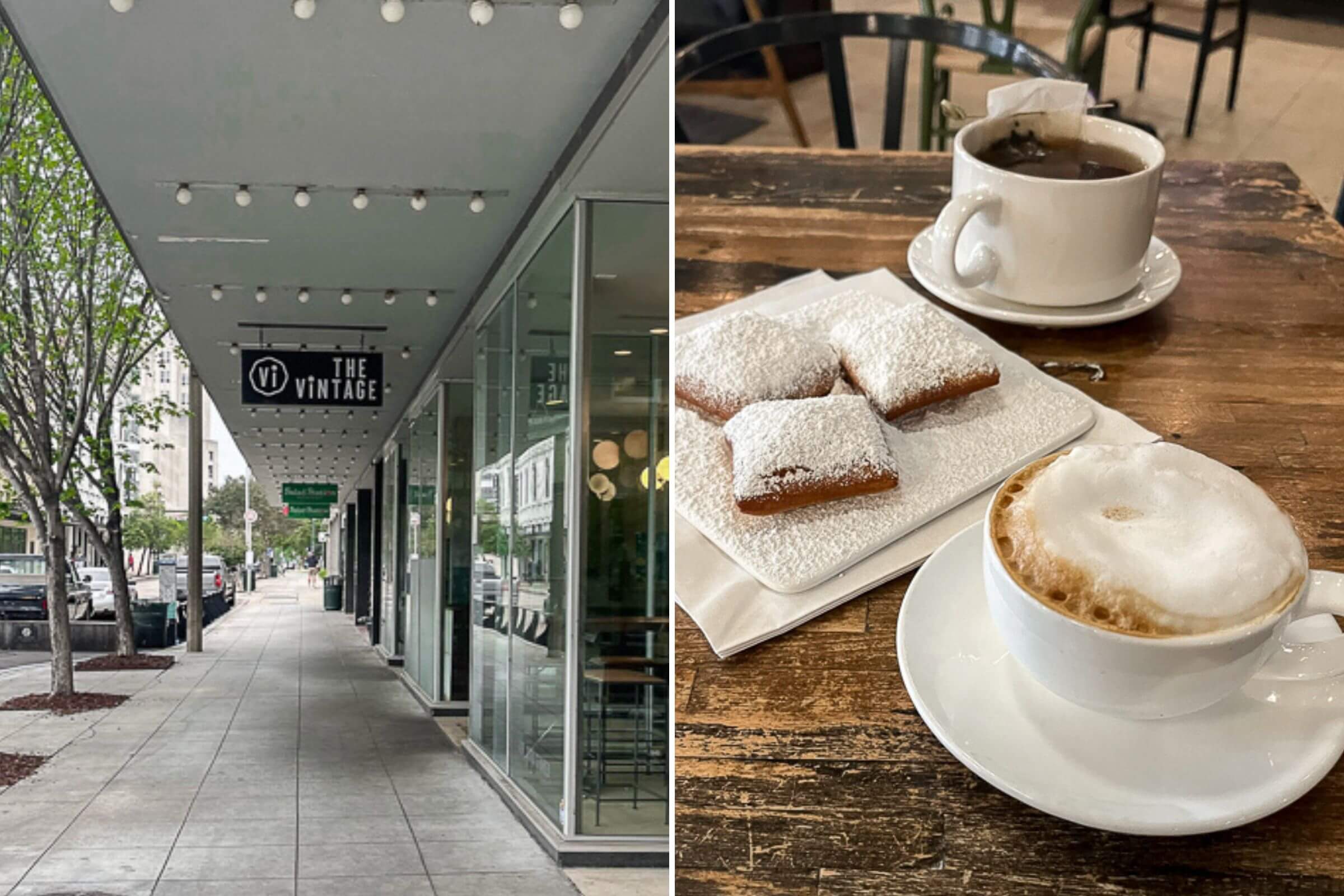 Old Governor's Mansion
502 North Boulevard
Baton Rouge, LA 70802
✽ 9:30 AM - After breakfast, we walked over to the old governor's mansion. What a sight! This huge house was built in 1930 and was the residence of nine governors of Louisiana up until 1963. The first governor to live there was Huey P. Long and called it 'Louisiana's White House'. Some say, Huey wanted the house to mimic the White House in Washington DC so he would be familiar with the White House when he became president. Others say, that it is just a Georgian-style mansion.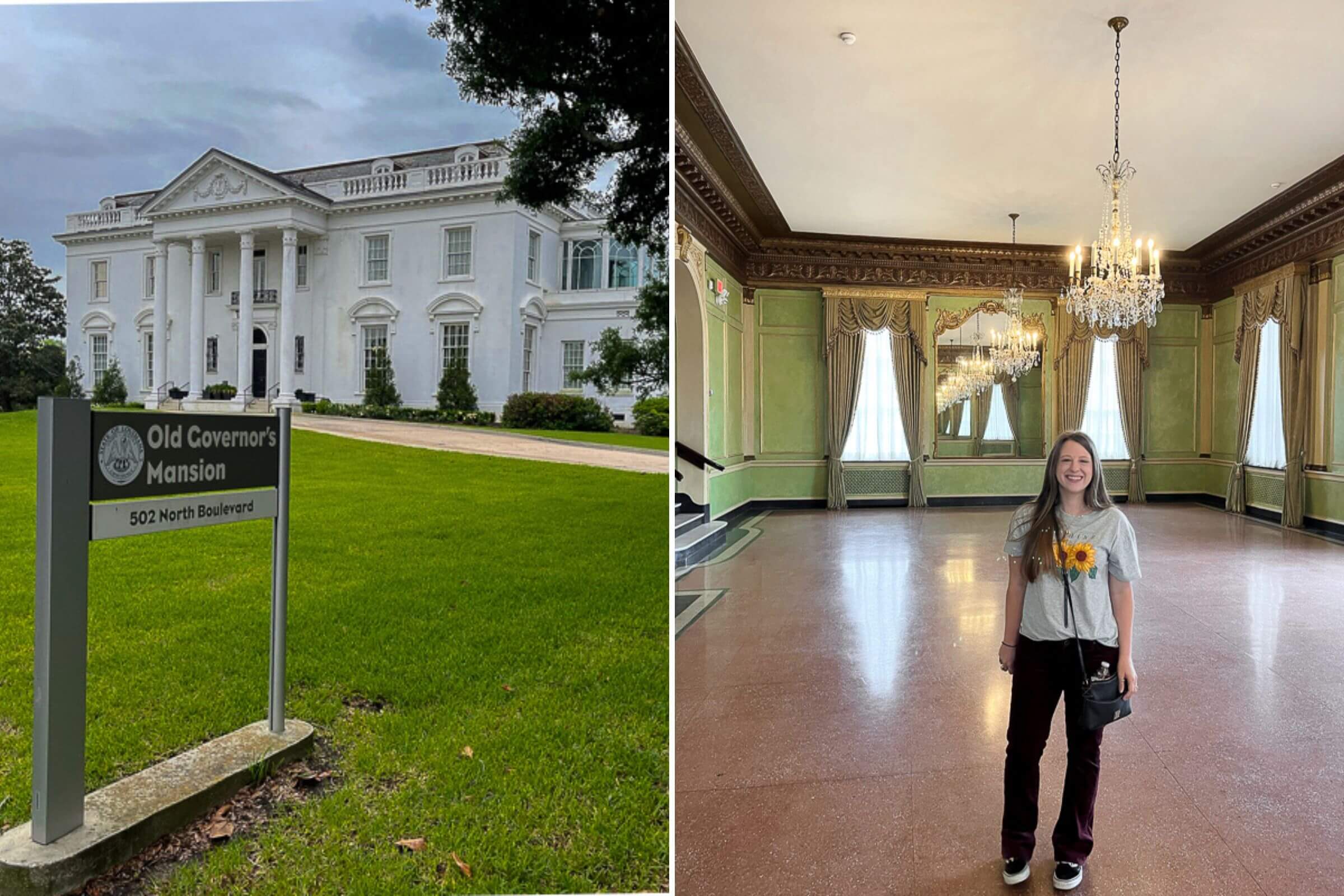 Nobody lives there anymore, but you can visit and walk through the house. The house is open to the public for free self-tours Monday-Friday from 9:00AM-4:00PM.
Inside the home, you will see extravagant ball rooms, dining rooms, and bedrooms. Within the rooms and hallways there are cases full of old artifacts and history. The house is also full of furnishings from the nine Louisiana governors that lived there.
My favorites were the sun room (a room where 50% of the walls are windows!) and the secret staircase.
We had such a good time touring this big house. This is definitely worth a stop on your Baton Rouge vacation!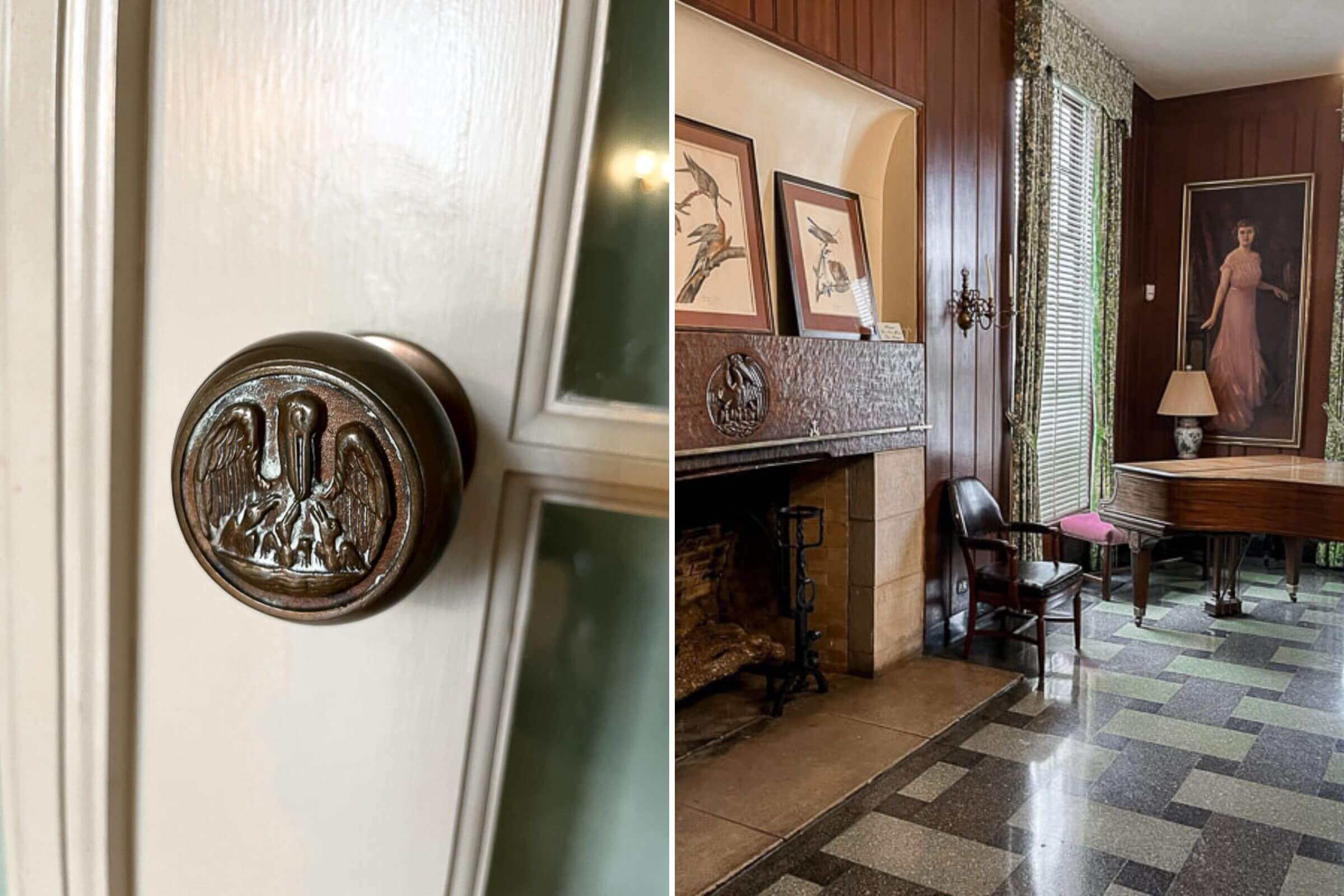 Louisiana's Old State Capitol
100 North Boulevard
Baton Rouge, LA 70801
✽ 10:00 AM - We then walked over to Louisiana's old state capitol. This building was built between 1847-1852 and looks just like a castle! Even if you don't go inside, it is worth just going to see how beautiful outside of the building. A great stop for those that love historic buildings.
This was Louisiana's state house until the 1930s when the new state capitol was built.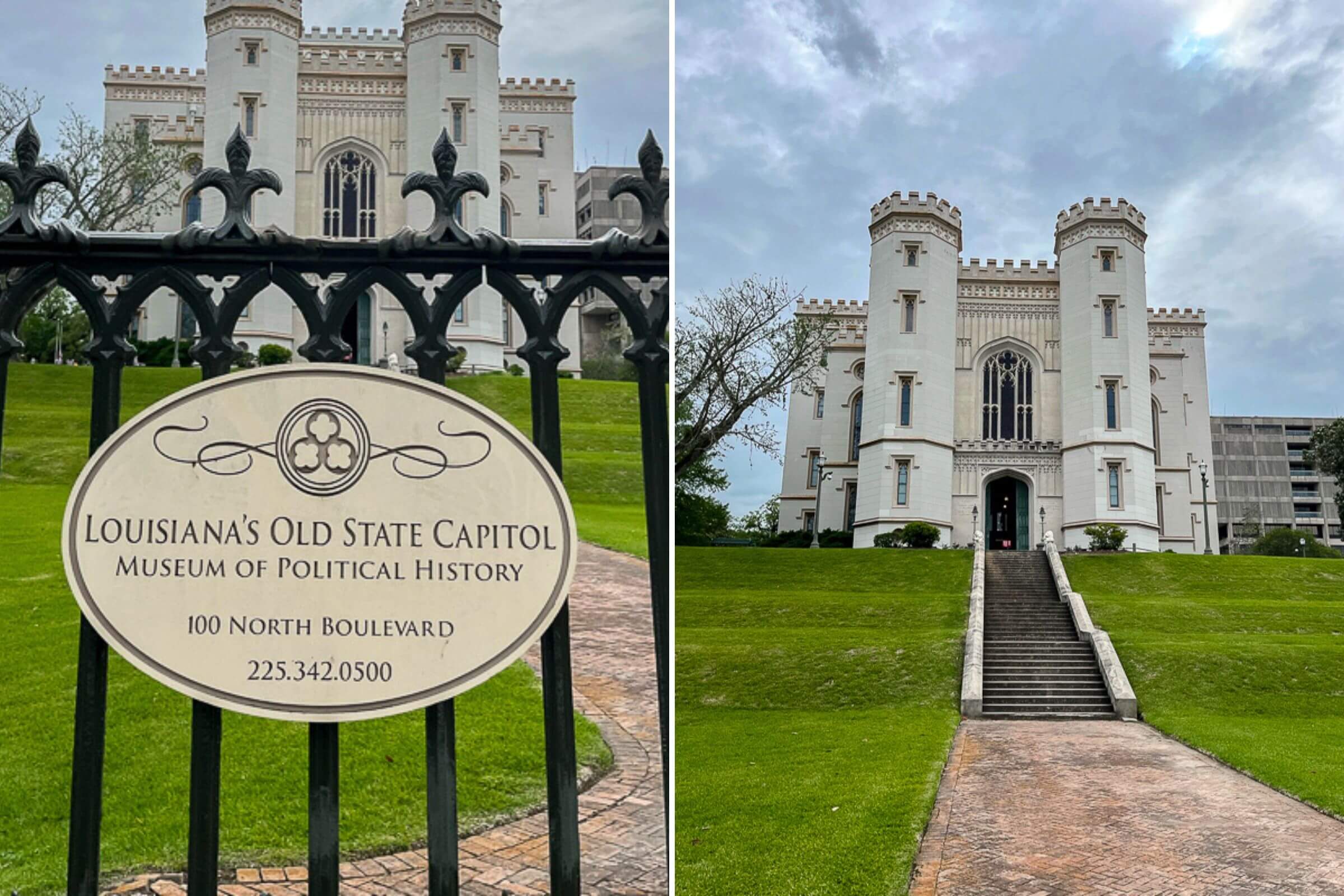 The inside of the old state capitol is now a museum in which you can tour for free Tuesday-Friday from 10:00AM-4:00PM and on Saturdays from 9:00AM-3:00PM.
USS Kidd Veterans Museum
305 South River Road
Baton Rouge, LA 70802
✽ 11:00 AM - Next up, we walked over to the USS Kidd Museum. This museum was so fascinating, and you actually get to go onto the ship. It was an incredible experience!
The ship is located right on the Mississippi River making it an easy short walk from other popular attractions and restaurants in Baton Rouge. The museum is open daily from 9:30AM-3:30PM. It costs about $15/person which is more than worth it, in my opinion.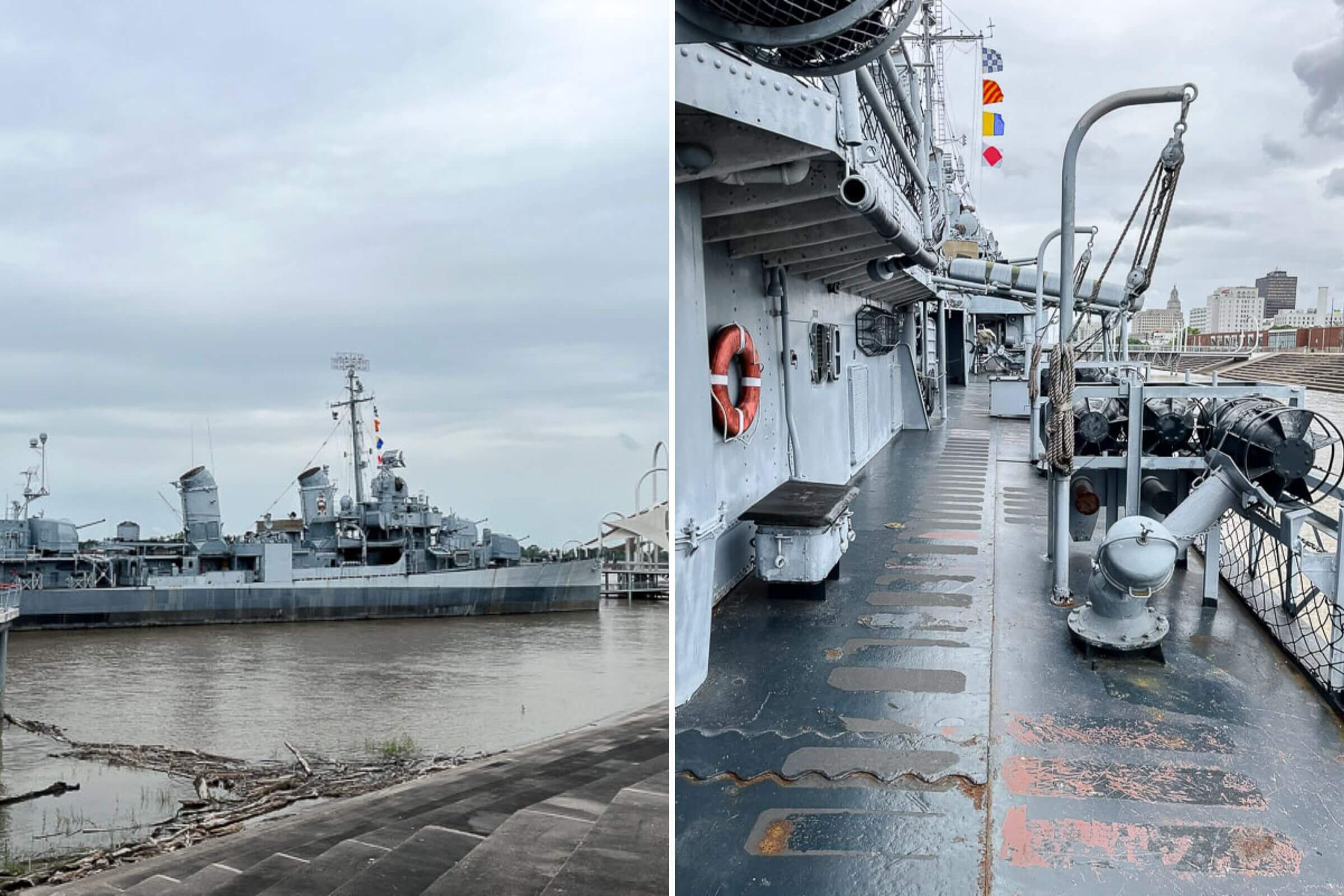 The museum part is filled with veteran and naval military history and artifacts. Learn all about Medal of Honor recipient Isaac C. Kidd Sr. (who the ship is named after), a bit about pirates, and witness life-size replicas of front-line trenches.
For the ship portion of the museum, you get to self-tour pretty much the entire ship! It was really cool to see the living quarters, dining room, kitchen, bathroom, and various bedrooms for the higher ranks. The most fun part was climbing up and down the ladders!
They give you a tour map that explains exactly what everything is on the ship. We learned a lot during this museum and ship visit, and it was very eye-opening to see a glimpse of what life was like while on sea fighting a war.
This would be a great place for the entire family to visit! Highly recommend!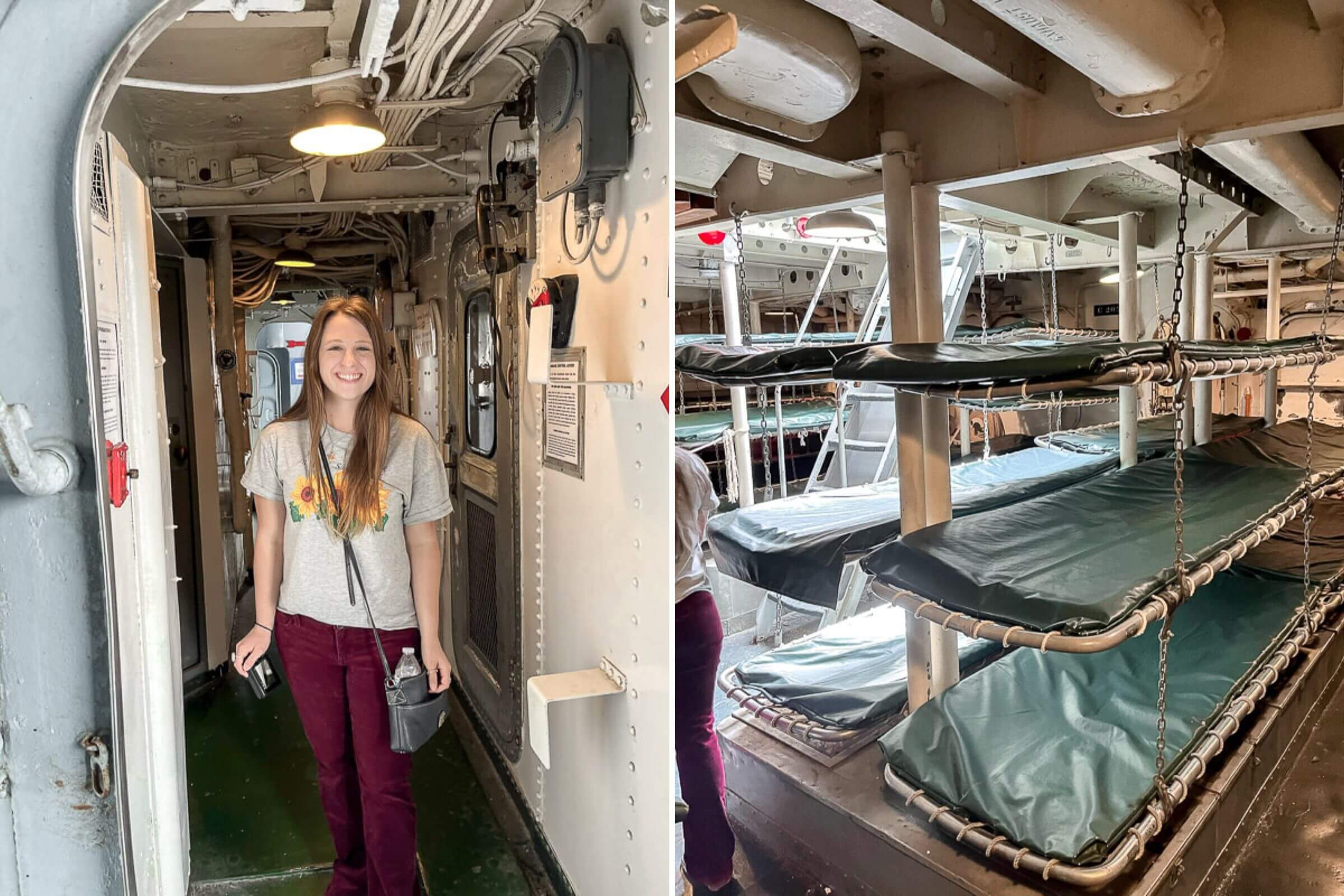 Poor Boy Lloyd's
201 Florida Street
Baton Rouge, LA 70801
✽ 12:30 PM - Our last stop in Baton Rouge was to get some po-boys!
This restaurant has many food items on its menu, but we both decided to go for the po-boys. It is in the name after all!
We ordered the shrimp po-boy and the crawfish po-boy. Both were very good. Poor Boy Lloyd's was the perfect lunch spot. Everybody else must think so too because this place quickly began to fill up as soon as we arrived.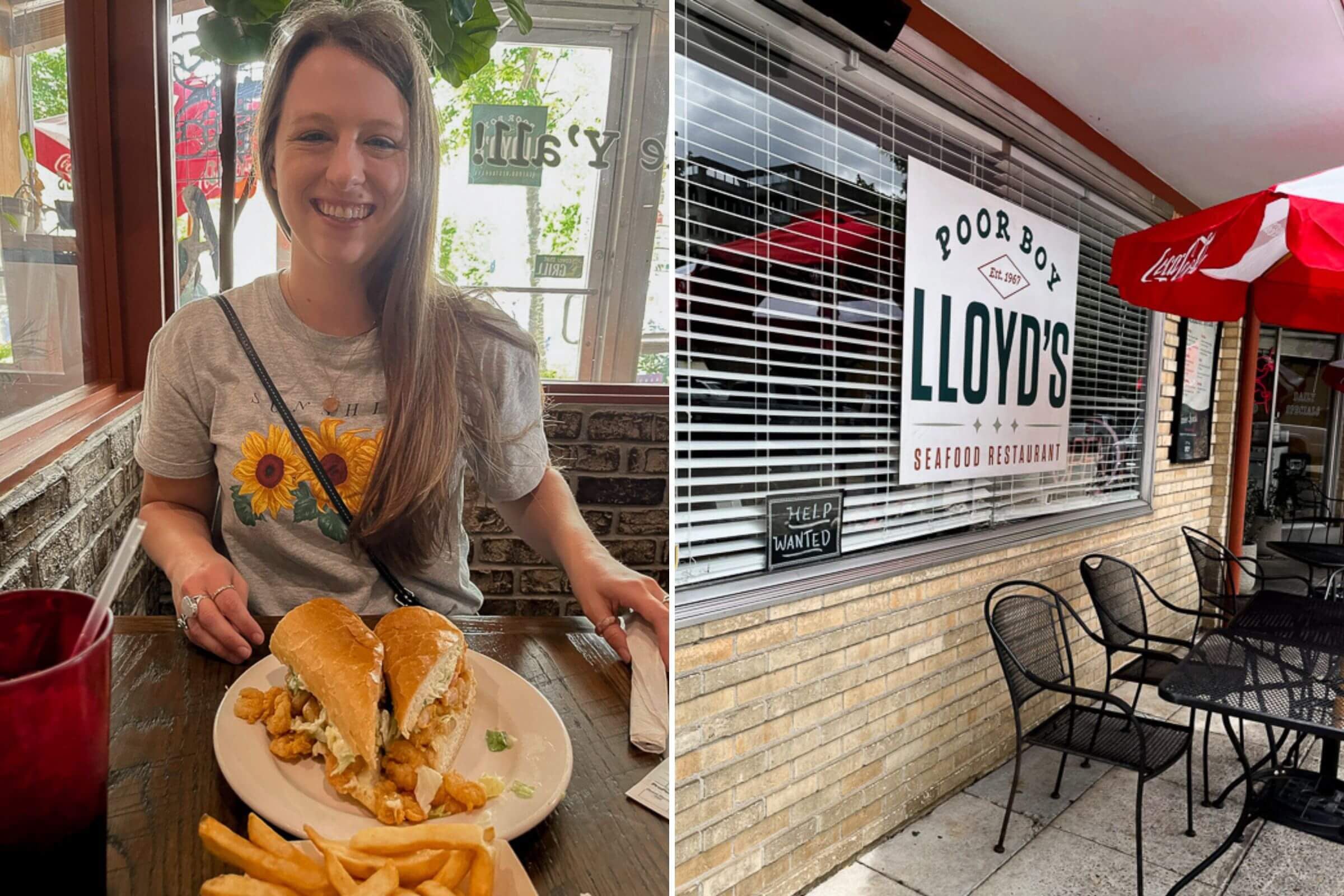 More Baton Rouge Fun!
Since we wanted to see many different cities on our trip to Louisiana, we didn't have time to go to all the fun Baton Rouge places, unfortunately. Here are some other places that I found while doing my own research of fun things to do in the Baton Rouge area. They all sound like a blast, and we will have to check out next time we visit.
Of course, we didn't actually go to these places so I cannot write a review over them. But hopefully this will give you more ideas to look up for your upcoming Baton Rouge trip!
✽ Louisiana Art & Science Museum (100 South River Road, Baton Rouge, LA 70801) - I really wish we had time to visit this museum. Within, find a wide range of scientific topics. This would be a great place for kids to visit!
✽ LSU Rural Life Museum (4560 Essen Lane, Baton Rouge, LA 70808) - A museum full of rich history with a goal of preserving and exhibiting the cultures of 18th and 19th century rural Louisianans.
✽ Red Stick Farmers Market (501 North Fifth Street, Baton Rouge, LA 70802) - A fun farmers market that happens on Saturdays. Find local products and fresh produce from local farmers!
✽ LSU Museum of Art (100 Lafayette Street, Baton Rouge, LA 70801) - A museum on Louisiana State University's campus that showcases multiple types of art from European paintings to sculptures to photography and in-between.
✽ Perkins Road Community Park (7122 Perkins Road, Baton Rouge, LA 70808) - A nice park that's a great spot for spending some peaceful time out in nature or if you have kids that need to burn some energy on the playground.
✽ Knock Knock Children's Museum (1900 Dalrymple Drive, Baton Rouge, LA 70808) - a fun and interactive museum that is perfect for kids to play and learn.
✽ LSU Tiger Stadium (North Stadium Drive at Nicholson Drive, Baton Rouge, LA 70803) - The stadium is located on LSU campus home of the LSU tigers! You may even get to see Mike the tiger in his habitat or catch a football game!
50 States by 50
Louisiana was our second state for our 50 states by 50 challenge. My husband, Brian, and I are planning to visit all the states in the United States by the time we turn 50 years old. To choose which state we travel to next, we will draw it randomly!
For each state, we will plan at least a 4 day trip that consists of visiting the state capitol and state museum, exploring a state park, and eating whatever food that state is most known for. I will be documenting all of our travels here on my blog and making vlogs as well which will be posted on YouTube. Read more about our 50 States by 50 Bucket List.
__________________________________
Thank you for reading about our day spent in Baton Rouge. I hope this itinerary was helpful in planning your Baton Rouge trip! If you have any questions or just want to share your must-see Baton Rouge places, please leave a comment down below.

Category: Life & Travel, 50 States Bucket List
Keywords: date ideas in baton rouge, baton rouge trip ideas, baton rouge vacation, louisiana trip ideas, what to do in baton rouge, baton rouge restaurants, baton rouge museums, baton rouge family fun
More Louisiana Travel Blogs:
We also did a bunch of other things during our week in Louisiana. Each blog goes into more detail about each thing that we did, saw, or ate! I have a blog over:
✽ French Quarter Festival (local artists, tons of delicious cajun food, good music, & exploring the french quarter)
✽ Food in Louisiana (gumbo, jambalaya, etouffee, crawfish, alligator cheesecake, boudin, cracklins, beignets, & so much more)
✽ Sam Houston Jones State Park (hiking, alligators, snakes, river sunsets, & our cabin)
✽ 7-Day Louisiana Itinerary (festival, amazing cajun food, airboat swamp tour at Atchafalaya Basin, hiking, holding alligators)
✽ New Orleans Itinerary (National World War II Museum, city park, beignets, oysters, & Bourbon Street)
✽ Our 7-Day Louisiana Trip Budget (how much our 7-day, 6-night road trip to Louisiana cost for two of us)
Bon voyage & bon appétit!
May 11, 2023 by Laura Bullock
*This Baton Rouge Itinerary blog post may contain some Amazon affiliate links. These link to products that I personally use and recommend. If you purchase anything using my links, it will not cost you anything. It will though give laurathegastronaut.com some financial support which helps me keep this blog running. Thank you for reading my blogs and your continued support.