Laura the Gastronaut > Life & Travel > 50 States Bucket List >

7-Day Louisiana Trip Budget
Cost of 7-Day Trip to Louisiana
May 12, 2023 | Laura
Find out exactly how much it cost us to travel to and explore the state of Louisiana during our 50 states by 50 challenge. I'll go through every single cost including fuel, hotels, food, entertainment, and more so that you can have a good idea how much a Louisiana trip would cost.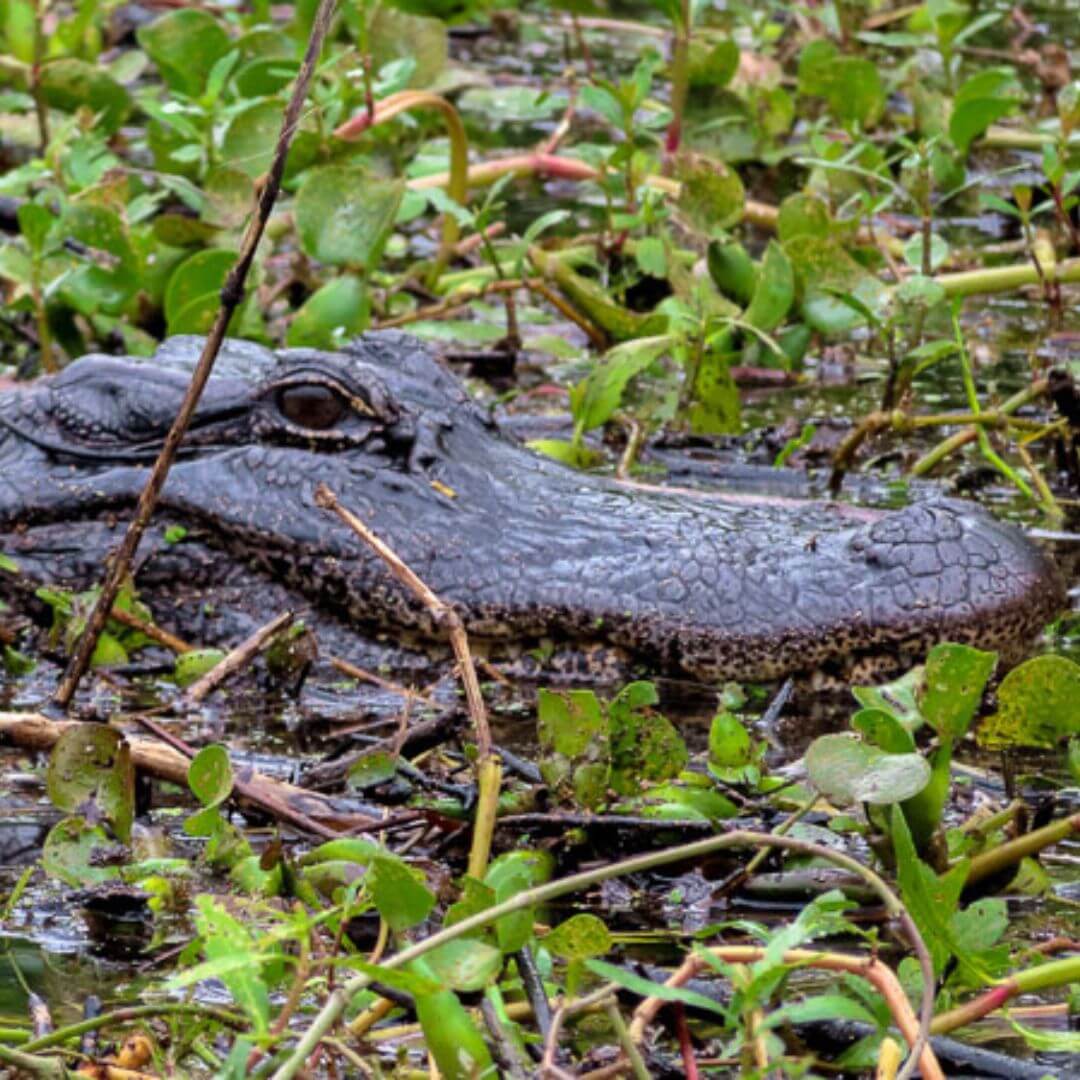 Our 7-Day Trip to Louisiana
My husband and I currently are trying to knock off our bucket list item of visiting all 50 states by the time we turn 50 years old. If you want to learn more about our 50 States by 50 challenge, check out my 50 States Bucket List blog post where I talk all about our travel plans!
For each state, we plan to spend at least four days preferably a couple days in the cities and a couple days in nature. As somebody who loves numbers and budgeting, I do keep up with every single cost of our trip no matter how small. I hope that going through our trip expenses helps you plan out your trip to the Big Easy. Let the good times roll!
If you are looking for blogs that go into more detail over certain parts of our Louisiana trip check out my other travel blogs!: French Quarter Festival, Food in Louisiana, Sam Houston Jones State Park, Our Day in Baton Rouge, Our Weekend in New Orleans, and Our Complete 7-Day Louisiana Itinerary.
Please keep the following notes about our trip in mind when planning out your own budget for your Louisiana trip:
✽ It is just my husband and I traveling- no kids.
✽ The cost of trips can vary depending on the time of year. Our trip was in April 2023.
✽ We visited Louisiana during April (Apr 11-17) so we could spend one day at the French Quarter Festival.
✽ We live in Texas so we decided to turn this Louisiana trip into a road trip. Therefore, we didn't have to pay for airfare. We drove from Austin, TX to Lafayette to Baton Rouge to New Orleans to Lake Charles, and then back to Austin.
✽ We spent a night in Scott, LA (by Lafayette), a night in Baton Rouge, two nights in New Orleans, and a night in Lake Charles at Sam Houston Jones State Park.
✽ We arrived in Scott, Louisiana around 4:00PM on a Tuesday and we left Louisiana around 1:00PM on the following Monday meaning we spent six nights with five full days and two half days/driving days.
✽ For our hotel stay in Baton Rouge, we were able to use some saved up hotel points which paid for one night in full. This helped a bit with the hotel costs!
✽ Lastly, I would consider ourselves to be in-the-middle spenders when it comes to vacations. We don't stay at the finest hotels, but we also splurge a bit as well especially when it comes to good food. And for good reason, Louisiana's food is incredible!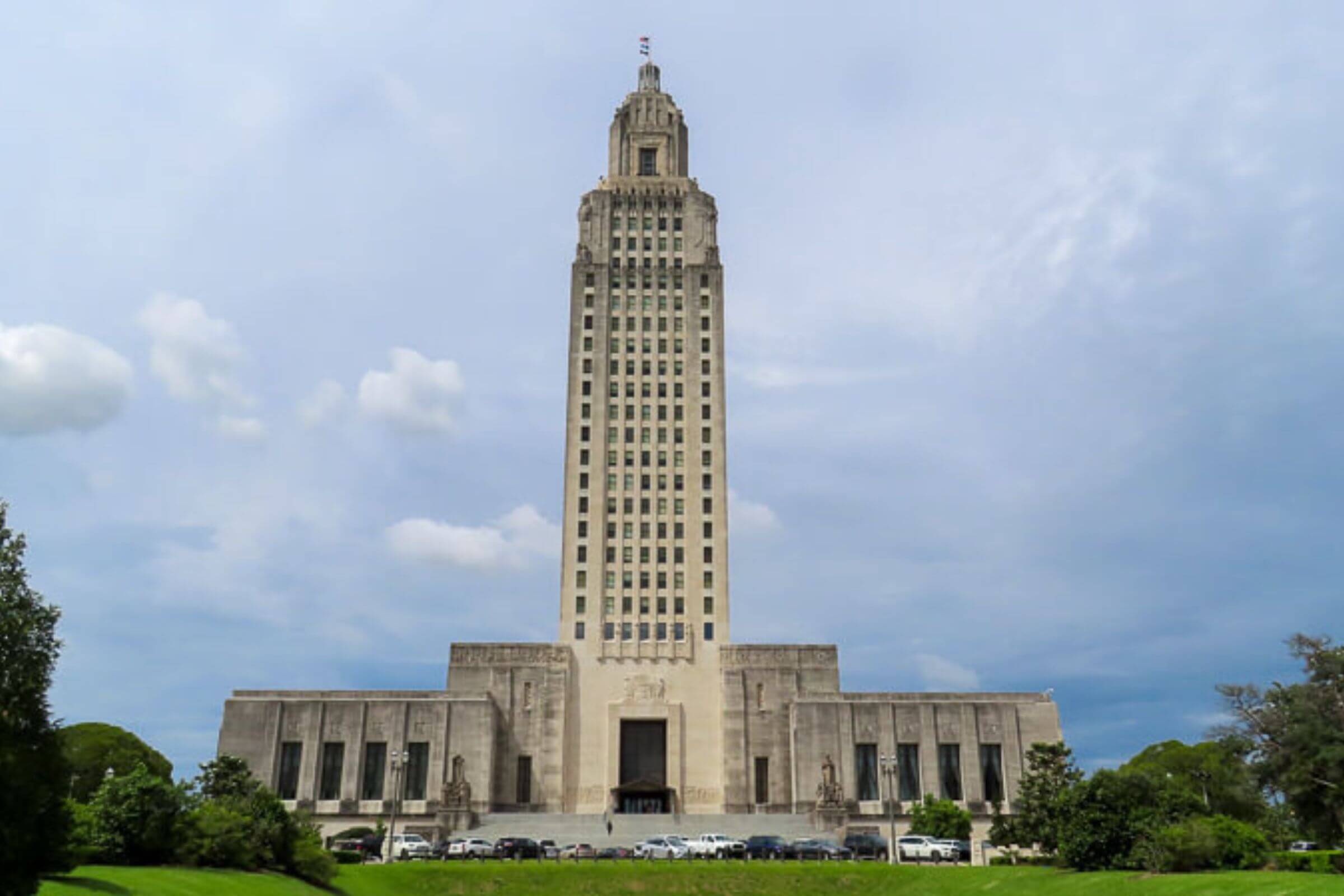 Driving + Parking
We drove out of Austin, Texas on Tuesday, April 11, 2023 at 9:30AM to go to Scott, Louisiana. From Scott we drove to Henderson then to Port Allen and then to Baton Rouge. We were pretty much able to walk everywhere we went in Baton Rouge. After Baton Rouge we drove to Vacherie and then to New Orleans. We also kept our car in the parking garage the entire time in New Orleans. After New Orleans, we drove down to Houma then to Lafayette and then to Lake Charles. After Lake Charles, we headed back home to Austin on Monday, April 17, 2023.
Fortunately, we drive a Volkswagen Jetta so our gas bill stays pretty low on long road trips.
Cost of fuel: $83.72
Because we had our car that means we had to pay for parking when staying in the big cities. However, we did not have to pay for a rental car this time around.
✽ Baton Rouge Parking Lot (1 night): $15.35
✽ New Orleans Parking Garage (2 nights): $64.95
✽ The National WWII Museum Parking Garage: $20
Cost of parking: $100.30
Total Cost of Driving and Parking Expenses: $184.02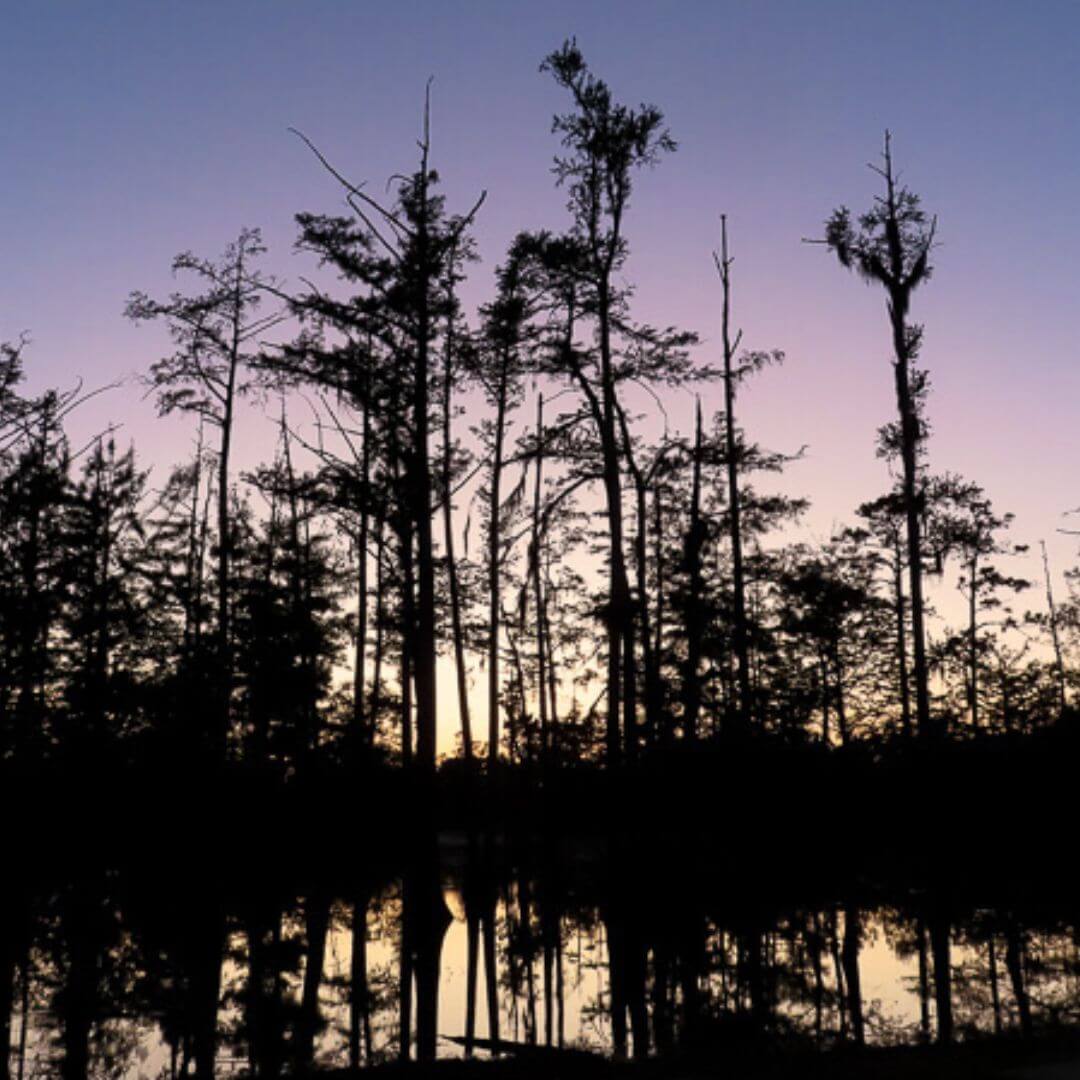 Lodging
On our road trip to Louisiana, we stayed six nights.
✽ Night 1: Comfort Inn & Suites, 1636 Saint Mary Street, Scott, LA 70583
This hotel was right off Interstate-10 which was perfect for us traveling from Texas to Baton Rouge. It was also right next to a really great restaurant, Fezzo's.
Cost: $118.06
✽ Night 2: Courtyard by Marriott, 260 Third Street, Baton Rouge, LA 70801
This hotel is right in the middle of downtown Baton Rouge making it walking distance to a lot of attractions and restaurants. We found that walking was the best way to get around a lot of Baton Rouge.
Cost: $0 (used saved up hotel points)
✽ Nights 3 & 4: Best Western Plus St. Christopher Hotel, 114 Magazine Street, New Orleans, LA 70130
This hotel was also in a very convenient location allowing us to walk to all of our destinations including the French Quarter and multiple restaurants. Note this hotel room may have been a bit more expensive when we stayed due to the festival going on. Depending on how much money you are wanting to spend, some New Orleans hotels get pretty pricey! This hotel was one of the more affordable options.
Cost: $608.53
✽ Night 5: Homewood Suites by Hilton, 142 Citiplace Drive, Houma, LA 70360
We decided to take a different route back towards Texas, and this hotel was right along our path.
Cost: $158.30
✽ Night 6: Sam Houston Jones State Park, 107 Sutherland Road, Lake Charles, LA 70611
For our last night in Louisiana, we stayed at a cabin within the state park. This was such a fun stay especially if you love nature!
Cost: $177.31
Total Cost of Lodging: $1062.20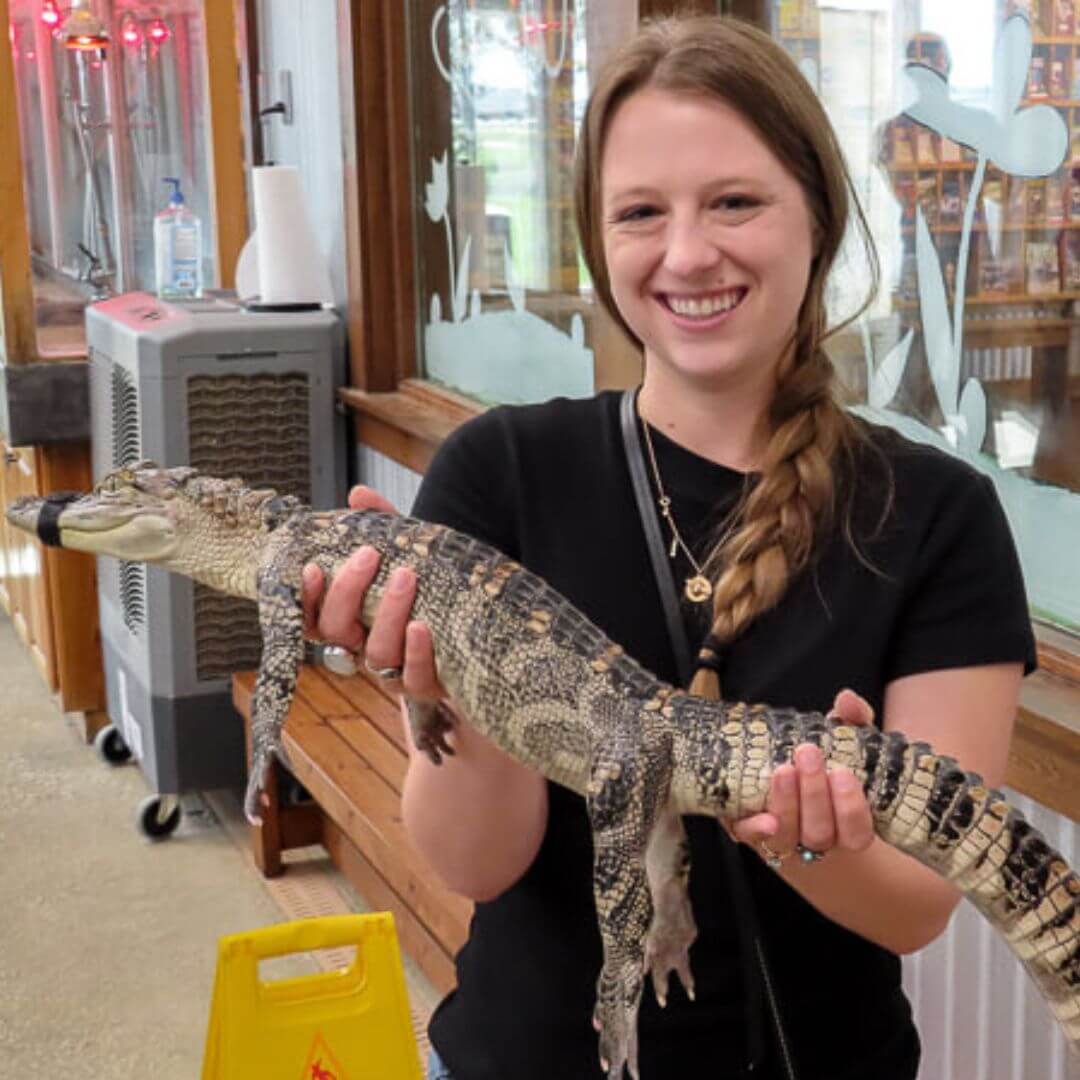 Entertainment / Activities
✽ First day:
Our first day was spent mostly driving, but we did get to stop at Gator Chateau and hold baby gators which was such a fun experience. This little roadside stop is free!
Cost: $0
✽ Second day:
We started our second day by going on an airboat swamp tour at the Atchafalaya Basin Landing. This tour was a blast and we saw gators! For two tickets on the airboat plus a tip, it cost us $150.20. We then visited the Louisiana State Capitol which is free and walked around Capitol Park Museum which was $14 for two tickets. Besides that we just spent some time at the Mississippi River Park!
Cost: $164.20
✽ Third day:
On the morning of our third day in Louisiana, we visited the Old Governor's Mansion and Louisiana's Old State Capitol- both are free to tour. Some of the best things to see in Baton Rouge were free! We then went to the USS Kidd Veterans Museum where we actually got to go on a self-guided tour of the ship. Two tickets to this museum were $29.24. We spent our afternoon at the learning the rich history of the Laura Plantation. A guided walking tour for two plus a tip to the tour guide was $69.36.
Cost: $98.60
✽ Fourth day:
The fourth day we spent a lot of time at the French Quarter Festival which is a free annual festival in Louisiana featuring local live music and food. We also walked around some popular sights-to-see in the historic French Quarter such as the St. Louis Cathedral near Jackson Square and Bourbon Street. Pretty much the only money we spent this day was on food. We did give $2 to some street performers playing some awesome music though!
Cost: $2
✽ Fifth day:
This Louisiana day was spent mostly at The National WWII Museum which was an incredible experience. Tickets for two were $82.52. Afterwards, we spent our time at New Orleans City Park and the sculpture garden which is free admission.
Cost: $82.52
✽ Sixth/Seventh day:
On the sixth morning, we visited Cypress Lake on University of Louisiana at Lafayette campus to see some gators. It is free for all to see! We then headed to Sam Houston Jones State Park. Since we were staying the night there in a cabin, we did not have to pay entry fees.
Cost: $0
Total Cost of Entertainment/Activities: $347.32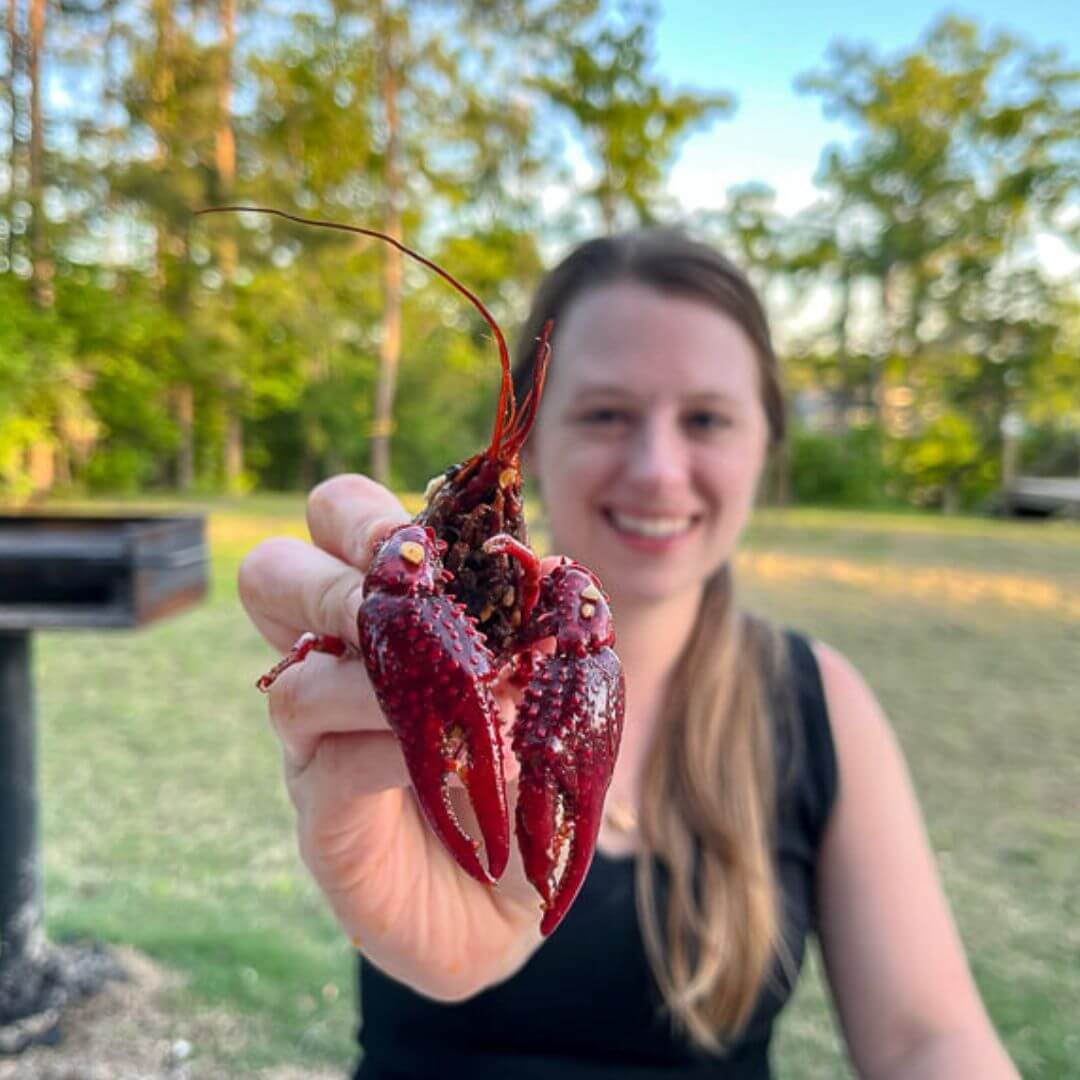 Food
We love food (hence why I have a food blog!), so we have a difficult time holding back when it comes to delicious food in new locations. This is where we like to splurge so we can try as much as possible. Louisiana was especially fun because they have so much amazing local food including jambalaya, gumbo, etouffee, beignets, red beans & rice, bread pudding, crawfish, and lots more!
You can read all about each food we tried in Louisiana on my Louisiana Food trip blog post. I'll briefly summarize here what we ate. These totals include tips.
✽ First day:
For lunch, we had planned to stop, but Houston traffic was heavy so we decided to eat the snacks I packed along. I packed a few snacks and bottled water which helped save a bit of money while on the road. We ate dinner at Fezzo's restaurant in Scott ($75.07).
Cost: $75.07
✽ Second day:
We ate breakfast at the hotel's complimentary breakfast, fried food snacks for lunch at Bergeron's in Port Allen ($24.72), and dinner at Cecelia Creole Bistro ($122.25).
Cost: $146.97
✽ Third day:
For breakfast, we ate at The Vintage in downtown Baton Rouge ($36.93), lunch at Poor Boy Lloyd's in downtown Baton Rouge ($43.31), and dinner at Creole House Restaurant in New Orleans ($80.37).
Cost: $160.61
✽ Fourth day:
Our fourth day was spent entirely at the French Quarter Festival in New Orleans. After eating the complimentary hotel buffet breakfast, we snacked on festival food for the rest of the day ($122). Ah, it was all so delicious! We also stopped for an afternoon drink at Napoleon House ($18.50).
Cost: $140.50
✽ Fifth day:
Again, we ate the hotel complimentary breakfast. We got hungry while walking around The National WWII Museum so we grabbed some drinks and chips ($5.41). We then ate a very late lunch at Katie's in New Orleans ($72.71). Lastly, we ordered some beignets and coffee at Cafe du Monde ($7.48).
Cost: $85.60
✽ Sixth day:
On the sixth day, we were headed to the state park. Once again, we ate the complimentary hotel breakfast before we headed out. For lunch, we grabbed some unhealthy but incredibly delicious fried snacks from The Best Stop ($20.85). Right before getting to the state park we bought some groceries at Market Basket to make s'mores, snacks, drinks, and breakfast for the following day ($36.89). For dinner, we got a crawfish boil from Red Tails Boil House ($50.25).
Cost: $107.99
✽ Seventh day:
We woke up at the state park, and made breakfast with the food we bought at the grocery store the previous day. Instead of stopping somewhere for lunch on the way home, we decided to just eat the variety of snacks we bought.
Cost: $0
Total Cost of Food: $716.74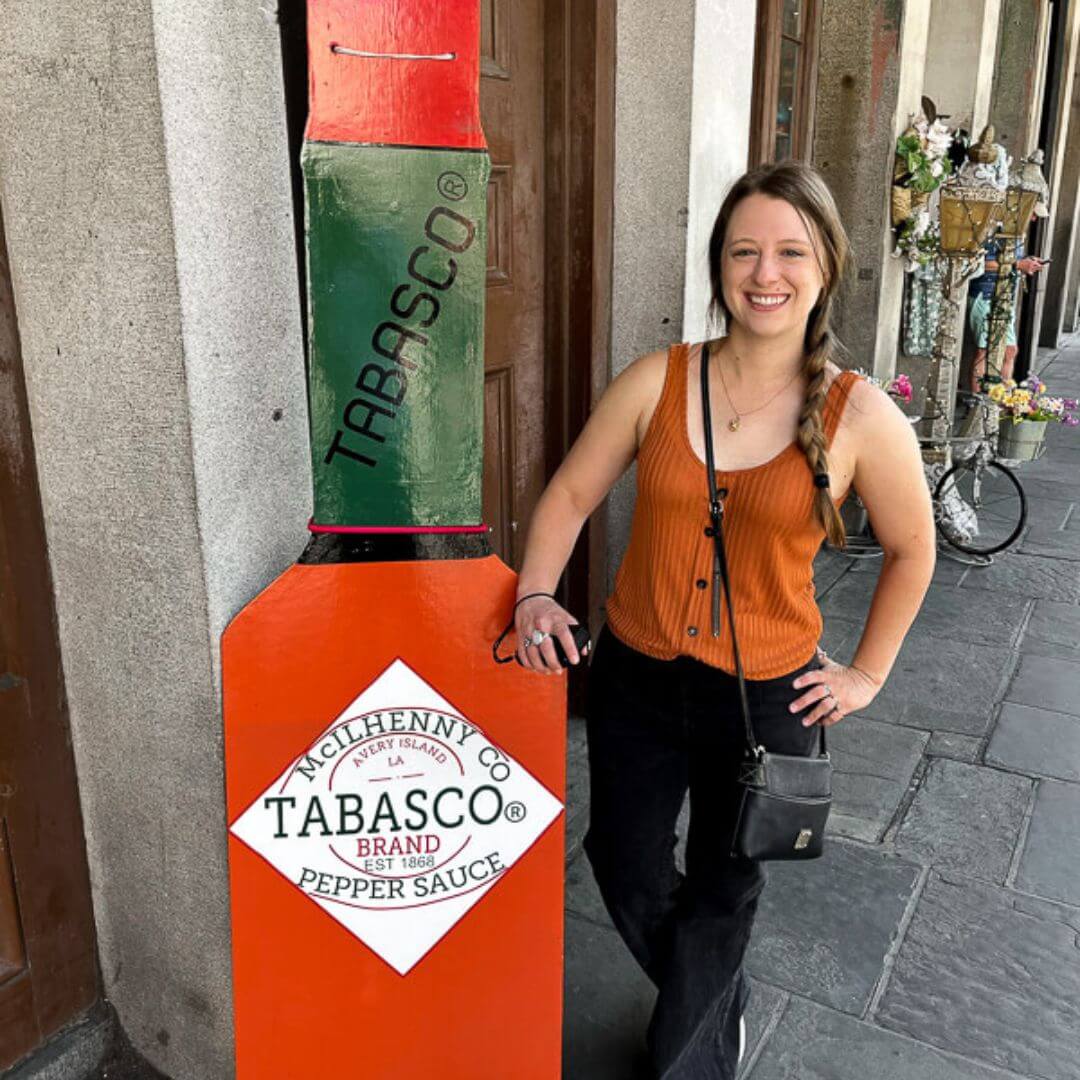 Souvenirs
I'm not a person to buy something big or expensive as a souvenir while on a trip. I usually decide to only take home smaller stuff. For this trip, we bought a magnet, post card, patch, and a sticker.
Total Cost of Souvenirs: $20.47
Total Cost of our 7-Day (6-Night) Trip to Louisiana in April 2023 for Two Adults
✽ Fuel/Parking: $184.02
✽ Hotels/Airbnb: $1062.20
✽ Entertainment/Activities: $347.32
✽ Food/Drink: $716.74
✽ Souvenirs: $20.47
Total Cost of Trip: $2,330.75
50 States by 50
Louisiana was our second state for our 50 states by 50 challenge. My husband, Brian, and I are planning to visit all the states in the United States by the time we turn 50 years old. To choose which state we travel to next, we will draw it randomly!
For each state, we will plan at least a 4 day trip that consists of visiting the state capitol and state museum, exploring a state park, and eating whatever food that state is most known for. I will be documenting all of our travels here on my blog and making vlogs as well which will be posted on YouTube. Read more about our 50 States by 50 Bucket List.
__________________________________
I hope that this budget breakdown of our Louisiana trip is helpful in planning your vacation. We had such a great time! Louisiana is the perfect place to spend a week or even just a long weekend. If you have any questions or just want to share your Louisiana​ experiences, please leave a comment down below.

Category: Life & Travel, 50 States Bucket List
Keywords: new orleans trips cost, average daily price in louisiana, louisiana travel tips, louisiana travel budget, how much does a trip to louisiana cost, average prices for louisiana trip
More Louisiana Travel Blogs:
We also did a bunch of other things during our week in Louisiana. Each blog goes into more detail about each thing that we did, saw, or ate! I have a blog over:
✽ French Quarter Festival (local artists, tons of delicious cajun food, good music, & exploring the french quarter)
✽ Food in Louisiana (gumbo, jambalaya, etouffee, crawfish, alligator cheesecake, boudin, cracklins, beignets, & so much more)
✽ Sam Houston Jones State Park (hiking, alligators, snakes, river sunsets, & our cabin)
✽ Baton Rouge Itinerary (state capitol, state museum, po-boys, USS Kid museum, & Mississippi River)
✽ New Orleans Itinerary (National WWII Museum, city park, beignets, oysters, & Bourbon Street)
✽ Our 7-Day Louisiana Trip Itinerary (swamp tours, plantation tour, bourbon street, state capitol, alligators)
Bon voyage & bon appétit!
May 12, 2023 by Laura Bullock
*This 7-Day Louisiana Budget blog post may contain some Amazon affiliate links. These link to products that I personally use and recommend. If you purchase anything using my links, it will not cost you anything. It will though give laurathegastronaut.com some financial support which helps me keep this blog running. Thank you for reading my blogs and your continued support.