Laura the Gastronaut > Life & Travel > 50 States Bucket List >

4-Day Indiana Trip Budget
Cost of 4-Day Trip to Indiana
November 10, 2022 | Laura
Find out exactly how much it cost us to travel to and explore the state of Indiana during our 50 States by 50 challenge. I'll lay out every single cost including flights, hotels, food, entertainment, rental car, and more so that you can have a good idea how much an Indiana trip would cost.
Our 4-Day Trip to Indiana
My husband and I are currently on a mission to visit all 50 states by the time we turn 50 years old. If you are curious about our 50 States by 50 challenge, be sure to check out my 50 States Bucket List blog post where I talk all about our planned travels!
For each state, we plan to spend at least 4 days preferably a couple days in the capital city and a couple days in nature and the countryside. As somebody that loves numbers and budgets (I know, pretty lame..), I do keep up with every single thing that we buy for our trip no matter how small. I hope that reading our budget helps you plan out your trip to Indiana.
If you are looking for more Indiana content check out my other travel blogs!: 4-Day Indiana Itinerary, Covered Bridge Festival, Fall Days in Indiana Itinerary, Hiking in Turkey Run State Park, Weekend in Indianapolis Itinerary, and Indiana Trip Food.
Please keep the following notes about our trip in mind when planning out your own budget for your Indiana trip:
✽ It is just my husband and I traveling- no kids
✽ We visited Indiana during October (Oct 13-18) so we could spend 1 1/2 days at the Covered Bridge Festival
✽ We live in Texas so our flights were from Austin, TX to Indianapolis, IN
✽ We spent 1 1/2 days in Indianapolis and 2 1/2 days in smaller towns that surround Indianapolis (all which were about 60-80 miles from Indianapolis)
✽ Because we didn't want to stay in one spot, getting a rental car was a must
✽ In order to get 4 full days of vacation, we took an evening flight to Indianapolis on October 13th and an early morning flight home on October 18th.
✽ For our last hotel stay, we were able to use some saved up hotel points which paid for one night in full.
✽ Lastly, we are what I would consider 'in the middle' spenders when it comes to vacations. We don't stay at the finest hotels, but we also splurge a bit as well- especially when it comes to good food!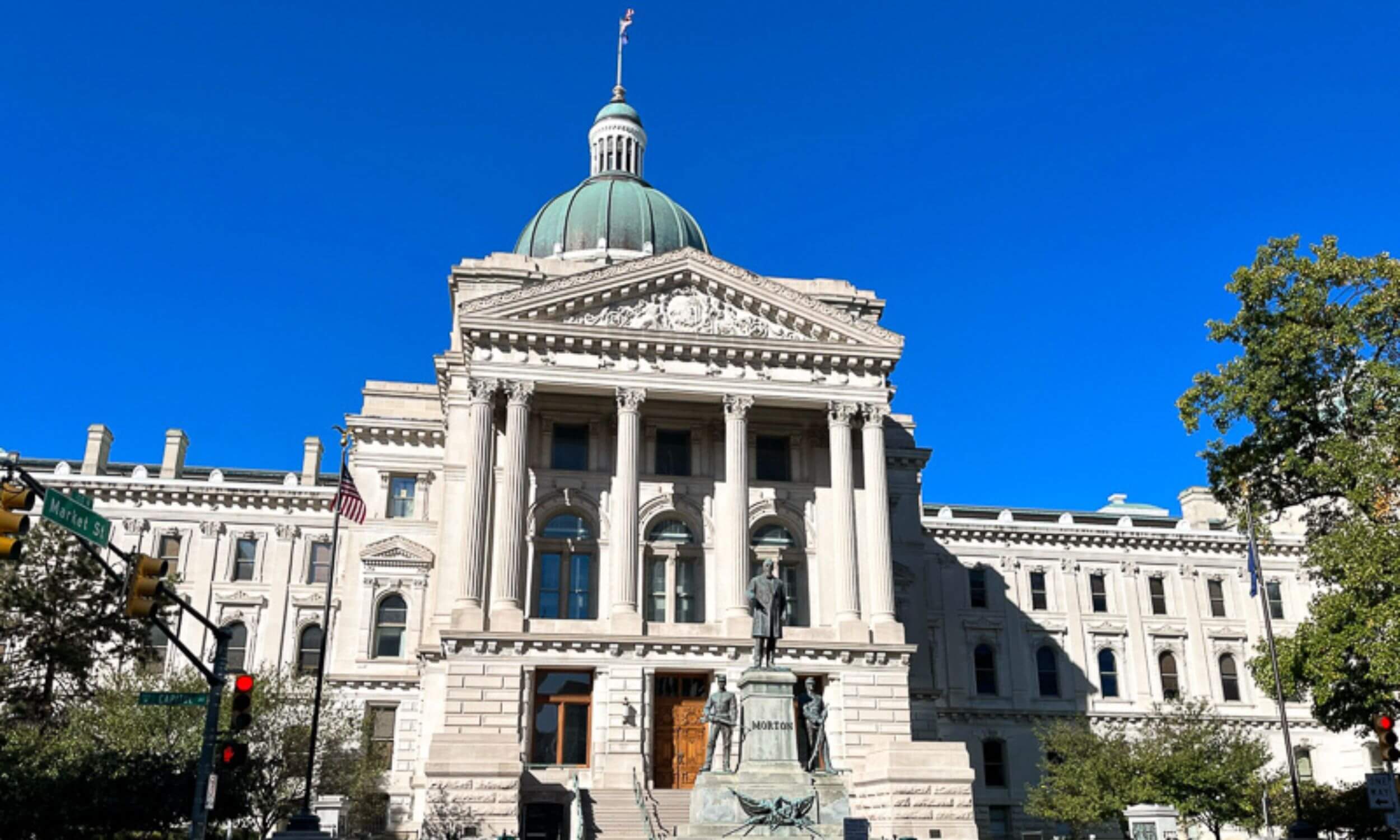 Flights
We flew out on Thursday, October 13, 2022 at 7:45PM from Austin International Airport in Texas to Indianapolis International Airport in Indiana. To head home, we caught a 7:30AM flight on Tuesday, October 18, 2022 from Indianapolis International Airport to Austin International Airport. We flew basic economy and didn't pay for any additional add-ons.
Cost of flights: $648.42
Because a cold front was expected to blow into Indiana during our trip, we had to pack our coats which led to us having to check our luggage. We had one big checked luggage, one carry on, and one personal item (my purse) on both flights.
Cost of checked luggage: $60
We also drove the airport in our own car so we had to pay for parking at the airport while we were on our trip.
Cost of airport parking: $50
Total Cost of Flying Expenses: $758.42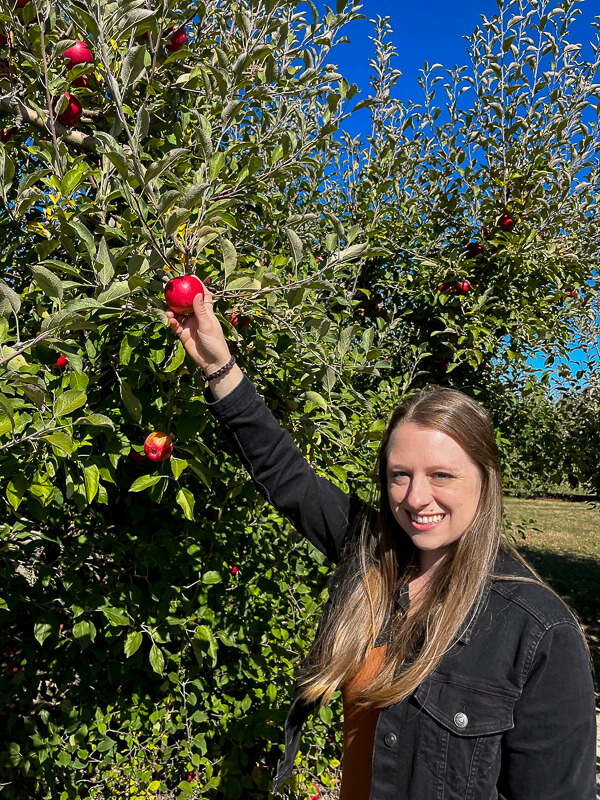 Lodging
As mentioned earlier, we caught an evening flight to Indianapolis on day 1 so we could wake up bright and early the next day. Then had an early flight home on day 6 so we could make the most of the previous day. This means we stayed 5 nights and 4 full days in Indiana.
✽ Night 1: Hyatt Place, 5500 West Bradbury Avenue, Indianapolis, IN 46241
Since we didn't arrive to Indiana until almost midnight, we chose to stay at a hotel that was 7 miles away from the airport. This hotel was an everyday average hotel. It was clean and had a bed- exactly what we were looking for.
Cost: $141.57
✽ Night 2: Airbnb, Indianapolis, IN
We splurged a bit for a cute airbnb that was right next to the Bottleworks District which we were planning to eat dinner at that night. It was cute and convenient!
Cost: $226.98
✽ Night 3: Brickhouse Loft, 240 North Jefferson Street, Martinsville, IN 46151
This boutique hotel was also more expensive than a regular hotel room, but each room had its own living area as well. Note that this boutique hotel ran like an Airbnb was located in a smaller town about 45 miles south of Indianapolis.
Cost: $224
✽ Night 4: Best Western Plus, 2600 Industrial Boulevard, Crawfordsville, IN 47933
We stayed in Crawfordsville this night because it was one of the closest hotels near the Covered Bridge Festival. The hotel was very average, but clean and had a good complimentary buffet breakfast in the morning.
Cost: $131.97
✽ Night 5: Springhill Suites, 6014 Gateway Drive, Plainfield, IN 46168
This hotel was 6 miles away from the airport which worked out great since we had to wake up early the next morning to catch our flight.
Cost: $0 (used saved up hotel points)
Total Cost of Lodging: $724.52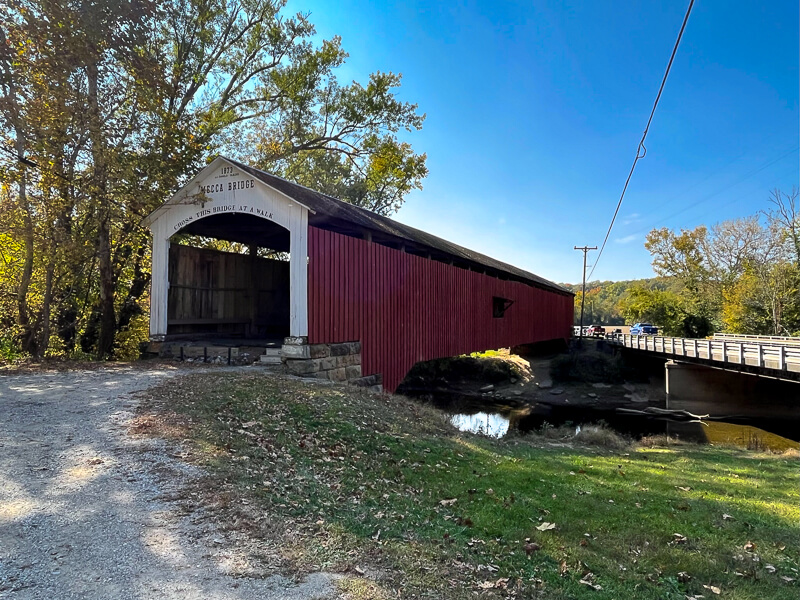 Rental Car / Parking
Because we planned on going to multiple places in Indiana on our trip, we felt like a rental car was a must. To save a bit of money, we decided to take the hotel shuttle from the airport when we landed late on Thursday. Then we hopped back on the hotel shuttle Friday morning to go back to the airport to pick up the rental car. So we had the rental car from Friday morning to Tuesday morning.
Cost of shuttle tips: $6
We got a rental car from Avis Car Rental and did add-on the roadside assistance and extra protection. We didn't get a car upgrade.
Cost of rental car + fuel: $514.62
At one of the Covered Bridge Festival locations and at a couple places in downtown Indianapolis we visited we did have to pay some for parking.
Cost of parking: $22
Total Cost of Road Travel: $542.62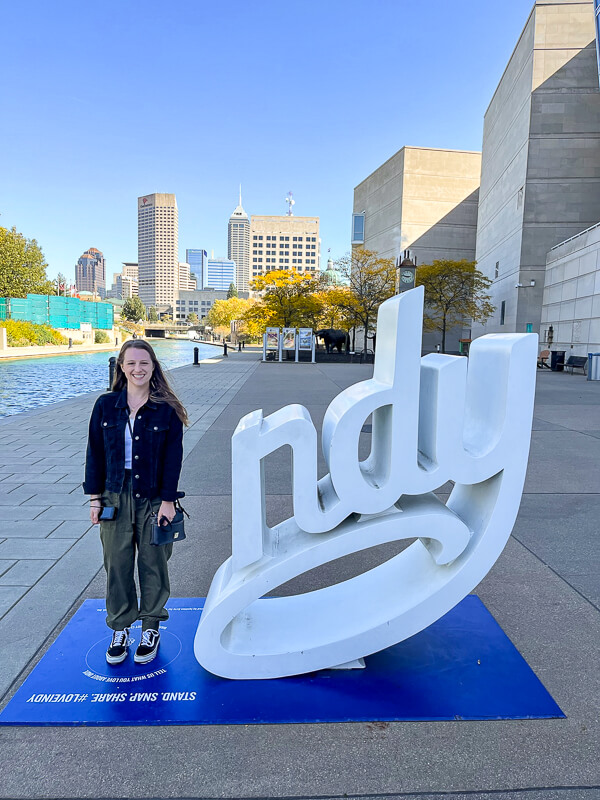 Entertainment / Activities
✽ First full day:
We visited the Indianapolis Motor Speedway ($31.34) and the Indiana State Museum ($32). Note that the Indiana State Museum charged $4 for parking the garage which I counted above. I was also able to save $1 per ticket for the state museum by buying our tickets online. This day we also visited Newfields Museum for their Harvest Nights ($53.50).
Cost: $116.84
✽ Second full day:
On the second day, all of our activities were free! This included visiting the Soldiers & Sailors Monument, Indianapolis City Market, and Indiana State Capitol Building all in downtown Indianapolis. We also visited the Anderson Orchard in Mooresville, Indiana. After the orchard, we drove to see the oldest covered bridge in Indiana (Bean Blossom Bridge), and enjoyed our afternoon in the very cute town of Nashville, Indiana which has all the fall vibes!
Cost: $0
✽ Third full day:
We spent our entire day searching for covered bridges in Parke County and enjoying the annual Covered Bridge Festival at its many locations throughout the county. Besides $5 parking and fuel needed to drive around looking for bridges (which I counted above) and all the food we had (which I counted below), there were no costs to get into the festival itself. We did, however, put $2 in a hat for a musician that was playing at the festival.
Cost: $2
✽ Fourth full day:
We split this day up into half spent at Turkey Run State Park and half spent at the Covered Bridge Festival. Since we were from out-of-state, it cost us $9 to enter the state park (it's $7 for in-state). We had no additional activity costs for the half-day we spent at the festival.
Cost: $9
Total Cost of Entertainment/Activities: $127.84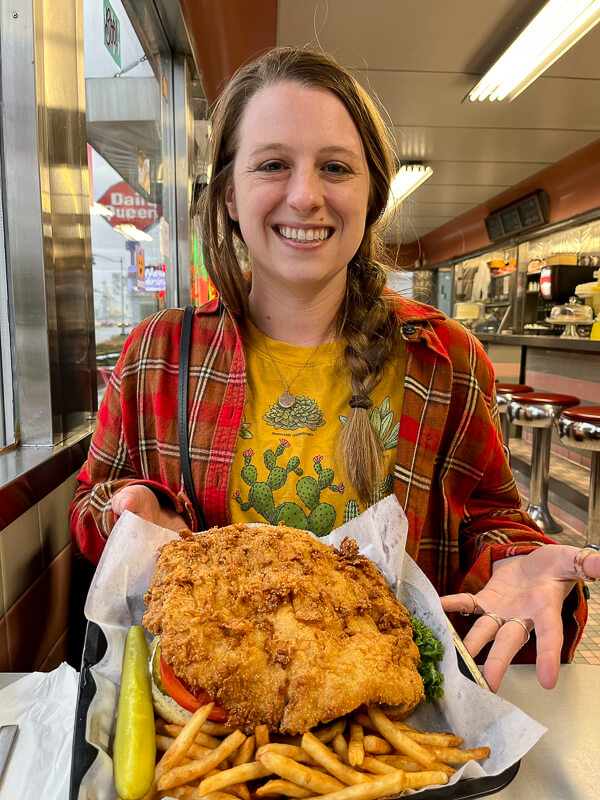 Food
We are foodies so we have a hard time holding back when we are in new locations surrounded by new delicious foods. This is where we really like to splurge. I will say that a lot of this trip was spent snacking and trying small amounts of new things rather than sitting down at a restaurant.
You can read all about each food we tried in Indiana on my Indiana Food trip blog post. I'll briefly summarize here what we ate. These totals include tips.
✽ First day:
We ate dinner at the Austin airport the night before ($27.73), complimentary hotel buffet breakfast ($0), one lunch at a new fast food place that we had never tried before ($20.79), a dinner at a food hall trying small amounts of different foods ($35.15), and snacks at Harvest Nights ($20.71).
Cost: $104.38
✽ Second day:
We ate breakfast at a bagel place ($21.71), a mid-morning coffee ($14.73), apple snacks at the orchard ($13.50), and a pizza dinner in Nashville ($38.70).
Cost: $88.64
✽ Third day:
This was the day we spent all of our time at the Covered Bridge Festival. I ate our leftover pizza from the previous day for breakfast (I know, so unhealthy but it was vacation!- $0) and then we tried a lot of different festival foods for the rest of the day ($46.50).
Cost: $46.50
✽ Fourth day:
We ate more delicious festival foods ($27) and had dinner at a diner to get our pork tenderloin and sugar cream pie ($40).
Cost: $67
We also bought a few snacks in-between and lots of bottles of water. And while not necessarily planned, we didn't buy any alcoholic drinks this trip which ended up being a money saver.
Cost: $27.33
Total Cost of Food: $333.85
Souvenirs
As for souvenirs, I'm not a person to buy something big or expensive on a trip. I usually opt to take home smaller stuff. On this trip we bought an Indiana magnet, postcard, patch, sticker, and a small bottle of maple syrup.
Total Cost of Souvenirs: $26.63
Total Cost of our 4-Day (5-Night) Trip to Indiana in October 2022 for Two Adults
✽ Flights/Luggage/Airport Parking: $758.42
✽ Hotels/Airbnb: $724.52
✽ Rental Car/Parking Fees: $542.62
✽ Entertainment/Activities: $127.84
✽ Food/Drink: $333.85
✽ Souvenirs: $26.63
Total Cost of Trip: $2,513.88
50 States by 50
Indiana was our first state for our 50 states by 50 challenge. My husband, Brian, and I are planning to visit all the states in the United States by the time we turn 50 years old. To choose which state we travel to next, we will draw it randomly!
For each state, we will plan at least a 4 day trip that consists of visiting the state capitol and state museum, exploring a state park, and eating whatever food that state is most known for. I will be documenting all of our travels here on my blog and making vlogs as well which will be posted on YouTube. Read more about our 50 States by 50 Bucket List.
__________________________________
I hope that this budget breakdown of our Indiana trip is helpful in planning your vacation! If you have any questions or just want to share your Indiana experiences, please leave a comment down below.

Category: Life & Travel, 50 States Bucket List
Keywords: indiana vacation budget, cost of indiana vacation, vacation budget breakdown, cost of indiana trip
More Indiana Travel Blogs:
We also did a bunch of other things during our 4 days in Indiana. Each blog goes into more detail about each thing that we did, saw, or ate! I have a blog over:
✽ Our entire 4-Day Indiana Itinerary (downtown Indy, apple picking, beautiful scenery, Covered Bridge Festival, Turkey Run State Park, & more)
✽ A Fall Weekend in the state of Indiana (fall leaves, southern Indiana, antique shops, Brown County Art Gallery, & tons of carved pumpkins)
✽ Parke County's Covered Bridge Festival (local artists, fall foliage on a scenic drive, small town living, covered bridges, & tons of delicious food)
✽ Food in Indiana (pork tenderloin, apple treats, sugar cream pie, Korean pickles, arepas, & more)
✽ Turkey Run State Park (hiking through fall leaves, sugar creek, a nature center, climbing up ladders, & walking on ledges)
✽ 1 1/2 Days in Indianapolis (state capitol, Bottleworks District, Indiana State Museum, Motor Speedway, & more)
Bon voyage & bon appétit!
November 10, 2021 by Laura Bullock
*This 4-Day Indiana Trip Budget blog post may contain some Amazon affiliate links. These link to products that I personally use and recommend. If you purchase anything using my links, it will not cost you anything. It will though give laurathegastronaut.com some financial support which helps me keep this blog running. Thank you for reading my blogs and your continued support.